Okonomiyaki Recipe
Considering Japanese cuisine is my favourite food in the world, it is surprising to discover that this is the first Japanese dish in our global recipe swap series. Trying to decide on which Japanese dish to start with was a hard task as I love so many dishes. One of the first dishes we tried when we visited Japan for the first time was Okonomiyaki or Japanese Pancakes. I can still picture the place where we had it in Hiroshima. We sat at the counter and was mesmerized by the chef in front of us as he flipped the pancakes around on his hot plate.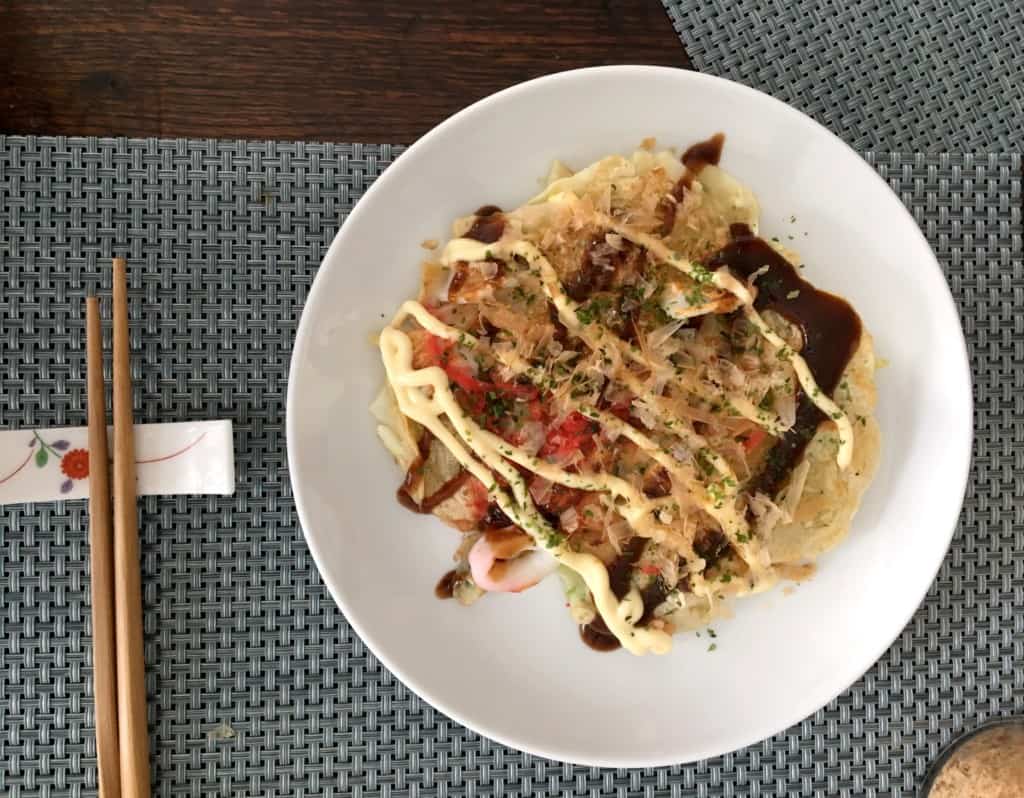 The name Okonomiyaki comes from the word okonomi, meaning "what you like" or "what you want", and yaki meaning "grilled" or "cooked" The dish is associated with the Kansai and Hiroshima areas of Japan but you can find the dish all over the country. It's history is rather sketchy but there are records after the great Kanto earthquake in 1923 where people cooked crepes as a pastime as they lacked amenities. During the 2nd world war, Okonomiyaki became popular because of the shortage of rice.
Here is the Okonomiyaki Recipe (Japanese Pancakes), let us know what you think. We are about to cook them now.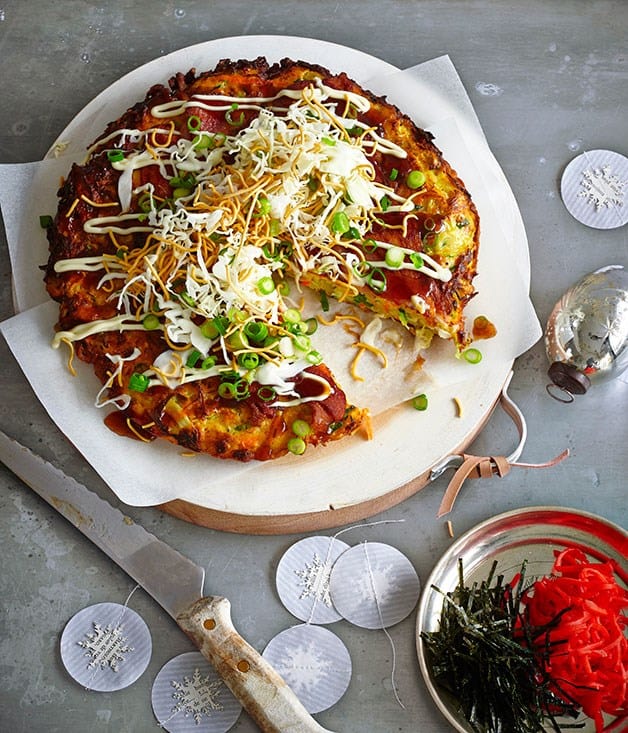 Ingredients
100g okonomiyaki flour (If you do not find Okonomiyaki Flour, use 2 cups of plain flour mixed with 1 1/2 cups of dashi or water.)
100ml water
1 egg
1/4 cabbage
1 spring onion
1 tbsp mayonnaise
1 tbsp okonomiyaki sauce (Okonomiyaki Sauce Recipe is: 3 x tbsp ketchup, 1 x tsp soy sauce, 1 x tbsp Worcestershire sauce)
dried bonito flakes
aonori seaweed
pickled ginger
tenkasu tempura flakes
meat or seafood
Tips
While the first side is cooking, try frying up some yakisoba noodles and flipping the pancake on to these when cooking the other side.
Try laying streaks of bacon on the top before flipping sides.
At the final stage, try breaking an egg on the top, covering with a wok lid to quickly steam-cook, and serving with a runny yolk. Yum!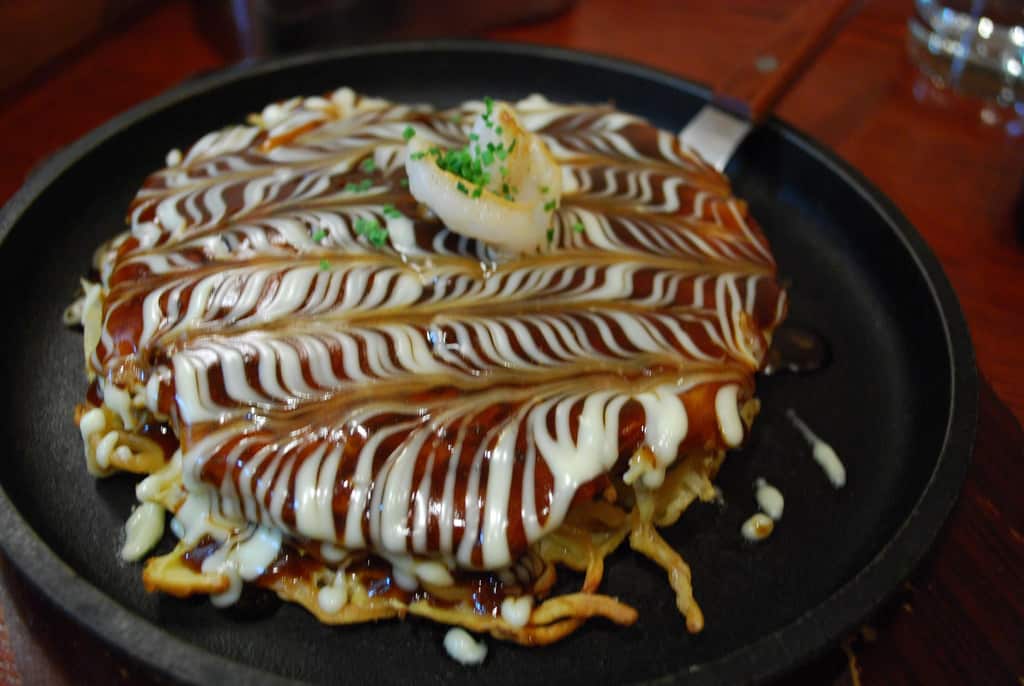 Directions
Mix 100g okonomiyaki flour and 100ml water together and set aside.
Chop the cabbage and spring onion finely and add to the batter mix. Add your chosen fillings like meat or seafood.
Add an egg and mix the ingredients together. Take care not to over mix.
Heat up a frying pan with a little oil. Pour okonomiyaki mixture into a round pancake shape in the centre of the pan. If using meat, start cooking your meat strips separate from the pancake.
Once the underside of the pancake is brown in colour, add the cooked meat to the top and flip over to finish cooking (good luck with the flip over!). Press down on pancake with a spatula to make it an even thickness.
When both sides of the okonomiyaki are golden brown, flip on to a plate and cut into slices like a pizza.
Smother with lashings of okonomiyaki sauce and mayonnaise, sprinkle with bonito flakes, aonori seaweed, tenkasu tempura flakes and a portion of pickled ginger.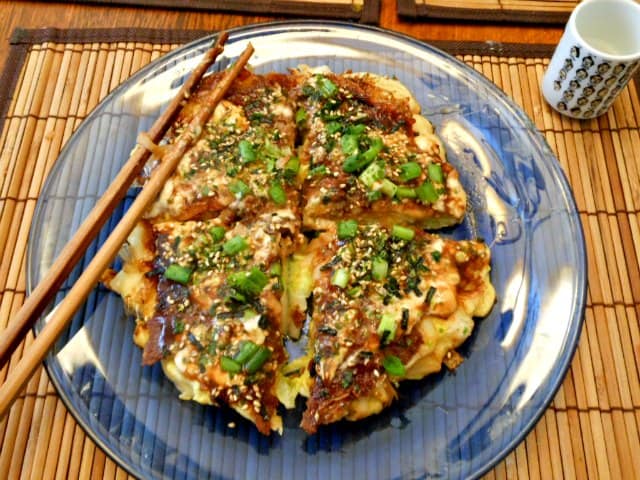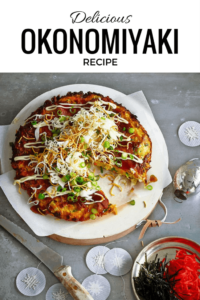 If you liked this post you may also like other posts in our global recipe swap series. Check out some below:
global recipe swap | Sri Lankan Hoppers – Read why this recipe is one of our most favourite breakfasts.
global recipe swap | Nasi Lemak Recipe –  We could not get enough of this dish when we were in Malaysia.
Heading to Japan? Check out our other Japan posts before you go!
Japan Trip Planner – Amazing Places To Visit In Japan | Japan Trip Planner. Check out our post on our favourite places to visit in Japan. Discover islands, cities, and villages.
From Tokyo to Kawaguchiko – An amazing Trip to Mount Fuji – Click here to find everything you need to plan an amazing trip from Tokyo to Kawaguchiko to visit Mount Fuji. How to get there, what to eat, do and see.
Finding Peace In Hiroshima – Our first port of call in Japan was in Hiroshima. Read about how we and the city itself found peace in Hiroshima after utter devastation.
Things To Do In Kyoto – Are you thinking of visiting Kyoto? Read our Things to do in Kyoto blog before heading there to make the most of your visit.
Where To Stay In Kyoto – Choosing where to stay in Kyoto can be tricky as there are so many great places to choose from. Read our post to help you decide.
Sleeping In A Manga Cafe In Tokyo – A video blog of us sleeping in a manga cafe in Tokyo. Why? Because it felt so Japanese. Did we sleep well? Watch the video to decide if it looks comfortable. 
What To Do In Osaka – Are you heading to Japan? Read our post on What to do in Osaka before heading to this foodie city. From museums to river walks we list our top highlights.
How We Gatecrashed A Japanese Pop Stars Wedding In Tokyo – This is the tale on how we gatecrashed a Japanese pop stars wedding in Tokyo. We honestly did it by mistake but it took us a few hours to realize what we did.
Things To Do In Nara – Read our local's guide of top things to do in Nara. From temples to the deer park and amazing food we share the best tips to make the most of your trip to Nara.
The Best Ryokans and Hotels in Nara – Are you looking for accommodation in Nara, Japan? Then read our post on The Best Ryokans and Hotels in Nara Japan before booking. Stay in a traditional style Japanese Inn for amazing food and incredible hospitality.
A Guide To The Yaeyama Islands – Discover Japan's secret tropical location The Yaeyama Islands, Okinawa. They are a perfect add on to your Japanese adventure.
5 reasons to visit Taketomi Island – If you are heading to the land of the rising sun on your next trip then here are 5 reasons to visit Taketomi Island, Japan when you go.
Things To Do On Ishigaki Island Japan – If you are heading to the Yaeyama Islands in Japan, then read our blog post on what to do on Ishigaki Island, Okinawa.
Things to do on Iriomote Island – Are you heading to the Yaeyama Islands? Then read what are our Top things to do on Iriomote Island, Japan. Enjoy Japan's tropical paradise.
Walking On The Nakasendo Trail – Discovering the Nakasendo Trail (Following Ancient Footsteps In Japan). Read about an ancient walking route in Japan & see traditional ways of Japanese Life. 
Gujo Hachiman Castle – If you visiting Gifu Prefecture in Japan then we highly recommend you visit Gujo Hachiman Castle which is also known The Castle In The Sky. Read our post to find out how to get there and what's it like.
If you would like to take part in global recipe swap, please send us in a special dish from your area and we will try to cook it at home. You can send the recipe to paul@globalhelpswap.com. Feel free to cook todays recipe and let us know what you think in the comments below.
#LoveYourTravels
*Images from Creative Commons