I could hear footsteps behind me and they were approaching at a rapid pace. Knowing that all my fellow hikers were in front of me I was wondering who else would be walking in a remote Japanese forest on a cold autumn morning? As the steps got closer I tried to concentrate on the beautiful autumn colours of reds and yellows. I was hoping these footsteps were of the human kind not the bear kind. A cheery hello came from the woman who walked past me at a brisk speed and off she went leaving me with a rapid heartbeat. Welcome to the Nakasendo Trail an ancient walking route where your imagination runs wild.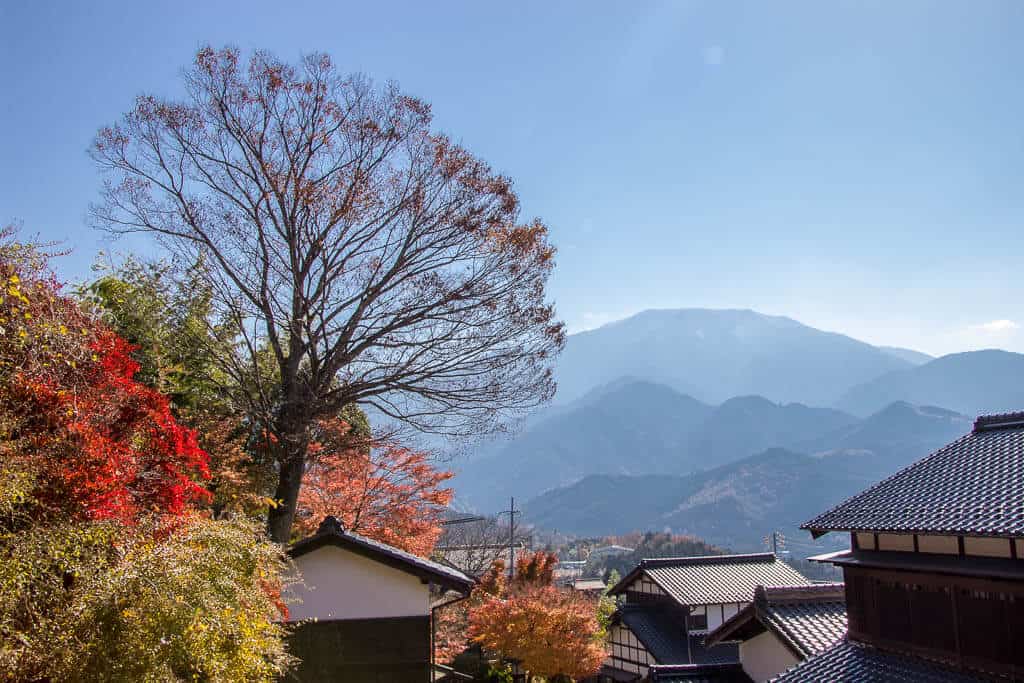 Nakasendo Trail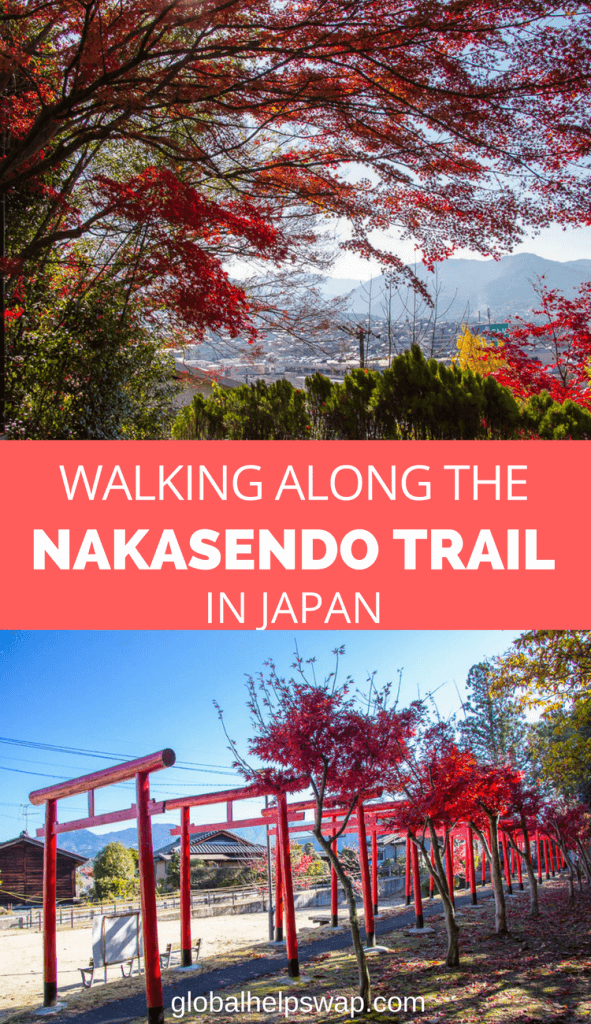 The Nakasendo Trail or (the Nakasendo Walk) was one of five walking routes created during the Edo period. It linked ancient Kyoto to the new capital of Edo (modern-day Tokyo). However, there is evidence that some of the Nakasendo Way was created much earlier, most probably around the 7th century.
In the early years of the Edo period, Japan went through a kind of renaissance with many cultural, political and legal exchanges taking place across the different regions. This is how the rejuvenation of Japan's thousand-year-old highway system began. The Nakasendo Highway was used by the Shogun and other feudal lords to help stabilize and rule the country. Now the Nakasendo is used for more gentler pursuits.
Like most ancient highways, the Nakasendo Trail has been modernised. However, there are a few stretches of the trail that is still in its original form and luckily for me that is where we started our walk.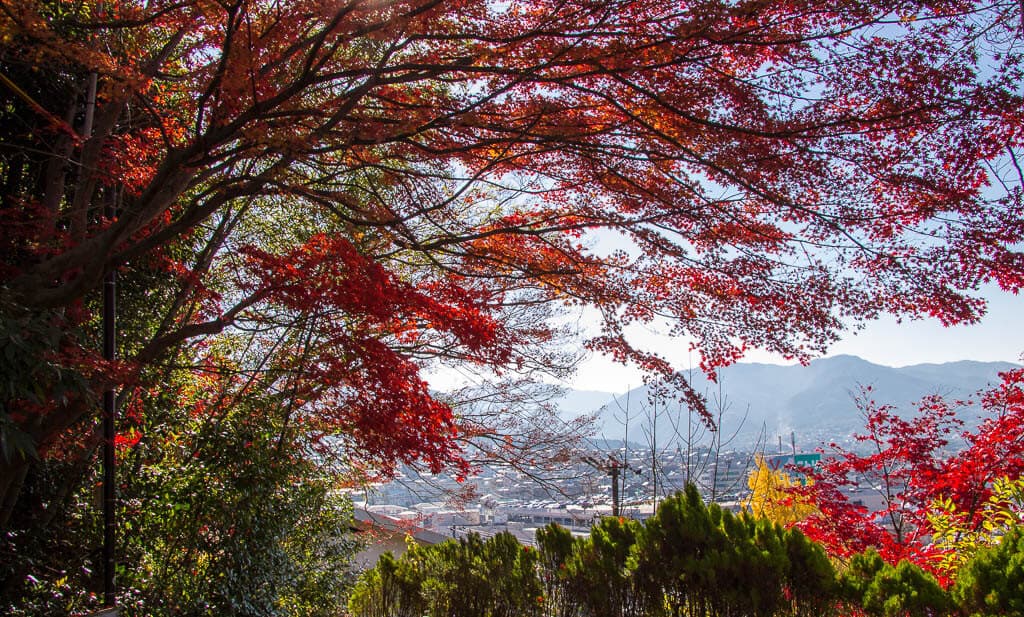 Nakatsugawa to Tsumago via Magome in the Kiso Valley
Nakatsugawa:

We started the day in the town of Nakatsugawa just a 50 min train ride away from Nagoya City. Nakatsugawa is what the Japanese call a post town. There are 69 stations or post towns on the Nakasendo Trail where travelers used to rest for the night and have dinner washed down with Sake. We did it slightly differently. We popped into a beautiful Sake shop just to admire the interior when the owner asked us if we would like to sample some of his Sake. We all duly obliged (for research purposes only mind) and left the shop with a bigger spring in our step.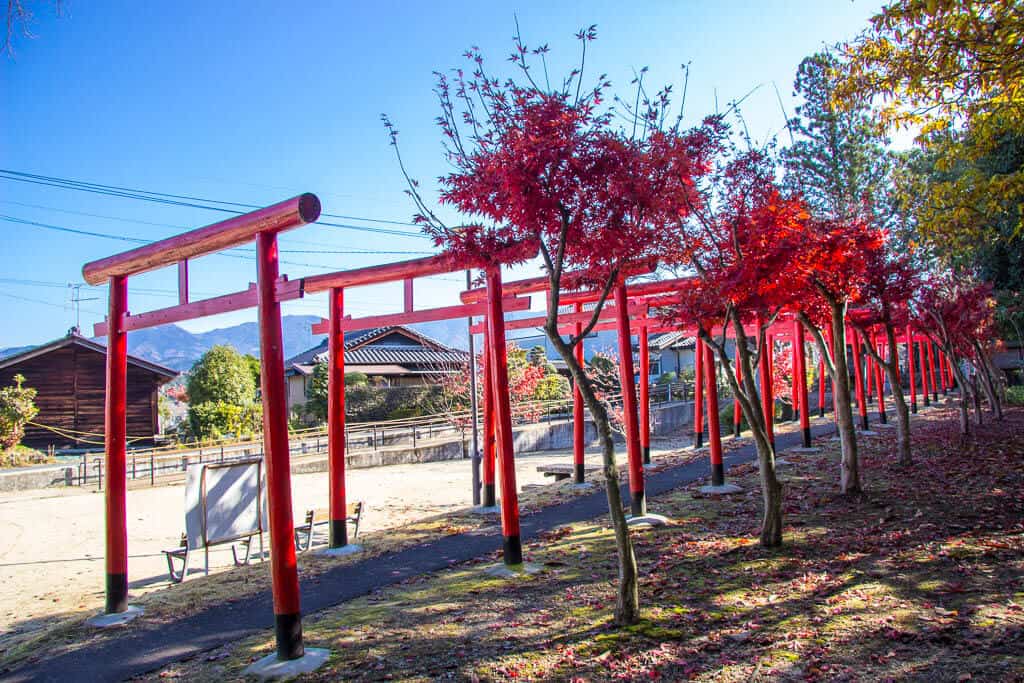 The local authorities of Nakatsugawa have done much to preserve the Edo period heritage (which is not always the case in Japan) with restored wooden shops selling Japanese sweets, cloth and sake. Make sure you pop into them before heading to Ochiai.
Ochiai: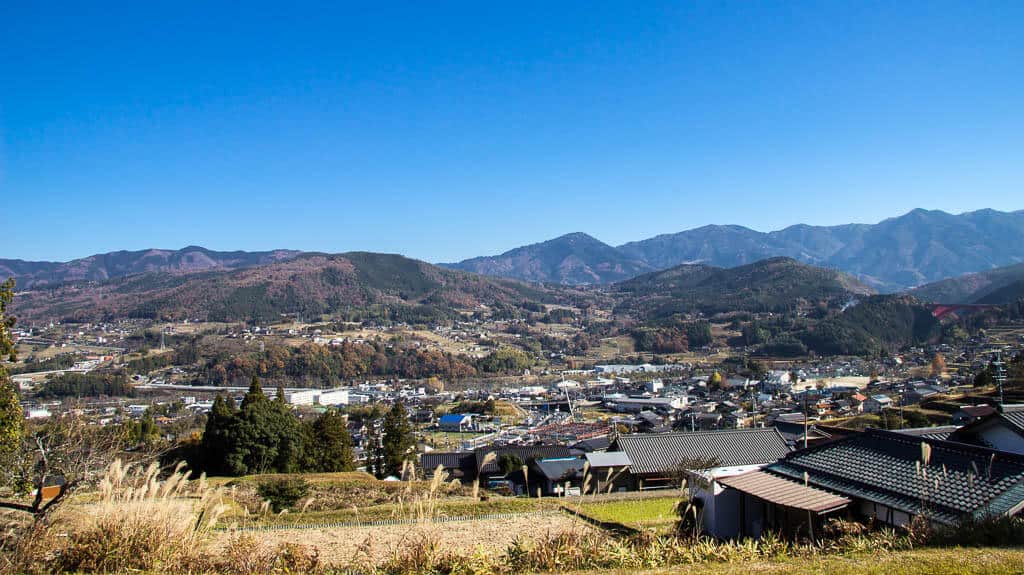 Ochiai is the 44th post station along the Nakasendo route and is considered an important heritage spot for its traditional homes, terraced farming plots and ancient walking paths which is why we were there. This area of Japan is seldom visited by foreign tourists and as it was a Monday we had the trail to ourselves.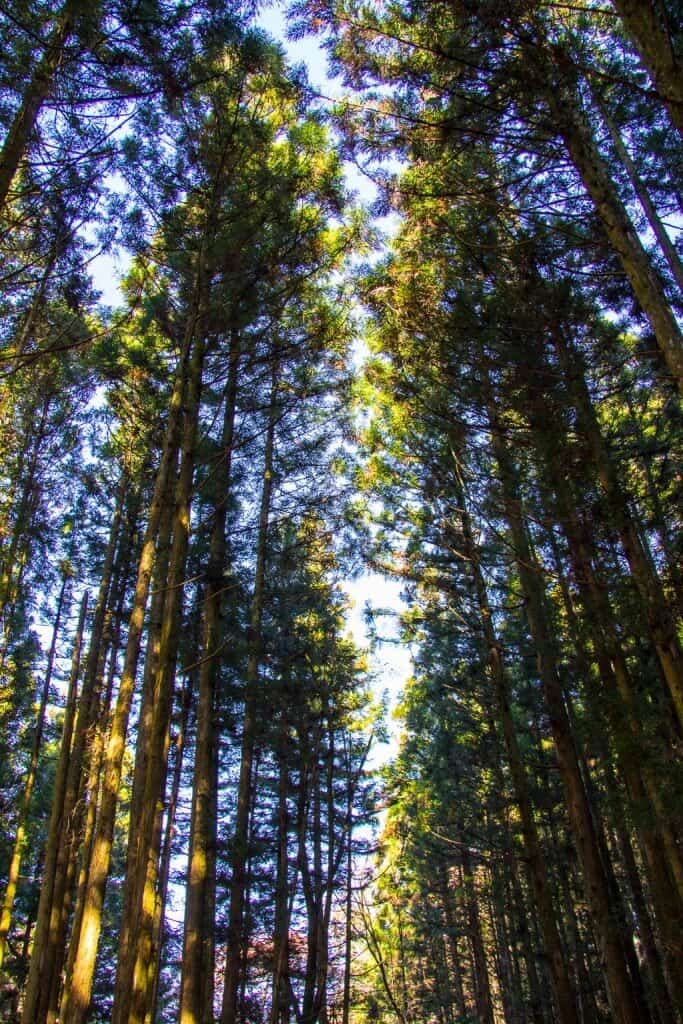 As we headed into the cedar forest I felt a sense of calm descend on to the group. We all went into our own worlds and walked at our own pace. This section of the trail had the best preserved stone paving and is the most atmospheric.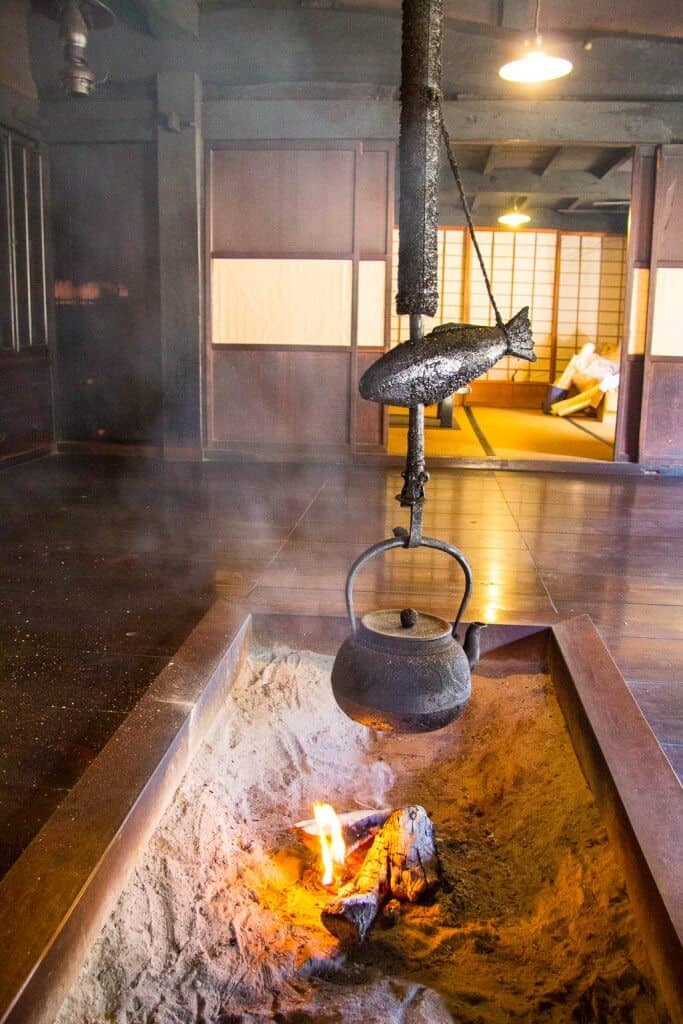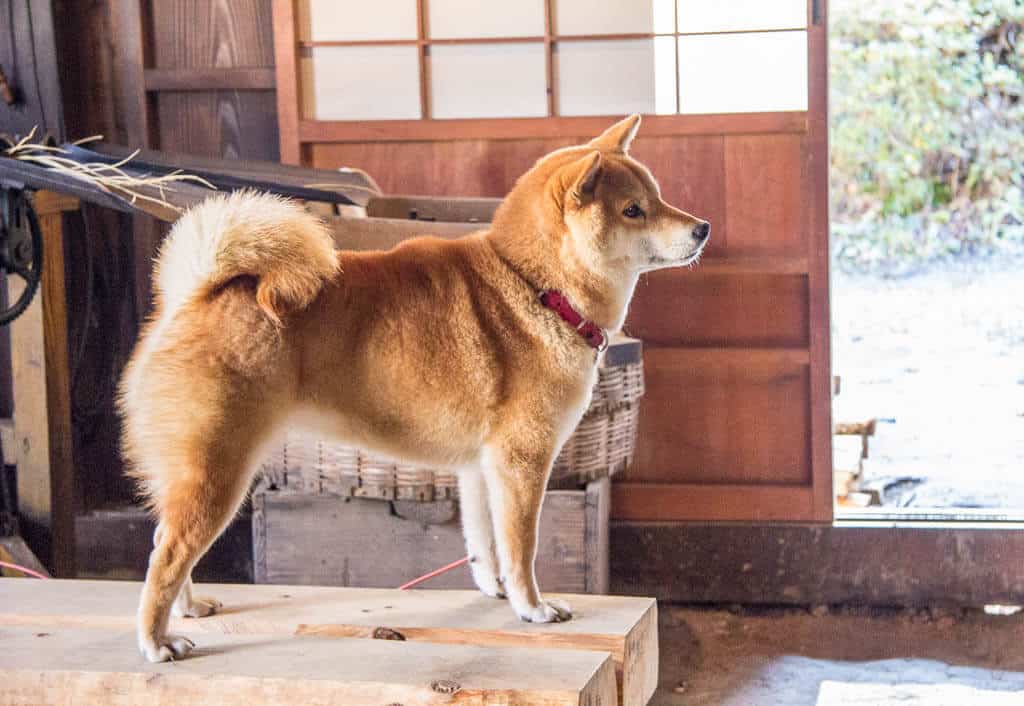 About half way down the trail we came across an ancient tea house where we sat for a while enjoying the free tea provided by the lovely couple who run it. The tea house is run on a donation only basis which is pretty remarkable considering the remoteness of the place. It was in the tea house where I bumped into the woman from earlier. It turned out that she was walking the whole of the Nakasendo Trail which can take up to 3 weeks.
After saying our goodbye's our next stop was Magome.
Magome: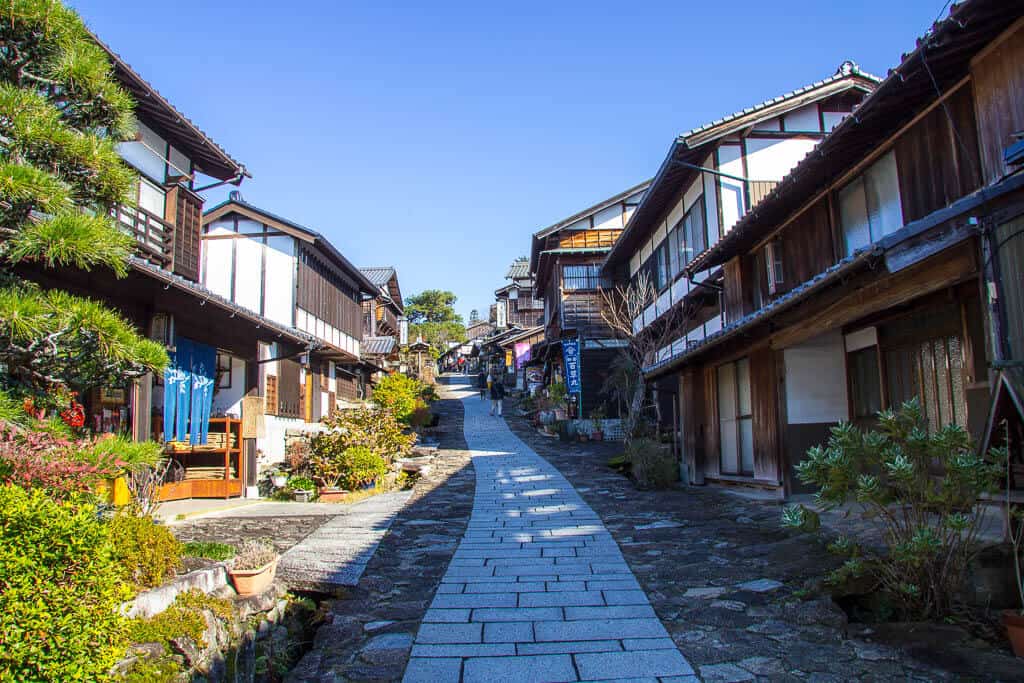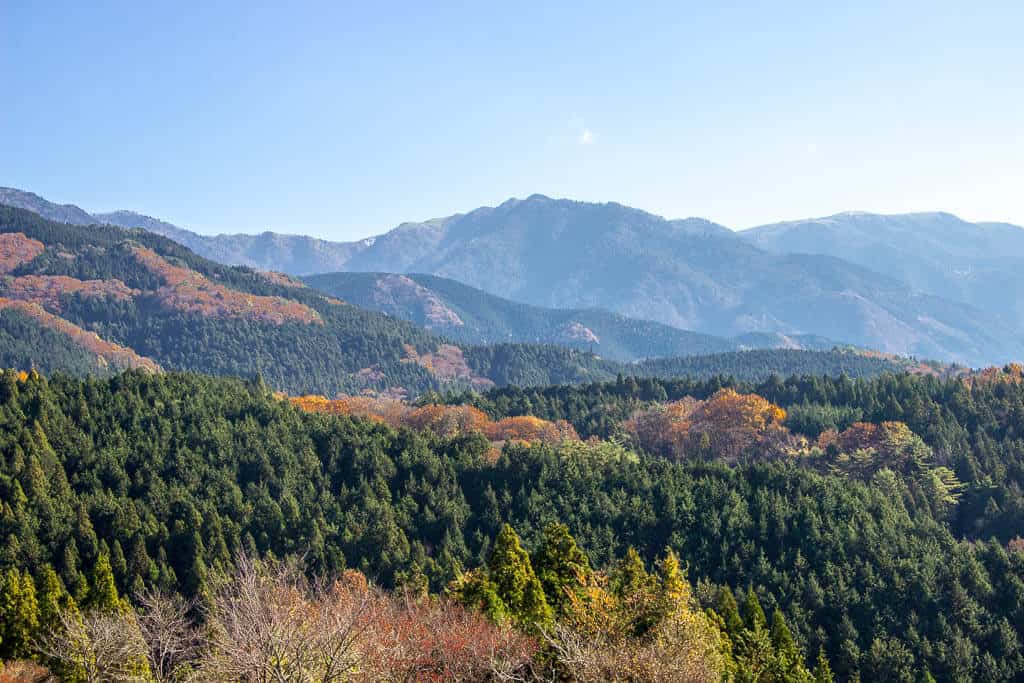 Magome was my favourite stop on the Nakasendo Walk. Some people would say it's touristy but that is for a reason. The town has been beautifully restored to its former glory with the main walkway full of shops and carefully tendered plants and trees. I have no idea how the Japanese people keep their gardens so pristine? They have hidden the power lines as much as possible and have plans to eventually hide all power lines to give Magome that authentic vibe.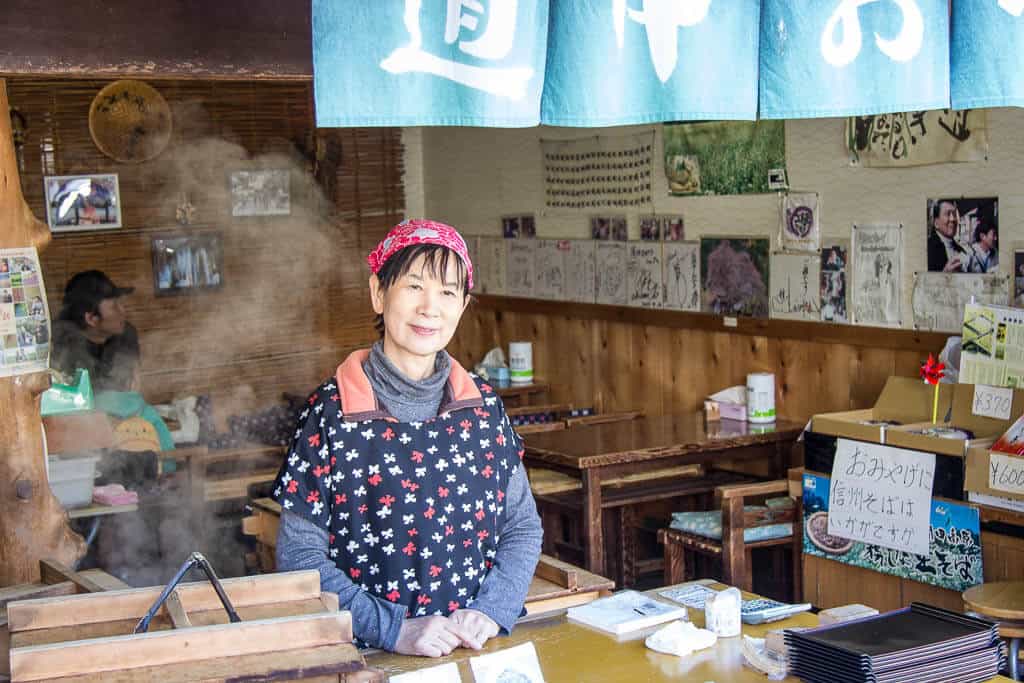 The buildings in Magome are made of wood and plaster most of which date from the 20th century as most of the originals were destroyed in the countless fires the town has had.
Magome was home to a famous Japanese author: Shimazaki Toson. He sounds very similar to the UK's William Wordsworth in the sense that they were both romantic poets, they both lived in the mountains and they wanted to preserve the natural beauty around them. The Toson Kinenkan is a small museum in the center of Magome dedicated to Shimazaki and his life, whose grave can be visited just off the main street along with Eishoji Temple, which is mentioned in the author's novels.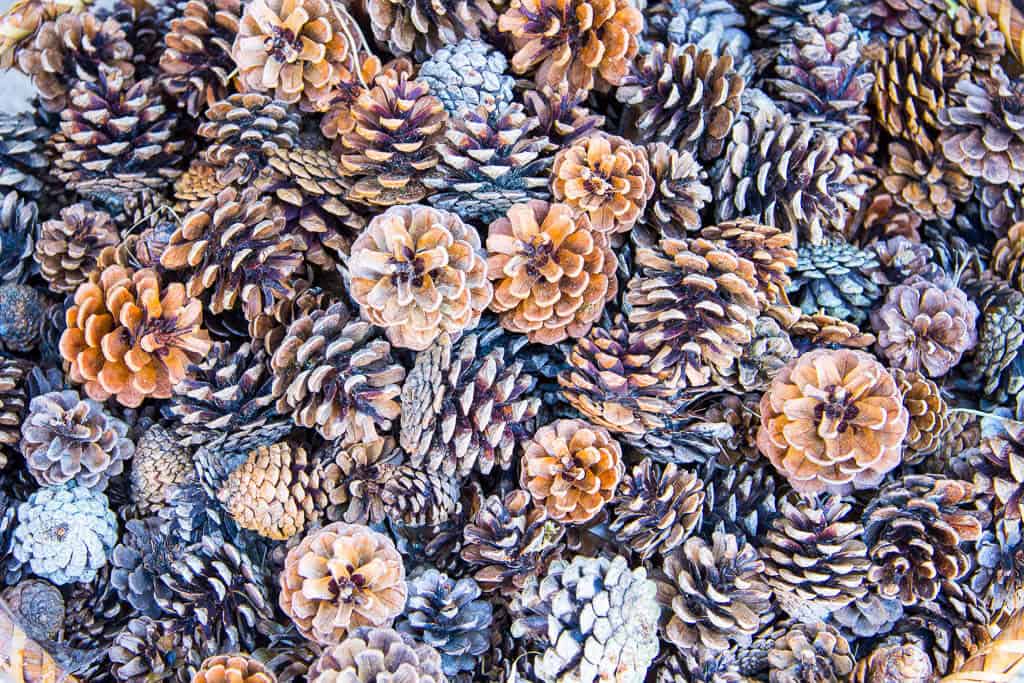 If you are heading to Magome then try to avoid weekends and national holidays as it is very popular with domestic tourists. It's best to arrive early and slowly walk up the hill to enjoy the splendour on your own.
Tsumago: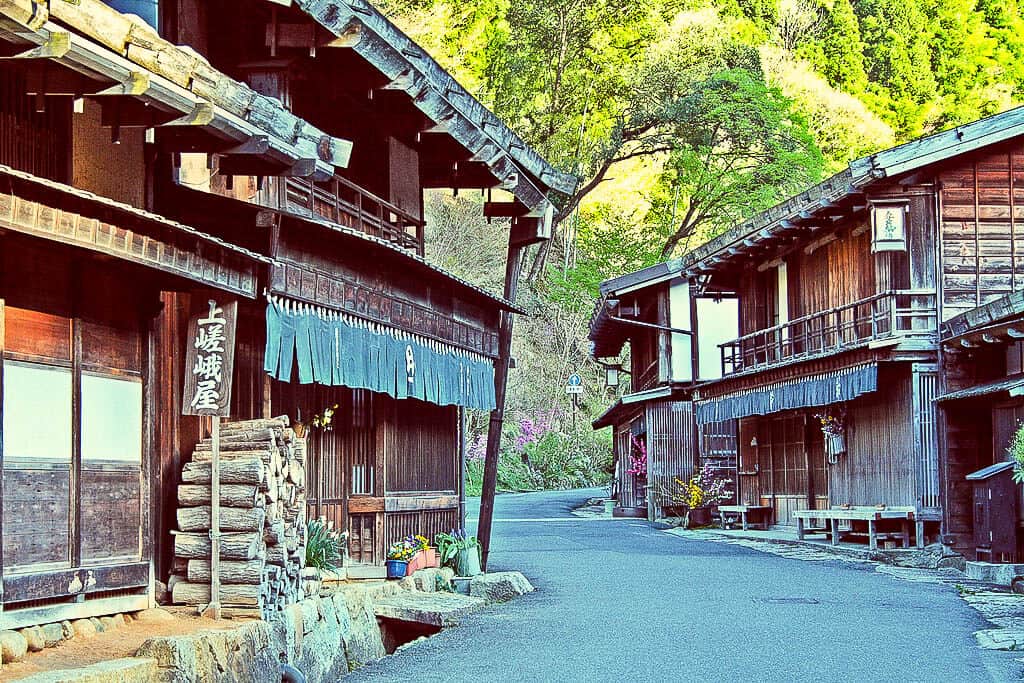 Unfortunately, we never made it to Tsumago as we took too long in Ochiai and Magome. From what our guide told us, I gathered it is more authentic and rustic compared to Magome. Tsumago has also been restored with the main street full of different ranges of accommodation that were on offer for Edo period travellers, from plain wooden floors, to tatami mats to the grandiose Inns for the gentry.
Nakasendo Trail Info:
Getting to Nakatsugawa:
Nakatsugawa is just 50 mins away from Nagoya by the Shinano express train.
Length of time to walk the Nakasendo:
To do the same walk we did (but all the way to Tsumago) roughly takes 3 to 4 hours with a stop on the way.
Eating along the Nakasendo:
There are loads of options to eat along the Nakasendo and this being Japan the quality of all of them is very high.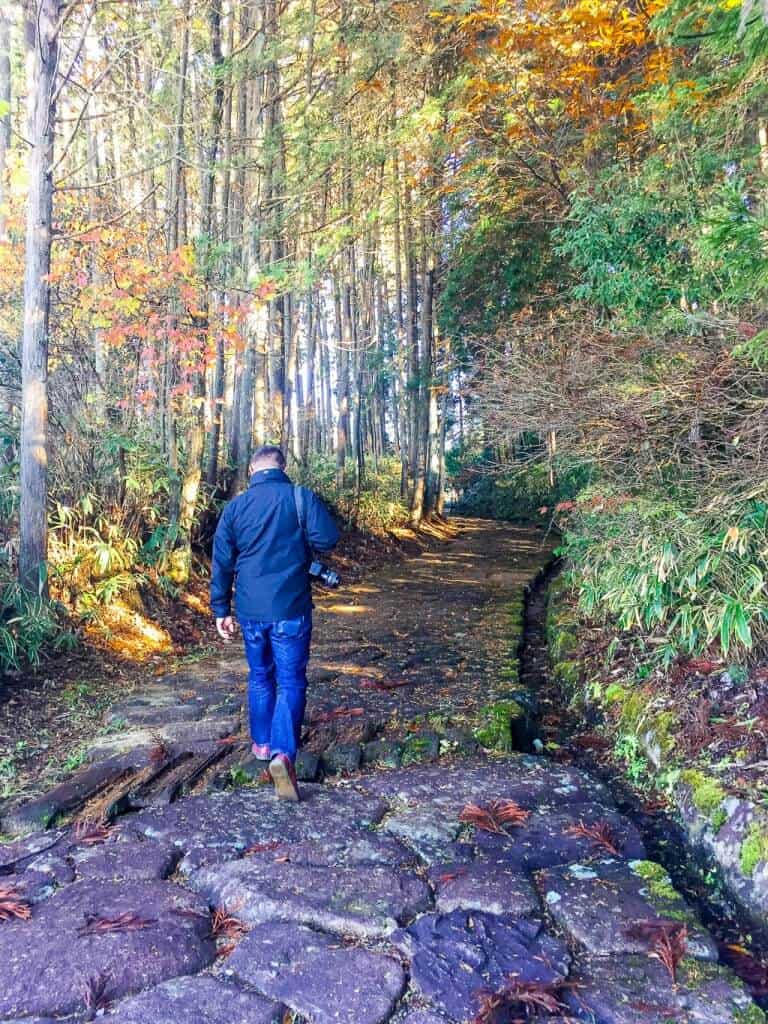 Walking the Nakasendo Trail gives you a glimpse of ancient Japan. You get to see traditional buildings, ancient craftsmanship, and stunning scenery. Mix it in with super modern Nagoya and you have the perfect combination of old and new. Just remember to say hello to the people walking past you!
Accommodation along the Nakasendo Trail
We stayed in a few places during our stay in Japan. From ultra modern to very traditional (which is just like Japan really). I highly recommend all the places.
Nagoya Accommodation:
Nagoya Marriott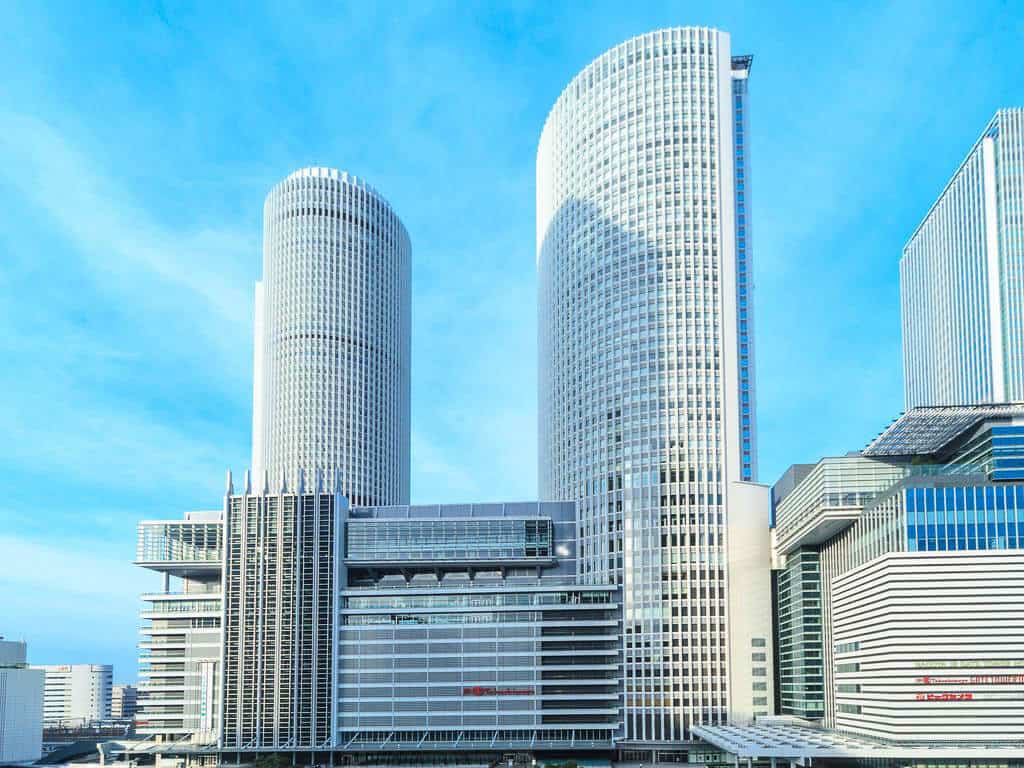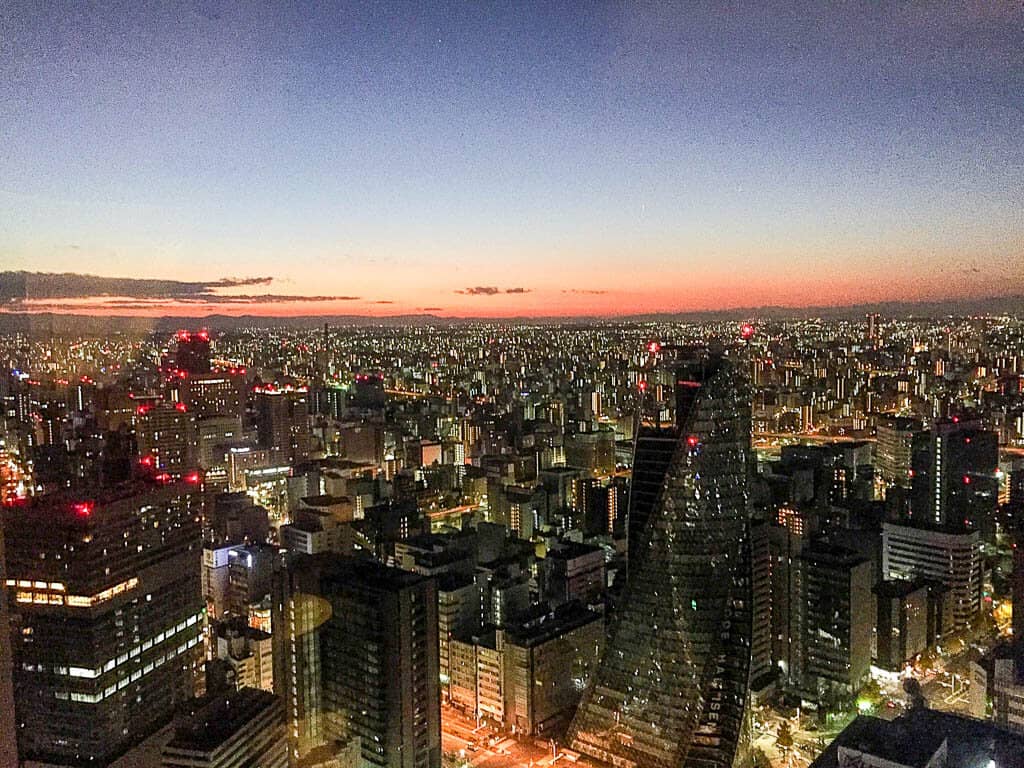 We stayed in the Nagoya Marriott during our stay in the city. The location is perfect as it is right above the train station and is next to all the main nightlife. The room had everything you would need with the added bonus of amazing views over the city. The breakfast was fantastic too, so much so we had 3 or 4 courses each! Check here for latest prices.
Iwasu-So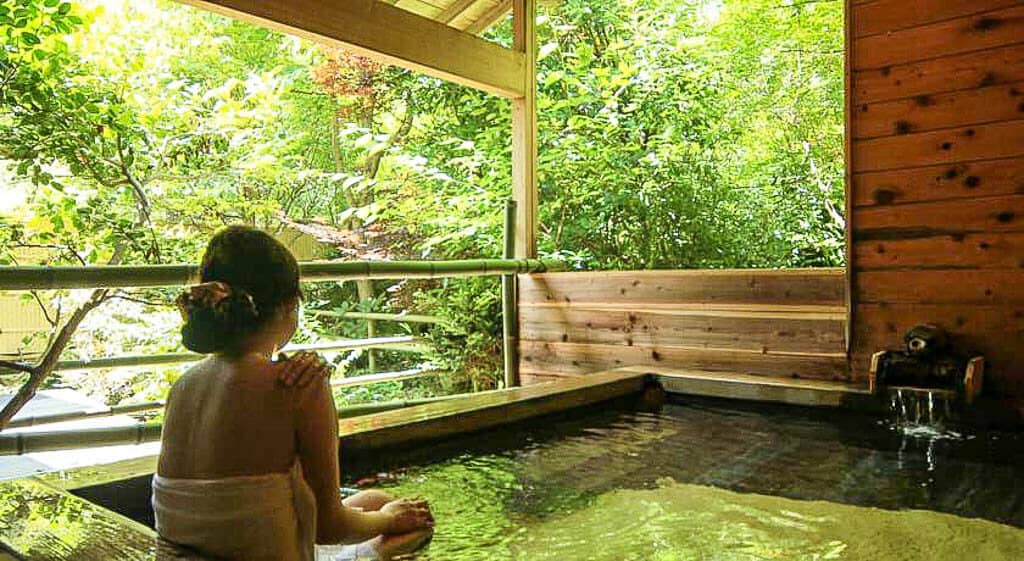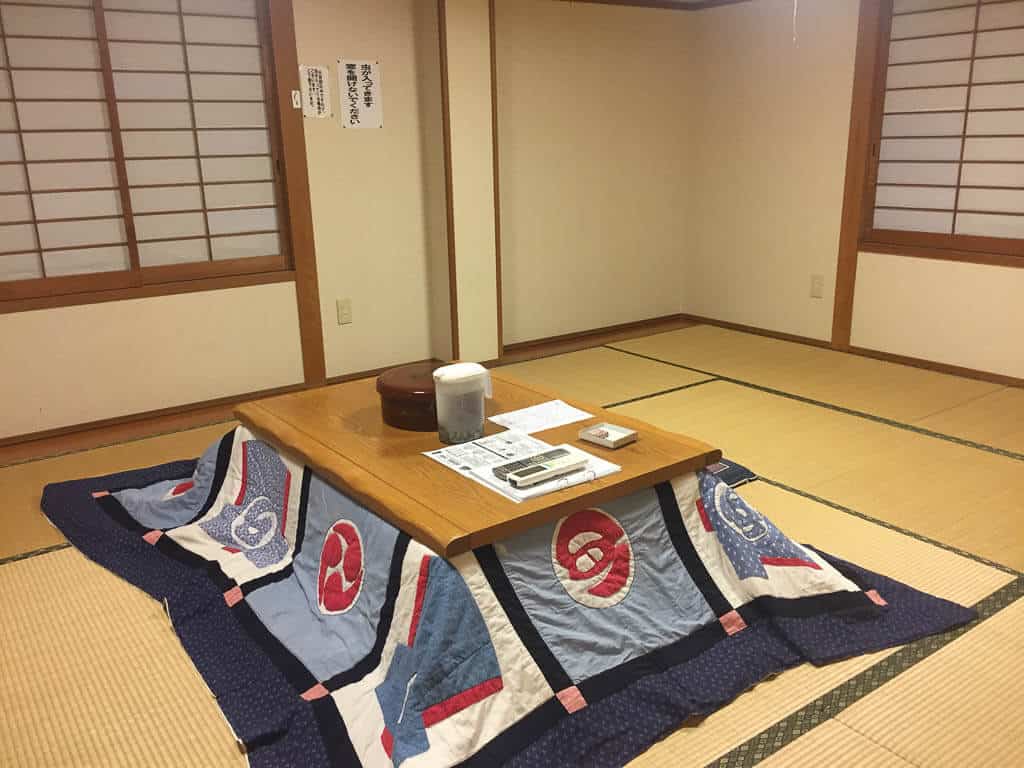 Our first night was spent in a traditional Ryokan with its own onsen. Iwasu-so is as traditional as it gets with tatami mats, futons, sliding doors and kimonos to wear both inside and outside. I love staying in these places as they are so different to what we are used to. Watching sunrise in the onsen the next day topped it off. I was the only one in it and it set me up perfectly for a day walking. Check here for the latest prices.
Hotel Suimeikan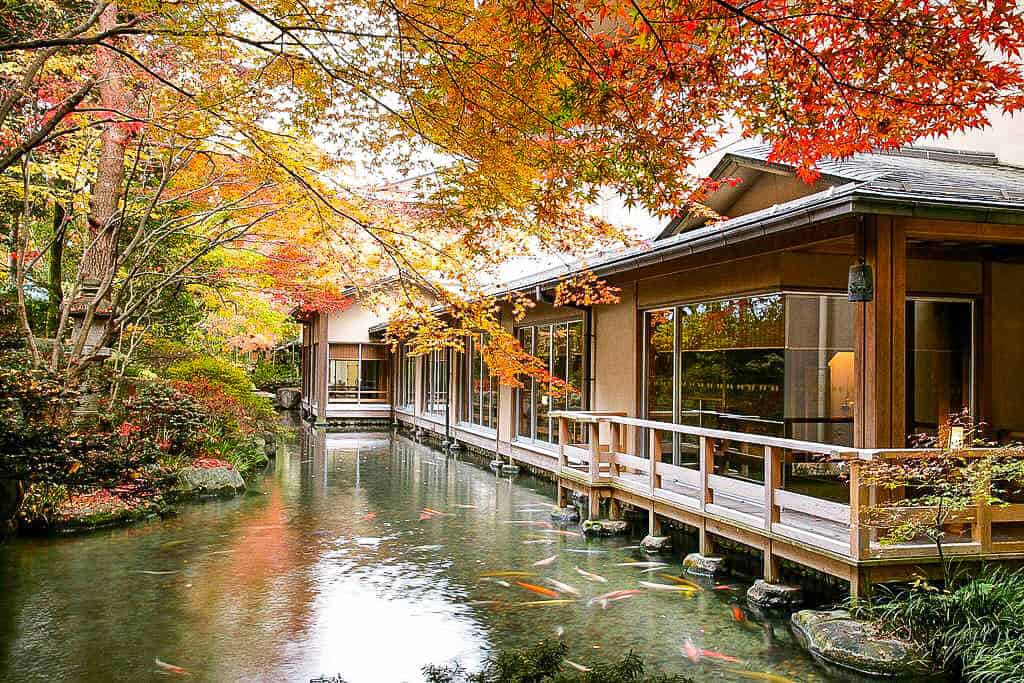 This hotel is situated between the Hida River and Japanese Alps. It also has Onsens on site, in fact you could call this hotel a Onsen resort. My room was huge, especially for Japanese standards and the food at the hotel was delicious. The hotel is only 3 minutes away from the JR Gero Train Station. Check here for the latest prices.
Nakasendo Trail Map

Heading to Japan? Check out our other Japan posts before you go!
Japan Trip Planner – Amazing Places To Visit In Japan | Japan Trip Planner. Check out our post on our favourite places to visit in Japan. Discover islands, cities, and villages.
From Tokyo to Kawaguchiko – An amazing Trip to Mount Fuji – Click here to find everything you need to plan an amazing trip from Tokyo to Kawaguchiko to visit Mount Fuji. How to get there, what to eat, do and see.
Finding Peace In Hiroshima – Our first port of call in Japan was in Hiroshima. Read about how we and the city itself found peace in Hiroshima after utter devastation.
Things To Do In Kyoto – Are you thinking of visiting Kyoto? Read our Things to do in Kyoto blog before heading there to make the most of your visit.
Where To Stay In Kyoto – Choosing where to stay in Kyoto can be tricky as there are so many great places to choose from. Read our post to help you decide.
Sleeping In A Manga Cafe In Tokyo – A video blog of us sleeping in a manga cafe in Tokyo. Why? Because it felt so Japanese. Did we sleep well? Watch the video to decide if it looks comfortable.
What To Do In Osaka – Are you heading to Japan? Read our post on What to do in Osaka before heading to this foodie city. From museums to river walks we list our top highlights.
How We Gatecrashed A Japanese Pop Stars Wedding In Tokyo – This is the tale on how we gatecrashed a Japanese pop stars wedding in Tokyo. We honestly did it by mistake but it took us a few hours to realize what we did.
Things To Do In Nara – Read our local's guide of top things to do in Nara. From temples to the deer park and amazing food we share the best tips to make the most of your trip to Nara.
The Best Ryokans and Hotels in Nara – Are you looking for accommodation in Nara, Japan? Then read our post on The Best Ryokans and Hotels in Nara Japan before booking. Stay in a traditional style Japanese Inn for amazing food and incredible hospitality.
A Guide To The Yaeyama Islands – Discover Japan's secret tropical location The Yaeyama Islands, Okinawa. They are a perfect add on to your Japanese adventure.
5 reasons to visit Taketomi Island – If you are heading to the land of the rising sun on your next trip then here are 5 reasons to visit Taketomi Island, Japan when you go.
Things To Do On Ishigaki Island Japan – If you are heading to the Yaeyama Islands in Japan, then read our blog post on what to do on Ishigaki Island, Okinawa.
Okonomiyaki Recipe (Japanese Pancakes) – This week on global recipe swap we have an Okonomiyaki Recipe (Japanese Pancakes) a favourite dish of ours when we were travelling in Japan.
Things to do on Iriomote Island – Are you heading to the Yaeyama Islands? Then read what are our Top things to do on Iriomote Island, Japan. Enjoy Japan's tropical paradise.
Gujo Hachiman Castle – If you visiting Gifu Prefecture in Japan then we highly recommend you visit Gujo Hachiman Castle which is also known The Castle In The Sky. Read our post to find out how to get there and what's it like.
#LoveYourTravels
We were invited to Japan by our partners JTB. As always, opinions are our own.