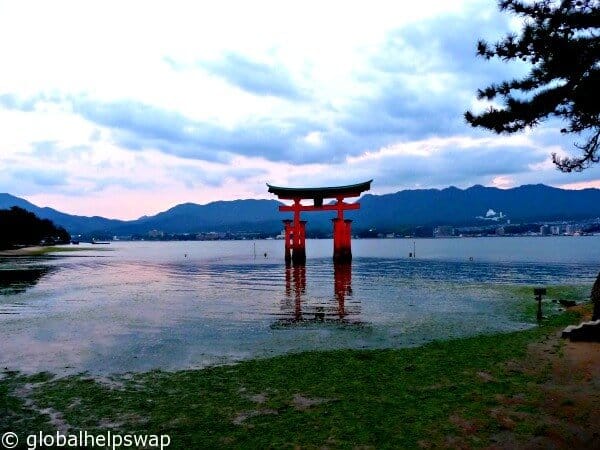 08:15 August 6th 1945
For a moment stop and imagine yourself going about your daily routine in the morning. The sky is blue and clear, you're probably on your way to work, nothing out of the ordinary is going on. And then, at exactly 8.15am you see a bright light in the sky, you hear what sounds like thunder crashing and you are engulfed by an immense heat.
You lose consciousness for a few minutes and when you next open your eyes you think you've been transported into another world. A grey, ugly world with flattened buildings, fires everywhere, people screaming in pain trying to remove burning clothes off their bodies. Death surrounds you, and as your eyes start to adjust to your dismal surroundings you become aware of your own pain. Your back is badly burnt, your hair is singed and yet you are lucky. You've made it through…
This is what happened to the citizens of Hiroshima in 1945. One bomb obliterated everything that was familiar to them. One hundred and forty thousand people died as a result of one bomb. Many more would die from the effects of radiation in years to come. This is the damage one bomb could cause in 1945. Today, the nuclear weapons held by the different nations together can inflict 30,000 times the damage that was caused in Hiroshima. And as long as countries insist on holding on to these weapons we all run the risk of suffering the same fate as the people in Hiroshima did 65 years ago. As Einstein said, 'I don't know what we'll be fighting World war 3 with, but I do know what we'll be using to fight World war 4….sticks and stones'. This is why we need to say NO to nuclear weapons.

The story of Hiroshima is not one of helplessness, but one of hope. Three days after the attack the tram started working again. Within two weeks plant life started sprouting, and today the city is a bustling metropolis with beautiful buildings and parks. 
We had arrived in Japan by ferry-boat from South Korea. With typical Japanese efficiency we arrived early. We were actually still asleep in our cabin when we docked! It was the first of many such instances where we got caught out with Japanese punctuality.
After leaving the port we got our very first bullet train from Shimonoseki to Hiroshima. Whilst waiting for the train we got talking to a Japanese English teacher. As we entered the carriage she sat in front of us and twisted around and carried on asking us about our trip. We chatted away for a while when the lady asked if she could spin around to face us. We both agreed but were not sure what we had actually agreed to. It turns out that the seats have a lever and once you press it, they spin around to face your companions. We were so impressed and did not hide the fact. So from day 1, Japanese technology blew us away.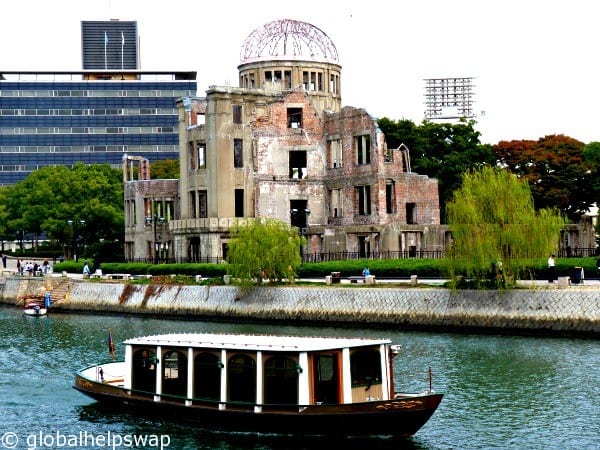 That first night was spent downtown which is packed full of hundreds of bars, restaurants, and karaoke joints all tucked into little lanes. We decided to head to Nawanai which is an Izakaya (Japanese Pub). It was in the basement of an office block so not the easiest of places to find. It was worth the search though as the sashimi and tempura were delicious.
Our 2nd day was spent at the Hiroshima Peace Memorial Park. It was such a moving and touching day. The memorials are well put together. One particular memorial (the victims memorial) was really beautiful. In all of the memorials the Japanese admit that they were at fault for their aggressive policies and that they have learnt and changed. Which we know to be true after spending a month in the country. The Japanese people welcomed us with open arms and went out of their way to help us.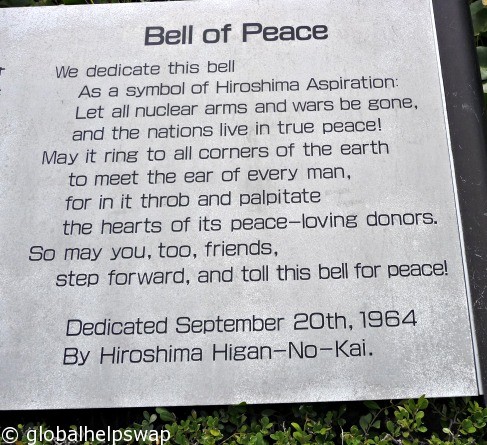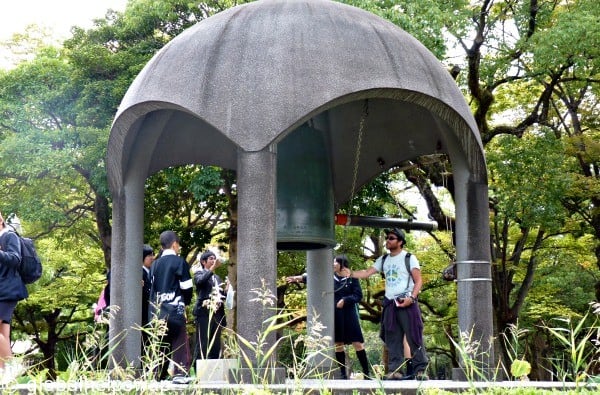 Every year the Mayor of Hiroshima sends a letter to all known nuclear powers pleading with them to destroy their nuclear arsenals so nobody has to go through what Hiroshima and Nagasaki did. One thing I know for sure. War is messed up and it is very scary to think that 1 bomb can destroy an entire city.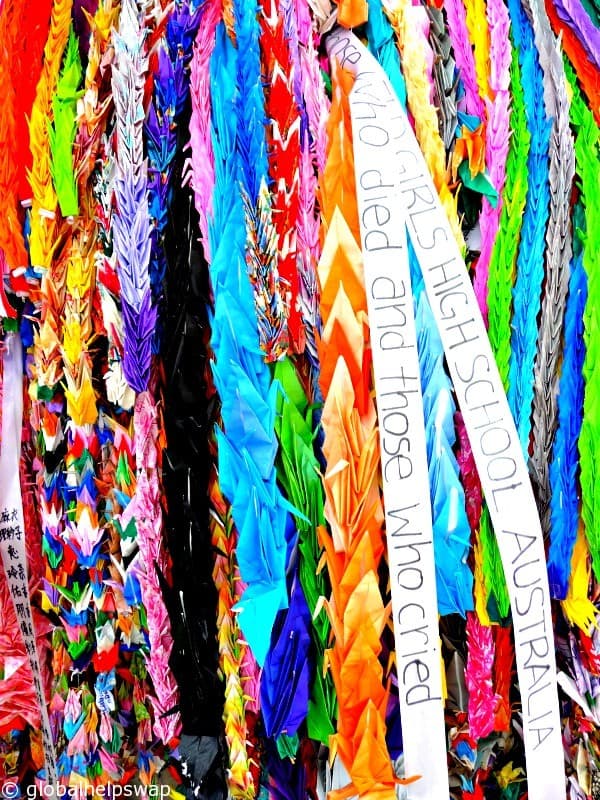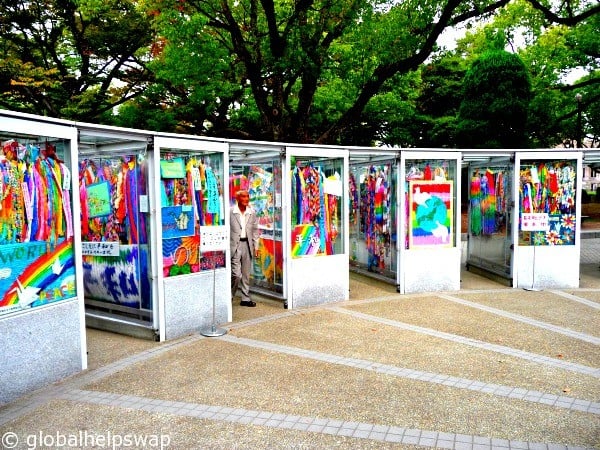 There is this one story about a little girl who had cancer because of the effects of the bomb. As she was getting more and more weak she started to make paper cranes as she believed that if she made a 1000 of them she would get better. Sadly she passed away. Her classmates then decided to finish her task and complete the 1000 cranes. They were doing it to spread awareness of children suffering because of war. Other schools around the world heard the story about the little Japanese girl and her paper cranes and they too sent in 1000's of paper cranes. You now can see them at the memorial park.
Sadly as I write this there are still children suffering because of war. Why do we do it? We have travelled to all corners of the earth and the one thing that really stands out is that people are good. They will help you regardless of colour, nationality, religion and political beliefs. When will we realize that we live on one planet and that we are all the same?
On our last day we took a lighter day trip and went to visit one of the most photographed sites in Japan that's set in a gorgeous little island town called Miyajima. We took the metro and a short ferry ride to the island and the minute we got off we were greeted by the local strays who came in search for food. Now we're not talking about your typical stray here, no, in Miyajima even the strays are better looking……..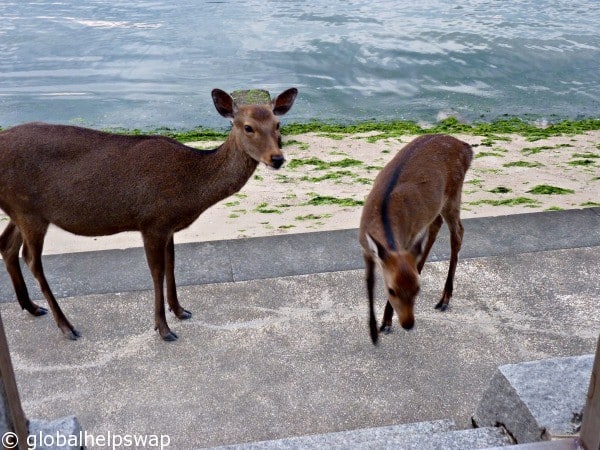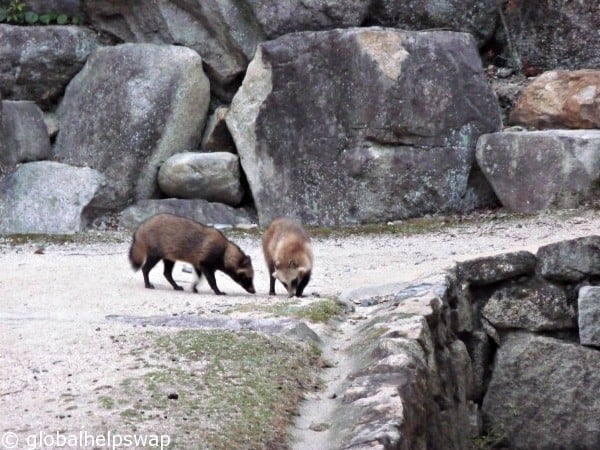 They were beautiful deer and little bambis with gorgeous eyes and a gentle manner. We would have loved to feed them but unfortunately that is what created the problem in the first place. The deer prefer the easy food they get from misguided tourists and have left the forest to come and beg for food in town. Very sad really. We couldn't quite get over seeing these lovely creatures strolling next to us, appearing quite at ease with our company.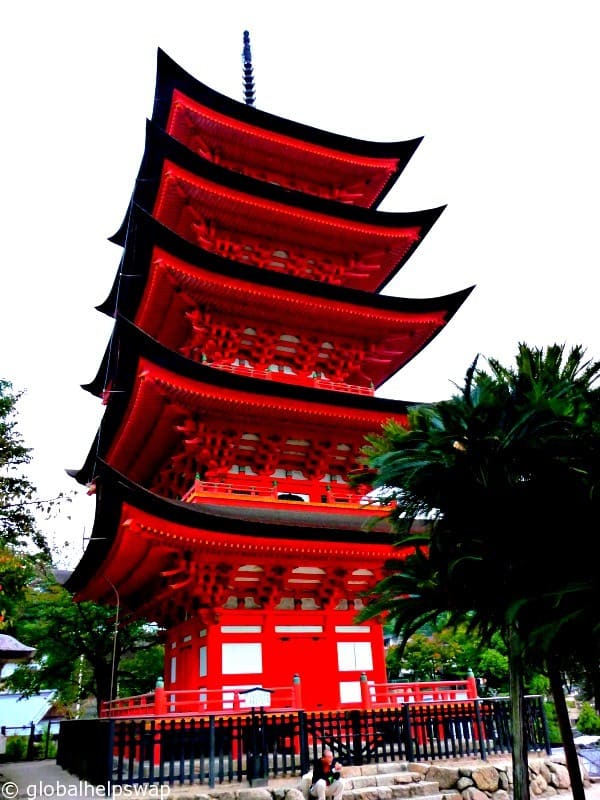 Once we got over the deer we remembered to look around us and marveled at this cute little town. We walked along lovely tiny streets and impressive shrines to get to the big site, The floating Torii gate. It's named as such because the gate is in water and when the tide comes in it looks like it's floating. When the tide is out it just looks like it's stuck in mud. Good job the tide was in when we saw it then! 
Where we slept
We stayed at J-Hoppers hostel. It is in a great location and has ultra friendly staff. You can book either a dorm room or your own private room. To book just click here: Book me.
Food & Drink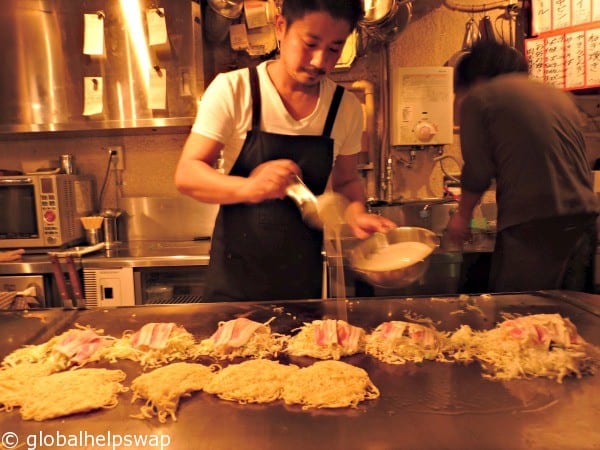 You HAVE to go to Hassei to try their Okonomiyaki (a savoury pancake which is sometimes called Japanese Pizza). The food is out of this world and by sitting at the counter you get a show too. We were transfixed at how they make these delicious concoctions.
Memorable Factor
Hiroshima was the perfect starting point for us as we got to learn about the Japanese past and witness Japan in the present. The most memorable thing for me is how after the war the Japanese nation as a whole decided to walk a different path. For the last 70 years there has been peace in Hiroshima because of the collective effort of its people. If they can do it so can we. Which city shall we start on next?
#LoveYourTravels
Paul Farrugia is a an avid traveller and blogger. When he is not travelling he likes to spend his free time reading, going to festivals and sitting down enjoying a nice glass of red! If you would like to reach him send him an e-mail to [email protected]