When we visited Malaysia we practically lived on Nasi Lemak. It's Malaysia's national dish and a must try if you visit this fascinating country. Nasi Lemak is a rice dish cooked in coconut milk and pandan leaf. Traditionally it was served for breakfast (it was recently voted as one of the top 10 healthy breakfasts by Time) but now with the variety of condiments you can put with it, it is served throughout the day.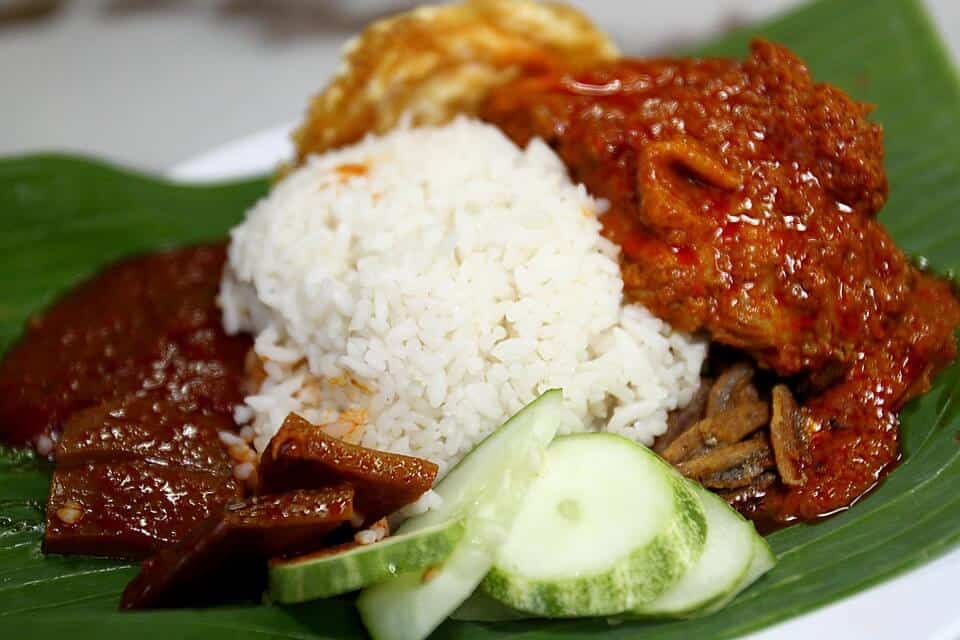 Nasi lemak is served with a hot sauce called Sambal, and then various garnishes are included like fresh cucumber, small fried anchovies, roasted peanuts, and a hard-boiled or fried egg.
But, you don't need to visit Malaysia to try it. Why not try it at home and let us know how you got on.
Ingredients for the Nasi Lemak:
500g jasmine rice / basmati rice
250ml coconut milk
475ml water
2 shallots, thinly sliced
2cm ginger, peeled and sliced
2 stalks lemongrass, bruised
1 screwpine leaf or 6 curry leaves
Sugar and salt to taste
Ingredients for the condiments
120g deep fried crispy anchovies
120g deep fried ground nuts
1/4 cucumber, peeled and sliced
4 eggs; hard boiled, peeled and halved
Ingredients for the prawn sambal
500g raw prawns, peeled and deveined
6 tbsp dried chilli paste
10 round shallots, peeled and roughly chopped
4 cloves of garlic, peeled and roughly chopped
4 candlenuts
1 tsp shrimp paste
2 stalks lemongrass, bruised
1 tbsp tamarind paste
2-4 tbsp sugar
Salt to taste
50ml vegetable oil
125ml water

Directions:
Nasi Lemak and the Condiments:
1. Put all the ingredients into a rice cooker pot and cook on the normal setting.
2. Alternatively, put all the ingredients into a large saucepan and place onto a medium high heat.
3. Bring to the boil and let the liquid almost evaporate which will take about 6-8 minutes. Once the liquid has almost evaporated, turn the heat on very low and cover with a lid for 10 minutes. After 10 minutes, the rice should be cooked, leave to stand for 2-4 minutes before serving. Discard the ginger slices, lemongrass stalks and screwpine leaf.
4. Serve the Nasi Lemak with the condiments and prawn sambal.
Prawn Sambal:
1. In a food processor, put the shallots, garlic and candlenuts and blend until a paste.
2. Heat the oil in a wok on a medium heat and fry the dried chilli paste until fragrant and you can see the oil separates/splits from the paste. This will take about a minute.
3. Add the blended ingredients and fry for 3 minutes before adding the shrimp paste. Add a little water and continue to cook for a further 2 minutes.
4. Add the lemongrass and tamarind and the remaining water. Stir well and cook for 5-6 minutes until the sambal thickens.
5. Add the prawns, sugar and salt mixing well to combine. Cook for about 3 minutes or until the prawns are just cooked. Remove from the heat and serve with the Nasi Lemak.
6. You may garnish with some sliced spring onions.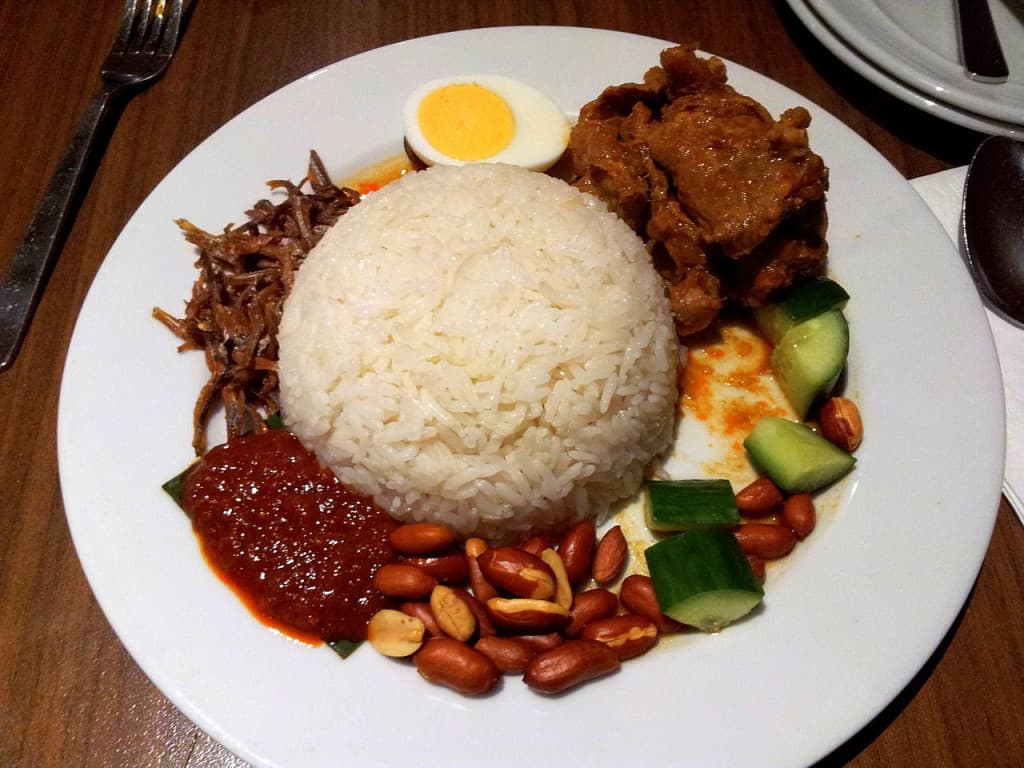 If you would like to take part in global recipe swap, please send us in a special dish from your area and we will try to cook it at home. You can send the recipe to paul@globalhelpswap.com. Feel free to cook todays recipe and let us know what you think in the comments below.
Check out these other recipes from our global recipe swap series:
Sri Lankan Hoppers – This was one of our favourite dishes from an Island with plenty of amazing dishes!
Khao Soi Recipe – One of my top 5 dishes in the world. This Northern Thai dish is my addiction when I am back in the land of smiles.
#LoveYourTravels
*All images from the Creative Commons