I am standing on the edge of a mountain highway looking at the mist soaked mountains. It's early and I am cold because I left my jacket back on the bus. Stopping here was not on the itinerary but as we descended down the mountain we noticed a group of people with impressive cameras perched on the edge of the road so we asked our driver to stop.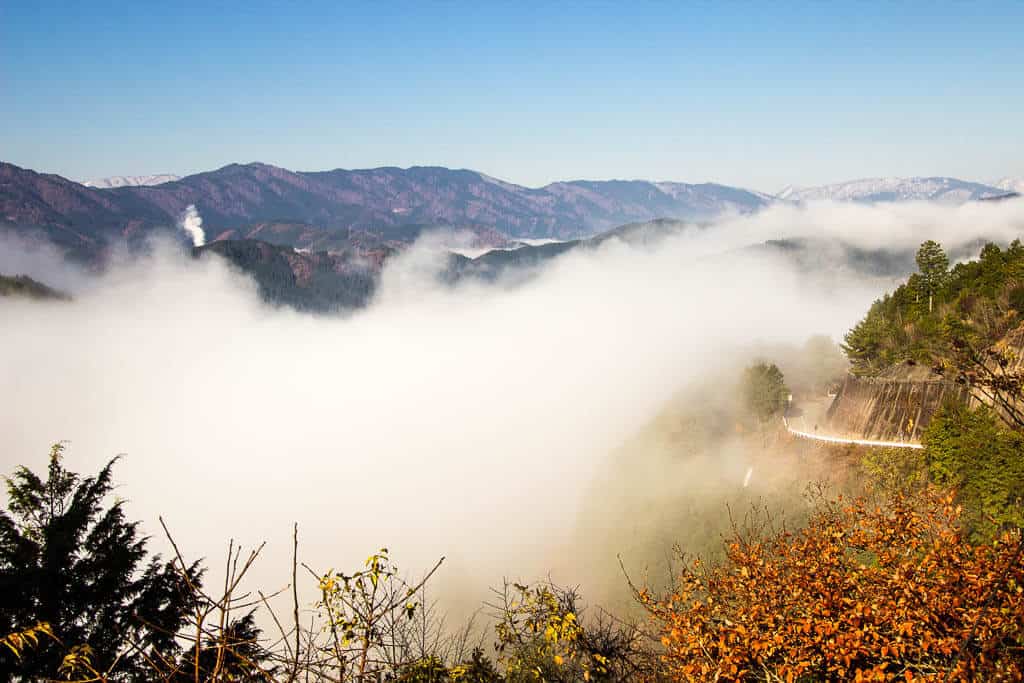 It turns out they are waiting for the mist to pass so they can take photos of Gujo Hachiman Castle, the very place we are heading to! I asked one of them what time the mist will pass and he smiled at me saying only nature knows. A very zen answer! The group have been here since 05:30 and have had no luck so far. Suddenly there are gasps of delight as the mists start to disappear.

I can't believe how lucky we are, we have only just got off the bus and we are presented with Gujo Hachiman Castle in all its glory surrounded by the colours of autumn and wispy mists. They call Gujo Hachiman Castle "The Castle In The Sky" and it is not hard to see why.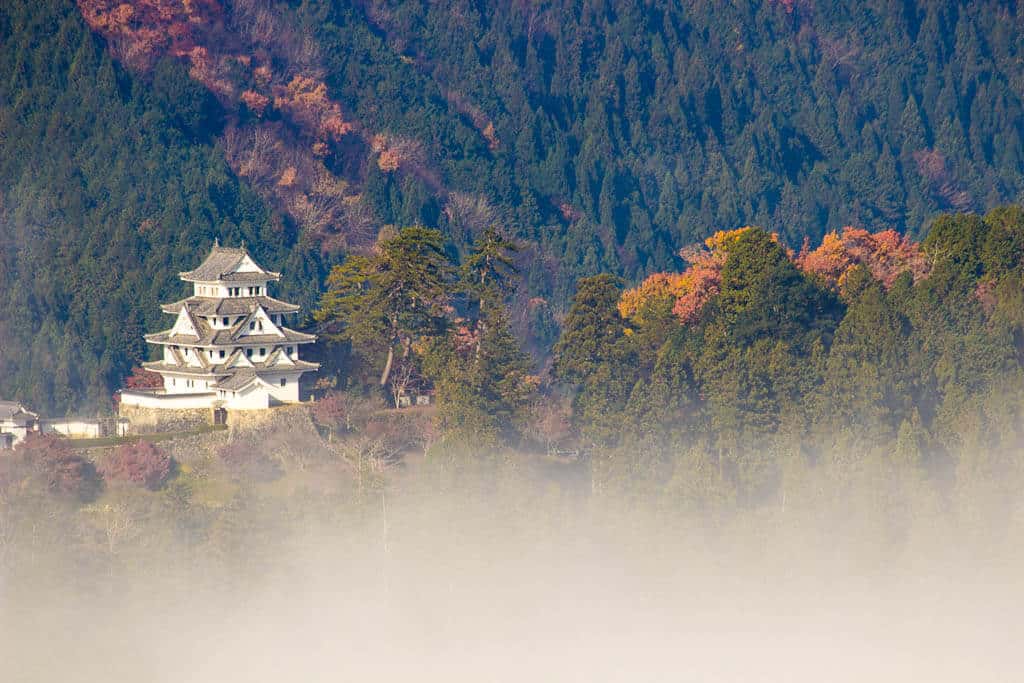 Gujo Hachiman Castle was built in 1559 by Endō Morikazu. Morikazu had barely finished the castle when he died, leaving it to his son Endō Yoshitaka. For 400 years the castle stood with additional wings added to it but by 1870 the castle was torn down during Japan's attempts to modernise. Thankfully in 1933 it was reconstructed out of wood.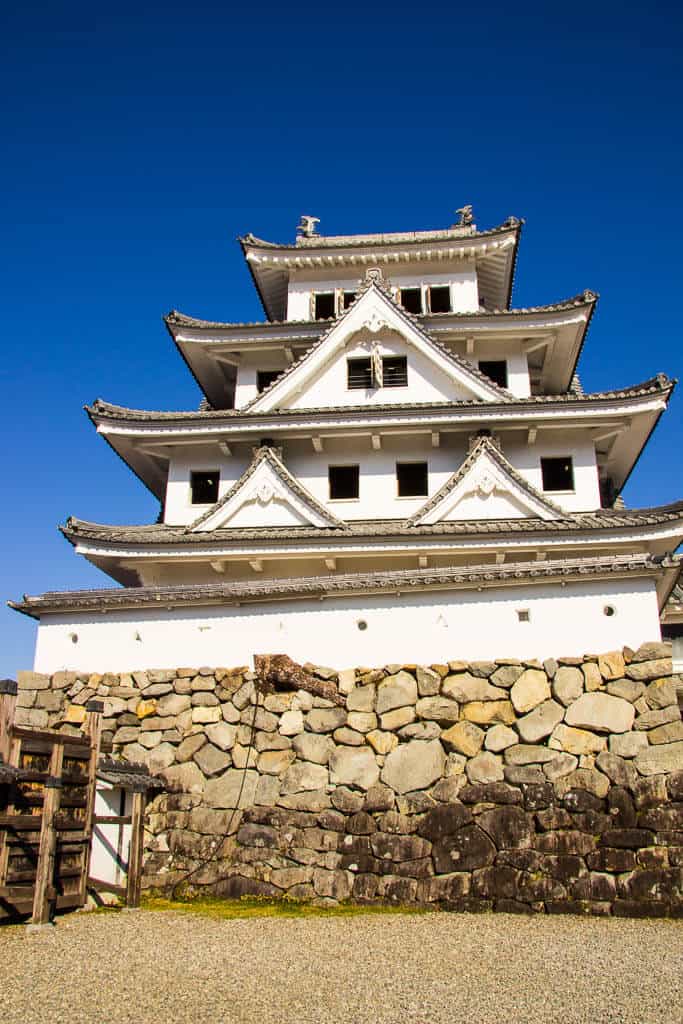 I am taking my 1,000th photo of the castle and the mists are creeping back towards it. Just like that the castle is hidden behind a blanket of cloud. It reminds me of the times I have spent in San Francisco watching the famous Pacific mists covering the Golden Gate Bridge.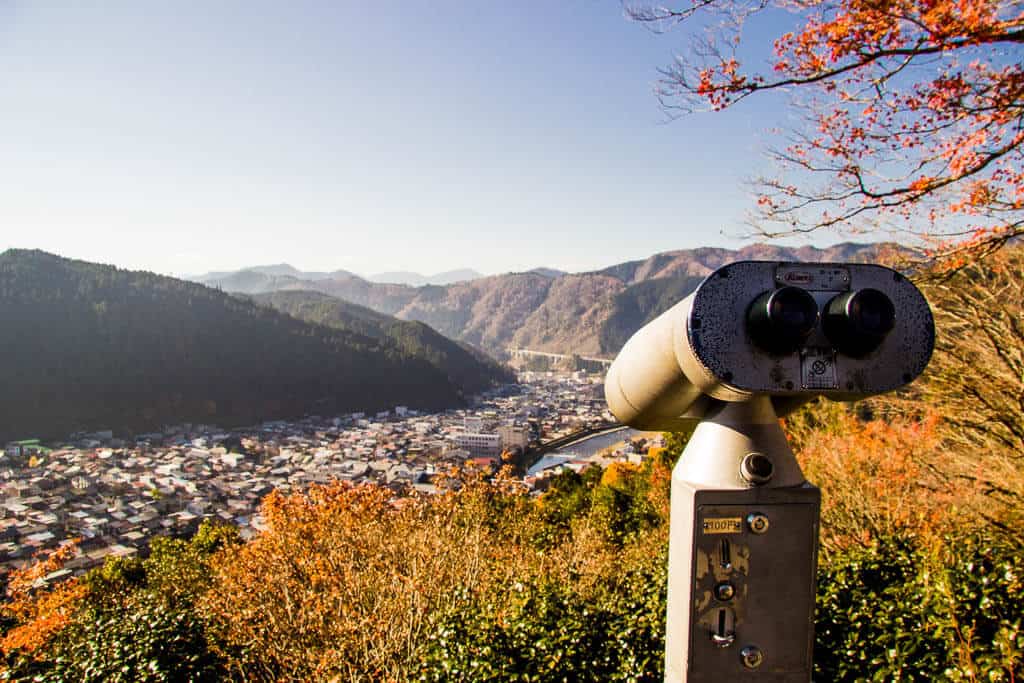 Gujo Hachiman Castle is situated above the small town/city of Gujo Hachiman. I am walking around the beautiful castle grounds marvelling at the kaleidoscope of colours Autumn in Japan brings. Our guide mentioned that the grounds are also very popular during Sakura (Cheery Blossom season.) In mid-November, the castle is the venue for a Momiji (maple leaf) Festival which includes taiko drum performances and light-ups of the trees at night which I imagine looks spectacular.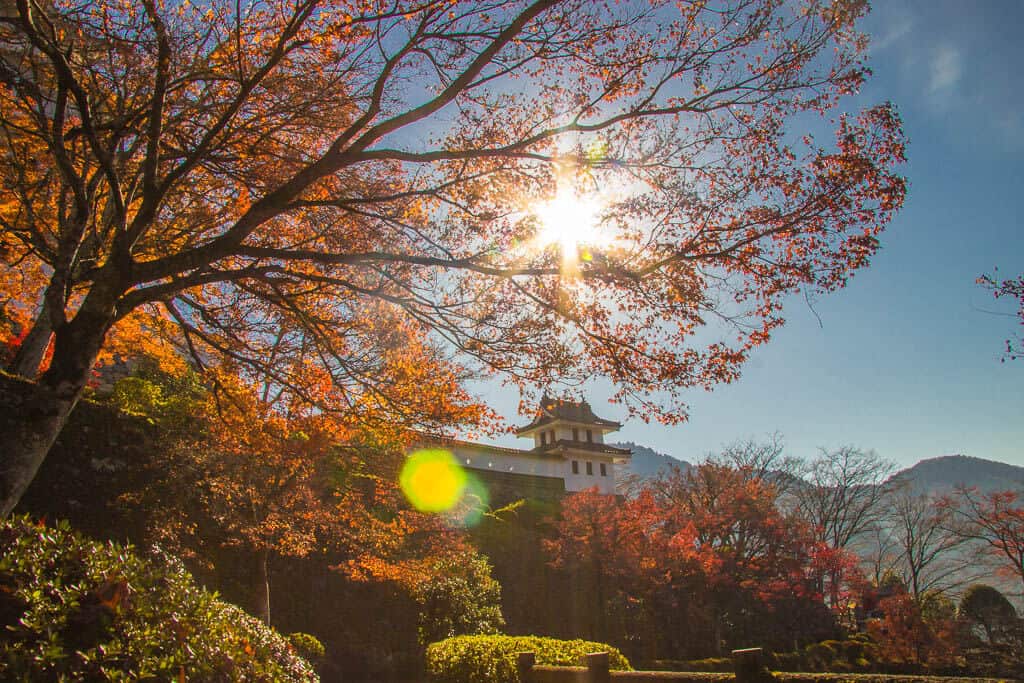 The autumn leaves are so beautiful I almost forget why I am here. I head into the castle's interior where there is a small museum showcasing samurai armour, swords, and folding screens. As we ascend I can see why they chose to build the castle here. I am rewarded with 360˚ views of Gujo Hachiman City. It must have been almost impossible to attack the castle without being spotted. Thankfully I don't need to worry about invading marauders attacking us but I do see a coach load of domestic tourists heading this way so it is time to make a sharp exit.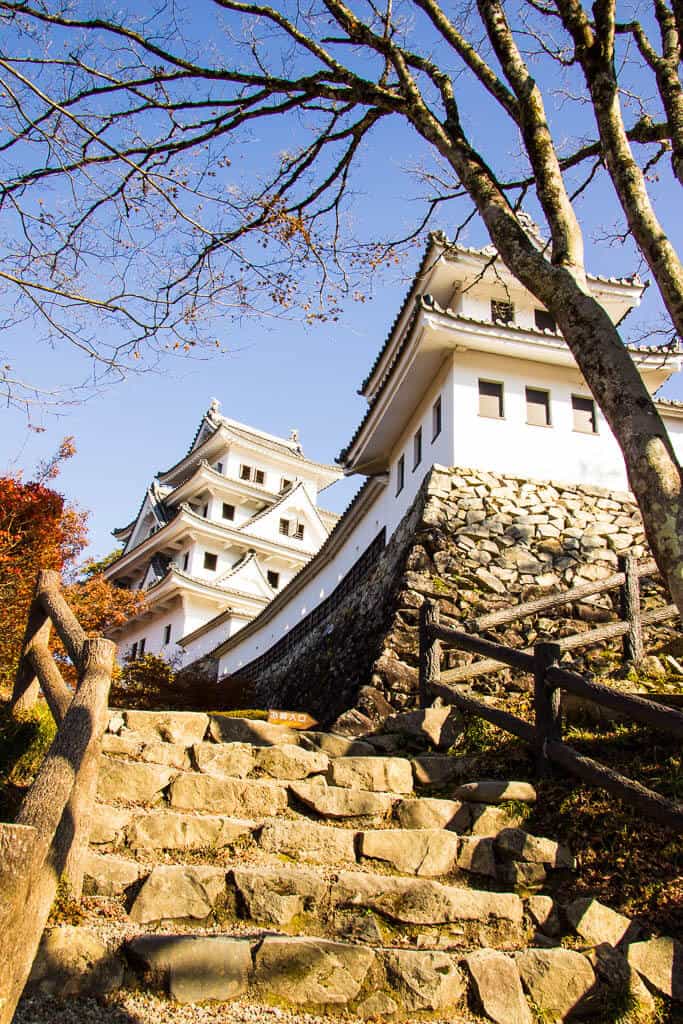 If you are heading to Gifu prefecture then I highly recommend you visit Gujo Hachiman City and Gujo Hachiman castle. The city itself has enough to keep you occupied for a couple of days and the surrounding countryside is beautiful.
Gujo Hachiman Castle Information: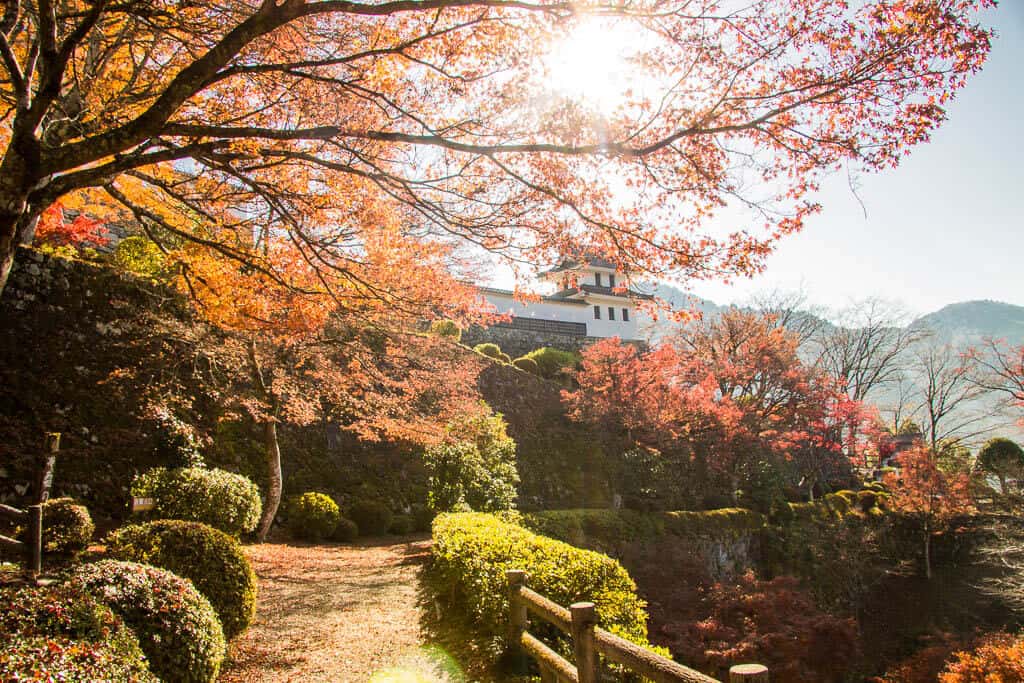 Address: Gujo-Hachiman Castle
659 Ichinohira
Yanagi-machi, Hachiman
Gifu 501-4214
Tel: Tel: 0575 67 1819
Opening Hours: 9am-5pm (June-August 8am-6pm; November-February 9am-4.30pm)
Admission Costs: 300 yen; or buy a combined ticket for 650 yen with entry to Hakurankan (Gujo Hachiman City Museum).
How to get to Gujo Hachiman Castle: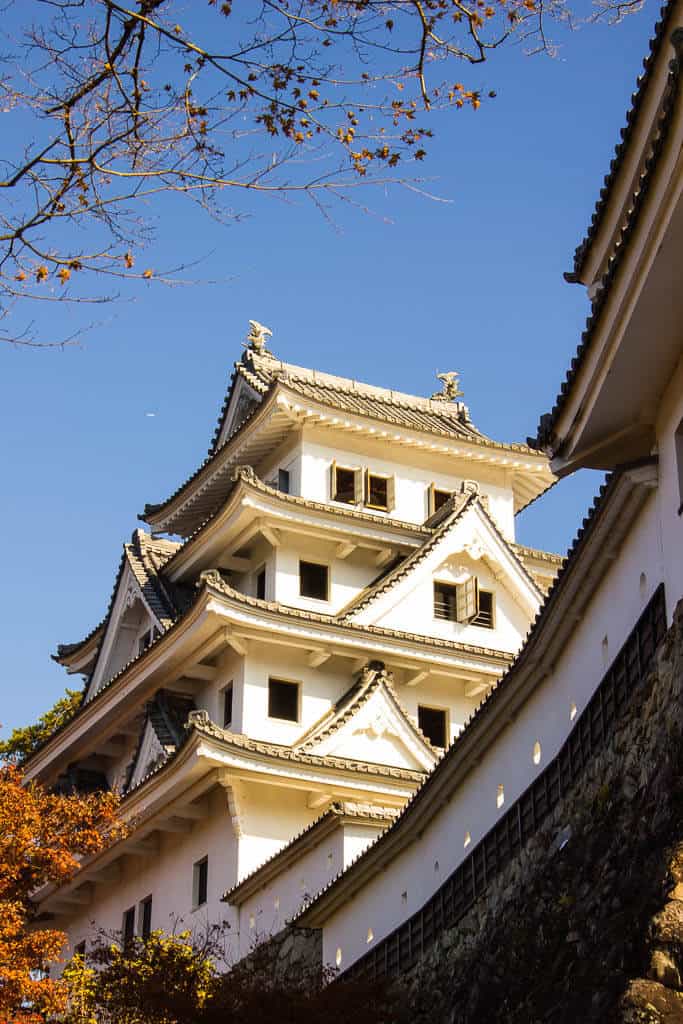 Gujo Hachiman Castle is a short (roughly 20 minutes), steep walk from the Jokamachi Plaza bus station. Go past the Anyo, Zenkoji and Gochikuin temples and the Hotel Sekisuien. Alternatively walk up the steps from the Kahi Poem Stone over the bridge from the tourist office. Gujo Hachiman Castle is easily visible from most parts of town so if you do get lost it is easy to spot.
If you are driving there is a road leading up to the castle, and a car park right next to it to park your car.  There is also a souvenir / snack shop at the top of the hill near the castle entrance.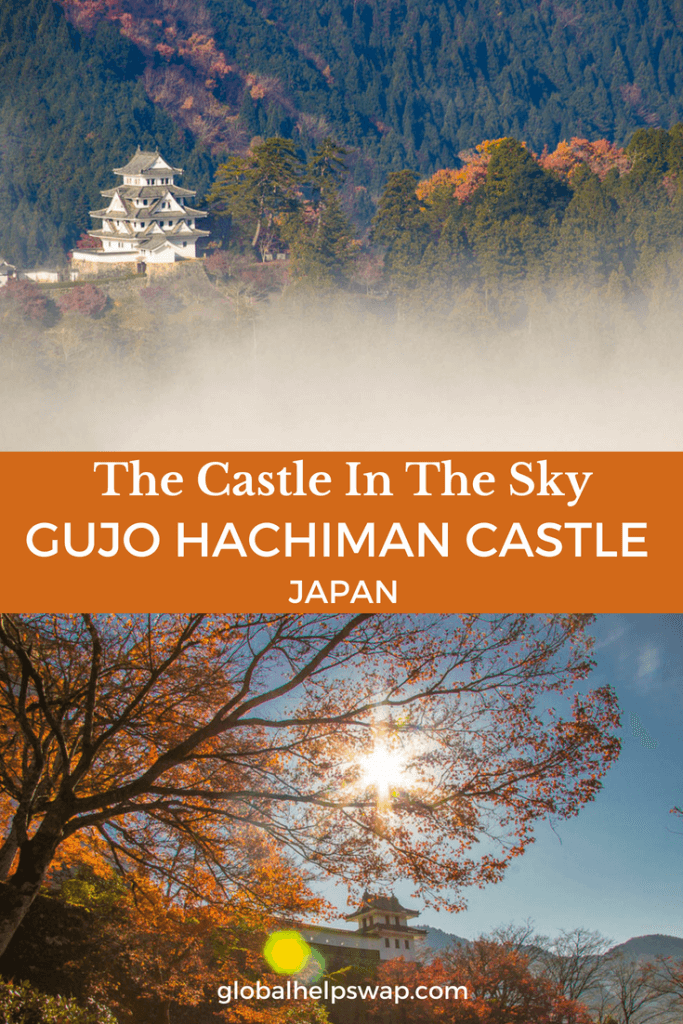 Heading to Japan? Check out our other Japan posts before you go!
Japan Trip Planner – Amazing Places To Visit In Japan | Japan Trip Planner. Check out our post on our favourite places to visit in Japan. Discover islands, cities, and villages.
From Tokyo to Kawaguchiko – An amazing Trip to Mount Fuji – Click here to find everything you need to plan an amazing trip from Tokyo to Kawaguchiko to visit Mount Fuji. How to get there, what to eat, do and see.
Finding Peace In Hiroshima – Our first port of call in Japan was in Hiroshima. Read about how we and the city itself found peace in Hiroshima after utter devastation.
Things To Do In Kyoto – Are you thinking of visiting Kyoto? Read our Things to do in Kyoto blog before heading there to make the most of your visit.
Where To Stay In Kyoto – Choosing where to stay in Kyoto can be tricky as there are so many great places to choose from. Read our post to help you decide.
Sleeping In A Manga Cafe In Tokyo – A video blog of us sleeping in a manga cafe in Tokyo. Why? Because it felt so Japanese. Did we sleep well? Watch the video to decide if it looks comfortable. 
What To Do In Osaka – Are you heading to Japan? Read our post on What to do in Osaka before heading to this foodie city. From museums to river walks we list our top highlights.
How We Gatecrashed A Japanese Pop Stars Wedding In Tokyo – This is the tale on how we gatecrashed a Japanese pop stars wedding in Tokyo. We honestly did it by mistake but it took us a few hours to realize what we did.
Things To Do In Nara – Read our local's guide of top things to do in Nara. From temples to the deer park and amazing food we share the best tips to make the most of your trip to Nara.
The Best Ryokans and Hotels in Nara – Are you looking for accommodation in Nara, Japan? Then read our post on The Best Ryokans and Hotels in Nara Japan before booking. Stay in a traditional style Japanese Inn for amazing food and incredible hospitality.
A Guide To The Yaeyama Islands – Discover Japan's secret tropical location The Yaeyama Islands, Okinawa. They are a perfect add on to your Japanese adventure.
5 reasons to visit Taketomi Island – If you are heading to the land of the rising sun on your next trip then here are 5 reasons to visit Taketomi Island, Japan when you go.
Things To Do On Ishigaki Island Japan – If you are heading to the Yaeyama Islands in Japan, then read our blog post on what to do on Ishigaki Island, Okinawa.
Okonomiyaki Recipe (Japanese Pancakes) – This week on global recipe swap we have an Okonomiyaki Recipe (Japanese Pancakes) a favourite dish of ours when we were travelling in Japan.
Things to do on Iriomote Island – Are you heading to the Yaeyama Islands? Then read what are our Top things to do on Iriomote Island, Japan. Enjoy Japan's tropical paradise.
Walking On The Nakasendo Trail – Discovering the Nakasendo Trail (Following Ancient Footsteps In Japan). Read about an ancient walking route in Japan & see traditional ways of Japanese Life. 
#LoveYourTravels
We were invited to Japan by our partners JTB. As always, opinions are our own.