The current of the river was slowly pushing my kayak along. I was ahead of my fellow travellers so I had this stretch of river to myself. The peace and tranquility enveloped me and I let my mind wander for a while. I needed the break as I had kayaked for 30 mins, trekked a mountain, swam under a waterfall and now had to kayak back. Welcome to Iriomote Island, Japan's adventure jungle paradise.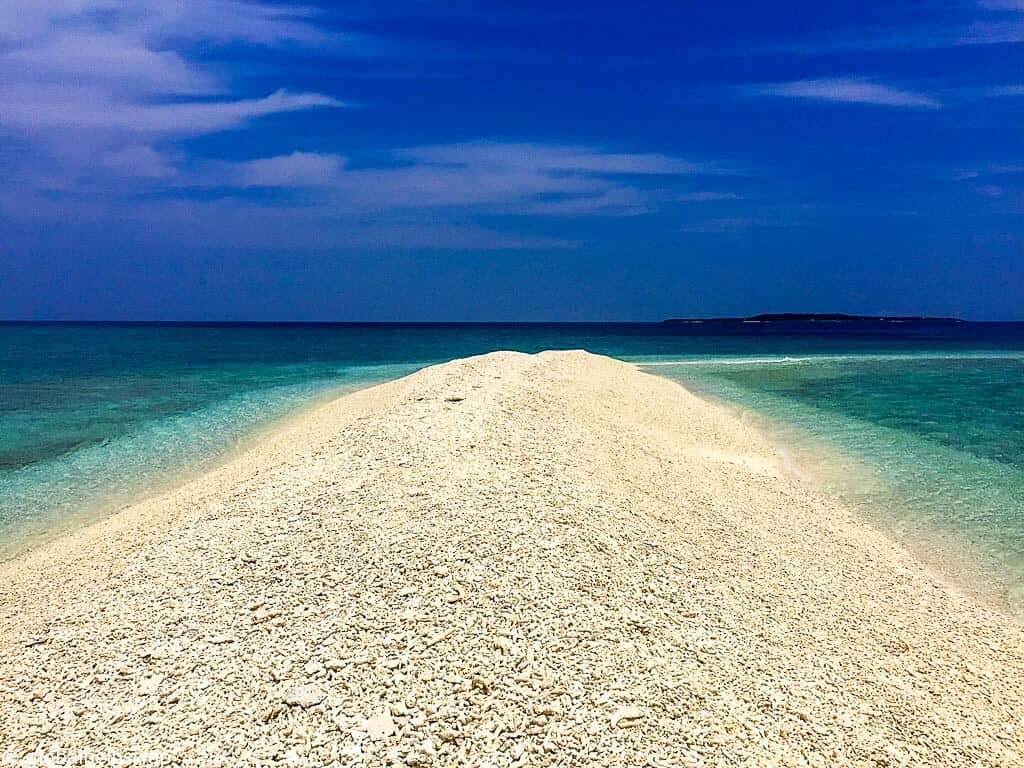 Iriomote was the last island we visited in the Yaeyama Archipelago. It is the largest island in the chain and the 2nd largest island in Okinawa. Almost 90% of Iriomote Island is covered in dense jungle and mangrove swamps but it still has first class Japanese infrastructure giving you the best of both worlds.
We had an action packed few days on the island and its surrounding waters. If you are heading to the Yaeyama Islands and are thinking about visiting Iriomote Island (and you should!) below are our top things to do on Iriomote Island, Japan. Just make sure you have an empty diary as there is so much to do!
Things to do on Iriomote Island, Japan:
Scuba Diving Iriomote Island
We love scuba diving and don't do it enough but as fair weather divers we only get to dive in warm places. Iriomote Island couldn't have been a better place to get back into the water. The waters are crystal clear, there are loads of tropical fish and we got to see something we hadn't seen before under the water. A 150 year old tree. It's the one in the photo above and we think it is absolutely stunning. Nature never ceases to stop amazing us.
If you are thinking about diving off Iriomote Island then we really recommend these guys: NikoNiko Diving.
Iriomote Cat
The Iriomote Cat is a subspecies of the Leopard Cat that lives only on Iriomote Island. Unfortunately, the cat has been on the critically endangered list for some time as in the last census there were only 105 left. The main reasons why the cat's numbers are declining are because of habitat destruction, traffic accidents, dog attacks, and traps set for wild boar and crabs. If you are hiring a car to drive around the island please be aware of your speeds. There are signs around the island, warning you when you are in a sighted cat area.
If you want to know more about the Iriomote Cat, then pop by to the Iriomote Wildlife Conservation Centre. They have exhibits with English signage and a short video on the life of the cat.
Iriomote Wildlife Conservation Centre:
Opening Times: 10am-4pm Tue-Sun, closed noon-1pm
Contact: 0980-85-5581
Visit THIS Sandbank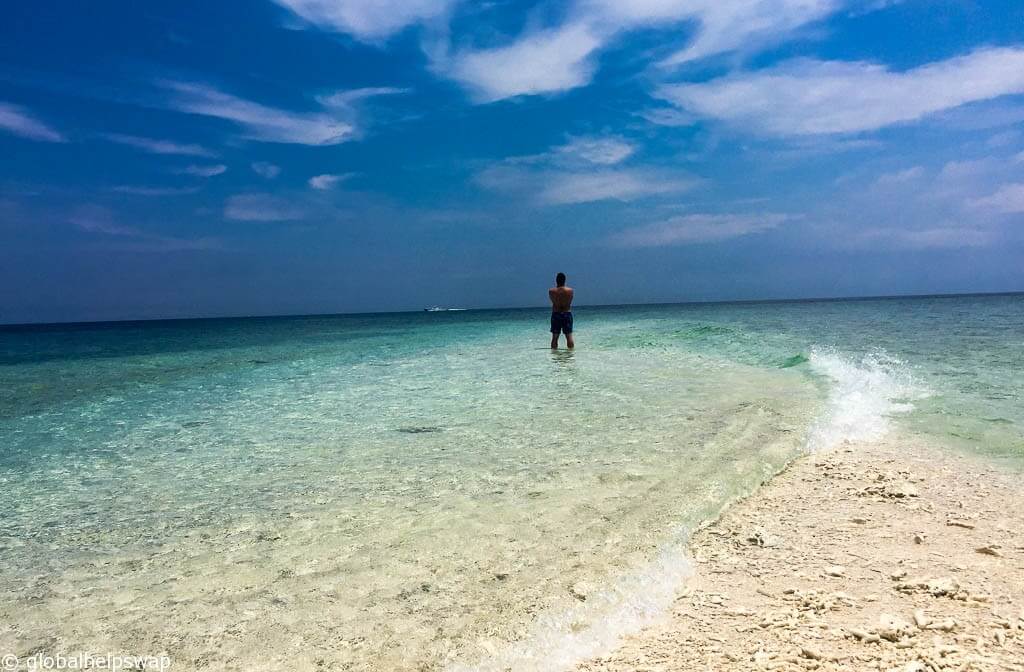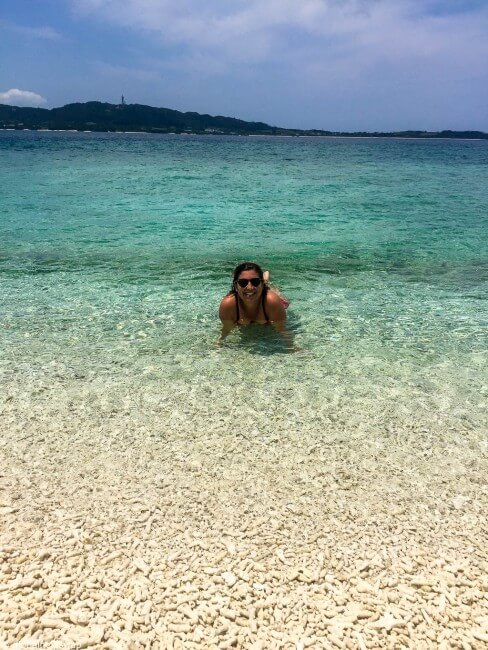 On our way to go snorkelling, our boat driver decided to stop at this sandbank just as the sun came out. I don't think he realised what he did as it took us ages to come back to the boat because of the amount of photos we all took. With waters like that can you blame us? I have no idea if this sandbank has a name but it's a must visit if you are visiting Iriomote Island. Just show them these photos and they should know where it is.
Snorkelling off Iriomote Island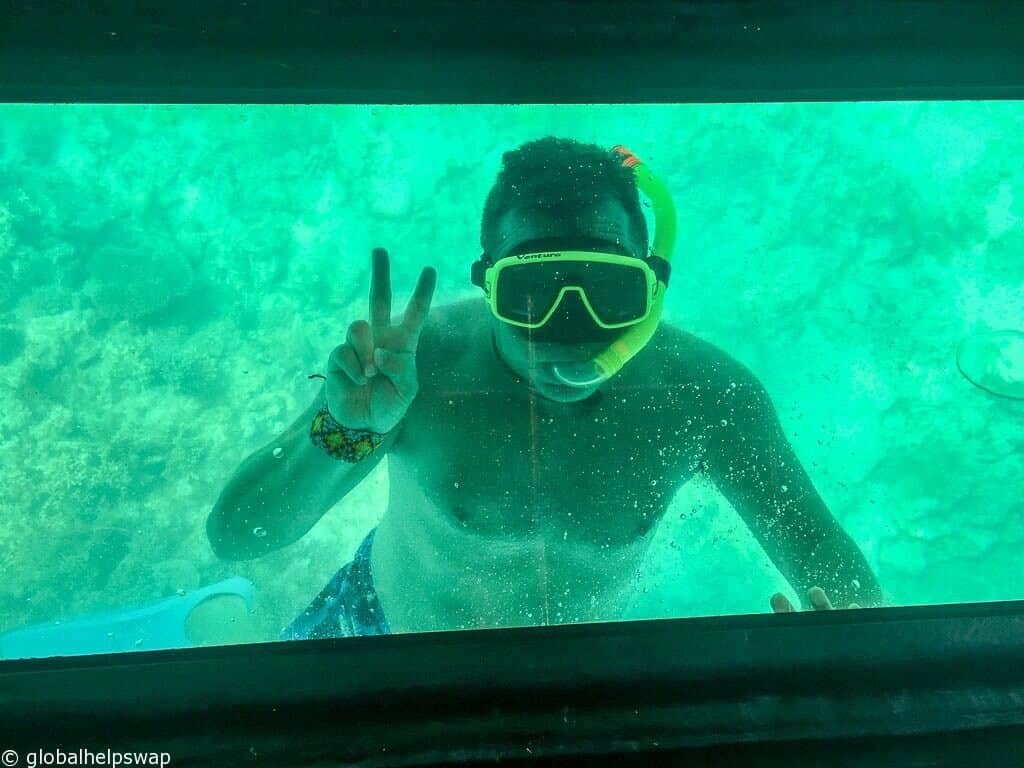 If scuba-diving is not your thing then why not try snorkelling off Iriomote Island? The waters are so clear, you will get to see the same wildlife a diver would but just a little further away. Or if you have a glass-bottom boat like we had, then you can pose for photos under the boat whilst the boat guys have a heart attack!
Iriomote Kayaking and Trekking Tour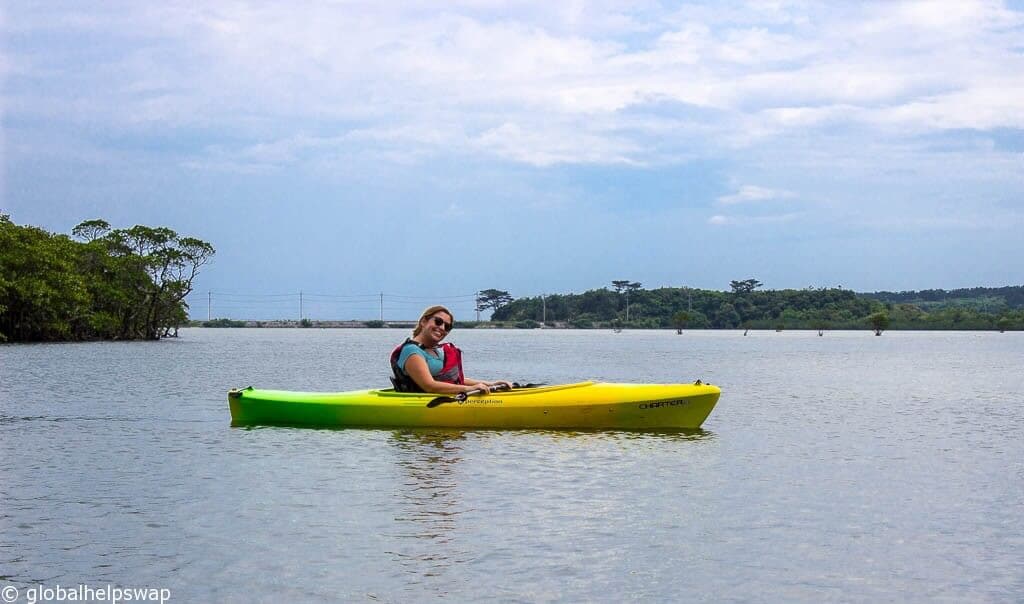 This was my favourite activity from the whole week we were in the Yaeyama Islands. The words kayaking, trekking and waterfall go together quite well wouldn't you say? We first started off by kayaking on a river full of mangroves. As we were all going at different paces there were many times that I found myself alone, which gave me time to sit back and enjoy the view or listen to the birds.
After around 30mins we reached land and started our trek to the waterfall. As we were in tropical Japan, the weather was very humid and warm. The idea of cooling off under a waterfall became more appealing with every step I took.
That didn't stop me from enjoying the jungle though. It felt ancient and wise and I imagined lots of hidden eyes watching us as we slowly climbed up towards the waterfall.
When we finally reached the waterfall we all quickly stripped off (don't worry we did have bathing suits) and jumped right in. What a relief it was to be under that lovely cooling water. Swimming under or next to waterfalls has to be one of life's greatest pleasures. It was hard for us to leave but the lure of having a picnic in front of the waterfall soon got us out. Alas, we still had a lot more trekking to do as we were aiming to be above the waterfall not in it.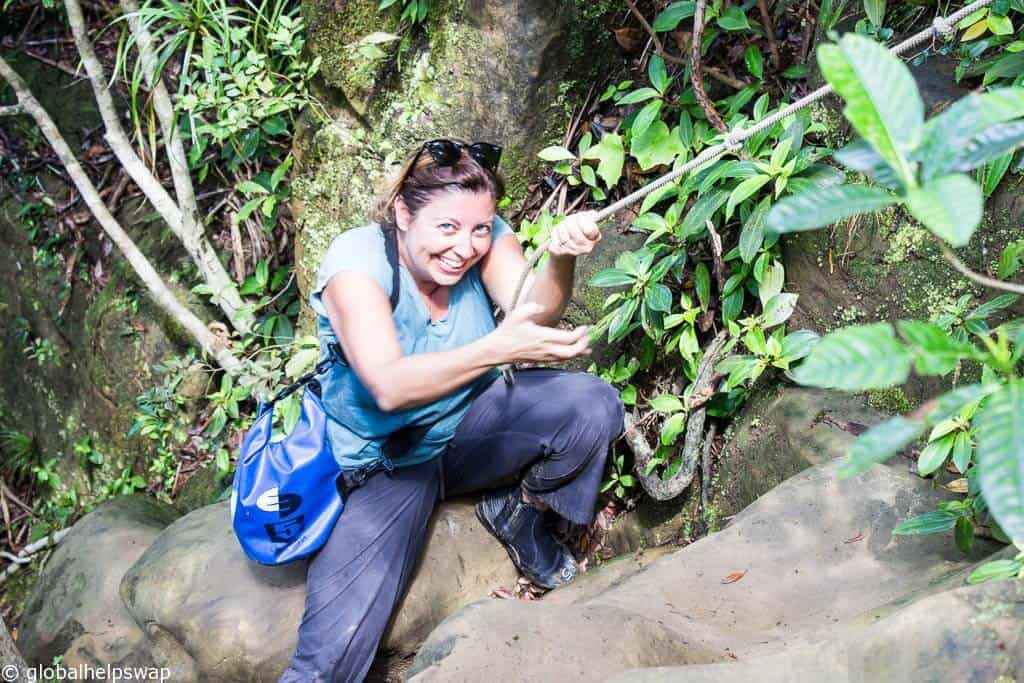 As you can see, things got a little bit more tricky as we ascended.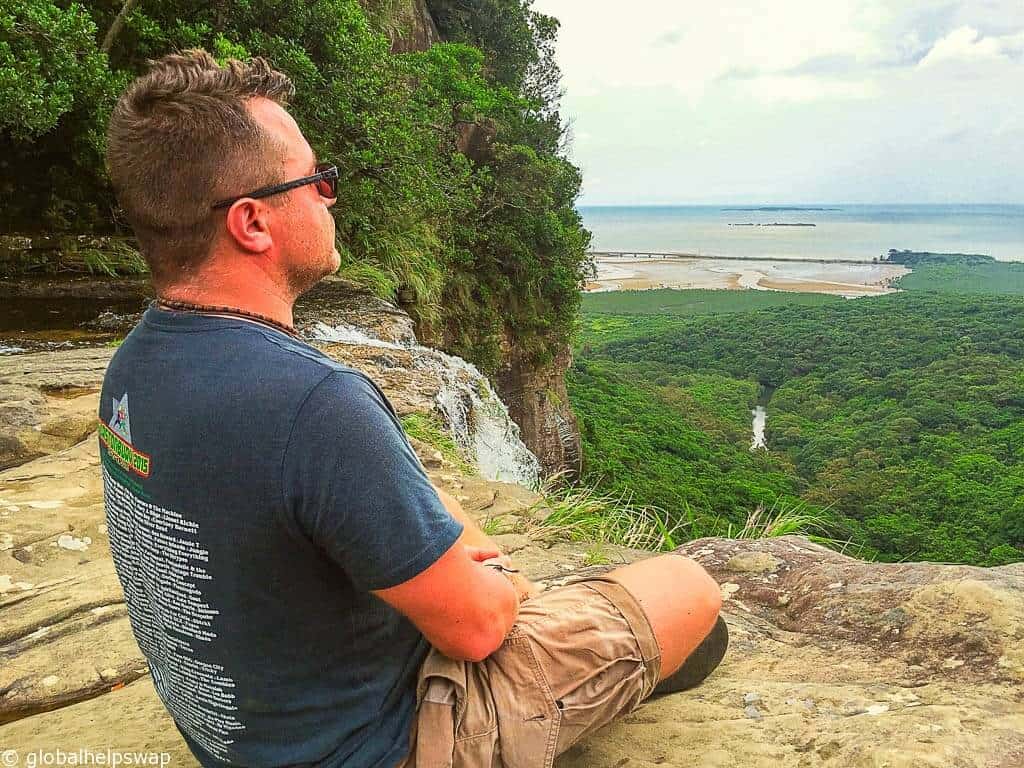 However, we views like that it was worth it. We spent around 45 mins above the waterfall admiring the views. Just as we settled in, our guide kindly reminded us that we had to trek down and kayak back before we could truly relax! Damn, all this adventure is hard work.
We did the kayaking and trekking tour with Iriomote Osanpo who we would highly recommend. We did the Nakara Waterfall Tour.
Iriomote Osanpo: 
Website: Iriomote Trekking
Price for Nakara Waterfall Tour: 11,000 Yen which includes: Shoes, waterproof bag, backpack and lunch box.
Iriomote Hotels
As always in Japan the quality of the hotels are second to none and that includes the Iriomote Hotels.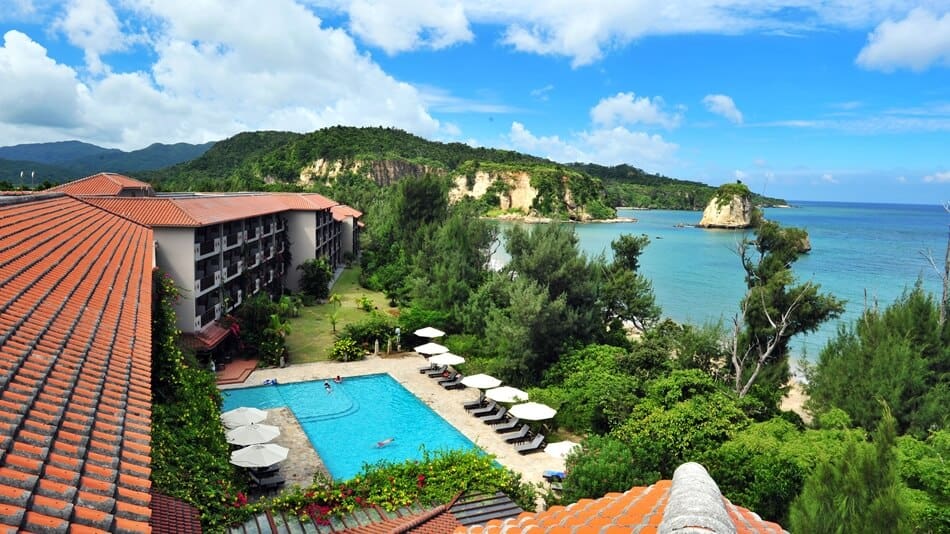 Hotel Nirakanai  is the hotel we stayed in for 3 nights and loved it. As you can see from the photo above, the location of the hotel is incredible. The rooms not only have regular beds but 2 chill out beds. Now that is a hotel determined to make you relax. Click here to see the latest prices.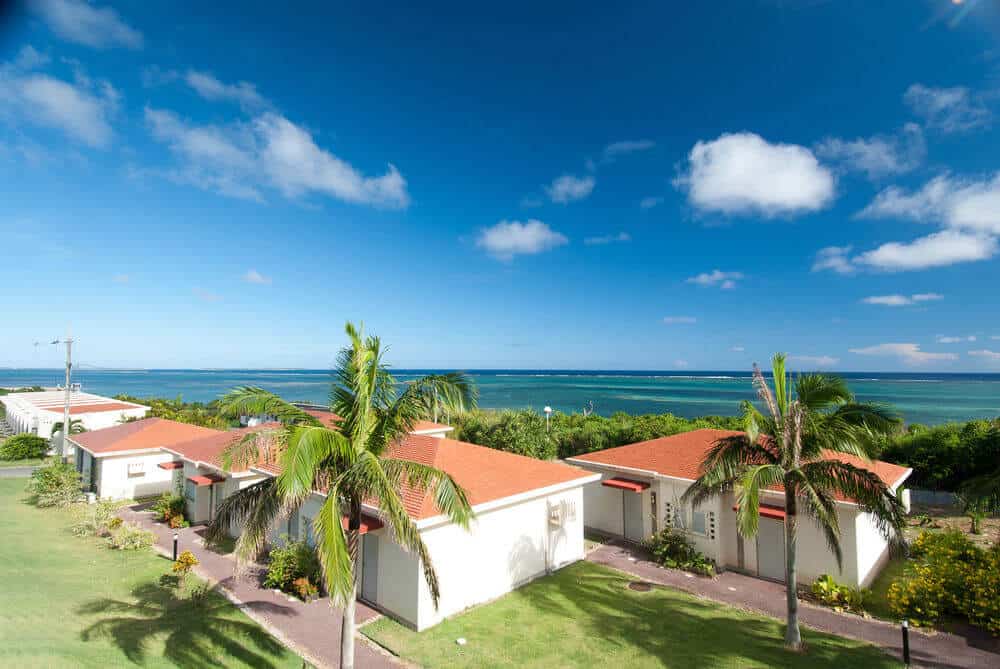 La Teada Iriomote Resort – This hotel is in a superb location right near the beach with super friendly staff. The cabins are super nice and the hotel offers lots of activities like kayaking, snorkelling and bike rental. There are also free shuttle buses to the port and back which is very handy. Click here to see the latest prices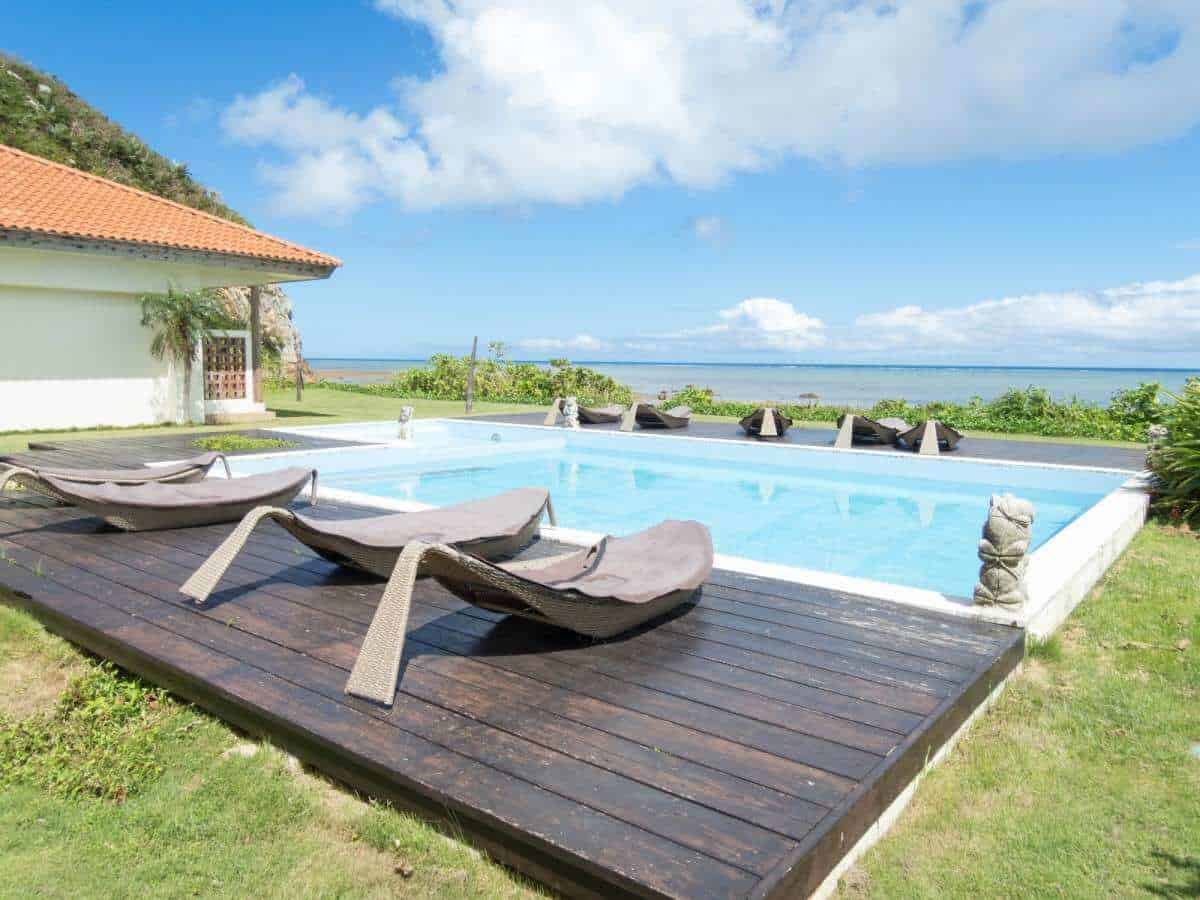 Eco Village Iriomote – This hotel sits just 50m away from a beautiful bay and crystal clear waters. The rooms are spotlessly clean and the staff and friendly and attentive. Former guests rave about the food too so what more can you ask for? Click here to see the latest prices.
Pin me for later
Here are some more posts on Japan that we think you will like:
The Yaeyama Islands, Okinawa: Japan's tropical paradise – See why the Japanese are keeping these islands a secret.
Things to do on Ishigaki Island, Okinawa, Japan – If you are heading to the Yaeyama Islands, Ishigaki is where you will land. Check out this post to see what you can do there.
5 reasons to visit Taketomi Island, Japan – What this island lacks in size makes up in people, beaches and history.
Heading to the Yaeyama Islands? Then get the guidebook before you leave:
We had a great guide during our trip to the Yaeyama Islands. Yurika is fun, warm and a wealth of knowledge. Having a local guide really opens up a destination and Yurika really did that for us on this trip. If you would like to book her for your trip then you can contact her here: Local Okinawa Guide
We were kindly invited to the Iriomote Island by Okinawa Tourism. As always, opinions are our own.
Paul Farrugia is a an avid traveller and blogger. When he is not travelling he likes to spend his free time reading, going to festivals and sitting down enjoying a nice glass of red! If you would like to reach him send him an e-mail to [email protected]