5 alternative things to do in Tokyo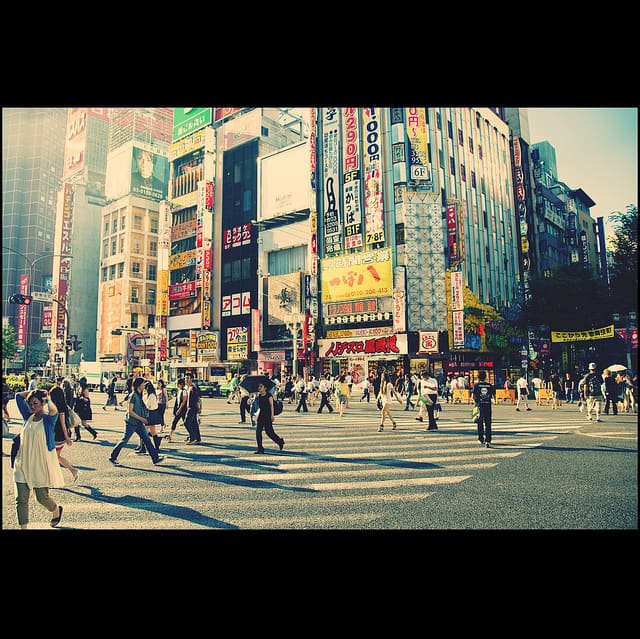 Photo: archetypefotografie
Tokyo is a city of extremes. A city with ultra modern skyscrapers next to ancient temples. The politest city dwellers anywhere on the planet that also have a strange kinky side to them.  Traditional restaurants next door to bizarre maid cafes. You will see more weird and wonderful things in a day in Tokyo than you would in many other cities combined. There are many guides on Tokyo suggesting that you go and see Tsukiji Fish Market (which is moving very soon), Shibuya Crossing and Akihabara Electric Town (Denki-Gai) which we recommend you do too but we also wanted to share 5 alternative things you can do in Tokyo.
Visit Memory Lane, a.k.a. "Piss Alley"
If you're trying to live your Blade Runner fantasies while in Tokyo, then this is the place to come and eat. It's a narrow alley that's bursting with little restaurants serving a range of food, from traditional yakitori to the more adventurous pig testicles and frog sashimi, yum.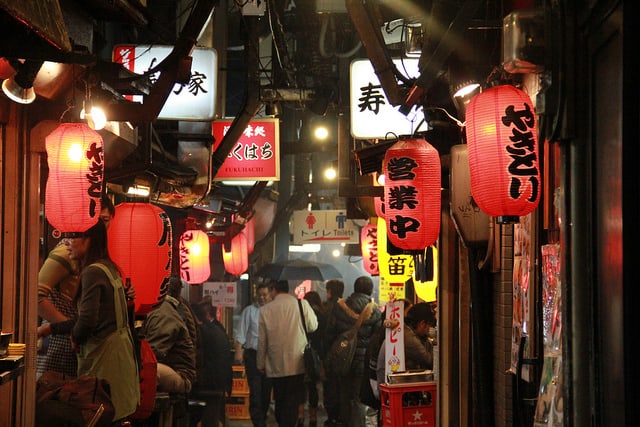 Photo: Shinyai
The alley provides a more local and authentic eating experience and is normally packed with Japanese professionals enjoying a few beers and a quick bite before heading home.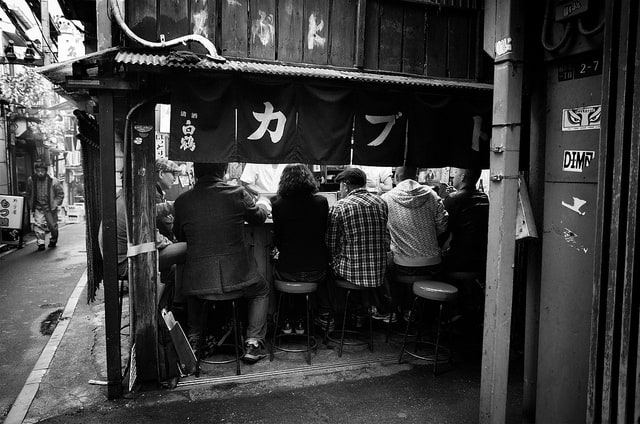 Photo Dr. Monochrome
The name "Piss Alley" comes from when the area was a lot less built up and shady characters would be drunk staggering about. There were no toilets in the area so they went where they could. Unsurprisingly the authorities hate the name and have been trying hard to rebrand the alley to memory lane.
GETTING THERE: Take the west exit at Shinjuku station. Look for signs pointing to Memory lane, it's less than 5 minutes' walk.
See the Future for free at TEPIA
Tepia, which is short for "Technology Utopia" displays Japan's world famous future technologies.
The exhibition (which is also free, yay!)  is set up really well, allowing you to try out the different technologies and see them work. Playing with all the different gadgets turned us to kids again and had us 'oohing' and 'aahing' at all the great inventions.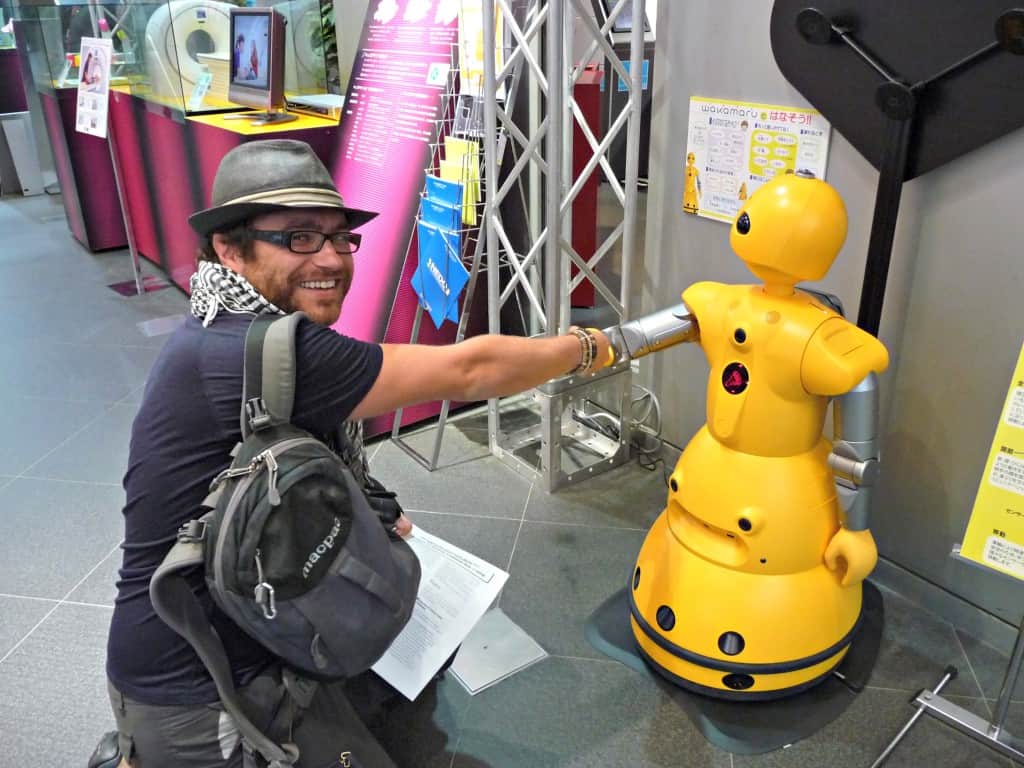 We were greeted by a gorgeous robot who melted our hearts when we were leaving, saying things like "don't go" or "I am lonely now" as we were leaving (it said these in Japanese and the lovely lady who was taking us around translated for us). We would have taken him home with us if we could.
From playing cards that speak, to machines that make loo rolls out of shredded paper, the exhibits were fun, interesting and informative.
If you do decide to visit, consider turning up early like we did. We had a very friendly assistant who came round with us explaining the exhibits in more detail and showing us how to use them.
GETTING THERE: Tepia is on 2–8-44 Kita Aoyama, Minato-ku. From Gaienmae Station (Tokyo Metro, Ginza Line, Exit 2) go up the stairs, turn right and right again at the corner. TEPIA is straight ahead, about 5 minutes' walk away.
Sleep in a manga cafe
We did this on our first night in Tokyo. We left our backpacks at the vast Tokyo train station which has a floor devoted to leaving your luggage. When I say a floor I really mean a car park sized space for leaving your luggage!
We then headed to Roppongi to find ourselves a manga cafe. People stay the night in them when they miss their last train out of Tokyo. Instead of paying a fortune for a taxi or hotel, they can stay in these places. You can also rent out a thing called a DVD room which as it says on the tin, is a room that has access to thousands of DVD's. We preferred the manga cafe though as it felt more Japanese. I apologise for the sound quality on the video clip above but everybody is so quiet in Japan that I felt I had to talk in whispered tones to be respectful.
You will not actually sleep much in this place especially if you are like me and overdose on e-numbers from the free ice cream but it is well worth the experience. There are manga books in English for you to read and in your little booth you will have a game console, computer and T.V.
Visit Tokyo Bay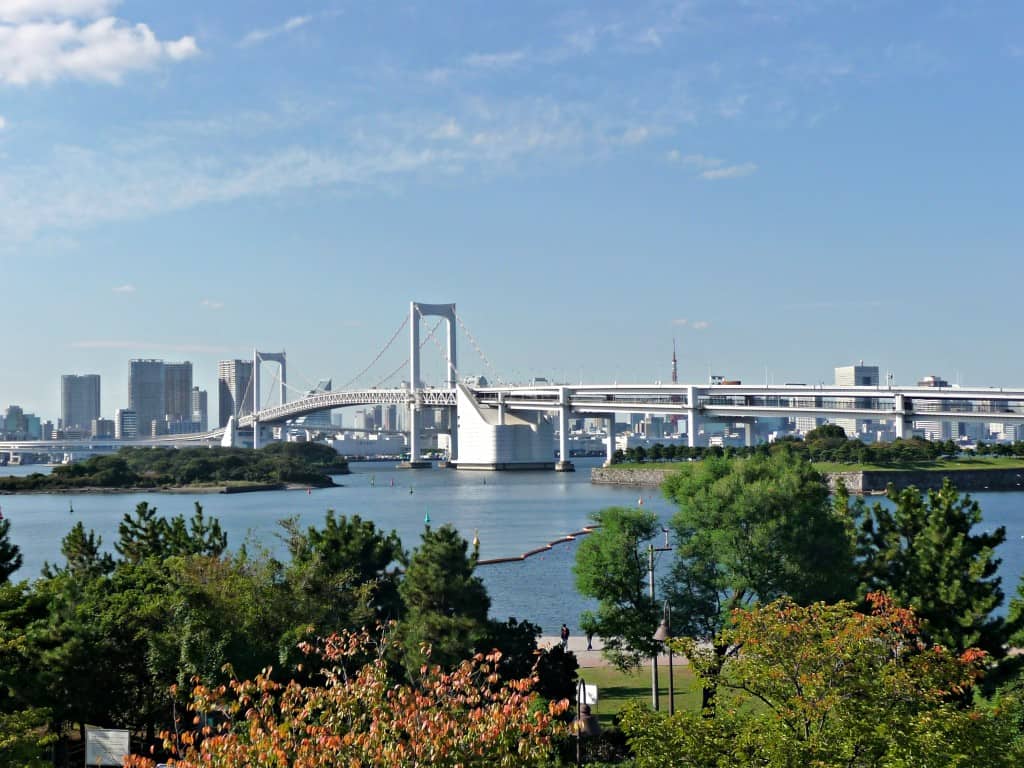 A lot of visiters forget that Tokyo is actually a city on the Pacific Ocean. You can get so wrapped up in the Blade Runner-esque surroundings I can see why. But stop looking up and get some fresh air! It was a pleasant change walking next to the sea on the man made island in the middle of the bay. There are plenty of things to do on the island but we were content to be just outside soaking up the sun.
Yoyogi Park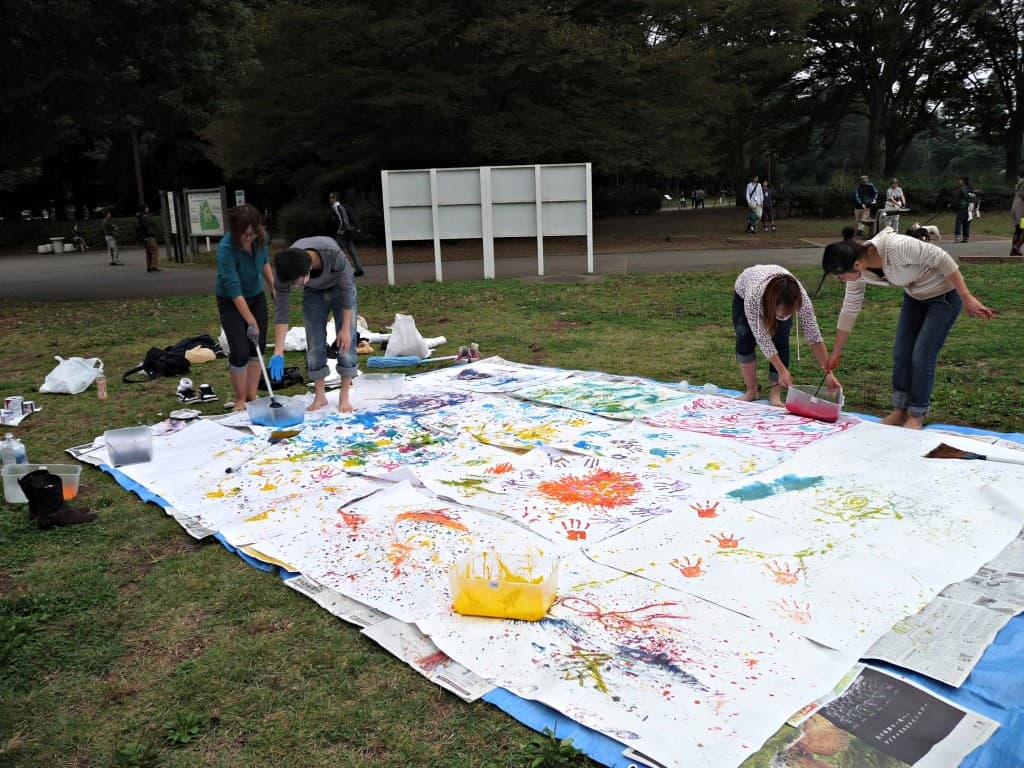 Tokyo apartments are notoriously small which means that when people want to do any kind of activity they head for the outdoors. Yoyogi park is a perfect example and a great place to people watch. Whilst we were there we witnessed exercise classes, play rehearsals, dancing, painting groups, rockabilly gangs, many, many Elvis lookalikes and much more. The atmosphere was brilliant. Head there on a Sunday to witness the whole kaleidoscope of talent.
While this is very much on the tourist trail we really recommend going from Tokyo to Kawaguchiko to viee Mount Fuji. You can real all about it here.
What have we missed? Where are your favourite spots in Tokyo?
P.S. If you're heading to Kyoto read our tips on things to do in Kyoto here.
Footnotes:
During our stay in Tokyo, we slept at the super hip hostel; Khaosan Tokyo Laboratory. You can book it through Booking.com

Going to Tokyo? Get the guidebook before you go:
P.S. Most responsible travellers who read our blog sign up for regular updates. You can join them by filling in the orange box below.
#LoveYourTravels
Paul Farrugia is a an avid traveller and blogger. When he is not travelling he likes to spend his free time reading, going to festivals and sitting down enjoying a nice glass of red! If you would like to reach him send him an e-mail to [email protected]