We recently spent a wonderful week on the Yaeyama Islands in Japan. Out of the 3 islands we visited (Iriomote, Taketomi, Ishigaki) Taketomi Island is the smallest but had the most charm. In the last census of 2012 there were 323 people living on Taketomi Island Japan. Needless to say that this is an island where people leave their doors unlocked!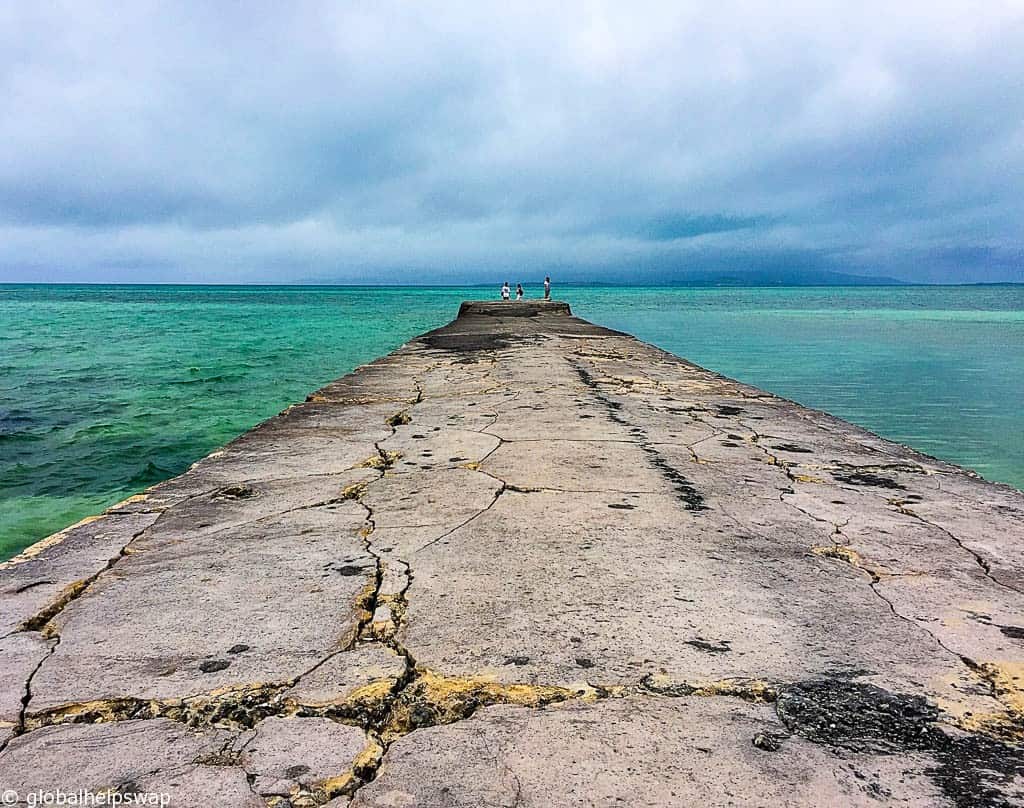 Here are our 5 reasons why we think you should add Taketomi Island on to your next trip to Japan.
The Beaches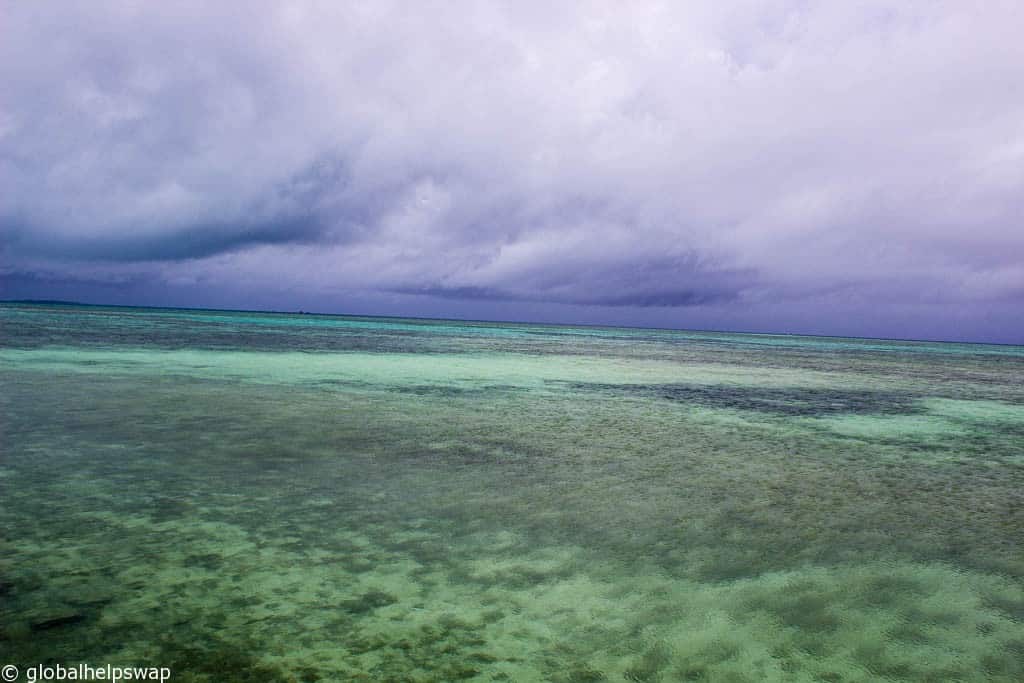 Taketomi Island is a raised coral atoll and the whole island is surrounded by coral reefs. The best beach to swim on is Kondoi beach to the west of the island. When I say swim, I really mean cool off as the water is very shallow here. Like all of the Yaeyama Islands, Taketomi has crystal clear water.
Another beach that you must visit is Kaiji beach. Hardly anybody swims here or sunbathes for that matter. What do people do, I hear you cry? Well once upon a time, Kaiji beach used to have plenty of "star sand" which is composed of the remains of small marine organisms called Foraminifera. Unfortunately, the star sand has become so popular with people taking it home for souvenirs that you may find it pretty tricky to spot it. You can always look at the collection at the souvenir stand if you don't find any!
The Cycling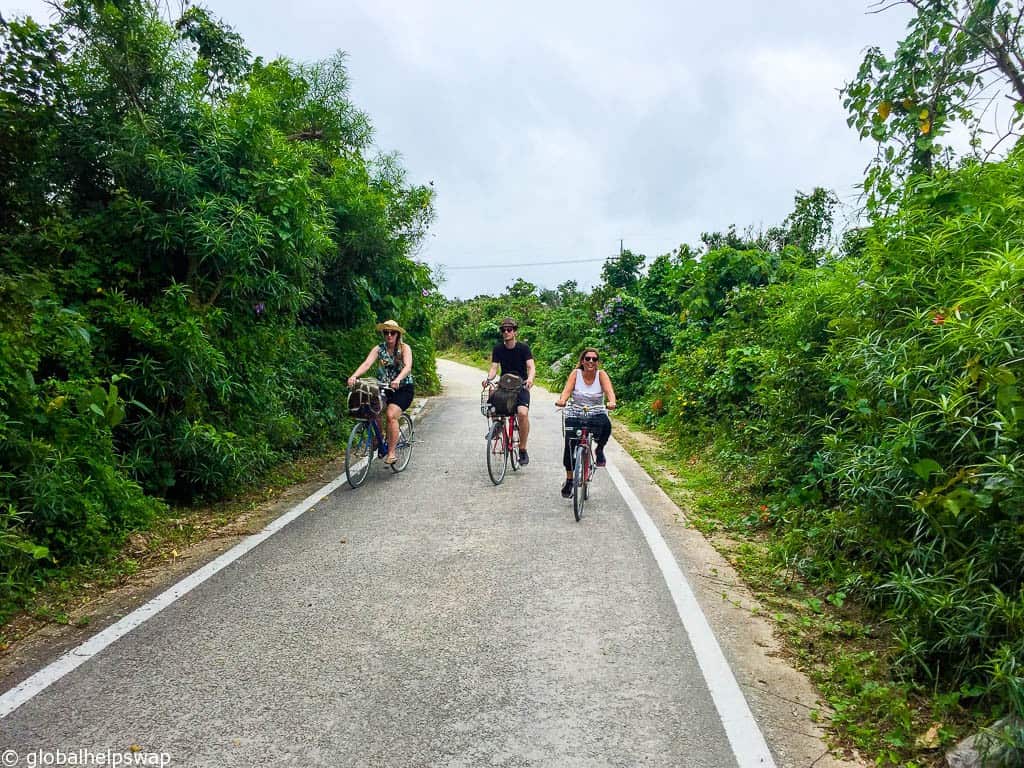 The best way to get around Taketomi island is to cycle. As the island is so small it's almost impossible to get lost and I think there are only 10 cars on the whole island so you don't have to worry about traffic. We recommend just going off in any direction and discovering the island for yourself. Most of the roads are unpaved white sand so remember to stick to the left.
The Culture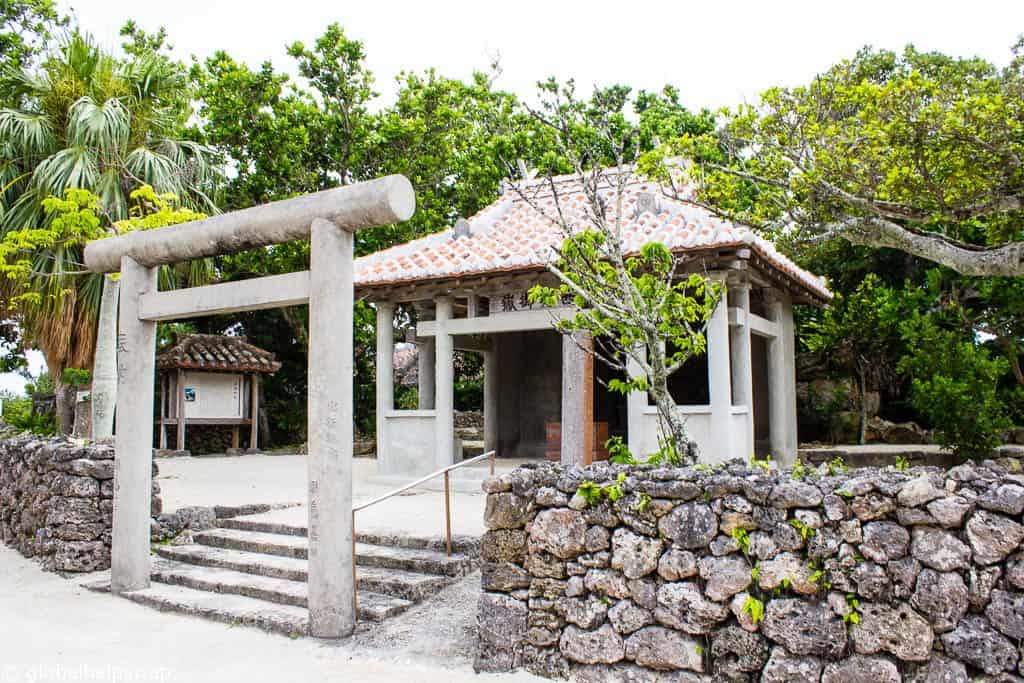 Taketomi Island maybe small but it punches above it weight when it comes to culture. There are over 30 utaki or hold places scattered around the island that show respect to the gods. These places are to be observed and not for you to venture inside. In the village you can head to Mingeikan where you can watch local artisans weaving traditional minsa cloth. Also in the village is Japan's most southernmost temple. Kihoin's resident priest has collected over 3,000 historical items and handicrafts.
The Architecture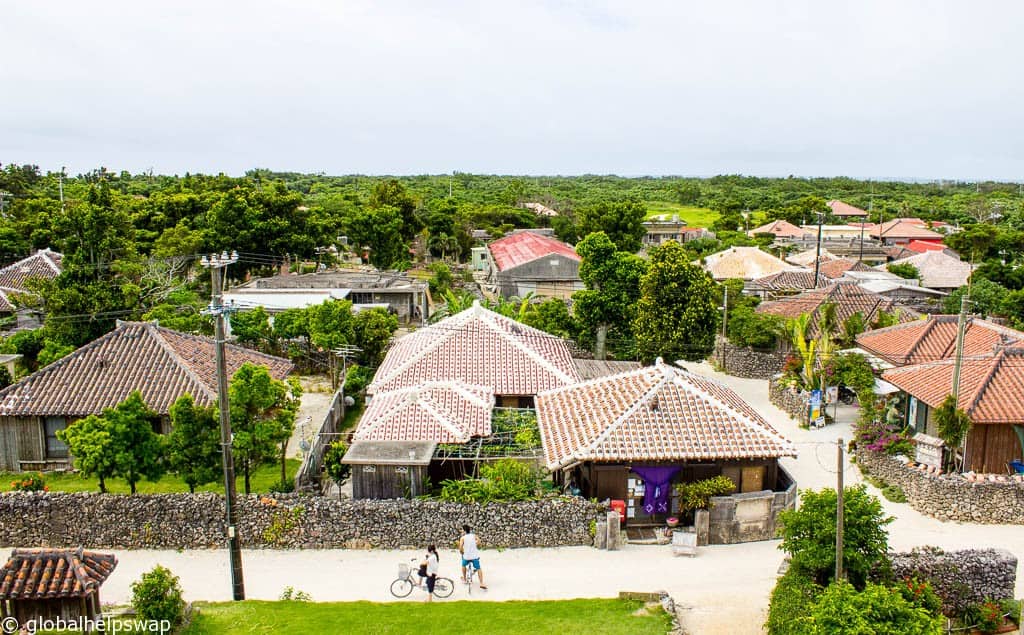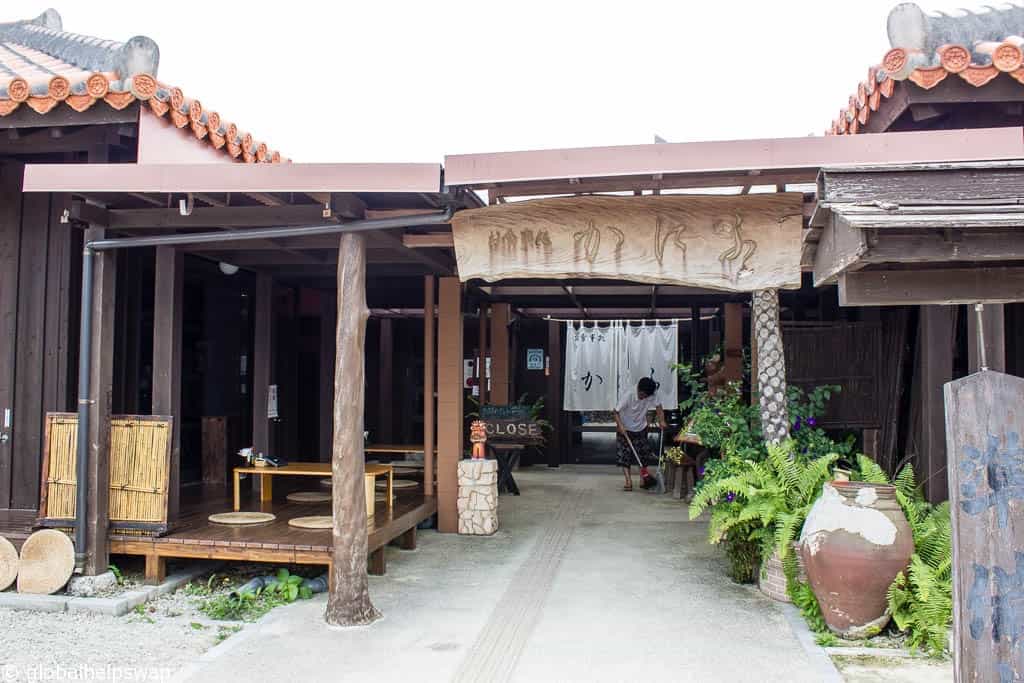 Taketomi Island is known throughout Japan for its architecture. As you walk or cycle around you will notice that most of the buildings have the same design of red-roofed tiles, single story blocks, coral lining the entrances and shiisas or lion guardians sitting on the roofs to protect the inhabitants from evil spirits.
The People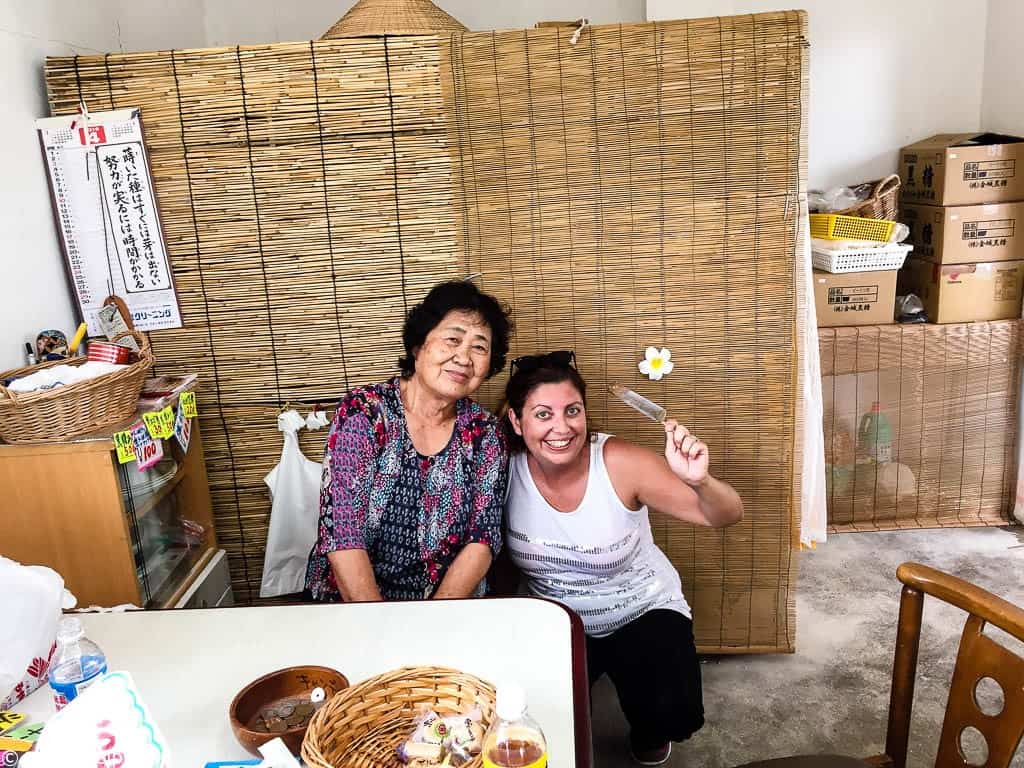 Like elsewhere in Japan the people of Taketomi are warm and friendly. A perfect example of this is when we entered a local snack shop on our bike ride. The old lady (she won't mind me calling her old as most of the population of the island is above 60!) who owned the shop is famous for her brown sugar ice lollies. We ordered two and went to pay. Because we only had notes she insisted we have the lollies for free. We objected and told her we will go and get change but she wouldn't take no for an answer. Later on that day she surprised us once again by giving our tour guide more snacks for our journey home.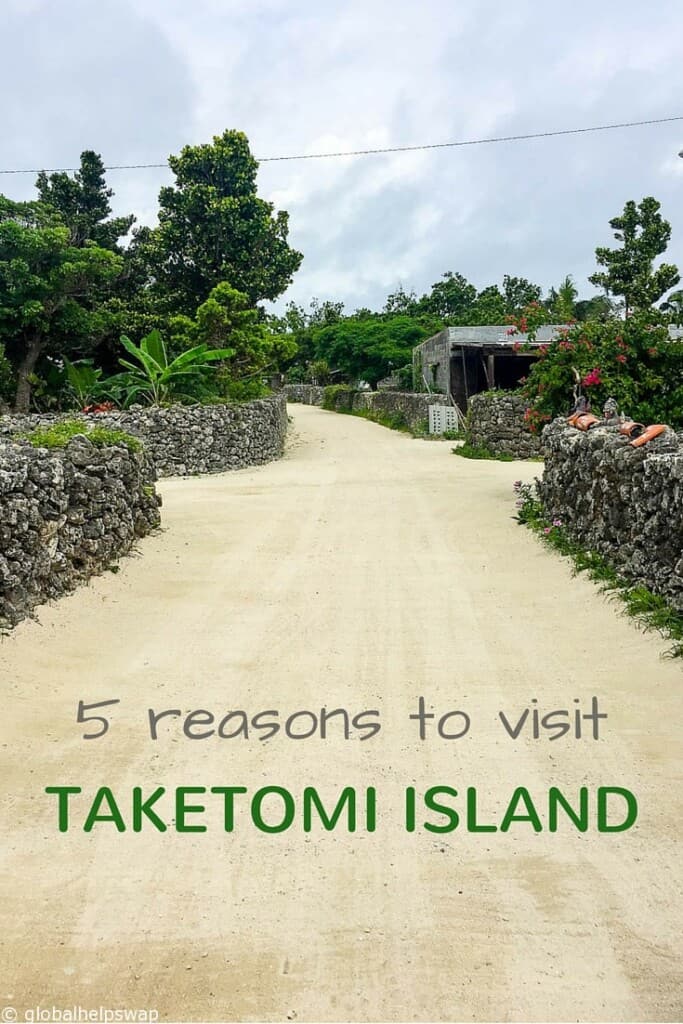 Please pin me!
We highly recommend you add Taketomi Island to your Japanese itinerary next time you visit Japan and see a different side to this wonderful country.
Information
Getting there: 
The only way to get to the island is by ferry from Ishigaki Island. The boats run every 30 mins from 07:30 to 17:30. At the time of writing a round trip fare was 1330 yen.
Cycle Hire:
The bicycle hire companies will have people to greet you as you disembark the ferry. To rent a bicycle the cost is around ¥300/1500 for one hour/full day.
Accommodation on Taketomi Island:
One of the best places to stay on the island is the Hotel Peace Island. It is clean, quiet, and perfectly located. Each room has a washing machine/dryer, fridge and microwave as well as a dvd, tv and music player. The hotel will also meet you at the ferry port to take you to the hotel. To book just click here: Accommodation on Taketomi Island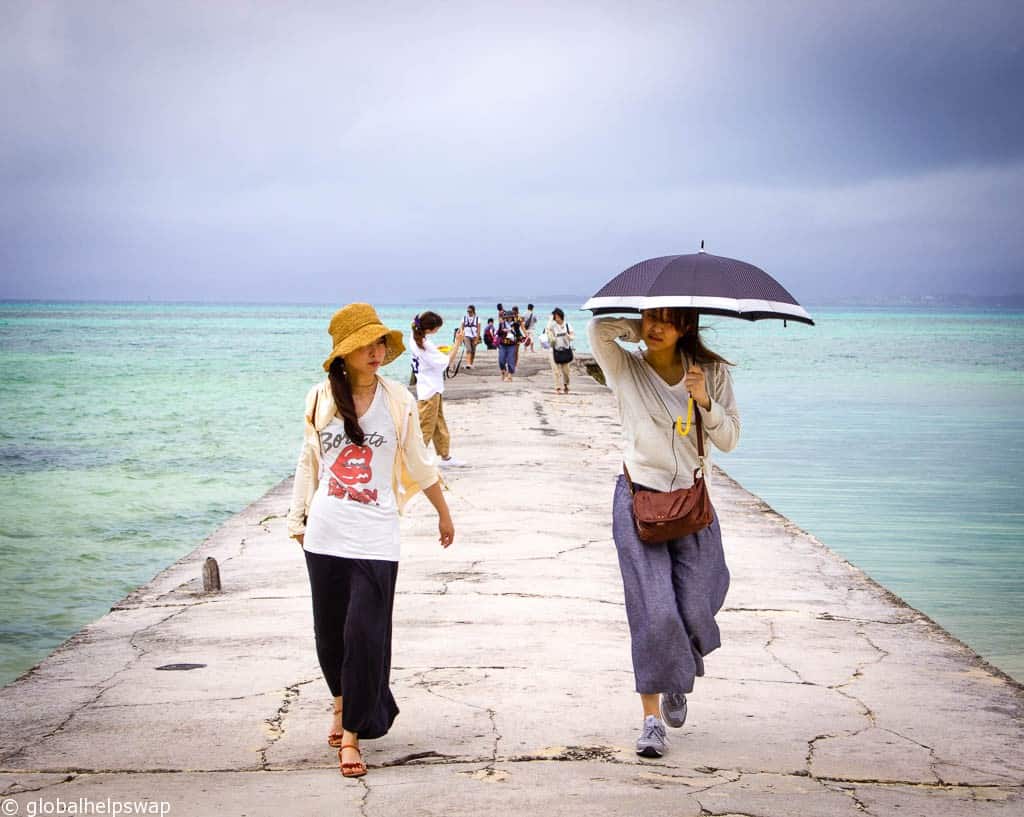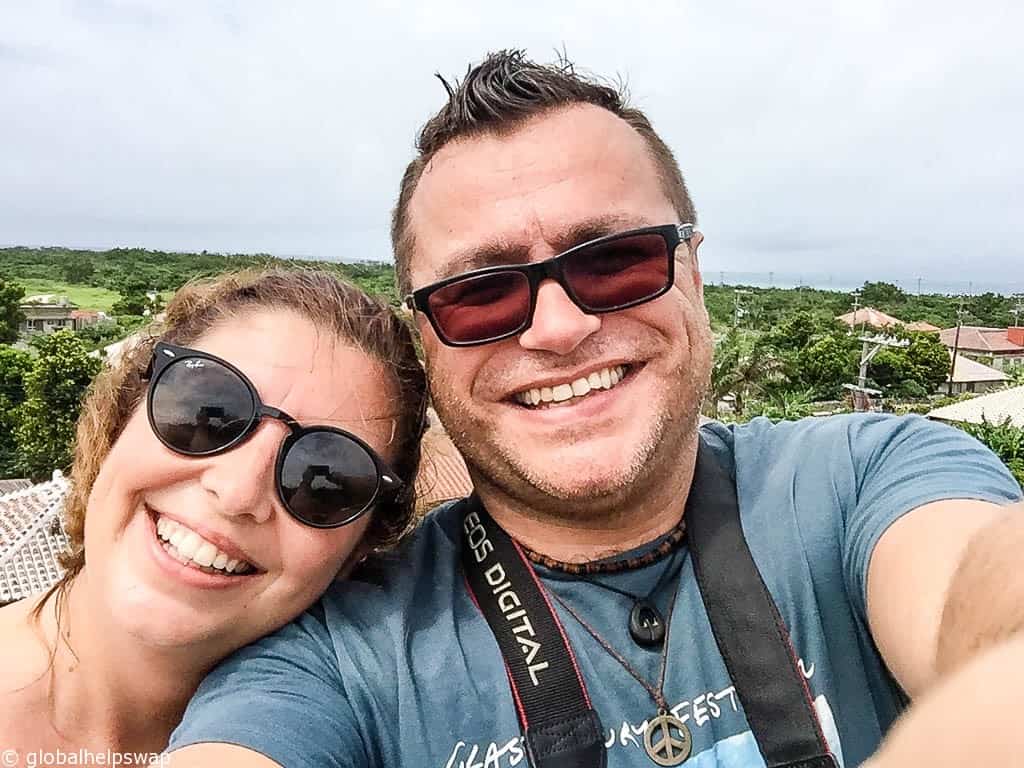 Heading to Japan? Check out our other Japan posts before you go!
Japan Trip Planner – Amazing Places To Visit In Japan | Japan Trip Planner. Check out our post on our favourite places to visit in Japan. Discover islands, cities, and villages.
From Tokyo to Kawaguchiko – An amazing Trip to Mount Fuji – Click here to find everything you need to plan an amazing trip from Tokyo to Kawaguchiko to visit Mount Fuji. How to get there, what to eat, do and see.
Finding Peace In Hiroshima – Our first port of call in Japan was in Hiroshima. Read about how we and the city itself found peace in Hiroshima after utter devastation.
Things To Do In Kyoto – Are you thinking of visiting Kyoto? Read our Things to do in Kyoto blog before heading there to make the most of your visit.
Where To Stay In Kyoto – Choosing where to stay in Kyoto can be tricky as there are so many great places to choose from. Read our post to help you decide.
Sleeping In A Manga Cafe In Tokyo – A video blog of us sleeping in a manga cafe in Tokyo. Why? Because it felt so Japanese. Did we sleep well? Watch the video to decide if it looks comfortable. 
What To Do In Osaka – Are you heading to Japan? Read our post on What to do in Osaka before heading to this foodie city. From museums to river walks we list our top highlights.
How We Gatecrashed A Japanese Pop Stars Wedding In Tokyo – This is the tale on how we gatecrashed a Japanese pop stars wedding in Tokyo. We honestly did it by mistake but it took us a few hours to realize what we did.
Things To Do In Nara – Read our local's guide of top things to do in Nara. From temples to the deer park and amazing food we share the best tips to make the most of your trip to Nara.
The Best Ryokans and Hotels in Nara – Are you looking for accommodation in Nara, Japan? Then read our post on The Best Ryokans and Hotels in Nara Japan before booking. Stay in a traditional style Japanese Inn for amazing food and incredible hospitality.
A Guide To The Yaeyama Islands – Discover Japan's secret tropical location The Yaeyama Islands, Okinawa. They are a perfect add on to your Japanese adventure.
Things To Do On Ishigaki Island Japan – If you are heading to the Yaeyama Islands in Japan, then read our blog post on what to do on Ishigaki Island, Okinawa.
Okonomiyaki Recipe (Japanese Pancakes) – This week on global recipe swap we have an Okonomiyaki Recipe (Japanese Pancakes) a favourite dish of ours when we were travelling in Japan.
Things to do on Iriomote Island – Are you heading to the Yaeyama Islands? Then read what are our Top things to do on Iriomote Island, Japan. Enjoy Japan's tropical paradise.
Walking On The Nakasendo Trail – Discovering the Nakasendo Trail (Following Ancient Footsteps In Japan). Read about an ancient walking route in Japan & see traditional ways of Japanese Life. 
Gujo Hachiman Castle – If you visiting Gifu Prefecture in Japan then we highly recommend you visit Gujo Hachiman Castle which is also known The Castle In The Sky. Read our post to find out how to get there and what's it like.
#LoveYourTravels
We were kindly invited to the Taketomi Island by Okinawa Tourism. As always, opinions are our own.