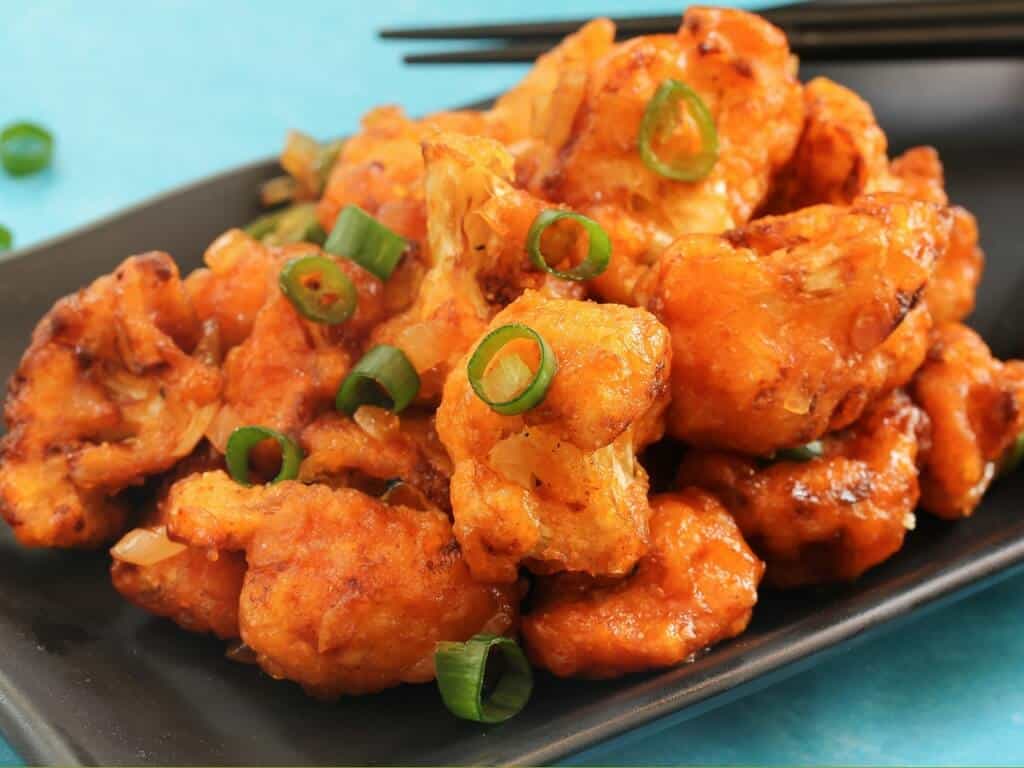 Welcome to another recipe from our global recipe swap series, a Gobi Manchurian Recipe. Who knew cauliflower could be so yummy!
This Gobi Manchurian recipe is one of my favourite indo chinese recipes. It's a dish that combines two of the most amazing cuisines in the world, Chinese flavours that have been adapted to suit Indian tastes. Truly a match made in heaven.
Its origins have been traced to a Chinese community living in Kolkata, West Bengal. The area was the easiest entry point from China to India. A number of Chinese settled here from the 1700's and soon a vibrant and bustling Chinatown was born. We have the creative restauranteurs of this Chinatown to thank for deciding to fuse these delicious flavours and create a Gobi Manchurian recipe that is now famous worldwide.
Gobi Manchurian Recipe – your two options
There are two recipes variations to this dish, a Gobi Manchurian dry recipe and a Gobi Manchurian gravy recipe. I'll be sharing both recipes but I have to confess that I've only ever cooked the dry version as I prefer to retain the crispiness of the fried gobi.
How to make Gobi Manchurian
Gobi Manchurian Dry Recipe
Dry Gobi Manchurian tends to be more popular as it is a versatile dish that can be served as a snack or a starter. It is quite a common street food in some parts of India and is well loved by locals and foreigners alike.
To Make Dry Gobi Manchurian you will need:
Stage 1 ingredients for Dry Gobi Manchurian:
1 Medium Gobi (That's Cauliflower to you and I) – cut up into small florets, approximately 20 pieces
3/4 cup All purpose flower
1 tablespoon cornflower
1/4 teaspoon ginger ground to a paste
1/4 teaspoon garlic ground to a paste
1/4 teaspoon turmeric
1/4 teaspoon chilli powder
Salt to taste
Water as required
Oil for frying – I use groundnut or rapeseed oil
Stage 2 Ingredients for Dry Gobi Mancurian:
1 tbspn oil
1/2 onion finely  chopped
1 spring onion finely sliced
3 garlic cloves – crushed to a paste (or 1 tablespoon paste)
1 piece of ginger – about 2 cm finely chopped (or 1 tablespoons paste)
2 dried red chillies – broken in half (and seeds removed if you prefer it a little less spicy)
1 small green capsicum cut into small cubes
4 to 5 tablespoons tomato ketchup
2 tsp vinegar
2 tsp soy sauce
How to prepare Gobi Manchurian step by step
Stage 1:
Tip the cauliflower florets in boiling water and boil for 3 minutes
In a large bowl mix together the ingredients listed in stage 1 – flour, cornflower, 1/4 teaspoon of garlic, 1/4 teaspoon of ginger, 1/4 teaspoon turmeric, 1/4 teaspoon chilli powder and salt.
Gently add water and mix until you have a medium consistency batter – not too thin or thick.
Heat the oil – you will know the oil is hot enough when you drop a small amount of batter and it quickly rises to the surface
Dip the florets in batter and fry in small batches so as to retain the temperature of the oil
Remove the florets once they take on a golden colour and let them rest on some kitchen paper to drain off any excess oil.
Stage 2:
In a separate saute pan or wok heat heat the oil and add the chopped onion, ginger, garlic, dried chillies and green capsicum and stir fry for 2 to 3 minutes on high heat
Add the sliced spring onion and fry for 1 more minute
Add the 3 tablespoons ketchup, the soy sauce and vinegar and mix well
Check taste and add more ketchup if needed (up to 5 tablespoons)
Add salt to taste
Finally add in the fried cauliflower florets and mix well until everything is combined
Remove from heat and serve
How to prepare Gobi Manchurian Gravy
The ingredients for the Gobi Manchurian Gravy recipe are exactly the same, with the addition of a tblsp of cornflour and a couple of cups of water.
Follow the exact same recipe for the dry recipe until you add the spring onion.
After you have stir fried the spring onion and 1 1/2 cup of water and let it come to a boil.
In a separate bowl make a paste from 1 tblsp cornflour and 1/4 cup of water.
Add this lump free paste gradually to the water and still continuously until it starts boiling again.
Leave it to boil until you see a sheen forming on the top
Add the ketchup, vinegar and soy sauce and mix well
Finally add the fried florets and mix well. Leave to cook for about 2 minutes until the florets are heated through.
Take off the heat and garnish with some extra spring onion if you wish
Serve immediately with some noodles or rice. You don't want those lovely crisp florets to go soggy.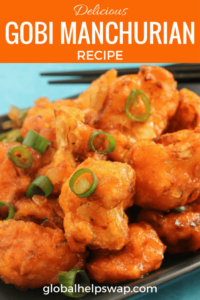 I hope you enjoy this Gobi Manchurian recipe as much as I do. I love to make it as a mid week meal when I'm having a meat free day. I also serve it as a snack when I have friends over. I've been asked so many times for the recipe that I'm glad I finally have a post to pint them to.
If you do make this recipe I'd love to hear your thoughts about it. Did you change or add anything?
Check out some of our other recipes
Karen is a trained psychologist and coach. But really she's an adventurer who believes travel can be one of life's best teachers. She writes to inspire you to take the leap and travel in a way that is memorable and meaningful.