Ishigaki Japan
Kanpai! (cheers in Japanese) we all shouted in unison as our 3rd Awamori (Okinawan Sake) went down in one shot. It was only 09:00 and I was starting to feel that familiar tipsy buzz after having 3 shots of straight alcohol. We had a full day of exploring Ishigaki Island ahead of us and I wasn't sure how I was going to last the day. Thankfully, there was lots of food breaks that helped soak up the early morning Sake tasting.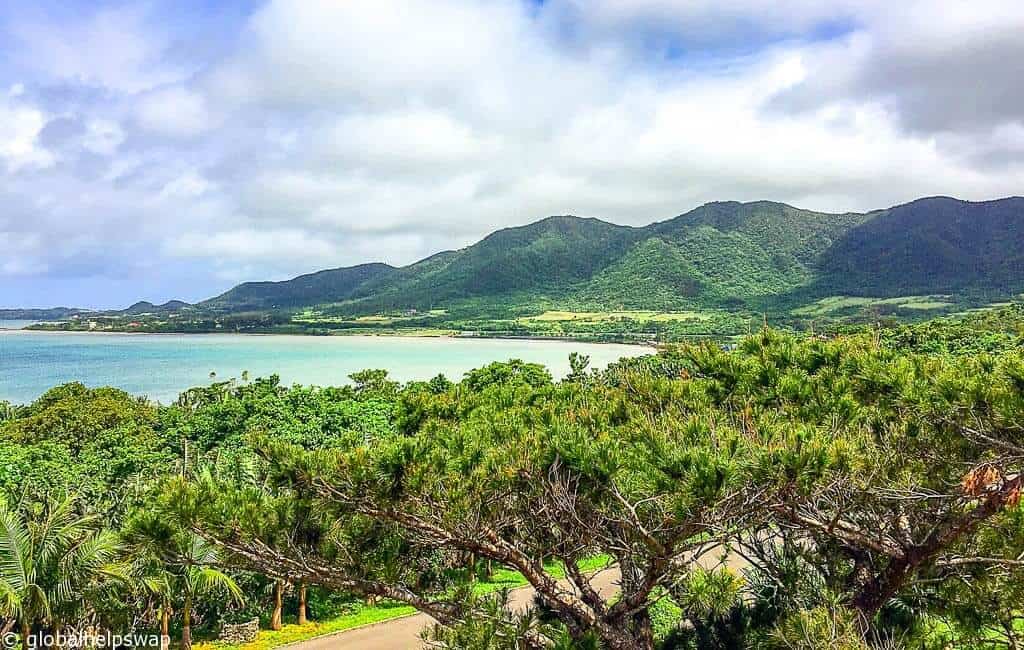 Ishigaki Island is the 2nd largest island in the Yaeyama Archipelago. It is the main gateway to the rest of the islands with daily flights from Tokyo and other mainland Japanese cities. Like the rest of the Okinawan islands, Ishigaki is culturally influenced by both Japan and Taiwan which is only 300km away. It's a great destination to add-on to your Japanese itinerary, after all who doesn't want tropical beaches, great food, unique culture, and friendly locals?
Things to do on Ishigaki Island, Okinawa, Japan
Visit Yaima Village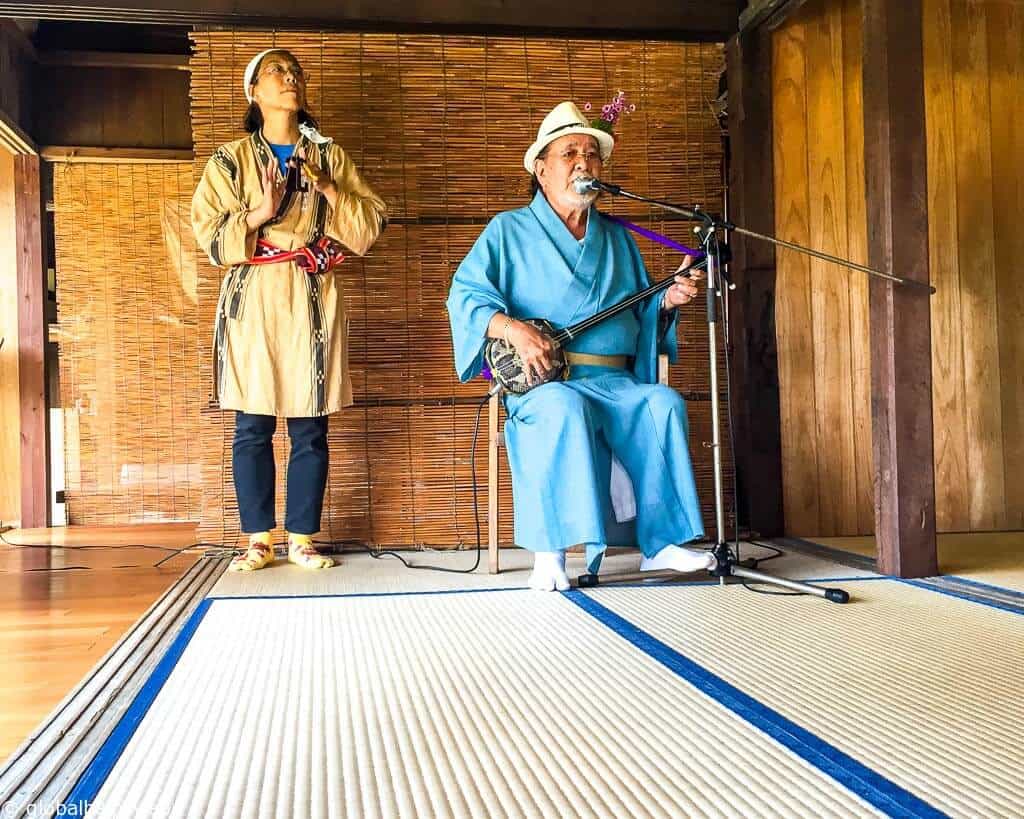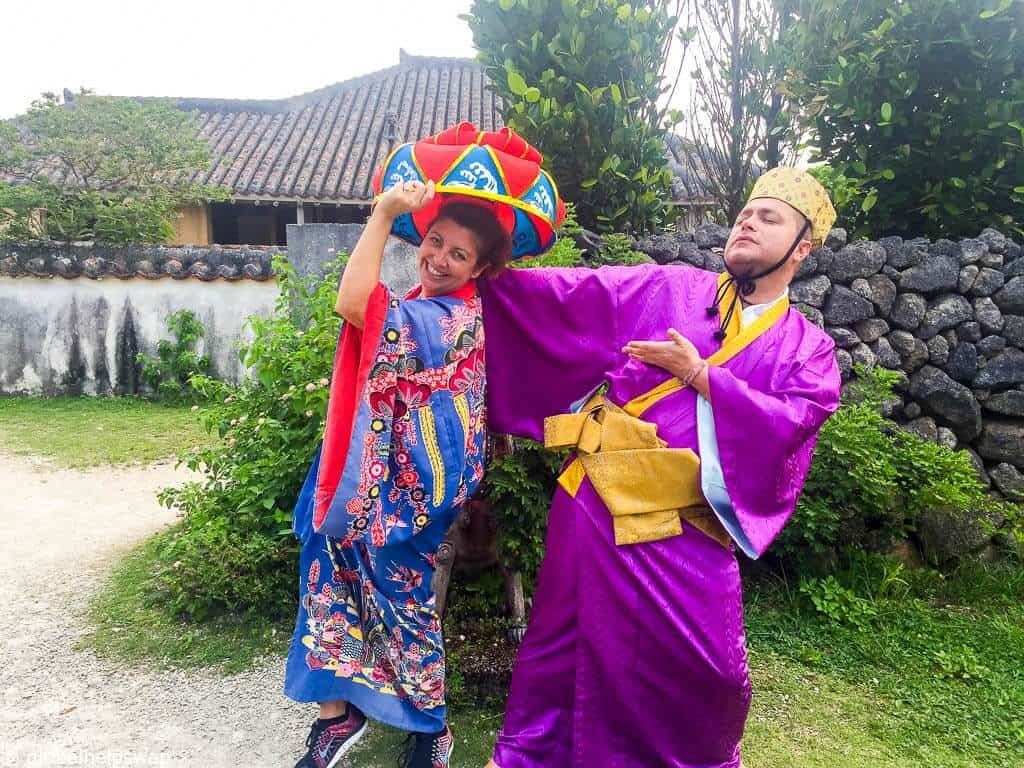 Yaima Village is a great introduction to the history and culture of Ishigaki Island. It has over 100 original houses that were transported from the nearby city and painstakingly put back together to recreate a historic island village. In these houses you can watch locals perform live performances of dancing, theatre and music. If you are the flamboyant type you can dress up in the local traditional costume and have your photo taken. If you walk to the edge of the village you will see a viewing platform overlooking Kabira Bay.
Info:
Opening Hours: Daily from 09:00 – 17:00
Cost: 840 Yen for adults and 420 Yen for children.
Visit Kabira Bay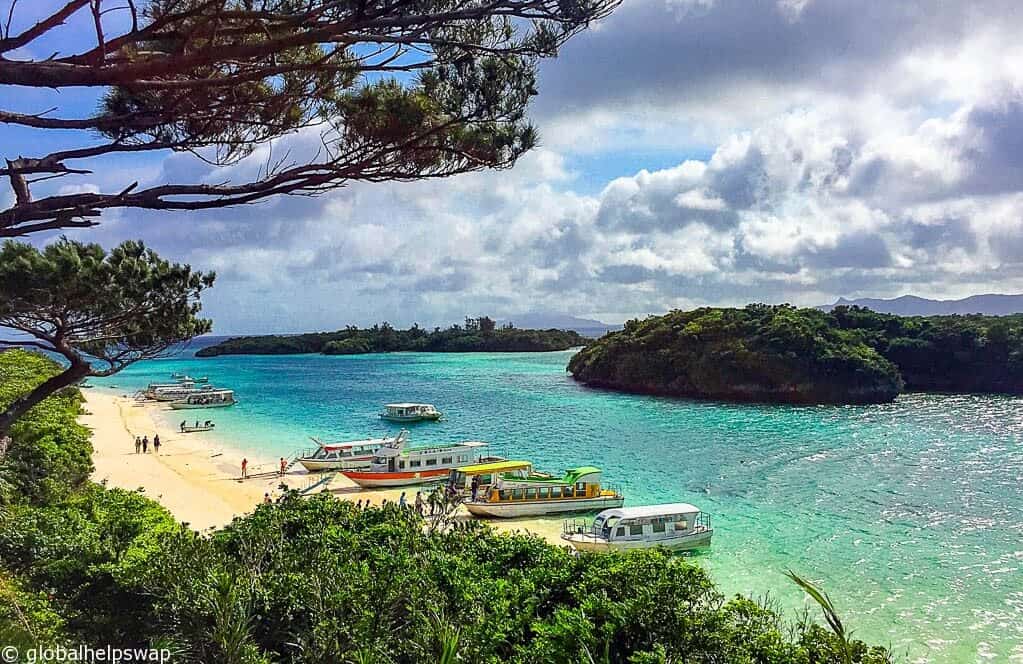 Kabira Bay is the most visited spot on Ishigaki Island and it's not hard to see why. With its white sand and turquoise waters, this bay has been declared a place of scenic beauty by the Japanese government. Unfortunately, you can not swim in Kabira Bay because the currents are too strong and dangerous. Most visitors take a glass bottom boat around the bay to see the tropical wildlife in the crystal clear waters. You can also take guided kayak tours to the nearby uninhabited islands.
Sake Tasting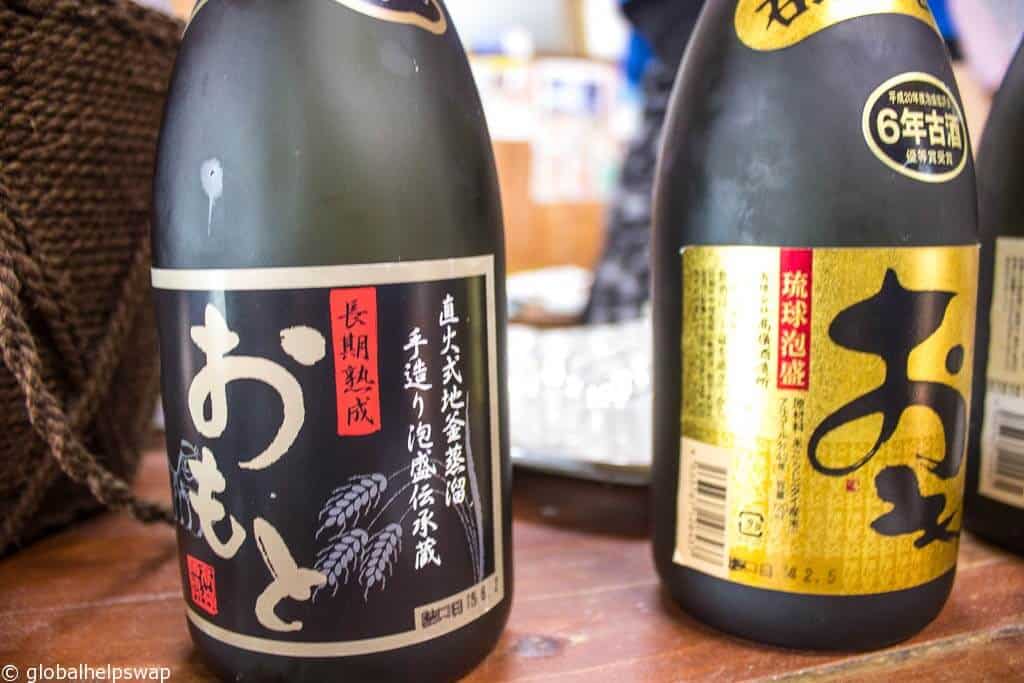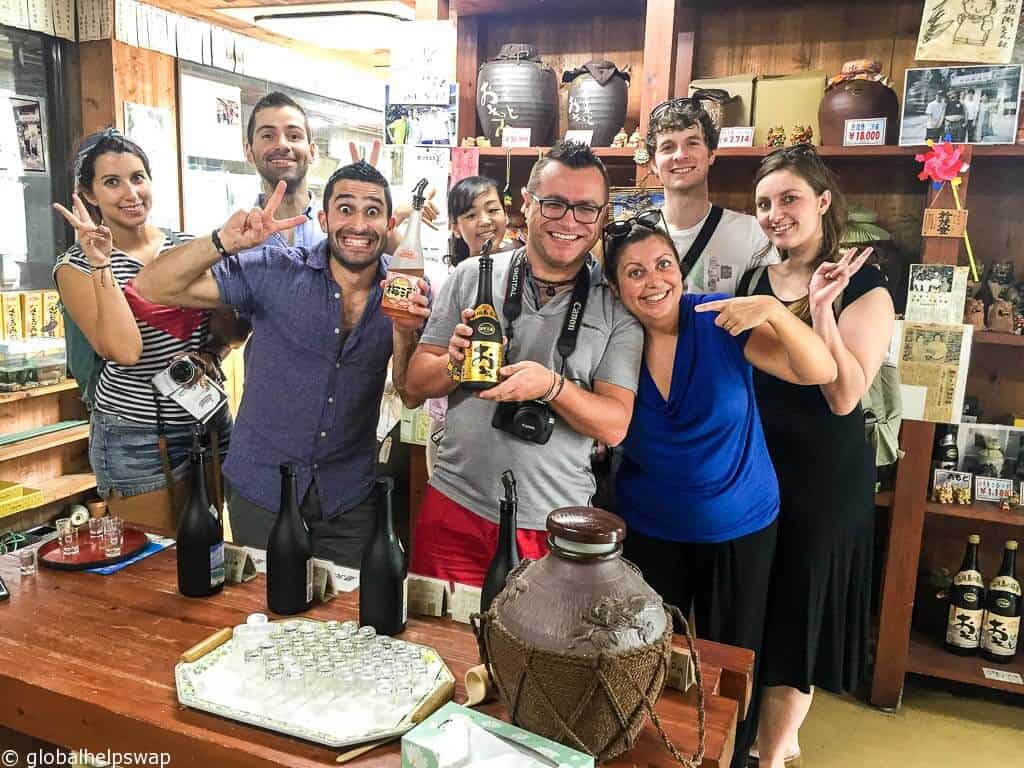 Let's get back to drinking. The awamori distillery is a short walk from Kabira Bay. The main difference between Awamori and Sake is that in Awamori they distill the rice not brew it. They also use black rice imported from Thailand. I have had some pretty rough Sake in my time but it was always the cheap stuff. The Awamori we had on Ishigaki Island was lovely. I suppose it helped that it had quality ingredients and was made in an artisan distillery.
Try Okinawan Donuts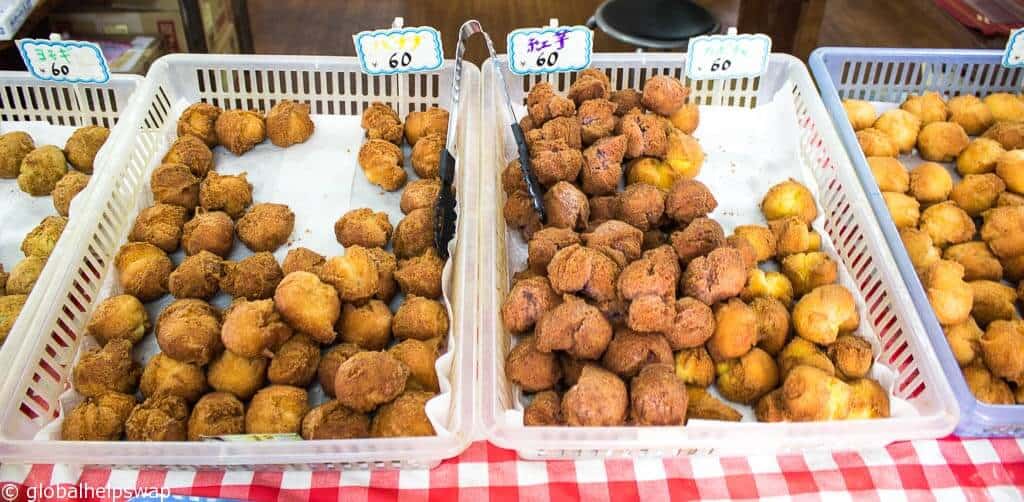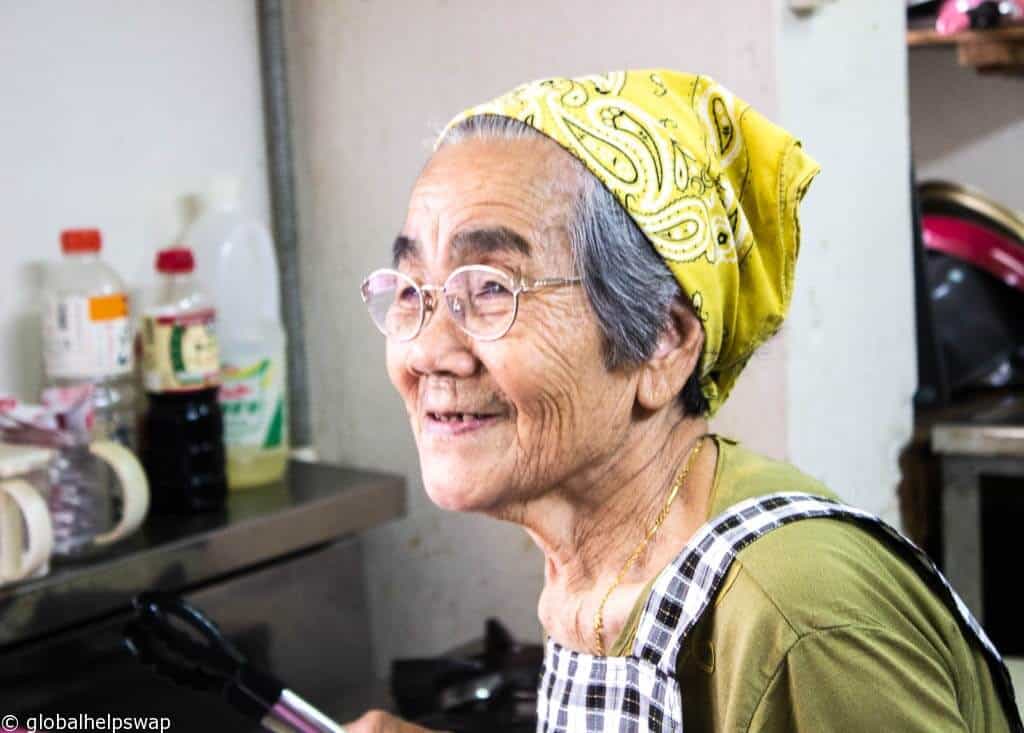 After drinking 5 shots of Awamori so early we needed to soak up all that alcohol. Que, the donut shop. We are not talking about any donut shop here, come on, this is Japan where they excel at everything, including donuts. Sayoko No Mise is a donut shop run by 3 generations of the same family. Their donuts are so popular that they have queues forming outside the shop for them and generally run out by noon so get there early. They all types of flavours from cinnamon to banana so we recommend getting a mixed bag. You will not be disappointed.
Make Your Own Minsa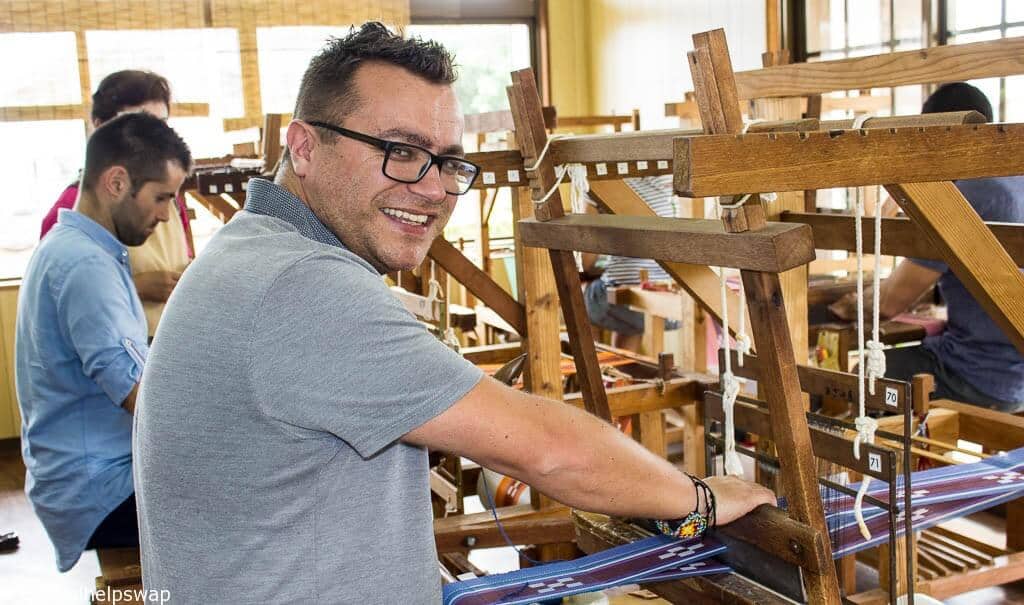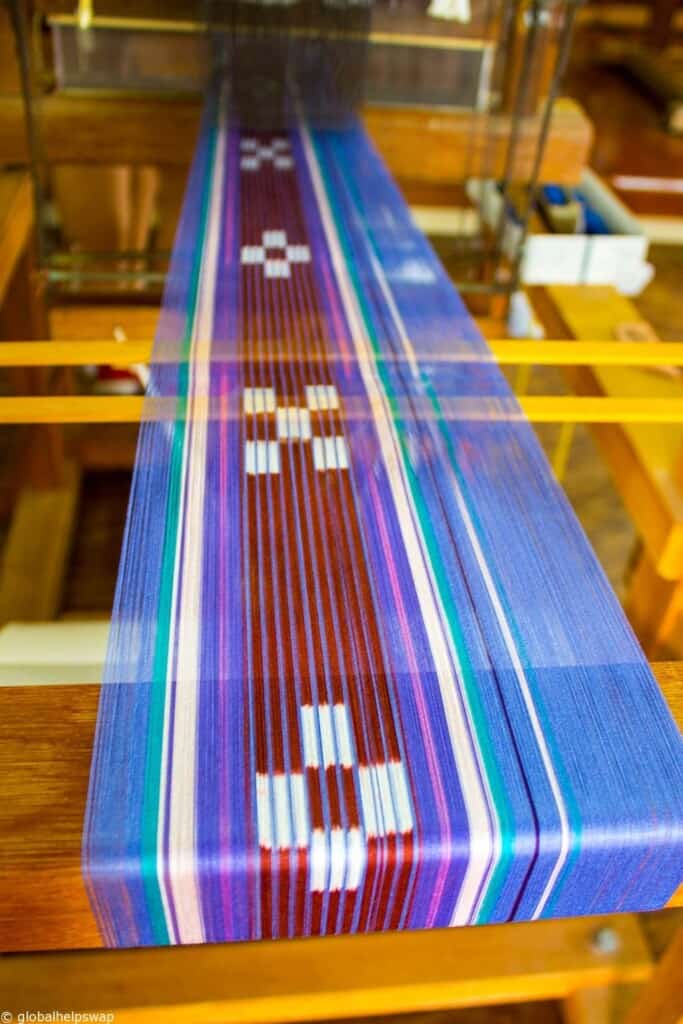 Around 400 years ago, people started growing cotton in Okinawa. Around the same time, the Yaeyama Islands started producing Minsa. The tradition was that when a man proposed to a woman for marriage, the woman would make him an indigo Minsa belt. The pattern on the belt is 5 and 4 squares which implies "eternal love". The long straight pattern on the belt implies  " please come to me, again and again".
So we were not just making a piece of cloth here. We had 400 years of history, love, and blogger competition to contend with too! Making your own Minsa is a great way to take an authentic memento back with you.
Visit the Market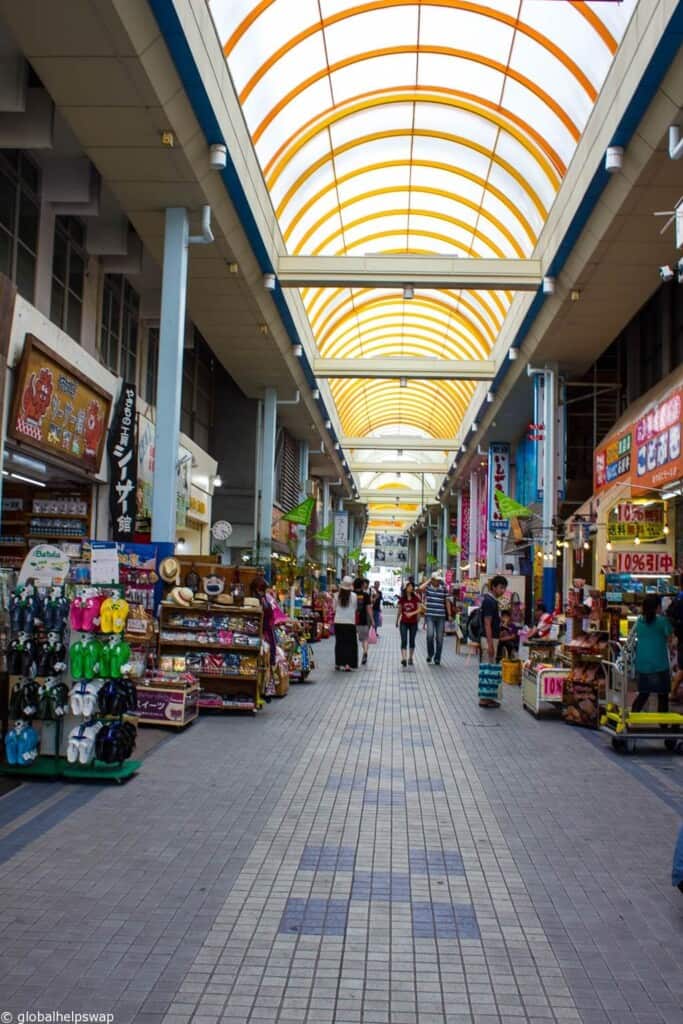 We always love visiting markets and the one on Ishigaki was no exception. What we loved about this market in particular was the fact that we didn't know what half the stuff was when browsing around the stalls and that includes the food. The stallholders were keen for us to try their produce and we were happy to oblige. The sugarcane candy and the salt ice cream were standouts.
Eat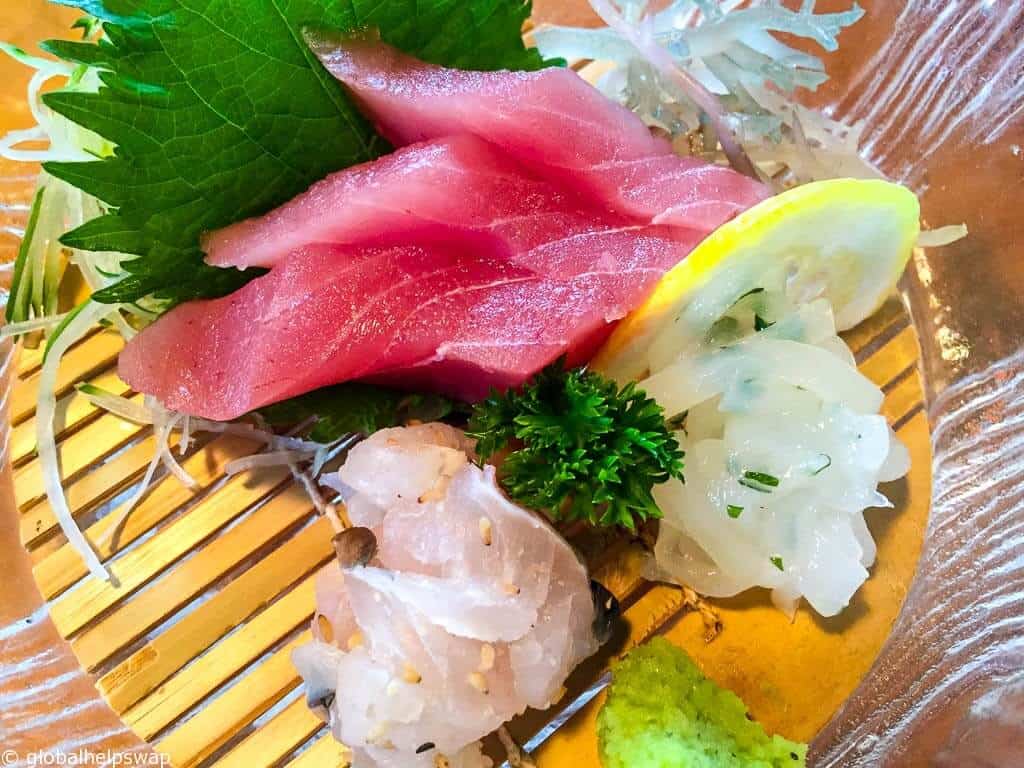 Like everywhere in Japan the food of Ishigaki Island was delicious. We ate at a variety of restaurants during our stay and all we exceptional. Nakamuraya is a family run restaurant that specializes in vegetable curries. The woman who owns the place is actually a famous Japanese cookbook writer so you know you are in good hands when she is overseeing the food.
On our first night we had dinner in the No 1 Izakaya on Ishigaki. Like the donut place, Hitoshi had people queuing up to enter before it opened. Don't you just love foodies! We had a variety of dishes from sashimi to the local wild boar. All were to die for.  Finally dinner at Funakura No Sato was equally as impressive with the added bonus of live music and dancing.
Ishigaki Island Hotels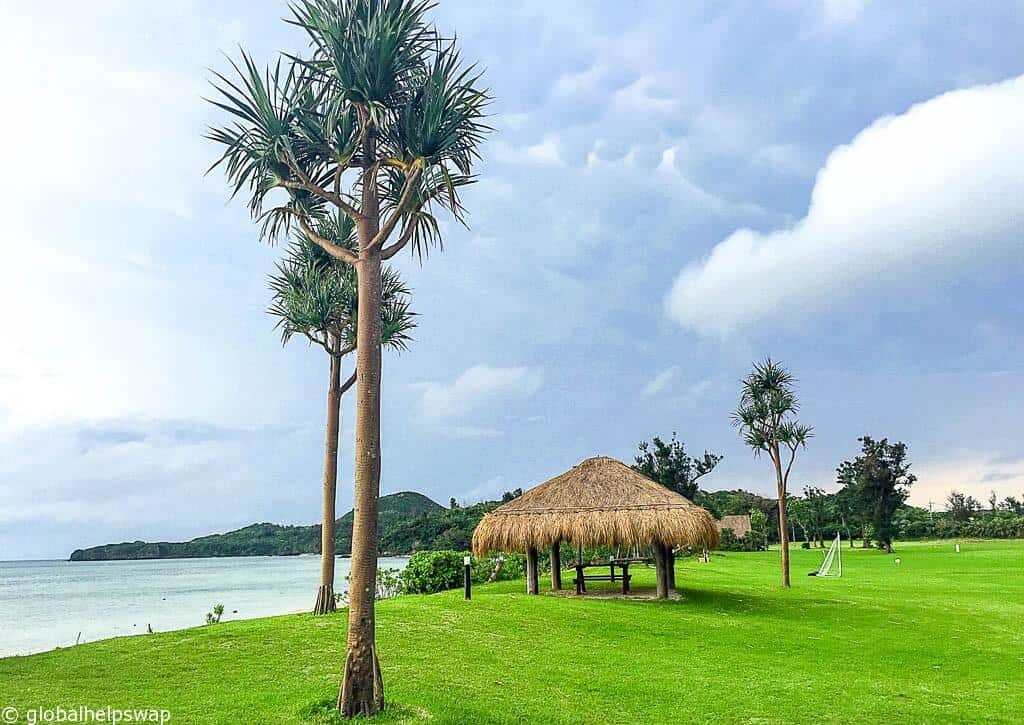 We stayed in the wonderful Ishigaki Seaside Hotel and we really enjoyed it. The hotel is right on Sukuji beach where you can enjoy snorkeling, jet-skiing and other marine activities. We stayed in the one bedroom villa which was beautiful, it even had its own jacuzzi on the verandah!
Conclusions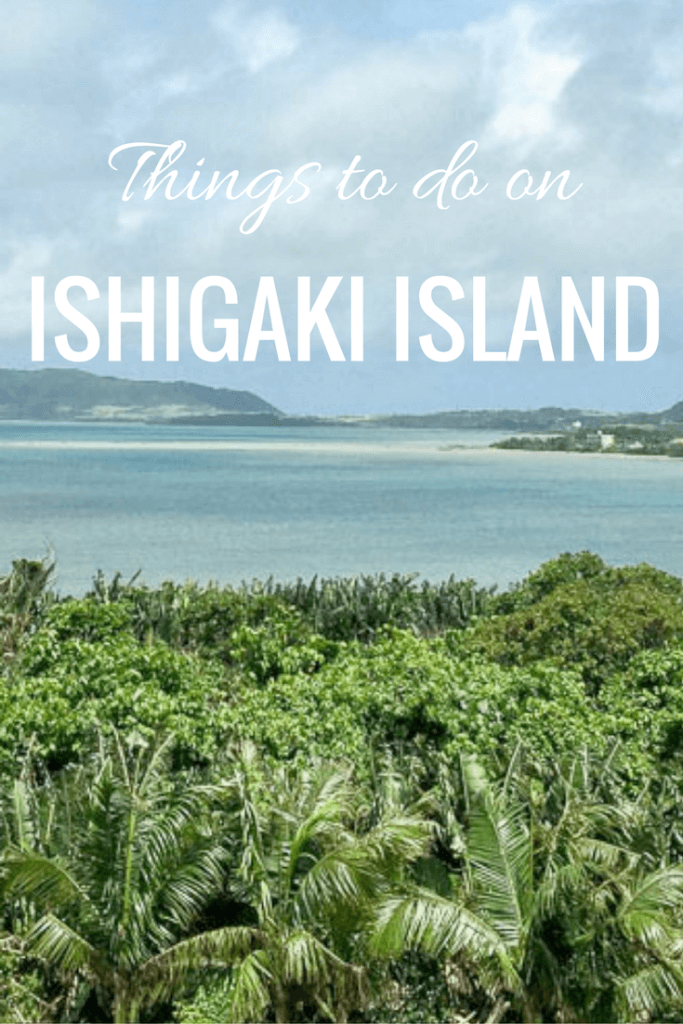 If you are heading to Japan we highly recommend that you add-on Ishigaki Island to your trip. It offers something very different to the rest of Japan but in a typical Japanese way. Flight time from Tokyo is around 3 hours so add-on some tropical sunshine to your Japanese getaway.
Heading to Japan? Check out our other Japan posts before you go!
Japan Trip Planner – Amazing Places To Visit In Japan | Japan Trip Planner. Check out our post on our favourite places to visit in Japan. Discover islands, cities, and villages.
From Tokyo to Kawaguchiko – An amazing Trip to Mount Fuji – Click here to find everything you need to plan an amazing trip from Tokyo to Kawaguchiko to visit Mount Fuji. How to get there, what to eat, do and see.
Finding Peace In Hiroshima – Our first port of call in Japan was in Hiroshima. Read about how we and the city itself found peace in Hiroshima after utter devastation.
Things To Do In Kyoto – Are you thinking of visiting Kyoto? Read our Things to do in Kyoto blog before heading there to make the most of your visit.
Where To Stay In Kyoto – Choosing where to stay in Kyoto can be tricky as there are so many great places to choose from. Read our post to help you decide.
Sleeping In A Manga Cafe In Tokyo – A video blog of us sleeping in a manga cafe in Tokyo. Why? Because it felt so Japanese. Did we sleep well? Watch the video to decide if it looks comfortable. 
What To Do In Osaka – Are you heading to Japan? Read our post on What to do in Osaka before heading to this foodie city. From museums to river walks we list our top highlights.
How We Gatecrashed A Japanese Pop Stars Wedding In Tokyo – This is the tale on how we gatecrashed a Japanese pop stars wedding in Tokyo. We honestly did it by mistake but it took us a few hours to realize what we did.
Things To Do In Nara – Read our local's guide of top things to do in Nara. From temples to the deer park and amazing food we share the best tips to make the most of your trip to Nara.
The Best Ryokans and Hotels in Nara – Are you looking for accommodation in Nara, Japan? Then read our post on The Best Ryokans and Hotels in Nara Japan before booking. Stay in a traditional style Japanese Inn for amazing food and incredible hospitality.
A Guide To The Yaeyama Islands – Discover Japan's secret tropical location The Yaeyama Islands, Okinawa. They are a perfect add on to your Japanese adventure.
5 reasons to visit Taketomi Island – If you are heading to the land of the rising sun on your next trip then here are 5 reasons to visit Taketomi Island, Japan when you go.
Okonomiyaki Recipe (Japanese Pancakes) – This week on global recipe swap we have an Okonomiyaki Recipe (Japanese Pancakes) a favourite dish of ours when we were travelling in Japan.
Things to do on Iriomote Island – Are you heading to the Yaeyama Islands? Then read what are our Top things to do on Iriomote Island, Japan. Enjoy Japan's tropical paradise.
Walking On The Nakasendo Trail – Discovering the Nakasendo Trail (Following Ancient Footsteps In Japan). Read about an ancient walking route in Japan & see traditional ways of Japanese Life. 
Gujo Hachiman Castle – If you visiting Gifu Prefecture in Japan then we highly recommend you visit Gujo Hachiman Castle which is also known The Castle In The Sky. Read our post to find out how to get there and what's it like.
This post was done in collaboration with our partners the Okinawan Tourism Board.