Khao Sok National Park was a pleasant surprise when last visited Thailand. We hardly knew anything about the place before getting to Thailand but we soon fell in love with the nature, wildlife and people of the area.
There are two sides to Khao Sok National Park, the village side and the lakeside. We recommend you stay in both areas like we did to get a true feel of the place.
The best thing about staying on Cheow Lan Lake is the fact that you actually do stay on the lake in floating bungalows. Think the Maldives but a bit (a lot) more basic. Below is a list of the best Khao Sok floating bungalows according to other travellers. Enjoy getting back to nature.
Khao Sok Floating Bungalows
A word of warning. Don't expect top-class service at most of the floating bungalows in Khao Sok. From our own experience and talking to other people most places provide just the basics.
We stayed two nights/3 days and slept in very basic accommodation. However, you come to Cheow Lan Lake to swim, observe wildlife and trek. So if you go with the mindset that you are on some sort of safari in a remote location you will be fine.
Keereewarin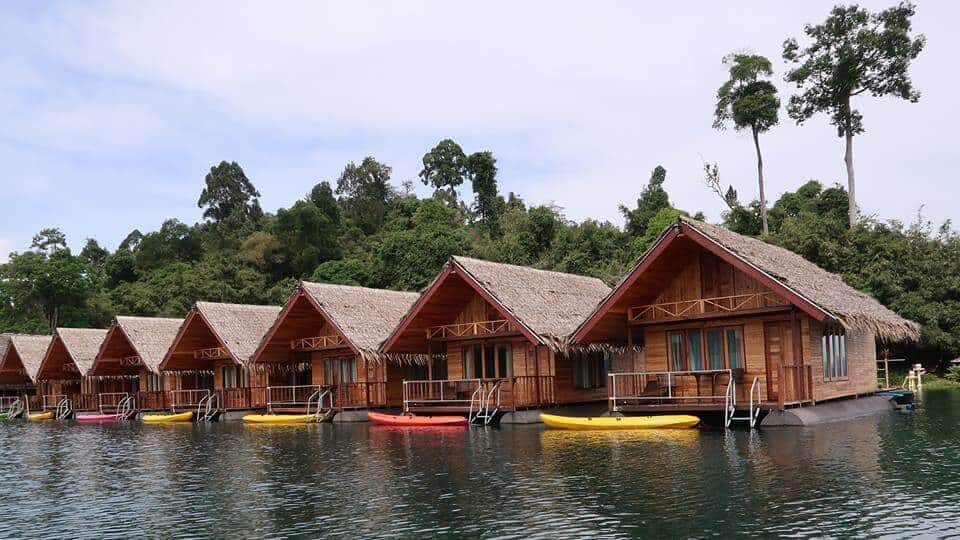 Everybody loves the location of Keereewarin and from the looks of the photos of the place it is not hard to see why. Some people moaned about the lack of internet but as I mentioned before this is not an area to sit and watch Netflix!
So grab a kayak and go exploring. Check here for the latest prices.
Panvaree Resort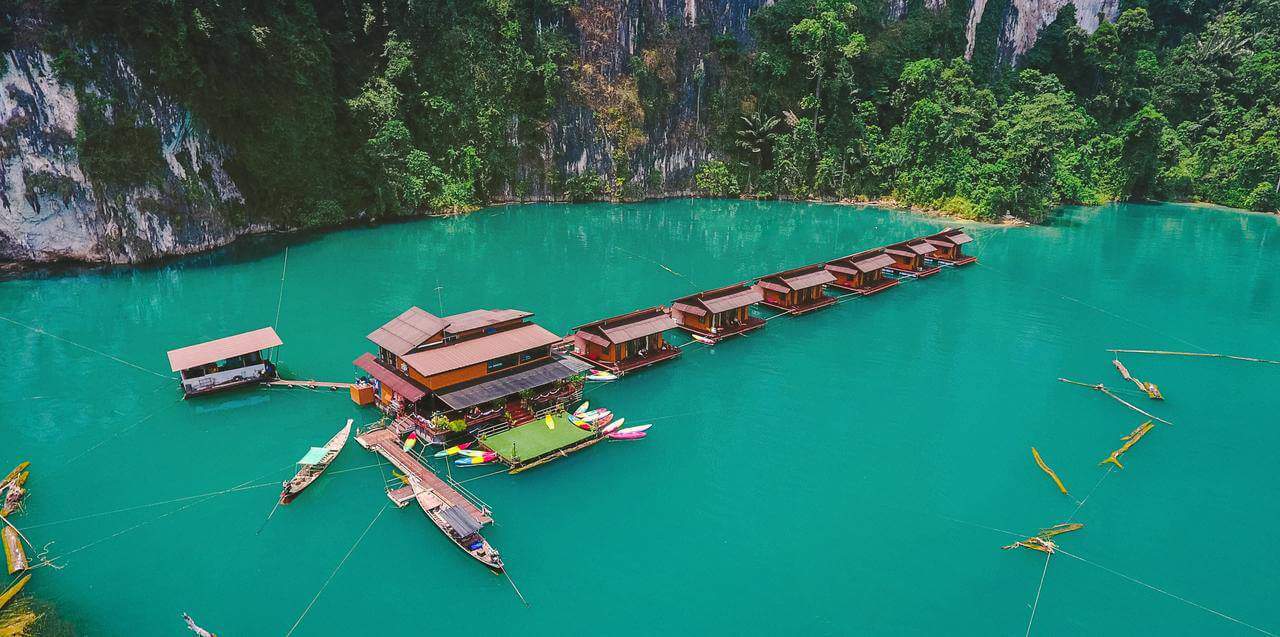 Once again fellow travellers raved about the location of the Panvaree Resort (I think that will be a common theme with all the floating bungalows.)
Some people loved the food and others didn't. All enjoyed the excursions around the lake and the staff are very friendly. Check here for the latest prices.
Panvaree The Greenery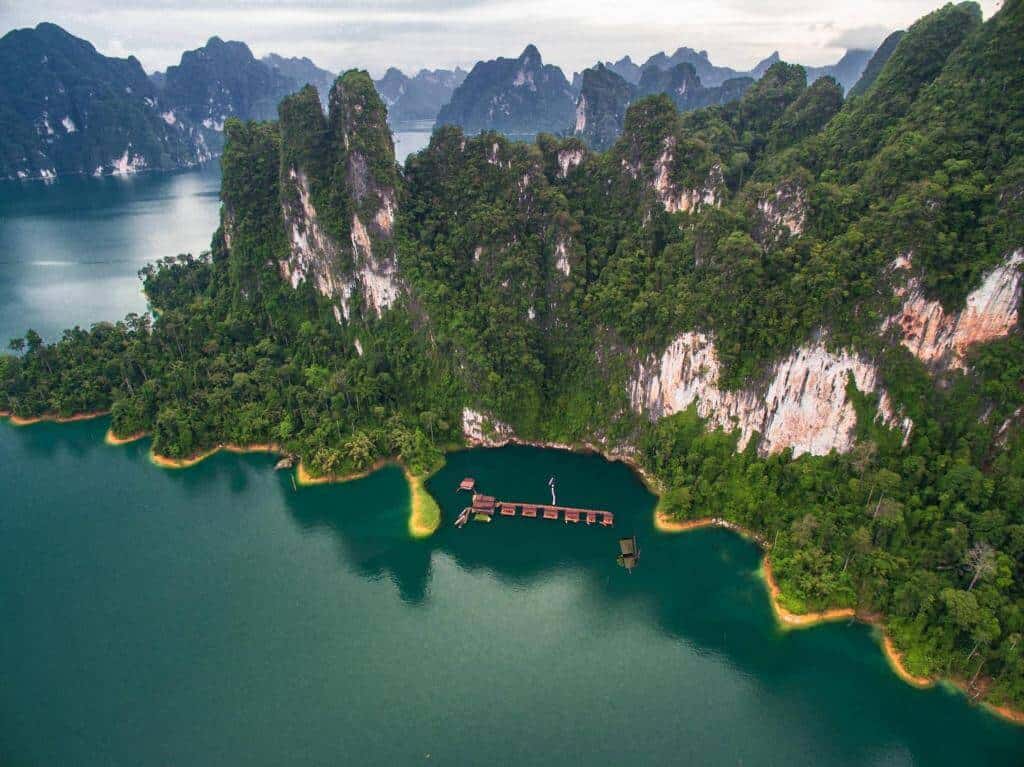 Panvaree The Greenery features water sports facilities and a bar in Ban Kadae Chae. All rooms boast a flat-screen TV with cable channels and a private bathroom. The property has a restaurant.
Each room includes a shared bathroom with a shower, while certain rooms come with mountain views.
A buffet or American breakfast can be enjoyed at the property.
Guests at the resort will be able to enjoy activities in and around Ban Kadae Chae, like canoeing.
Ko Kho Khao is 31.1 miles from Panvaree The Greenery. The nearest airport is Surat Thani Airport, 30.4 miles from the property. Check here for the latest prices.
Keereetara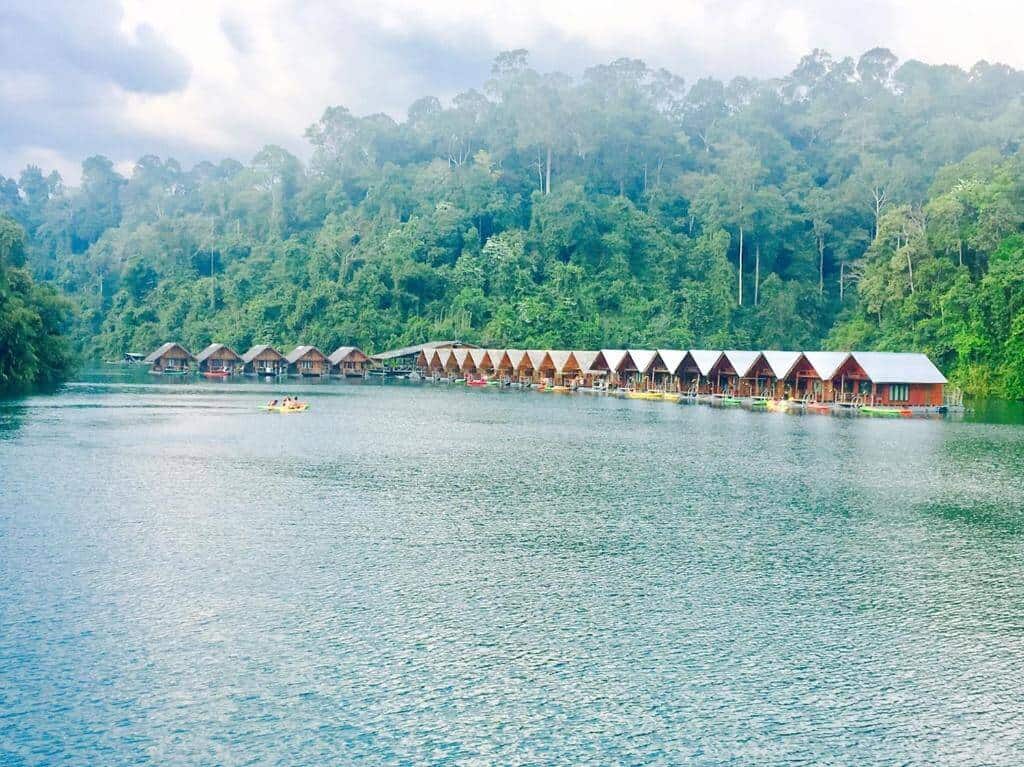 Keereetara is a newcomer to the floating bungalows scene but from the looks of it, you will have a similar set-up with stunning views, basic beds and food and lots of water-based activities.
Like a lot of the properties in the area, these bungalows don't have hot running water. We never found that a problem as we were so hot anyhow a nice cool shower was all we wanted. Check here for the latest prices.
Praiwan Raft House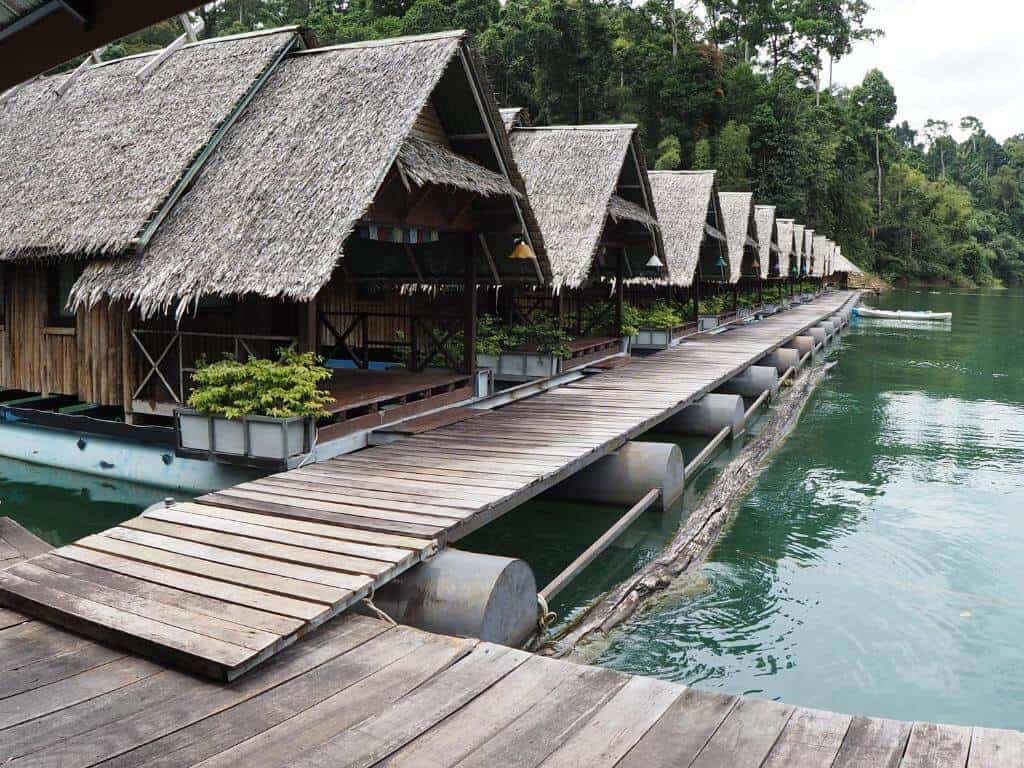 Praiwan Raft House gets praise for its location, food and friendly staff. It's a family-run place with owners from the area.
They love where they are from and it shows in how they run the place. You can do a small hike from the bungalows to a smaller lake and they also have kayaks to rent. Check here for the latest prices.
500 Rai Floating Resort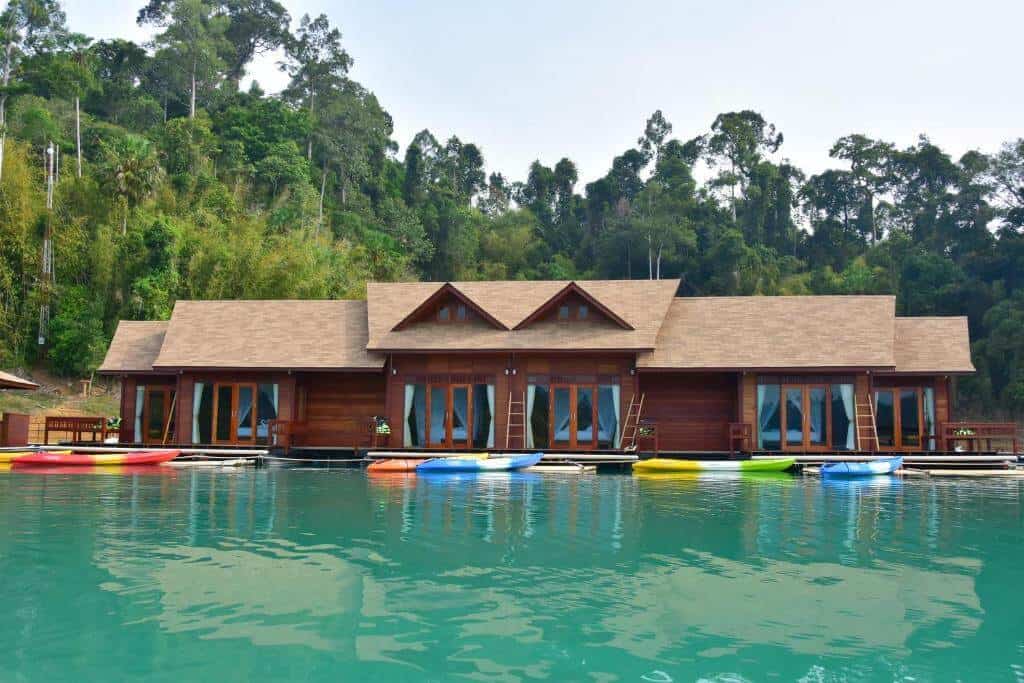 500 Rai Floating Resort is probably one of the more swanky resorts on the lake. Previous guests love the bungalows, friendly staff, location and food.
Boasting overwater bungalows on the Ratchaprapha reservoir (Cheow Lan Lake), 500 Rai Floating Resort is set in a midst of natural surroundings. Guests can indulge in an outdoor pool and enjoy amazing views of lush green hills.
Delectable local and Western cuisines can be sampled at Talay Nai Restaurant. Free private parking is possible upon reservation.
Each bungalow here comes with two bedrooms featuring comfortable beds and air conditioning. The en suite bathroom is equipped with shower facilities and the toilet is separated from the shower area. Guests can enjoy sunrise and sunset either from an indoor seating area or the outdoor balcony.
A two-seat kayak and life jackets are provided for guests to explore the paradise-like beauty of the area.
Shuttle services are available for guests' convenience. Surat Thani International Airport is a 45-minute drive from the property, while Koh Samui Piers are 77.7 miles drive away. Khao Sok National Park is an hour's drive from 500 Rai Floating Resort.  Check here for the latest prices.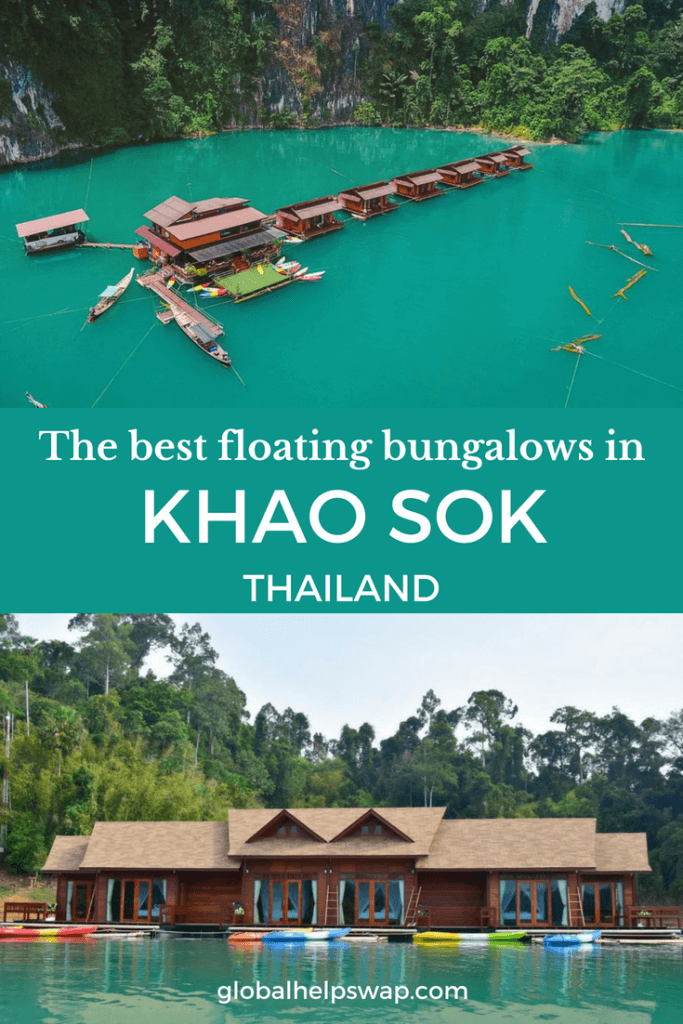 Have you been to Khao Sok National Park and stayed on Cheow Lan Lake? Are there floating bungalows that you know of that deserve to be on this list? Please let us know in the comments below.
If you are heading to Thailand you might also like these other posts on Thailand:
Khao Sok National Park – An unmissable destination in Thailand – A more in-depth look at our stay in Khao Sok National Park.
10 best places to visit in Thailand (Beautiful places in Thailand you must see) – These are our favourite 10 places in Thailand.
Volunteering in Thailand – If you are staying in Thailand for a while, why not volunteer in Thailand with these amazing animal and wildlife charities?
#LoveYourTravels
*Images provided by the properties