If you are looking where to stay in Tulum, Mexico then you have come to the right place. Below is a list of some of the best hotels in Tulum. We loved our week in Tulum, the beach is beautiful, the Mayan ruins are ethereal and the eco-hotels we stayed in were first class. If this is your first time visiting Tulum or if you are a regular we hope this post helps you find your Tulum accommodation.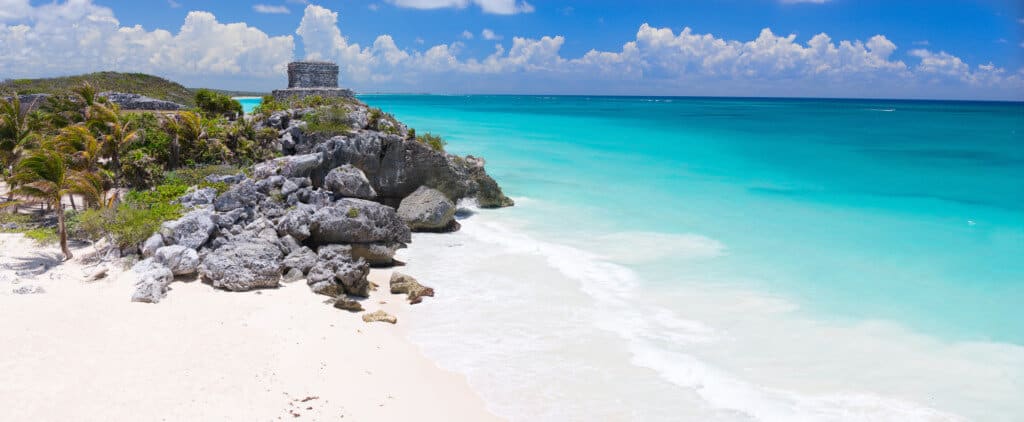 Where To Stay In Tulum
Top End Tulum Hotels:
The Beach Tulum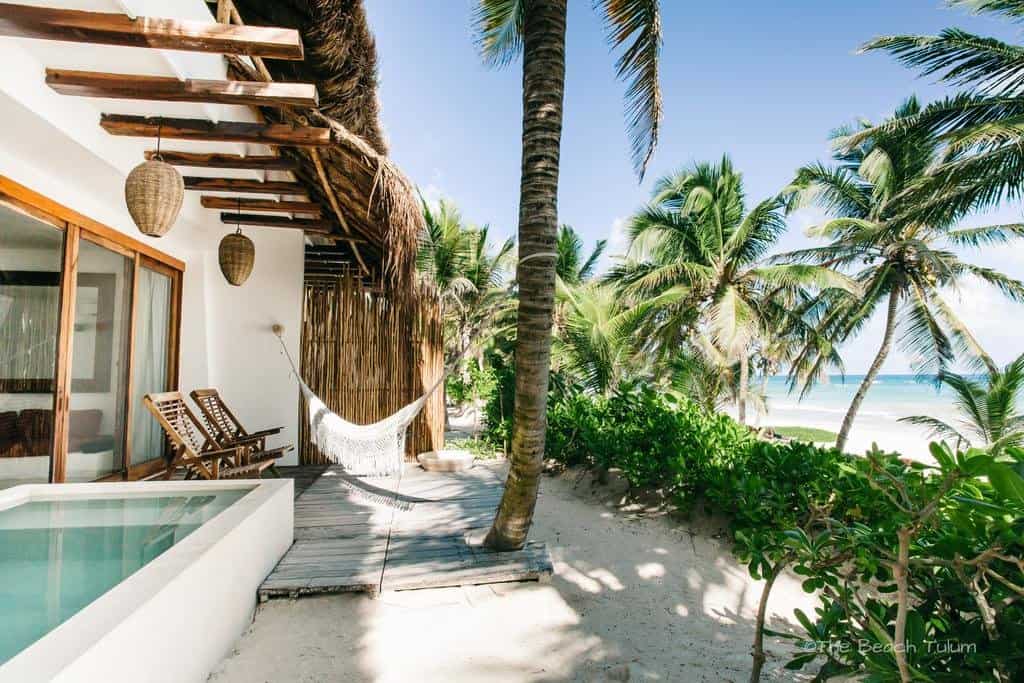 The Beach Tulum is a firm favourite with our readers. They love the location, staff (the ratio is 5 to 1!) food and beautiful rooms.
The adults-only The Beach Tulum Hotel offers a beautiful setting on Tulum Beach within 4.3 miles of its famous Mayan Ruins. It features beach-front rooms with terraces and lounge area, an outdoor pool, beach club and a restaurant. Onsite Spa and onsite shop.
Each luxurious, beach-front room has stylish, minimalist décor. Each air-conditioned accommodation includes free WiFi and a seating area.
Guests can enjoy full breakfast either in the Ziggy's restaurant or Fresco's. Ziggy's Beach Club serves drinks and snacks from 09:00 until sunset. Check here for the latest prices.
La Valise Tulum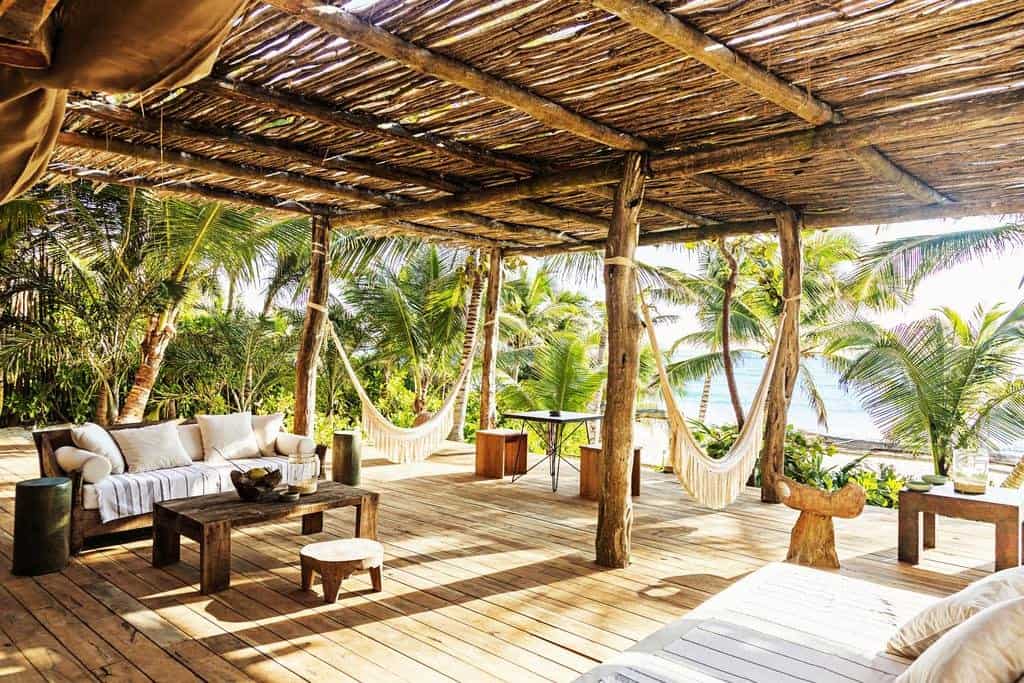 La Valise Tulum is a luxury hotel rated as one of the best boutique hotels in the area. Guests love the service, location and beautiful rooms. La Valise is the perfect beach and jungle getaway with its beautiful rooms and stunning beachfront views it makes for the most picturesque stay on the beach in Tulum. Heated infinity pool overlooking the jungle on one end and breathtaking views of the Caribbean ocean on the other side. Beds directly on the beach for lounging in the day or laying beneath the stars at night.
All rooms have handcrafted furnishings, free Wi-Fi, safes, and tea and coffee making facilities. Rustic jungle bungalows have open-air showers, and terraces with jungle views. Airy seafront rooms include en-suite bathrooms and hammocks. Room service is available and daily breakfast is included for all guests. Check here for the latest prices.
Jasitha Hotel Tulum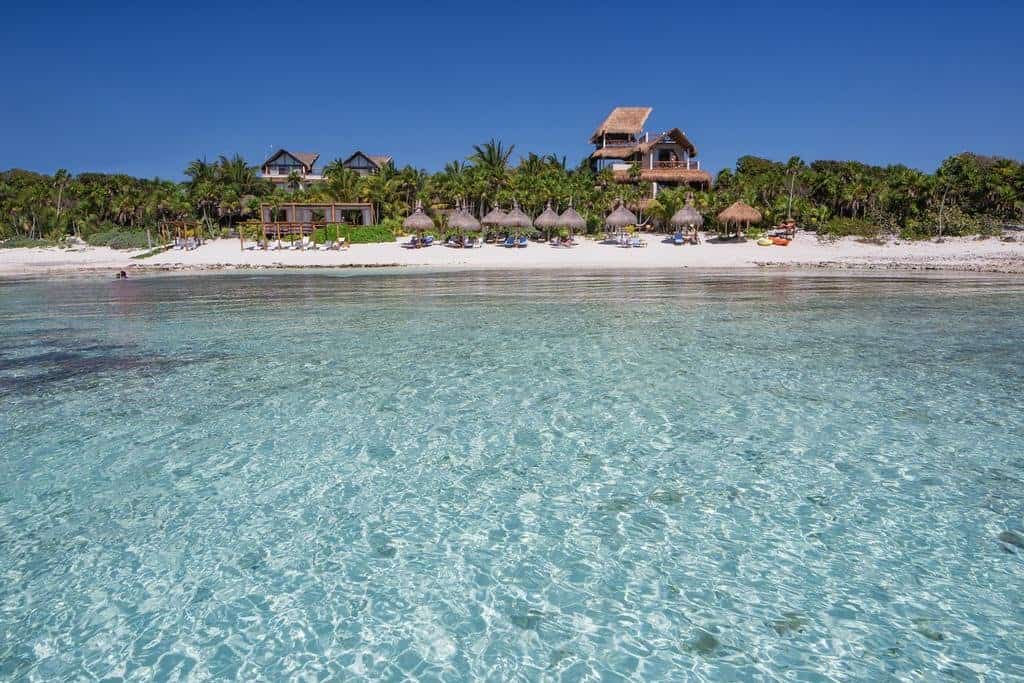 The Jasitha Hotel is slightly out from the main hotel area in Tulum but with a beach like that right on your doorstep who cares! Our readers love the attentive service, rooms, pools and the romantic location.
Located on a white-sand beach just 6.2 miles from Tulum, Jashita Hotel offers 3 outdoor pools, a bar-restaurant, suites with private plunge pools and a luxurious Penthouse with a sea-view terrace.
All the air-conditioned accommodation at Jashita Hotel offers garden or sea views, fine Italian bed linen, cable TV and an iPod dock. Bathrooms include deluxe toiletries and a hairdryer. The hotel's Sahara Cafe serves local and international dishes.
Staff at the Jashita can also arrange beachfront yoga sessions, snorkelling or scuba diving with a personal instructor. Free Wi-Fi is also available. The beautiful Mayan ruins of Tulum are just 6.2 miles from Jashita Hotel. Check here for the latest prices.
Be Tulum Beach & Spa Resort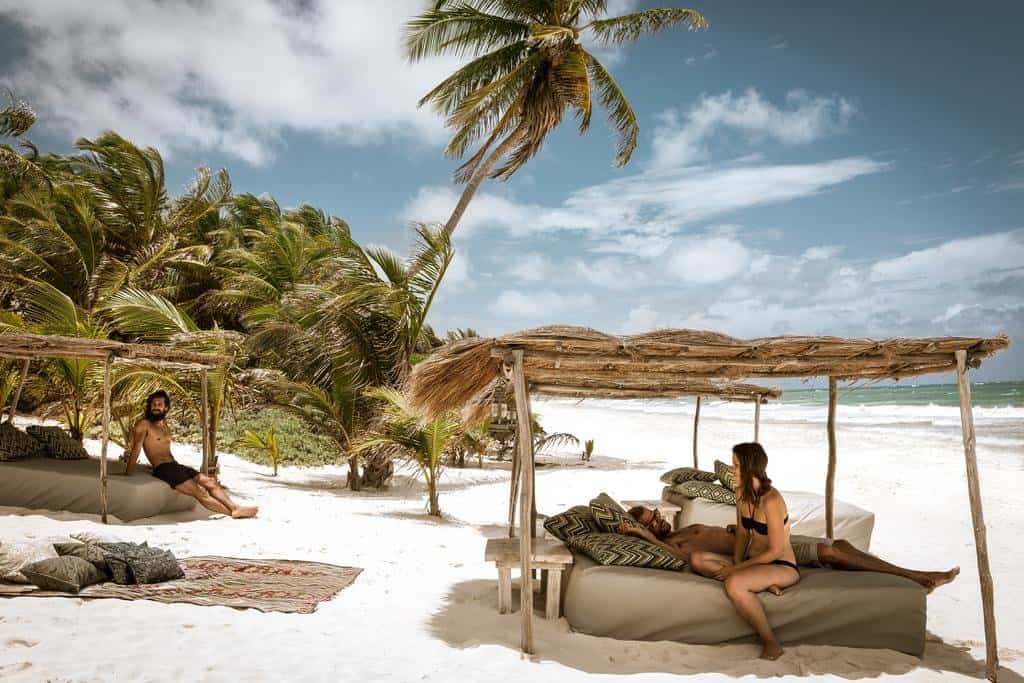 Be Tulum Beach & Spa Resort is a beautiful boutique-style hotel right on the Caribbean Sea. Guests love the setting saying it feels like you are in the jungle. The service is world-class but friendly and the onsite restaurants.
This hotel in Tulum Mexico offers 64 elegant suites. The hotel features 3 on-site restaurants, one bar and two outdoor swimming pools. Children from 13 and above are welcomed on this property.
Be Tulum offers easy access to the Caribbean Sea and many recreational activities. Guests can go snorkelling and fishing near the hotel. There are also many theme parks nearby, including Xcaret and Xel-Ha.
Guest suites at the Be Tulum feature iPod docking stations and private balconies. Some suites are also equipped with private pools or hot tubs. Check here for the latest prices.
Mid-range Tulum Hotels
Hotel Cabanas Tulum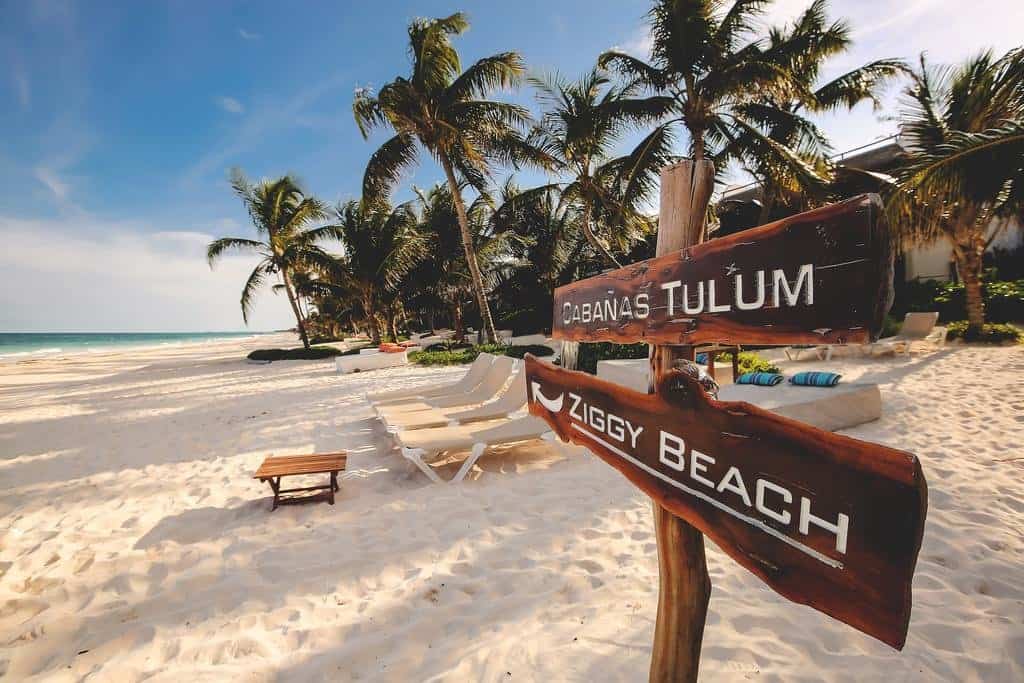 We loved our stay at Hotel Cabanas Tulum. The location was perfect, our villa was right on the beach and the staff became family. If you are looking for a mid-range hotel in Tulum this one comes highly recommended.
Cabañas Tulum Hotel is located on a wide stretch of beautiful beach, surrounded by coconut trees and the turquoise sea, in Tulum, Mexico. It's the perfect place to relax and reunite with nature.
The Hotel is located 4 km from the entrance of Sian Ka'an Biosphere Reserve, and only 7 km from the world-renowned Mayan archaeological ruins with miles of pristine white beaches lining the sparkling Caribbean Sea. Check here for the latest prices.
Encantada Tulum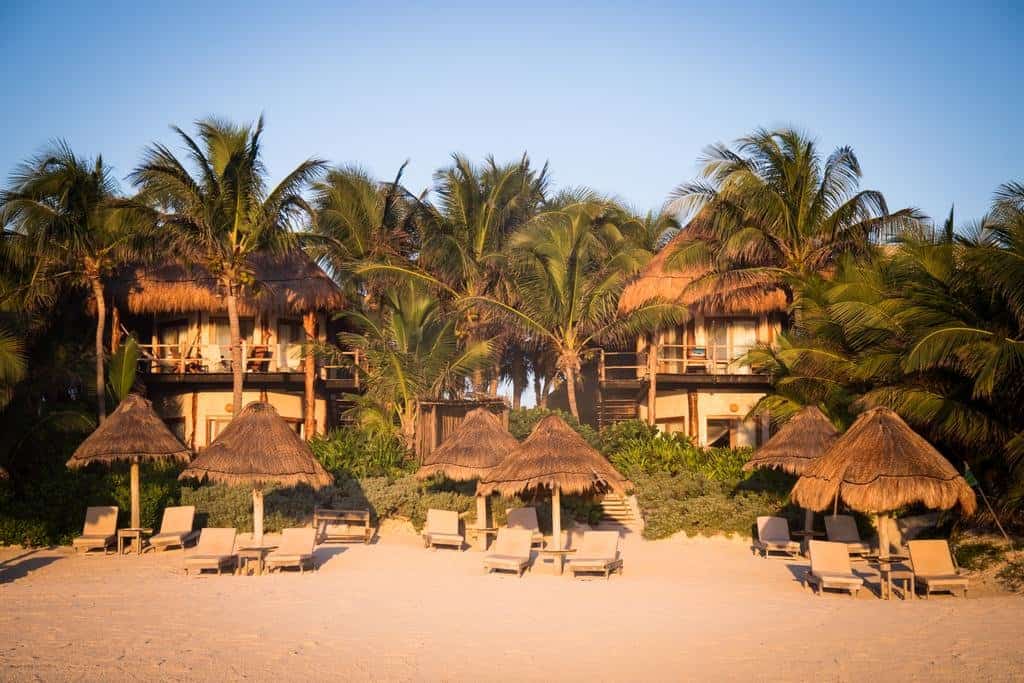 Hotel Encantada Tulum is situated on an unspoilt beach between the Sian Ka'an Biosphere Reserve and Tulum National Park, Hotel Encantada offers tropical gardens, a free Wi-Fi zone and stylish rooms with sea or garden views.
Decorated with local textiles and artwork, each charming room has sliding glass doors which open onto a private terrace. All rooms have a ceiling fan, mosquito nets and a private bathroom.
A varied continental breakfast is provided, including home-baked bread, fresh fruit, yoghurt and granola. Mexican and international dishes are available for lunch, served in the bar or on the beach.
You can book a relaxing massage or hot stone treatment on the beach at Hotel Encantada. The 24-hour reception also includes a concierge and free bicycle rental service. Check here for the latest prices.
Dune Boutique Hotel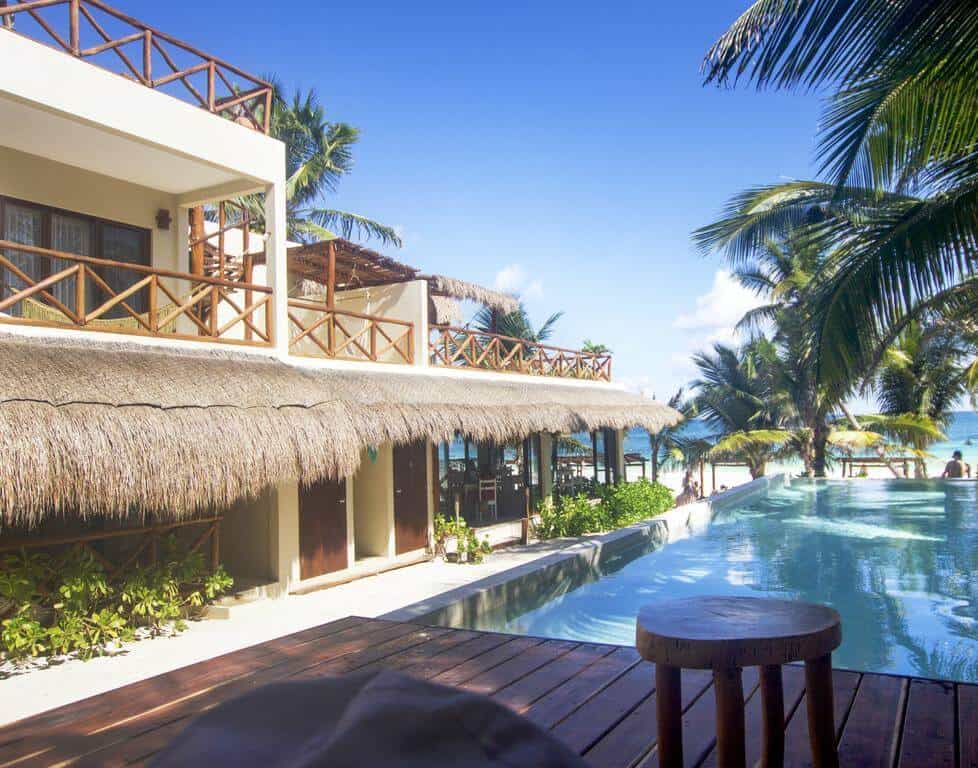 The Dune Boutique Hotel is a firm favourite with our readers. They love the location as it is walking distance to the restaurants and bars, they love the intimacy of the hotel and they love the staff and food.
Featuring free WiFi and a terrace, Dune Boutique Hotel Tulum offers accommodation in Tulum. There is a juice bar and guests can enjoy tropical cocktails at the bar. Free private parking is available. Some rooms feature views of the sea or garden. All rooms are equipped with a private bathroom. Guests can enjoy delicious drinks and cuisine in Negroamaro Beach Club under the shadow of the palm trees. Check here for the latest prices.
Alaya Tulum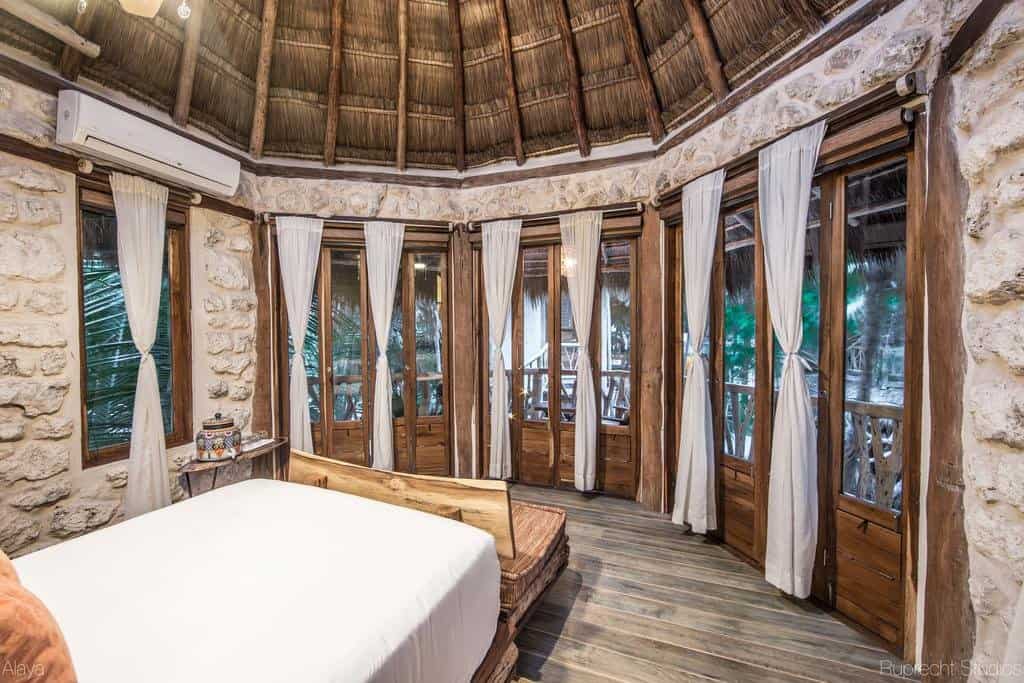 Alaya Tulum by Ahau Collection is located on the beachside of Tulum. The rooms are air-conditioned and feature a terrace. The full bathroom has a shower and includes free toiletries. A sofa, iPod dock and a safe that fits a laptop are some of the amenities also available. At Alaya Tulum, you will find a garden, a terrace and a bar. Other facilities featured at the property include a tour desk. Free parking is offered on-site.
Previous guests love the super clean boutique property, friendly staff and the beautiful rooms. Check here for the latest prices.
Budget Tulum Hotels
Turquoise Petit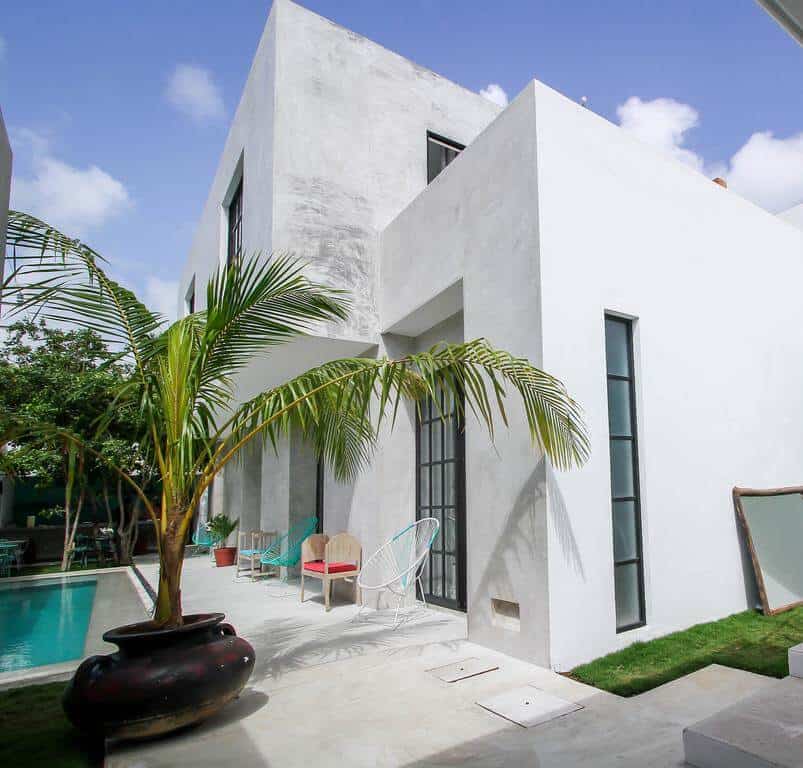 Turquoise Petit is a boutique hotel with luxurious, yet comfortable suites. Chic design and special details throughout the property, created from the heart of an artist.
Guests love the location, breakfast and swimming pool. They also liked the free bike hire the hotel provides. The staff are super helpful too. Tulum Archeological Site is 3.1 miles from Turquoise Petit, while Tulum Bus station is 0.9 miles from the property. The nearest airport is Cozumel International Airport, 41 miles from the property.
Check here for the latest prices.
Coco Hacienda Tulum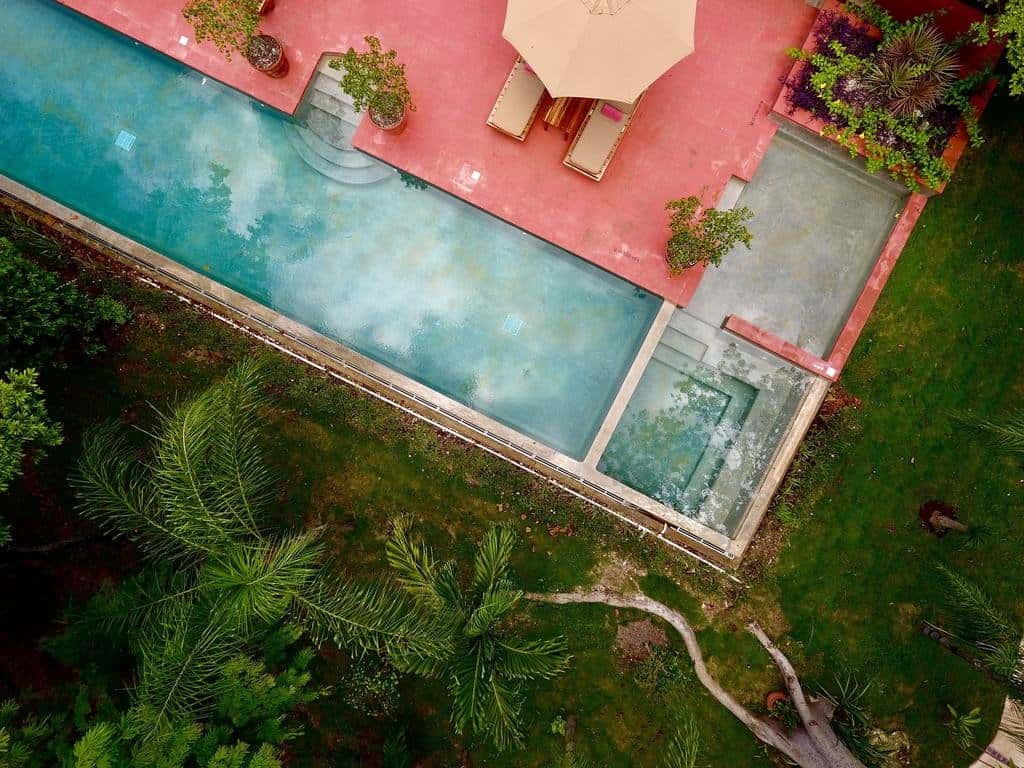 Coco Hacienda Tulum is situated in Tulum, 2.2 miles from Tulum Archeological Site and 900 yards from Tulum Bus station. The hotel has an outdoor pool and spa centre, and guests can enjoy a meal at the restaurant or a drink at the bar. Free private parking is available on site.
Every room at this hotel is air-conditioned and comes with a flat-screen TV. You will find a coffee machine in the room. The rooms are equipped with a private bathroom. Coco Hacienda Tulum features free WiFi throughout the property.
Bike hire and car hire are available at this hotel and the area is popular for snorkelling. Check here for the latest prices.
Casa Almendro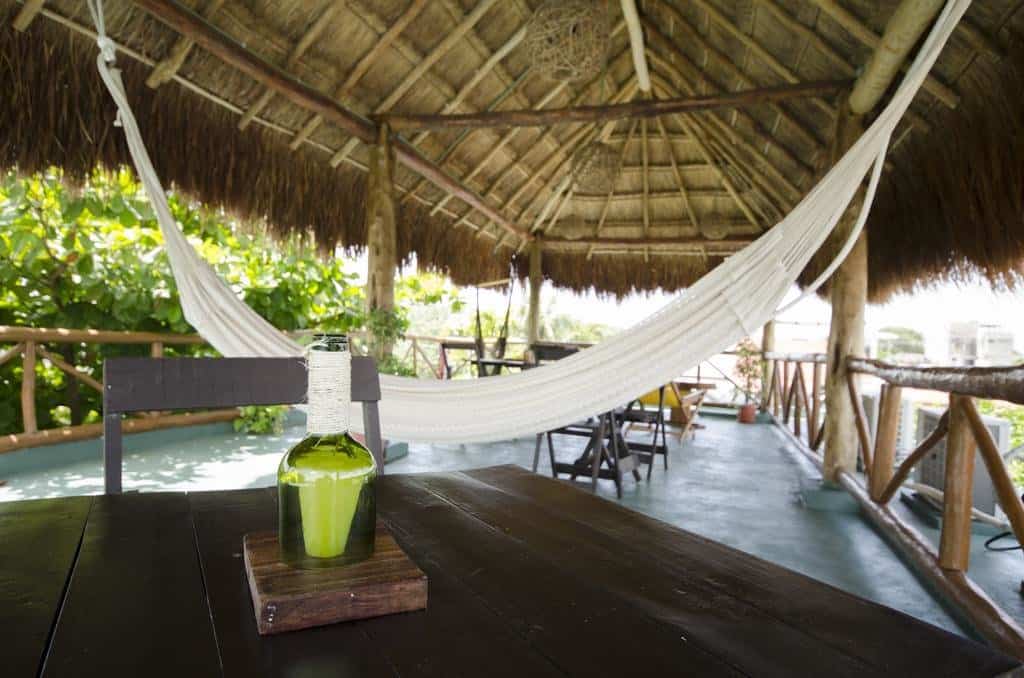 Casa Almendro has been mentioned a few times from different readers. The rooms are clean, the showers are hot and the owner is super helpful. You can use the kitchen on the roof terrace and hire bikes out to explore the area.
Casa Almendro offers rooms with pay television, a refrigerator, coffee/tea makers, a dining area and high ceiling in the vicinity to Ruins of Tulum. Tulum Avenue is around 3.3 km from the venue. The accommodation is 1 km away from the city centre. Check here for the latest prices.
If you know of any other hotels in Tulum that you would recommend, please let us know.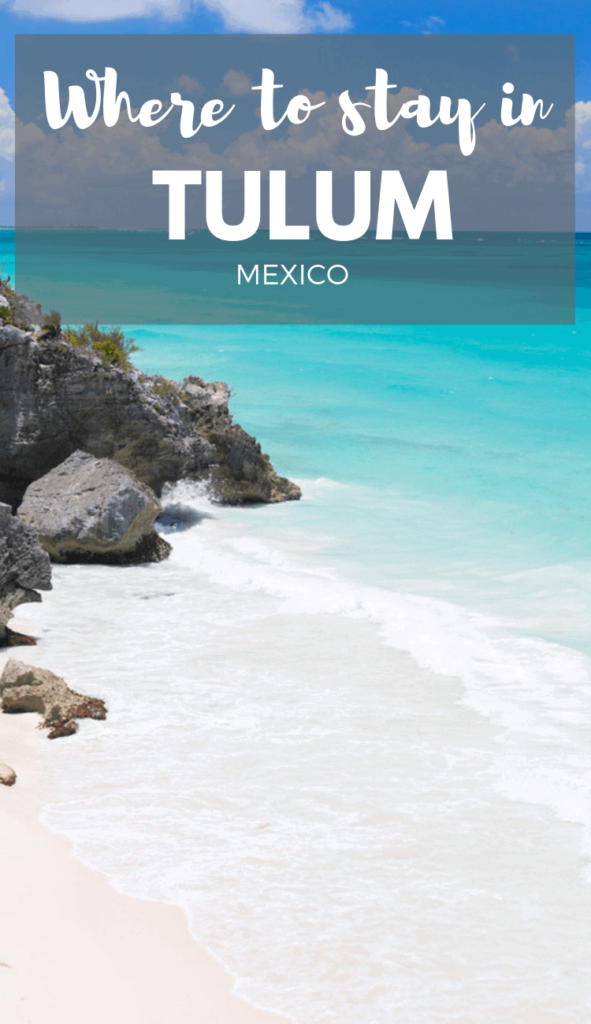 Are you heading to Mexico? Then check out our other posts on Mexico before you go.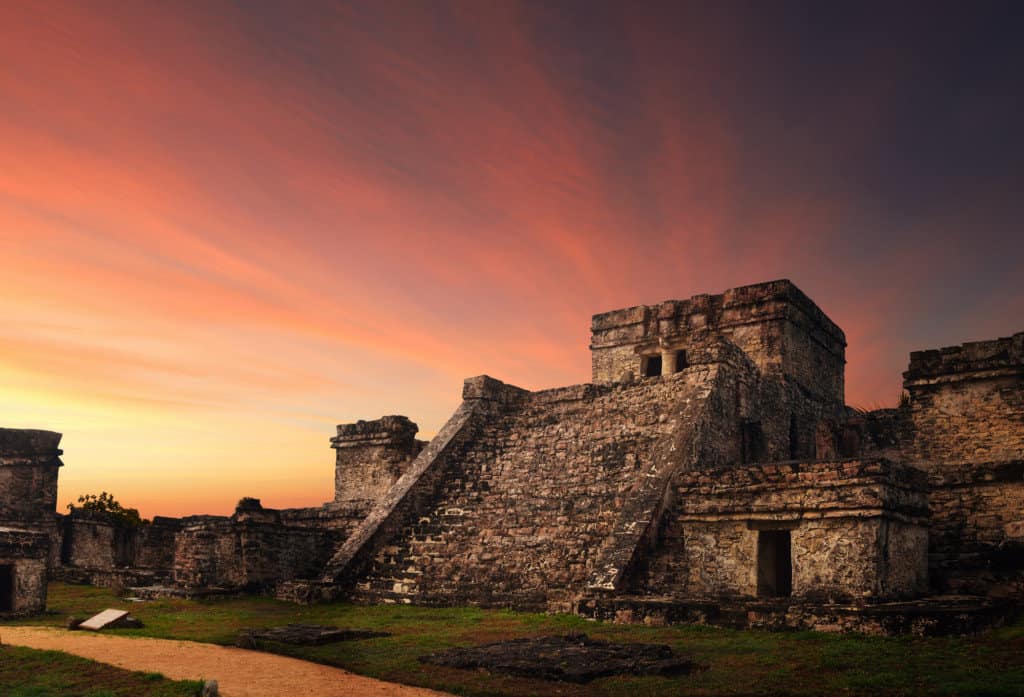 Places to visit in Mexico – Where are the best places to visit in Mexico? Read which areas of Mexico made our top 9 before booking your trip to Mexico.
Isla Mujeres Hotels – Are you looking for a great hotel on Isla Mujeres? Then check out our post on the best Isla Mujeres Hotels for any budget.
Visiting the Cenotes in Mexico – Clamber down the rabbit hole with us and discover a whole new world. Get ready to be blown away.
First Impressions of Mexico – Read our post on our first 24 hours in Mexico. From the people to the food, read all about it here.
A Guide to Isla Mujeres – A guide to Isla Mujeres. Read our Isla Mujeres tips to make the most of this magical island. Our Isla Mujeres travel blog has all you need for a great trip.
The Wonder of Chichen Itza – Come and discover the most famous Mayan site of them all and leave asking more questions than when you arrived.
Things to do in Playa del Carmen – Find out our things to do in Playa del Carmen, Mexico. Playa del Carmen is the place to be seen in the Yucatan Peninsula. Do you think it deserves to be?
15 reasons why we love Isla Holbox – Find out why we think Isla Holbox is Mexico's best island. Here is a sneak peek: Hammocks in the sea, Pink Flamingos, Eco Resorts, Whale Sharks, Sandbanks.
Whale Watching in Mexico –  Read about our amazing day out on the Pacific where we met humpback whales, dolphins, stingrays, and much more.
Things to do in Oaxaca City – Find out why Oaxaca City is one of our most favourite destinations in the world. Click here for the best 10 things to do in Oaxaca City.
19 favourite memories from San Pancho – San Pancho is one of the most special places we have visited. Here are our 19 favourite memories of our time there.
Cenotes in Riviera Maya – The Best Cenotes In Riviera Maya Mexico | Our Favourite 7 Cenotes In The Riviera Maya. Check out our favourite Cenotes in Mexico & why we love them.
#LoveYourTravels