Whale watching in Mexico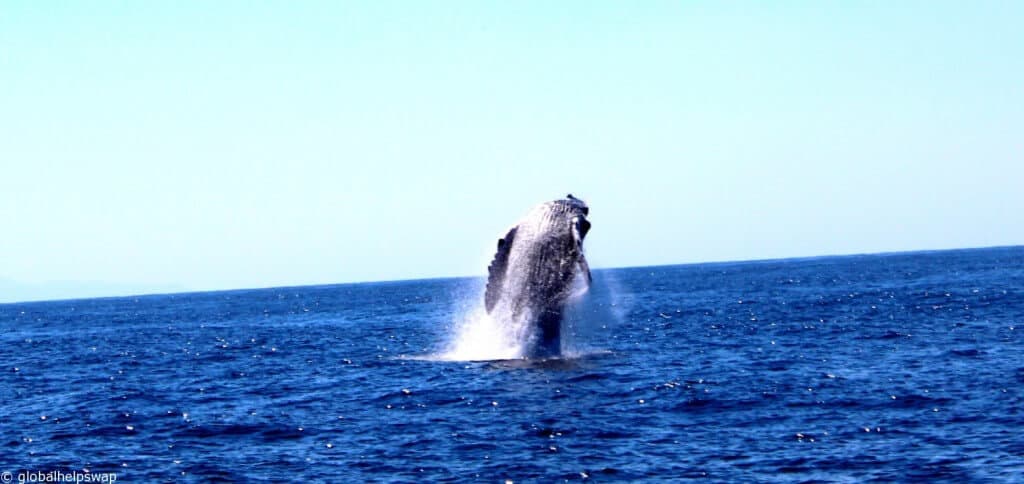 The two males chased the female who was trying hard to get away. One of the males splashed his face on the water in an effort to show his strength while we all looked on in awe. As they dived out of sight in the deep blue ocean we all looked at each other with a wide grin on our face. It's not everyday that you get to experience the humpback whales' mating ritual (except when you are whale watching in Mexico!)
This was just one of the many surprises that awaited us on our day trip to the Marietas islands.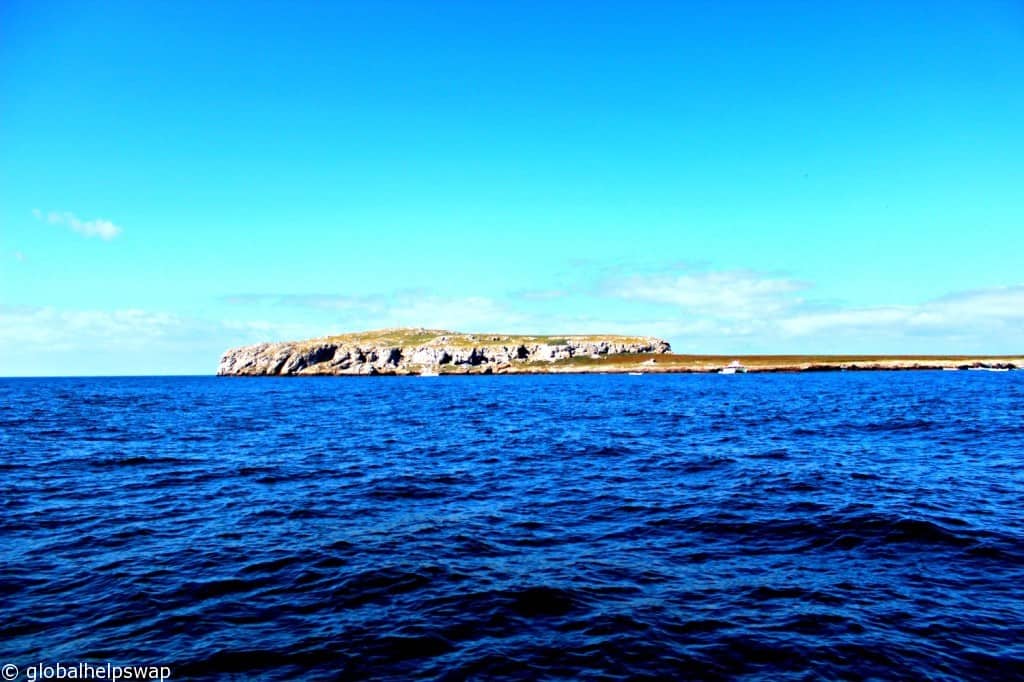 We relaxed back onto our cushions and took a sip from our banana daiquiri brought to us by Pablo one of the great crew members on our boat, the Ally Cat as we waited for the next event.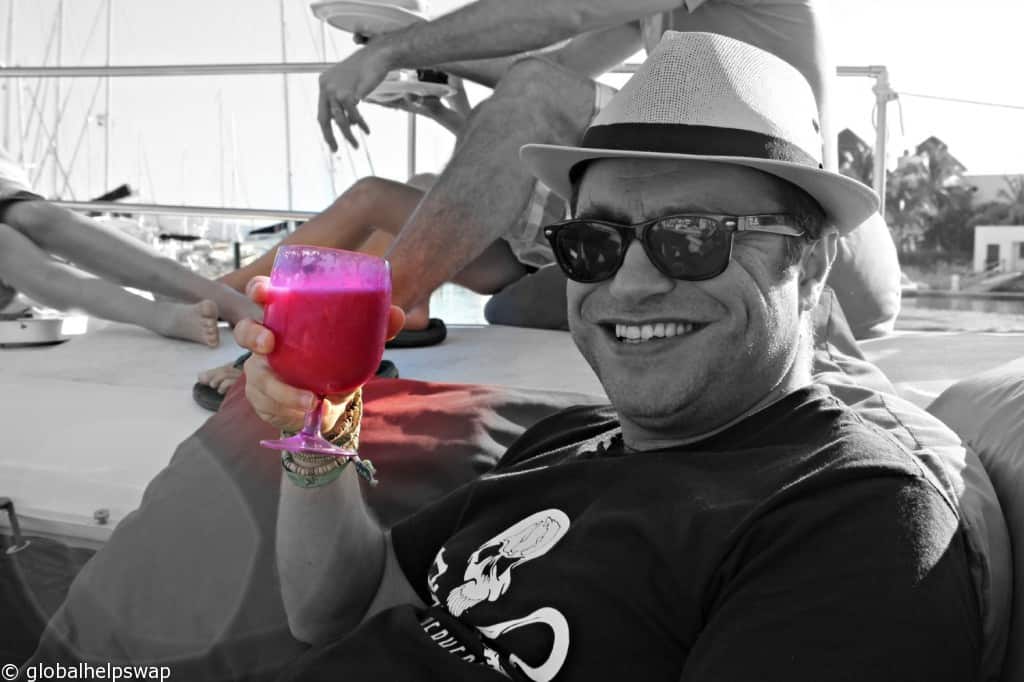 We didn't have to wait long until we saw these things flying out of the ocean in the distance. As we got closer we realised they were stingrays, jumping straight out of the ocean beating their wings as they belly-flopped back in. We couldn't believe our eyes, none of us had ever seen anything like this before. We were so close that one of the stingrays nearly jumped straight on our boat and had to do a quick mid-air manoeuvre to avoid us. We could see there were hundreds of them in the ocean below us.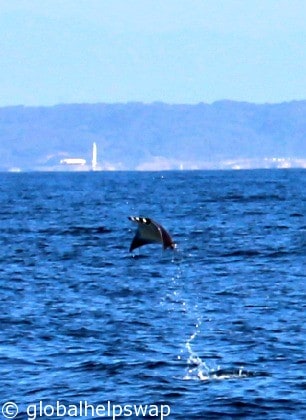 We were soon distracted by the familiar sound of water being shot out in the air, the first sign that another whale was about to come to the surface. It was a magical sight seeing this enormous creature's 45 foot body curve in and out of the sea, waving its tail at us before disappearing back in the ocean.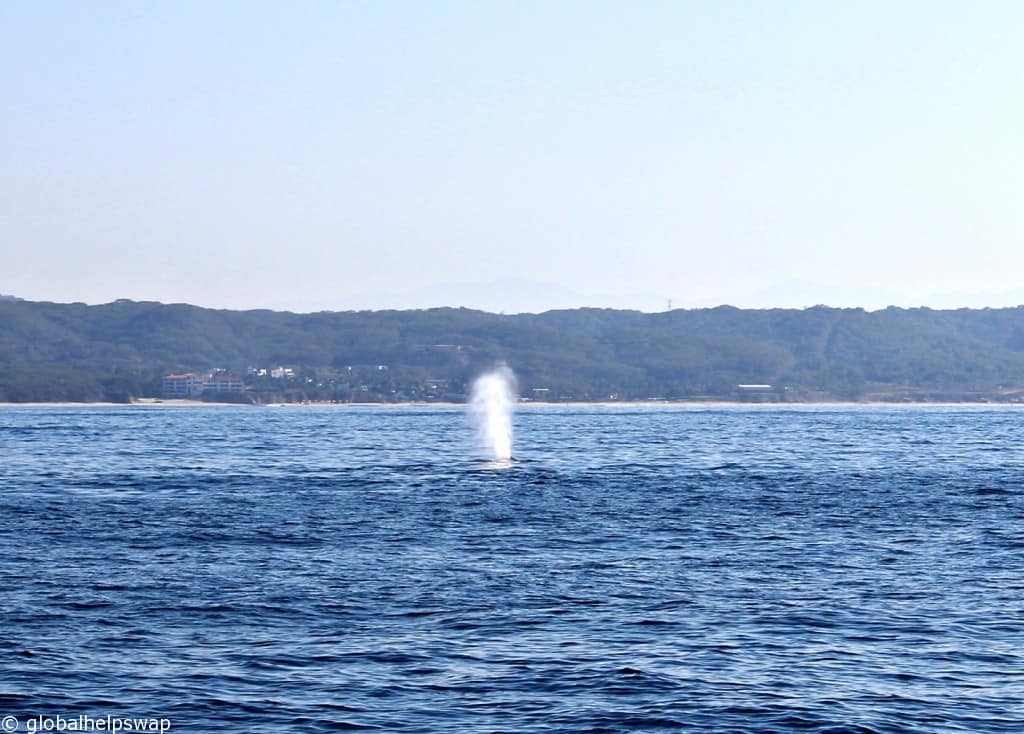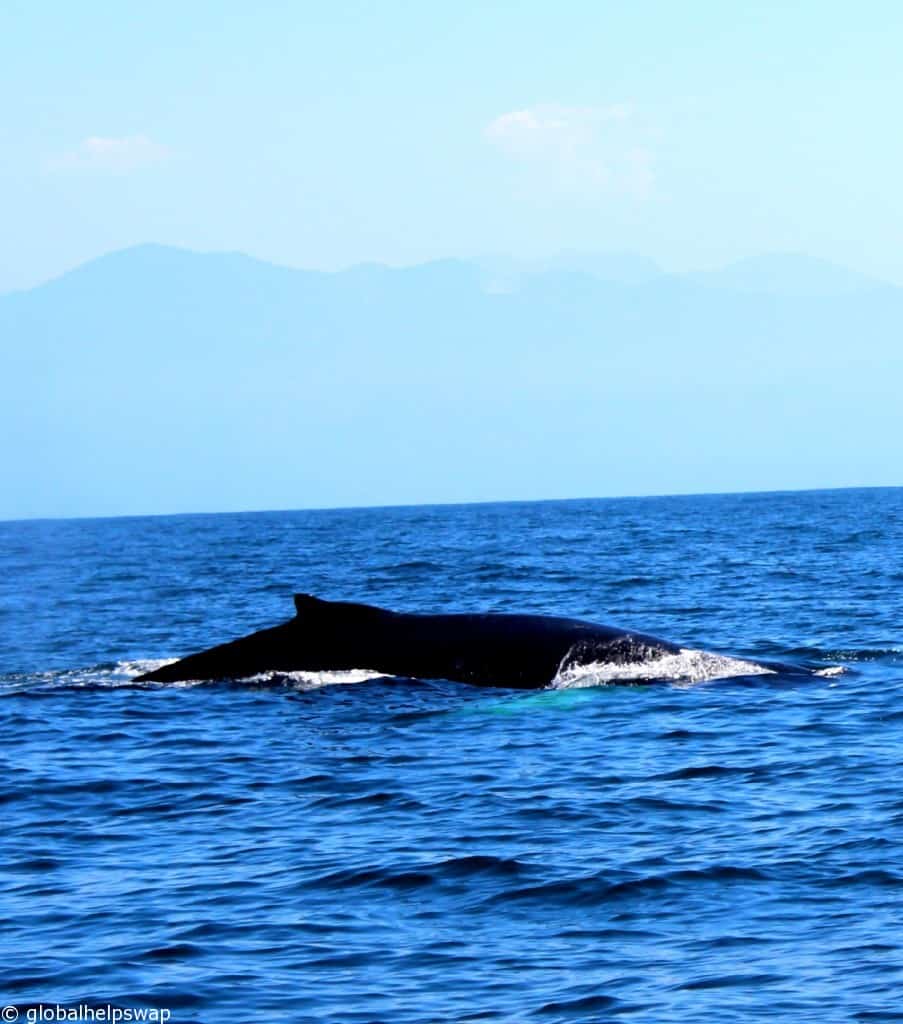 Paul and I have been whale watching before but we have never seen so many whales at such a close distance before. There were many moments when we didn't know where to look. Whales close by, whales in the distance, a pod of dolphins crossing our paths, it was truly unbelievable.
And all this happened before we even got to the Marietas Islands. You might not have heard of the Marietas, but chances are you've seen this photo appear on Facebook before.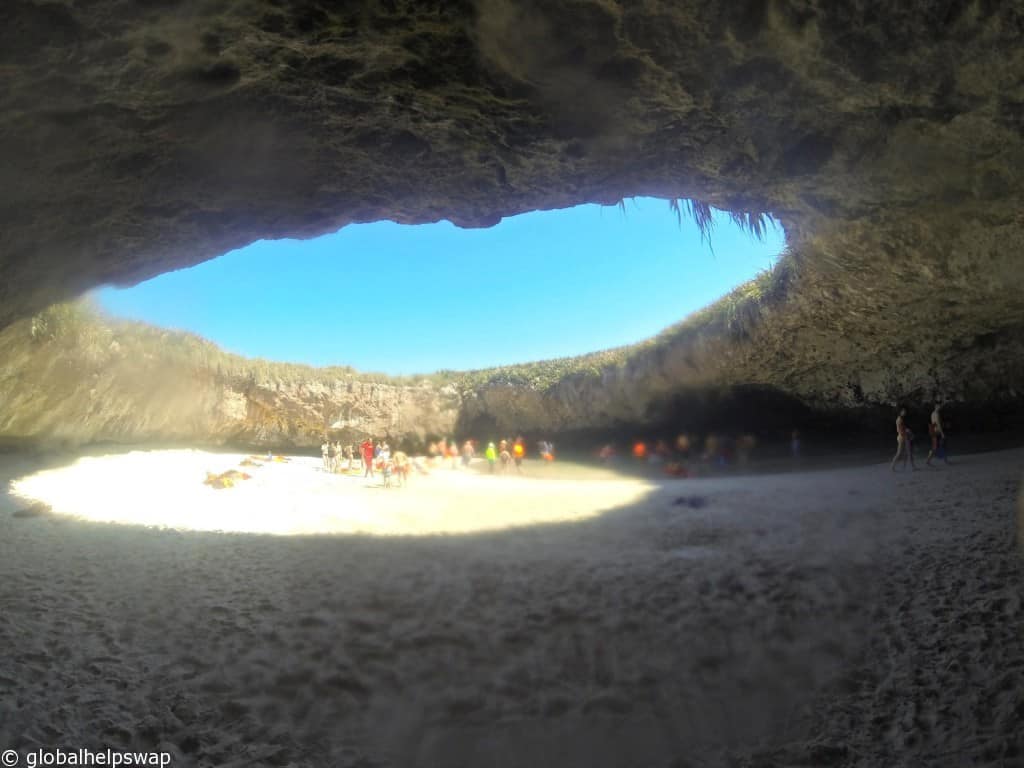 This stunning beach was formed when the Mexican government used the little islands which are a few miles off the shores of Puerto Vallarta as target practice. One bomb created this circular hole on the island and sea erosion created the cave that you need to swim through to get to this gorgeous beach.
The Marietas islands have definitely been discovered thanks to the infamous photo and it's quite common to find big groups of people on this 'secret' beach nowadays. Still they're definitely worth a visit.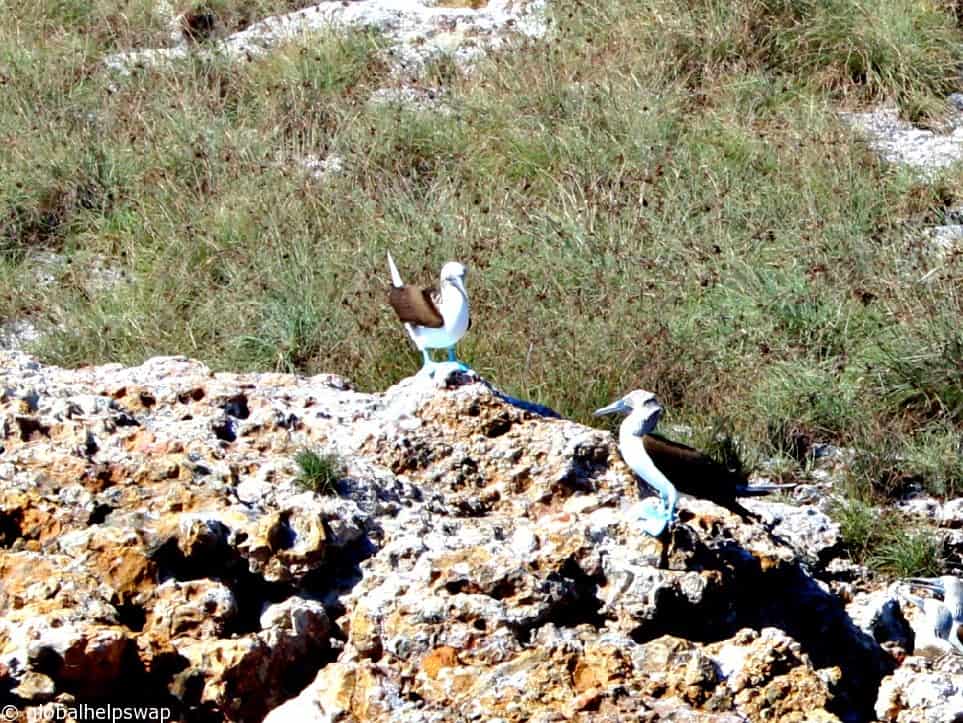 Luckily nowadays the islands are protected and are considered a national park. Largely thanks to the blue footed boobie that is only found on these islands and the Galapagos. The boobies are gorgeous. They use their stunning blue feet to attract females, apparently the bluer the feet the more attractive they are to their female counterparts. The male boobie courts the female by giving her a twig to represent their nest. If she accepts they are very likely to mate for life.
We also snorkelled around the area and got to see a huge variety of fish. It was interesting, although the visibility is much better in summer.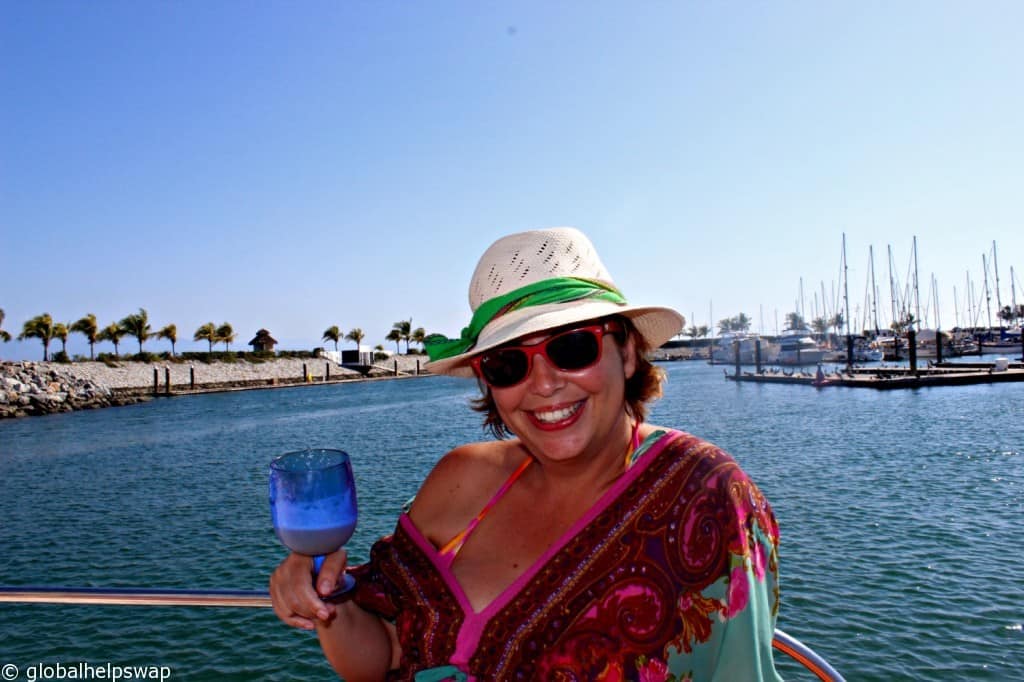 After a delicious lunch and of course, more cocktails, we started to head back towards La Cruz, where Ally Cat Adventures depart from. But little did we know that the best was yet to come.
We saw many more whales which was absolutely brilliant but being the greedy types, both Paul and I were hoping to see a whale breach. We'd seen the whales jump straight out of the sea in the distance while we lay on the beach in San Pancho and so we were hoping for a close-up view.
We were only a few miles away from La Cruz when our wish was granted. Right in front of our eyes, when we least expected it, this gigantic beautiful humpback breached completely out of the sea making us all gasp in wonder as we saw it splash back in. Wow!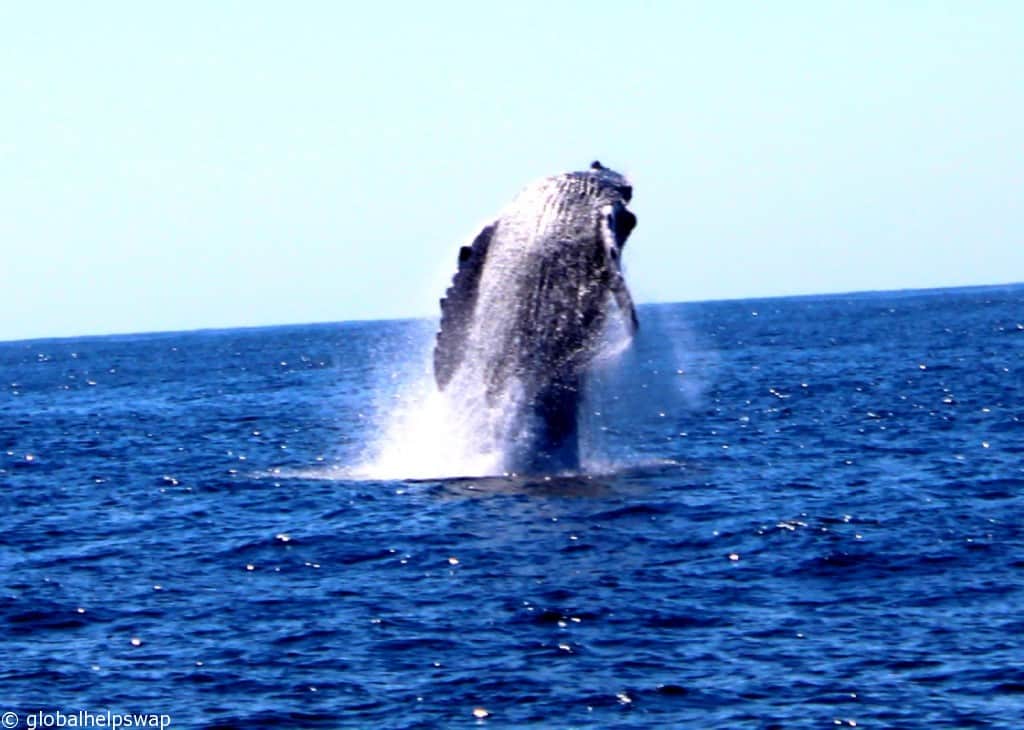 What a perfect ending to a perfect day.
Why we chose Ally Cat Sailing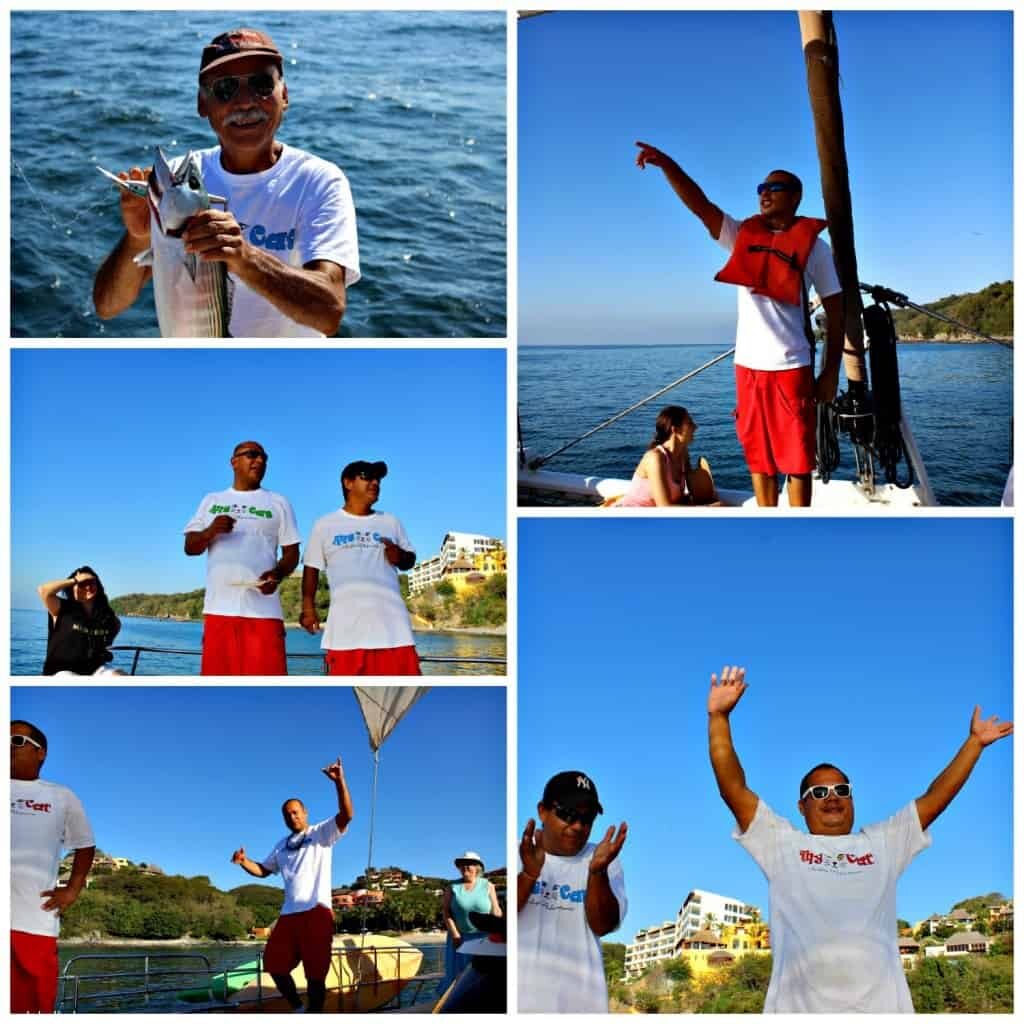 Ally Cat Sailing is a family run business that has been operating for 25 years. All of the crew have worked together for most of that time (except for Noah the Captain, he is only 25 yrs old) but has been with this crew since he was born 🙂 (He is Pancho's son).
All of the staff are knowledgeable, friendly & bilingual. Noah and Nora (Noah's wife) have a wealth of information about marine biology, (Nora has a degree in it,) which makes the trip even more memorable.
They are an eco-friendly company that respects the natural life of the ocean. The boat ("the cat") is a 56 foot luxury catamaran fitted with all the latest equipment including; snorkeling gear, kayaks, fishing equipment and much more.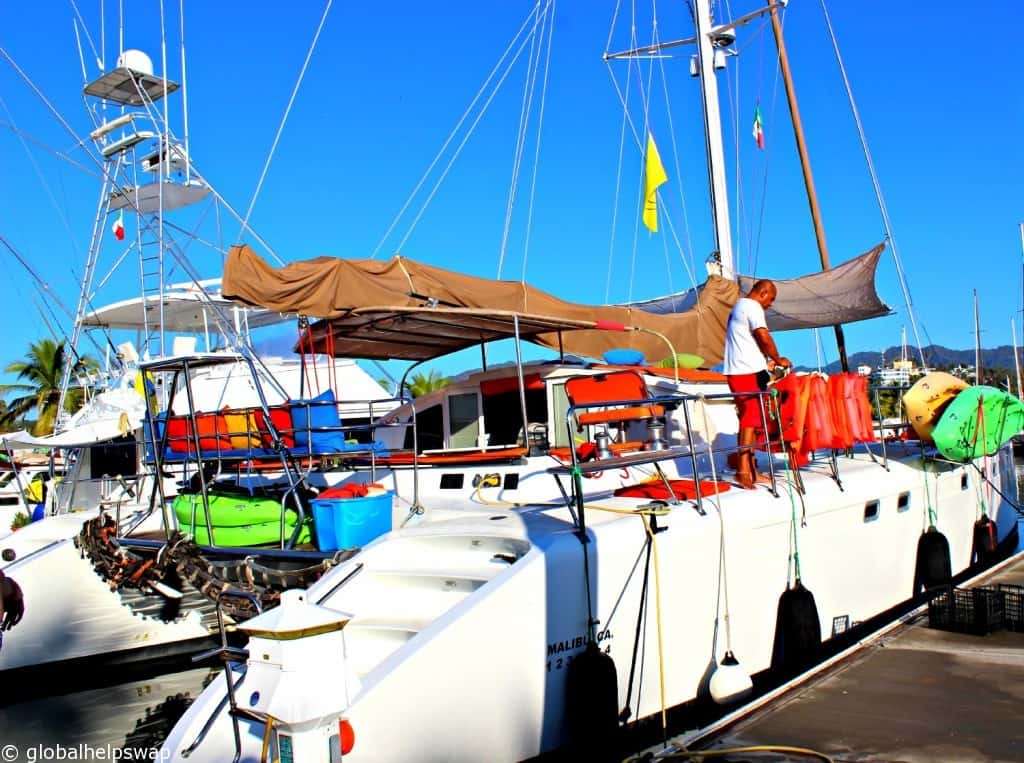 To book a trip with Ally Cat Sailing just click here.
Trip Tips
I hope that by now we've convinced you that you HAVE to take this trip if you're in the area. We did a lot of research to make sure we had a great day so here are some tips to make the most of your trip.
1) Go by Catamaran. There are two main types of boat you can board to do this trip, a panga and a catamaran. A panga is a tiny boat that fits between 8 and 12 people. It's a little too small for the huge swells of the ocean and isn't very pleasant. A catamaran is much larger and, considering you get shade and toilets on board, is a much more comfortable option. Did we mention that our catamaran also had free flowing drinks and cocktails all day?
2) Find out how many people the catamaran takes on board. We saw catamarans with over 60 people on board. It's too crowded and takes away from the intimate experience of seeing the beautiful whales. Ally Cat Sailing take a maximum of 35 people on board even though there is space for over 60 people. This meant that we all had space to lie down and get comfortable for the day.
Disclaimer: We were kindly invited on the trip by Ally Cat Sailing. As always all opinions are our own.
globalhelpswap
tips for memorable and meaningful travel
Voted as a top travel website by:
http://www.theguardian.com/travel/2013/sep/18/top-travel-websites-globalhelpswap