In this Isla Mujeres guide, we share with you essential details like how to get to Isla Mujeres, where to stay and eat as well as some of the best activities to do on the island. Hope you enjoy our Isla Mujeres blog.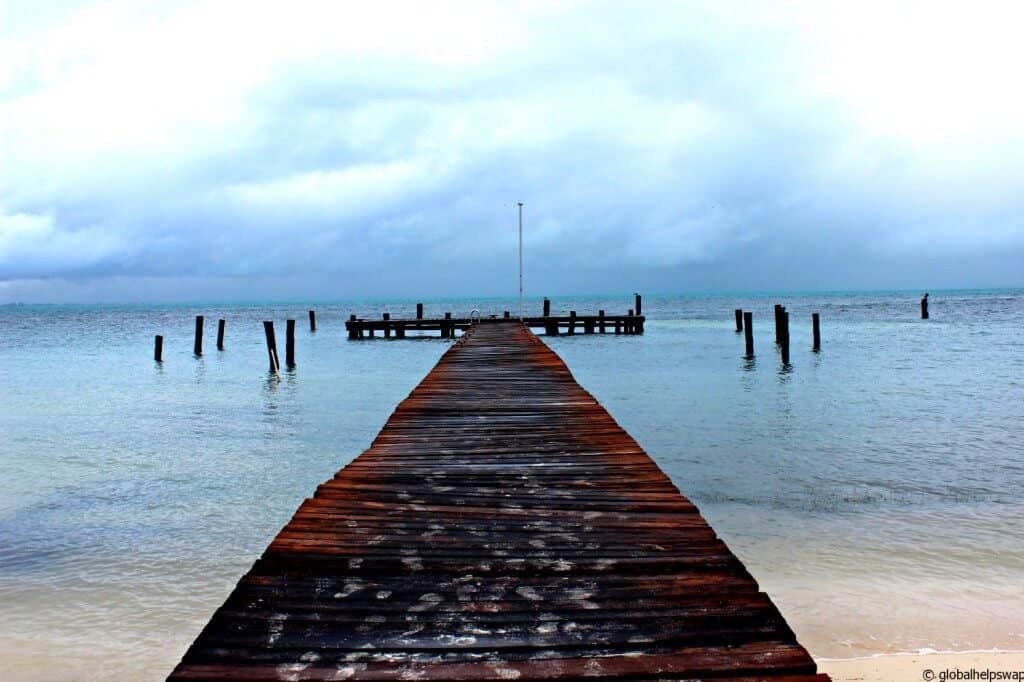 A guide to Isla Mujeres: Things to do on Isla Mujeres
Isla Mujeres Guide: First Impressions

Isla Mujeres, or 'The Island of Women' is a small island roughly 40 mins boat ride from Cancun. Even though the two destinations are neighbours they could not be more different. Where Cancun is the noisy, brash and over the top neighbour, Isla Mujeres is the more laid-back, serene and memorable neighbour. It's the kind of neighbour we all want.
Isla Mujeres is less touristy than Cozumel and a little more active than Holbox. Within a few hours wandering around its northern point we were in love. The streets are filled with quaint colourful little houses. The locals are friendly and always helpful and the Caribbean sea is at its most vibrant.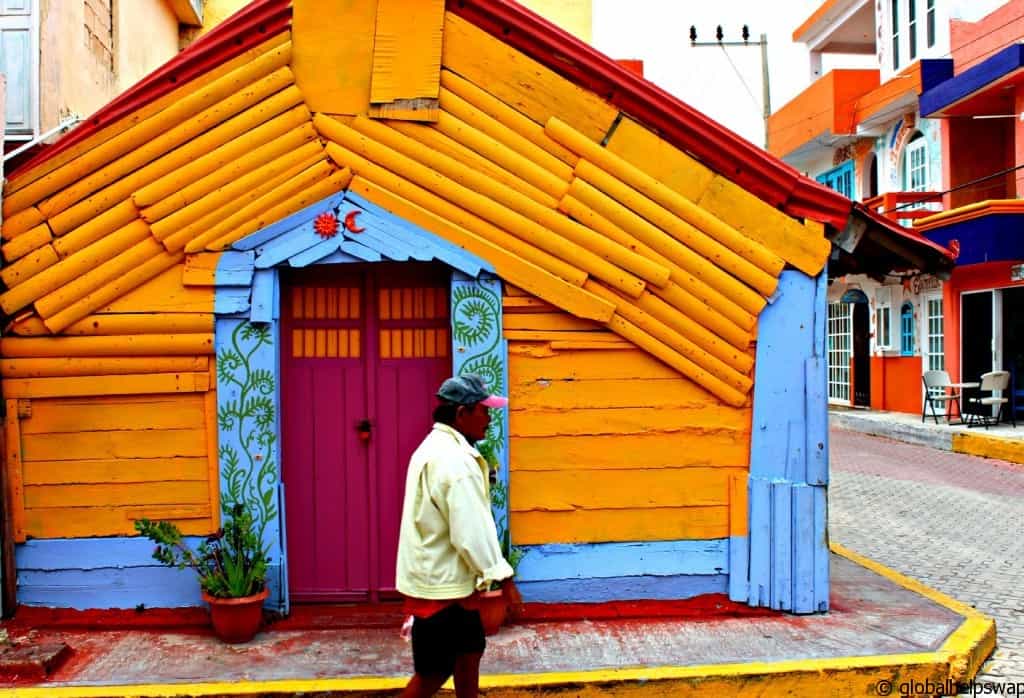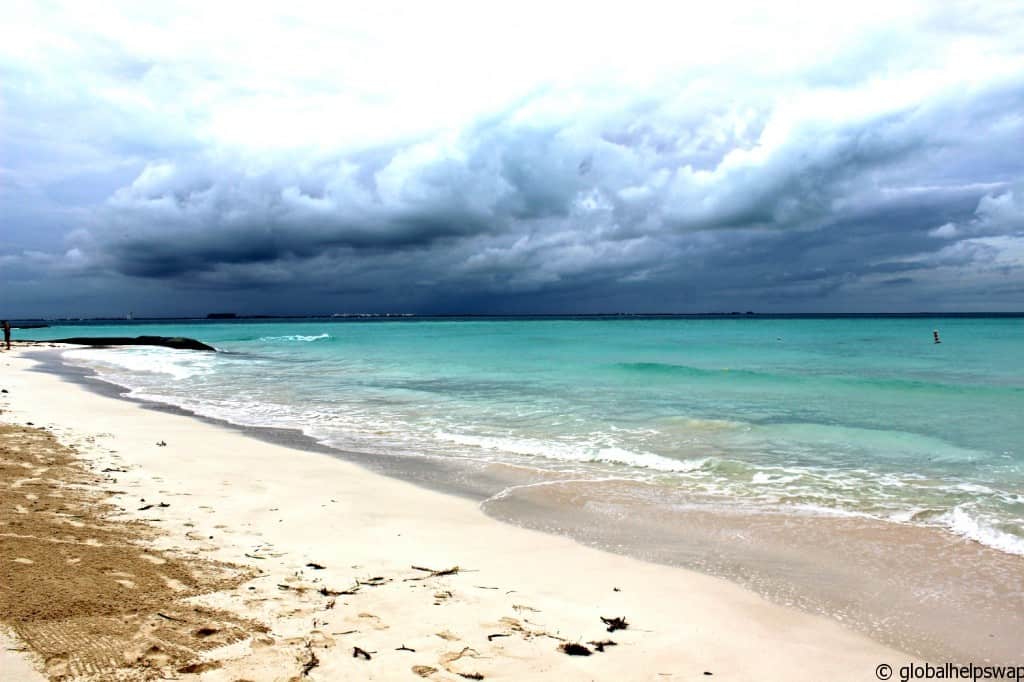 Travelling to Isla Mujeres from Cancun
If you're travelling to Isla Mujeres from Cancun you're only a short boat ride away. In fact, you can easily take a Cancun to Isla Mujeres day trip if you are short on time. There are several piers on Cancun where you can catch a boat to Isla Mujeres. Tickets from some piers (like Puerto Juarez) will be cheaper than from other piers.
Day trip tours to Isla Mujeres from Cancun. Spend the day on the charismatic island of Isla Mujeres on a private 6-hour tour from Cancun. Cross the Mexican Caribbean by private boat. Swim and snorkel at Isla Che, one of the best coral reefs in the area. Then, explore the island by bike or golf cart. To book your tour please click here: Isla Mujeres Private Tour From The Riviera Maya 

Puerto Juarez: located in Av. Jose Lopez Portillo MZ 84 M 5 L 6 Puerto Juárez, Cancun. It has departures every hour from 7:40 AM to 7:40 PM. 136$MXN round trip.
Playa Tortugas: located in the hotel zone of Cancun, Blvd. Kukulcan. Km 6.5. It has only 8 departures per day, from 9:00 AM to 5:00 PM every hour.
Playa Caracol: located in the hotel zone of Cancun, Blvd. Kukulcan. Km 9.5. It has only 6 departures per day, from 9:00 AM to 4:45 PM every 1 hour 15 minutes.
El Embarcadero: located in the hotel zone of Cancun, Blvd. Kukulcan Km 4. It has 6 departures per day, from 9:15 AM to 4:30 PM every 1 hour 15 minutes.
Be advised that ferry tickets price may vary a little from each of the departure spots available.
What to do on Isla Mujeres
While the biggest draw to the island is the gorgeous Caribbean sea, there are a few more things to do on Isla Mujeres. We learnt this the hard way when the abnormally atrocious weather (damn you Polar Vortex!!) removed every desire we had to laze on a beach.
EXPLORE THE COAST ON A GOLF CART
We hired a cute little golf cart for a day and zipped along the south-eastern coast, taking shots of the craggy hills as the giant waves splashed into them. There are various other attractions along the route. From a small museum detailing the naval history of the island to some impressive houses along the east coast.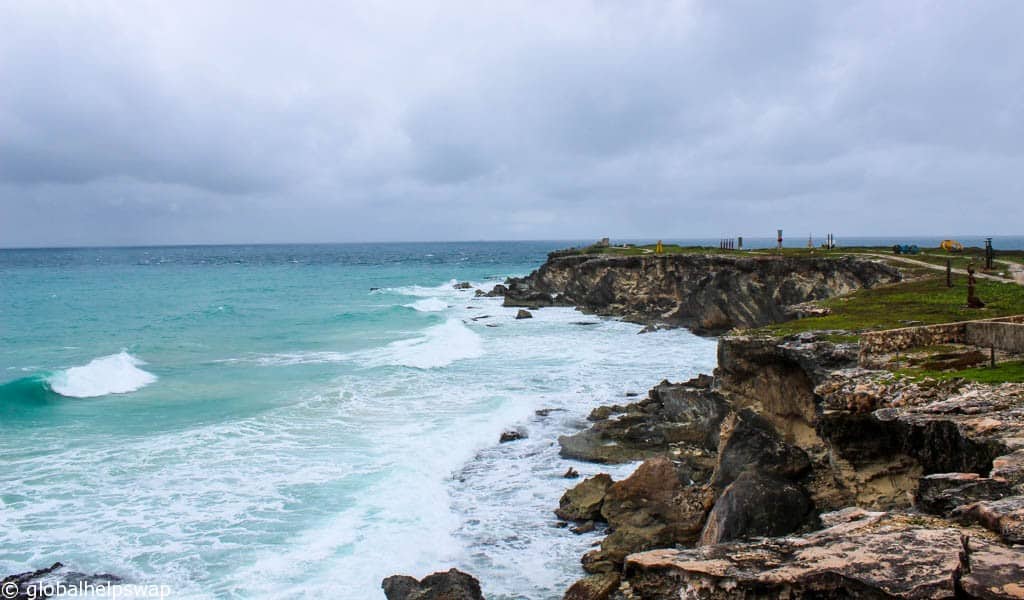 Your mission as you go round the coast is to spot the seashell house. It's an amazing structure that's literally built in the shape of a seashell. Here's a little clue for you.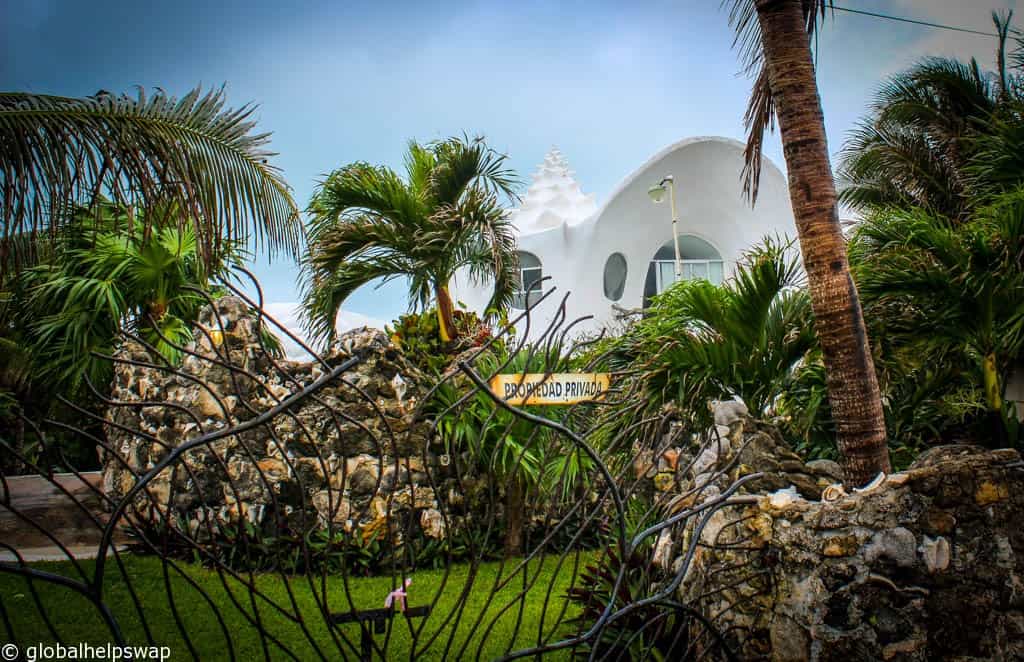 VISIT IXCHEL TEMPLE
At the southernmost, (Punta Sur) tip of the island is a Mayan temple ruin. The ruin is severely ruined so don't expect a mini Chichen Itza! It is, however, a great way to watch the crashing waves roll in. It costs M$30 to get into the sculpture park that leads to the walkways along the coast. This is also Mexico's most easterly point, so the dawn of the Mayan day began here.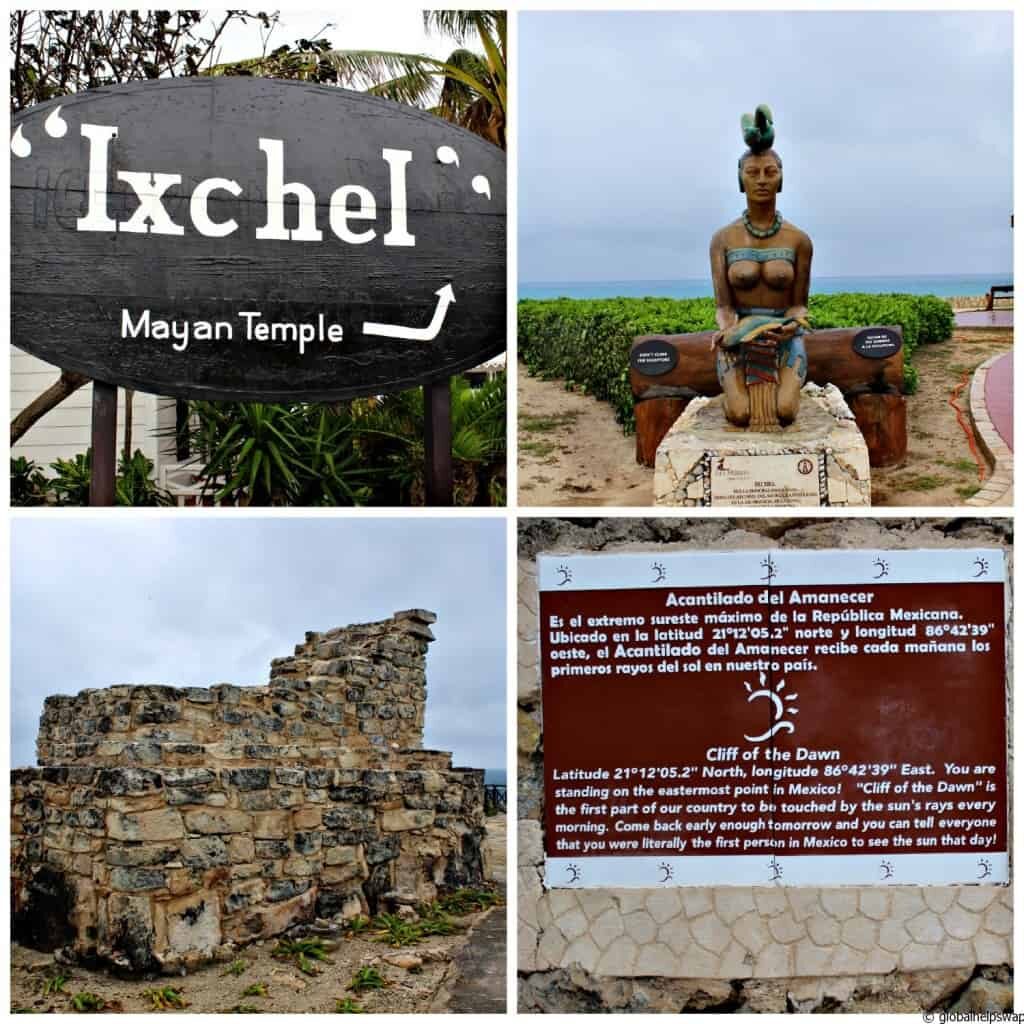 VISIT THE WOMEN'S BEADING COOPERATIVE
Visit the Women's beading Cooperative in the centre of the island and buy unique, beautifully made necklaces, bracelets and purses. This is a great initiative that was set up by the women so that they could support themselves and their children through the sale of beads. The cooperative started with 8 women and has now grown to over 57 women.
The cooperative now also offers beading classes which is a fantastic way of creating your own beautiful piece of jewellery and a fun way to spend a morning or afternoon. Check out their Facebook page for more information on this.
If you're taking a taxi ask for  "El Taller de Artesanias de Mujeres" en colonia La Gloria, cerca de la Iglesia Catolica (Sagrado Corazón)  y Cruz Roja which means The Women Artisan's store in colonia La Gloia, by the (Sacred Heart) Catholic Church  & the Red Cross. And if you're getting there with your golf cart, drive south on the western perimeter road (Rueda Medina) until the Mundaca pavilion, and turn east/left onto the divided boulevard (Avenue de las Peces) . Continue for three blocks, past the Catholic Church. The co op is on the left side of the boulevard, with the Red Cross behind it on a side street.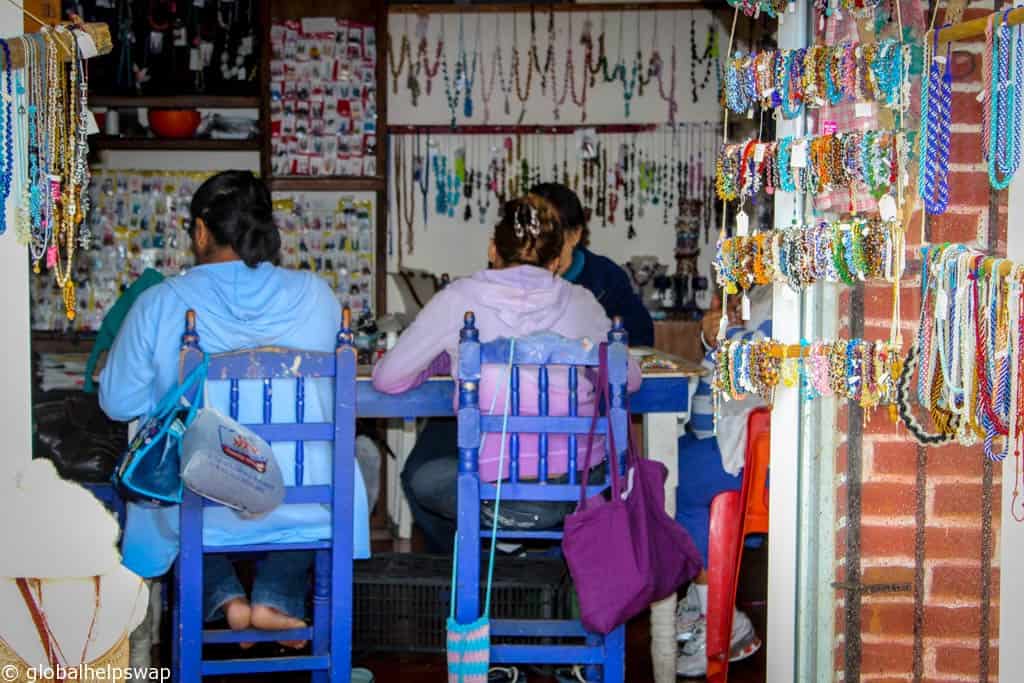 WHALE SHARK TOURS
If you're lucky enough to be on Isla Mujeres between mid-May and September you'll be able to go and swim with the hundreds of whale sharks that gather in the waters near the island. We would recommend you go with an official tour guide (usually found in dive shops) as they are more likely to follow the set standards that ensure the safety and well being of the whale sharks. If you own a wetsuit we would suggest you take it along with you as it will make swimming easier than if you have to wear the life jackets you get given on the tour.
Apart from diving, swimming and seeing the few sites, there is not that much to do here and that's exactly why you should come. Let that heart of yours slow to a more gentle beat. Take 2 hours to have lunch as opposed to sitting in front of your computer, eating a coffee shop sandwich. Start and finish a book you have always wanted to read. Isla Mujeres lets you do that.
SNORKELLING
The island has some great spots for snorkelling, such as the lagoon next to the Avalon hotel on Playa Norte and the southern area of the island. You may come across Garafon park advertised for snorkelling. We wouldn't recommend this park as it keeps dolphins in captivity and there are many reasons why we don't indulge in this cruel sport. You can read our reasons why we don't swim with dolphins in captivity here. Instead consider going next to Garafon park where you can snorkel in a less crowded environment for a much cheaper price.
AVOID THE 'TURTLE SANCTUARY'
One thing to avoid is the so-called Turtle Sanctuary. We highly urge you NOT TO VISIT the Turtle Farm. The tanks were too small for the turtles and were in poor condition. The staff at the sanctuary were encouraging tourists to handle the turtles despite signs asking visitors to avoid touching these creatures.  Lifting a baby turtle is highly stressful for the animal and you can pass on diseases that actually kill it. We were also disappointed that there were more signs asking for tips than there was information about the conservation of these beautiful creatures
Getting around Isla Mujeres
You can get around the island by hiring a golf car. It's great fun and a fantastic way to see the south of the island (most hotels are in the north). We hired one just for a day which we recommend doing as you will get to see all the sights the island has to offer.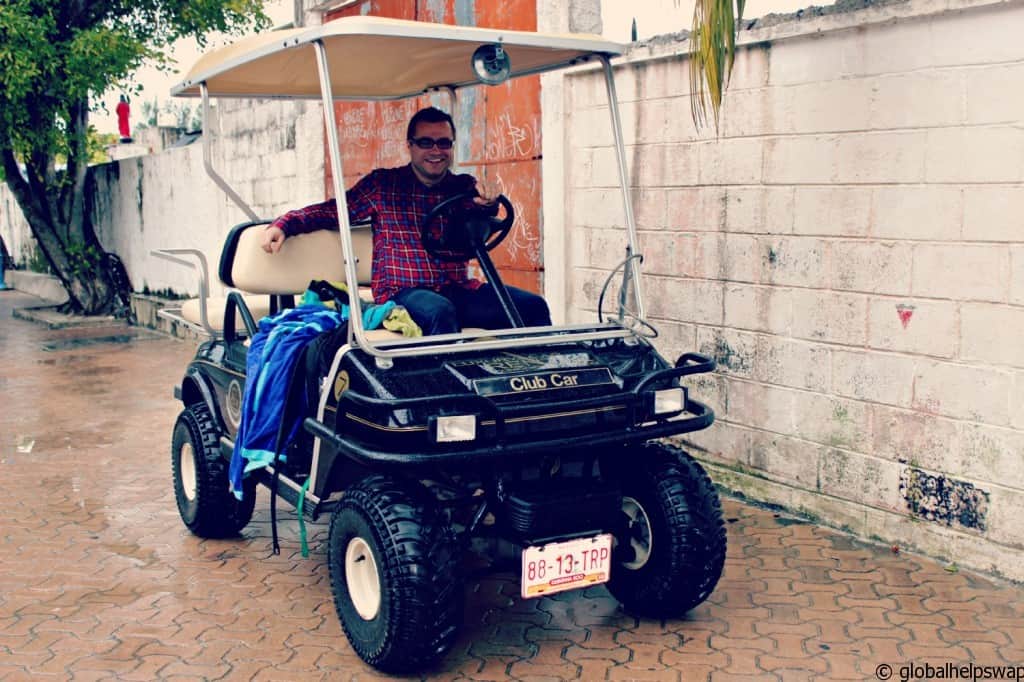 The island is pretty small so if you stay in a central place you will be able to get to the beaches and restaurants on foot. Taxis are pretty cheap and the drivers are a fun, informative bunch.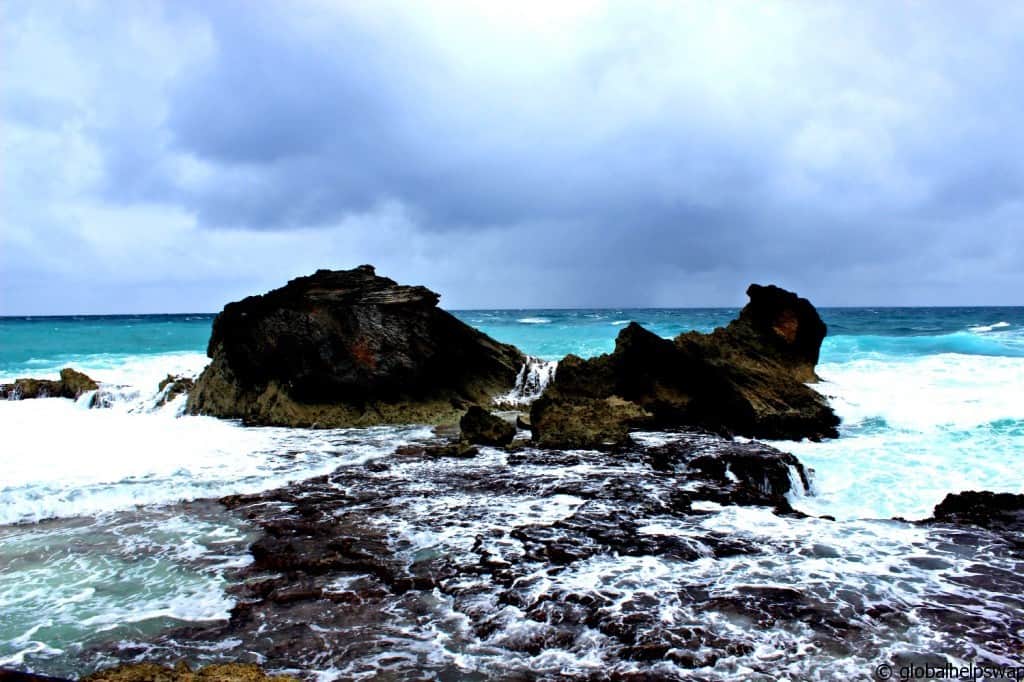 Where to eat on Isla Mujeres
For tasty cheap food, head to the Mercado Municipal. It's where the locals mainly eat.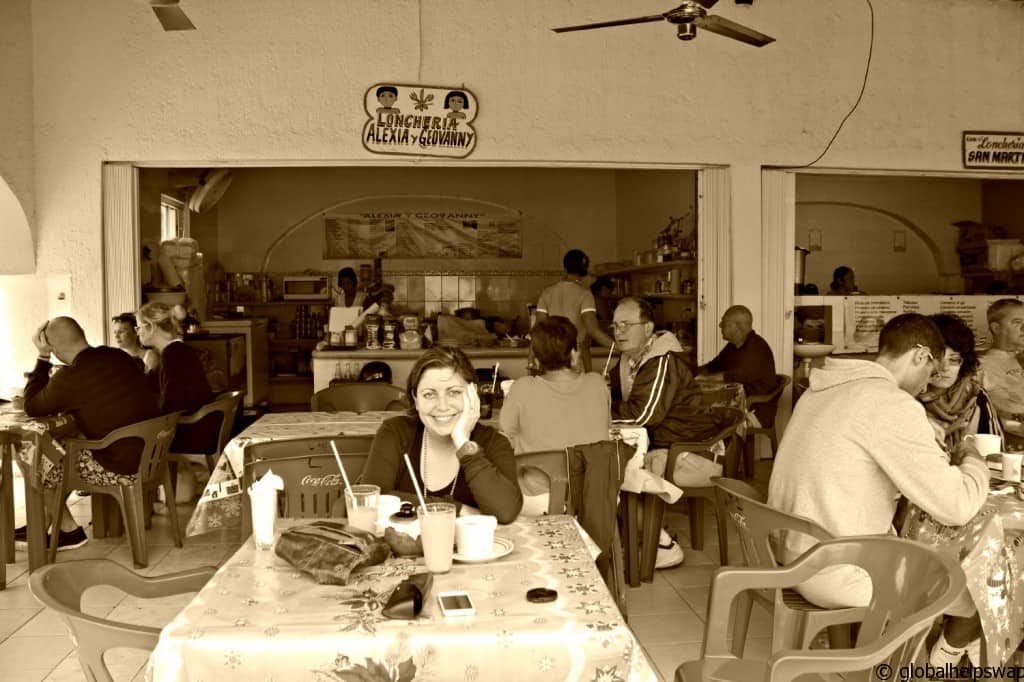 For great, great breakfasts you have to try Barlito at least once. They have the world's best toasted sandwiches and a cinnamon bun that you will kill for.
We spent my birthday at a restaurant called Limon. It's slightly more high-end but the food and the setting were amazing. It's well worth the splurge.
Head to Playa Norte for some grilled fish or the signature island dish Tik-n-chik where the whole fish is marinated in achiote before it is grilled.
Another must visit is Pita Amore. It was the best Pita I have ever tasted. The place itself is more like a shack which adds to the whole experience. They have a bring your own policy.
Make sure you have a tequila or 3 at Nash's Tapas bar. Nash is a great character who arrived on Isla Mujeres on his boat, which he still lives on and decided to open up a small bar and restaurant when he liked the look of Isla Mujeres. He is also the only place on the island that caters for vegans.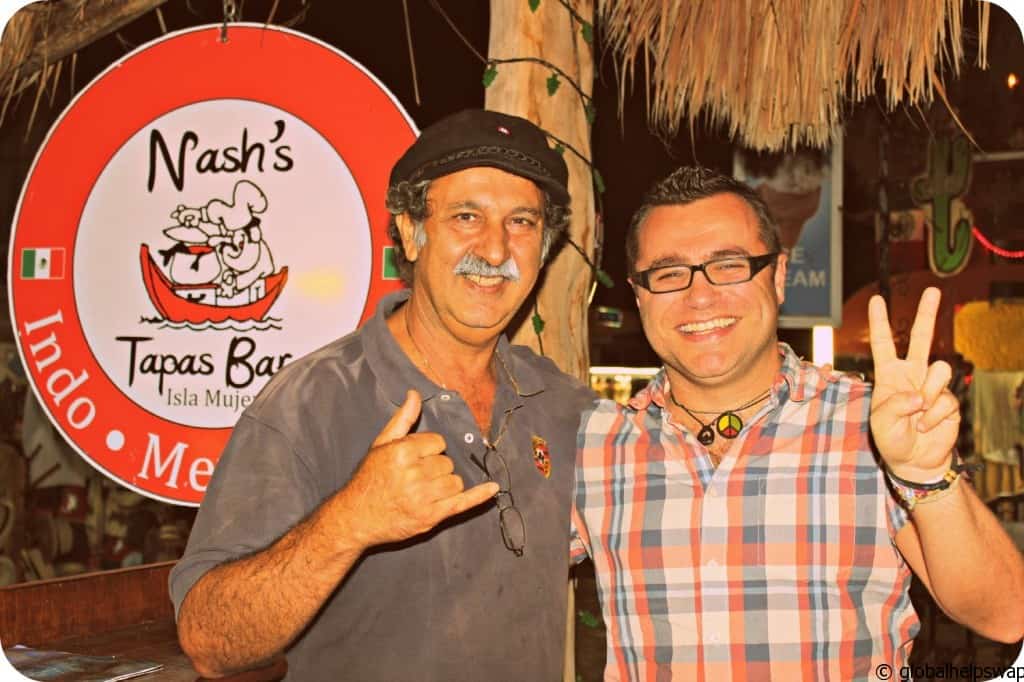 Where to stay on Isla Mujeres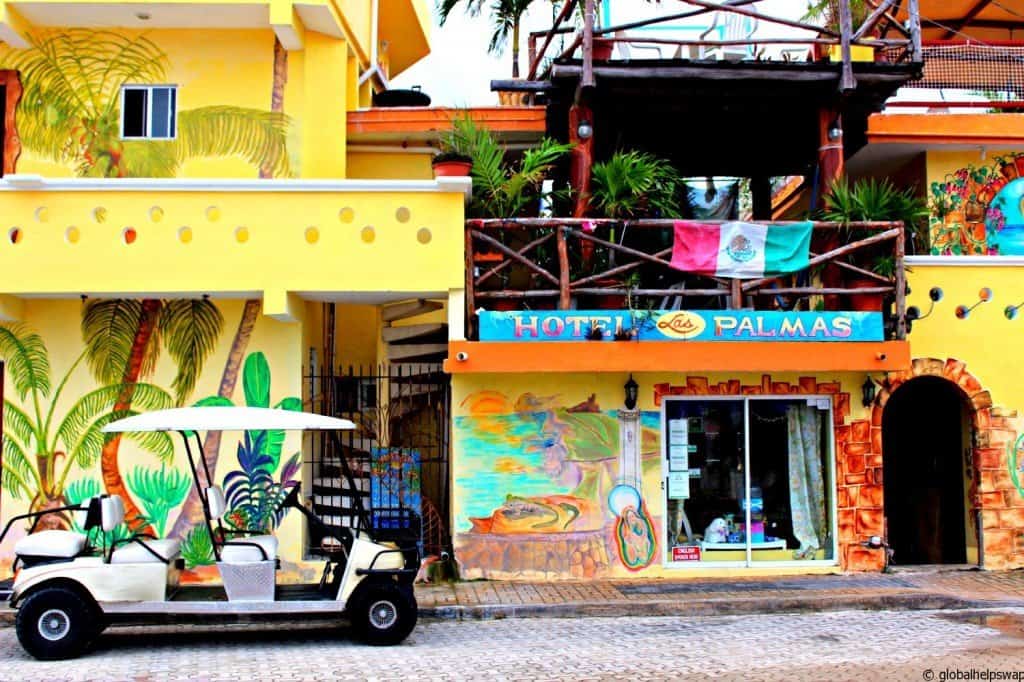 Hotels on the beach tend to be somewhat overpriced for what they offer but they do have amazing views. If you stay in the north the beaches are within walking distance so you don't necessarily need to stay right on the beach.
BUDGET: Marina Paraiso Hotel Basic but clean rooms. The best ones are facing the pool. Good restaurant and great location.

MID-RANGE: Hotel La Joya Quiet, calm location with charming rooms and a beautiful sea view. There's a little private beach . Good to know – There are quite a few steps here.

LUXURY: Casa de Los Suenos. A small boutique hotel with 10 well designed suites, each with its own balcony and great sea views. Nice little touches like a pot of coffee waiting for you outside the room in the morning.

Privilege Aluxes – This property is 1 minute walk from the beach. Nestled on the island of Isla Mujeres, across from Cancun, this luxury hotel offers relaxation, white sand beaches and luxury services just steps from North Beach).

Privilege Aluxes features enjoyable facilities, such as 2 outdoor swimming pools. Go on a whale shark tour, private sport fishing trip, lobster dinner or swim with dolphins. After a day of fun, feel pampered with a massage or body treatment at Mystique Spa.

Ixchel Beach Hotel – Set directly on North Beach on the island of Isla Mujeres, Mexico, only 4.3 miles (4 miles) from Cancun, this hotel offers access to a variety of activities.

Ixchel Beach Hotel features an outdoor pool with the Kalak snack bar and grill. Guests can spend the day at the beach, then relax with a massage.

Activities such as deep sea fishing and scuba diving are available only moments from the Ixchel Beach. Guests can also go swimming with whale sharks or spend the day at the nearby Garrafon Nature Park.

Casa de los Suenos – Set on tropical Isla Mujeres island, this boutique hotel offers an infinity pool, gym, massage service and direct access to the Caribbean Sea. Each spacious suite has a private balcony with stunning sea views.

Casa de los Sueños offers 10 air-conditioned rooms, decorated in a contemporary style. Each room includes a minibar, a ceiling fan and a private bathroom with a hairdryer.

The The GRILL offers American and Mexican cuisine, along with free Wi-Fi, great music and fantastic sea views.

Casa de los Sueños offers bicycles ideal for exploring the island also Parque de los Sueños waterpark access is included for every day of your stay. Enjoy waterslides, zipline, snorkeling, paddleboards, kayaks and more!

Transfers to Cancun Airport can be arranged at an extra cost. Cancun is a 20-minute ferry ride away.
Day Trips from Cancun to Isla Mujeres: 
Catamaran Day Cruise to Isla Mujeres from Cancun – Make the best of your holiday in Mexico and cruise on a 44 feet long catamaran through the waters of the Caribbean sea accompanied by cool rum, tequila and soft drinks. Enjoy a visit to Isla Mujeres and explore the fascinating underwater life during snorkeling in Isla Mujeres Marine Park, followed by delicious buffet lunch in the beach club restaurant on the beach.
Isla Contoy and Isla Mujeres Tour with Snorkeling from Cancun or Playa del Carmen – Spend the day exploring the Caribbean Sea by boat during this full-day adventure from Cancun. Aboard a high-speed catamaran, visit Isla Contoy–a tiny island that's also a protected natural reserve–and snorkel with your guide around the island's reef. Then, go ashore for lunch and shopping at Isla Mujeres before returning to Cancun or Playa del Carmen.Your tour includes a buffet lunch, all equipment, a professional guide, round-trip hotel transport, and an open bar.
Sail to Isla Mujeres with Lunch and Open Bar from Cancun and Riviera Maya – Spend the day sipping drinks and snorkeling aboard a modern catamaran during this full-day tour to Isla Mujeres from Cancun. Relax in the sun and enjoy the sea breeze (and the open bar!) as you travel to a coral reef to snorkel with tropical fish. Then, enjoy a buffet lunch and the amenities of a private beach club on the sandy shores of Isla Mujeres. Spend some free time shopping before returning to Cancun in the late afternoon.
If you are heading to Mexico you should check out these posts too before you go:
 Paradise Found – 9 reasons to visit Tulum, Mexico – We loved Tulum and so did Janet by the sounds of it. Read this post to see why you will love it too.
A guide to Merida – Merida was a big surprise for us. We had no idea what it was like before visiting but we soon fell in love with the colonial architecture, the food scene and the locals.
Things to do in Playa del Carmen – Read why we think you should avoid Cancun at all costs and head to Playa del Carmen instead.
Have you been to Isla Mujeres? What did you enjoy the most there? Let us know in the comments below. 
And if you you enjoyed the article we would love it if you shared it with your friends.
globalhelpswap
Voted as a top travel website by: