Isla Holbox is an island located off the North Coast of the Yucatan Peninsula in Mexico. It was our last stop of our 3 month Mexican odyssey and it was one of the best places we visited in the entire 3 months. Whenever we mentioned to Mexicans we were heading to Isla Holbox they literally swooned. After just a few hours on the island we could see why. Here are our 15 reasons to love Isla Holbox and our top tip for dealing with the island's biggest nuisance – the mosquitoes: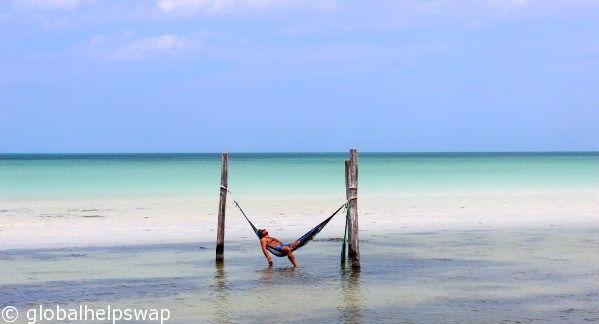 1. Holbox Island itself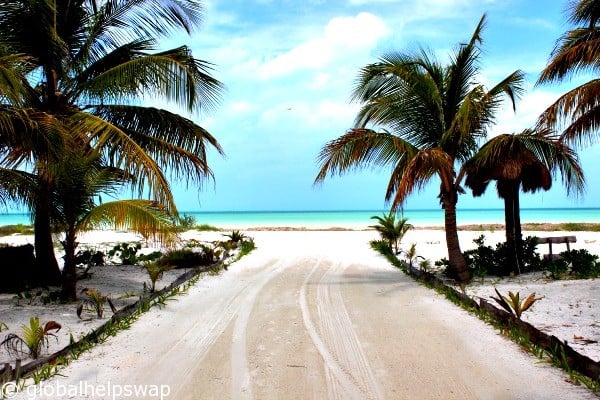 Isla Holbox is approximately 41,84 kilometers long and 1.5 kilometers wide. The entire island is car free and the "roads" are basically sand tracks. The population is around 1,500 giving the place a lovely intimate feel which you will not find in nearby Cancun. One of the mottos of the islanders is: "Life is great when it's lo-fi and low-rise". We couldn't agree more.
2. The Sidewalk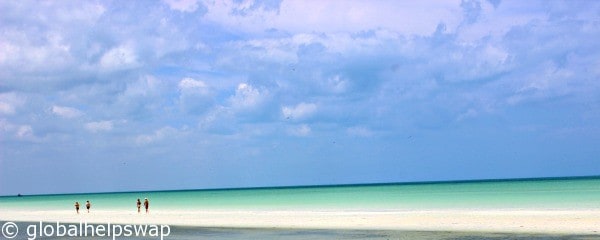 How about that for a walkway? You won't find intruding street signs, congested streets or foul smells here. We loved the sandbank. It stretched along the entire beachfront and we would take sunset strolls along it every day. We even took a bottle of white wine out with us one night to watch the sunset over the Caribbean. Just writing that sentence makes me want to go back.
3. The Sea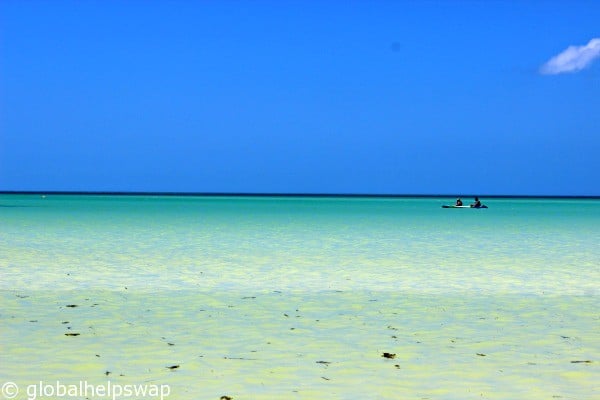 In one of the guidebooks it stated that the sea around Isla Holbox is not the translucent turquoise that you will find in Cancun or Playa del Carmen. It's because Isla Holbox is located where the Caribbean sea meets the Gulf of Mexico. Well, we did not mind the waters around Holbox and I am quite sure you would be happy with them too. One thing's for sure, the sea around Holbox is a lot quieter than the aforementioned places.
4. The Hammocks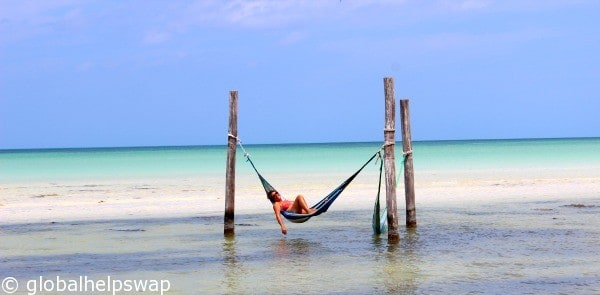 When we first glimpsed images of the hammocks of Holbox we thought they must be part of some ultra exclusive resort but nope, they are in the sea for anybody to use. What a brilliant idea! They alone are worth travelling to Holbox for. Now all they need is to set up a little bar nearby serving exotic cocktails! Hmmm, maybe our next business!
5. The Wildlife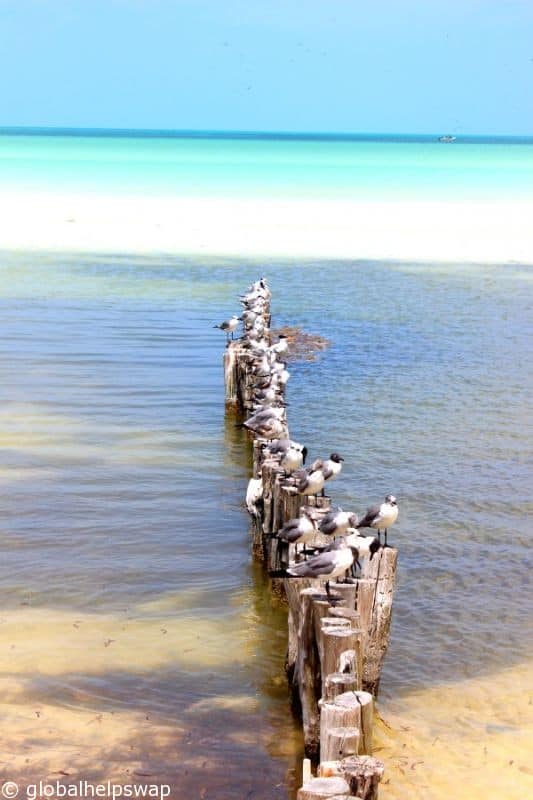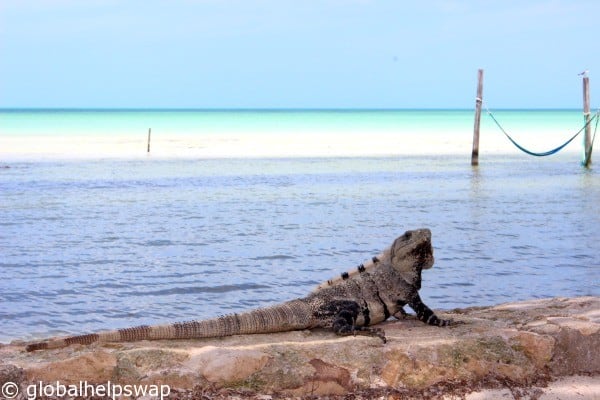 Isla Holbox is a haven for wildlife. From May to September the amazing Whale Sharks visit the island and they are normally accompanied with dolphins and turtles. Pink Flamingoes also like to pop by and of course there is our friend the iguana who has the run of the island.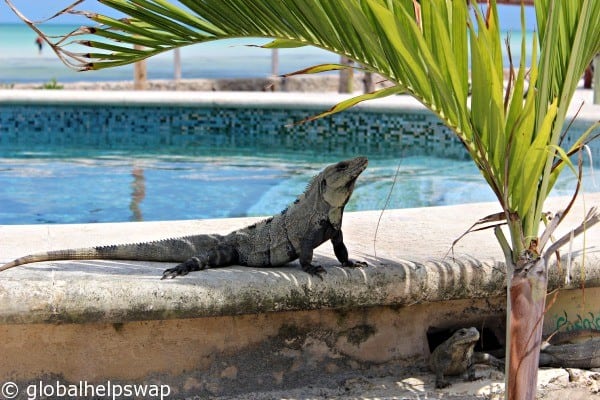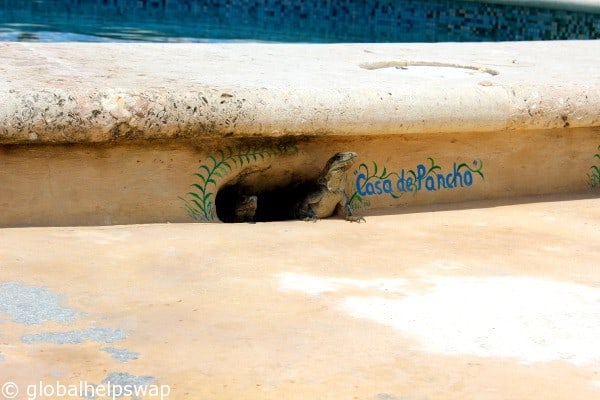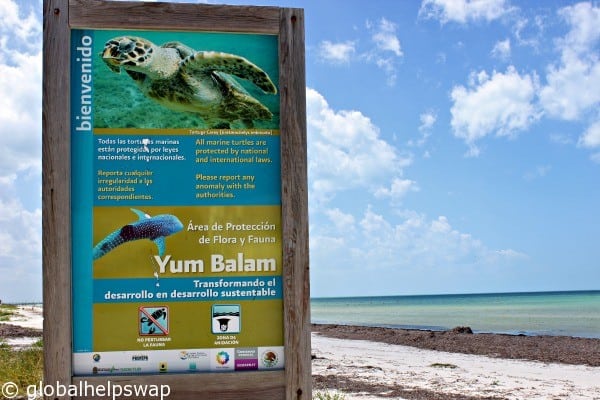 6. The walk to town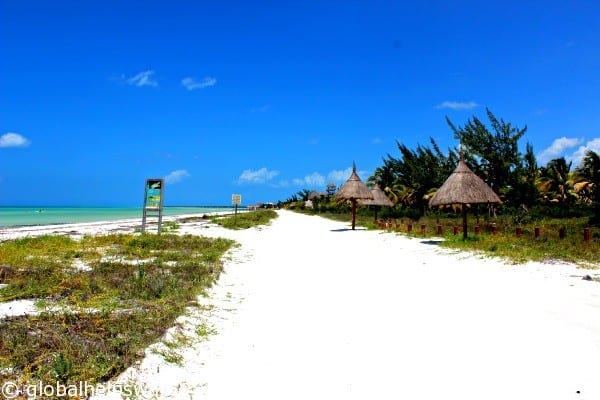 Every night after a lazy day by the pool or in the sea we would walk the 20 mins into town from our hotel. As you can see, it was not a bad walk to take. At night the sky was filled with thousands of stars. Living in a city you tend to forget that the night sky is full of stars because of all the light pollution. You won't find that on Isla Holbox.
7. Villas Delfines Holbox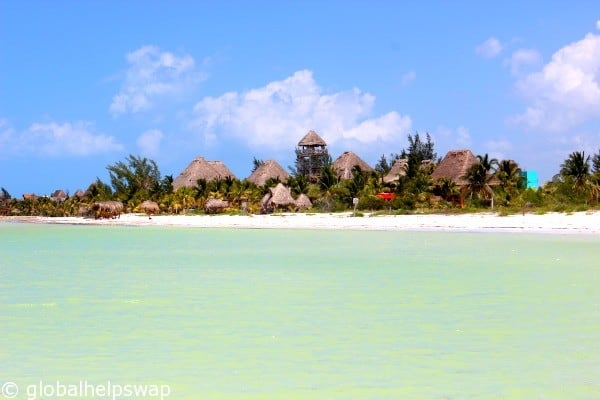 Our 4 days on the island was spent in the perfect location. Villas Delfines was a lovely place to stay with friendly staff and beautiful bungalows. Plus it was located on the best stretch of beach on the island. You can read our review of the hotel here: Villas Delfines Review.
8. The Town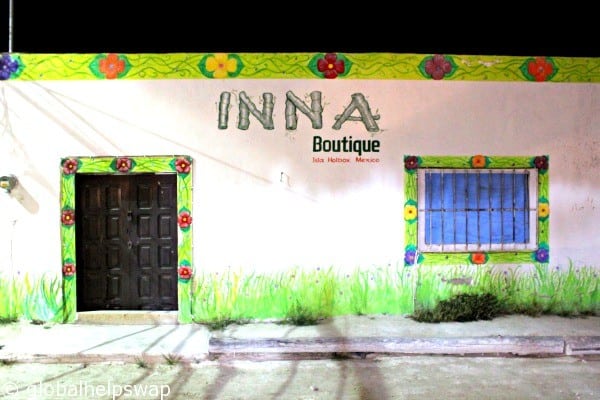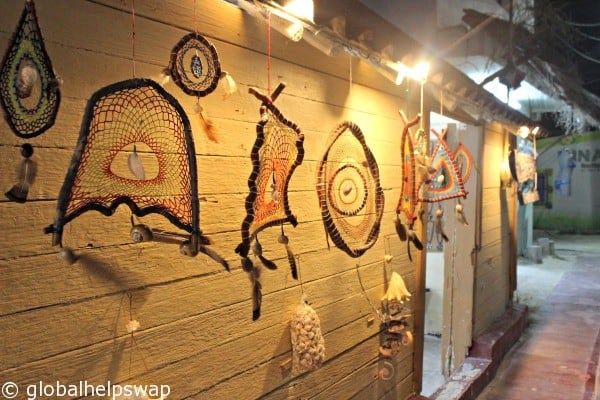 The town is where most of the restaurants and shops are located. For such a small place Holbox has a large variety of places to eat and shop. All the places that we visited were owned by locals. It is so refreshing to see that the money you spend benefits the locals and community as opposed to some faceless multi-national.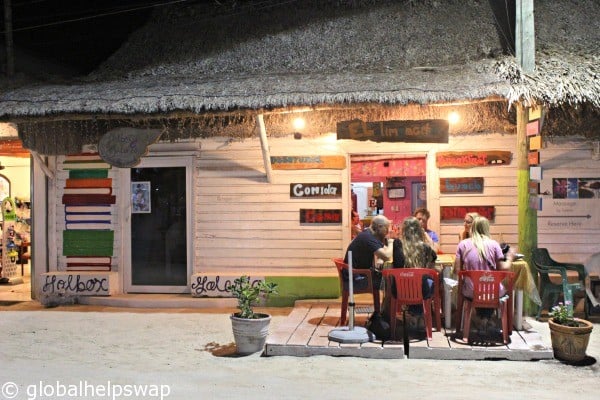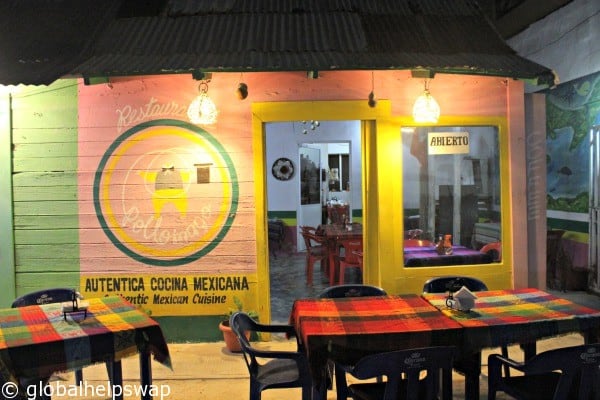 9. The Mall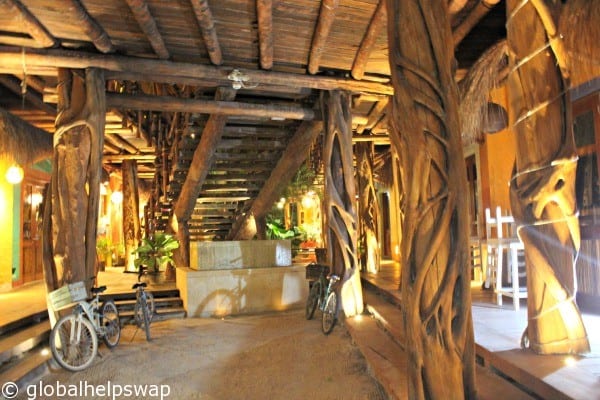 Now normally I would say avoid the mall at all costs but when the mall is made out of wood then I will make an exception. Isn't it amazing? There is even a cinema at the top. A wooden cinema, there can't be many of them in the world.
10. The Art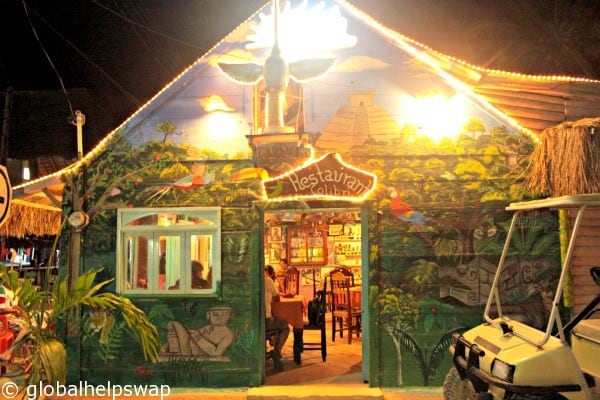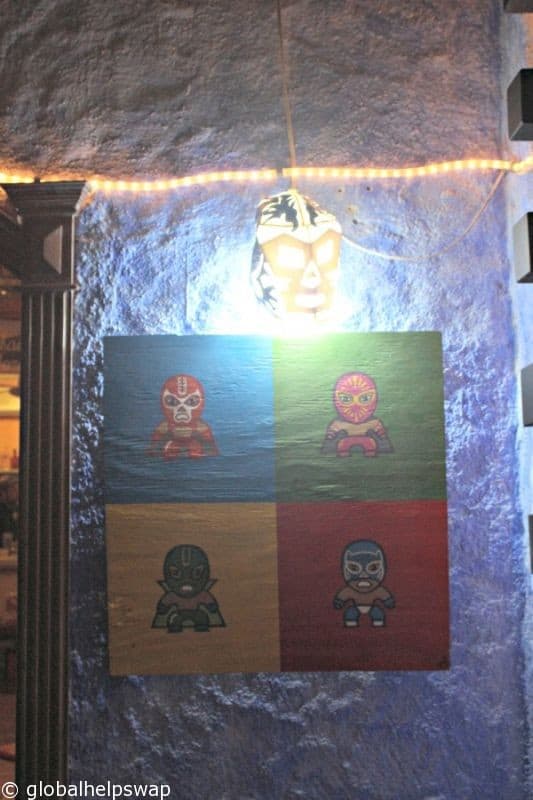 After spending 3 months in Mexico we came to realize how artistic and creative the Mexicans are. The locals of Holbox are no exception. Each restaurant had its own art on the walls and the little boutiques were filled with homemade jewellery, dream catchers and trinkets.
11. Community table football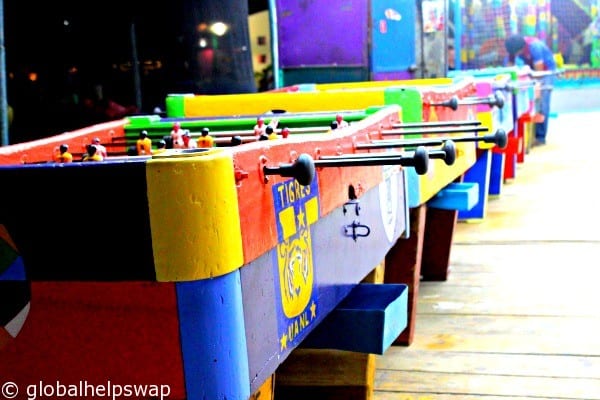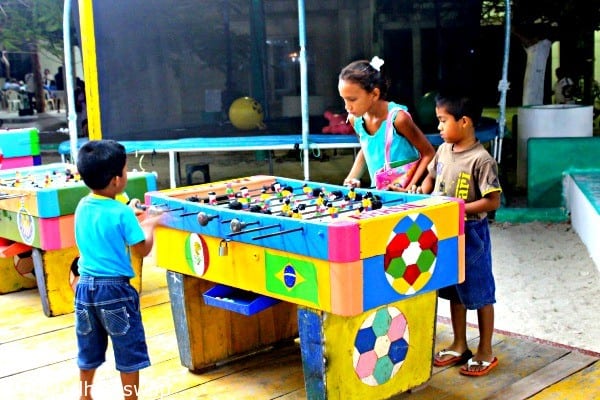 The main square in the town is where everybody congregates at night. There is a lovely atmosphere and there is a real sense of community. I love table football (even though I am crap at it) and seeing these tables outside brought a big smile to my face. I think all town squares should have them.
12. Bingo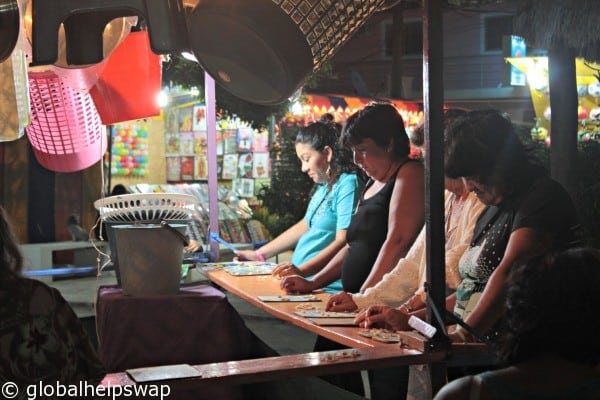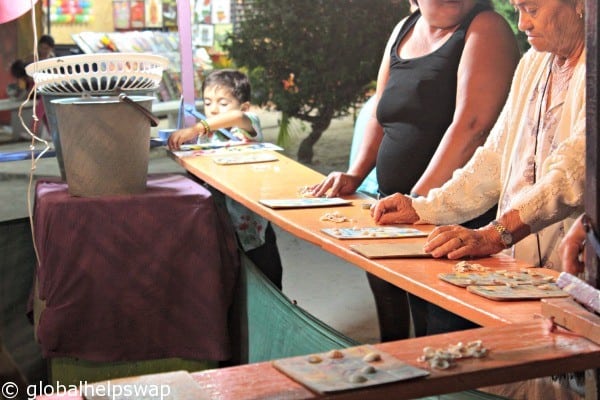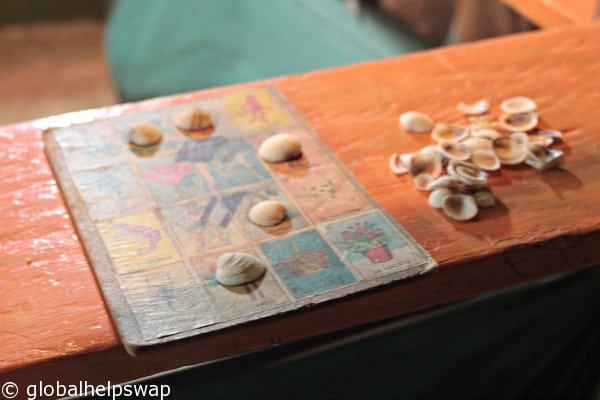 Every night as we ate dinner we would hear this guy shouting on a microphone. Initially we thought he was reading out the lotto numbers. That was until we came across these ladies playing bingo. We loved the fact that they played with shells. Most of the prizes were for regular household cleaning products. Hence why only ladies are playing!
13. Children's art classes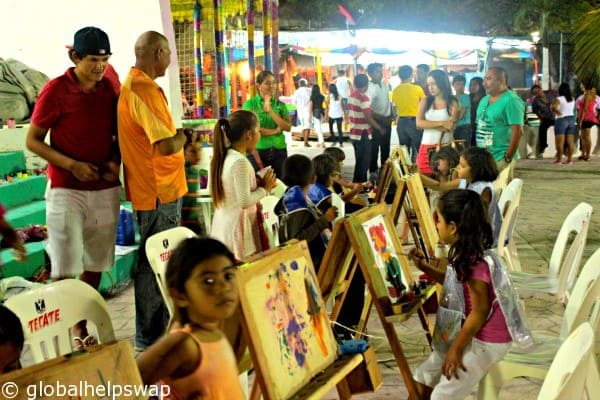 Another sign of how strong the community is on Holbox. Again this was held in the big square (it's called big for a reason!), where the children would sit and learn the basics of art. It beats an iPad any day.
14. The Taxis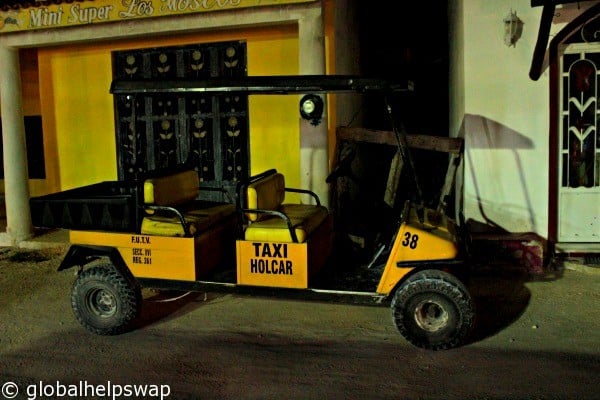 As we mentioned before there are no cars on Holbox but you still need to get from the ferry to your hotel right? That's where the Holbox golf car taxis come in. I love the fact that they are yellow like the famous New York taxis. Can you see the typical New York cabbie in one of these? Nah, me neither.
15. The Food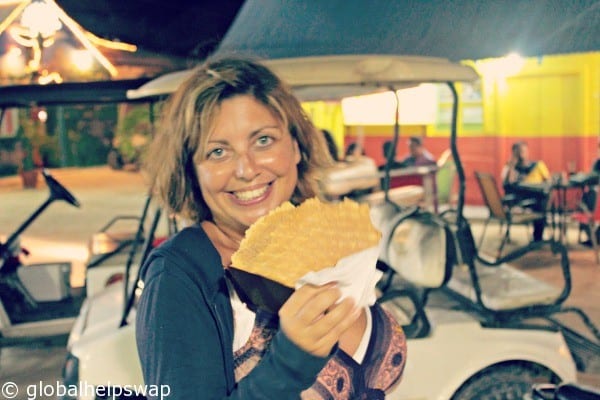 For such foodies Karen and I are terrible at remembering to take food photos. Come to think of it maybe it's because we are such foodies that we forget. All we want to do is dig in to our plates right away. Isla Holbox has some great restaurants.
Our favourite Isla Holbox Restaurants
EDELYN PIZZERIA & RESTAURANT
We had heard rave reviews of this place because of one special dish – their signature lobster pizza. We were sceptical at first but we had to try it after all we had heard. We weren't disappointed. The dough was perfect and lobster on pizza actually works. Who knew!
VIVA ZAPATA
One restaurant we insist you go to is Viva Zapata. Order the seafood grill and sit back in the courtyard and slowly enjoy your feast. You can thank me after. Seriously this is one of the best meals we had  in all of Yucatan. The sea food was so fresh and perfectly grilled and the atmosphere in the courtyard was fantastic. 
Mosquitoes in Holbox = One thing we did not like
The mosquitoes! Because Isla Holbox is unspoilt there is a lot of vegetation around which means lots and lots of mosquitoes. The island is even referred to as the island of mosquitoes by locals. Unfortunately it's mosquito season all year round but the mosquitoes are their worst in June.
During the day prepare to get attacked by these tiny creatures. They're so tiny that the locals call them 'no-see-ums'. They are vicious so do come prepared. If you want to avoid having to cover yourselves in repellent day and night try this tip a local passed on to us. Slather yourself with baby oil. The no-see-ums tend to get stuck in it and don't get the opportunity to bite you.  I'm afraid it will have to be mosquito repellent in the evening.
How to get from Cancun to Isla Holbox
If we have convinced you to visit, you'll be glad to know it's not too difficult to get from Cancun to Holbox island.
If you're in a hurry then the quickest way to get Holbox island is by taxi. The drive should take around two hours to two and half hours  making it about an hour quicker than the bus and removing the need to travel to the bus station. We wouldn't recommend taking a taxi from the airport as the prices charge here tend to be a lot steeper. Instead get the bus to downtown and get your cab from there. Price should be around $80 (excluding tip).
If you're wondering how to get to Holbox Island in the cheapest way possible then you're in luck. If you go to Ado Bus Terminal on Avenida Tulum. The bus costs 76 pesos per person and has a number of departures in the morning. Last bus (at the time of writing) was at 1.45 but it's best to check with the Ado Bus timetable. The trip should take around 3 and a half hours.
Hope you enjoy your visit to Isla Holbox as much as we did.
#LoveYourTravels