globalhelpswap at the Cenotes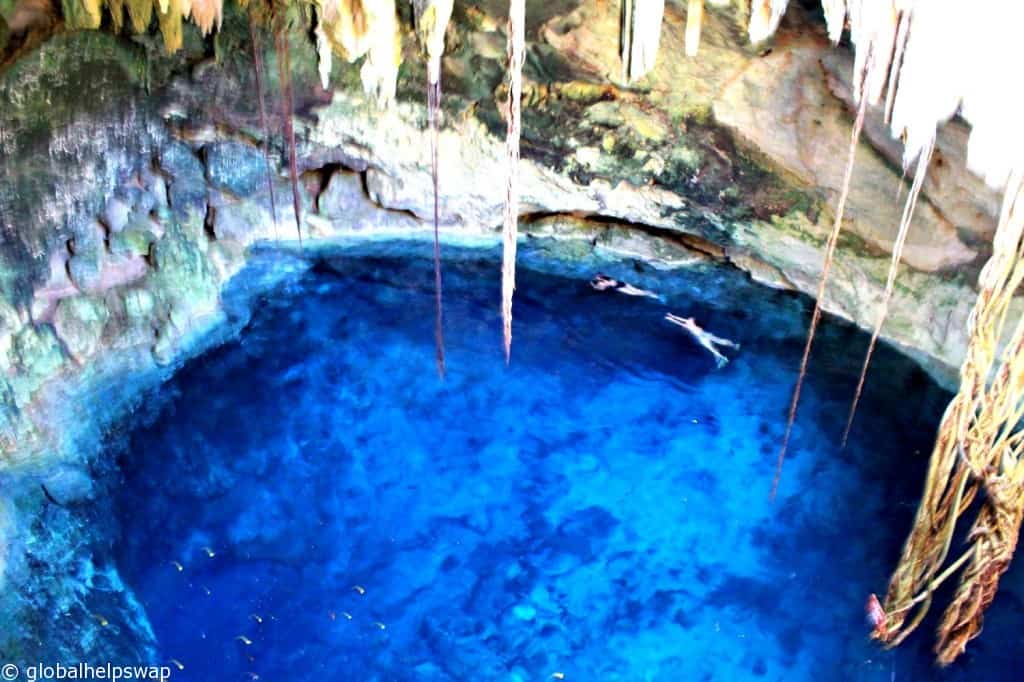 As we got to the small hole in the ground our guide said "here we are". Karen and I looked around and thought he made a mistake. "Cenotes"? we asked. "Yes, we are here!" he replies. Okay then we thought. Maybe Cenotes can mean different things. We thought that they were large holes with water in them. This was definitely not a large hole and we could not see any water. As we peered down the hole, we noticed a long wooden ladder leading down. I took the plunge first being a gentleman and squire (I am, okay!) As I slowly descended and my eyes got accustomed to the light what I saw took my breath away.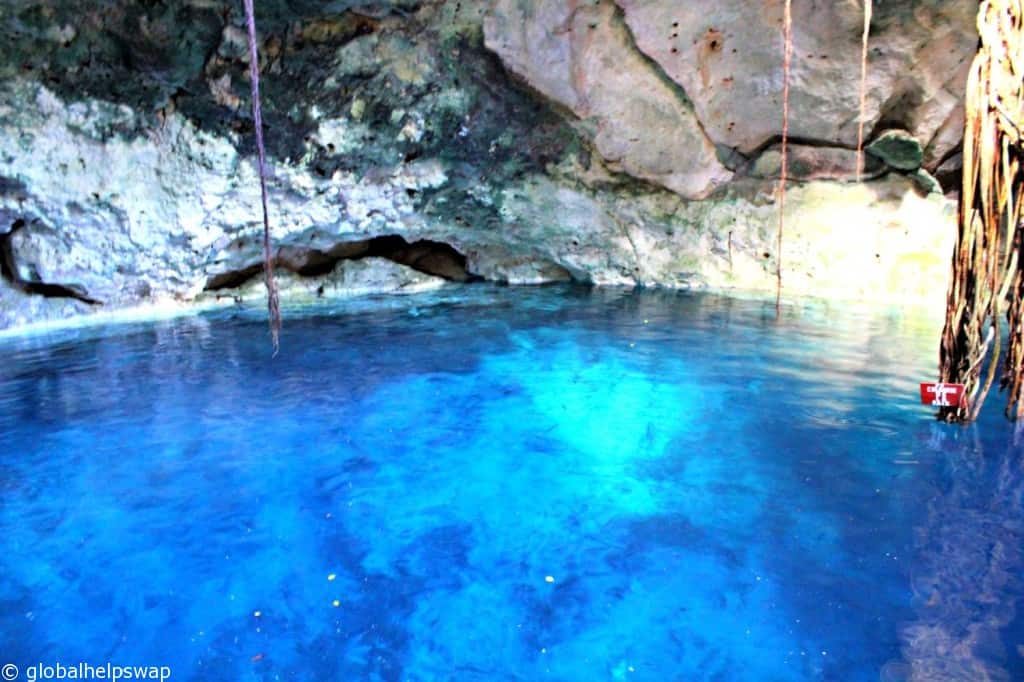 A pool of the most incredible blue water glowing right below me. As I reached the bottom and looked up, I noticed a larger hole letting in sunlight. There were branches reaching right down to the pool of water, as if wanting to be part of the action.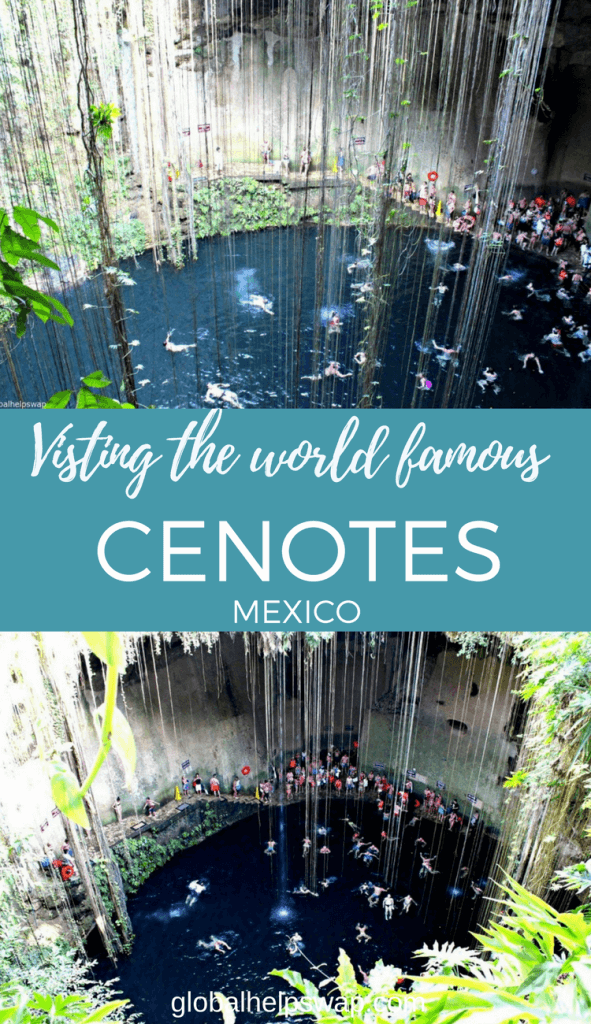 Surely places like this don't really exist? They are just made up images for big budget movies. Dear reader, I can confirm that they do exist and amazingly we had this place to ourselves for 30mins! Talking of movies, check out our video below to get a small idea what our day was like.
Cenotes are sacred to the Mayan people. They believe that cenotes are one of the ways to the afterlife. In the Cenote at Chichen Itza they discovered precious artefacts and human remains that were offered as sacrifice to please the gods.
I don't know if they are the gateway to the afterlife but swimming in them was certainly heavenly. It felt so adventurous to be swimming in this wild place. The water is crystal clear and fresh (at least in the Cenotes we went to) so you can drink whilst you swim. Every time I looked up, I was in awe of the beauty around me. It beats the crowded beaches of Europe that's for sure.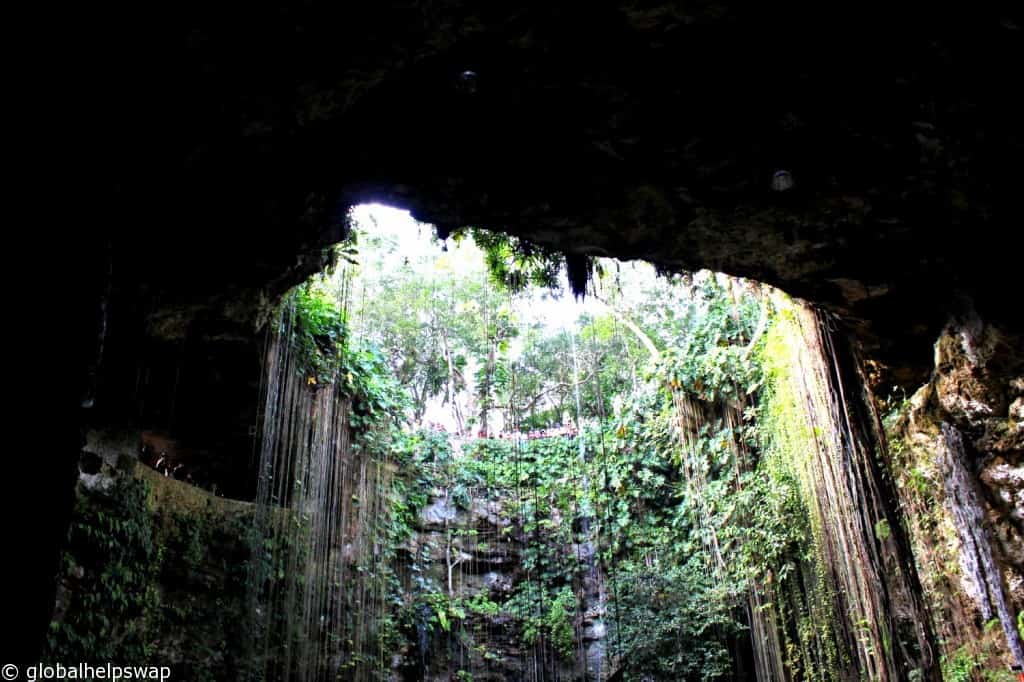 There are cenotes all over the Yucatan peninsula. Some are busier than others. There is even a Cenote in a hotel! How is that for a hotel pool? It's called Cenote Ik Kil and it is stunning but busy. I am glad we went to it but if you can, try to find some quieter cenotes as being alone in these wonderful places adds more magic to the experience.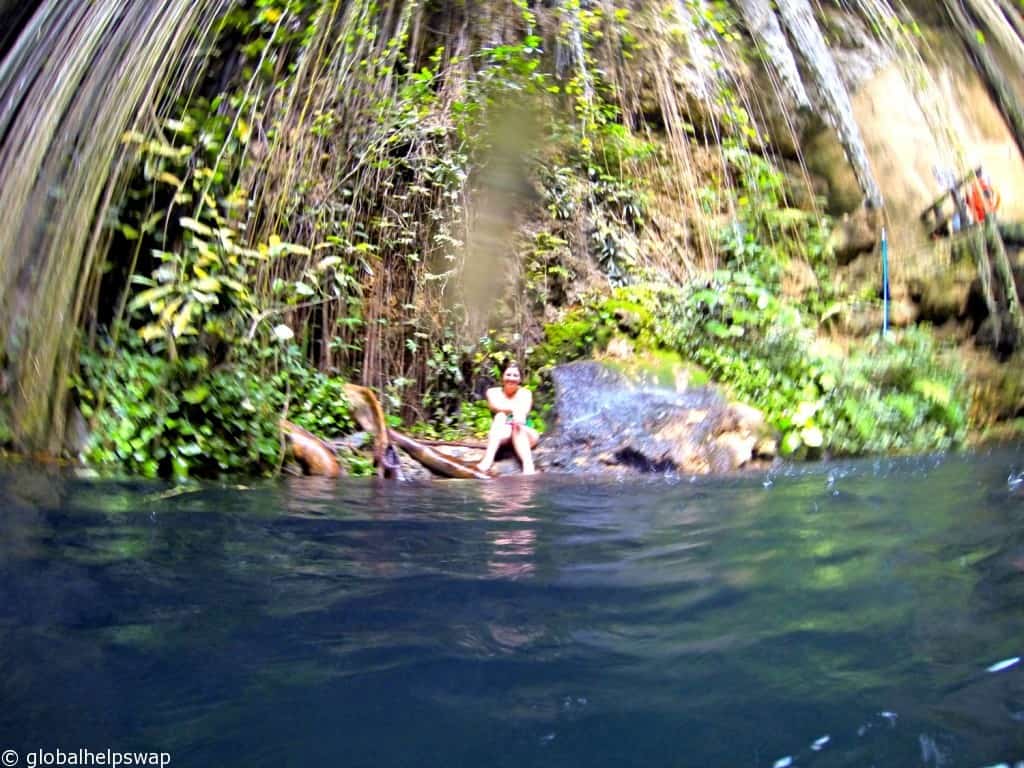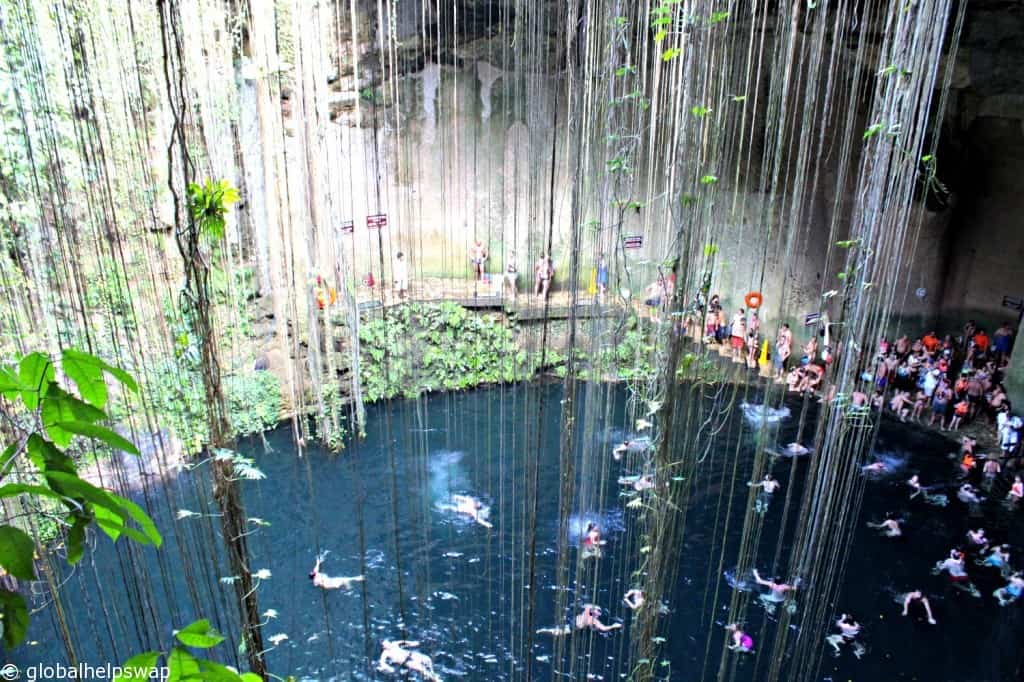 As you can tell, we were more than happy to sink down the rabbit hole to experience these wonderful gifts from nature. If you are in the Yucatan area of Mexico we highly recommend you do too! Go on take the plunge.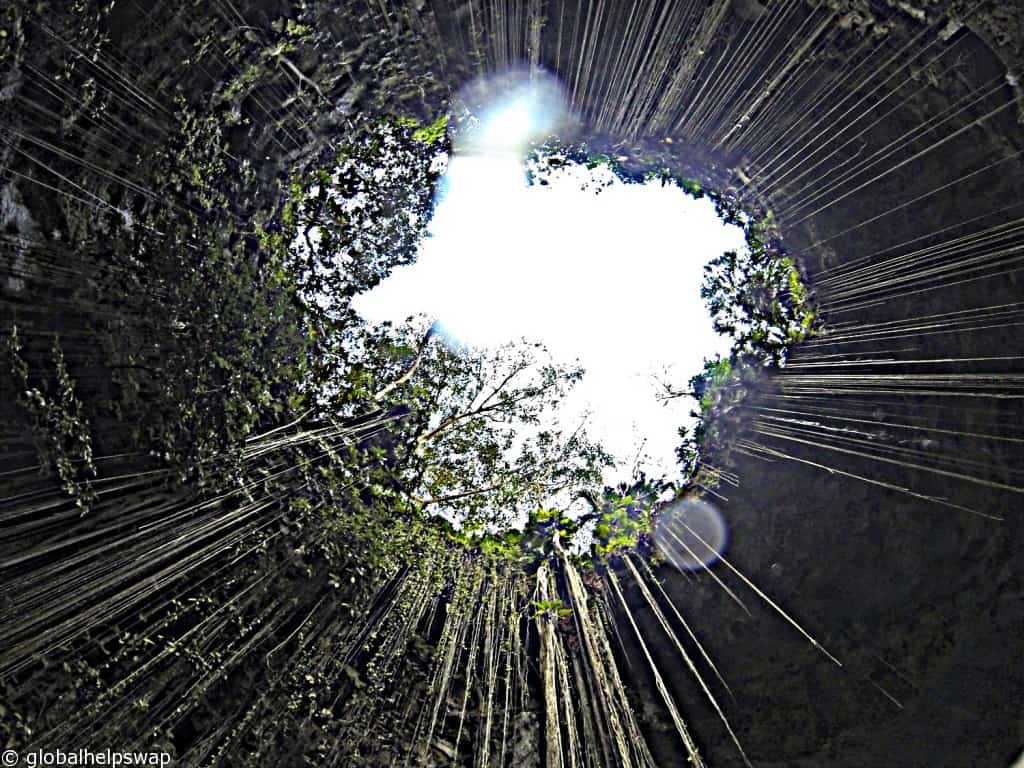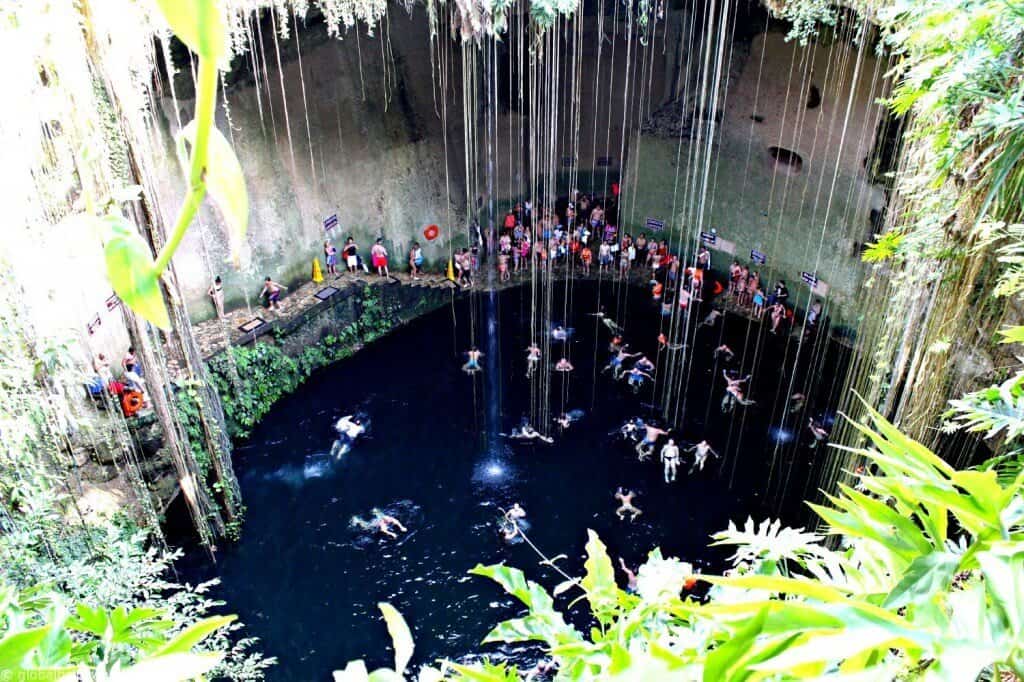 Travel Tips
1) Take a water proof camera to capture your special moments. We took the Gopro Hero 3.
2) Take the local bus from Merida to Cozuma. (25 pesos each) When you get there, a bike taxi (30 pesos for two people) will take you to the edge of the jungle where you can get a horse driven cart (200 pesos for up to five people) that will take you directly to the Cenotes.
3) If you are going in the afternoon to the Cenotes near Merida, take some lunch and water with you as there is not much to buy at the site.
4) If you are going to Ik Kil, try to get there before midday to beat the crowds.
Have you been to a Cenote? Can you recommend any special ones to our readers? Please leave a comment below.
globalhelpswap
tips for memorable and meaningful travel
Voted as a top travel website by:
http://www.theguardian.com/travel/2013/sep/18/top-travel-websites-globalhelpswap