Things to do in Oaxaca City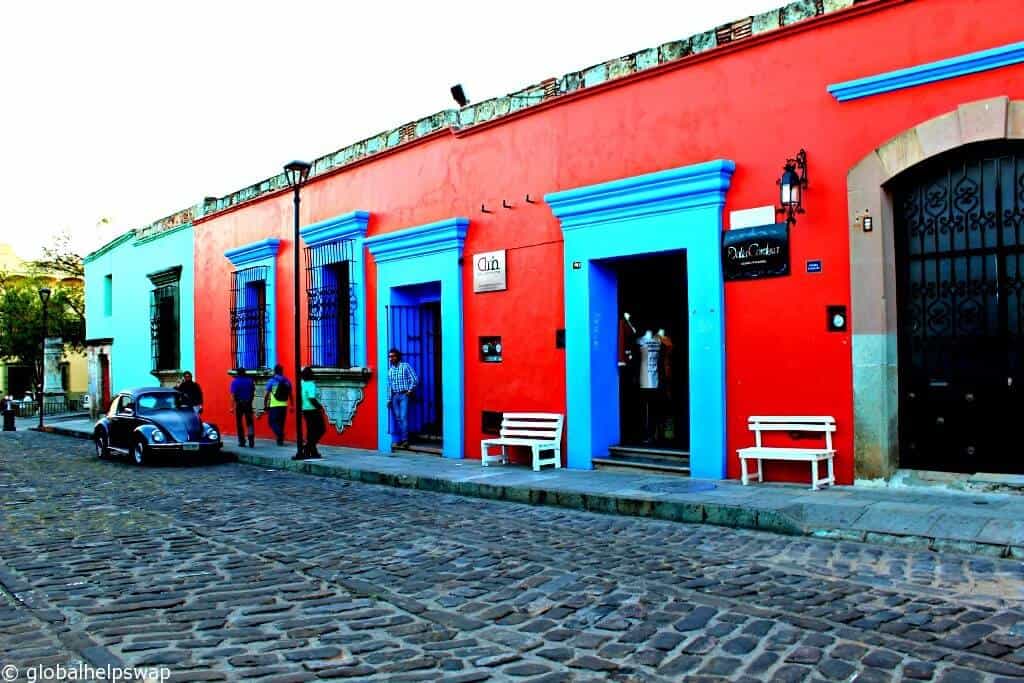 Shall we go in that one? Or what about this one? Oh wow, look at how cool this one looks! This one is really buzzing! Have you ever been to a place that just feels right the minute you land? Oaxaca City is that type of place.
Trying to choose a restaurant, bar or coffee shop in Oaxaca is nigh on impossible. Every single one of them looks uber-cool with mouth-watering menus, great music and hip looking staff. The same applies to the tours, markets and galleries. There is so much choice it is very hard to choose. We have narrowed down that choice to 10 things to do in Oaxaca City so you can just turn up and hit the wonderful streets.
1. Walk the streets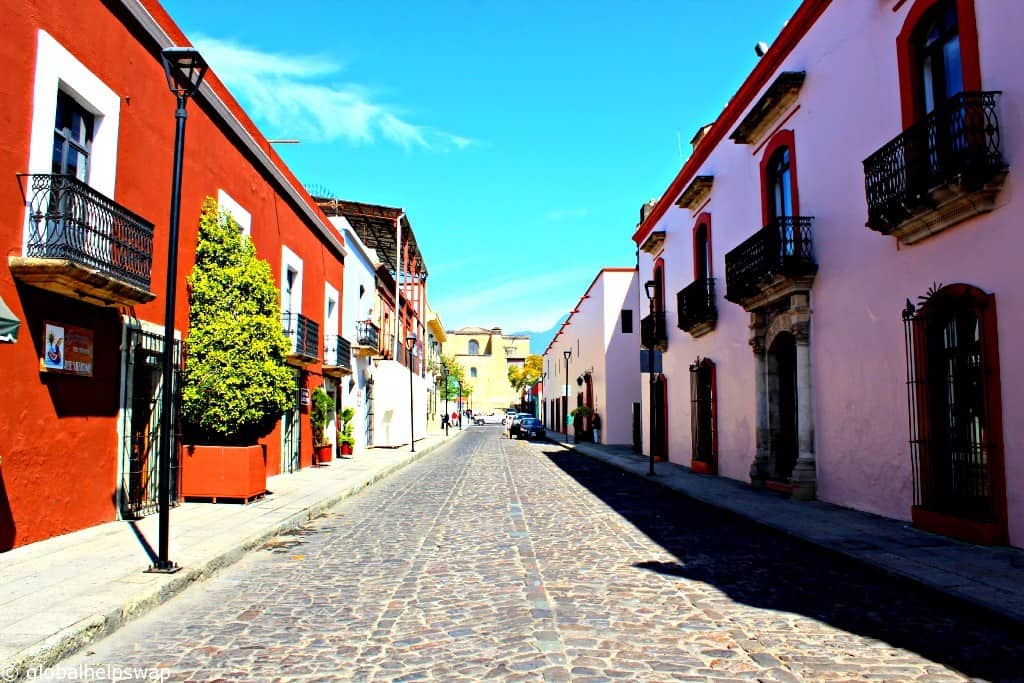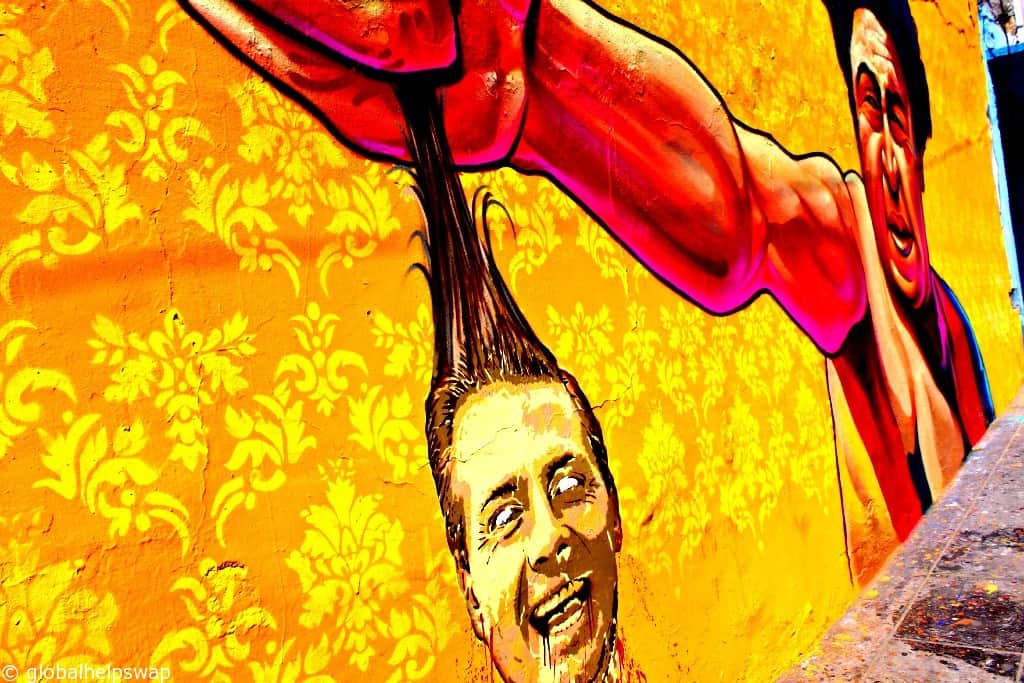 Oaxaca city is one of the most photogenic cities we have ever visited. Every cobbled lined street is filled with vibrant colourful buildings that are beautifully preserved. There is great street art here too. We had no idea what any of it meant but we appreciated the artistry!
2. Eat, Eat, Eat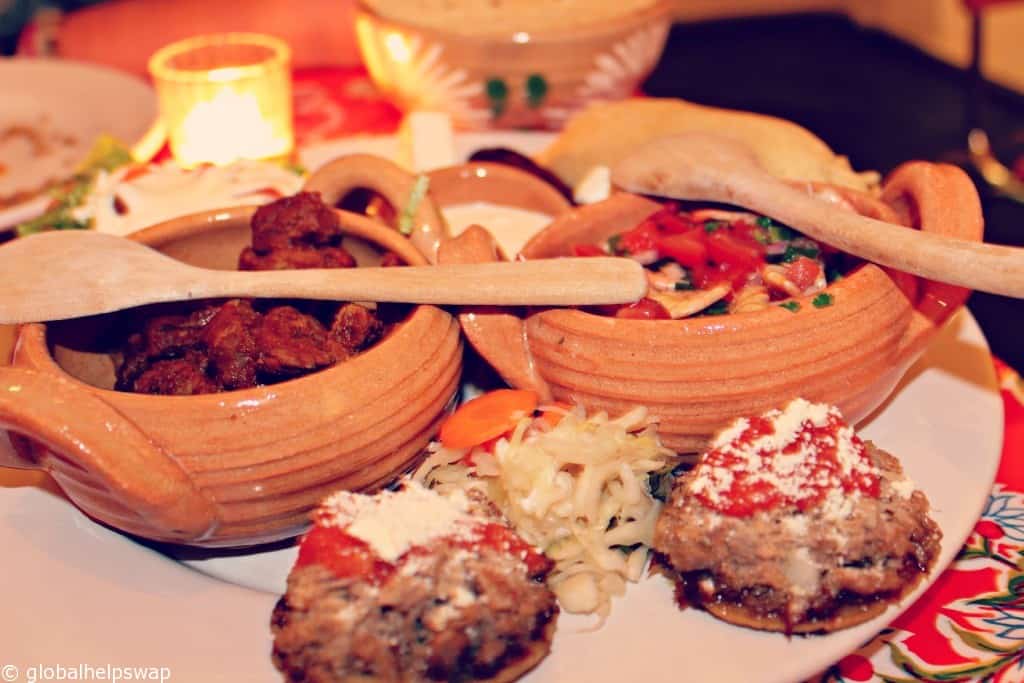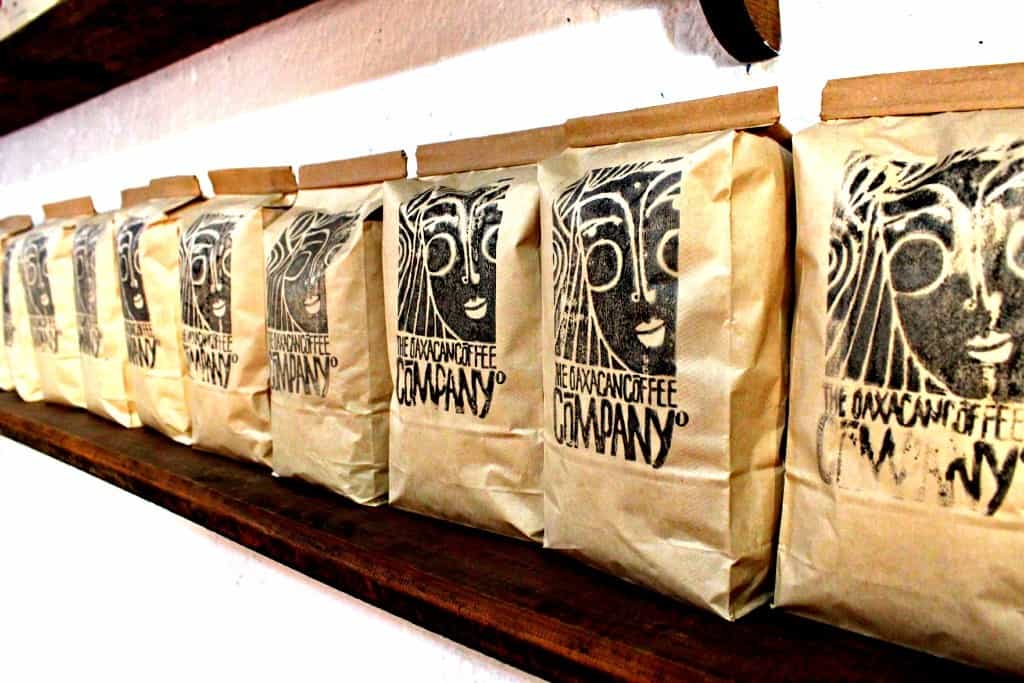 Oaxaca is the foodie capital of Mexico and the city has plenty of amazing restaurants to keep your inner Michelin guide reviewer happy. The signature dish of Oaxaca is Mole which is a type of sauce normally served over poultry or meat. There are many different varieties but the most famous is the Mole Negro which is a smoky sauce with a hint of chocolate.
3. Take a cooking lesson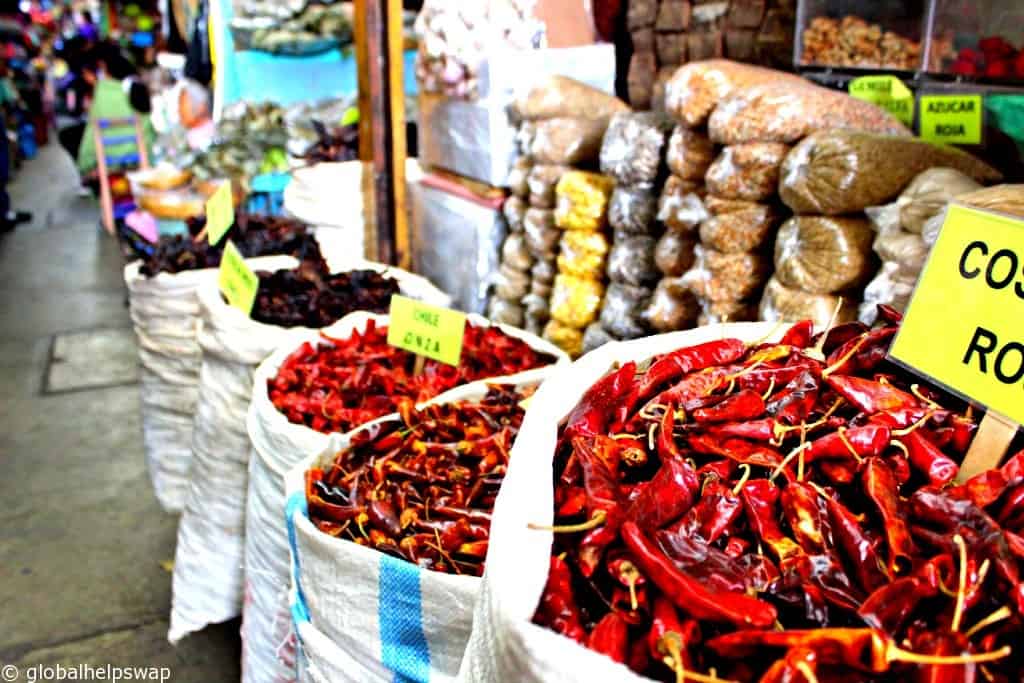 Following on from No.2, we really recommend taking a cooking lesson (we advise this for most destinations as one of the best ways to discover a culture is through its cuisine.) Karen took a cooking lesson during our stay. She loved what she learnt, especially the avocado ice-cream which I am still waiting for her to make!!!
4. Visit the Templo de Santo Domingo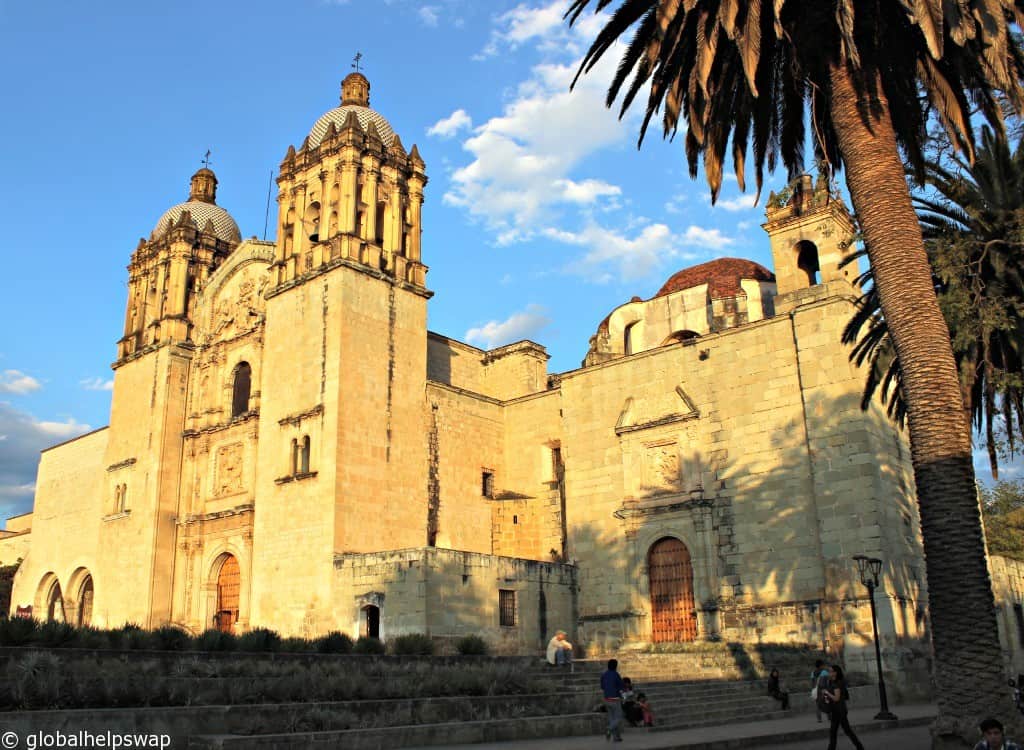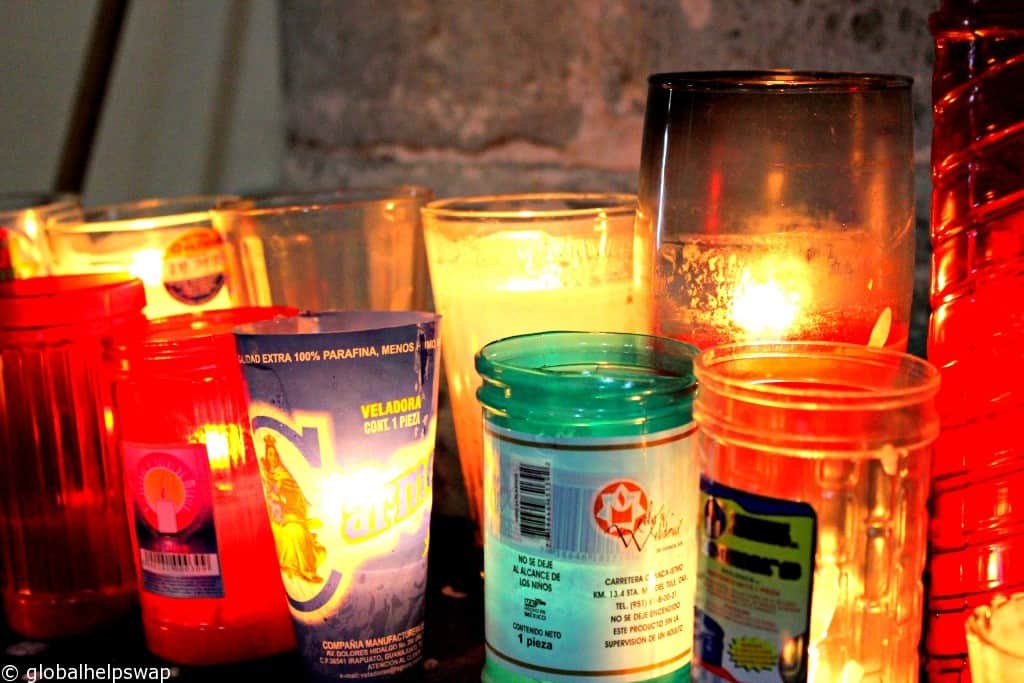 Built between 1570 and 1608 the amazing Santo Domingo church is the most impressive of Oaxaca's churches. As Oaxaca is in an earthquake prone area the walls of the church are incredibly thick (check them out as you walk in.) Nearly all of the interior is decorated in 3D imagery. If you visit one church during your stay in Oaxaca, make it this one.
5. Pop into the galleries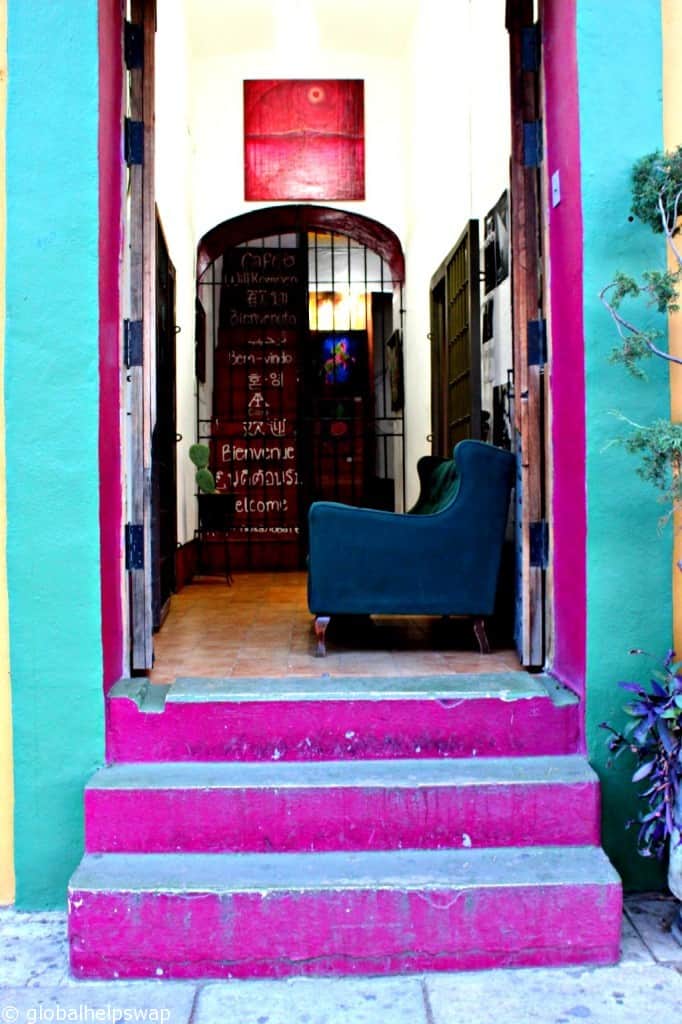 Oaxaca is a town full of artists. Almost every street has some sort of gallery with amazing contemporary art. Most of them offer FREE admission and are situated in amazing colonial buildings making the surroundings as impressive as the art.
6. Go on The Fundacion en Vie Tour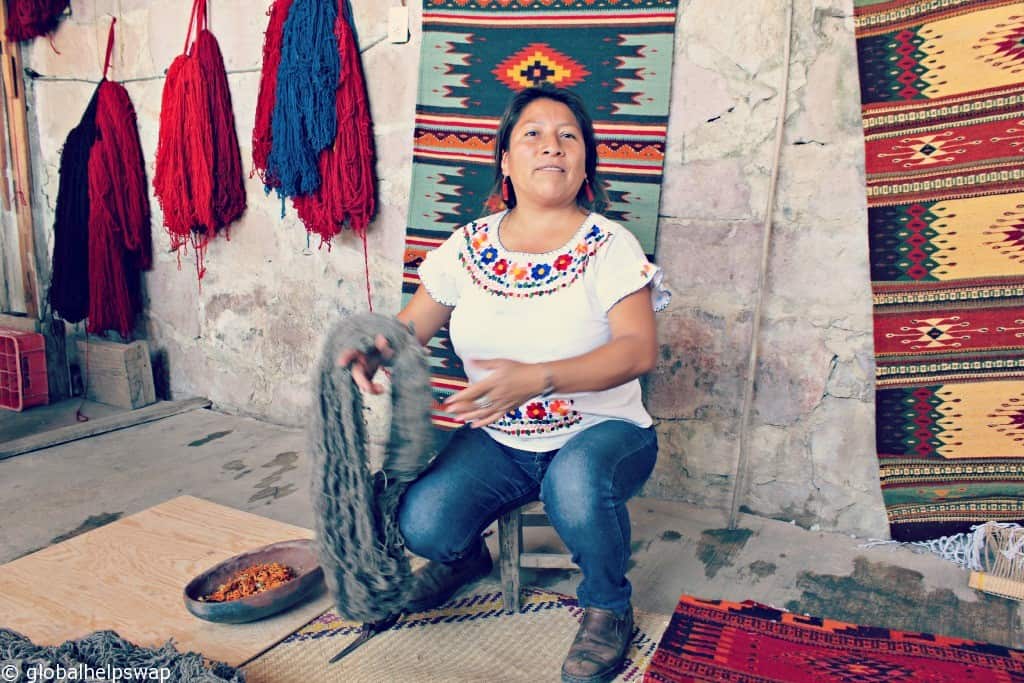 This is one of the best tours that we have taken anywhere on our travels. It impressed us so much that we will do a dedicated post to it in the near future. For now here is a small snippet of what it's about. The tour gives a rare insight into the lives of village women. 100 % of your tour fee is used to provide microfinance loans that are interest free to help the women develop small businesses. It is an incredible organisation and the number 1 activity we recommend you do in Oaxaca.
7. Eat crickets and drink mezcal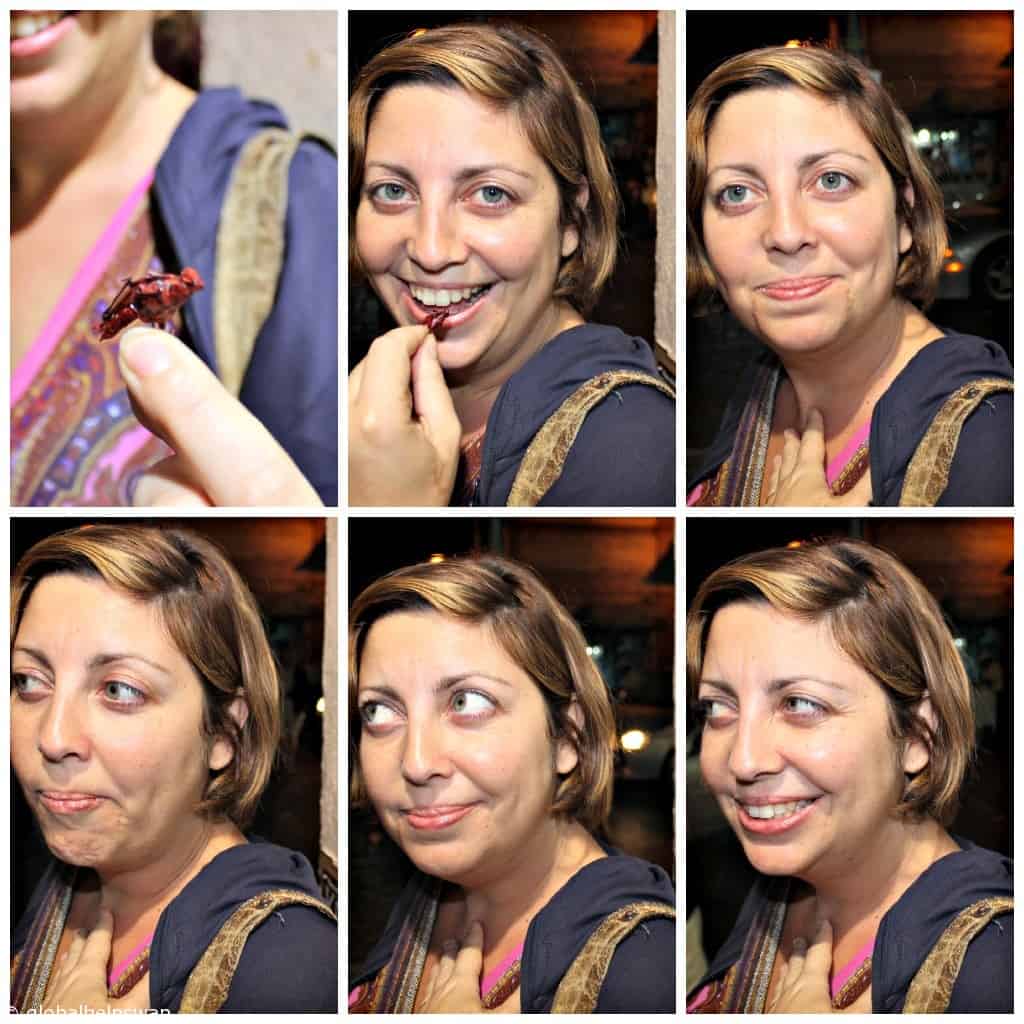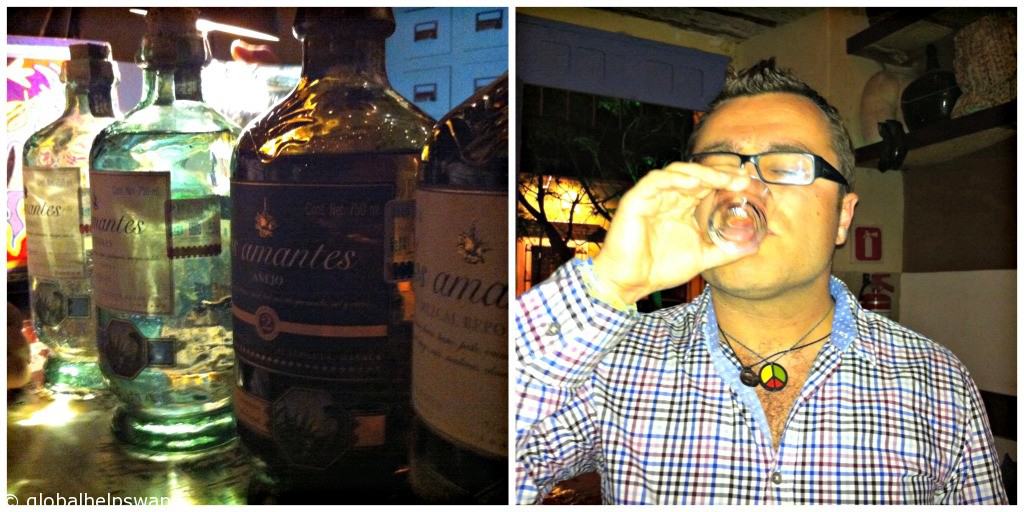 Karen was dying to try the local delicacy of fried crickets, I on the other hand wanted to sample (many times over) the local mezcal. Karen swears that the crickets were nice even though she threw half the bag away, hmmm. The mezcal drinking started off badly but got a lot better by the end. There are many cool mezcal bars in Oaxaca but our favourite was mezcal Los Amantes. They produce their own artisanal mezcal that tastes a billion times better than the mass-produced stuff.
8. Monte Albán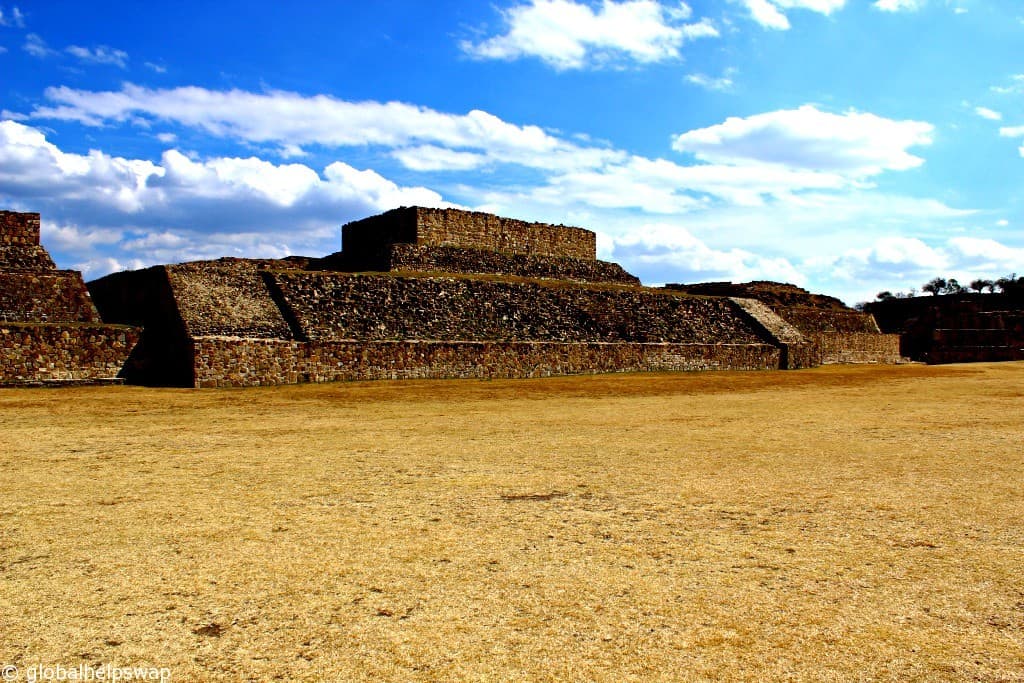 This Unesco world heritage site is the ancient Zapotec capital and a must visit during your stay in Oaxaca City. It is situated on a flat hilltop 400 meters above the valley floor a few kilometers away from Oaxaca City. It is one of the most impressive ancient sites in Mexico and was as impressive as Chichen Itza to us. (Once again, stay tuned for a more in-depth post on Monte Alban.)
9. Visit the markets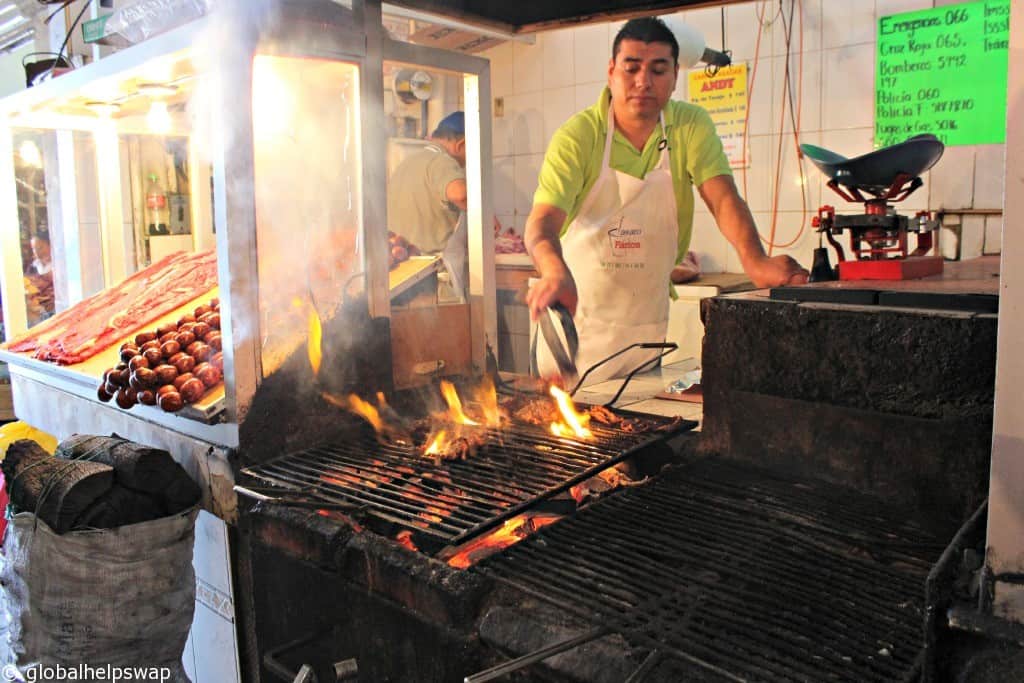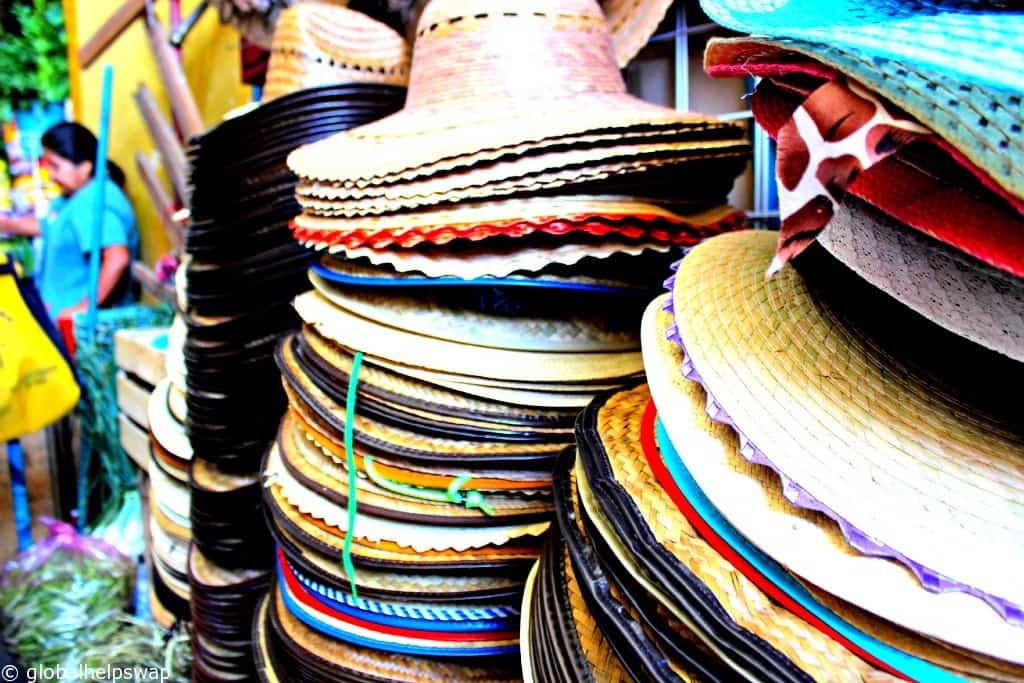 Oaxaca City is full of wonderful markets. Some run all day, every day whereas others are on designated days. Our favourite was the Central de Abastos market where you can pick and choose meat and vegetables and then the vendor will BBQ it for you. It's a hive of activity and a great way to meet the locals. The food is cheap and delicious.
10. Hang out in the Zocalo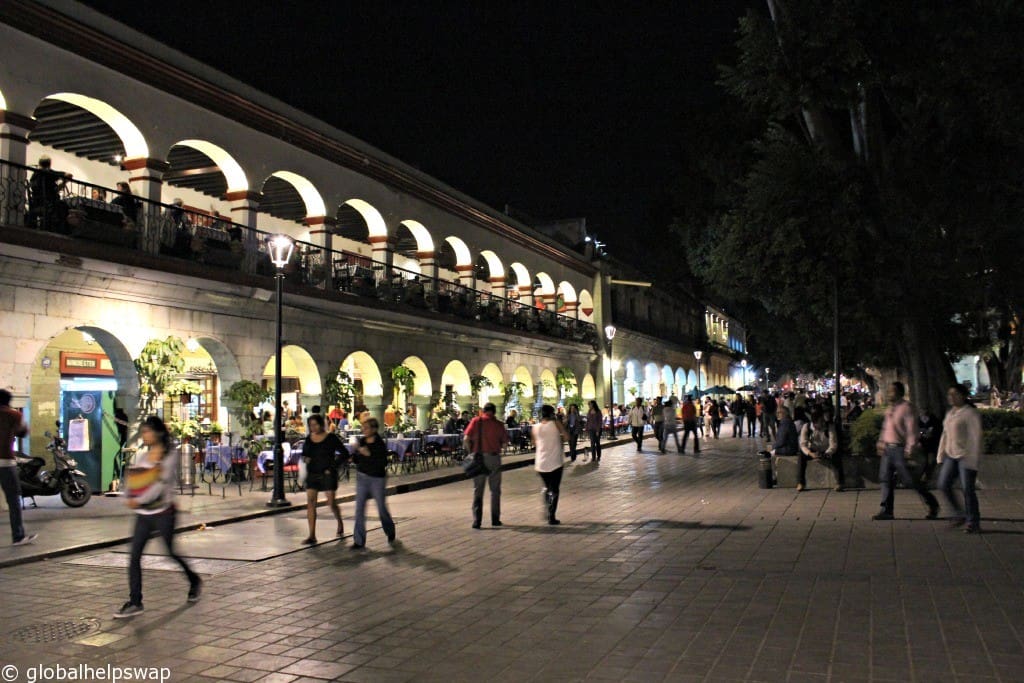 This traffic free plaza is the perfect place to people watch during a hot afternoon in Oaxaca. On its edges there are beautiful arcades full of cafes and restaurants (that charge a lot more than elsewhere.) We advise just to sit and watch the world go by whilst listening to some live music that will inevitably start up somewhere in the square.
Trip Tips
1) During our visit to Oaxaca city (January) the temperature fluctuated massively. In the mornings it started off at around 5c by the afternoon it reached a dizzying 34c and by the evening it plunged back to around 9c. Bring layers!
2) Stay at the Hostal Casa del Sol which is one of the nicest places we have stayed in. We had the room with its own bathroom which cost us about £25 a night with breakfast. Each room has high ceilings, lovely furnishings and is spotlessly clean. The place is centrally located too.
3) For a great and cheap night out visit a bar where locals hang out. For the price of a beer you will also be fed gorgeous food that the bar owners will bring to your table for free.
globalhelpswap
tips for memorable and meaningful travel
#loveyourtravels
Voted as a top travel website by:
http://www.theguardian.com/travel/2013/sep/18/top-travel-websites-globalhelpswap