I have lost Karen yet again. Even though I am not the tallest man in the world, here in Thailand I am taller than most and I still can't locate her. This is the 3rd time it has happened. We are walking through Talat Rot Fai Market (the train market) here in Bangkok and Karen is like the kid in the proverbial sweet shop. She keeps spotting a food stand and disappearing. I shouldn't moan as she keeps bringing me back amazing Thai delights.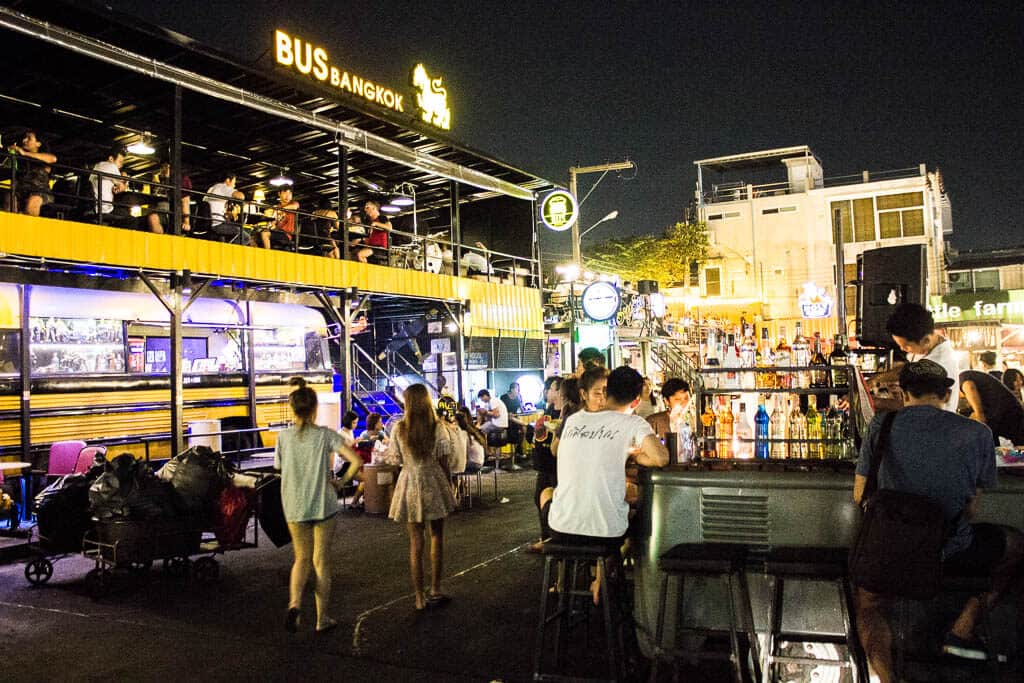 Rot Fai Market Bangkok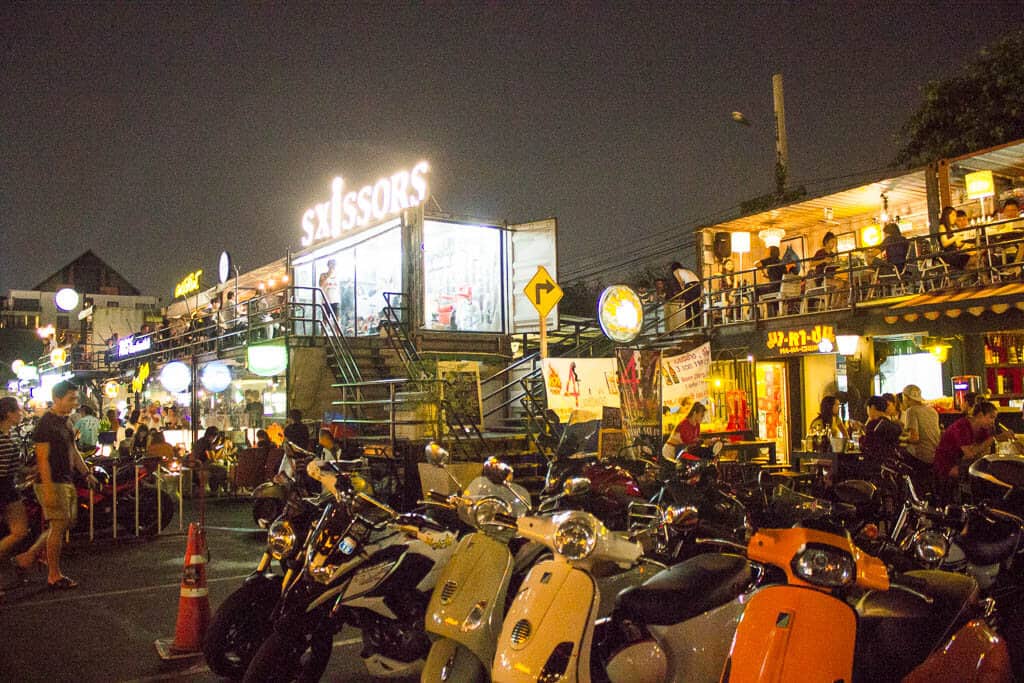 We discovered Rot Fai market by accident. We were walking along Sukhumvit and someone gave us a flyer. Normally I would have dropped the flyer straight into the recycling bin but for some reason, we kept this one. A few days later and here we are.
We are actually walking through Rot Fai 2 market. The larger Rot Fai market is located on Srinakarin Soi 51, just behind Seacon Square Shopping Mall. They opened Rot Fai 2 after the huge success of the first market.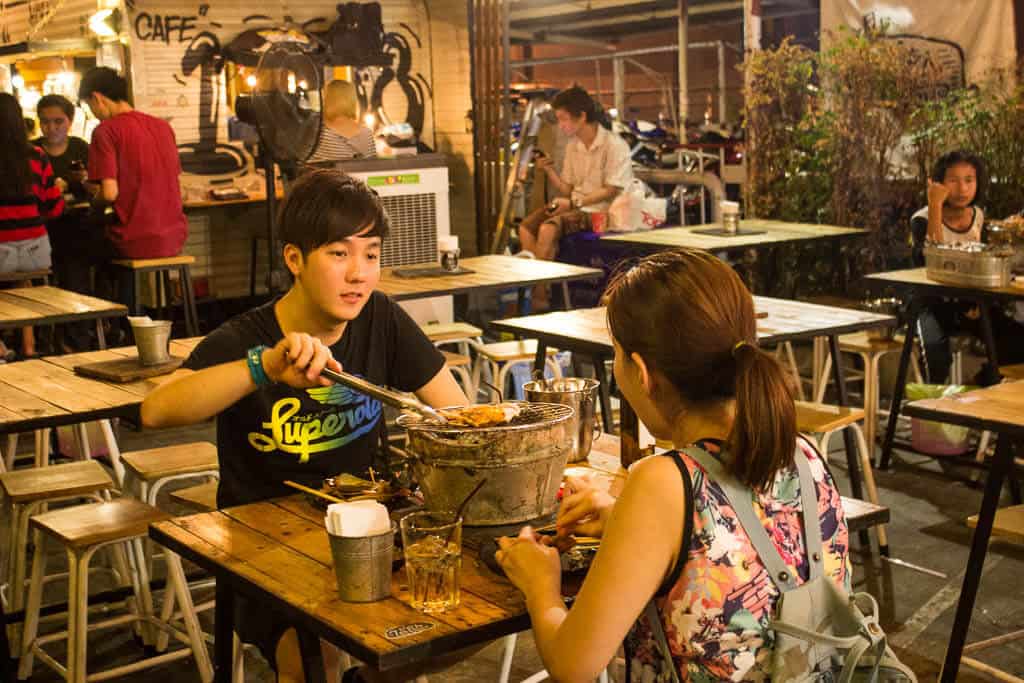 The original Taladrod Rot Fai Market grew a massive reputation at its original location next to the train tracks (hence the name) behind the world famous Chatuchak Market in the north of the city. The market was founded by Pairod Roikaew, previously an antique dealer, in 2010. When it was forced to move in 2013 due to an expansion of the BTS Skytrain line, many thought it was the end for this unique venture. Thankfully they found the Srinakarin site and have gone from strength to strength. So much so they now have 3 markets.
Discovering The Train Market In Bangkok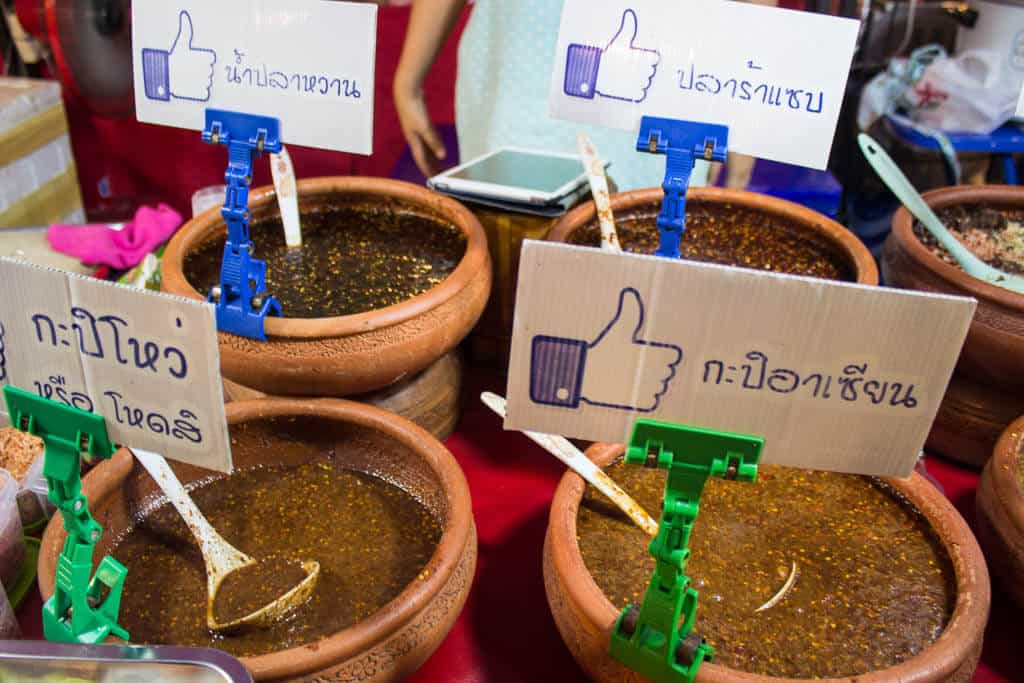 We are loving it here. The market has so much more than food stands. It is actually known for vintage gear from clothes to furniture to collectables. From what I can see it also predominately young Thais who are here too. Make that young hip Thais. They are all rocking up on scooters with funky hairstyles and cool clothing.
Karen is now back with some delicious Thai pancakes. There is a rock band playing just ahead of us with people milling around with bottles of Chiang and Singha beers. It is giving the market a festival vibe which I like. We have been here 30 mins and I can see that we have hardly covered any of the market.
It seems like in the middle of the market are stalls selling everyday household items like washing up liquid, cleaning products and general nik-naks with the food stalls confined to the edges. I am noticing in the distance shipping containers with stalls inside. Let's go and explore some more.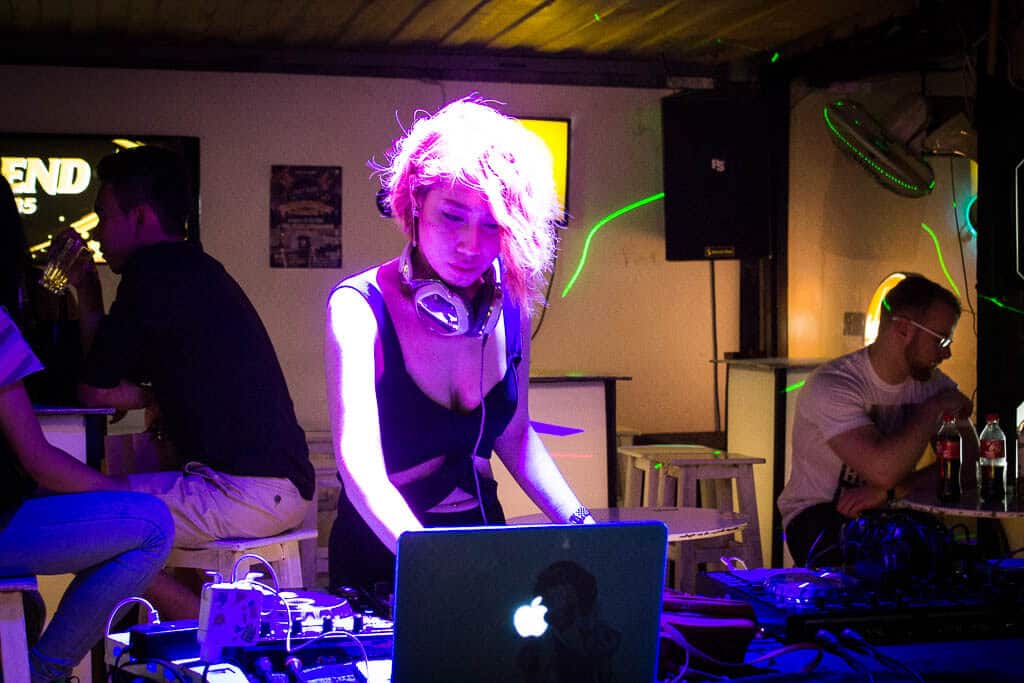 Now, this has confirmed why this market is considered the best night market in Bangkok. All along the far edge of the market are shipping containers that have been converted into bars, barbers and trendy boutique shops. I could be walking in Shoreditch. There is a DJ blasting out funky tunes in front of us. We are in one of the bars sipping delicious cocktails watching the world go by.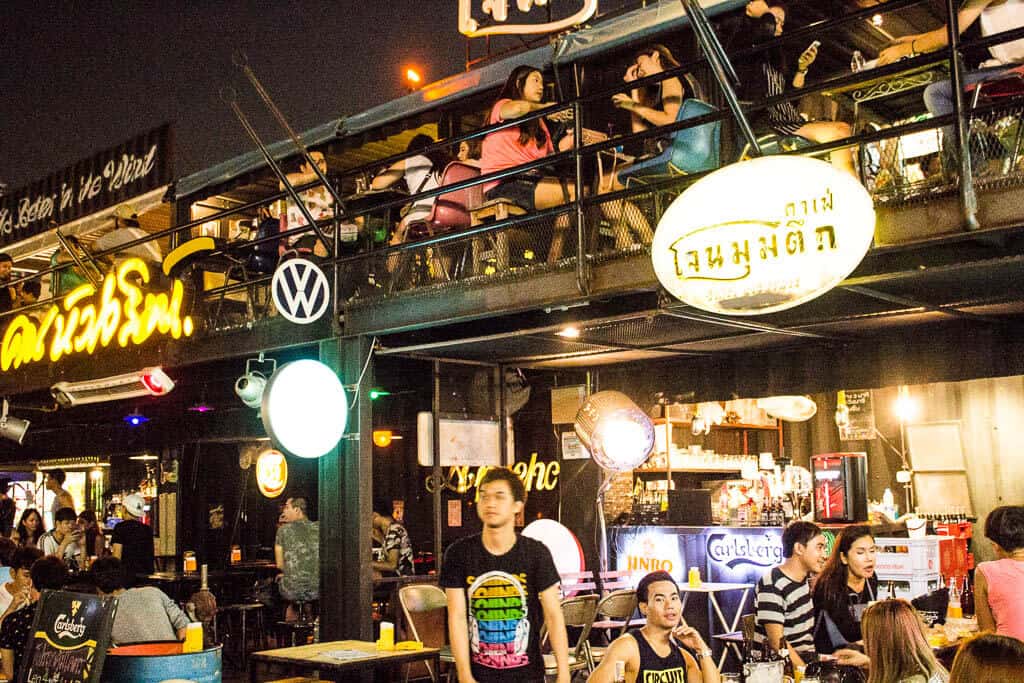 Bangkok is changing. This is our 6th or 7th visit and every time we come the city seems to grow more in confidence. It truly feels like a world city now. Like all modern metropolises, there are changes that we don't like and there are changes we do like. What we do like is seeing modern young Thais out having fun partying like all young people around the world on a Friday night. If you fancy doing the same, head down to Rot Fai Market tonight. You won't be disappointed. We are so glad we kept that flyer. Now, where has Karen gone this time?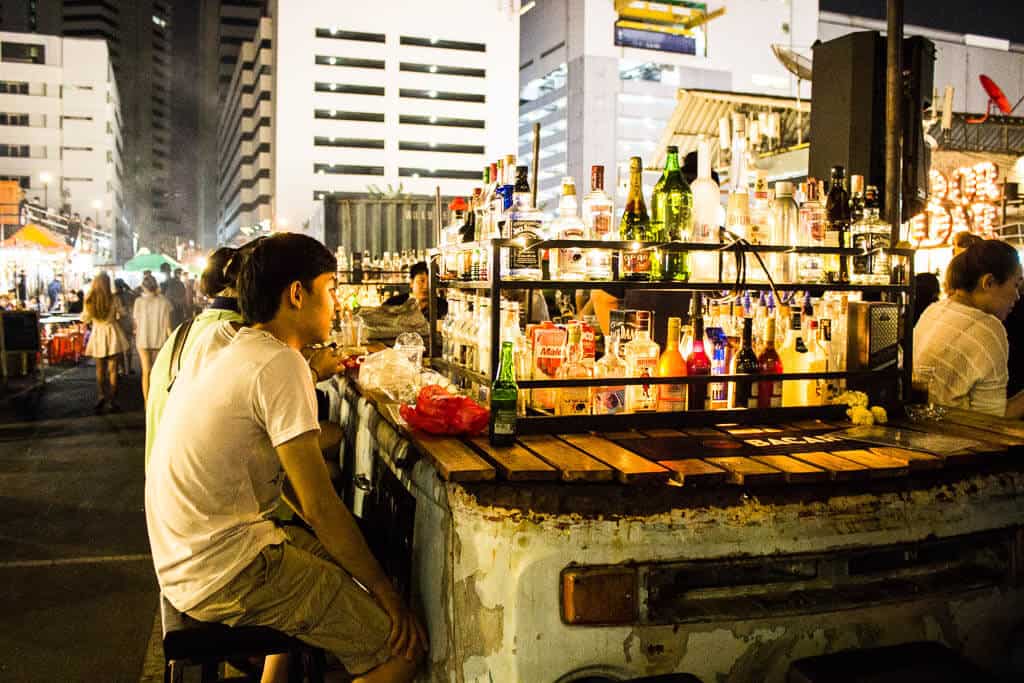 Rot Fai Market Information:
Talat Rot Fai Ratchada: (The one we visited): Open Daily, 5pm-1am; Ratchadaphisek Road (behind Esplanade Cineplex); signposted and easily reachable on foot from MRT Thailand Cultural Centre, exit 3; www.facebook.com/taradrodfi.ratchada
Talat Rot Fai Srinakarin: Thursday-Sunday, 5pm-1am; Srinakarin Road Soi 51 (behind Seacon Square shopping centre); take the BTS to Udomsuk, and then take a taxi or motorbike taxi for around 50-70 baht; www.facebook.com/taradrodfi
Talat Rot Fai Kaset-Nawamin: Thursday-Sunday, 5 pm 1 am; www.facebook.com/taradrodfi.kasetnawamin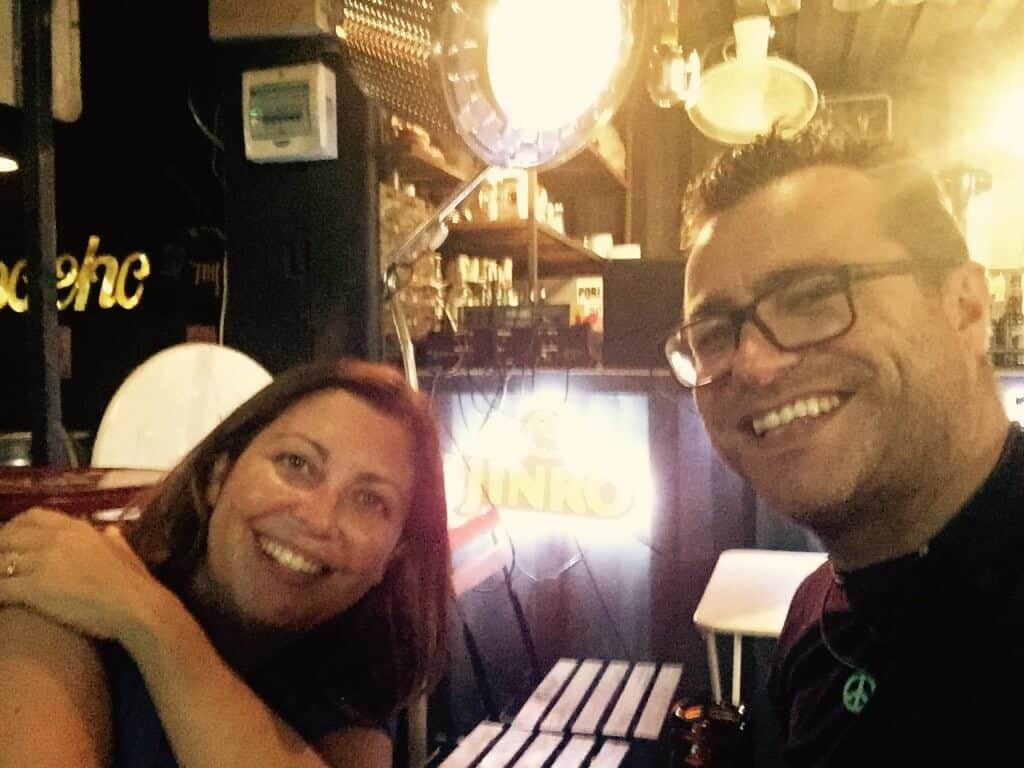 Do you know of any other Bangkok Markets that you would recommend? Please let us know in the comment section below.
As you can tell we are slighly obssesed with food, especailly when we are in Thailand. If you are heading to Thailand check out the 8 best food tours in Bangkok
You can thank us later.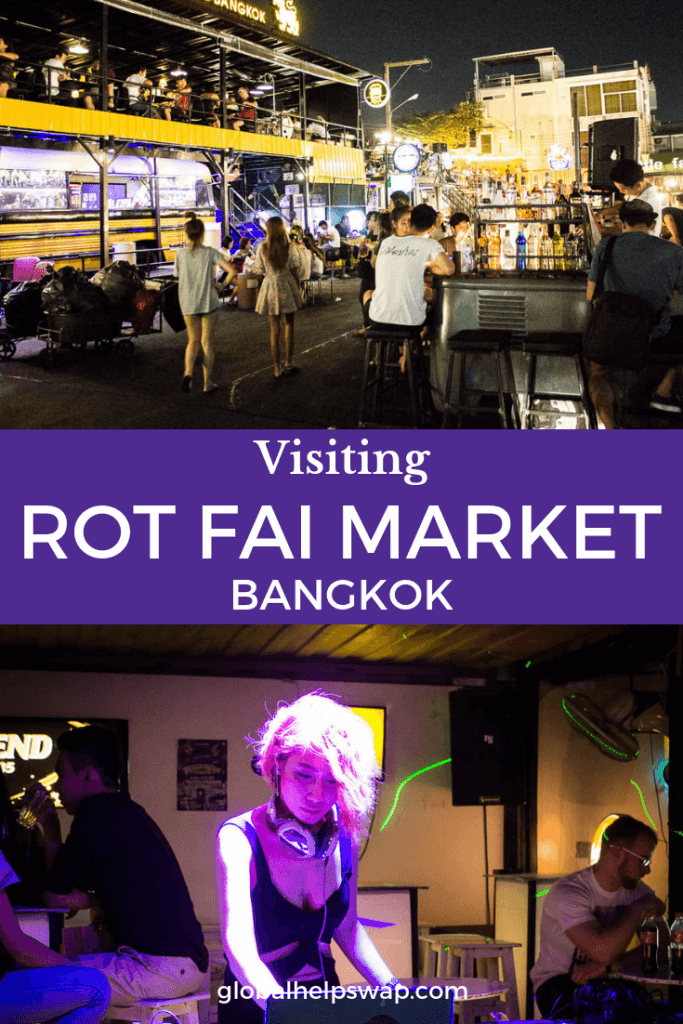 Are you heading to Thailand?, you might also like our other Thailand posts:
The 10 best places to visit in Thailand according to us – Do you want to visit the most beautiful places in Thailand? Discover our chosen 10 best places to visit in Thailand from spending a year in this country.
Khao Sok National Park: An unmissable destination in Thailand – Read our ultimate guide to Khao Sok National Park and why we think it's one of Thailand's unmissable destinations.
Why we have fallen back in love with Thailand – Why we have fallen back in love with Thailand. We have just visited Thailand for the 5th time. Read why our love for the land of smiles, grows and grows.
Elephant Nature Park: The best place to volunteer with elephants in Thailand – Are you looking to volunteer with elephants? Then check out Elephant Nature Park near Chiang Mai in Thailand to volunteer at this world-renowned place.
Khao Sok Floating Bungalows – If you are going to Khao Sok National Park we highly recommend you stay on Cheow Lan Lake for a few nights. Check out the best Khao Sok Floating Bungalows before you book your trip. Then kick back and enjoy the kayaking, trekking, wildlife & night sky.
5 reasons why you must visit Pai, Thailand – 5 reasons why you must come to Pai. Things to do in Pai, Thailand by globalhelpswap. A travel blog with tips on Pai.
Ko Lanta Travel Guide – A guide to Ko Lanta by globalhelpswap. Find out why we think Ko Lanta is the best island in Thailand.
How I got bitten by a snake in Thailand – This is the story of how I got bitten by a snake in Thailand and how I lived to tell the tale. The tale involves mopeds, drugs, Harry Potter and much more!
Elephant Rides in Thailand – A better alternative – Are you thinking of going on one of the many elephant rides in Thailand? Click here to read our story and find a much better alternative instead.
My Vipassana meditation retreat in Thailand at Suan Mokkh International – I spent a week on a vipassana meditation retreat in Thailand. Read to find out what I loved, what I struggled with and what I got out of it.
Sleeping in a homestay in Thailand – Read about our amazing experience of sleeping in a homestay in Thailand. Village life was simple but beautiful and we can't wait to try it again.
#LoveYourTravels