Khao Sok National Park
I dived into the cool crystal clear water and emerged feeling cooler and exhilarated. All around me were karst formations protruding from the lake as if a child had drawn them. I slowly swam over to a huge piece of driftwood that was conveniently placed about 100 meters from the jetty from where I just dived. I climbed on to it and took in my surroundings. Wow, I thought, nature truly is magical. The best thing about all this was bar a few other people, Karen and I had the lake in Khao Sok National Park to ourselves.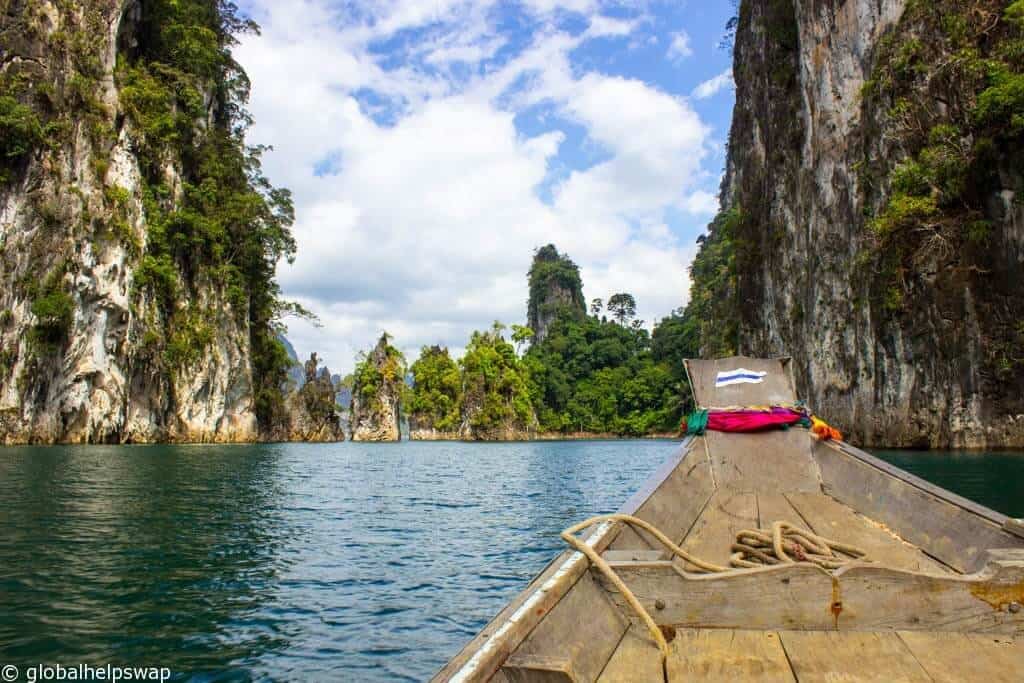 In our previous five visits to Thailand, we never made it to National Park. That was a mistake. The area has now become one of my favourites in the whole country. Apart from the lake, there is great trekking, canoeing and wildlife watching. If you are visiting Thailand we highly recommend you visit. This is one of our favourite places to visit in Thailand.
How to get to Khao Sok National Park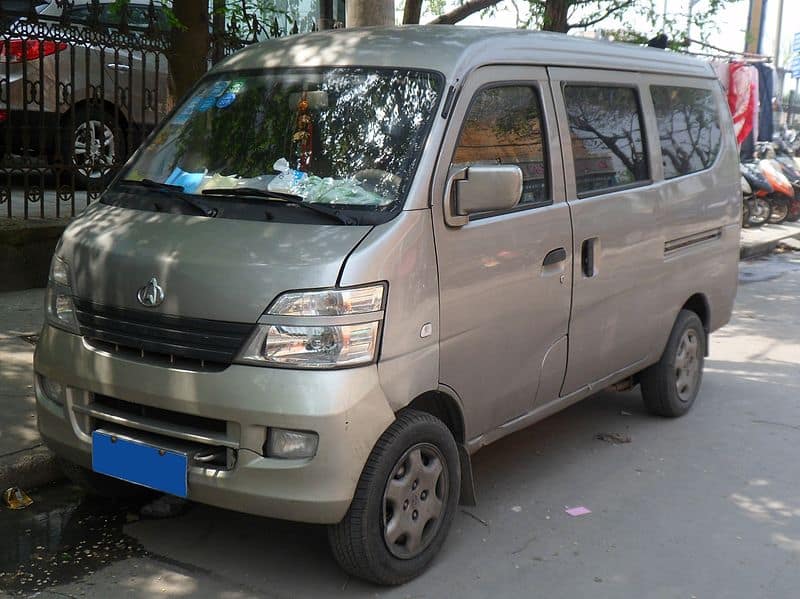 The closest airport and train station to Khao Sok National Park is at Surat Thani. Directly across from the train station are companies that sell minibus tickets to Khao Sok village.
Mini Bus from Surat Thani Train Station to Khao Sok Village:
Price – 250 baht
Journey Time – 1.5 to 2 hours
Departs at 06:30, 07:00, then every hour until 16:00
Public Bus from Surat Thani Train Station to Khao Sok Village:
Price – 120 baht
Journey Time – 2 hours
Departs every hour between 06:15 and 18:15 and drops you off at the access road to Khao Sok along Rte. 401. You will have to walk into the village from there.
Tickets can be purchased at the Surat Thani Bus Station located at Talat Mai 31 or at a stall on the train station's bus stop.
From Surat Thani Airport to Khao Sok Village
Get a shuttle from the airport to the train station and then follow the instructions above.
Accommodation in Khao Sok National Park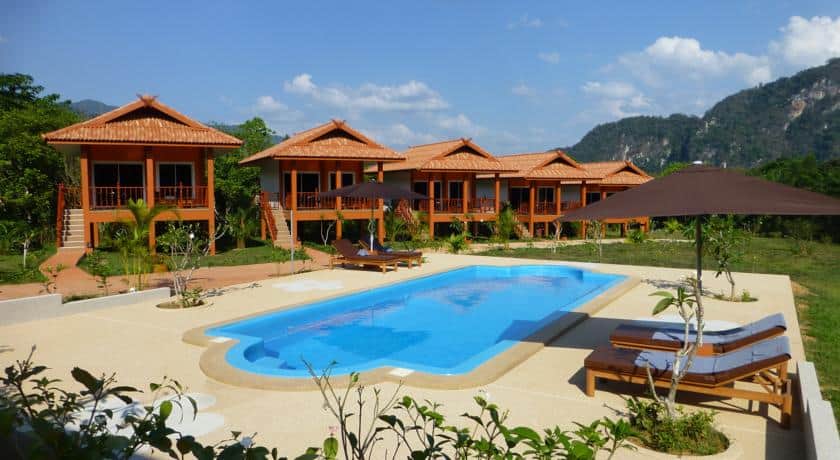 Khao Sok has accommodation to suit all budgets, from the high-end to backpacker-friendly. Below are choices in 3 different categories; budget, mid-range and high-end.
Budget: Khao Sok Hostel – This place has really good reviews. The beds are comfy and the staff are super helpful.

Mid-range: Khao Sok Jasmine Garden Resort – This is the place we stayed in and we loved it. The bungalows are beautiful, the food is delicious and the pool is a godsend after trekking all day. Highly recommended.

High-end: The Hotel Khao Sok and Spa – Another place that is highly rated. 5 star service all round with modern bungalows with great views.
Khao Sok Village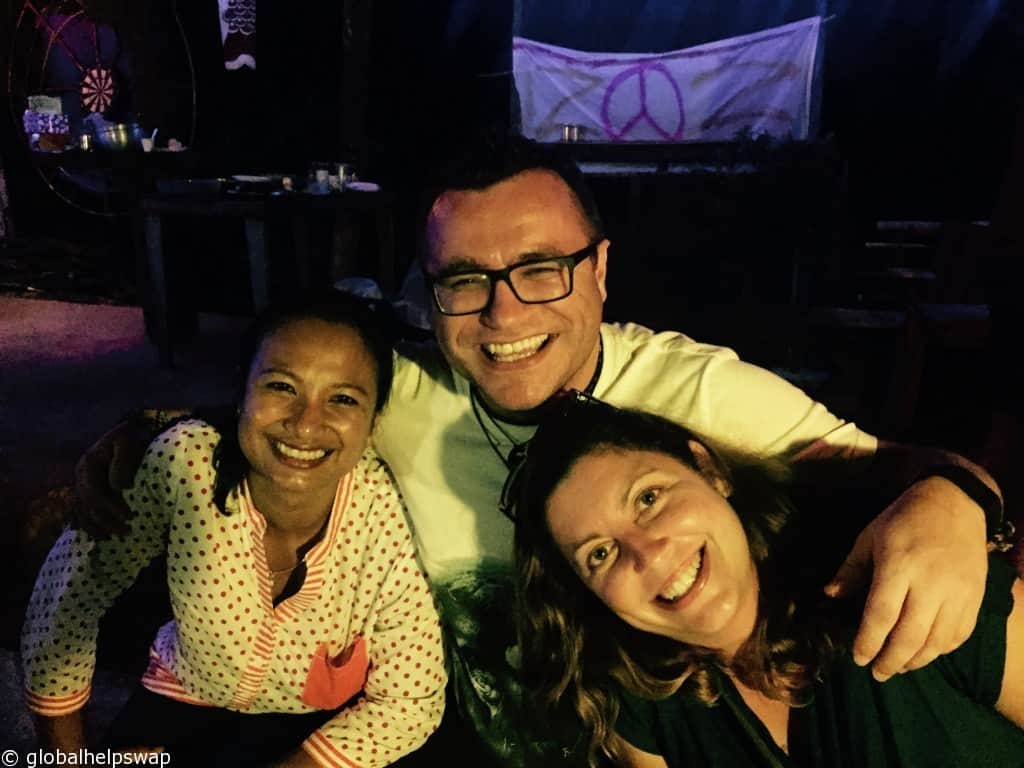 Khao Sok village is a funky little place with a few chill-out bars, restaurants and shops. Everything is within walking distance from most guesthouses and hotels so you won't need a taxi. We had one memorable night in the Chill Out Bar where we were invited to a Ladyboy's birthday party with another couple staying at our bungalows. It was a very surreal evening. We were entertained by the very drunk ladyboy who was singing along to Bob Marley with her friends as backup. In the distance, I could see the mountains and rainforest. I was not expecting the soundtrack to be quite so "out there".
Fees/Permits for Khao Sok National Park
You can pay for your fees directly at the entrance to the National Park. The entrance is valid for 24hrs. Most tours will include the park entrance fee so keep that in mind before buying a ticket directly.
Kayaking in Khao Sok National Park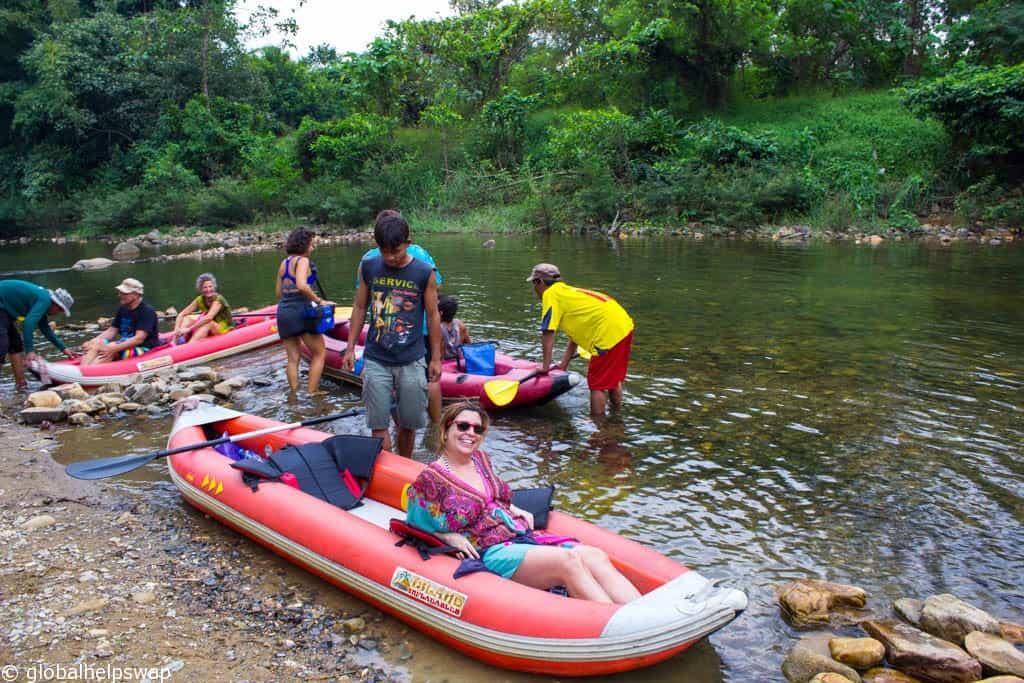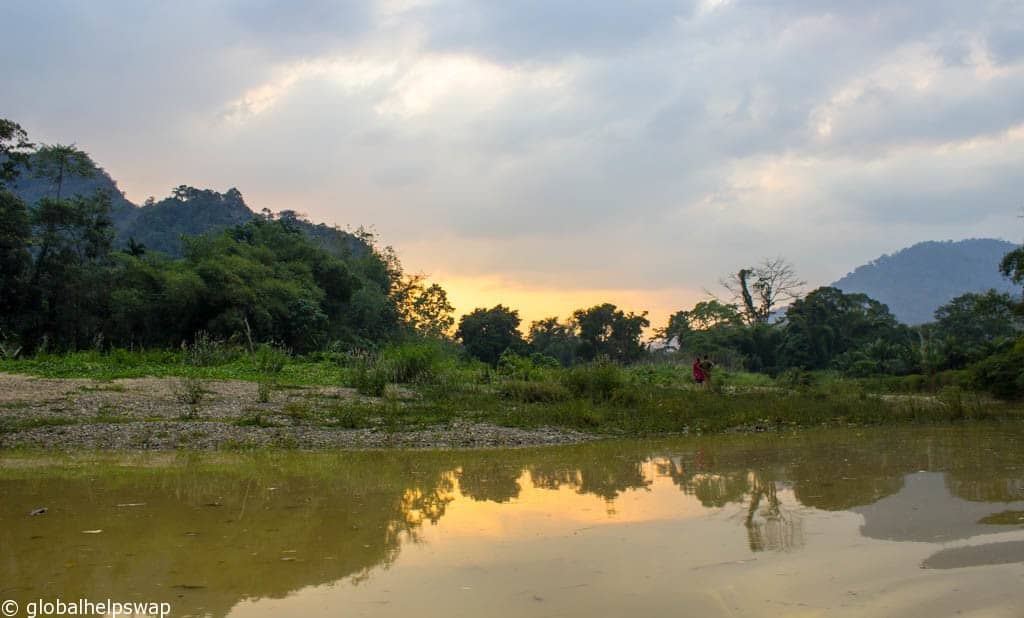 On our first afternoon, we booked a relaxing Kayaking trip down the Sok river. It was relaxing because we had an English-speaking guide Kayaking for us. It was just what we needed after an overnight train ride. The tour lasts around two hours and you will get to see plenty of wildlife like birds and snakes. The views are stunning too so remember to take your camera.
The price is roughly 800 baht
Duration is around 2 hours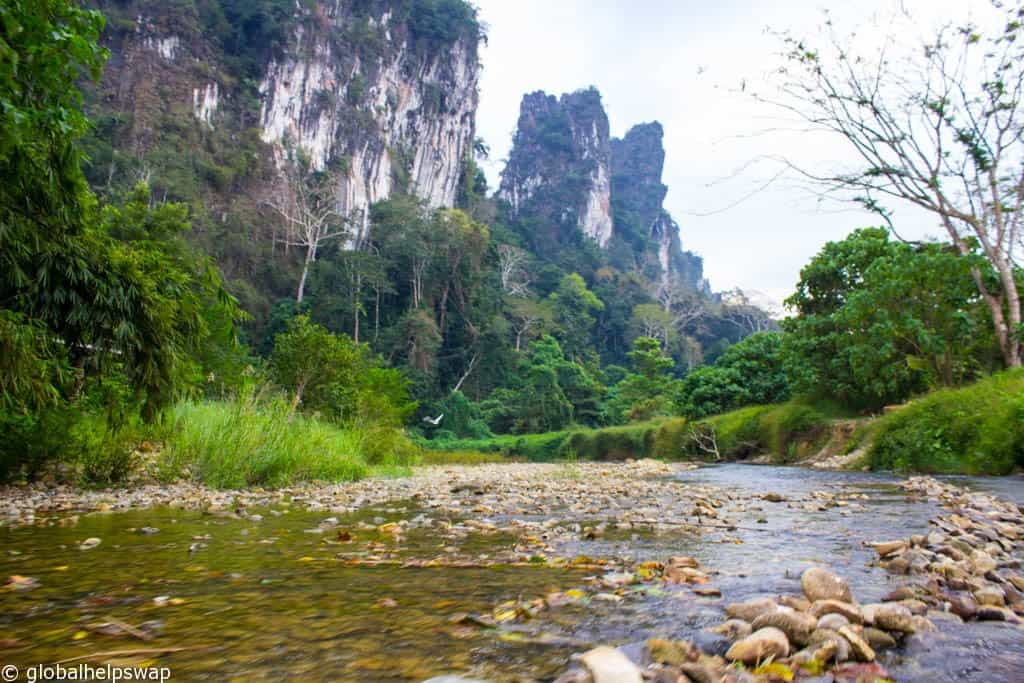 Trekking in Khao Sok National Park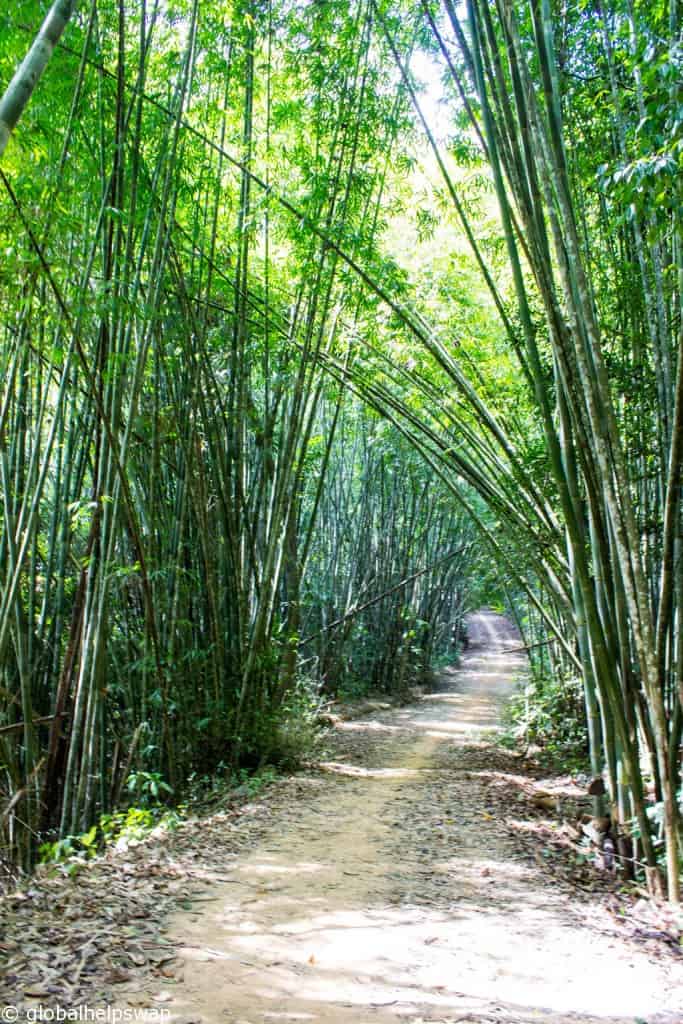 We did our own trek in the park as we wanted to save our money for Cheow Lan Lake. You are allowed to trek without a guide up to the Guide Huts and cafe which is around two hours into the park. The trail was clearly marked and thankfully mostly in the shade as it was hot. Make sure you take water with you. We got to see monkeys and plenty of birds on our trek. If you want to trek further into the jungle to see the waterfalls then you will have to book a local guide. Make sure you book an accredited guide that has proper insurance.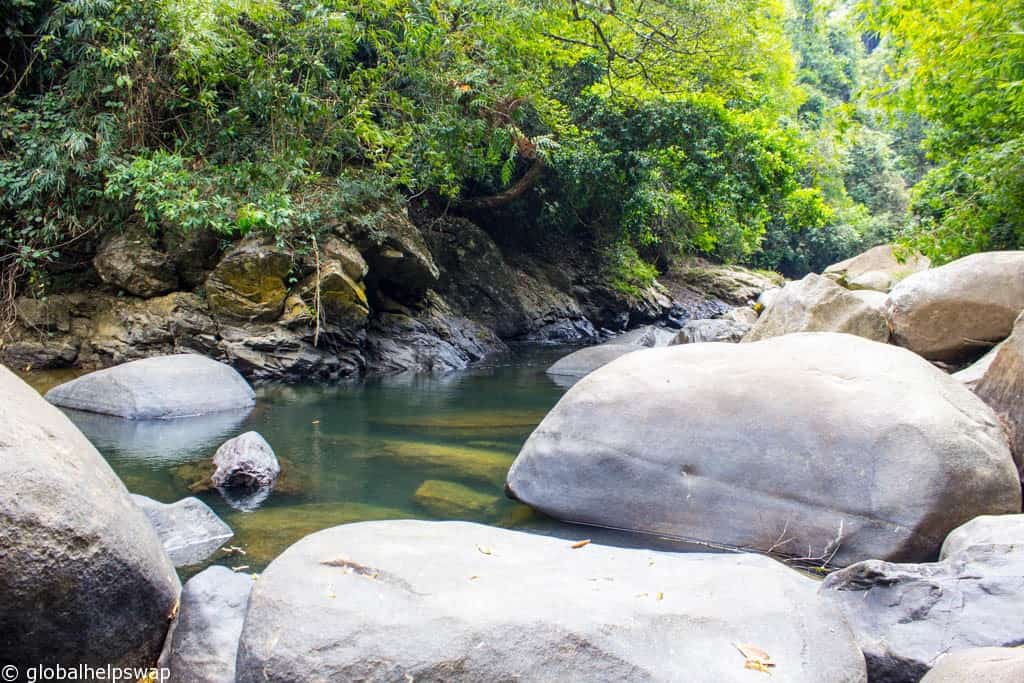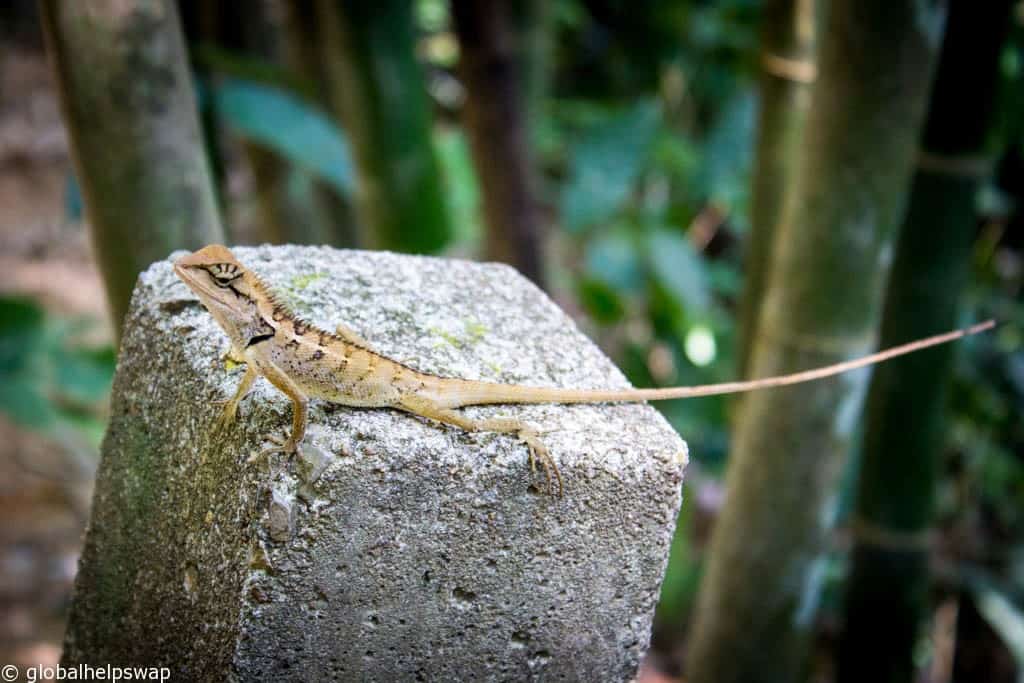 Half-Day Trek with Guide – 600 baht per person
Full Day Trek – 1200 baht per person
Overnight Trekking and Camping – 2500 baht per person
Cheow Lan Lake, Khao Sok National Park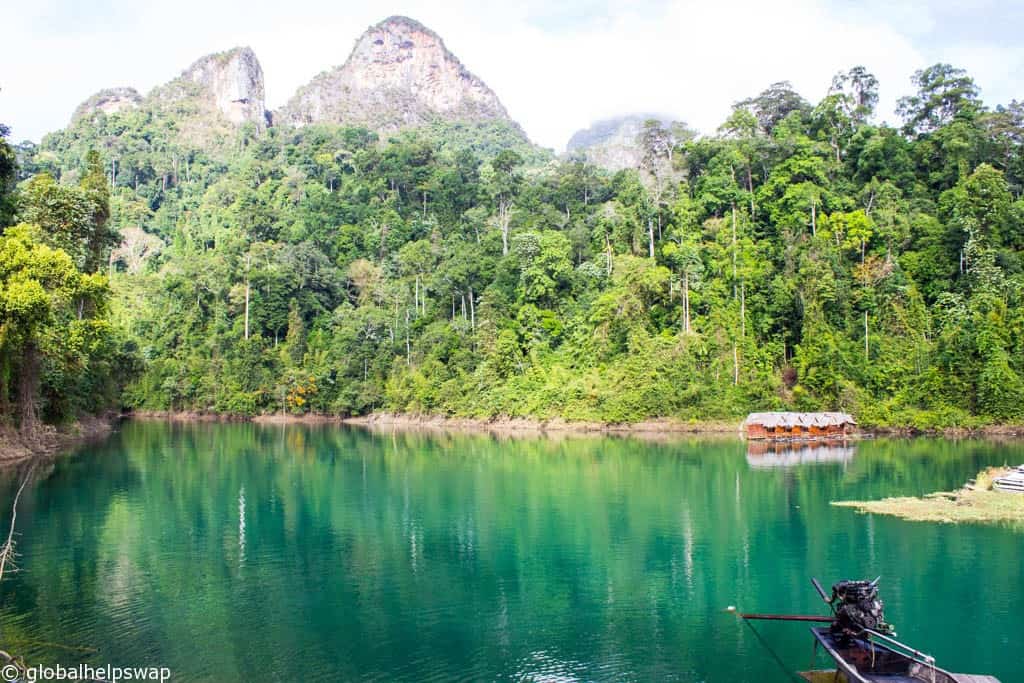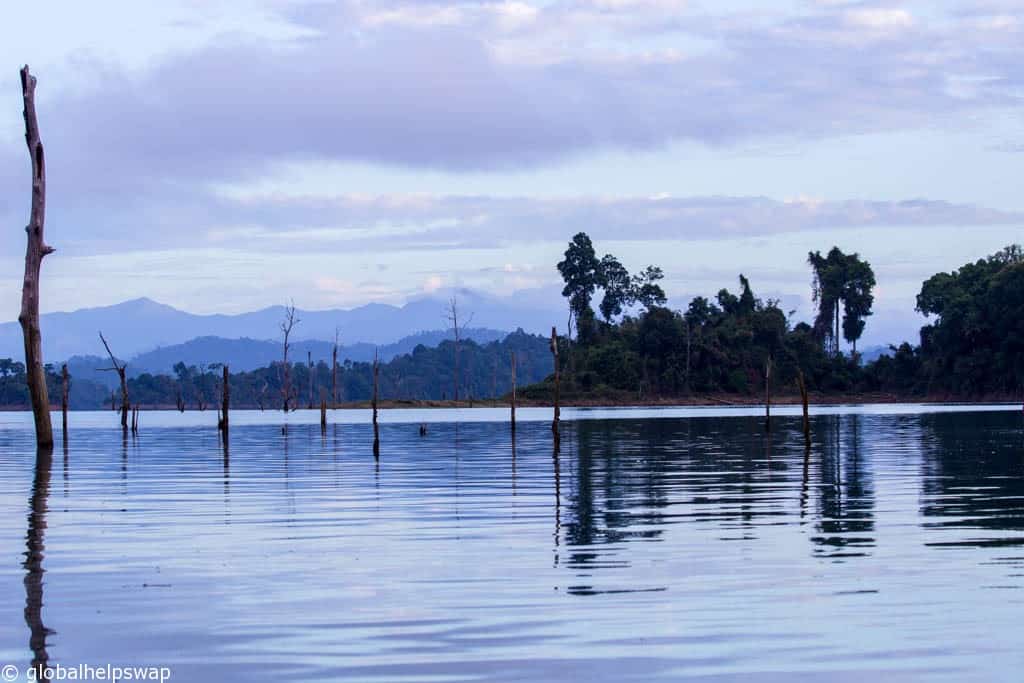 By far our favourite part of visiting Khao Sok National Park was staying overnight on Cheow Lan Lake. I don't think I have ever taken so many photos in 24hrs. Cheow Lan Lake is roughly two hours drive away from Khao Sok Village. It is actually an artificial lake created in 1982 to help make a damn to produce electricity. 385 families had to be resettled when the lake was created. They were all given land and monthly settlements for the inconvenience.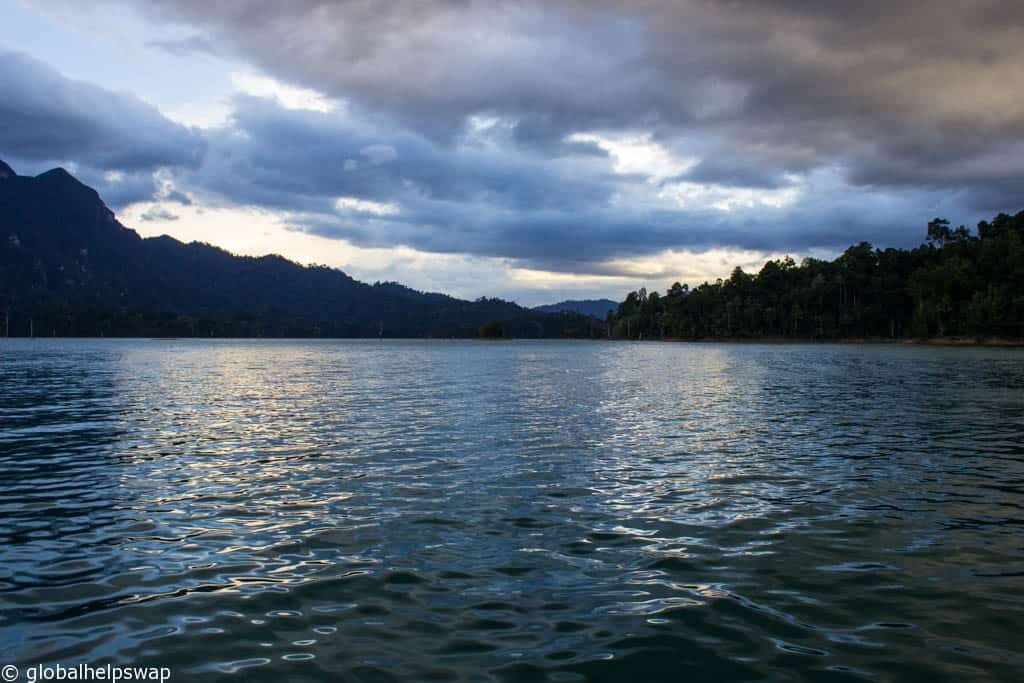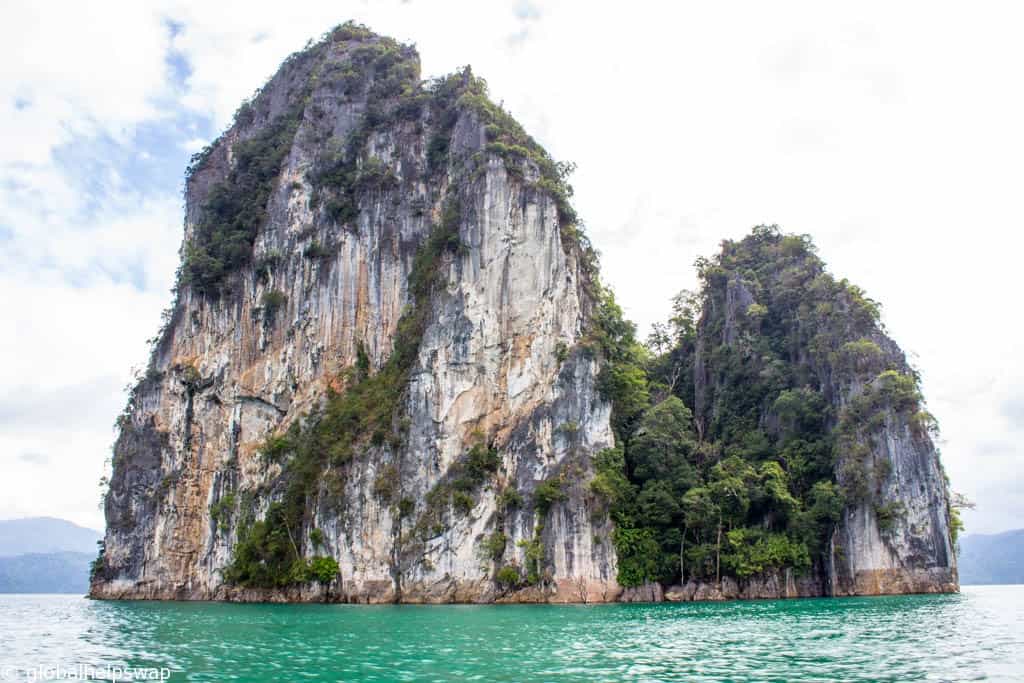 The lake is full of stunning karst formations that will soon make your camera's memory card full. You can either opt to visit the lake for a day or stay overnight as we did. Your accommodation will be "floating bungalows" which are basic huts on floating beams. When I say floating bungalows, don't get ideas of water bungalows in The Maldives. These places are basic. Think mattress on the floor basic. However, all of the 17 different floating bungalow sites scattered around the lake are owned by the original families of the village that was sunk in 1982 so at least you know your money is going to something worthwhile.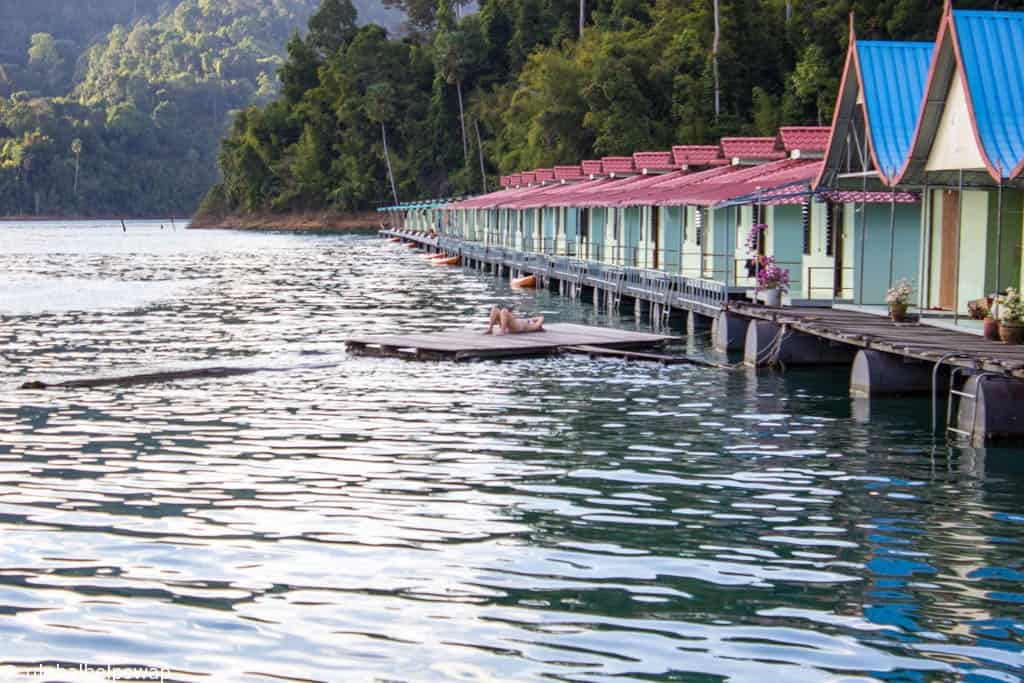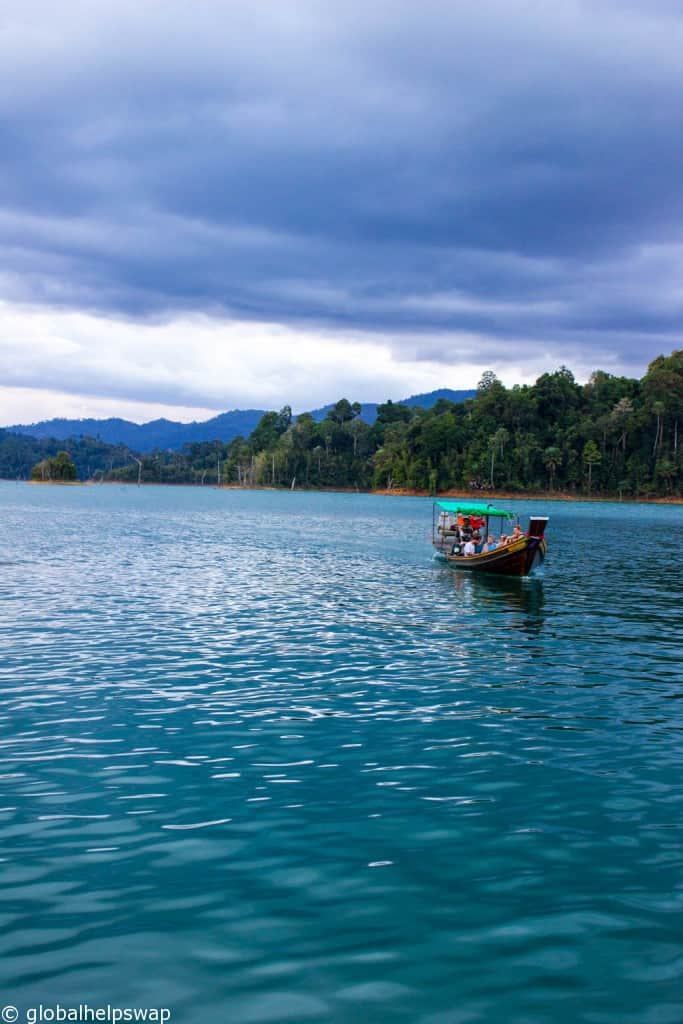 However, you don't visit Cheow Lan Lake for its comfort, you visit to be in the presence of majesty. Waking up and watching the sunrise over the lake will live with us forever. As will kayaking alone to the little beaches across from our bungalow. Watching the Gibbons have breakfast high up in the tree tops wasn't too bad either. Come to think of it, star-gazing on the lake at night was pretty cool too, oh and trekking to a cave full of snakes and bats. Have we sold it to you yet? We highly recommend you book to stay overnight on the lake. Yes, the accommodation is basic but the rewards are well worth it. The bungalows we stayed in (Smiley's) had en suite bathrooms and seemed to be slightly better than other more basic bungalows.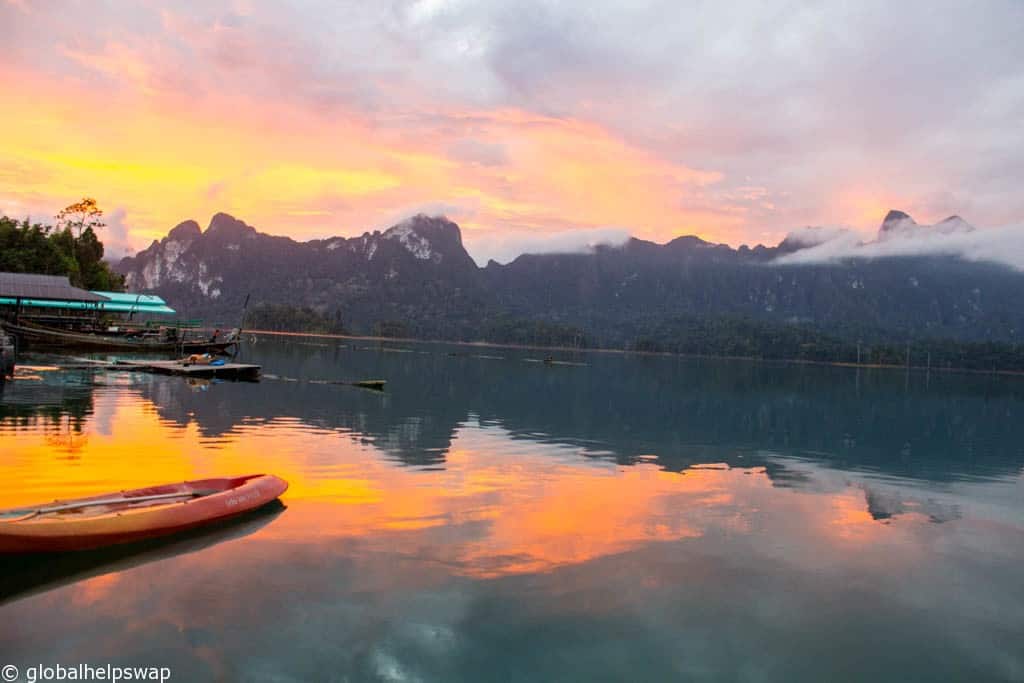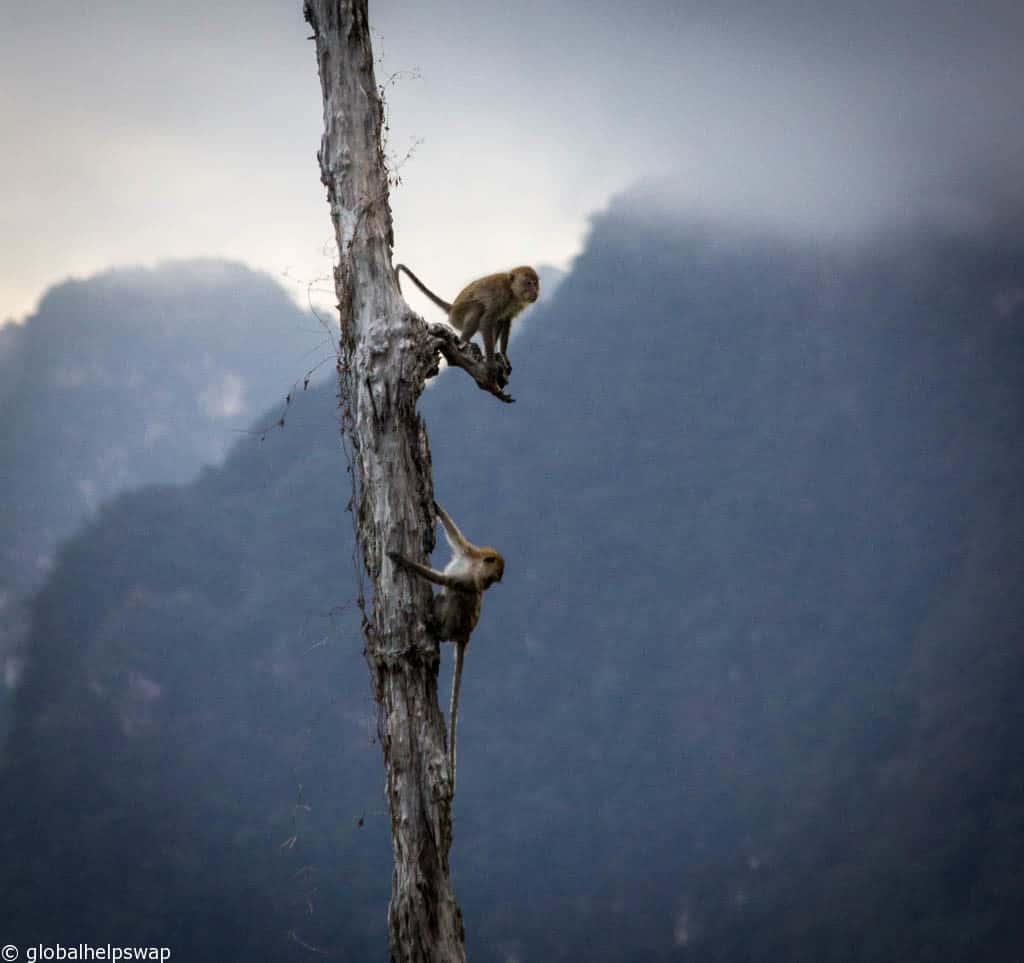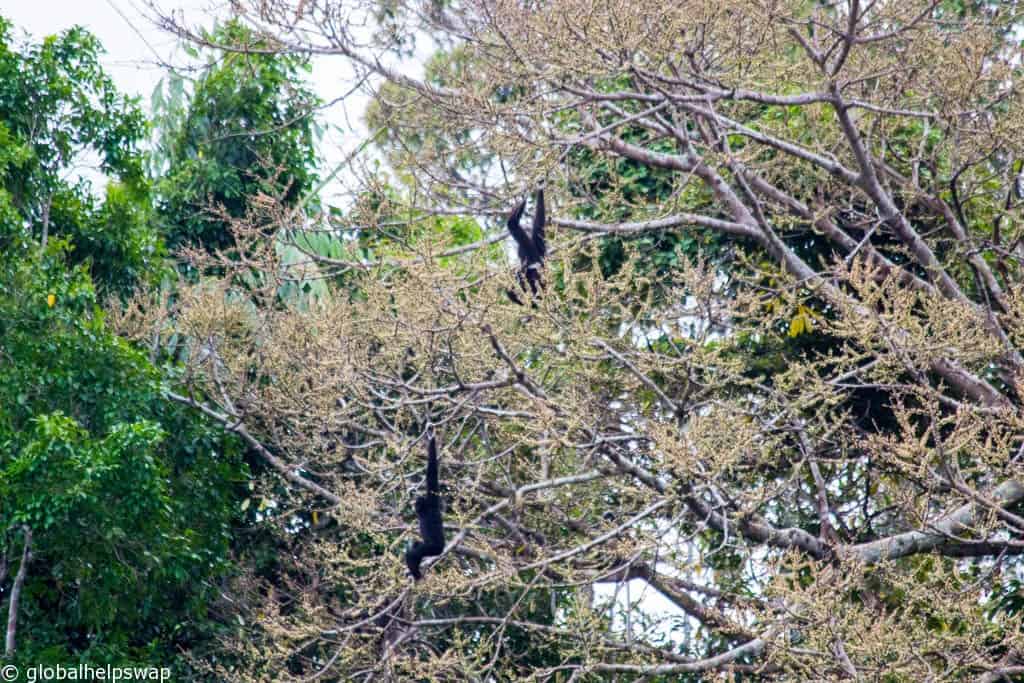 A 2 day 1-night tour costs 2500 baht each which includes:
Transfers from the village to the lake.
Park Fees
Lunch, Dinner, Breakfast, Lunch
2 treks
A Night Safari
A Morning Safari
Accommodation for 1 night on the lake
Packing List for Khao Sok National Park
Here is a packing list of what you will need to visit the park:
Have you been to Khao Sok National Park? What did you think of it?
If you liked this post please share it. 
If you liked this post you might also like:
Elephant rides in Thailand: A better alternative – Read this before you ride an Elephant!
How I got bitten by a snake in Thailand – Read about my lucky escape.
#LoveYourTravels