I was first to wake up and I gingerly stepped over Karen as I made my way to the door. Stepped over is the correct term by the way as we were sleeping on a mattress on the floor. I quietly walked across the main room's floor and headed for the door. The bright sunshine blinded me as I walked down to the bathroom. After waking myself up with fresh cold water, I sat on the steps watching the village slowly wake up too.

Like everywhere in Thailand, it seems like the day cannot properly start until after you have swept away the fallen leaves. We have seen it in Pai, Bangkok, Ko Lanta and many other places. It doesn't matter if it's a 5 star resort or a humble little street food stand, everybody starts the day by sweeping. Mae Kampong was no exception. I don't know why but there is a lovely soothing vibe from hearing the gentle swoosh of a broom sweeping up leaves.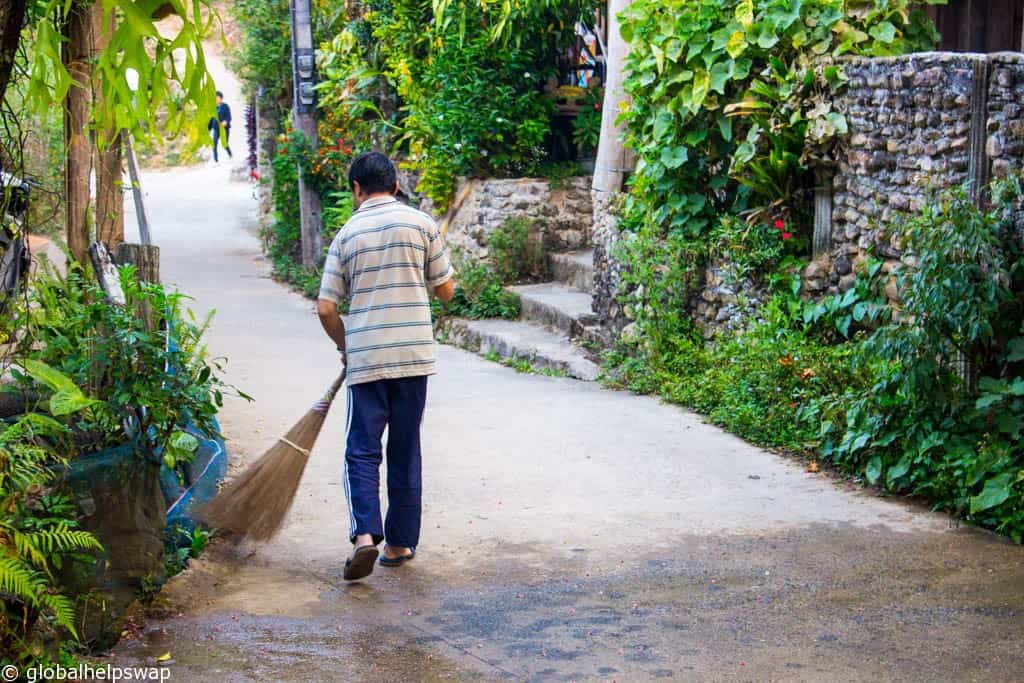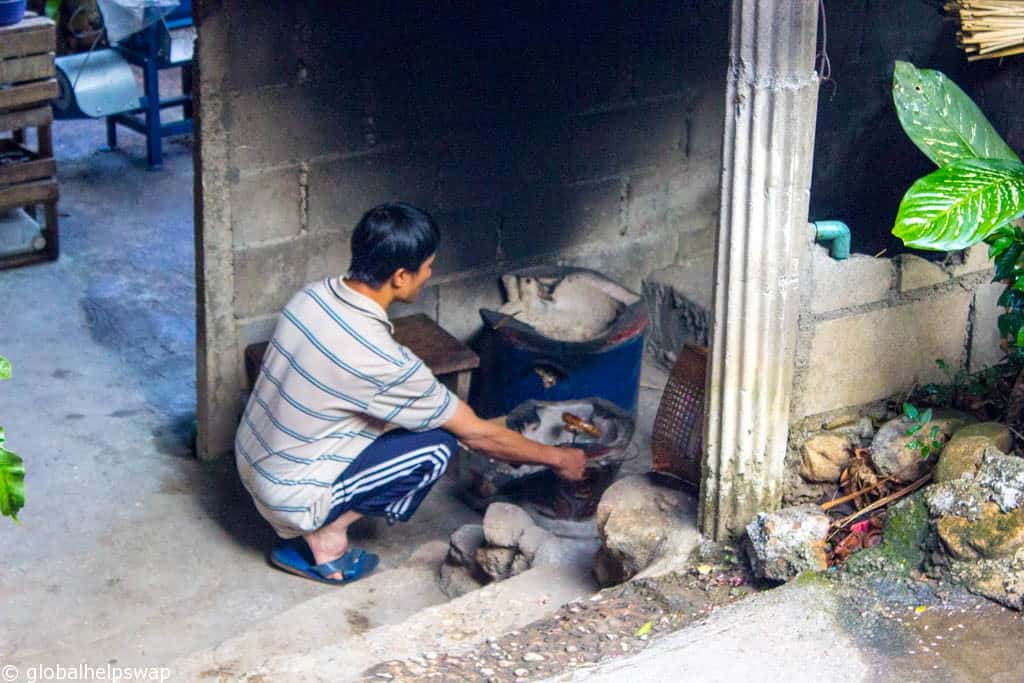 After the villager swept he entered the kitchen area of our homestay and started a fire. I had no idea who he was as the owner of our homestay was a woman with no husband or children. It did not surprise me though as Mae Kampong is the type of place where doors are always unlocked. He asked me if I would like a coffee which I agreed to instantly. It was a beautiful scene watching him put the coffee pot on the open fire. In the background the sun was slowly rising over the surrounding hills and the villagers were going about their day-to-day business. I wondered to myself if I ever could live such a simple life. Probably not I concluded, I like variety too much. It's lovely to experience the simple life now and then though.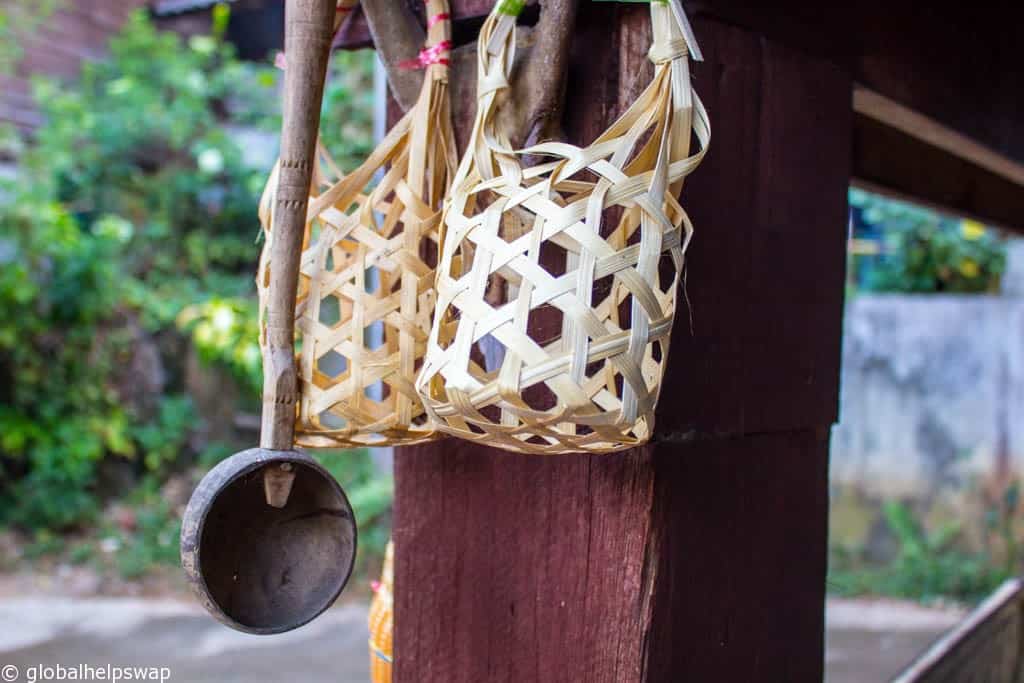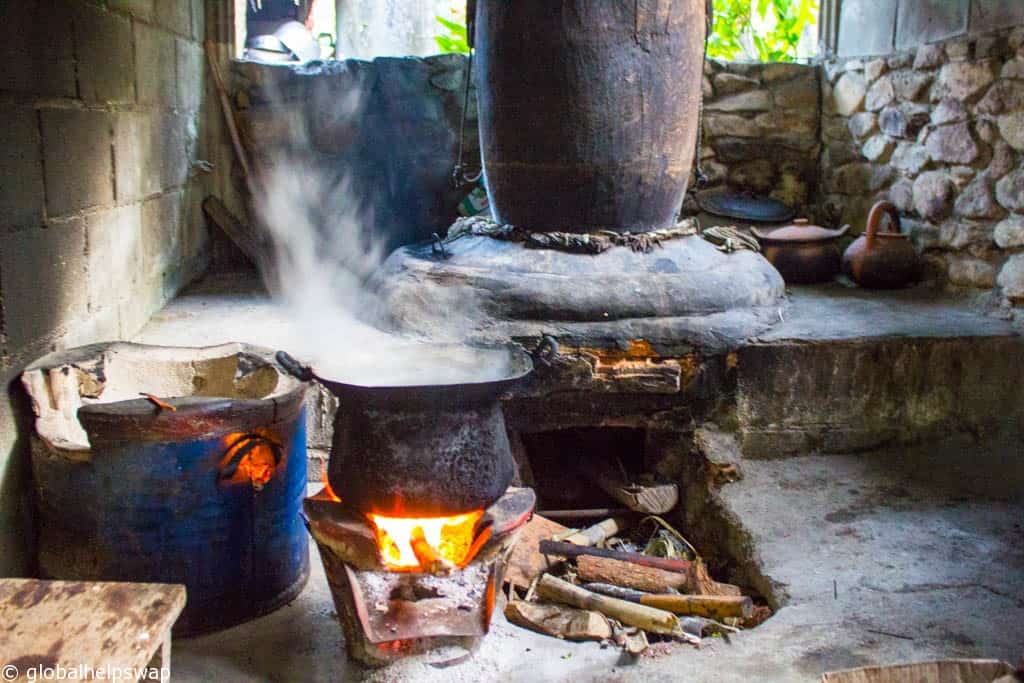 Eventually Karen & Roy rose their weary heads and we went down for breakfast. Like the previous night our homestay host had prepared a feast for us. Almost all of the ingredients grew within a 15 mile radius of the village. The coffee that I gulped down earlier was actually grown by our host. Roy is fluent in Thai so he kindly translated for us the many questions we asked our host. There were 6 of us bloggers staying in the village and when our host found out that she was one of the chosen people to host us she felt very honored to be looking after "VIP's". Bless her, if she only knew what us bloggers are really like! In reality we were the ones that were honoured. It was such a privilege to be allowed into someone's home and get a small sample of how they lived.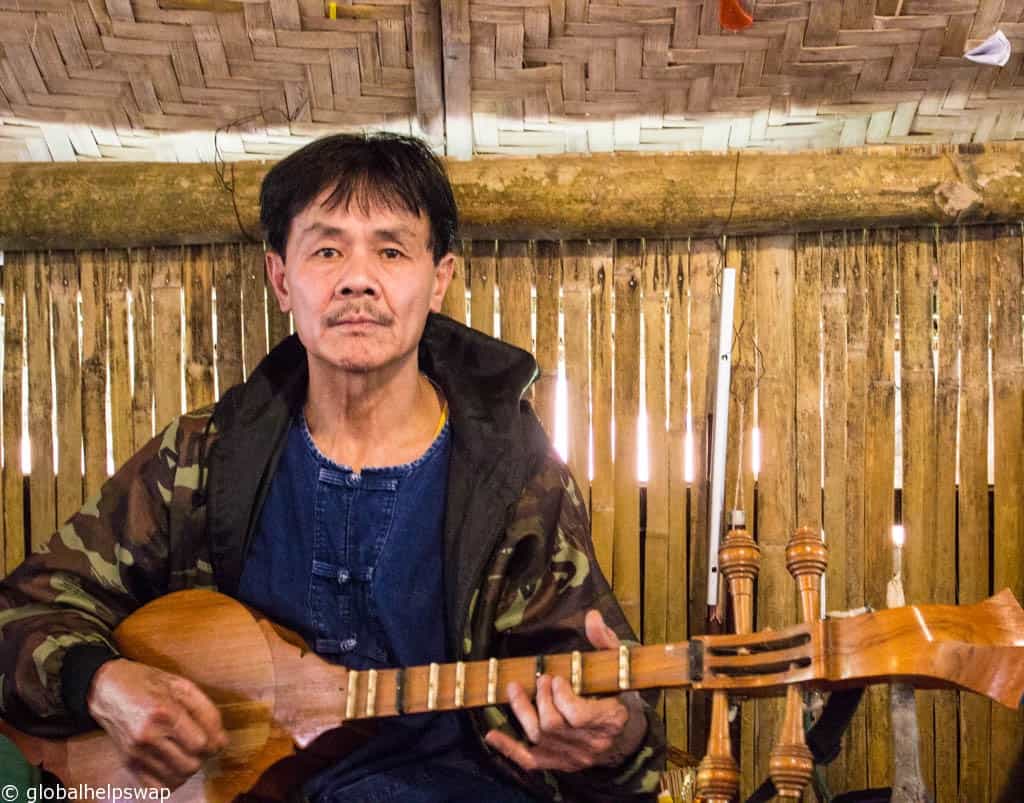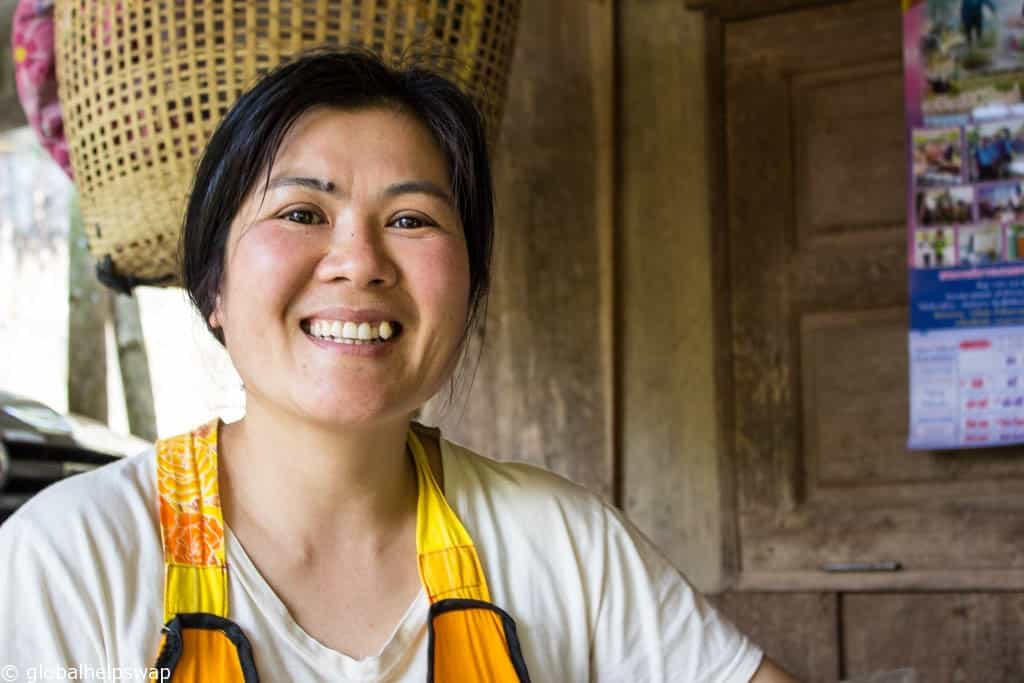 The previous day was exhilarating and insightful. After ziplining around the forest for 3 hours we had a more gentle experience meeting the locals in the village. First we had a delicious lunch of local dishes with musicians playing in the background. Then with the help of our conservation expert we got to meet the villagers. We learnt how tourism has impacted them in a positive way because of the work Flight of the Gibbon is doing. From homestays to handicrafts the villagers are making a decent living because of tourism. We learnt that in the past a lot of the young would leave the village to find work. Now that has changed because of the opportunities within the village itself. A perfect example of responsible tourism in action.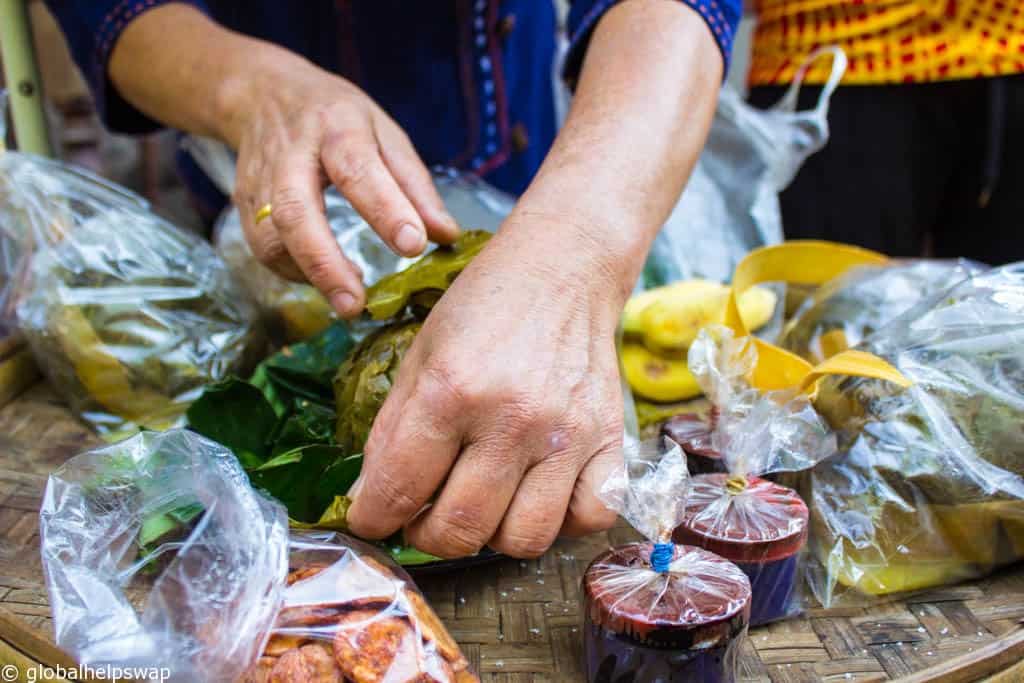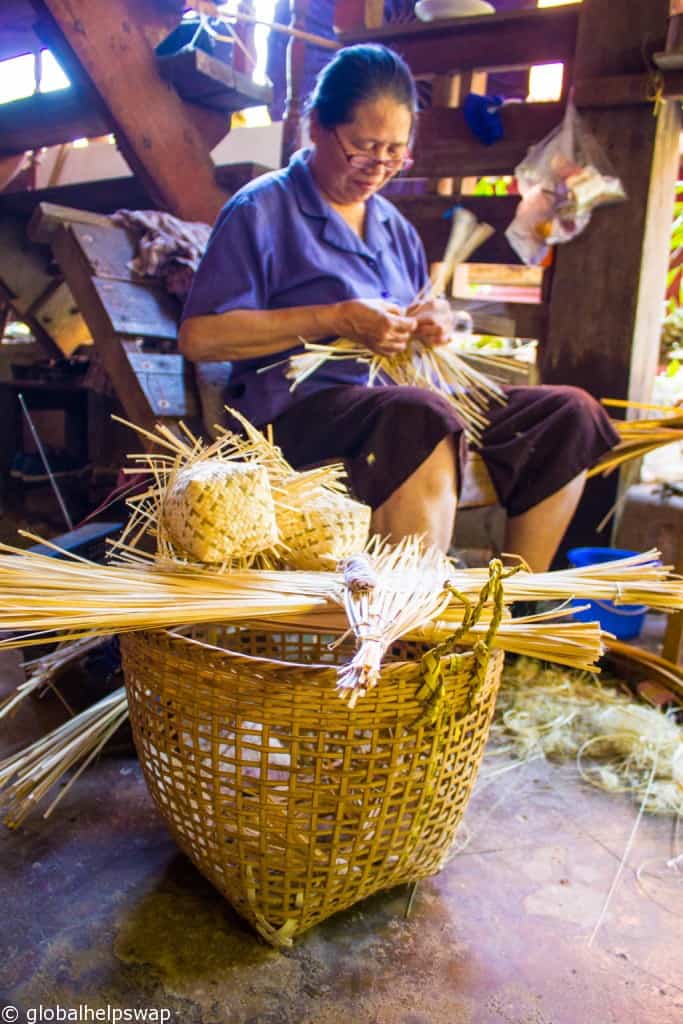 We started the evening in a very relaxed fashion. It's not surprising really after a one hour massage! Our host then provided us with a feast fit for a king. There was so much food, I didn't know where to start. I soon did though and enjoyed every dish she presented us with. As we slowly worked away through each dish, our host would top them up insisting that we hadn't eaten enough. The generosity of people never stops amazing me. It's one of the common themes of our travels no matter what country we visit.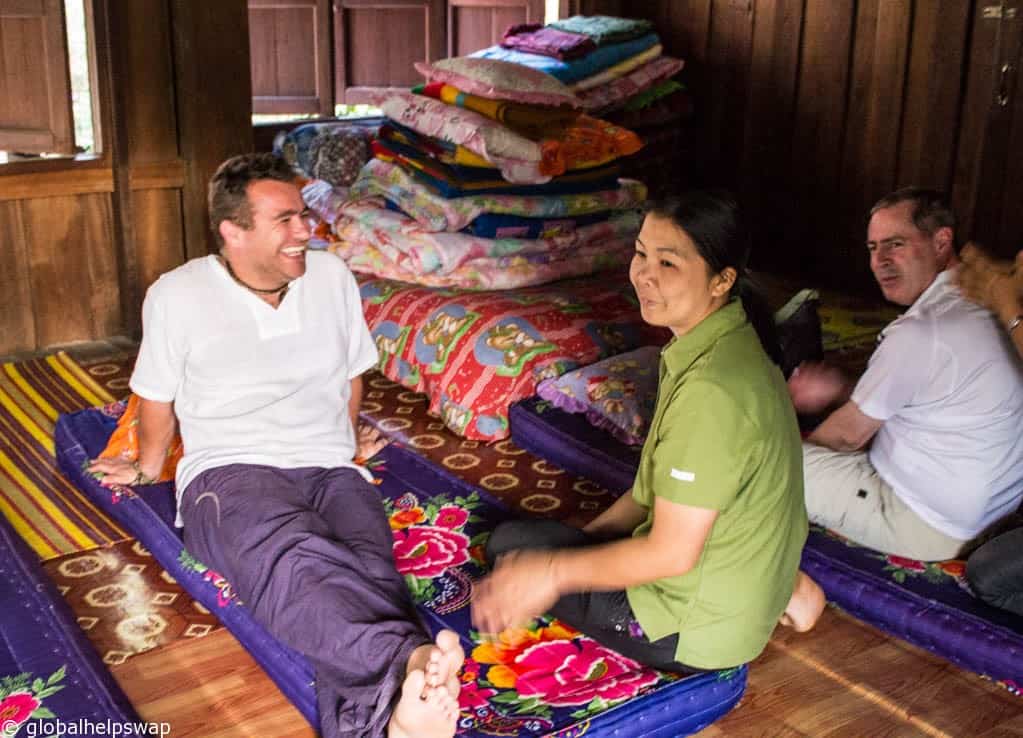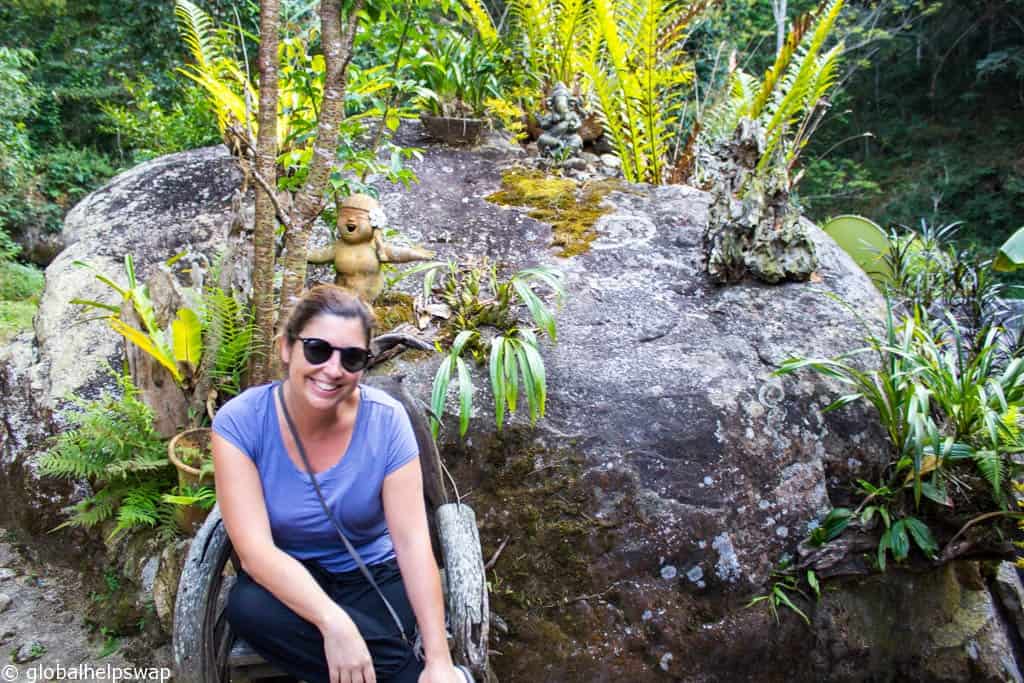 After our feast we met up with the other bloggers and walked around the village to let our food digest. Sadly a few days before, one of the villagers had died so most of the villagers were at his funeral. It was another example of how close-knit village life is. We ended up sitting on some steps swapping travel stories. Who needs fancy bars when you can sit outside under the stars?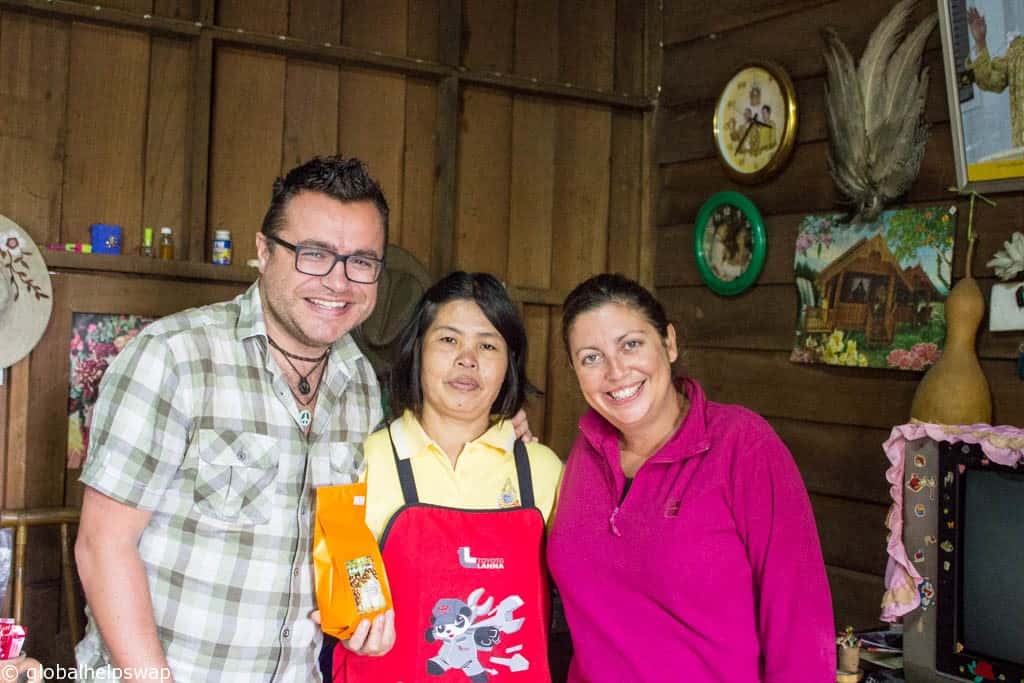 Even though we had only one night in the homestay, it turned out to be one of the highlights of our 10 week Thailand trip. They say to really know a country you have to get to know its people. There is no better way to do this than staying in a homestay. The Thai people are generous, gentle and fun. Why not discover this yourself by staying in a homestay next time you visit Thailand?

Why we worked with Flight of the Gibbon
Flight of the Gibbon is a company that truly gives back to the people and environment it works in. Check out these impressive statistics:
35,000 trees planted in Thailand
Reintroduced the White Haired Gibbon back in Mae Kampong. The breeding pair have had their first offspring and are doing well.
They are going to reintroduce two species of hornbill birds that vanished from forests around Chiang Mai 40 years ago
Planted 5,000 new trees in Cambodia in one year
Reintroduced the White Hair Gibbon in the forests of Angkor
They have set up community projects in Mae Kampong and Angkor helping the villagers with income, education and environmental studies.
To book a tour or homestay with Flight of the Gibbon just click this link: Take me to the trees
Thank you Flight of The Gibbon for inviting us on your wonderful tour. It was one of our highlights of our trip to Thailand. Keep up the great work.