Elephant Rides in Thailand – a better alternative
I wanted to share a story about our experience at the Elephant Nature Park in Chiang Mai, Thailand and help you discover a better alternative to the many elephant rides in Thailand. Ethical travel is something we care deeply about and we hope to convince you to find a better alternative to riding elephants in Thailand.
It started out with tears…
The four of us, Paul's parents, Paul and I, sat in the van with tears streaming down our face. This was meant to be a highlight of our trip to Thailand, how on earth did we all end up in tears?
We were in Chiang Mai, on our way to the Elephant Nature Park, a centre set up to provide sanctuary to rescued working elephants.
The day had started with lots of excitement. We had kept the trip a secret from Eileen, Paul's mum. Like most visitors to Thailand, seeing an elephant was right at the top of her 'things to do in Thailand' list. We had told her that it was not possible to see elephants in January as it was mating season and this made it dangerous to be next to them. This was a complete fabrication on our part, but it did make it even more exciting when we revealed our plans for the day.
So there we were, on our way to the park when the driver put on a video that gave us some history about the elephants we were about to meet. We saw harrowing footage of a young elephant being tied up in chains and kept immobile for over a week, while men poked it with sharp hooks. The barbaric practice is done to break the elephant's spirit so that it learns to obey its master, or mahout.
As I watched this I deeply regretted going on one of the many advertised elephant rides in Thailand 10 years before. Like you, I had no idea what these incredible beings have to go through in order for us to be able to ride them.
Jokia's Story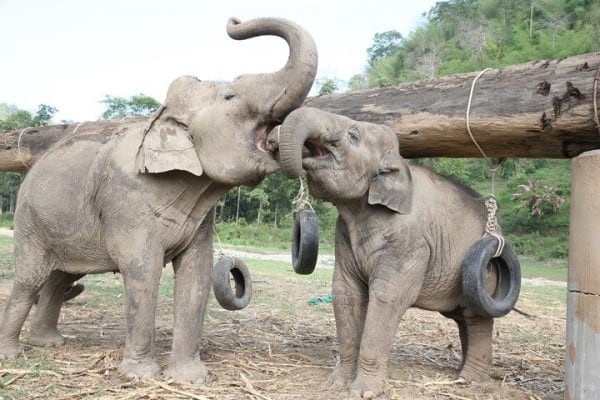 Photo by: Elephantnaturepark.org
We were already very close to tears before we saw Jokia's story, but by the end of it we were all crying our hearts out. You see Jokia was a logging elephant, her life was spent transporting logs up and down mountains. She continued this work throughout her pregnancy and was forced to keep working while she was in labour. So here is this elephant, carrying a load of logs, while she is literally giving birth. If this wasn't tragic enough, when her baby elephant was born it ended up rolling down the mountain, and it was at this point that Jokia decided enough was enough. She stopped moving and mourned her lost baby. The mahout was having none of it and beat her to force her to move. When this did not work he resorted to more extreme measures. This cruel man blinded her with his hook. Not long after, she was rescued from her harrowing existence by the Elephant Nature Park, where she still lives to this day.
Our magical day at the Elephant Nature Park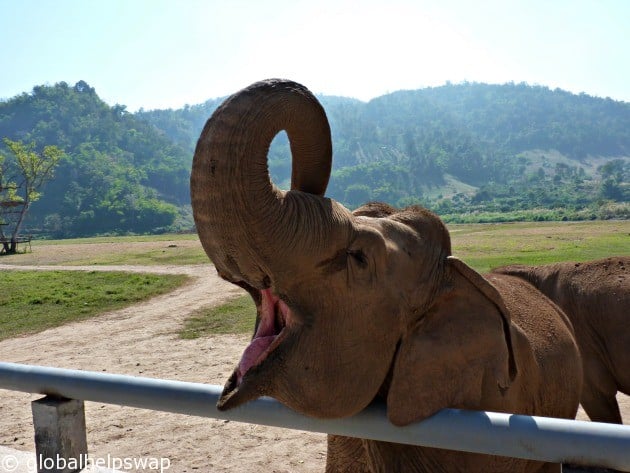 We got to the park eager to show our love to these wonderful animals and in some way apologise for all the suffering our human race had caused them.
They say elephants never forget, but my goodness can they forgive. How could they, after all the distress other humans had caused them, be willing to come close to the platform we were standing on to say hello? But come they did, crossing the vast shrub land where they now lived, standing tall and flapping their ears in happiness. (Just like dogs wag their tails, elephants flap their ears when they are happy).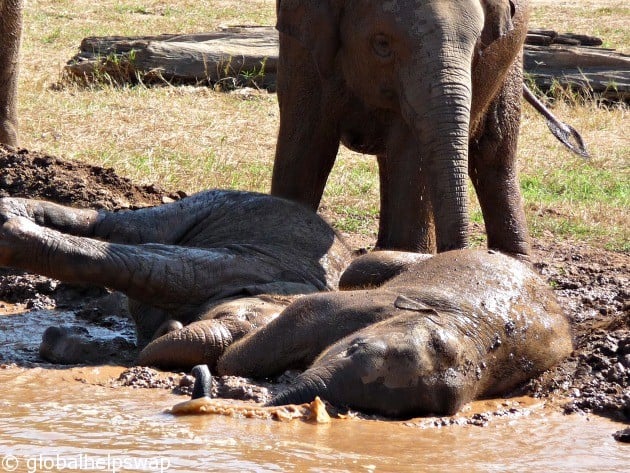 The day we spent at the Elephant Nature Park was nothing short of magical. One of our highlights was when Jokia came up to the platform and gently used her trunk to locate the food we were holding out for her. Our hearts were filled with joy when we saw the cutest baby elephants rolling in the mud and playing next to their parents, knowing that they would never experience the suffering their parents had. We even got to bathe these majestic beings, and even as I write this now I am moved to tears by the wonder I felt being so close to these gentle giants.
Responsible = memorable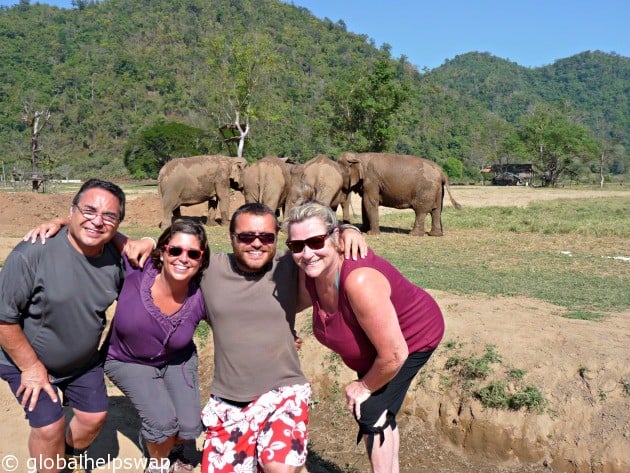 It is days like this that make our travels meaningful and magical. And it is days like this that show us that when we travel in a way that does not exploit the inhabitants of a destination, we create far better memories from our travels.
So if you are visiting Thailand, and if you are thinking going on one of the many elephant rides in Thailand I urge you to visit The Elephant Nature Park in Chiang Mai instead. I promise you it will be a far more memorable and enjoyable experience. The great news is that you can even spend a week volunteering at the Elephant Nature Park if you wanted.
You can find all the details on the Elephant Nature Park's website. And even if you're not visiting Thailand in the near future you can still help by sharing this article with all your friends. Let us spread the word and do our small bit for the elephants in Thailand.
If you liked this post, please read our post on dolphins which is equally as important.
P.S. Most responsible travellers who read our blog sign up for regular updates. You can join them by filling in the orange box below.
#LoveYourTravels
Karen is a trained psychologist and coach. But really she's an adventurer who believes travel can be one of life's best teachers. She writes to inspire you to take the leap and travel in a way that is memorable and meaningful.