Ouch! I banged my head again. For the first time in my life I feel tall. I must remember the height of the door frames when I have a few Everest beers later. How come all old buildings are so low? From England to Japan I have had to crouch when entering old buildings and I am not the tallest of men. We must have all been Hobbit size in the past. Don't get me wrong I love old buildings, you get a real sense of the past and culture of a place and there is nowhere better to do this than The Old Inn in Bandipur, Nepal.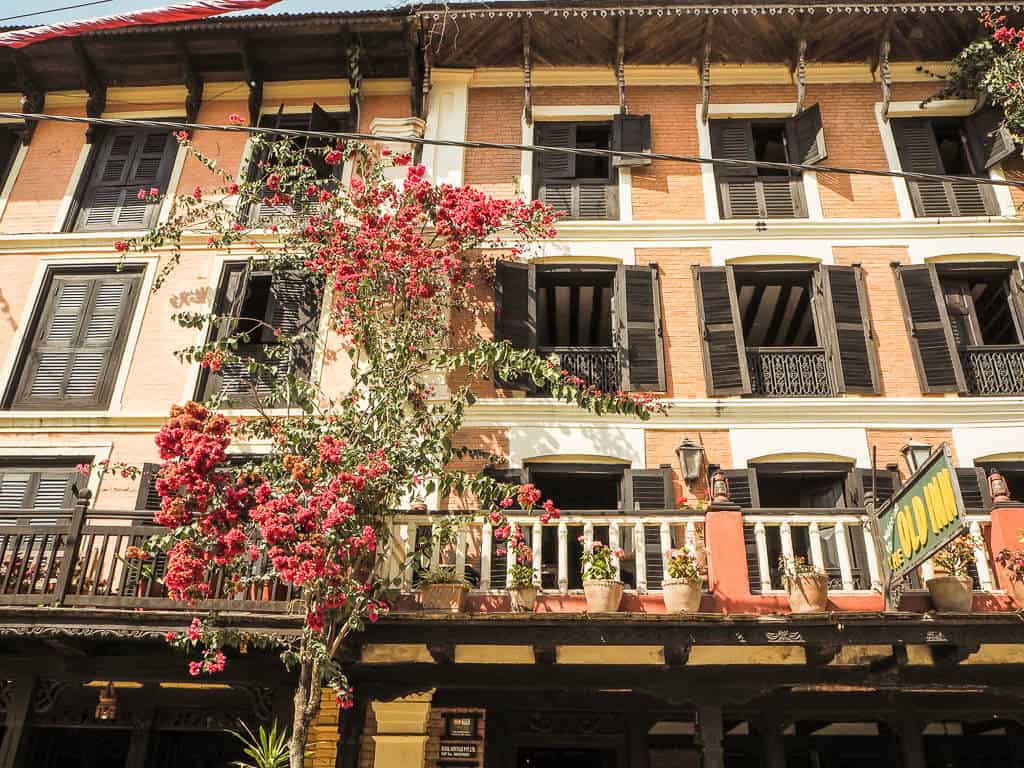 Bandipur is a hill-top settlement in the middle of Nepal. It is a great place to stop to break up the long slow journey from Kathmandu to Pokhara. The Old Inn has been welcoming visitors since 2000 and consists of two beautiful Newari houses on a traffic free road (a god send Nepal).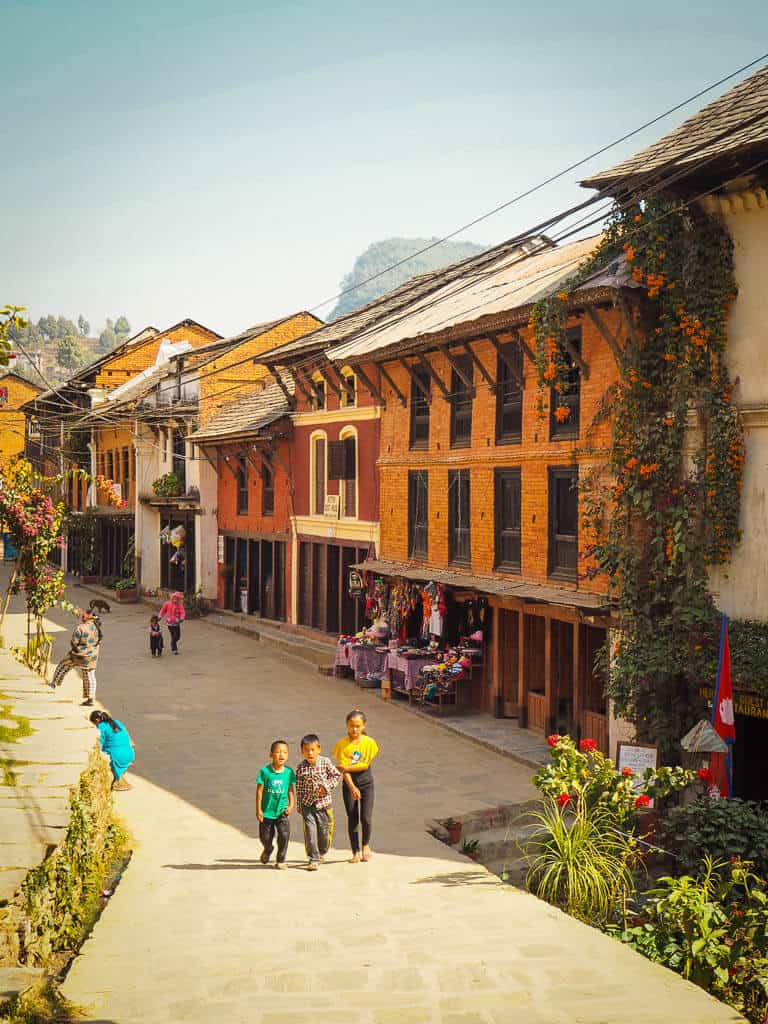 Rural Heritage the company that owns The Old Inn have played an active role in the restoration of Bandipur. Derelict buildings have been reborn as cafes and lodges and temples have been brought back from the edge of ruin. It is amazing the impact one organisation can have on place.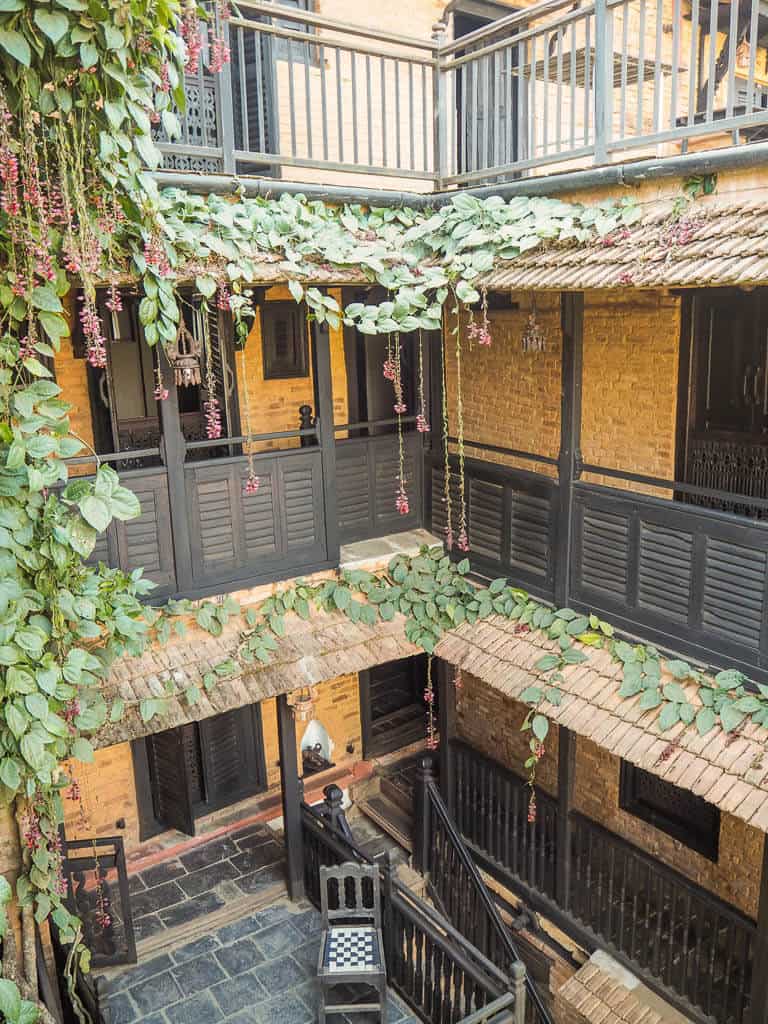 We had a quick check-in and sat down for lunch overlooking beautiful fertile hills and the peaks of the western Himalayan mountains off in the distance. From that moment I knew we would love our stay at The Old Inn. It was hard to leave such an idyllic scene but we were being called to our room.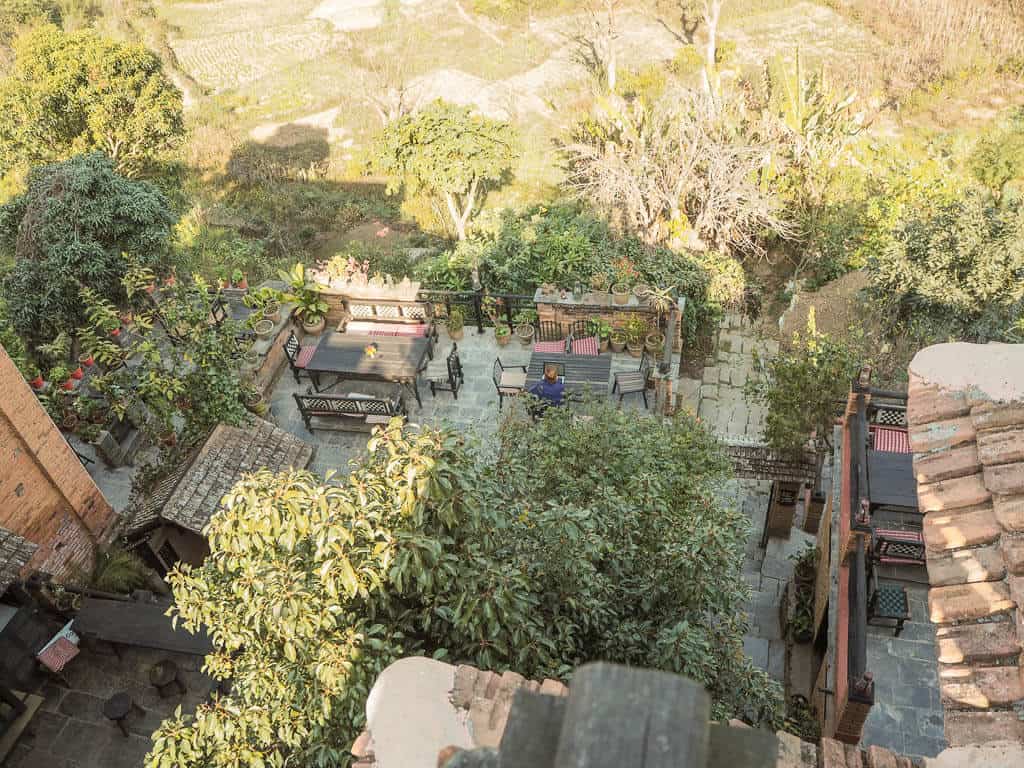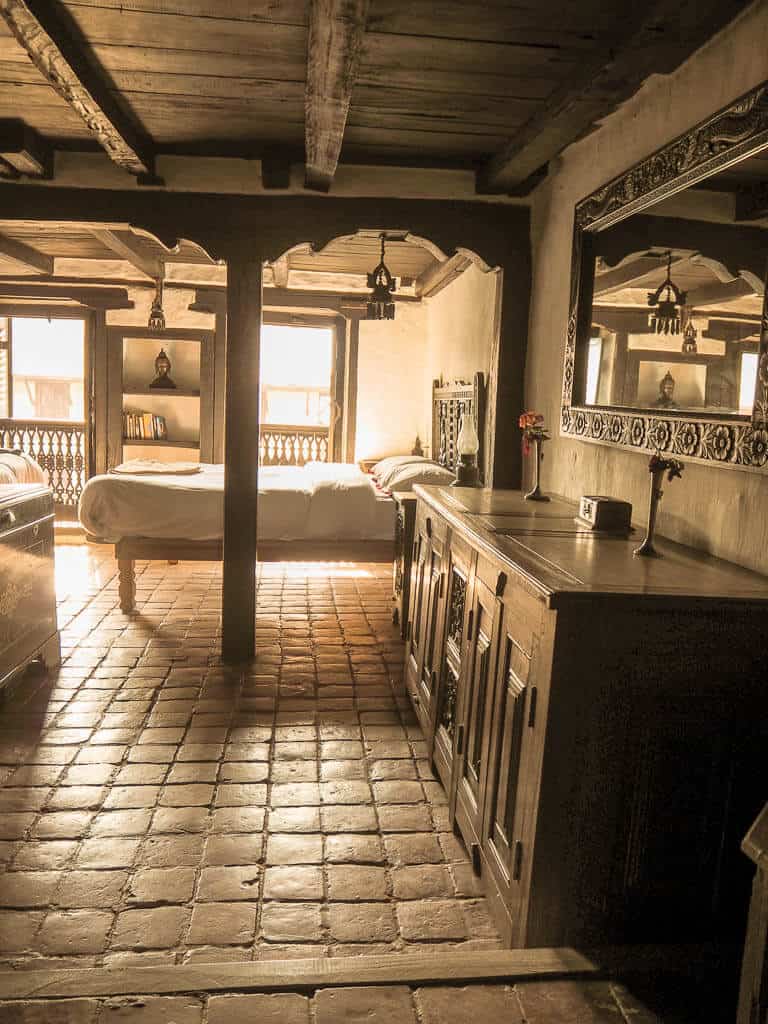 The Old Inn is like a maze. We weren't sure which staircase to take and to what floor. There are nooks and crannies everywhere creating a sense of adventure in navigating the place. Eventually we found our room. As soon as we entered we swooned. It had so much character. From the intricate hand-carved wooden pieces of art scattered around, to the cute little windows letting rays of light in. Our favourite bit though was the little balcony overlooking the same view of the restaurant below. I was looking forward to having fresh coffee and reading my paper on that balcony.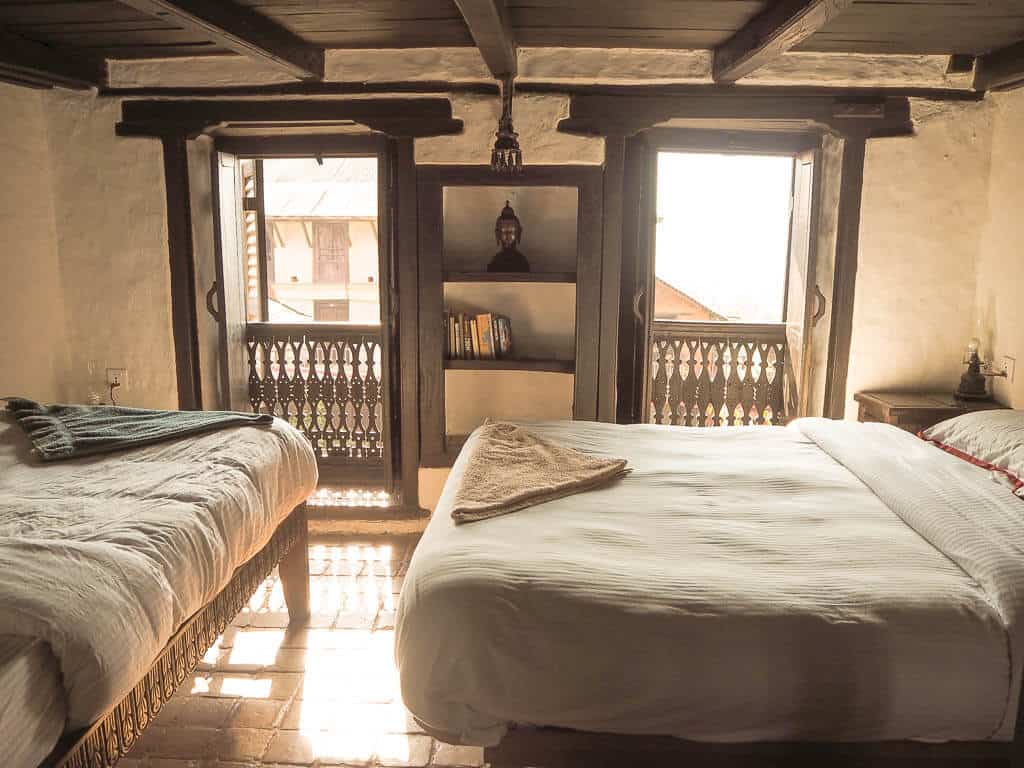 We love boutique hotels for this very reason. Each one has such a different character and look. The Old Inn could only ever be Nepali and Newari. It would be impossible to recreate it in Thailand or Japan. Just as it would impossible for Nepalis to recreate a Japanese Ryokan. Mega chain hotels can't recreate the feel of staying in an 150yr old building.
The staff at The Old Inn are excellent. They have that perfect Nepalese combination of professionalism and natural friendliness. From the manager to the cleaners we got a smile and curious conversation every day. Over breakfast one waiter would teach us Nepalese. We had so much fun with him, especially when we tried to pronounce the more tricky words.
Talking of breakfast, the food at The Old Inn is excellent. There is a choice of Western cuisine, pancakes and Newari food for breakfast and in the evening they create a sumptuous Nepal Bhoj (a traditional dhal bhat banquet.) We also recommend eating out in Bandipur on some other days so other businesses also benefit from your stay.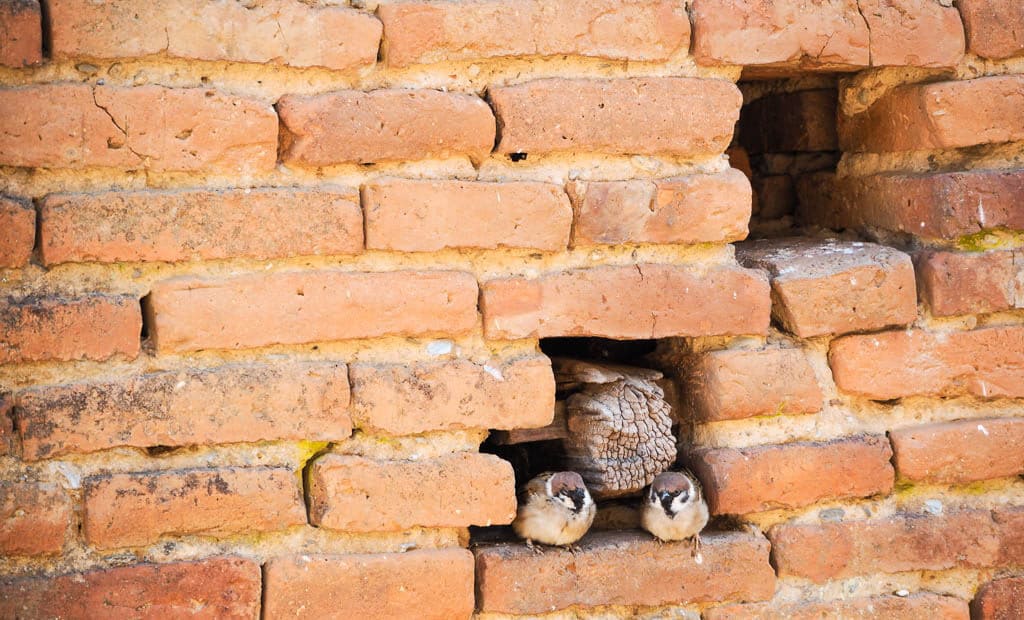 If you are travelling between Kathmandu and Pokhara we highly recommend breaking up your journey in Bandipur and at The Old Inn. You will recharge your batteries and get a glimpse of how life was and is like in a traditional Newari village. To book you stay please click here: Stay at the Old Inn, Bandipur
Just remember to bend down!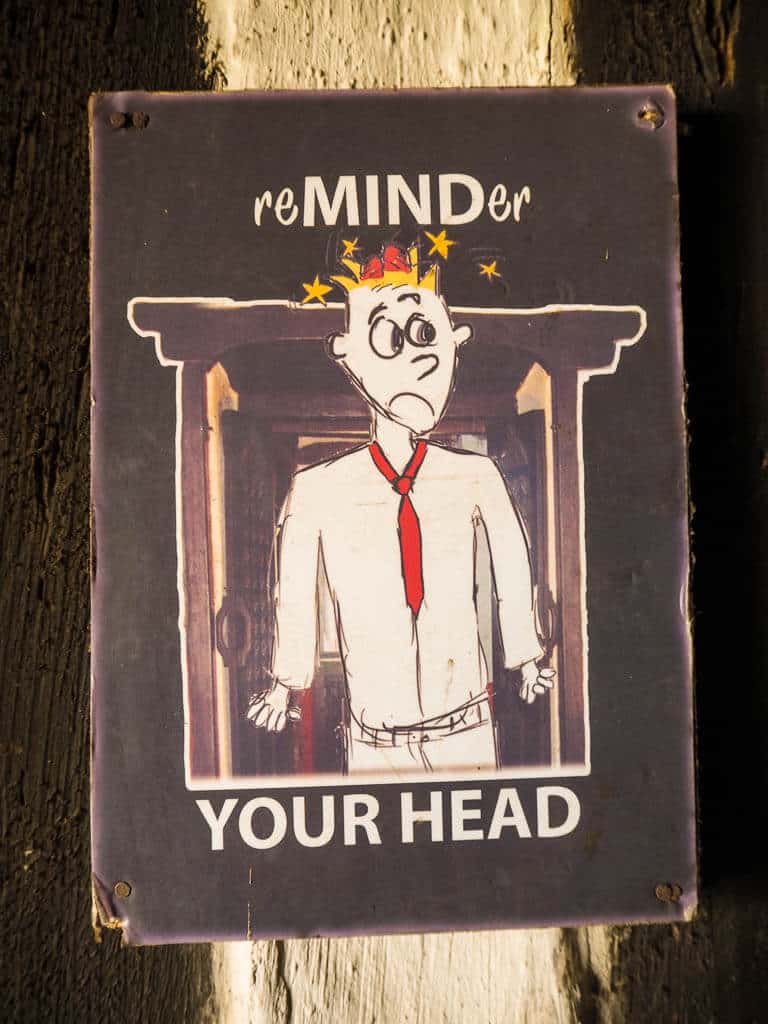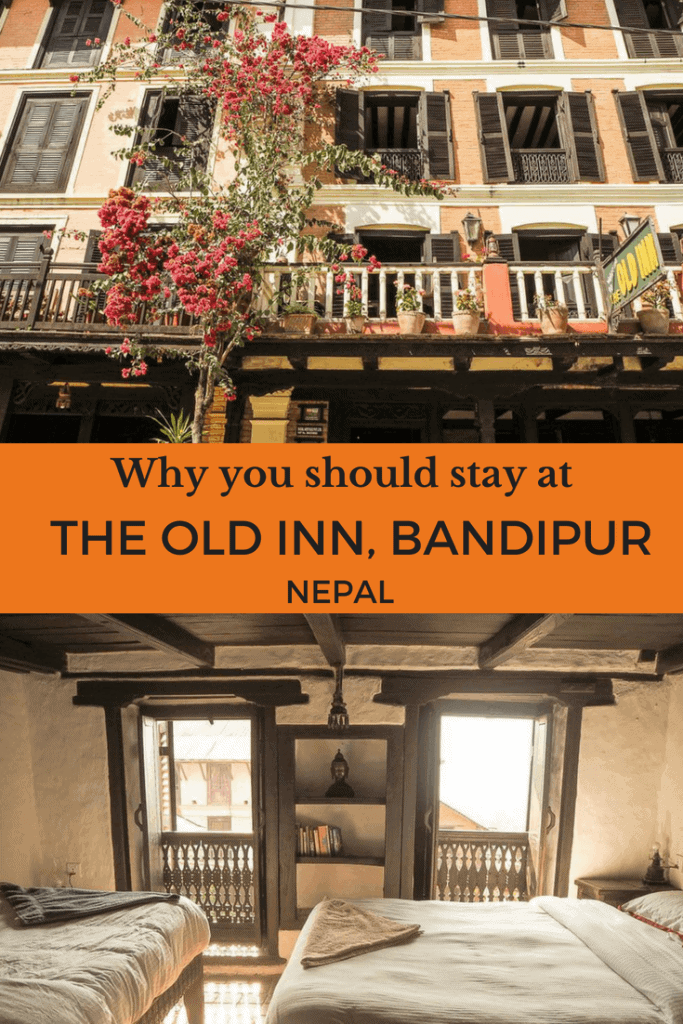 Going To Nepal? Check out our other posts on Nepal first!
Gokarna Forest Resort Kathmandu (An Oasis In The Chaos) – If you are heading to Kathmandu & are looking for a hotel then check out the Gokarna Forest Resort, Kathmandu (An Oasis In The Chaos).
Boudha Stupa (An Unmissable Experience Near Kathmandu) – If you are travelling to Nepal then you must visit Boudha Stupa (An Unmissable Experience Near Kathmandu). It was one of our highlights in Nepal.
Beautiful Nepal I love you (A love letter to Nepal) – Beautiful Nepal I Love You (A Love Letter To Nepal). Read why we have fallen in love with Nepal. From the mighty Himalaya to its wildlife, Nepal had us smitten from the moment we landed. Add in Pokhara and the Nepali people and you have the makings to a perfect holiday.
Things To Do In Nagarkot Nepal – If you are visiting Nagarkot in Nepal read our post on the Best Things To Do In Nagarkot before you go. Get ready to see amazing views of the Eastern Himalayan Mountains including the mighty Everest.
The Pavilions Himalayas | The Place To Recover After Trekking In Nepal – If you have just trekked the Annurphuna Circuit or are in Pokhara we highly recommend a stay at The Pavilions Himalayas. Not only is it a beautiful hotel with the amazing staff it is also doing things the right way in terms of the environment and the local population. It's Sustainable Luxury at its best.
Places To Visit In Bhaktapur Nepal – If you are visiting Nepal, check out our favourite places to visit in Bhaktapur Nepal before visiting this historic city. We list hotels, temples and more!
.
#LoveYourTravels
*We were invited to experience The Old Inn by our partners Rural Heritage. As always opinions are our won.