Every bump in the road is making my aching muscles scream with pain. There are lots of bumps! This is Nepal after all. We have been trekking around the Annapurna circuit for the last 6 days and the 10 hours of walking a day are taking their toll. Hopefully, in the next few minutes, all these bumps will be worthwhile. We are heading to The Pavilions Himalayas just outside of Pokhara, a luxury eco-hotel that promises to heal our bodies and souls. We just have to get over this river first.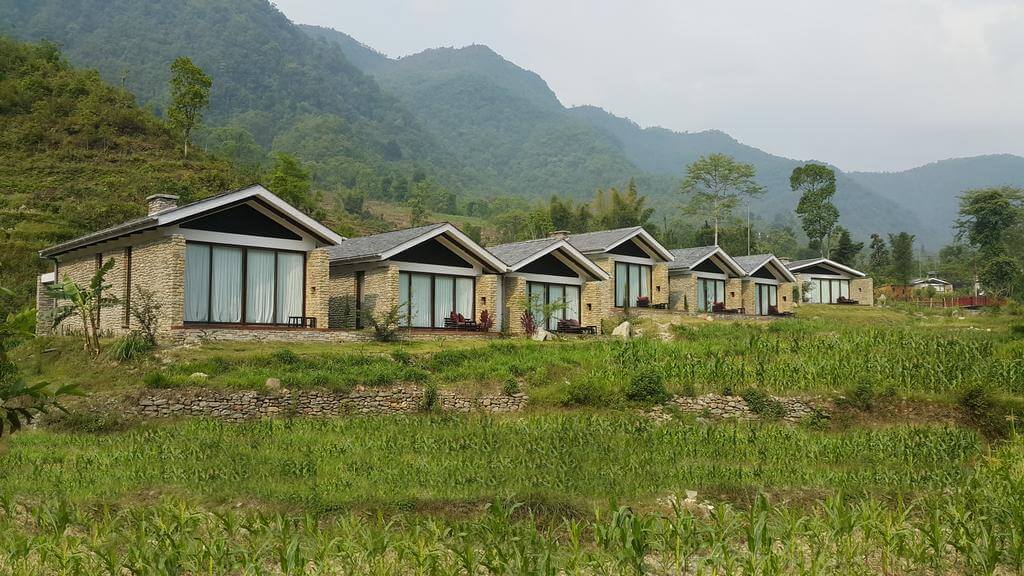 The Villas At The Pavilions Himalayas
We are now in our room, well room is an understatement as this is a beautiful villa. I already know that this hotel will indeed heal our bodies and souls. From the warm welcome we received from the staff as soon as we walked in, to the views I am seeing from my balcony, The Pavillions Himalayas is just what the doctor ordered.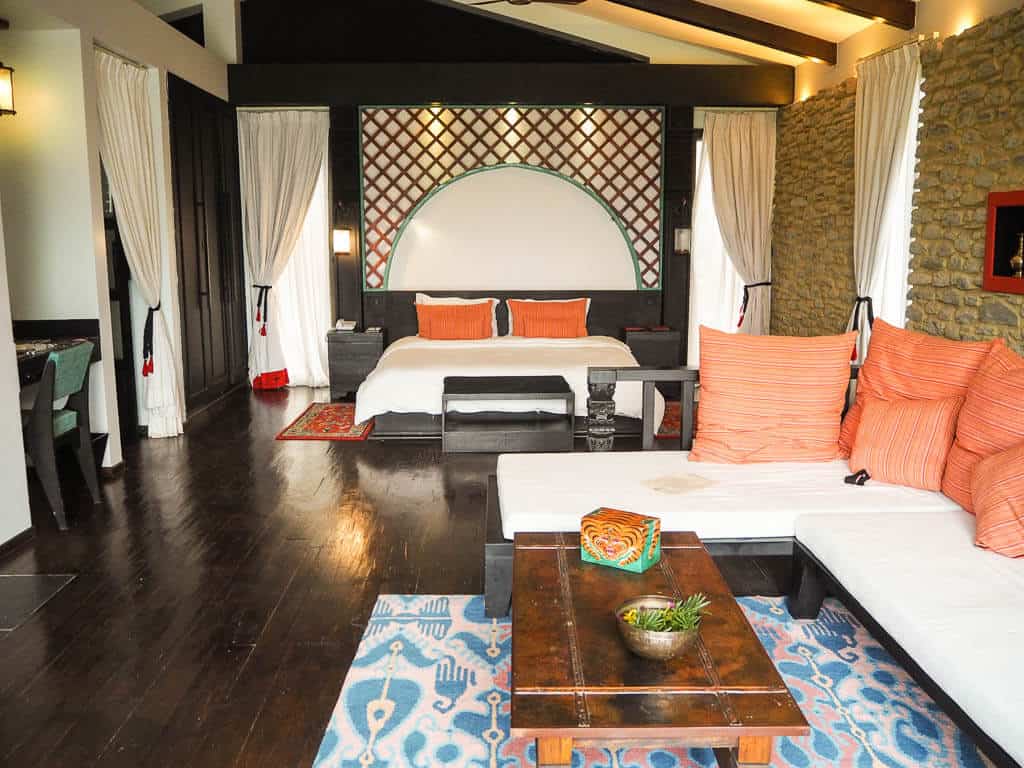 We are staying in the villa they call the Pavilions Grand which is an apt name as everything in it feels grand. Each villa offers spectacular views of a natural landscape, including the Annapurna mountain, which can be enjoyed from your villa's terrace. There is a beautiful large fireplace if the night turns chilly and there is a jacuzzi in the bathroom which I am sure Karen and I will fight over who gets to use it first.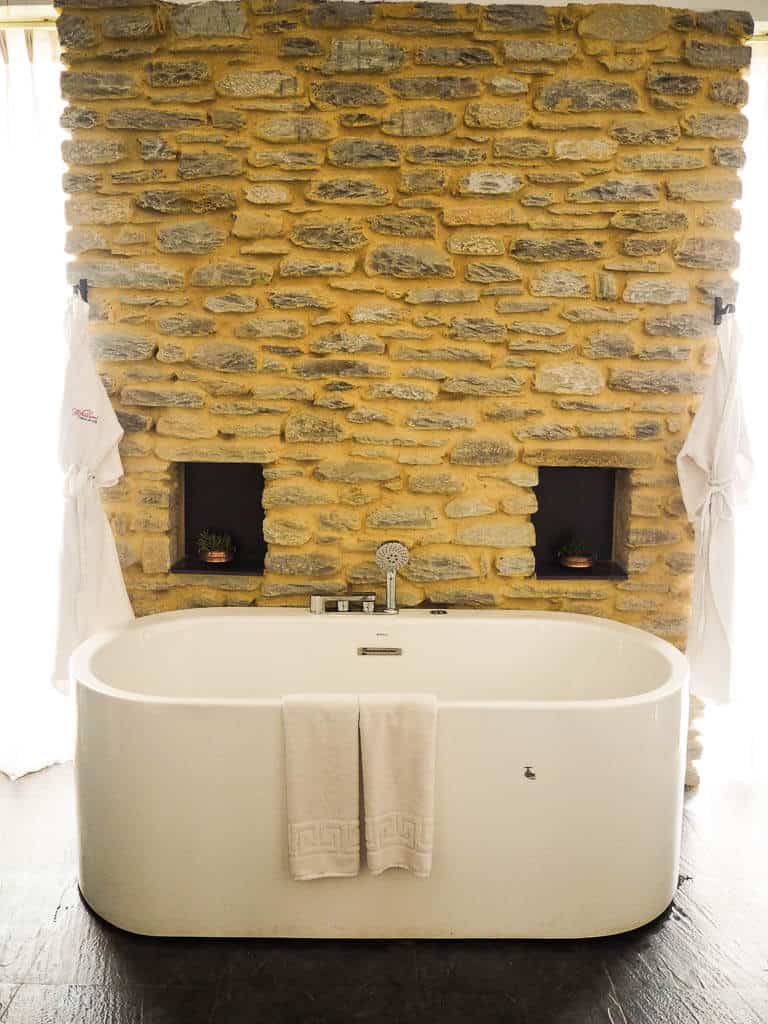 Karen won the jacuzzi fight but that's okay as I have come down to the swimming pool to have a cocktail and a read. In the last 36 hours, we have gone from one extreme to another. 3 days ago we were at 3,200 meters staying in a basic guesthouse called a Tea House here in Nepal. Don't get me wrong, Tea Houses are fine. You get to meet lots of other trekkers and you also get a glimpse of what it is like to live high up in the mighty Himalayas. We loved staying in them, they reminded us of our time staying in Gers in Mongolia. However, just like the Gers, you can only stay in a Tea House for so long before you start craving creature comforts. Like cocktails and an infinity pool!
Dining At The Pavilions Himalayas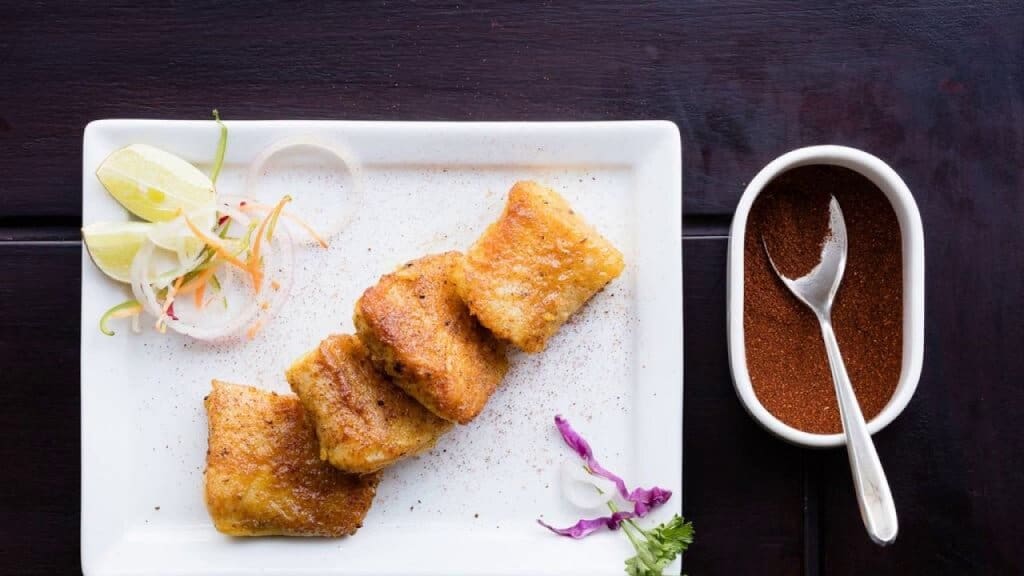 It's now the following day. We both slept like babies, 6 days of walking and a bed larger than our bedroom back home can do that. Last night's dinner was delicious and this mornings breakfast was equally as good. One of my favourite things about travel is having a hotel breakfast. Do you feel the same? I cook breakfast at home so it's nice to have it done for me.
Experiences And Wellness At The Pavilions Himalayas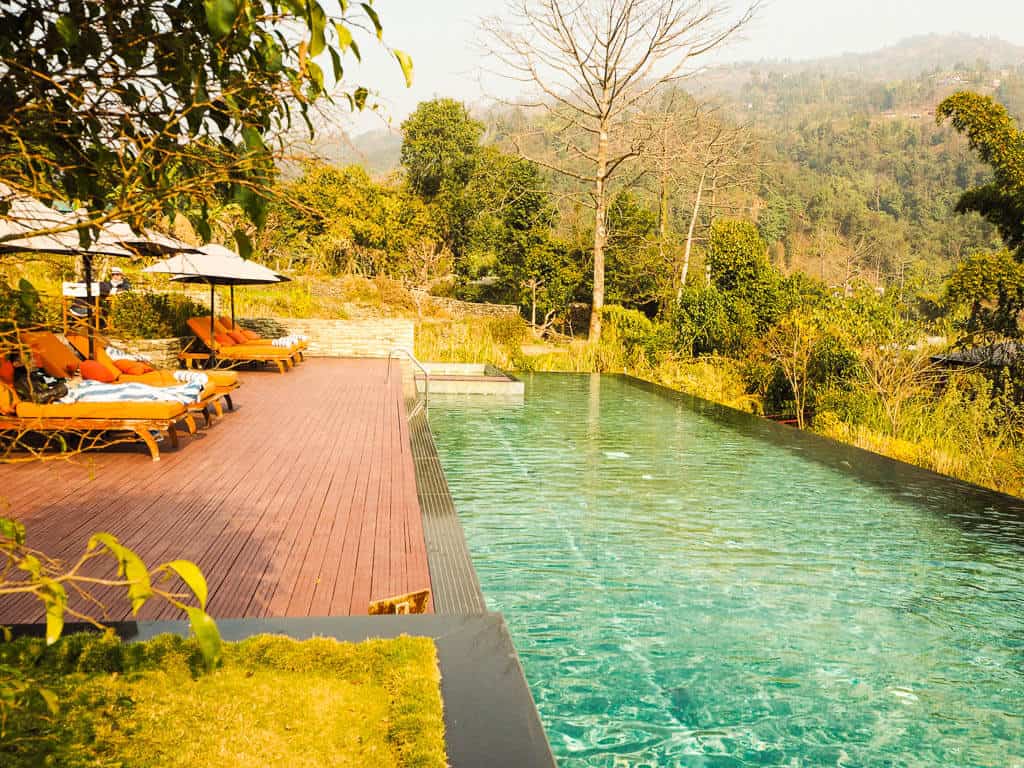 Our plan for the day is to be horizontal at all times. We plan to lie by the pool, lie on the daybed on our verandah, lie on the sofa and lie on the massage table in the spa. Oh, and I might lie in the Jacuzzi too as I missed out yesterday. The Pavilions Himalayas offers all kinds of experiences like Mountain Bike tours, Hiking, Paragliding over Pokhara, Bungy Jumping, Ultralight Flight Experiences and rafting which all sound amazing but our bodies need a break and that's what we intend to give them.
We were so chilled (or is that lazy) that we never even made it to the spa. You know you are relaxed when you can't be even bothered to have a massage. It is a pity as other guests told us that it is an exceptional massage. We did have a little walk around the resort's organic farm. A great thing about The Pavilions Himalayas is the fact that they grow a lot of their own produce. If you go on the farm tour you will get to see buffaloes, cows, boar, goats and chickens. You can also get to experience milking a buffalo or cow!
Sustainability And Social Work At The Pavilions Himalayas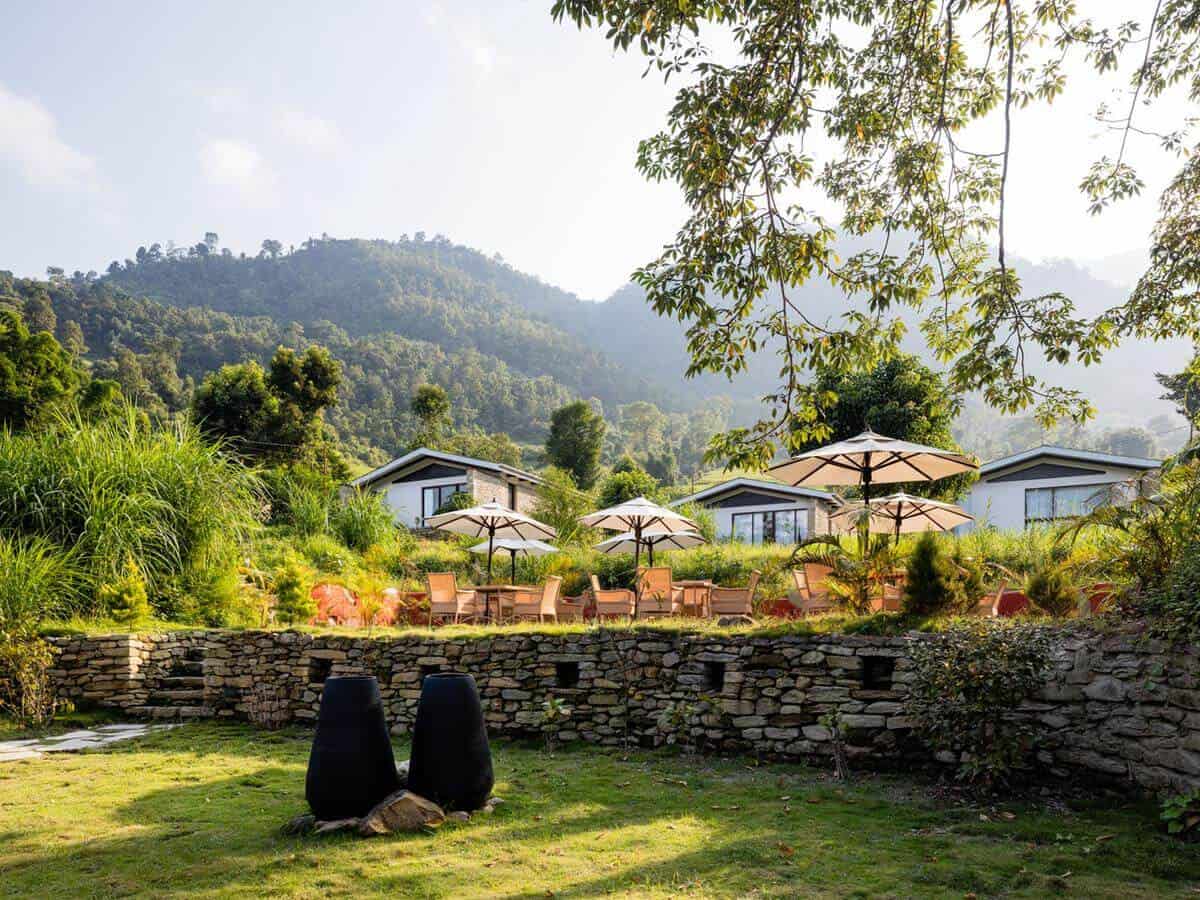 The Pavilions Himalayas also does amazing work for the environment and local villagers. From using solar energy to harvesting rainwater the hotel is trying to have minimum impact on the environment. The hotel has also created bio-gas for use on site and they make biodegradable signature toiletries from natural Nepalese ingredients.
The hotel's goal is that 50 per cent of families in the nearby village can enjoy direct, sustainable employment within the resort, while the other 50 per cent of farmers can learn an additional skill and develop their own businesses that can provide the hotel with the produce it needs.
I told you that The Pavilions Himalayas is good for the body and soul.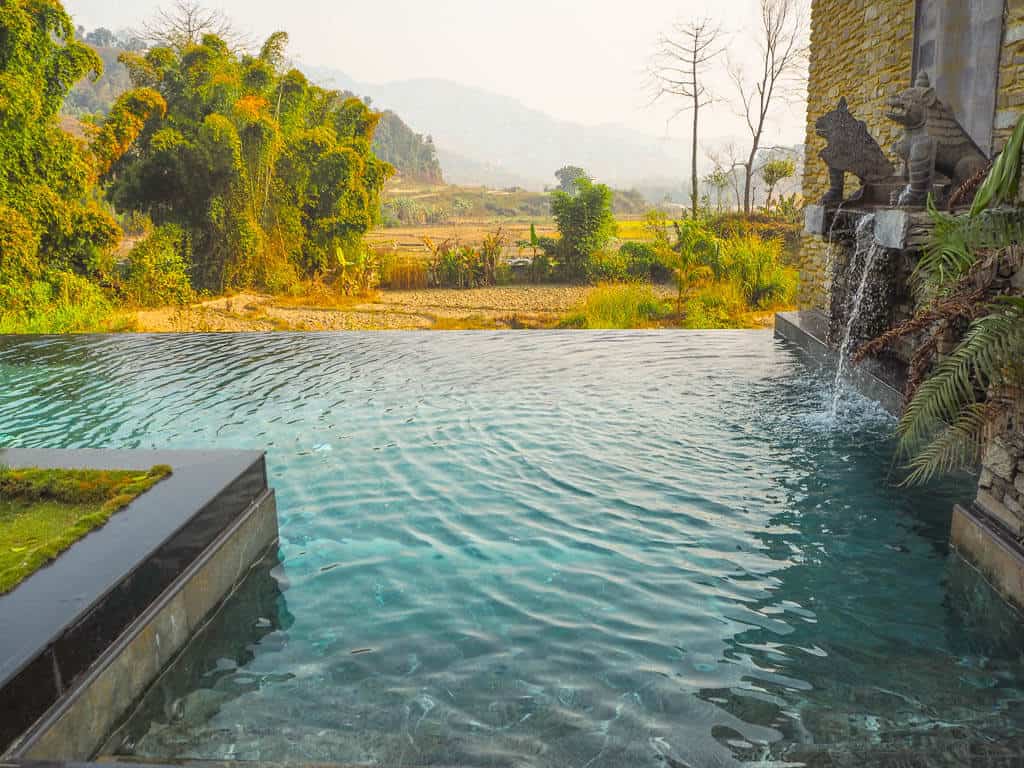 If you have just trekked the Annurphuna Circuit or are in Pokhara we highly recommend a stay at The Pavilions Himalayas. Not only is it a beautiful hotel with amazing staff it is also doing things the right way in terms of the environment and local population. It's Sustainable Luxury at its best. Click here to check availability. Book my room at The Pavilions Himalayas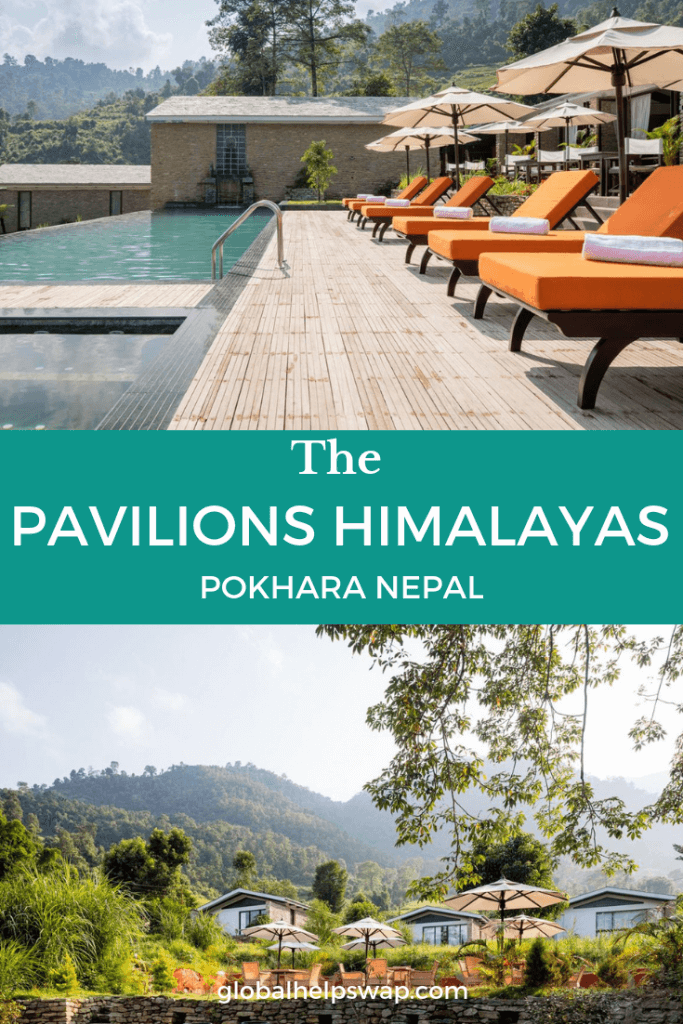 Going To Nepal? Check out our other posts on Nepal first!
Gokarna Forest Resort Kathmandu (An Oasis In The Chaos) – If you are heading to Kathmandu & are looking for a hotel then check out the Gokarna Forest Resort, Kathmandu (An Oasis In The Chaos).
Boudha Stupa (An Unmissable Experience Near Kathmandu) – If you are travelling to Nepal then you must visit Boudha Stupa (An Unmissable Experience Near Kathmandu). It was one of our highlights in Nepal.
Beautiful Nepal I love you (A love letter to Nepal) – Beautiful Nepal I Love You (A Love Letter To Nepal). Read why we have fallen in love with Nepal. From the mighty Himalaya to its wildlife, Nepal had us smitten from the moment we landed. Add in Pokhara and the Nepali people and you have the makings to a perfect holiday.
The Old Inn Bandipur Nepal | Our Stay In An Ancient Heritage Hotel – If you travelling between Kathmandu & Pokhara then we highly you recommend you stop off in Bandipur & stay at The Old Inn. It is a heritage hotel with loads of character, delicious food & fantastic staff.
Things To Do In Nagarkot Nepal – If you are visiting Nagarkot in Nepal read our post on the Best Things To Do In Nagarkot before you go. Get ready to see amazing views of the Eastern Himalayan Mountains including the mighty Everest.
Places To Visit In Bhaktapur Nepal – If you are visiting Nepal, check out our favourite places to visit in Bhaktapur Nepal before visiting this historic city. We list hotels, temples and more!
#LoveYourTravels
Some images are provided by our partner Pavilions Himalayas. The trip was provided by Pavilions Himalayas, all views are our own.
Affiliate disclaimer: Certain products and links on this post earn us an affiliate commission for any purchases you make at no extra cost to you.