It's 05:30 a.m. and I am sitting on my balcony staring off into the distance. It's very cold, just trying to hold my camera is a chore and my lens cap keeps misting over. Karen is still in bed oblivious to me leaving the room. The sun is slowly rising from the east and with the beautiful early morning light, the Eastern Himalayan mountains reveal themselves before me. Somewhere out there is the biggest mountain of them all, Everest. The stillness in the air is deafening. It is as if the whole world is still tucked up in bed like Karen. Looking at the tallest mountains in the world from the comfort of my hotel balcony feels pretty special. This is why I am up at 05:30 a.m. and this is why we came to Nagarkot.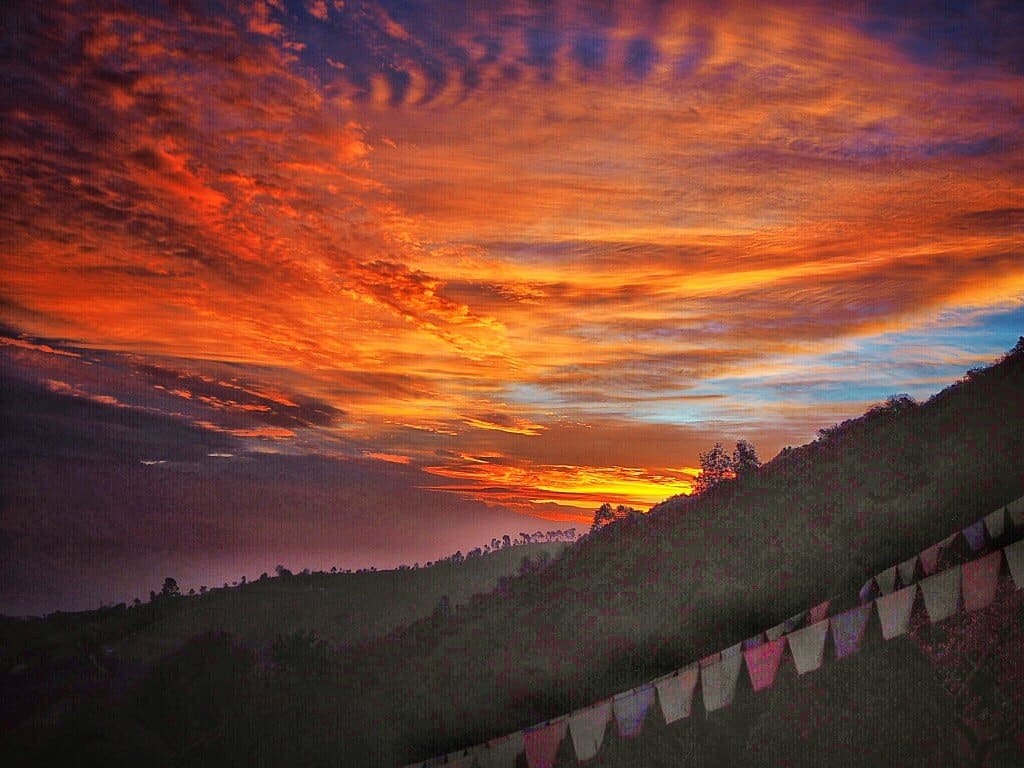 Things To Do In Nagarkot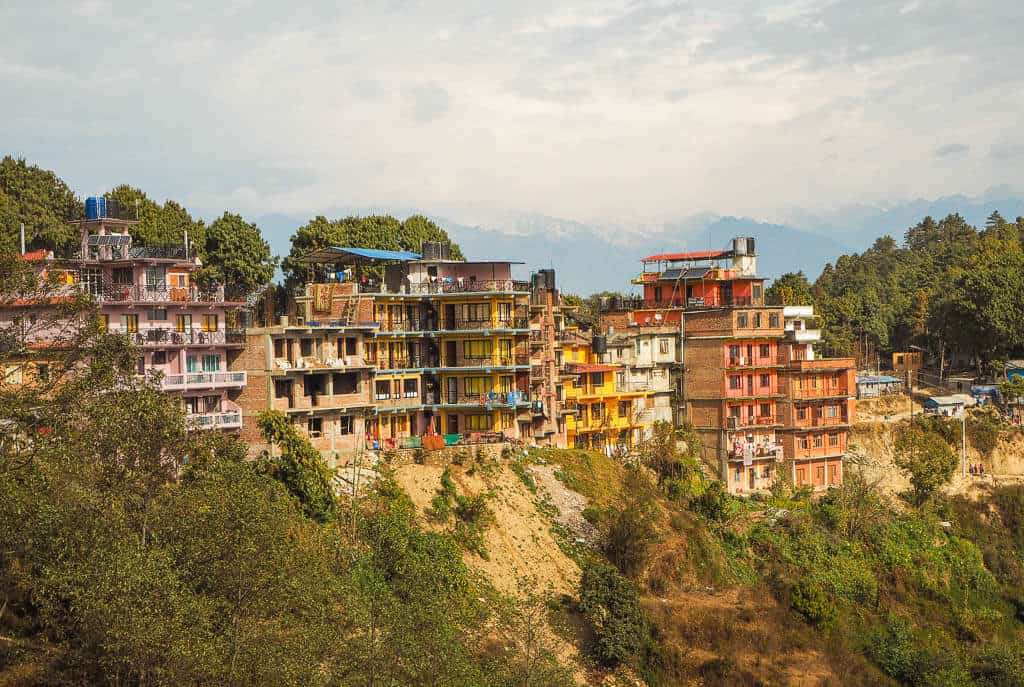 I must admit, before doing my research on Nepal I had never heard of Nagarkot. That is what I love about travel though, you never stop discovering places no matter how much you see the world. Nagarkot is a small village in central Nepal on the edge of the Kathmandu Valley. Its altitude is 2,175 meters. You come here for stunning views of the Himalayas. It is a great place to chill out for a couple of days, especially if you are coming from the hustle and bustle of Kathmandu. Here the air is pure, the crowds are thin and you won't hear a horn at all (well you might, this is Nepal after all).
To be honest there isn't a lot to do in Nagarkot but that's okay. We wanted a few days to relax after Kathmandu and we are certainly doing that. Nothing the village offers will come close to the spectacle of the Himalayas (what could?). However, there are things to do in Nagarkot that I would recommend.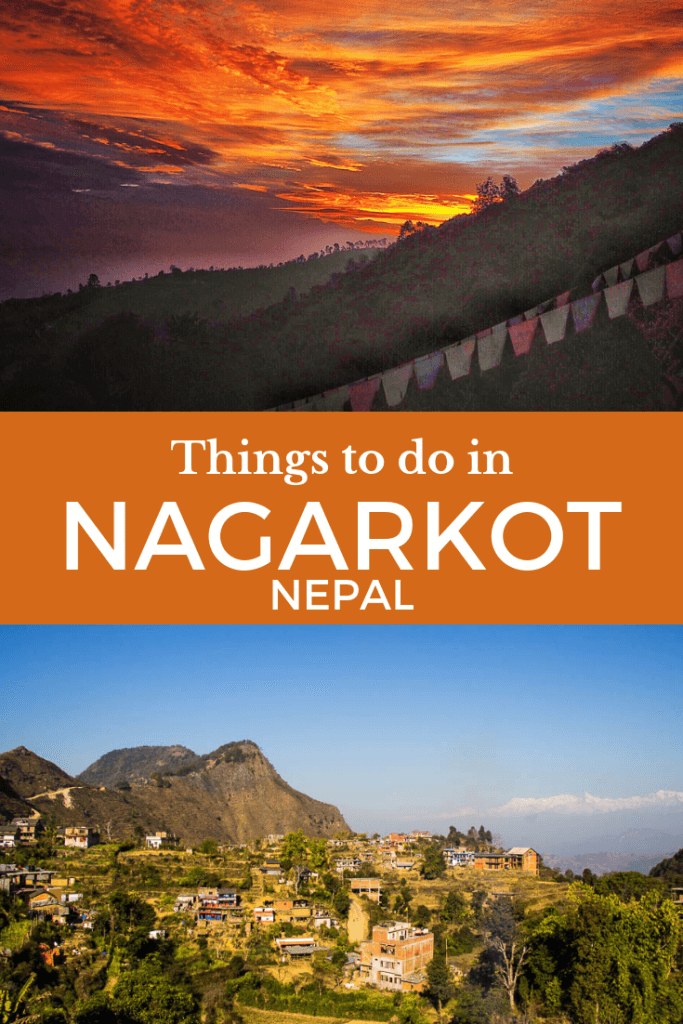 Places To See In Nagarkot
Nagarkot Hiking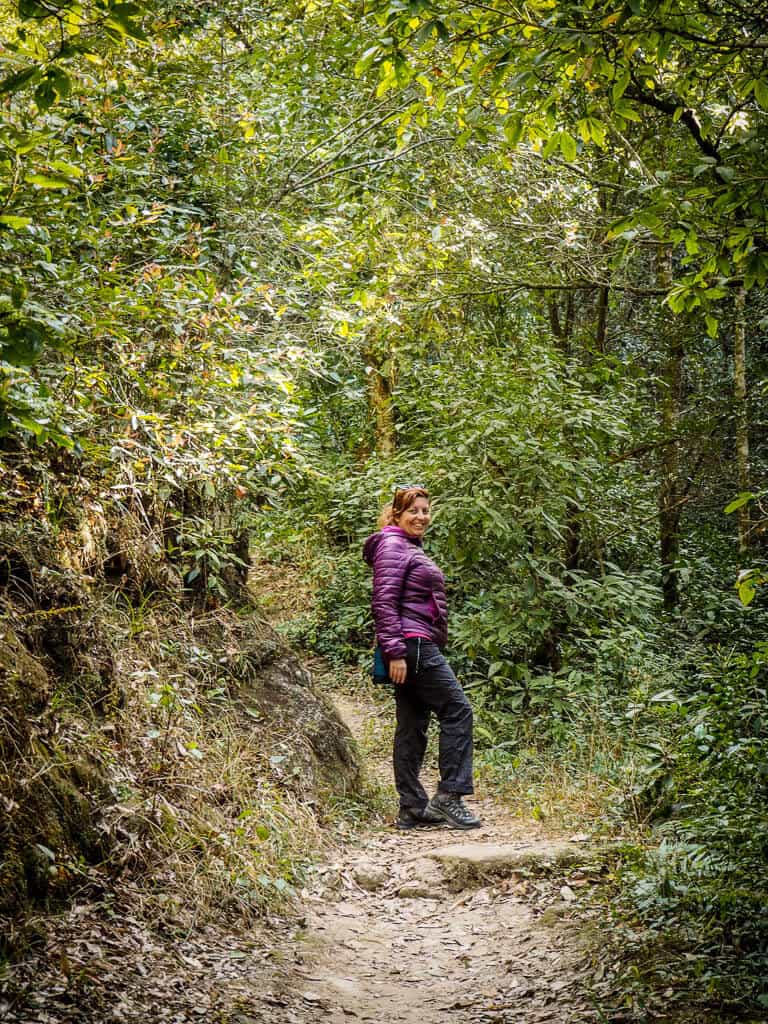 If you can stop looking at those views there are a few day hikes in Nagarkot that will keep you busy.
Nagarkot View Tower Hike: The most popular place to soak up those Nagarkot Views is from the view tower. The tower sits on the ridge at 2,164 meters and has incredible 360-degree views of mountains, including on a good day a Mount Everest view. (If you want to get closer to Mount Everest read this great guide about Hiking to Everest Base Camp). Thankfully the tower survived the 2015 earthquake unlike a lot of the hotels in the area. From the village, the hike is about an hour's walk south. If you don't fancy an early morning walk to witness a Nagarkot sunrise you can always hire a taxi through your hotel. At the time of writing the cost was Rs 1200.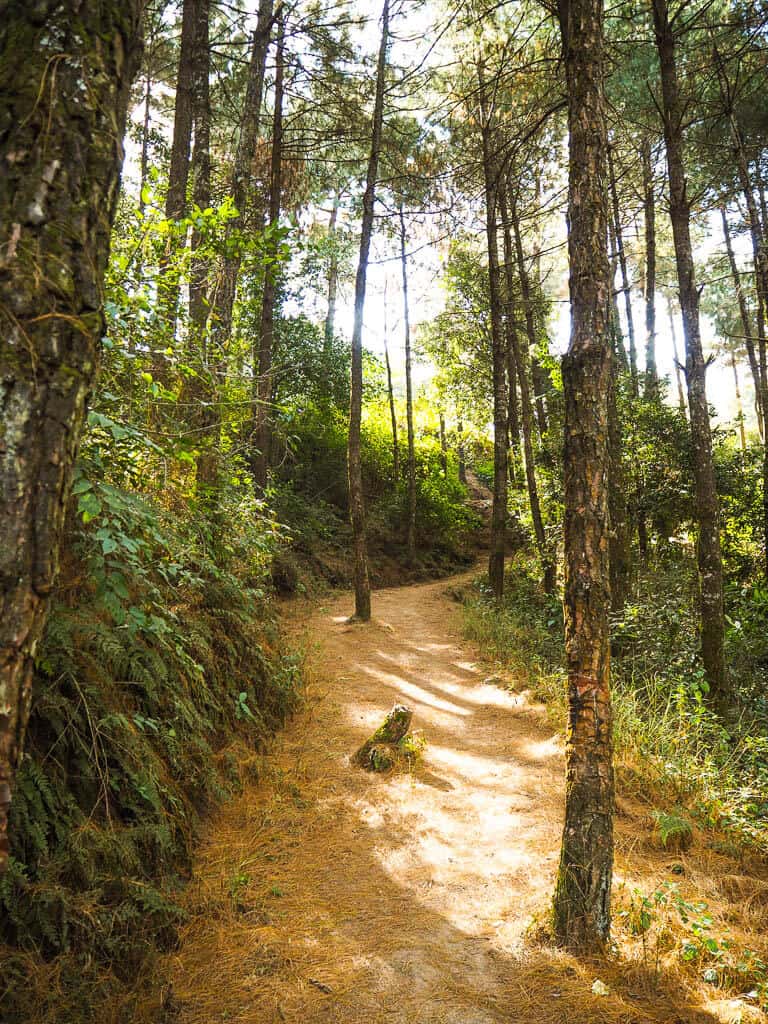 Nature Trail Hike: We loved this easy hike. We did it on our first day in Nagarkot and it was a perfect introduction to hiking in Nepal. As the trail is a loop there is no need to hire a guide for this hike. It takes around two to three hours and you will pass through terraced hills, fields of mustard flowers and forests. When we were there we hardly met anyone on the trail. The only people we did meet were the Tamang and Gurung locals who are so friendly (just like all the Nepalese). They would stop and have a quick chat with us before carrying on with their brisk walks. Remember to take water with you as there is nowhere to buy until you reach the village. When we did this walk we both ended up with two pocketfuls of litter that we picked up on the way. Do your good deed of the day and take a bag with you to collect any litter you come across
Nagarkot Rock Climbing
Rock climbing in Nagarkot is slowly taking off with climbers keen to tackle the spectacular rock formations with sharp edges and slippery surfaces. The average altitude is around 25 m/82 ft high, with climbing routes graded from four to eight. Most professional rock climbing companies are based in Kathmandu.
Nagarkot Weather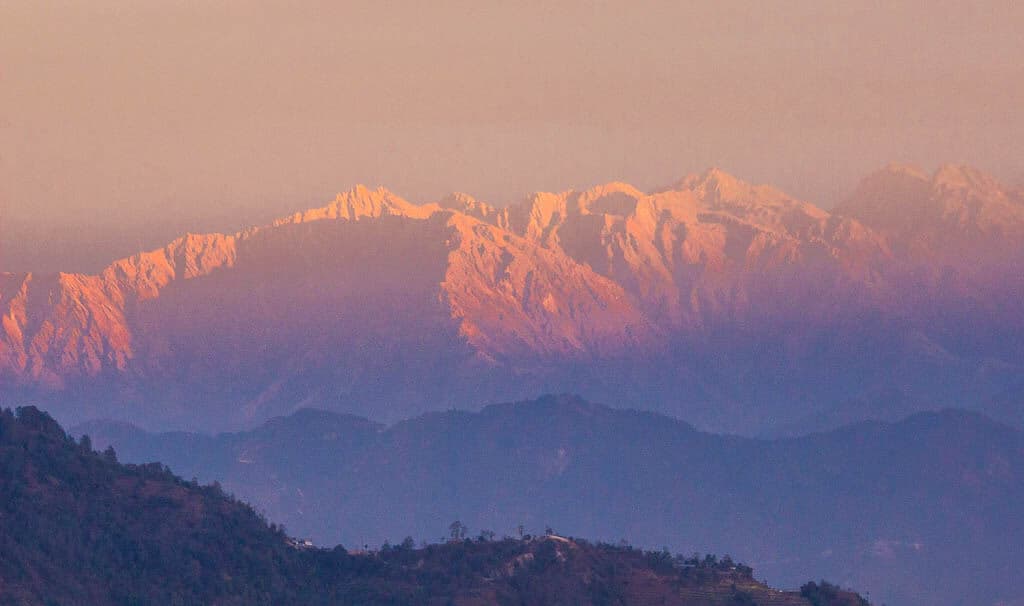 Before I carry on I must mention the weather in Nagarkot. As the main reason for visiting Nagarkot is to view the mountains I must warn you about the infamous cloudy mountain skies that can happen on any given day (or hour!). The best time to visit Nagarkot is between October and March where hopefully you will be rewarded with those killer views you came here for. The weather goes to extremes here, at night it can get very cold so make sure you bring warm clothing and in the day it heats up quite quickly so pack some lighter gear too.
Nagarkot Hotels
There are quite a few hotels and guesthouses in Nagarkot offering the views you crave. Here are a few that we would recommend:
Hotel Country Villa Nagarkot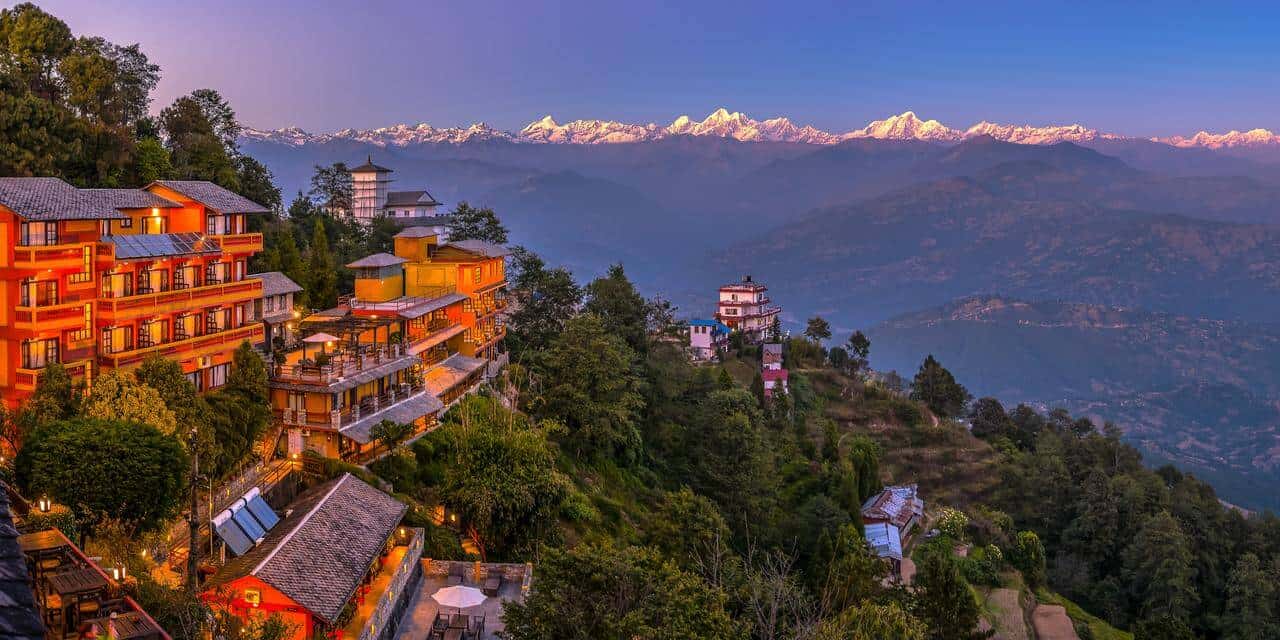 Hotel Country Villa offers you sunrise views from the comfort of your bed. Previous guests loved the food at the hotel and the friendly staff. The location is the big draw with amazing views of the mountains wherever you are in the hotel. Check here for the latest prices.
The Fort Resort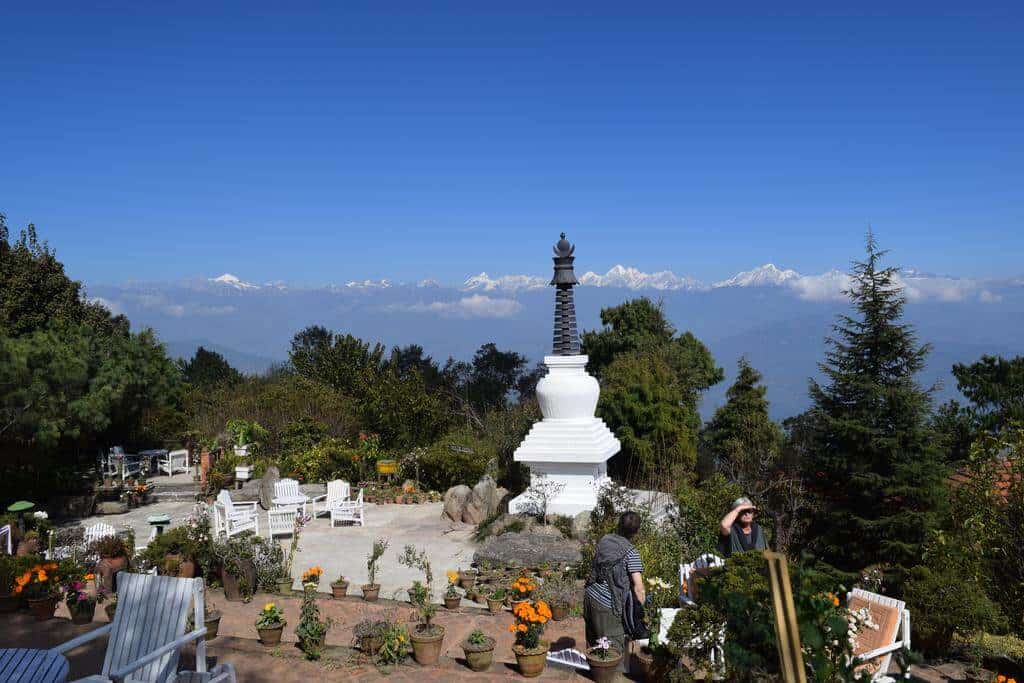 The Fort Resort has some of the best reviews of any hotel in Nagarkot. Once again people loved the views from this hotel. The staff seem to go above and beyond here, they will even wake you up early in the morning if there are clear views of the Himalayas. Guests love the rooms, the garden and the food. Check here for the latest prices.
Hotel Mystic Mountain

Hotel Mystic Mountain (what a name!) is nestled amidst the dense greenery of Nagarkot offering you amazing views, delicious food, a swimming pool and a wellness spa. This is a hotel to well and truly chill out. The hotel offers meditation and yoga classes and you can also hire mountain bikes if you are feeling energetic. Check here for the latest prices.
Eating in Nagarkot
Like most visitors to Nagarkot, we mainly ate in our hotel. If you do fancy eating out these places get the best reviews:
Cafe du Mont – Serving local, Chinese, Indian and International cuisine this restaurant has good reviews and even better views.
Cafe Dorje Lakpa – If you fancy pizza, chilled beers and views then this cafe is the place to go.
Getting to Nagarkot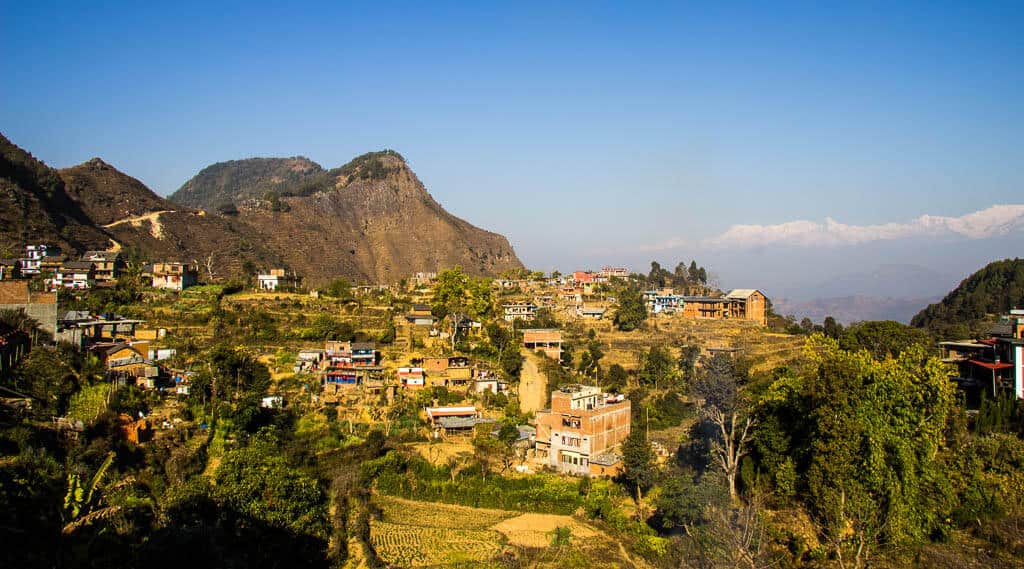 Public Bus: We took a public bus to Nagarkot from Boudha (changing on the edge of Bhaktapur). The price is Rs 45. We loved the journey as we sat chatting to locals. The journey time from Bhaktapur is around one hour.
Tourist Minibus: The tourist minibus from Kathmandu takes around two hours and costs roughly Rs 400. It departs at 13:00 from in front of the Hotel Malla in Lainchhaur. We have heard that it isn't that reliable so ask before deciding on this mode of transport.
Taxi: A one-way taxi from Kathmandu to Nagarkot costs around Rs 5000.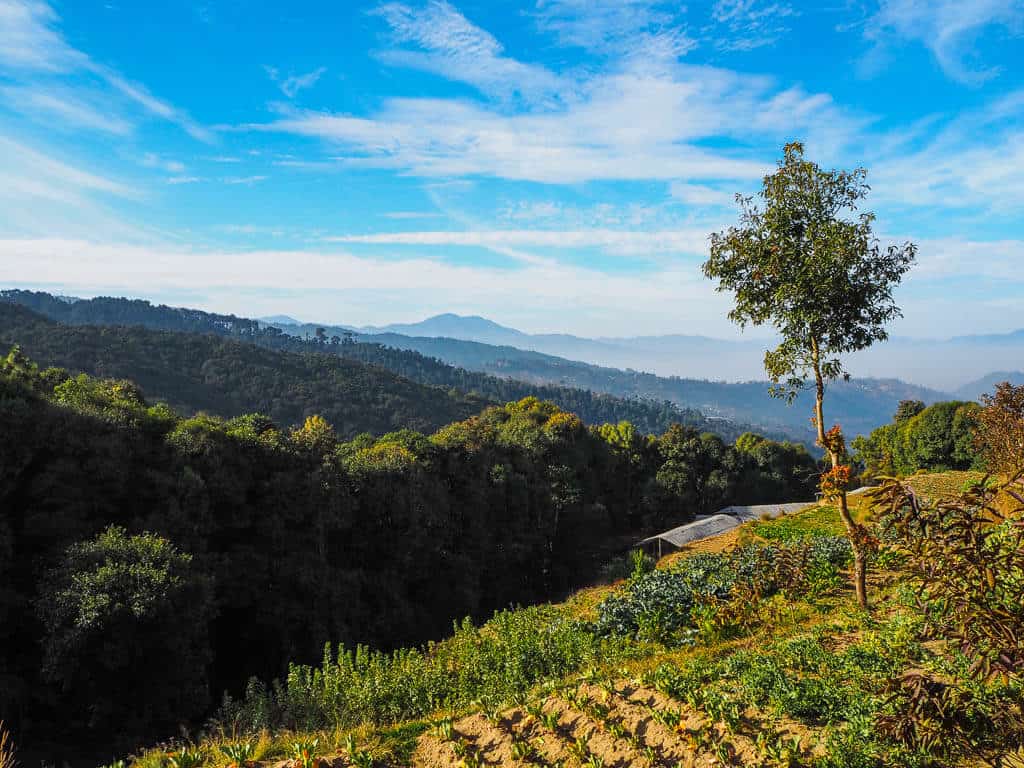 Karen has finally woken up. Her expression is priceless as she looks out at the view for the first time. Nagarkot maybe small but what it lacks in size it certainly makes up in other areas. It's not every day you wake up to views of the top of the world. Well, actually it is in Nagarkot!
Have you visited Nagarkot? Are there any other activities that you would recommend?
Going To Nepal? Check out our other posts on Nepal first!
Gokarna Forest Resort Kathmandu (An Oasis In The Chaos) – If you are heading to Kathmandu & are looking for a hotel then check out the Gokarna Forest Resort, Kathmandu (An Oasis In The Chaos).
Boudha Stupa (An Unmissable Experience Near Kathmandu) – If you are travelling to Nepal then you must visit Boudha Stupa (An Unmissable Experience Near Kathmandu). It was one of our highlights in Nepal.
Beautiful Nepal I love you (A love letter to Nepal) – Beautiful Nepal I Love You (A Love Letter To Nepal). Read why we have fallen in love with Nepal. From the mighty Himalaya to its wildlife, Nepal had us smitten from the moment we landed. Add in Pokhara and the Nepali people and you have the makings to a perfect holiday.
The Old Inn Bandipur Nepal | Our Stay In An Ancient Heritage Hotel – If you travelling between Kathmandu & Pokhara then we highly you recommend you stop off in Bandipur & stay at The Old Inn. It is a heritage hotel with loads of character, delicious food & fantastic staff.
The Pavilions Himalayas | The Place To Recover After Trekking In Nepal – If you have just trekked the Annurphuna Circuit or are in Pokhara we highly recommend a stay at The Pavilions Himalayas. Not only is it a beautiful hotel with the amazing staff it is also doing things the right way in terms of the environment and the local population. It's Sustainable Luxury at its best.
Places To Visit In Bhaktapur Nepal – If you are visiting Nepal, check out our favourite places to visit in Bhaktapur Nepal before visiting this historic city. We list hotels, temples and more!
#LoveYourTravels
Some images are provided by the hotels. Affiliate disclaimer: Certain products and links on this post earn us an affiliate commission for any purchases you make at no extra cost to you.