The smell of incense is everywhere. On each corner, there seems to be a shrine of some sort with candles flickering in the wind. As we walk down the narrow streets we have to avoid the motorbikes, cows and potholes. I haven't had such an extreme introduction to a city since Marrakesh in Morrocco way back in 2009. It seems like every building we pass needs wooden beams to help it stay up. It most probably is due to the tragic 2015 earthquake that devastated many towns in Nepal. As we carry on walking we receive smiles and "Namastes" from the locals. I feel like we have gone back in time and I can't wait to explore Bhaktapur and see what it has to offer.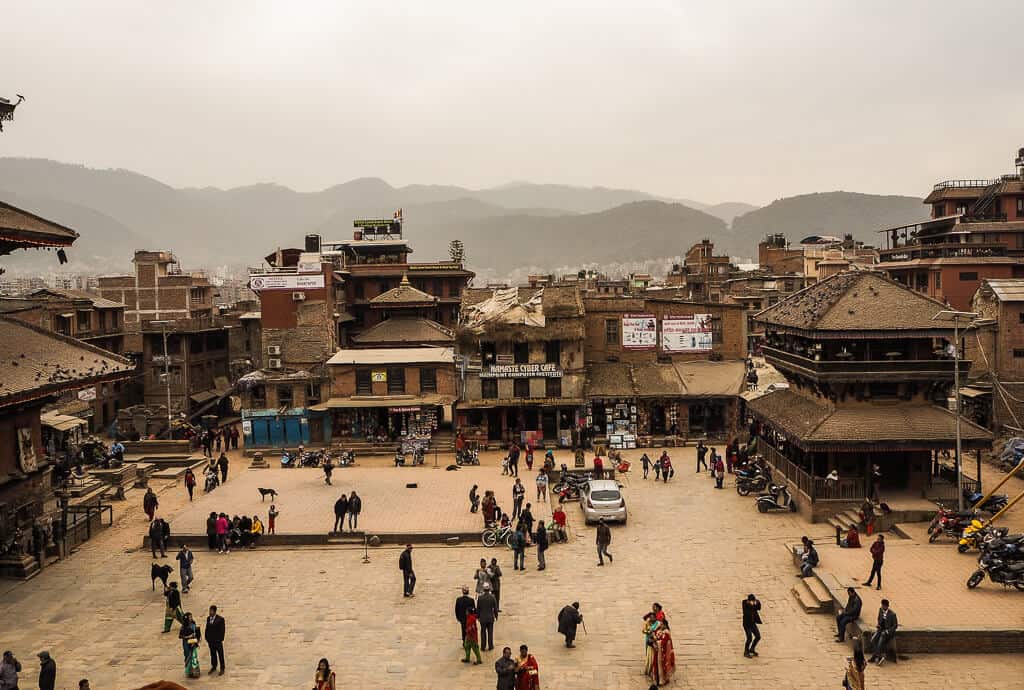 Places To Visit In Bhaktapur Nepal
Bhaktapur Facts
Bhaktapur is located in the Kathmandu Valley about 8 miles (13 km) from Nepal's capital Kathmandu. It has a population of around 65,000 people. Bhaktapur literally translates as Place of Devotees, which is pretty unsurprising given all the temples that are in the city. Bhaktapur is considered the best place in Nepal for its preserved historic buildings, courtyards and shrines, a fact that UNESCO recognised by awarding Bhaktapur (and the Kathmandu Valley) World Heritage Status in 1979.
Durbar Square Bhaktapur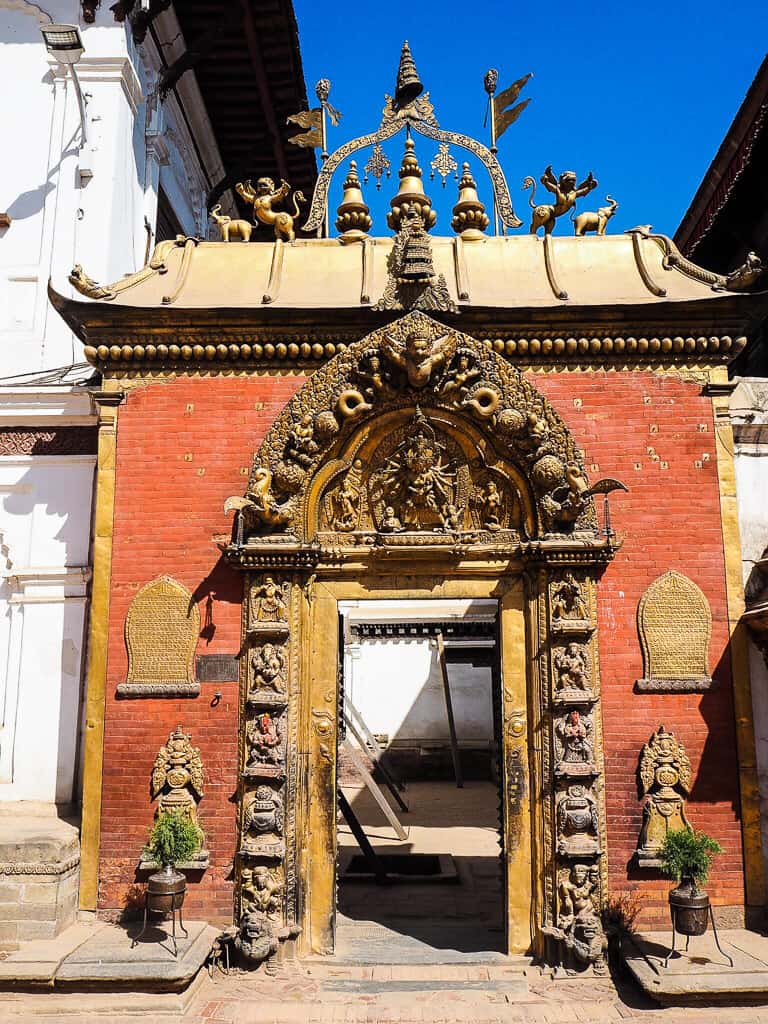 The first place we visited was Bhaktapur's Durbar Square, where there are temples and other historical buildings all around. Every building is beautiful and ancient. Despite many of the buildings being damaged from earthquakes the square is still impressive and a must see when you visit Bhaktapur. There are many sites within Durbar Square to see so make sure you don't rush through it.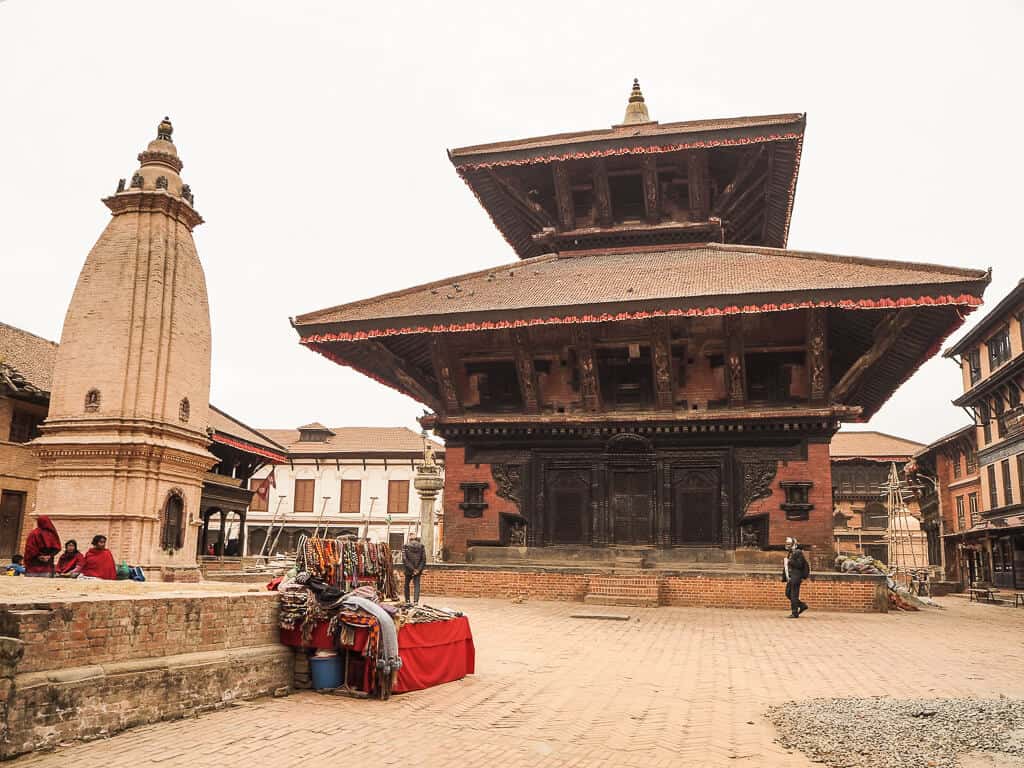 There are at least 6 (there are probably more) Hindu temples in Durbar Square. They are the Shiva Parvati Temple, the Indrayani Temple (where they do animal sacrifices on a Saturday so avoid if you don't want to see that), The Char Dham Temples which was built for pilgrims who couldn't make the journey to the Indian state of Uttaranchal to visit the original Char Dham temples, the Pashupatinath Temple which is the oldest in the square, The Siddhi Lakshmi Temple and the wonderfully named Erotic Elephant Temple! Just look at the temple roof and think of the birds and bees story and you will get why this temple has that particular moniker.
Other major sites in Durbar Square are The Royal Palace, The Golden Gate, and The 55 Window Palace which has ahem 55 intricate wooden windows on its upper level.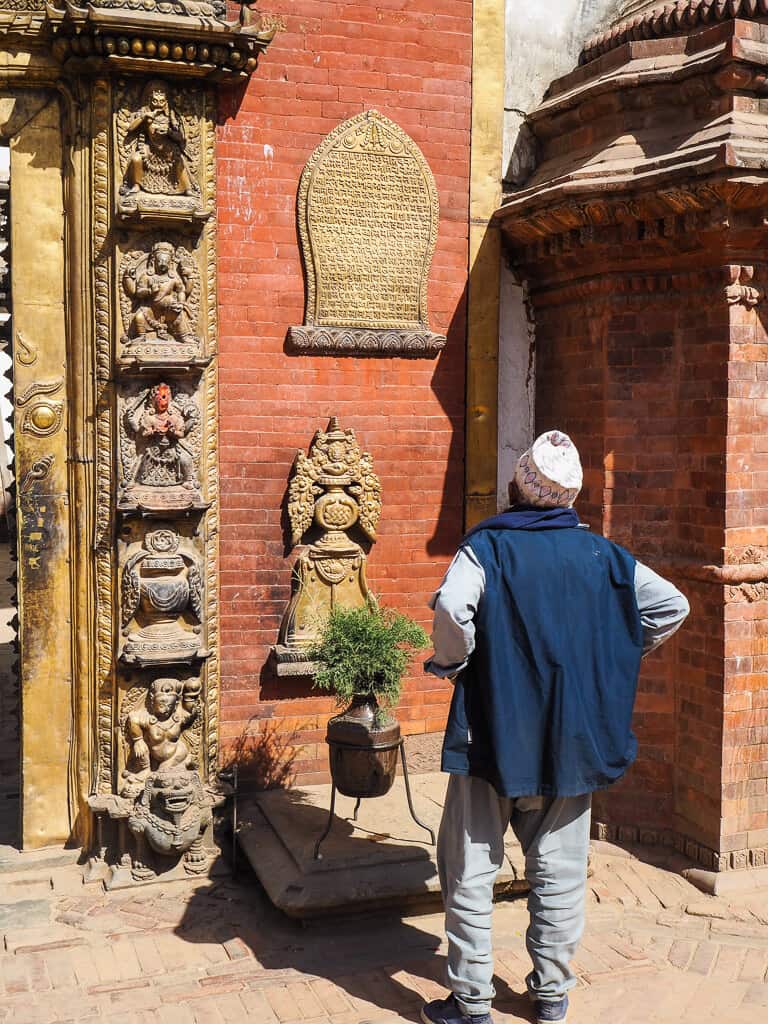 To be honest there are so many things to see in Durbar Square that we decided to wander around without any sort of plan and see what we discovered. Just walking around the square transported us back in time.
We love history and culture but nothing beats trying local food wouldn't you agree? If you go to the far end of Durbar Square you will find local curd shops. They have the creamiest yoghurt or curd I have ever tasted. Bhaktapur is famous for its curd and boy does it deserve to be. Make sure you try one before you leave.
The National Art Gallery is considered to be the best museum in Bhaktapur and is also located in Durbar Square. Its exhibits include Tantric cloth paintings, palm-leaf manuscripts, and objects made from wood, stone and metal dating from the 12th century. Keep hold of your ticket as it also covers the entrance fees for the Woodcarving Museum and the Brass and Bronze Museum.
The National Art Gallery Info:
Hours: 10am-5pm Wed-Sun, to 3 pm Mon, to 4 pm Wed-Sun mid-Oct–mid-Jan
Entrance Fee: Price foreigner/SAARC Rs 150/50, camera/video Rs 100/200
Durbar Square Entrance Fee: The current fee for foreigners into Durbar Square is 1500rps approximately or USD$15.
Siddha Pokhari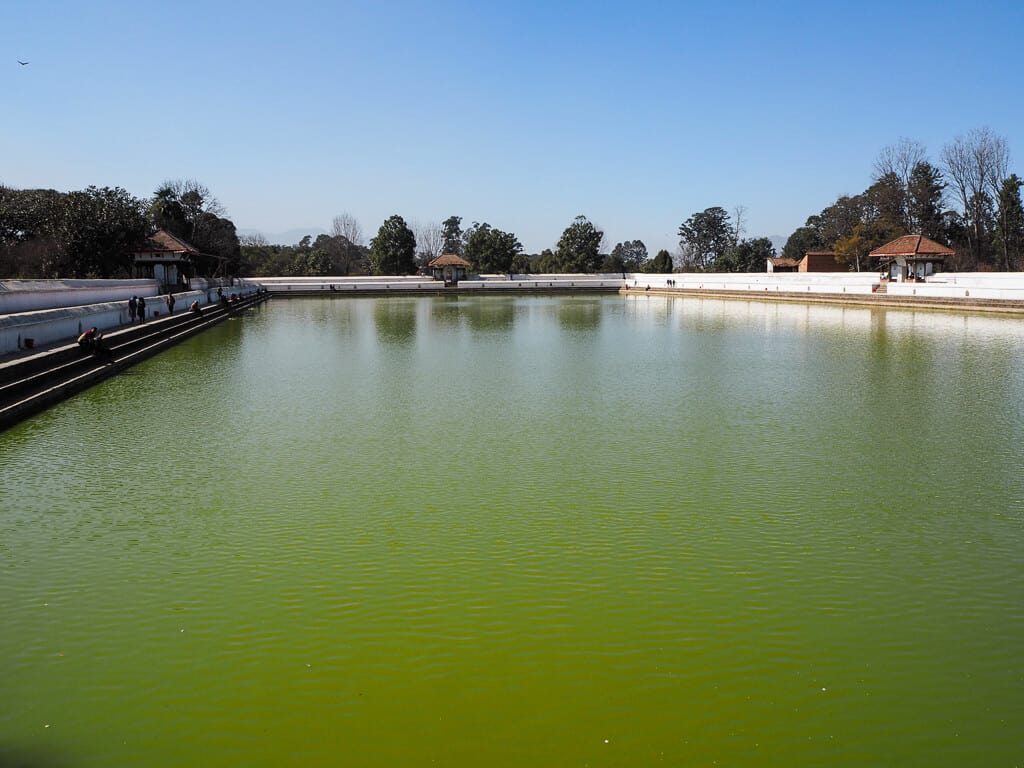 Our next stop was at Siddha Pokhari one of Bhaktapur's famous ponds. These ponds were built in the medieval period to store water for drinking, bathing and religious rituals. The ponds are still important to the people of Bhaktapur today with many people coming down to them to bathe and wash clothes. It was a very hot day when we were there and I was tempted to jump in the pond to cool off but I didn't see anybody else in so I didn't want to do a faux pas! There are giant carp in the pond and apparently turtles too but we didn't see them. The carp and turtles are there to keep the water free from detritus.
Nyatapola Temple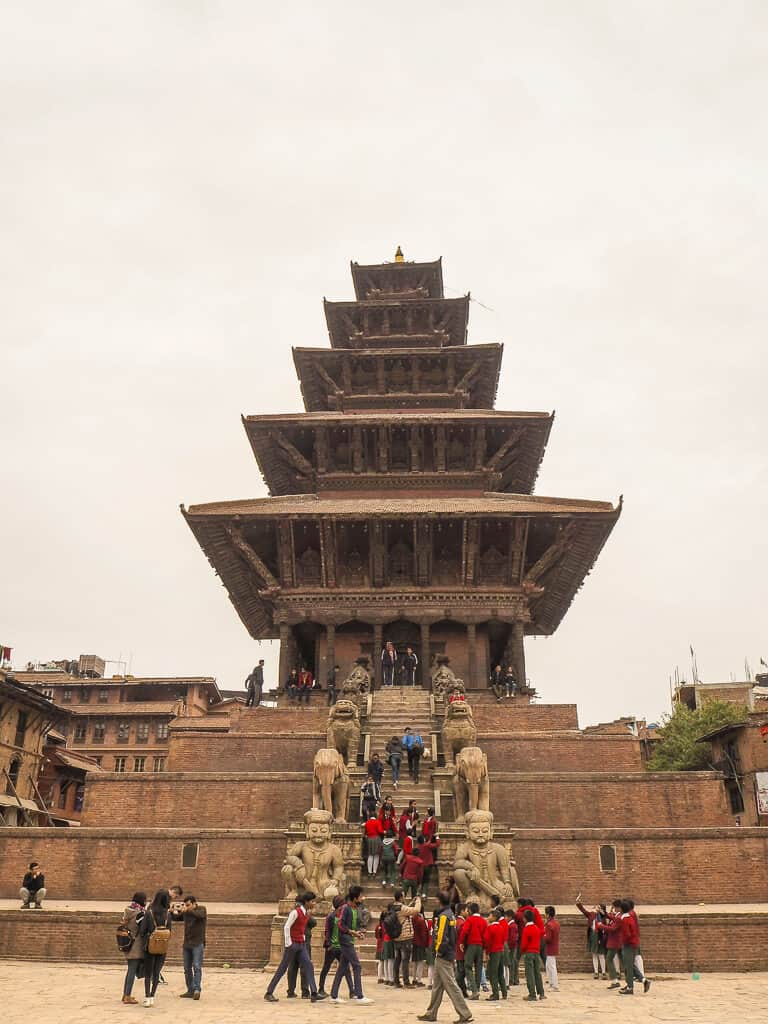 Nepal is full of temples and it is easy for them to blur into one but then a temple comes along that blows you away. Nyatapola Temple is one of those temples. It is located in Taumadhi Tole (square) and you will be able to see the top of the temple way before you enter the square. Nyatapola Temple is the tallest temple in Nepal and one of the tallest buildings in the Kathmandu valley.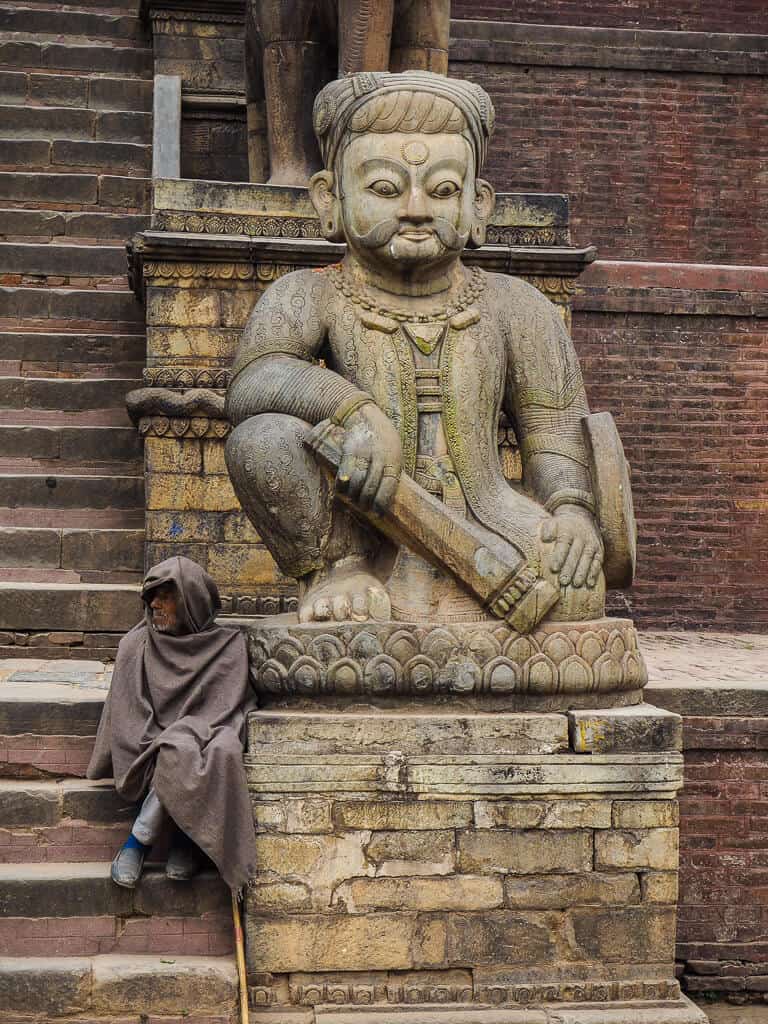 When we got to Nyatapola Temple we just stood there taking it all in. It reached for the sky in front of us. At the bottom of the temple steps was an old man dressed in traditional attire, he had a walking stick and a face that could tell a thousand stories. Behind me was an old lady trying to control her two goats who seemed to want to explore as much as we did. Bells were ringing in the distance and the air had a mixture of incense and cow manure. We loved it. We headed up the temple steps to get a better view of the city. We were not the only ones. There were young courting couples holding hands and giggling, as well as serious pilgrims coming to pay their respects. The temple felt alive unlike a lot of religious buildings we have visited.
Pottery Square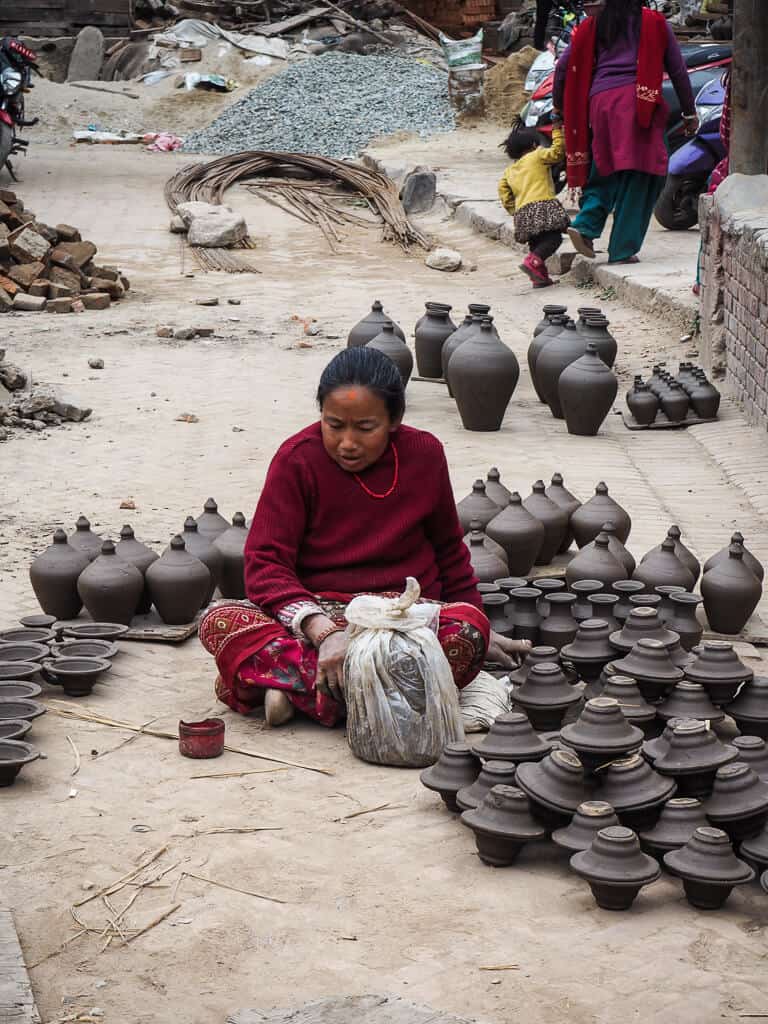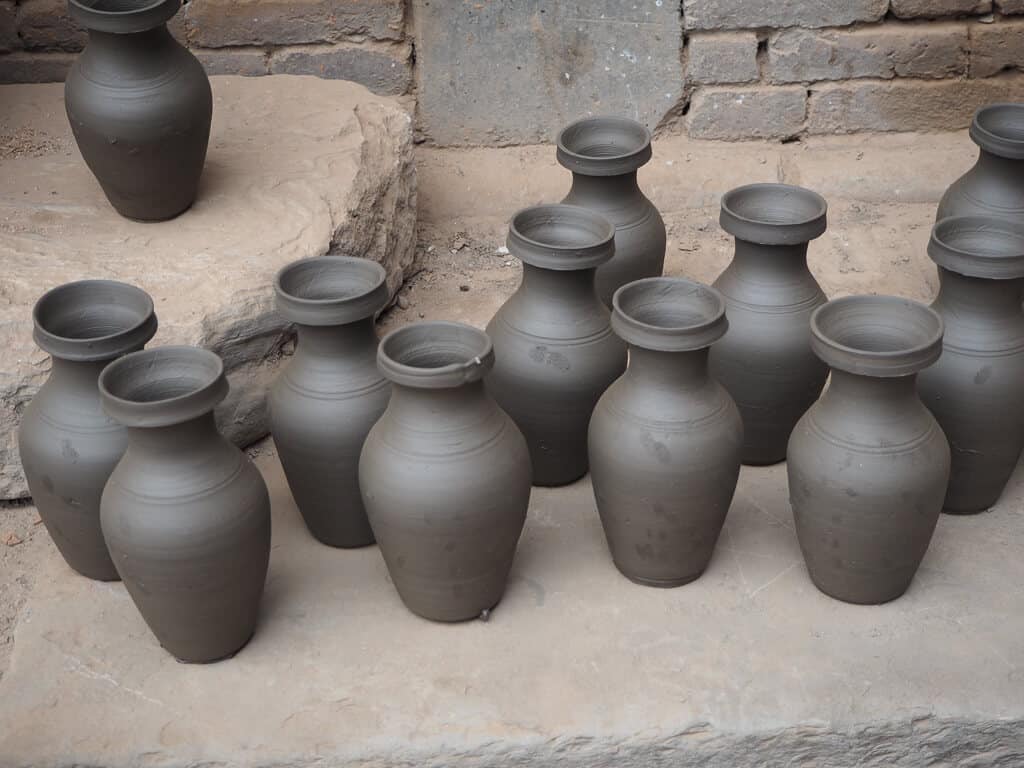 One of our favourite spots in Bhaktapur was Pottery Square. Just walking down the narrow alleyways of the Old City which leads to Pottery Square was an experience. On almost every corner there was some sort of shrine surrounded by candlelights and offerings. There was so many amazing buildings, sculptures and shrines in Bhaktapur that you could fill a whole guidebook just on them.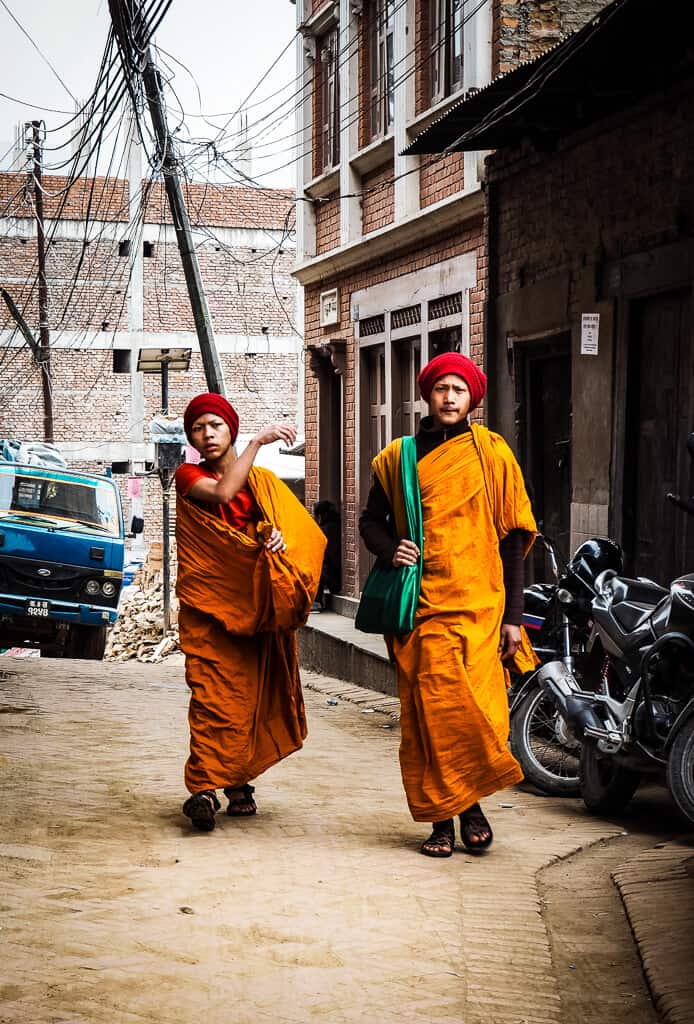 Orange-clad monks passed us by as did countless motorbikes full of whole families. When we got to Pottery Square it is exactly as the name suggests, a square full of people making pottery. There were hundreds if not thousands of different size clay pots drying in the sun. The owners or makers of these pots were nowhere in sight, a perfect example of how trustworthy the Nepalese are. I noticed several shops in the square selling the finished article. They were lovely but too bulky for us to carry around Nepal in our backpacks.
Changu Narayan Temple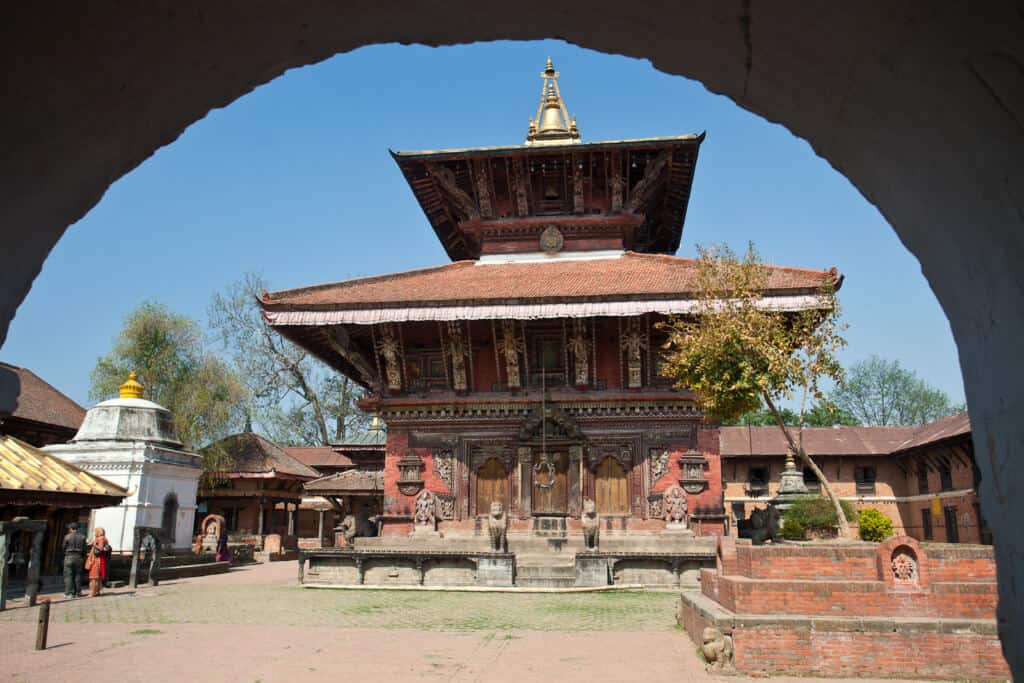 A few miles out of Bhaktapur is Changu Narayan Temple. Unfortunately, we didn't have time to visit this temple which is a shame as it is considered one of the oldest temples in Nepal. It is surrounded by a forest and sits above the Manahara river so even the location is an attraction.
Dattatreya Square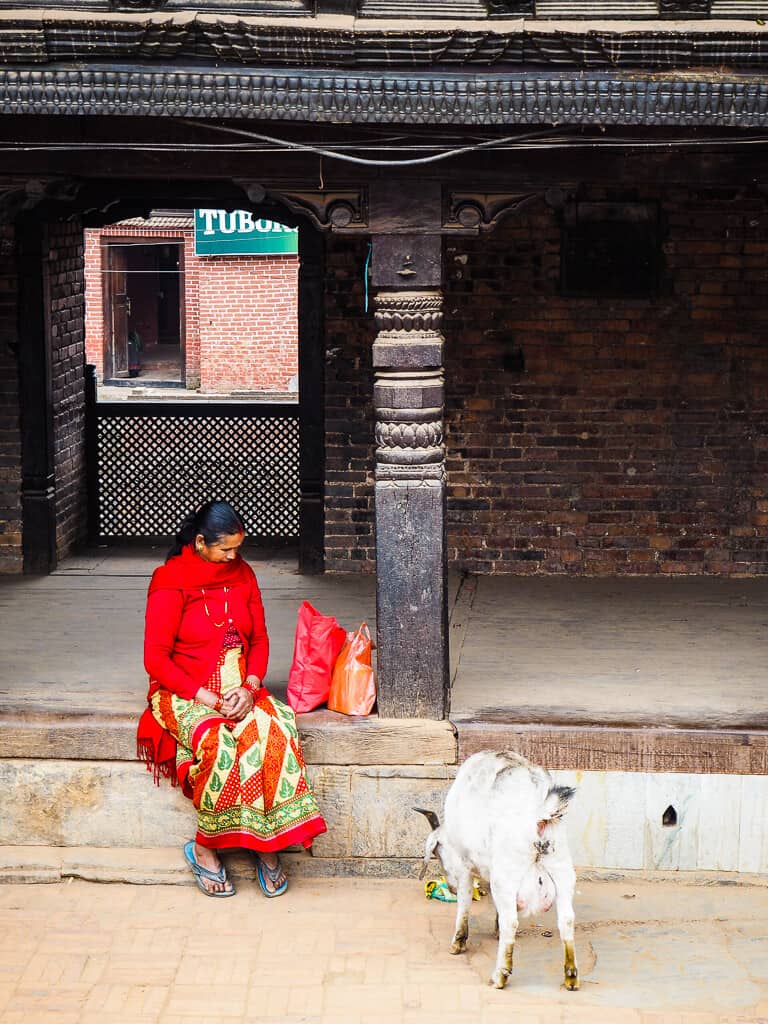 We had lunch in a cafe overlooking Dattatreya Square which is one of the oldest in Bhaktapur. Dattatreya Temple is at the far end of the square. As we ate our lunch I could see Hindu Holy Men receiving alms, school children walking home from school, another woman with goats (maybe that is why the curd is so good?) and a wedding procession with a brass band. The square was chaotic, alive, fun and real, like the whole of Nepal really. Who needs mobiles and Netflix when you have such a show right in front of you?
How to get from Kathmandu to Bhaktapur
Kathmandu to Bhaktapur Taxi: Taxis from Kathmandu to Bhaktapur should cost around Rs 800 one way (at the time of writing). Journey time should be around 45 mins depending on traffic.
Kathmandu to Bhaktapur Bus: Buses run very frequently from Kathmandu's Bagh Bazar bus stand. The cost should be around Rs 30 and should take around one hour but it can be longer as the bus stops everywhere. It drops you off at Guhya Pokhari which is a short walk to Durbar Square. Last buses leave from Bhaktapur to Kathmandu at 18:00. Better still, why not stay for a few days in Bhaktapur as we did.
Hotels In Bhaktapur
Bhaktapur has a wide range of accommodation from boutique hotels to guesthouses. Here are a few that come highly recommended.
Milla Guesthouse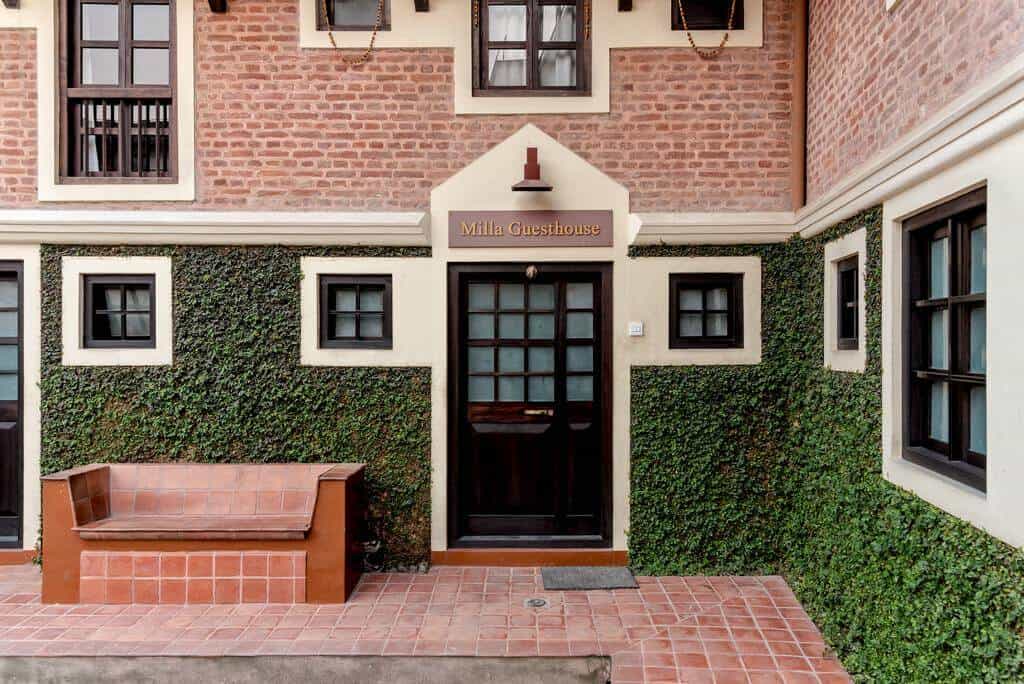 Mila Guesthouse is where we stayed when we visited Bhaktapur and we loved it. Our room was huge with a lovely bathroom and the breakfast was delicious. The people who run it are the nicest people you will meet and the location is lovely as it is set in a small courtyard. Check here for the latest prices.
Thagu Chhen Boutique Hotel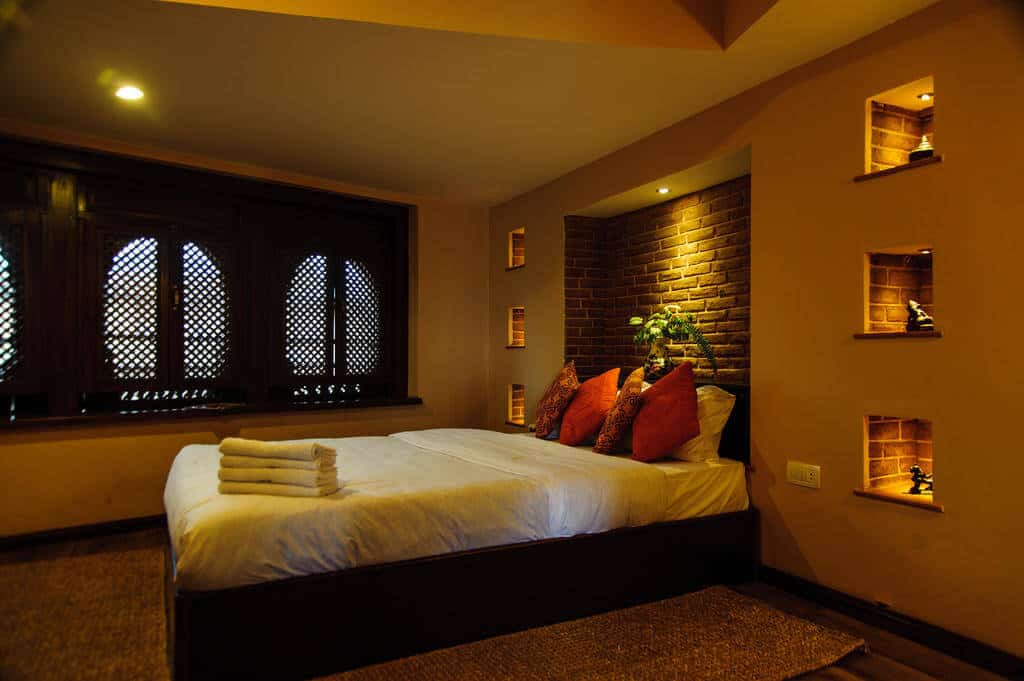 If you need mod-cons and more room from your hotel room then Thagu Chhen is the place for you. Most rooms take up the whole floor! Guests love the location, the size of the rooms, the kitchen and dining areas and the patio. Check here for the latest prices.
Hotel Heritage Bhaktapur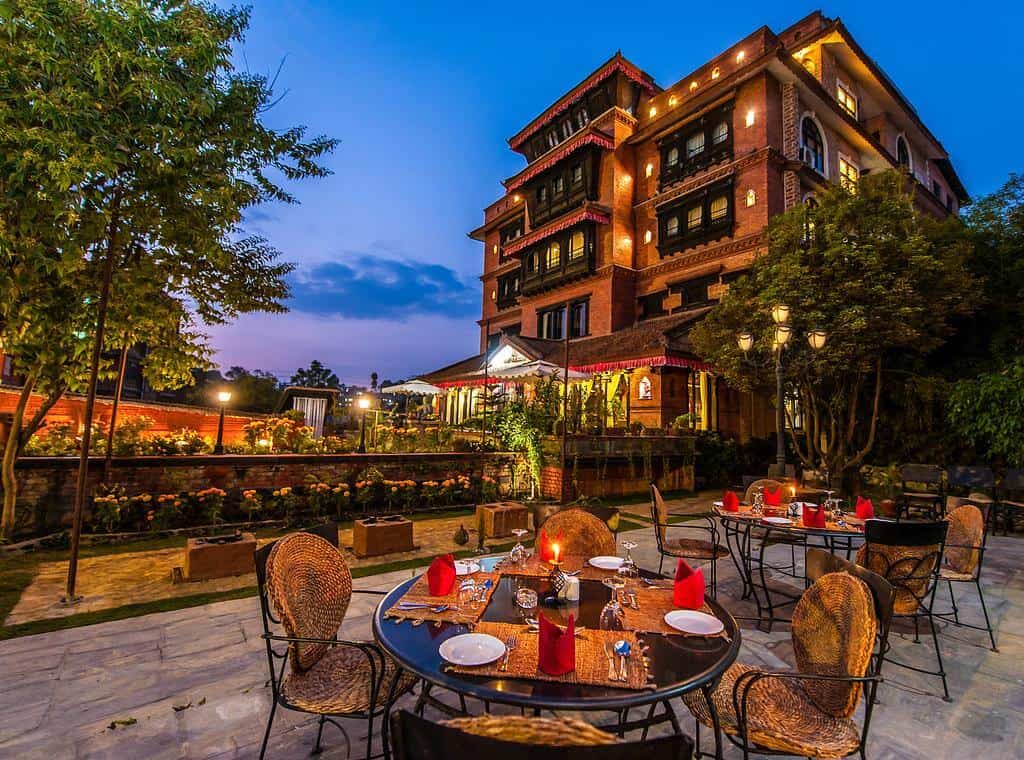 If you are looking for a bit of luxury (and why not) then Hotel Heritage is one of the plushest hotels in Bhaktapur. Previous guests have loved the furniture and decoration of the rooms, the onsite restaurant and bar and the excellent service the staff provide. Check here for the latest prices.
Where To Eat In Bhaktapur
No-name Restaurant 

We love places like this! If you want the best street food in Bhaktapur then you have to come to this hole in the wall restaurant. When I say hole in the wall, I mean it. We walked past the place about 3 times before some local stall holders realised what we were looking for. The only thing on the menu is Bara (a delicious lentil pancake) served with paneer and peas gravy. It was so good we ordered it again!
Mayur Restaurant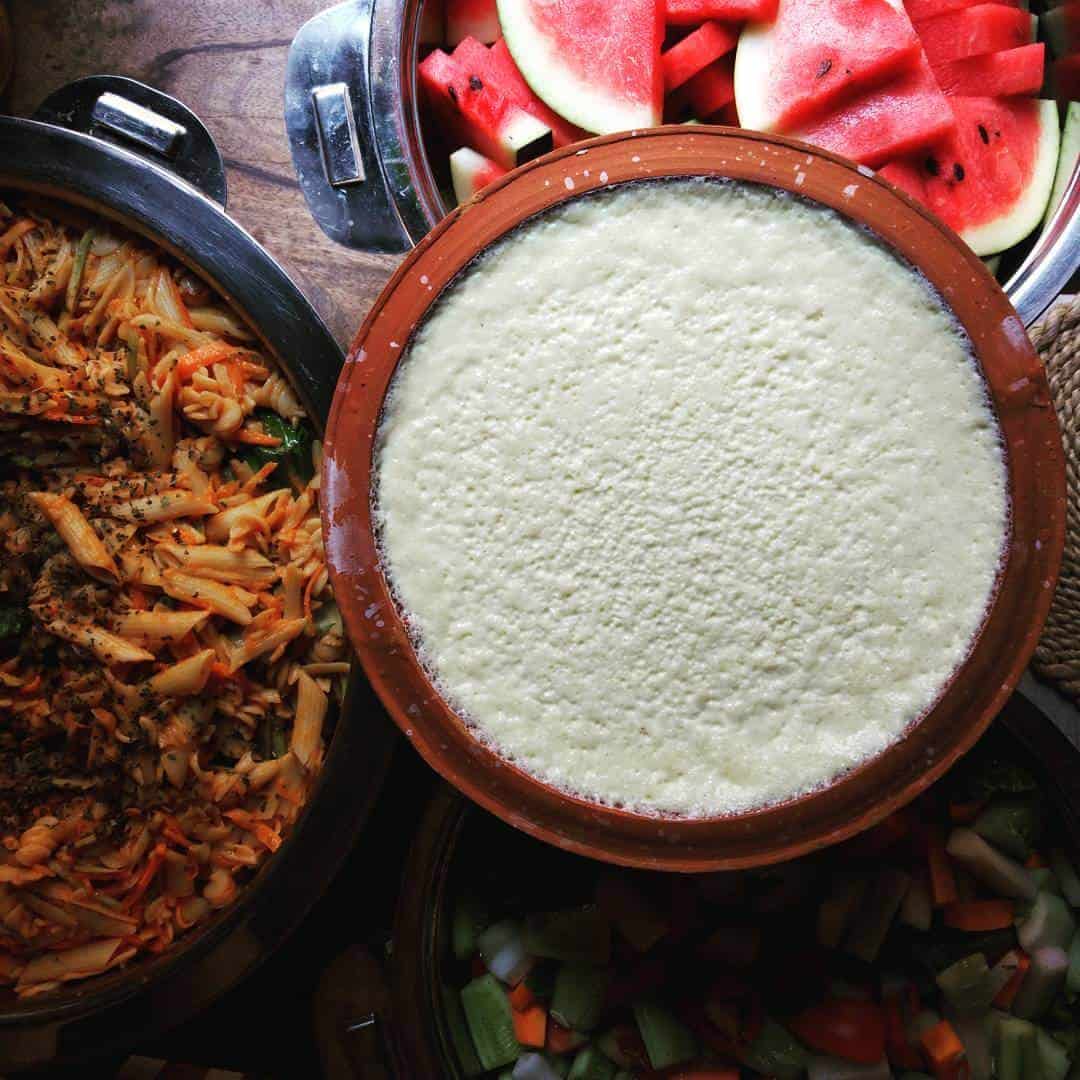 We loved the Thai food here, so much so we came back twice. They do great breakfasts too as well as other popular Asian dishes. It is located in a heritage building (what isn't in Bhaktapur!) and is part of the Peacock Hotel.
Beans The Coffee Shop

If like us you love a good coffee then Beans in the place for you. Serving excellent coffee, toasties, pizza, cakes and brownies this is a perfect place to chill after walking the streets of Bhaktapur.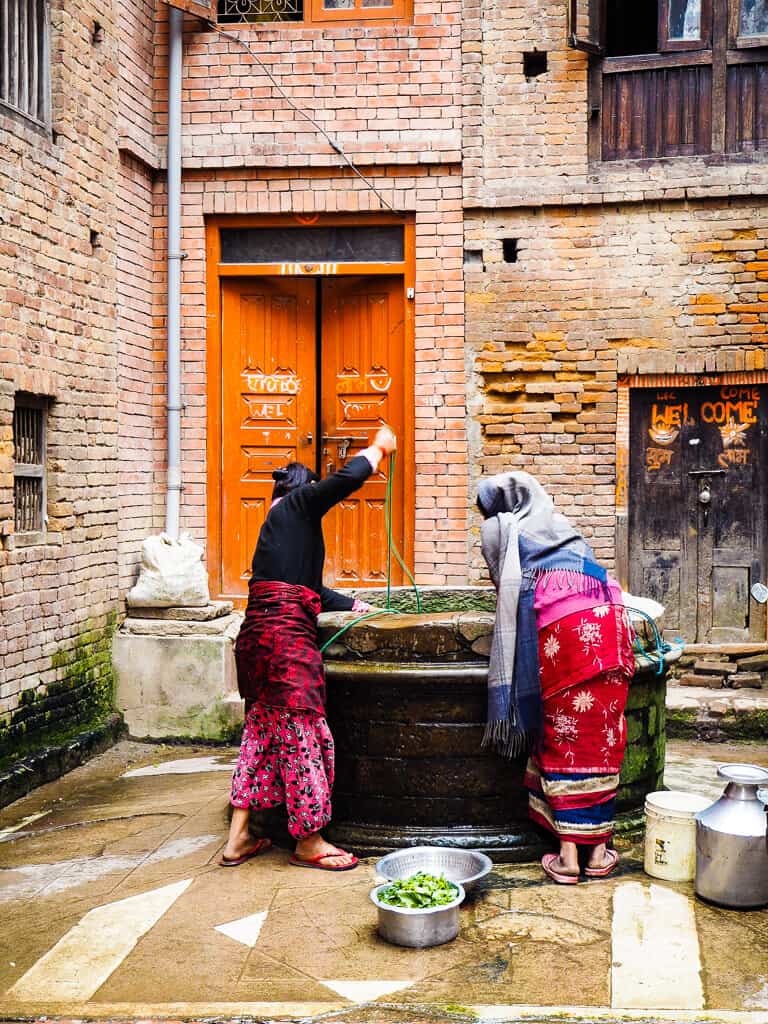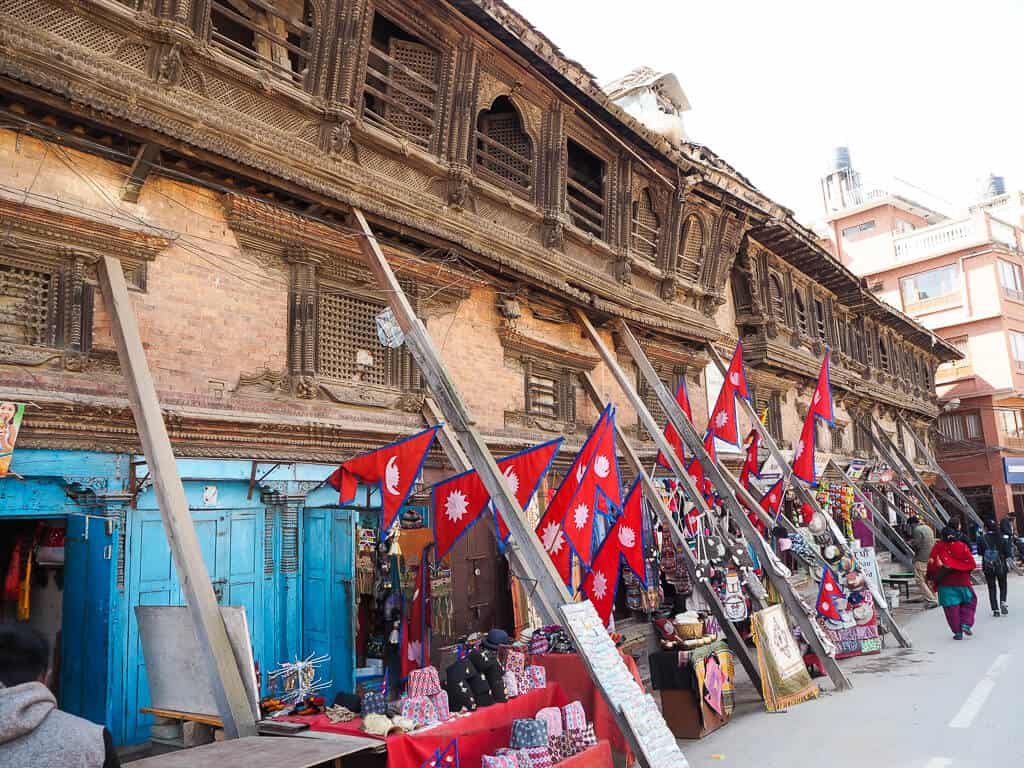 Sometimes you visit a place and instantly fall in love. Bhaktapur is one of those places. How could it not be when it has streets full of shrines, squares full of life and buildings full of character?
Going To Nepal? Check out our other posts on Nepal first!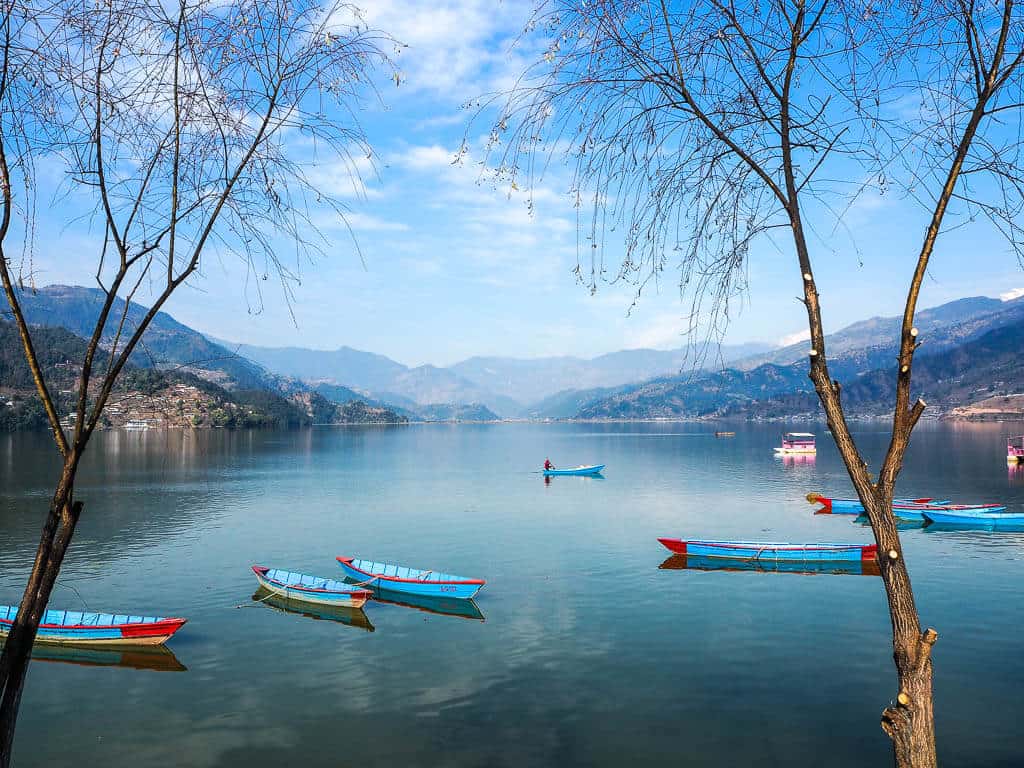 A Love Letter to Nepal – Beautiful Nepal I Love You (A Love Letter To Nepal). Read why we have fallen in love with Nepal. From the mighty Himalaya to its wildlife, Nepal had us smitten from the moment we landed. Add in Pokhara and the Nepali people and you have the makings to a perfect holiday.
Why we are travelling to Nepal –  Nepal has been on our radar for quite a while. Read why we chose to visit Nepal this year & why you should too.
Gorkana Forest Resort Kathmandu (An Oasis in the chaos) – If you are heading to Kathmandu & are looking for a hotel then check out the Gokarna Forest Resort, Kathmandu (An Oasis In The Chaos).
Boudha Stupa an unmissable experience near Kathmandu – If you are travelling to Nepal then you must visit Boudha Stupa (An Unmissable Experience Near Kathmandu). It was one of our highlights in Nepal.
Things to do in Nagarkot, Nepal – If you are visiting Nagarkot in Nepal read our post on the Best Things To Do In Nagarkot before you go. Get ready to see amazing views of the Eastern Himalayan Mountains including the mighty Everest.
The Old Inn Bandipur. Our stay in an ancient heritage hotel – If you travelling between Kathmandu & Pokhara then we highly you recommend you stop off in Bandipur & stay at The Old Inn. It is a heritage hotel with loads of character, delicious food & fantastic staff.
The Pavillions Himalayas, the place to recover after trekking in Nepal – If you have just trekked the Annurphuna Circuit or are in Pokhara we highly recommend a stay at The Pavilions Himalayas. Not only is it a beautiful hotel with amazing staff it is also doing things the right way in terms of the environment and the local population. It's Sustainable Luxury at its best.
#LoveYourTravels