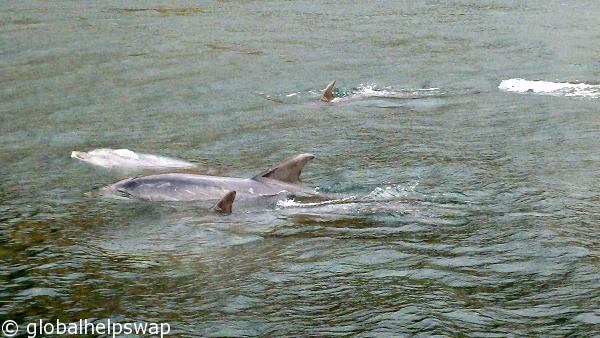 Some of the most memorable experiences we have had on our travels involve animals. From snorkelling with whales sharks in Donsol, The Philippines to sitting with orangutans in Sumatra, Indonesia. They were all magical moments with the one common thread: All of the animals were in their own natural habitat, with us observing from a distance.
Recently, in the travel blogging community there has been a huge debate going on about a conference that most of us attend. Before the conference tours are offered to bloggers by the tourism board to promote what's on offer in the area. One of these tours involves swimming with captive dolphins. This caused a huge row between many bloggers and the conference organisers. As the debate raged, I noticed that a few of the bloggers had no idea why it's harmful to swim with captive dolphins. I thought to myself, if seasoned travellers don't know the facts, the chances are that there are many other people who are in the same boat. I remember Karen being horrified that she had swam with dolphins when she was a young girl, not realising the harm she was doing at the time.
So I wanted to share 10 reasons why we don't swim with dolphins in captivity.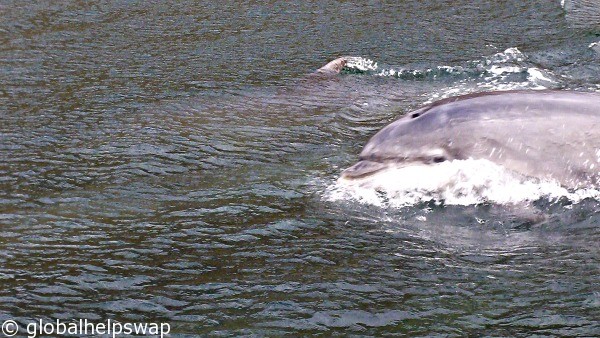 10 reasons why you shouldn't swim with dolphins in captivity
1) Many Dolphins die prematurely in captivity and there is a much higher rate of infant mortality. I don't know about you, but the idea of baby dolphins dying for my so-called entertainment horrifies me.
2) Dolphins love to hunt, roam, play and communicate in the wild. When held in captivity they can't do these activities. Imagine somebody taking away all your freedom and then making you "perform". Here's a video we found showing dolphins surfing the waves just for the fun of it.
3) Dolphins do not take well to being held in captivity. Separated from their family, dolphins start to behave abnormally.
4) Close contact to people can lead to injury and disease for the dolphins.
5) Dolphins that are kept in penned off areas in the ocean suffer during bad weather or very hot sunny weather. Sometimes the water quality is very poor but they can not escape to safer, cleaner waters.
6) Have you ever thought how the dolphins end up at these resorts and aquariums? The process of capturing wild dolphins can lead to injuries and deaths. Once a dolphin is taken, the remaining family and pod are also disrupted.
7) Dolphins are wild animals which means they are unpredictable. Being in close proximity to a captive dolphin can lead to injury to people. Dolphins also carry disease that could potentially be harmful to humans.
8) Orcas (which are part of the dolphin family) in captivity suffer from stress, become aggressive and often chew the bars at the side of their small tanks.
9) Over 90% of Seaworld's Orcas have not survived past 25 years. In the wild, a female orca can live up to 80-90 years.
10) Captive Orcas are trained to perform tricks for food, day after day, instead of behaving naturally.


What you can do:
Don't swim with dolphins in captivity
Seeing dolphins in the wild is a memorable experience. We have been lucky enough to see Dolphins in Ireland, Thailand, Indonesia and Australia. These animals are naturally inquisitive and will come very close to the shore or boat. Just watch the video below to see what I mean:
3. Don't visit resorts, aquariums, zoos or other attractions that have captive dolphins or other cetaceans, or offer "dolphin shows".
4. Avoid tour operators that offer swimming with dolphins activities.
5. Book with a reputable company like Wildlife Worldwide to see animals in their natural habitat.
Have you swam with dolphins and have felt concerned about their plight? Or have you been on a trip with a company that does it the right way? We'd love to hear your thoughts in the comments section below.
P.S. Most responsible travellers who read our blog sign up for regular updates. You can join them by filling in the orange box below.
#LoveYourTravels