They are coming from all directions. Young, old, solo and in groups. Some are even on bikes. Even though the weather can be best described as biblical the lashing rain can't wipe the smiles off their faces. They pass me with their backpacks on which suddenly feel lighter as they near their goal. Most of them have Scallop Shells attached to their bags to identify themselves as pilgrims.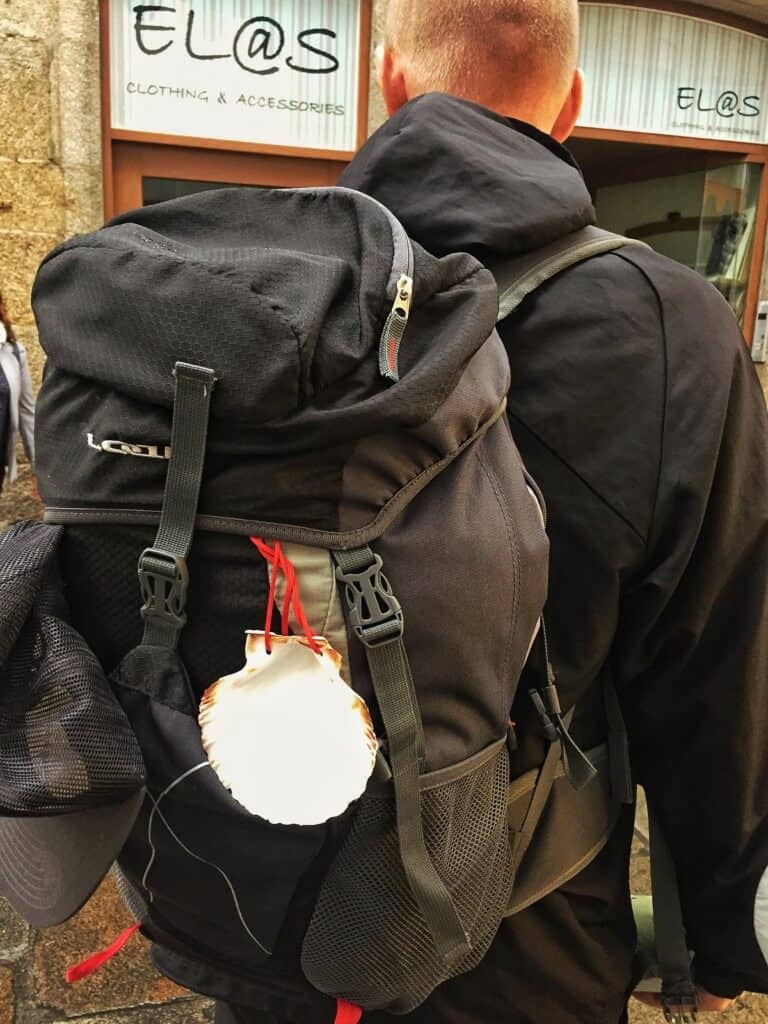 Top Things To Do In Galicia Spain | A 2 Day Guide To Galicia
I am standing in Praza do Obradoiro (square of the workshop) in Santiago de Compostela, Galicia, Spain and the atmosphere around me in magical. These pilgrims have walked (or cycled) for hundreds of kilometres along the Camino de Santiago to be here and now that they have finally accomplished their goal their vibe and smiles wash over the city like the heavy rain falling down on us. I am in Galicia for the weekend and my itinerary is a mixture of culture and cuisine which is the perfect weekend away in my view.
I will be honest, Galicia was never really on my radar but after chatting to a local who lives in London it soon became apparent that I had to visit Galicia ASAP. It is so easy to visit too with direct flights from the UK that take just over two hours.
So now that I am here I'd better go and discover what all the fuss is about.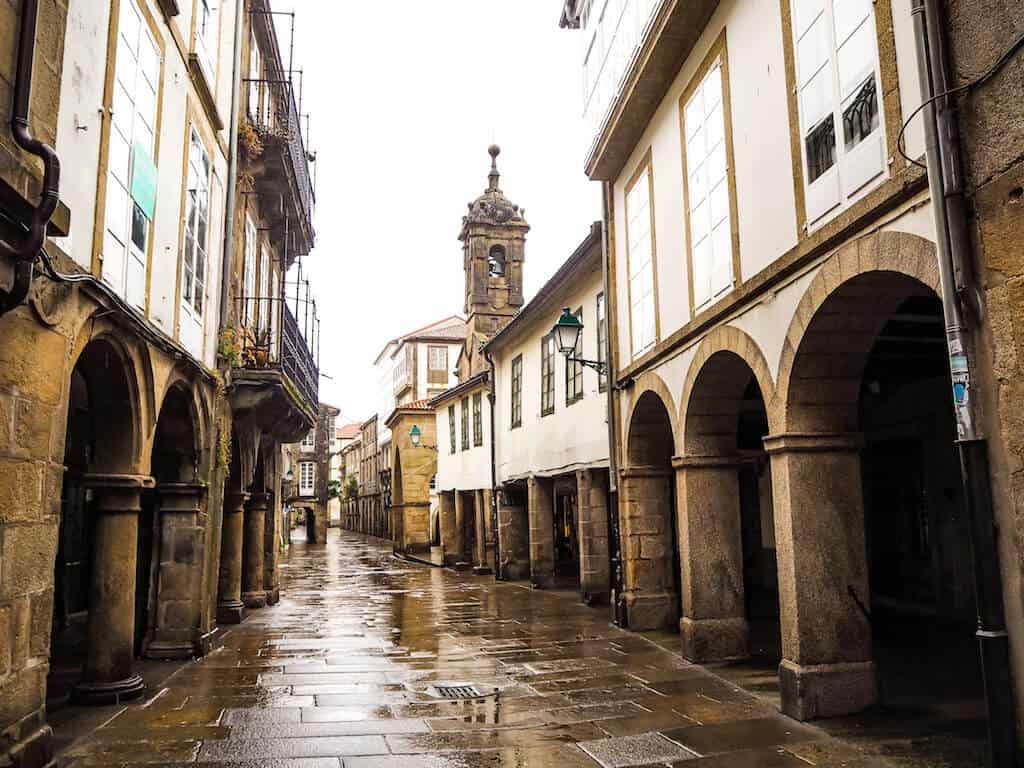 Day 1:
Visit Santiago de Compostela
We have based ourselves in Santiago de Compostela the capital of Galicia. It is a great place to have as a base as all the sites we want to see are just under an hour away. Santiago de Compostela is a UNESCO World Heritage site and the 3rd most important Christian location in the world after Jerusalem and Rome. Pilgrims come from all over the world to walk the Camino de Santiago or in English, The Way of St James.
After walking the Camino de Santiago the Pilgrims head to the shrine of the apostle St James The Great in the Cathedral de Santiago where tradition has it that the remains of the saint are buried. Funny enough most Pilgrims queue up to hug the back of the statue of St James instead of visiting the actual tomb where he is supposedly buried. Up to 3 million pilgrims walk the Camino de Santiago a year and when it is a holy year that figure can rise to 10 million people, which is astounding.
Santiago de Compostela is also a university city. There are over 42,000 students in the city and when you consider that the entire population of Santiago de Compostela is just over 100,000 there is no wonder that the city has a great buzz! The University of Santiago de Compostela is one of the world's oldest dating back to 1495 and is classed as one of the best universities in Spain.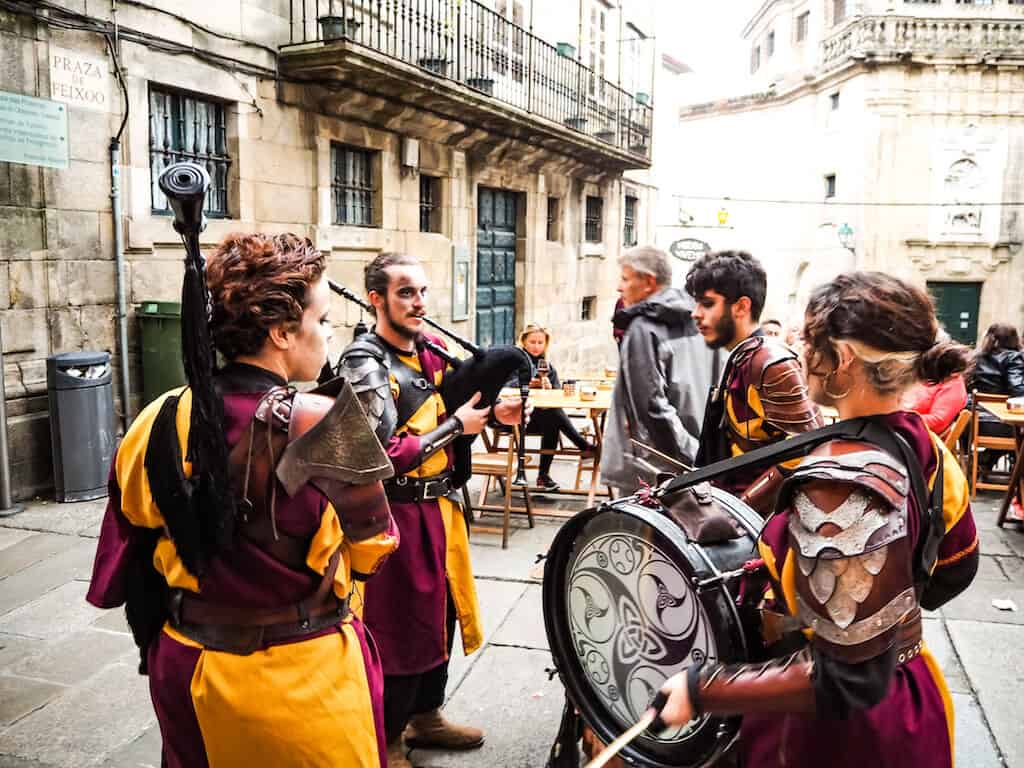 Santiago also hosts hundreds if not thousands of festivals throughout the year. I am quite sure when you visit there will be some sort of festival on. There are 3 festivals this weekend alone!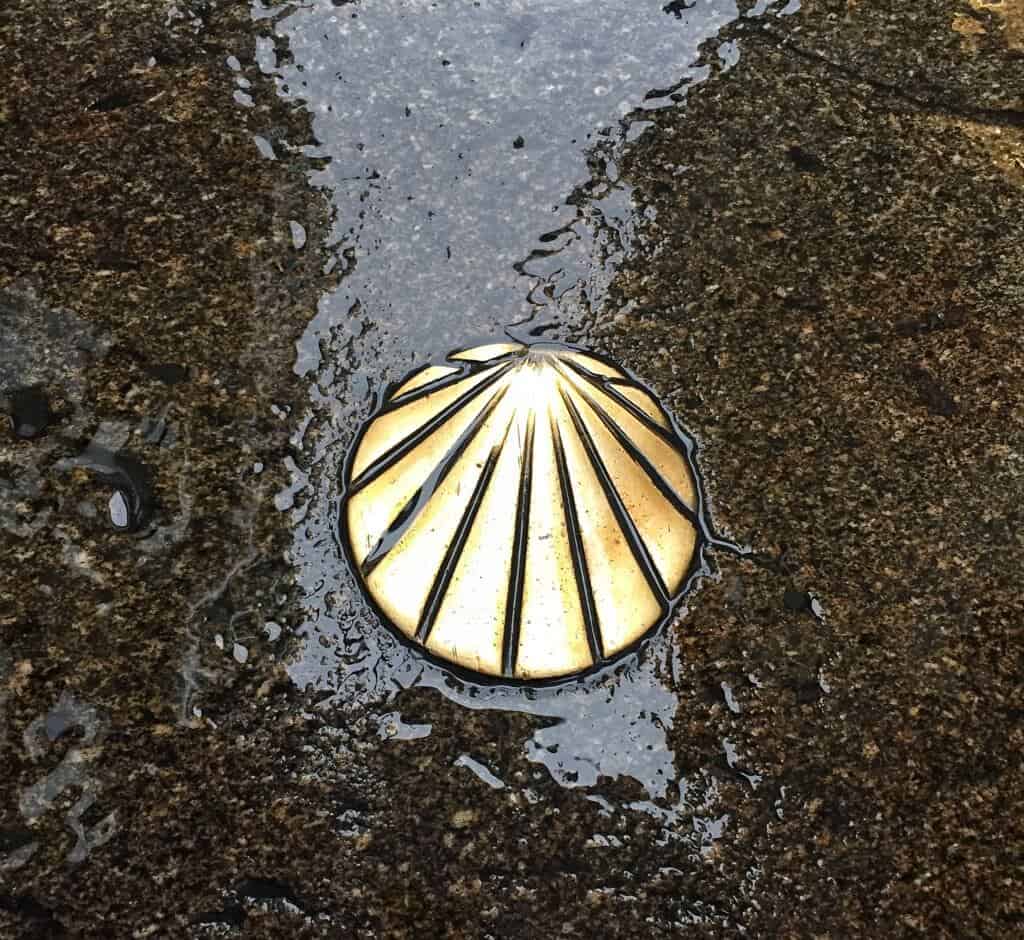 As I walk around the cobbled streets of the city with their scallop shell markers for the pilgrims I can't help but be amazed that I had never considered visiting here before. I think sometimes we take the cities of Europe for granted. Yes, we all know the beauty of Paris, Rome and Barcelona but we sometimes dismiss the smaller cities like Sibiu, Porto and indeed Santiago de Compostela.
I love walking cities and Santiago is certainly that. When visiting here make sure you visit Mercado de Abastos which is the cities most visited attraction after the Cathedral. It's mainly a fresh produce market where locals pick up the fabled fresh seafood of the area but it also great to people watch and take photos. There are bars and restaurants all around the market so if the food makes you peckish you can sate your appetite.
The weather has now cleared up and we have headed to Alameda Park. Alameda Park is located in the heart of Santiago de Compostela so you should find it quite easily. It is designed to resemble the grounds of a grand country estate and has more than 90 different types of plants.
It feels nice to be around some greenery but I am noticing a strange art piece just ahead of me of two old ladies.
Meet The Two Marias of Santiago de Compostela.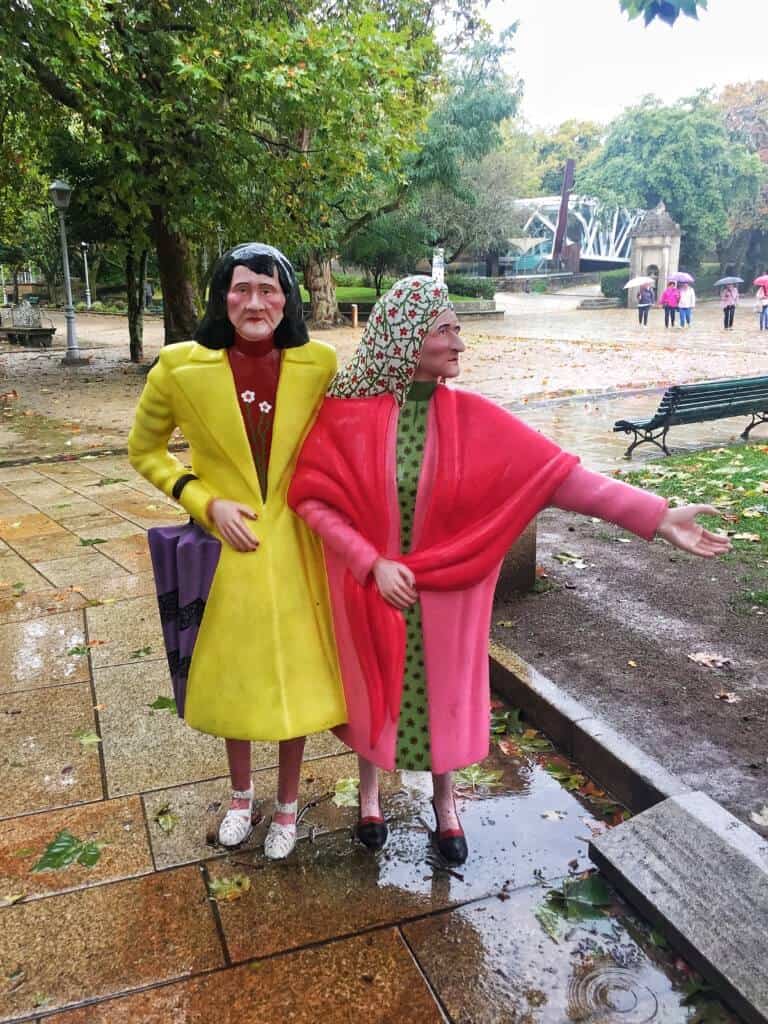 These two sisters used to frequent Alameda Park almost every day right up until the 1980's. They used to come at 14:00 on the dot in bright clothing and even brighter make up where they would flirt with much younger university students. Note, the arm and hand on one of the statues. She is not asking for something like I presumed, oh no, she is pinching young men's bums!
Sadly, it wasn't all fun and japes for the sisters. They lost many siblings during the Franco years and their family were persecuted for many years while he was in power which meant that they couldn't work (they were both seamstresses). Throughout most of their lives, they were impoverished. The statues were laid by sculptor Cesar Lambera in 1994 in memory of the two women. Many locals depict the Two Marias as unwell and flirtatious; whilst others view their lives and statues as a symbol of the fight against oppression and inequality. I would like to think the latter.
If you visiting Spain then make sure you head down to Granada. It has a very different feel to it than Galicia but is equally beautiful and has many things to offer. Check out this post on 50 things to do in Granada before you go. 
Visit Santiago de Compostela Cathedral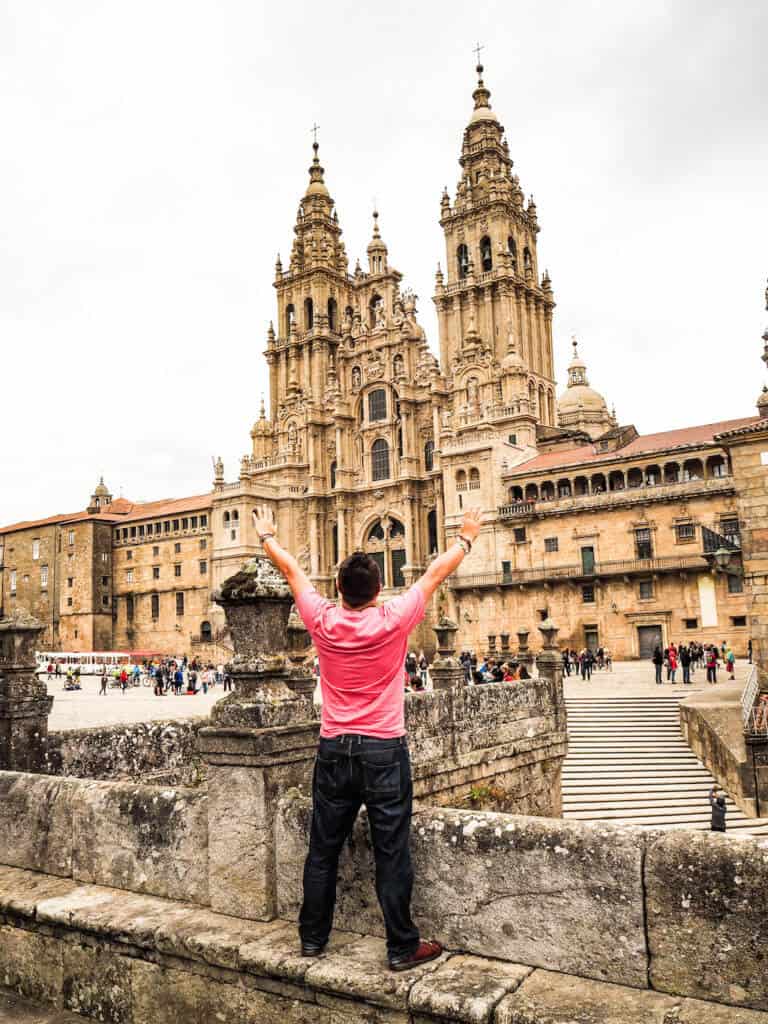 I have left the streets of Santiago and I am now standing on the roof of Santiago de Compostela Cathedral. You know that biblical weather I mentioned earlier? Well, it has come back with a vengeance. Even in this weather, the views are amazing. I can just make out the mountains in the distance and I am determined to get a few photos even though it means my camera is going to be soaked.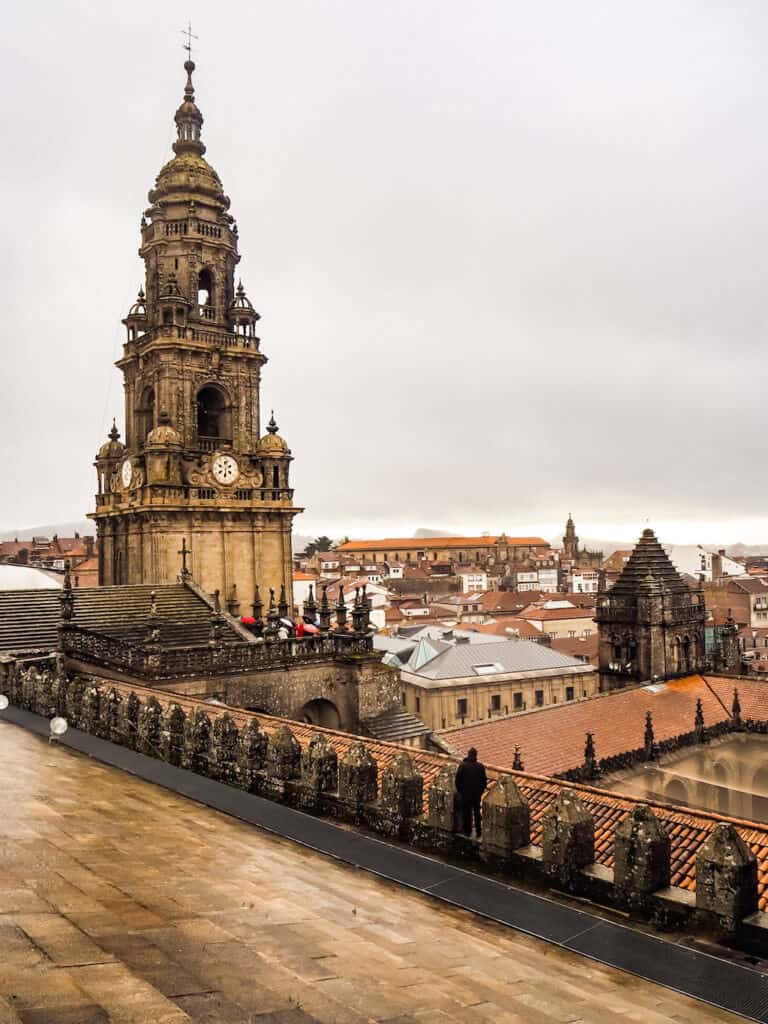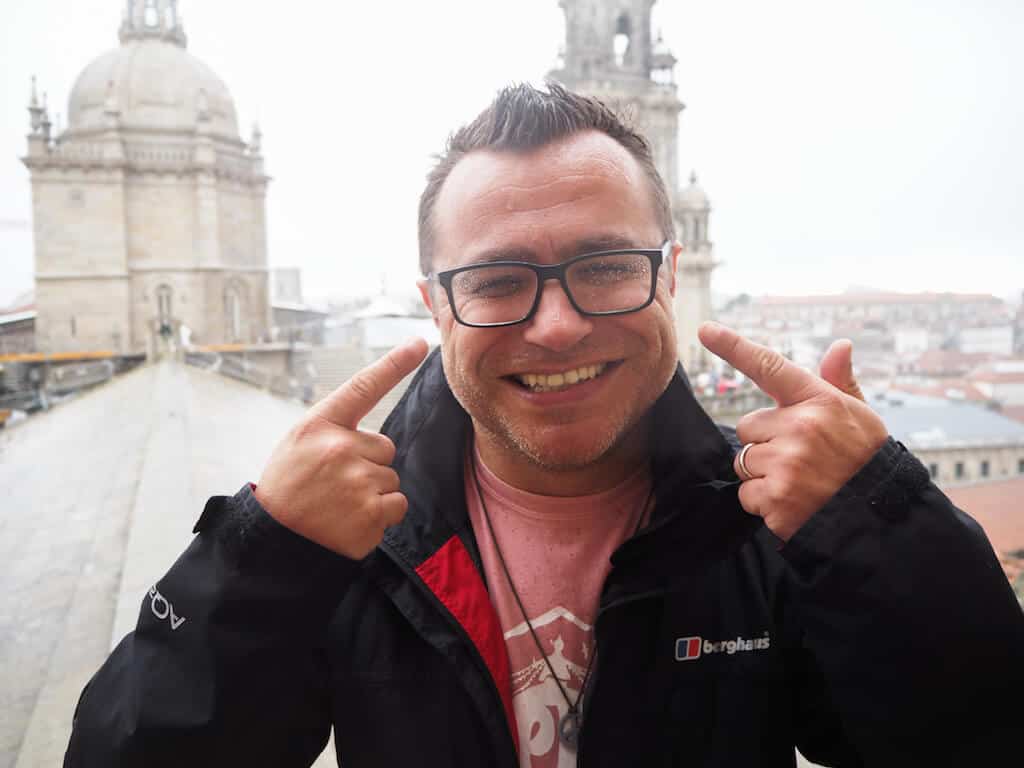 I didn't stay on the roof long! I am now in the main part of the cathedral and because it is a Sunday, Mass is about to start. I have lost count of how many cathedrals and temples I have visited over the years. Sadly that means that I have become blase about visiting them. However, as I walk around Santiago de Compostela Cathedral I can't help be impressed. The Romanesque interior certainly leaves an impression but it is the little bits of history that impress me most.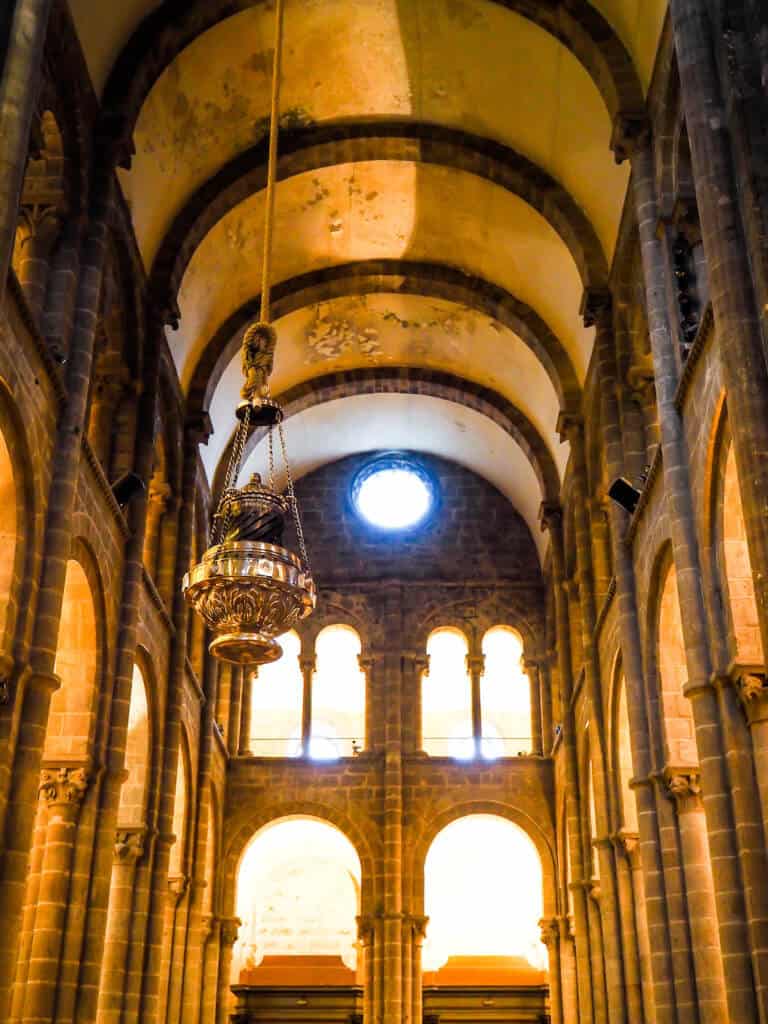 Thanks to our wonderful guide I learnt that the second level of the Cathedral that overlooks the main area used to be where the Pilgrims slept as there weren't enough inns in the city to host them all. Unfortunately, deodorant wasn't invented in the middle ages so you can imagine the aroma in the Cathedral if you came to visit. So that's why Santiago de Compostela Cathedral has the world's largest incense burner! I love quirky facts like this. They make an ancient building come alive.
When you visit the Cathedral make sure you explore every nook as there are some gems on the outer edges of the building that should not be missed. Oh and don't forget to visit the tomb! We have just walked straight down to it without queuing because as I said, most people are queuing to hug the statue of St James.
Santiago de Compostela Cathedral Information:
Opening Times: 07:00 – 20:30. The Basilica is open all year round.
Museum: (Ticket Office is on Praza do Obradoiro)
Museum Opening Times:
Daily from April to October: 9:00 am to 20:00 pm
Daily from November to March: 10:00 am to 20:00 pm
[December 24th and 31st: 10:00h am 15:00pm. January 1st and 6th, July 25th and December 25th: closed]
Visits to the museum include seeing the Permanent Collection / Gelmírez Palace (temporary exhibits) / Cathedral Rooftops / Cathedral Tribune / Archaeological Excavations / Portico of Glory.
Go To The Manor Houses Of Galicia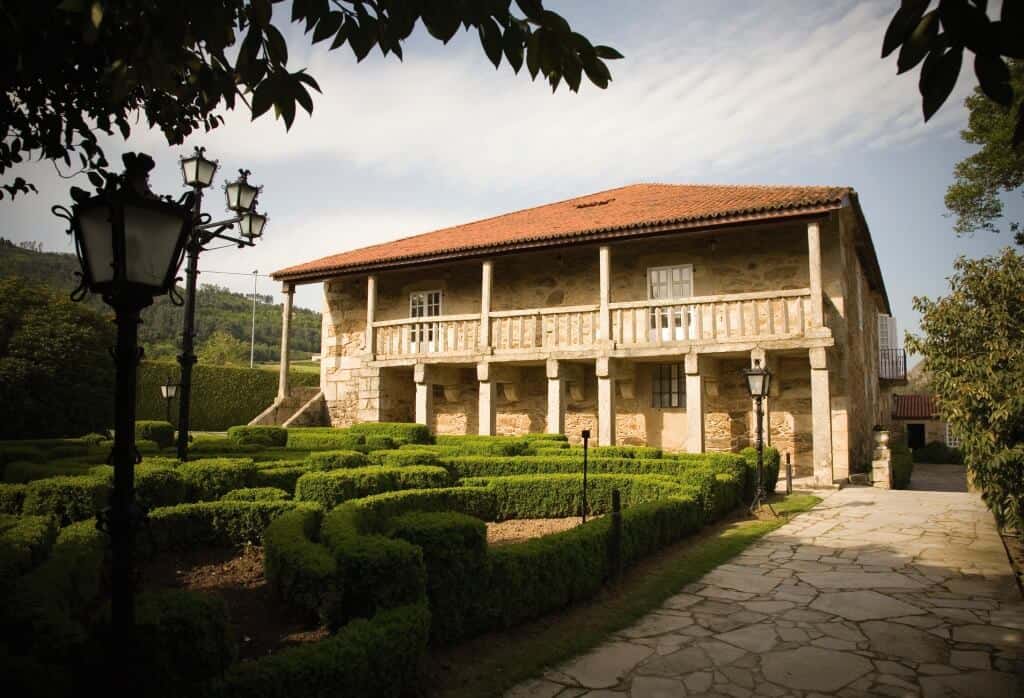 Galicia is full of Manor Houses and they are well worth a visit. Mainly built between the 17th and 19th centuries these houses used to be the dwellings of the nobility. Now visitors come to see the beautiful gardens, the buildings themselves and the delicious food.
Which is why we have left the city and now we are at Pazo Vista Alegre. The house is grand but in an understated way if you know what I mean. The surrounding gardens look lovely and I have noticed a wedding in one of the adjacent buildings which are another popular use of the manor houses.
Some of the manor houses are done in the geometric style of France whereas others are done in the English style which is more wilder. Almost all the manor houses will have beautiful gardens and they all serve food. They are a great day out of the city. Our food at Pazo Vista Alegre was sublime but be warned, the portion sizes are huge so come on an empty stomach and don't feel guilty after having that extra dessert as you will be able to walk it off in the gardens.
Just a quick note on the cuisine of Galicia. As the food is so good, I have decided to write a dedicated post on it so watch this space. 
Day 2:
Take A Mussel Boat Ride at O Grove (Boat tour along the "Ria de Arousa")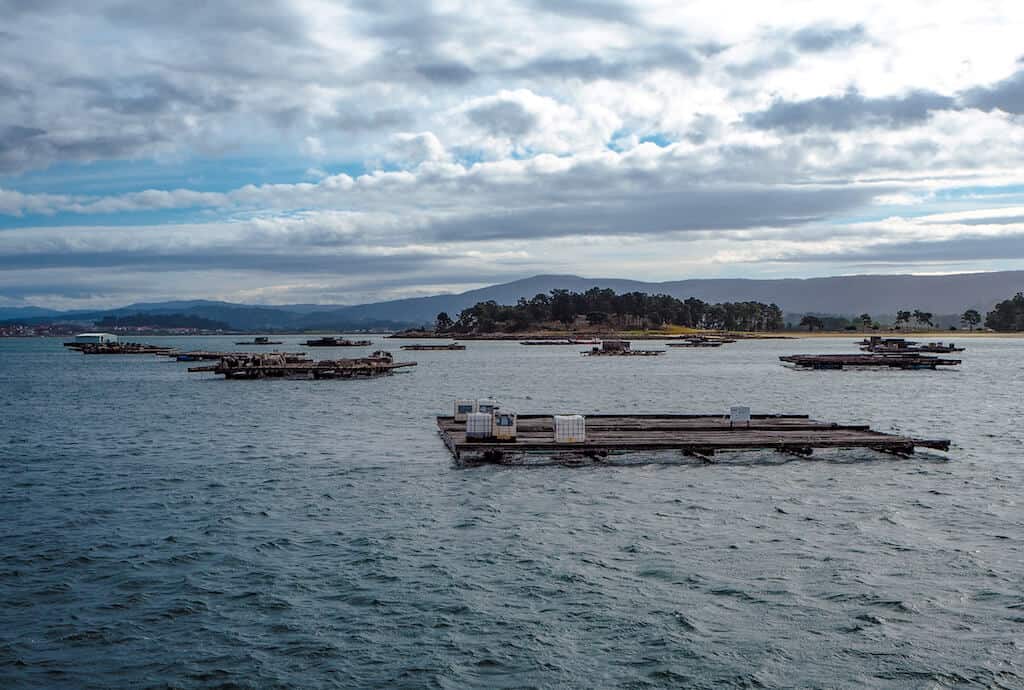 It's now the following morning and we have left the city again to head to O Grove which is on the Galician coast. The place is rammed because it is the O Grove seafood festival which is one of the world's largest. I am not kidding, it is like the Glastonbury of food festivals here. Funnily enough we are not here for the festival. We are about to head out into the Atlantic to learn about the Mussel/seafood farms that Galicia is famous for.
I am on the boat and I am not sure what is happening. Every table has ordered at least one bottle of wine and they are drinking it like it is the end of the world. I am not kidding, they are really knocking it back. There is a real buzz in the air and everyone is in a great mood.  It is only 11:00 a.m. too. Do they know something we don't?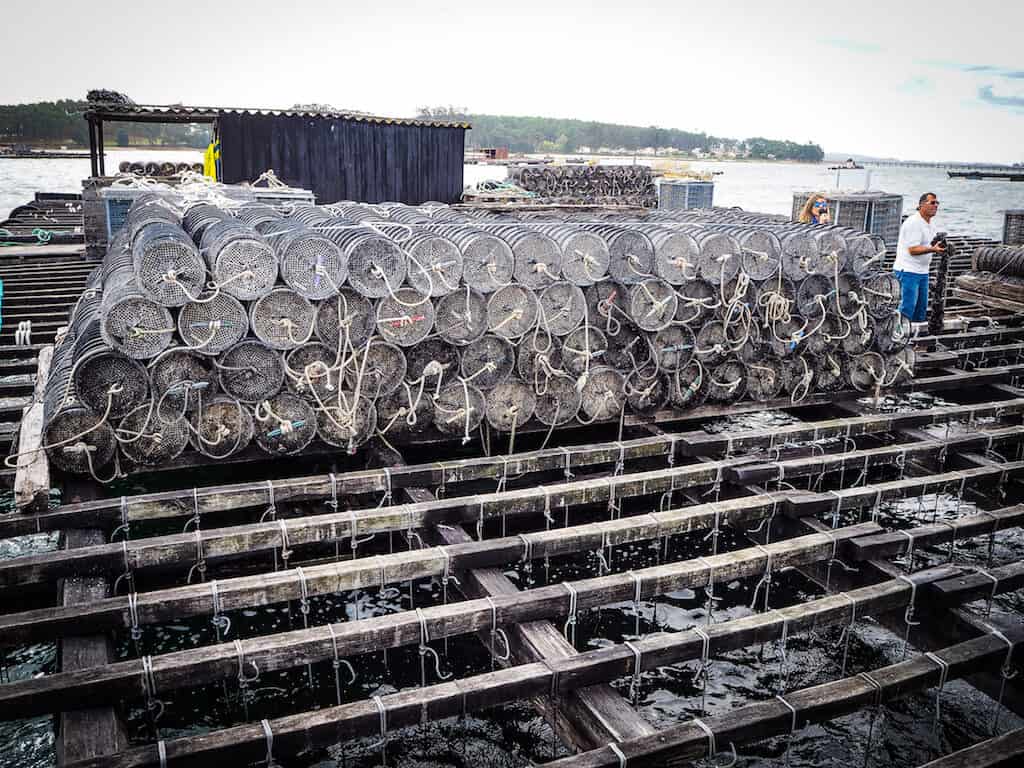 We soon reach the mussel farms which are surprisingly close to shore. We learn that it takes 9 months for the mussels to fully grow and there are tons of them on each floating farm. As we watch the guide describe the life of the seafood farmer, the aromas of the mussels cooking on our boat is intoxicating. They are soon dished up with more delicious local wine.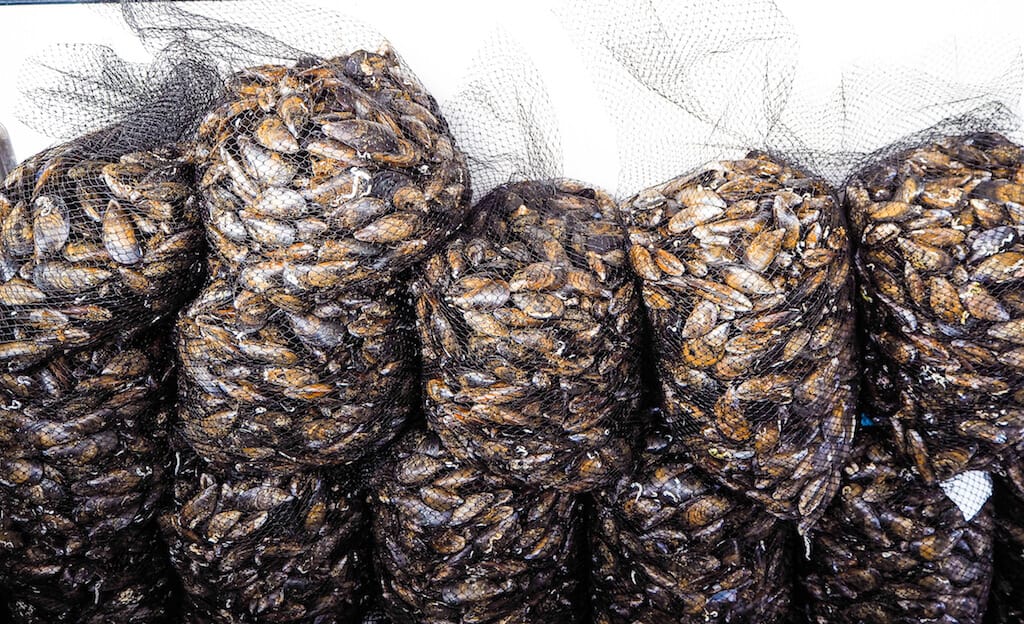 The atmosphere on the boat is now nothing short of remarkable. Our guide purposely hasn't told us about this bit of the journey and I am not sure if I should tell you either. No, some things are best left discovered by themselves. All I will say is that if you are going to do one thing while you are in Galicia then make sure you head down to O Grove and go out on a Mussel Boat ride. You will be pleasantly surprised.
Visit Cambados, Galicia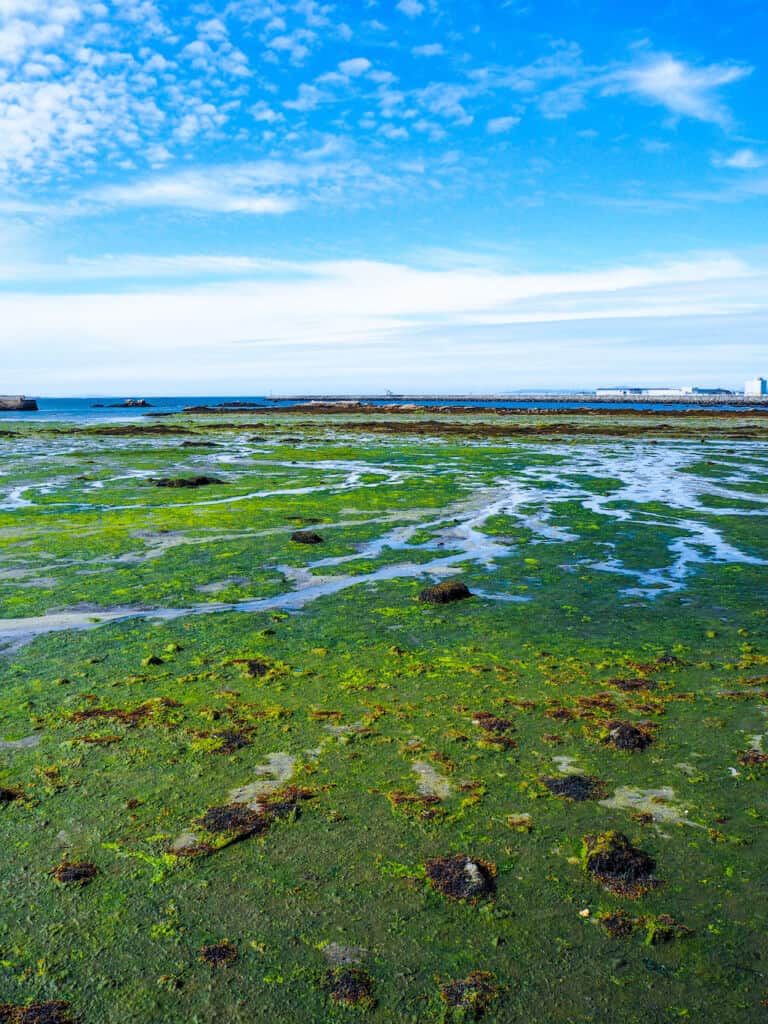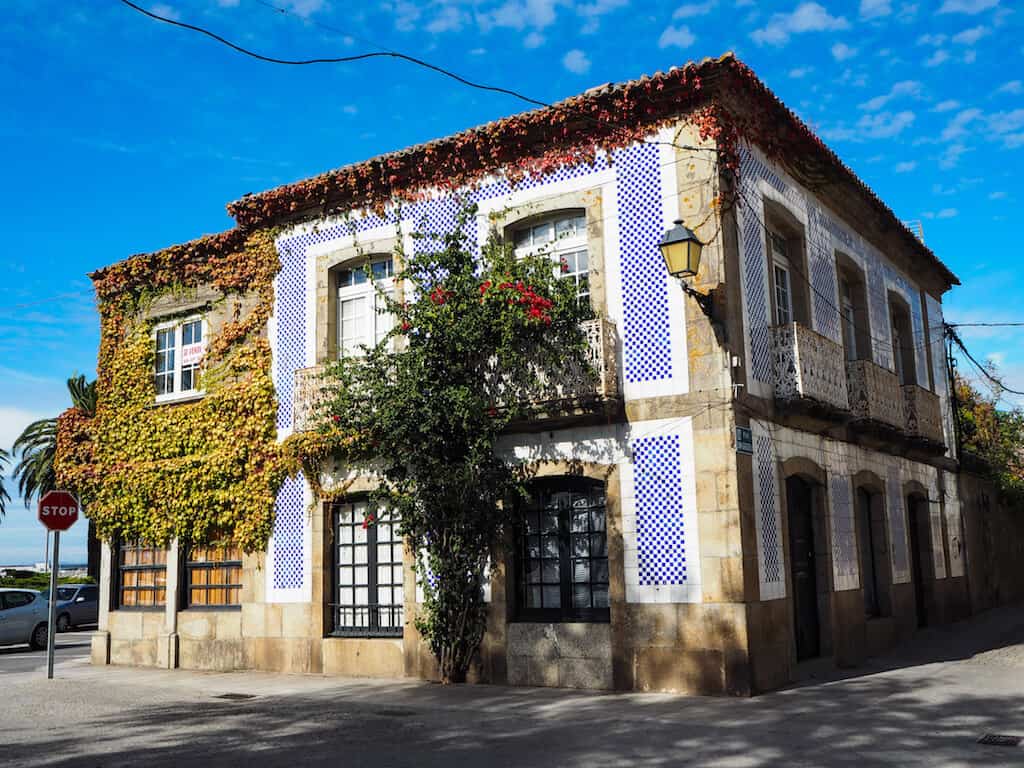 After the shenanigans of the mussel boat, we have calmed things down in the beautiful town of Cambados. This is the home of Albarino wine, my new best friend. As we walk on the cobbled streets of the old town I notice the taverns and inviting restaurants dotted about the place. Even though I have been here only a few minutes I wish I was here longer. It's one of those places that instantly pleases you. Unfortunately, we are only here for a few hours and that is for lunch so I vow to return to Cambados in the near future. If you fancy staying in a picturesque town and feeling like a local then Cambados is the town for you.
Take A Vineyard Tour In Galicia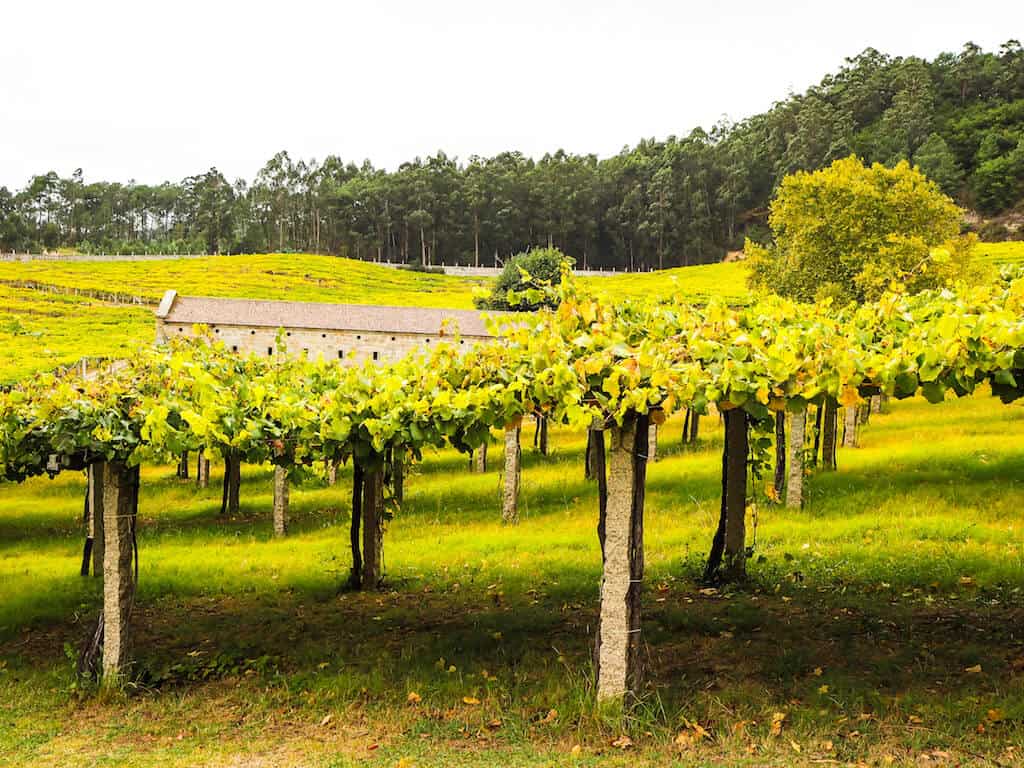 I am walking under rows and rows of grapes. Yes, that's right, under grapes not along. The reason being is to counter the region's rainfall and humidity, most vines are trained on a wire trellis called a "parra" anchored by granite posts. Until I landed in Galicia I had never drunk Albarino wine which is surprising as I love trying new wines. After tasting my first glass 2 days ago it soon became a firm favourite.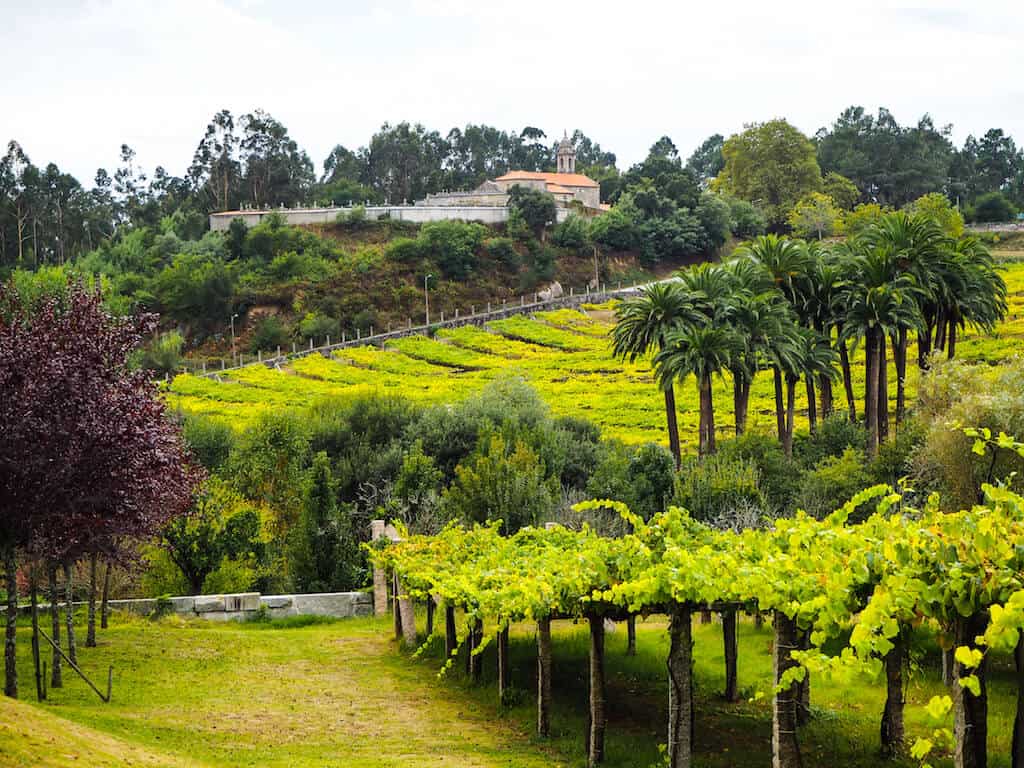 We are at Pazo Baion a beautiful vineyard in the Pontevedra region. For once the weather is on our side which is ironic as all I want to do is go inside and try the wine! Apart from a beautiful landscape, the buildings at Pazo Baion are amazing. The original building dates from medieval times with the extensions being added in the 1920's.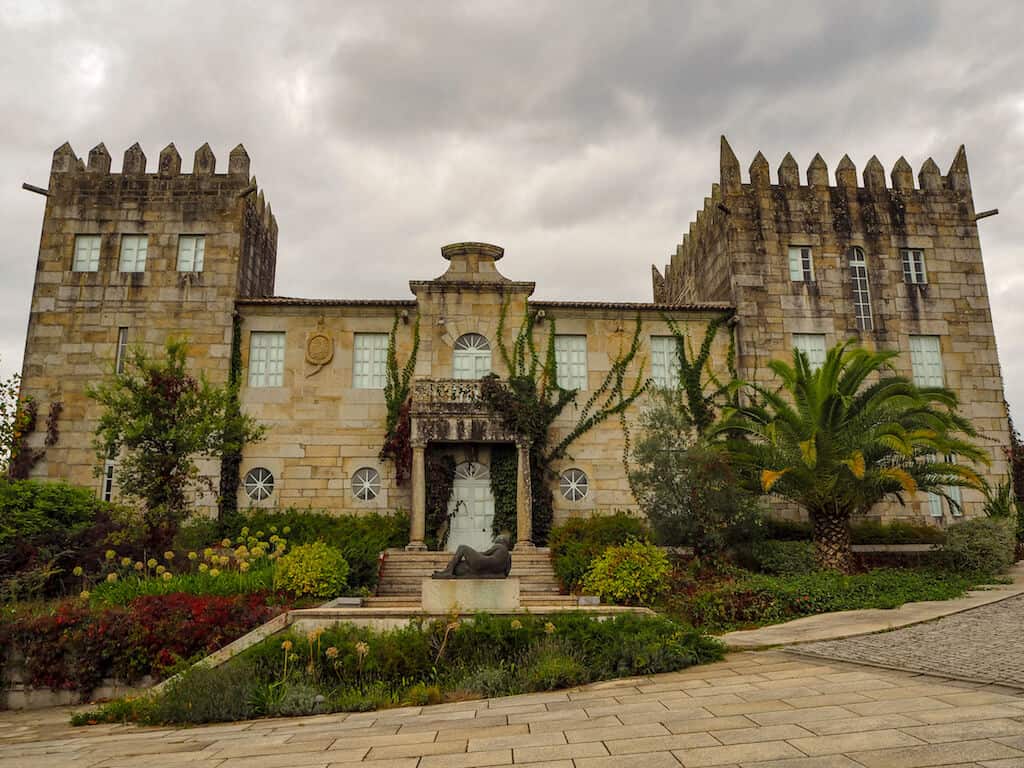 The tour is excellent, it covers the history of the site including former owners (a drug baron anyone?), then it goes on how the grapes are grown and how the wine is produced in-house. Pazo Baion produce a small quantity of wine every year as they only use the grapes that grow in their vineyard. Now we are about to get to my favourite part of the tour, trying the wine!
We have just tried two types of wine both Albarino but both very different. I enjoyed them both but like most of the people with us, we all prefer the less traditional one. If you are based in the UK and would like try Pazo Baion's wines there is a wine stockist in London that stocks it.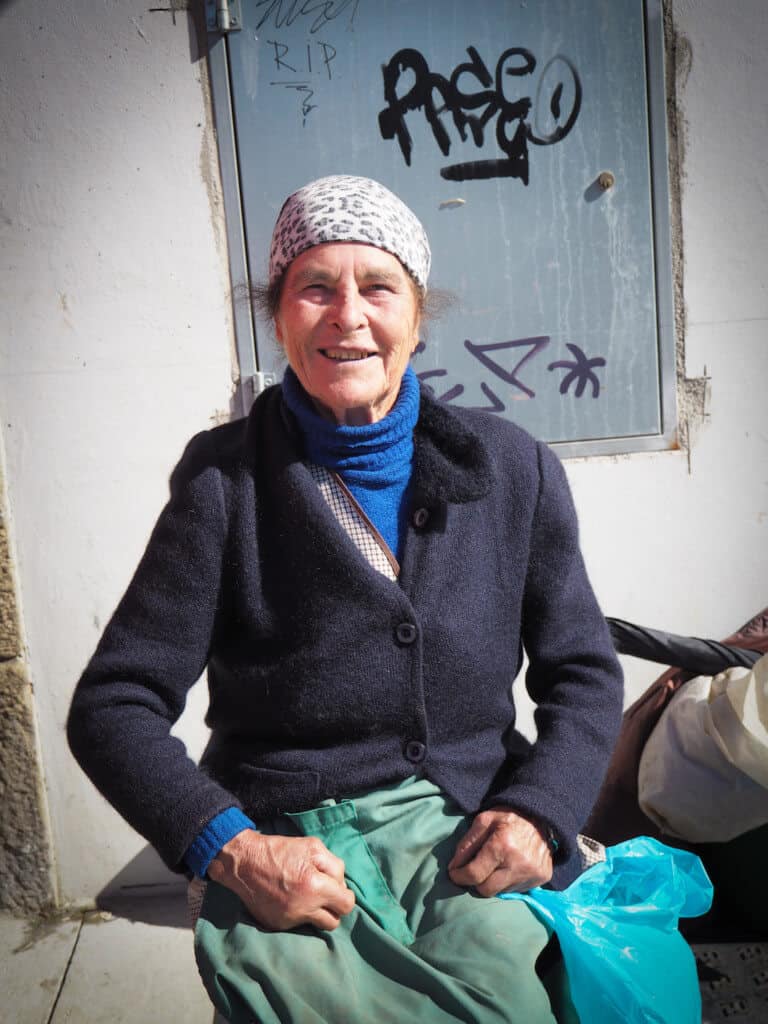 This was a perfect ending to our two-day tour around Galicia. Pazo Baion and the people who work there encapsulates Galicia as a whole; passionate friendly people with have a pride in their region and the produce it creates. So they should, I landed in Galicia not really knowing much about the place and I am leaving as a super fan. I have only scratched the surface too. I am yet to see the beautiful Galician beaches, the islands, the other historic cities and the forests. That sounds like the perfect road trip. I can't wait to return.
Try Galician Food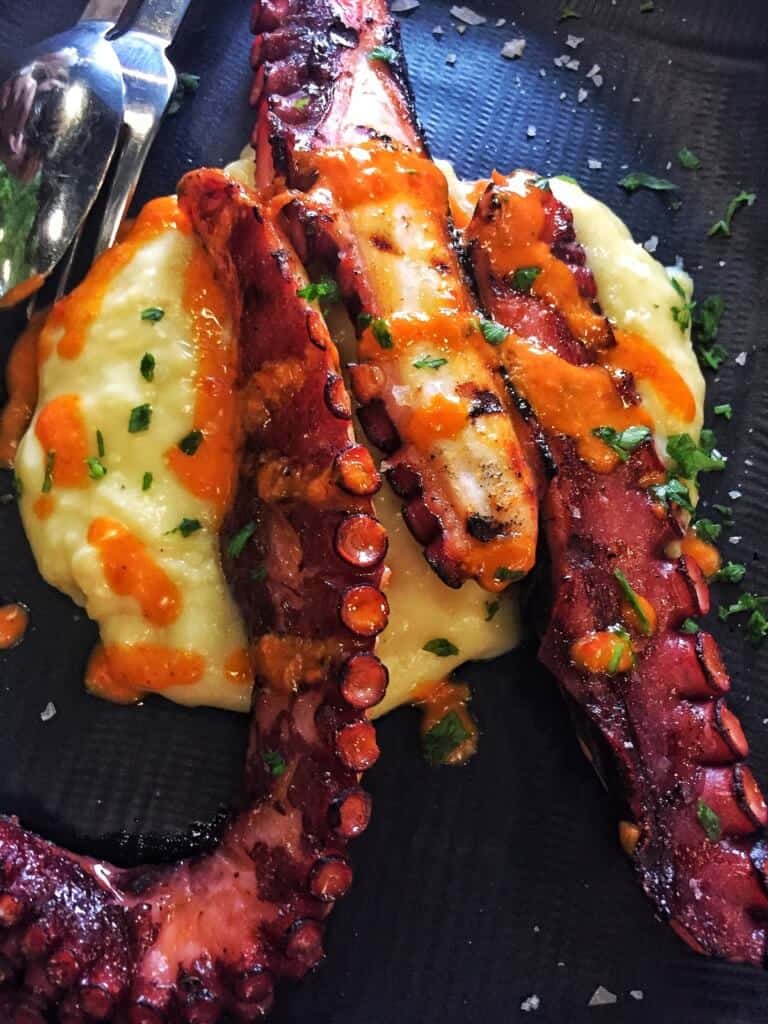 Undoubtedly, the star of the show in Galicia is its cuisine. This is an area where I enjoyed the best Octopus I have ever tasted, the best Tortilla I have ever tasted and the best Scallops I have ever tasted. There is a theme forming here don't you think? Like any star, Galician Cuisine needs to be the centre of attraction so stay tuned for a post dedicated to the wonderful world of Galician Food.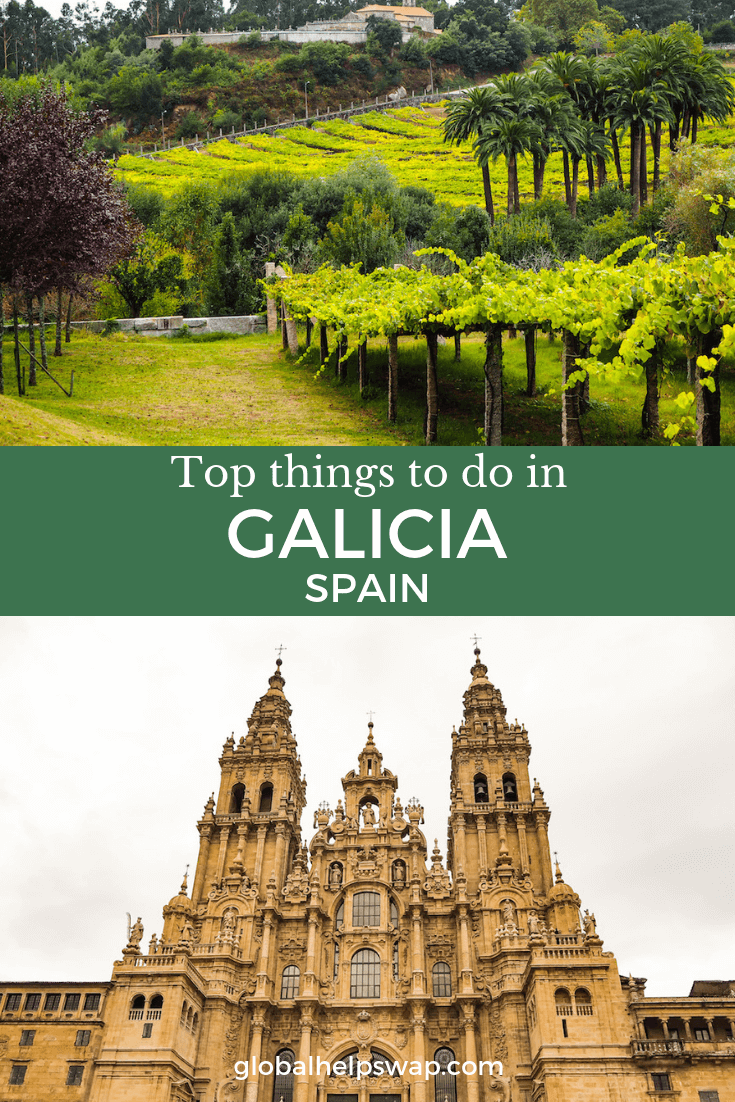 If you liked this post you might also like our other posts on Spain:
Barcelona Sightseeing by Bicycle – Do you want to do some Barcelona Sightseeing but you are short of time? How about seeing this fantastic city by bicycle? Its quick, fun & healthy. A win win!
Unmissable things to do in Lleida, Spain – For an amazing trip to Lleida in the Pyrenees read our essential guide of things to do in Lleida. National Parks, Star Gazing and more. Buen viaje!
The Quiet Side of Ibiza – Are you heading to Ibiza and want to avoid the crowds? Then read this post to find out where the quiet side of Ibiza is. From empty beaches to shrines.
San Sebastian Pintxos Tour with Devour tours – If you are a foodie and are heading to San Sebastian then you have to go on a San Sebastian Pintxos Tour. Check out our post on which one to choose.
#LoveYourTravels
This post was brought to you as a result of the #inGreenSpain blog trip, created and managed by Traverse in partnership with Spain.Info. GlobalHelpSwap.com maintains full editorial control of the content published on this site and as always opinions are our own.