We love Spanish cuisine. From the little hole in the wall Tapas joints to the molecular creations in 3 Michelin star restaurants, Spanish food is one of the main reasons why we keep coming back to Spain. On my recent trip to Galicia, I discovered Galician Food which is Spanish cuisine at its best.
If you are visiting Galicia, before you visit Santiago de Compostela or head to the beautiful Galician beaches you have to first sit down and try some of these Traditional Galician Dishes.
Galician Food Spanish Cuisine At Its Best | The 14 Dishes You Have To Try In Galicia

Galician Seafood:
Galician Octopus (Pulpo Gallego)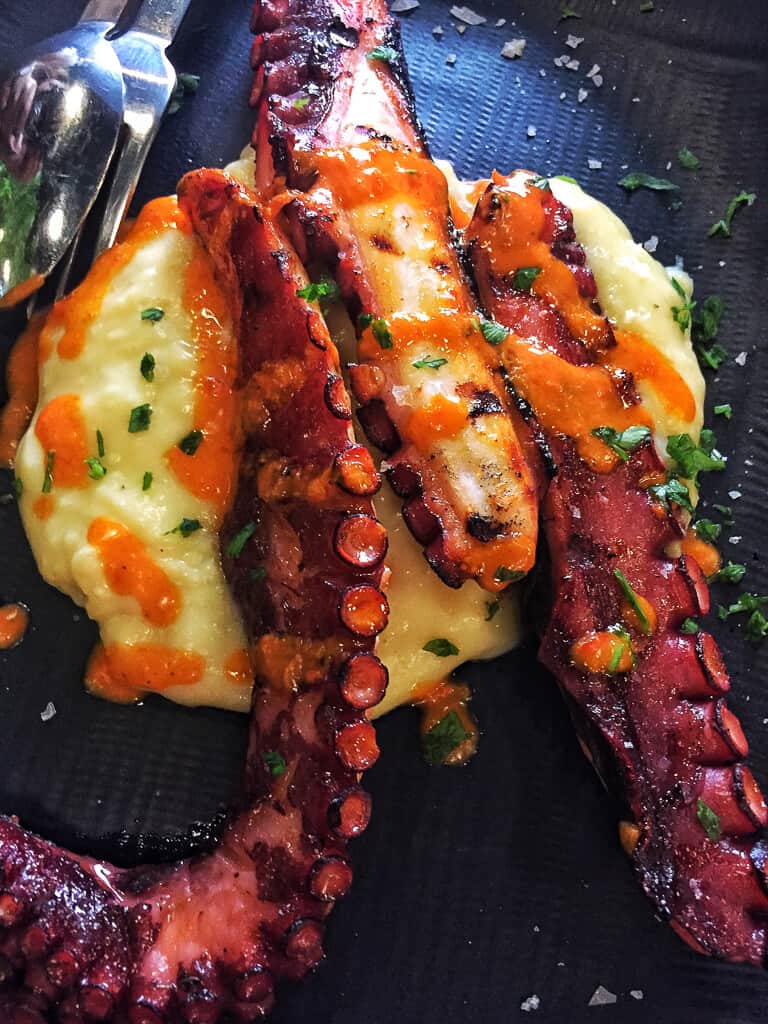 Once you have tried Galician Octopus all other Octopus you try will pale into significance. The seafood of Galicia is renowned all over Spain, so much so you will find Galician Octopus on the menus in Barcelona and Madrid. The octopus is generally boiled in a copper pot and served with paprika and salt. More importantly, it is served on a wooden dish so the water from the octopus is absorbed into the wood and not the octopus which would affect the taste. This dish is called Pulpo a Feira in Galician because it is often served at fairs and festivals.
Steamed Mussels (Mejillones al Vapor)

Mussels are one of the standout products of Galicia which is not surprising with the cold Atlantic battering its shoreline. Galician's like to eat their mussels very simply. They are steamed and they add just a squeeze of lemon. Great ingredients don't need much. Make sure you visit O Grove for a mussel boat ride. You will learn all about how the local's farm mussels and then you get to try them on the boat with some local wine.
Razor Clams (Navajas)
Just like mussels, razor clams are all around the Galician coast, especially in the south. Like most seafood razor clams just need simple cooking. In Galicia, they steam them and a little olive oil and let the clams do the rest. These clams are jam-packed with a delicate flavour and according to experts, they are very unique.
Traditional Galician Food:
Pork Shoulder (Lecon con Grelos)
This typical Galician dish is a hearty meal that will remind you of your grandmothers cooking. This dish is mentioned as far back as the 17th century and it has the protected geographical indication under European law. It is often served with chorizo, vegetables and turnip tops (which is another dish I tried for the first time in Galicia, they have a distinctive bitter taste).
Tetilla Cheese (Queixo de Tetilla)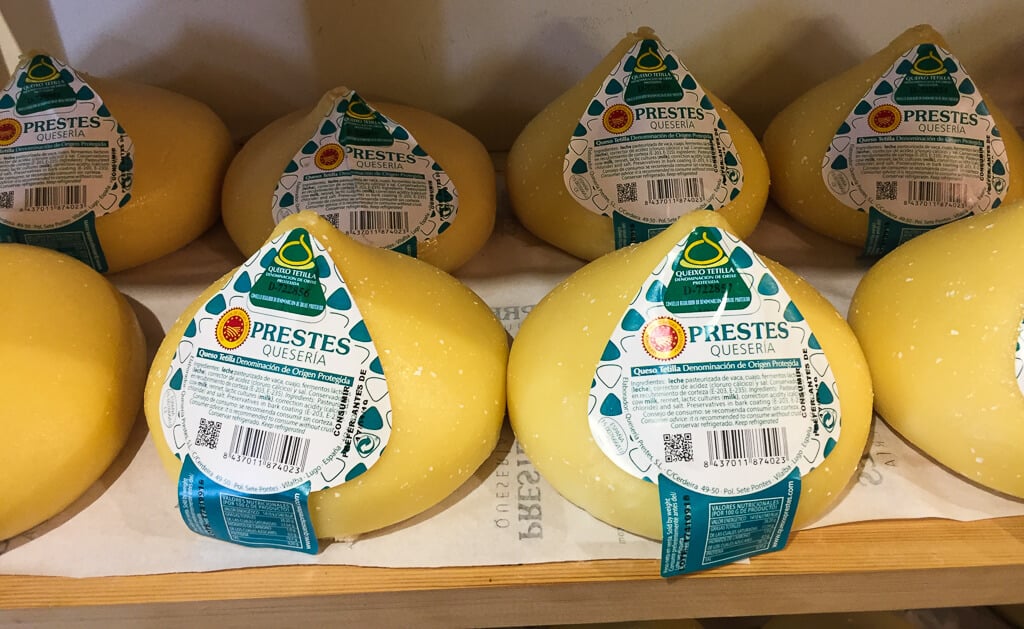 If you walk around Santiago de Compostela or the surrounding villages you will notice lots of cheese in the shape of a woman's breast. In Galician, the translation for this cheese is the boob or breast cheese. The story behind the cheese is one of my favourite food stories ever.
Around the 14th century, the archbishop of Santiago Cathedral commissioned craftsmen to create some statues to tell stories from the bible. One of the statues being made was of Queen Esther who was to be bare-chested. The craftsman created the statue of the queen as requested and when the archbishop saw the voluptuous statue he reacted in fury and demanded that the breasts be removed.
When the local dairy farmers heard this they were furious. One at the desecration of their cathedral and secondly and more importantly at the shaming of the female body. So as a sign of solidarity with the wounded Jewish heroine the farmers began to form their native brand of cheese in the shape of a woman's breast, a practice that still carries on today. The taste of Tetilla cheese is very mild with a slightly nutty flavour.
Padron Peppers (Pimientos de Padron)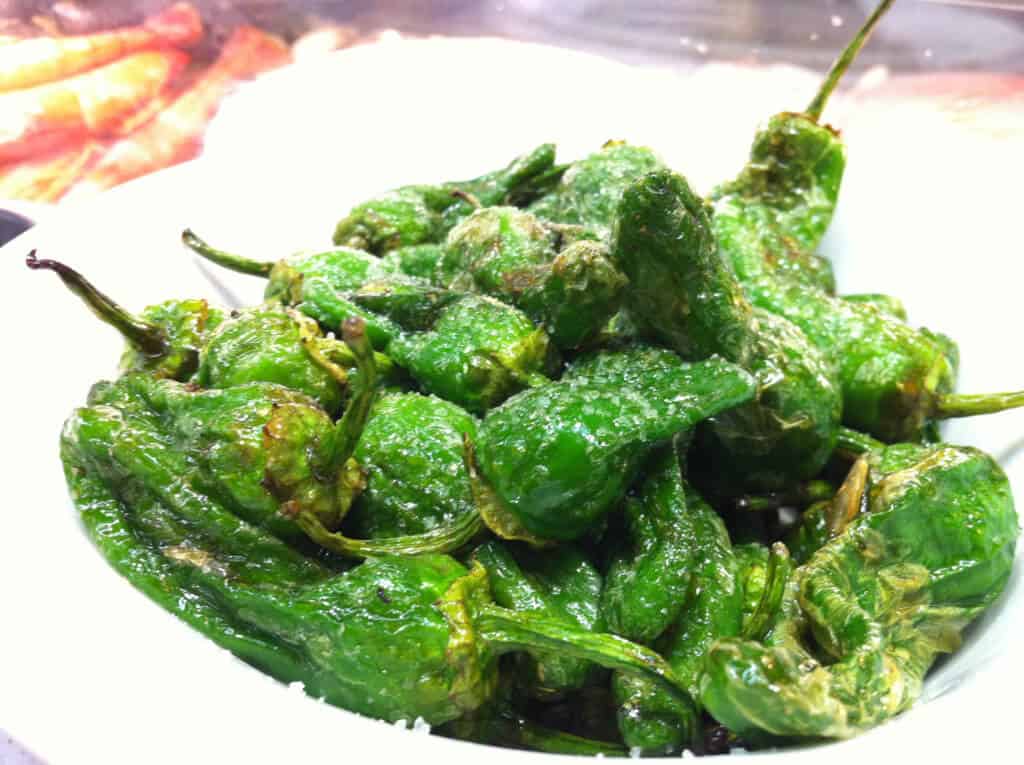 These are one of our favourites. A simple yet delicious dish to share with friends, Padron Peppers are fried whole and sprinkled with rock salt. Some are mild and some are spicy and you have no idea of which one is which! You can find Padron Peppers all over Spain but they originate from the Americas. Mexican settlers brought them over to the Galician town of Herbon which is in Padron, hence the name.
Galician Broth (Caldo Gallego)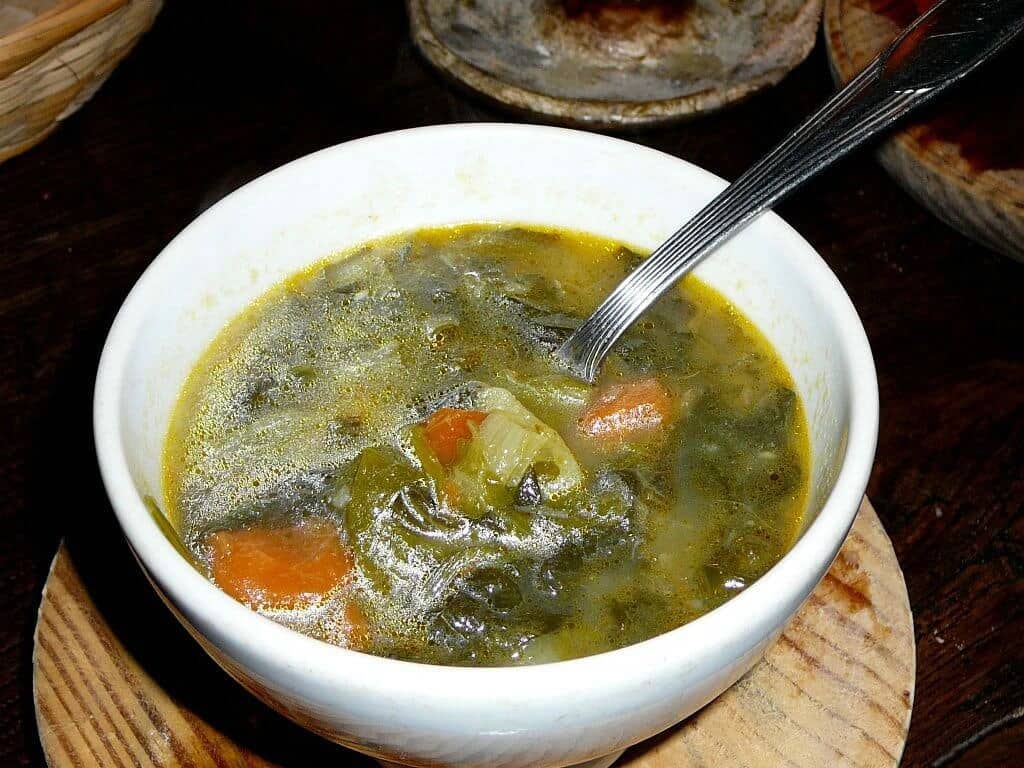 This typical Galician broth is made with vegetables, potatoes, white beans, turnip tops, and sometimes some type of pork like chorizo, ham or other cuts of pork. It is a firm favourite with Galician's in the winter and pilgrims walking the Camino de Santiago rave about its recuperating effects.
Empanadas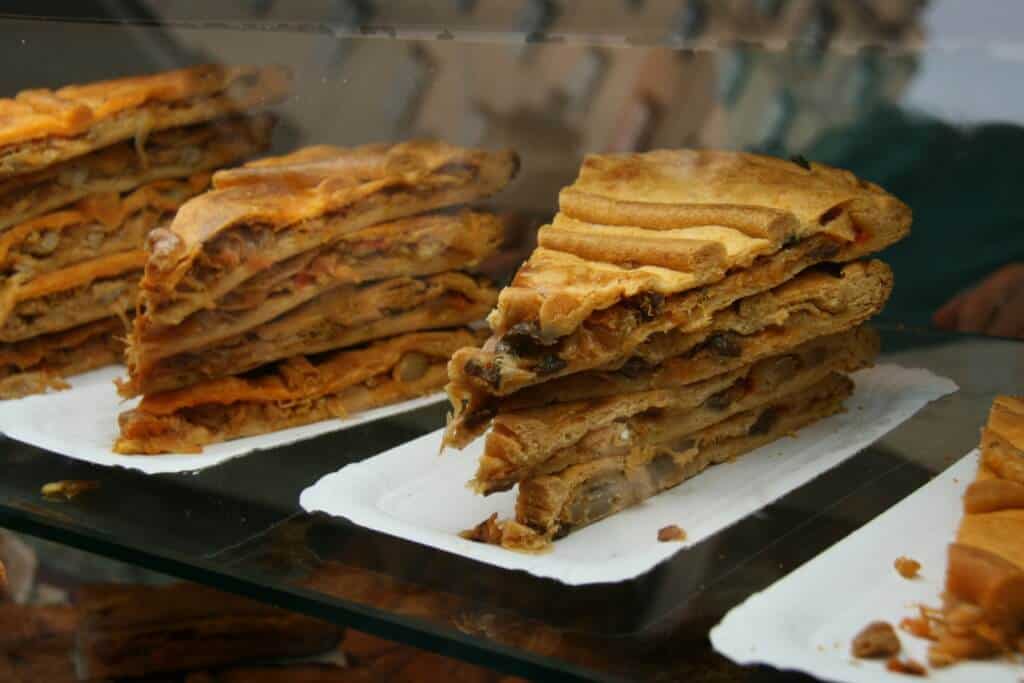 I have always associated Empanadas with Latin America but the Empanadas in Galicia originally came from nearby Portugal which was inspired by the samosa in the Portuguese colony of Goa, India. Traders brought back the delicious delicacy and they spread from there. The Galician Empanadas are often filled with tuna, octopus, cockles, cod or chorizo. Yum!
Galician Desserts:
Santiago Cake (Tarta de Santiago)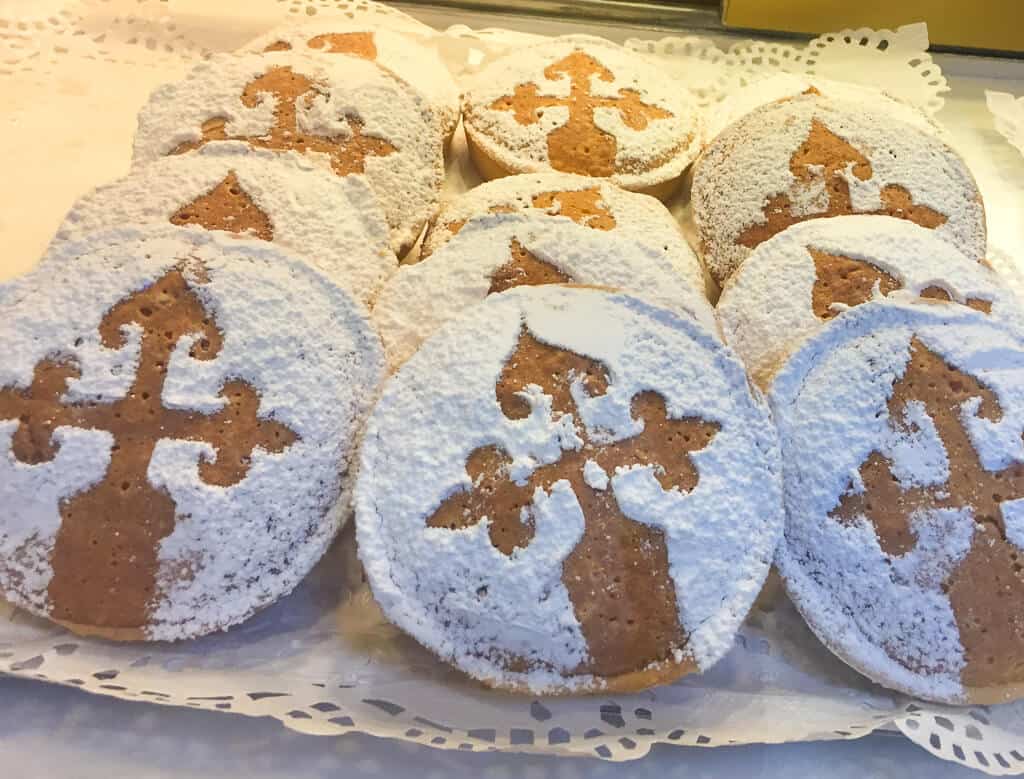 You will see Santiago Cake all around Santiago de Compostela (no surprises there). This delicious dessert is made with ground almonds, sugar, eggs and sometimes brandy. There is an outline of the cross of St James the patron saint of Santiago on top of the cake. This cake goes well with a cup of coffee or tea.
Galician Biscuits / Cookies (Caprichos)
These small biscuits are made from toasted almonds, sugar and eggs. Traditionally, pilgrims finishing the Camino de Santiago will have some Caprichos (they will have a slice of Tarta de Santiago too) when they get to Santiago de Compostela. You can find these biscuits in bakeries all over Santiago.
Fried Milk (Leite Frita)
This traditional Galician dessert is a milk custard that is battered and then fried with a sprinkling of sugar and cinnamon. It's one of those desserts that you can't stop eating.
Galician Drinks:
Albarino Wine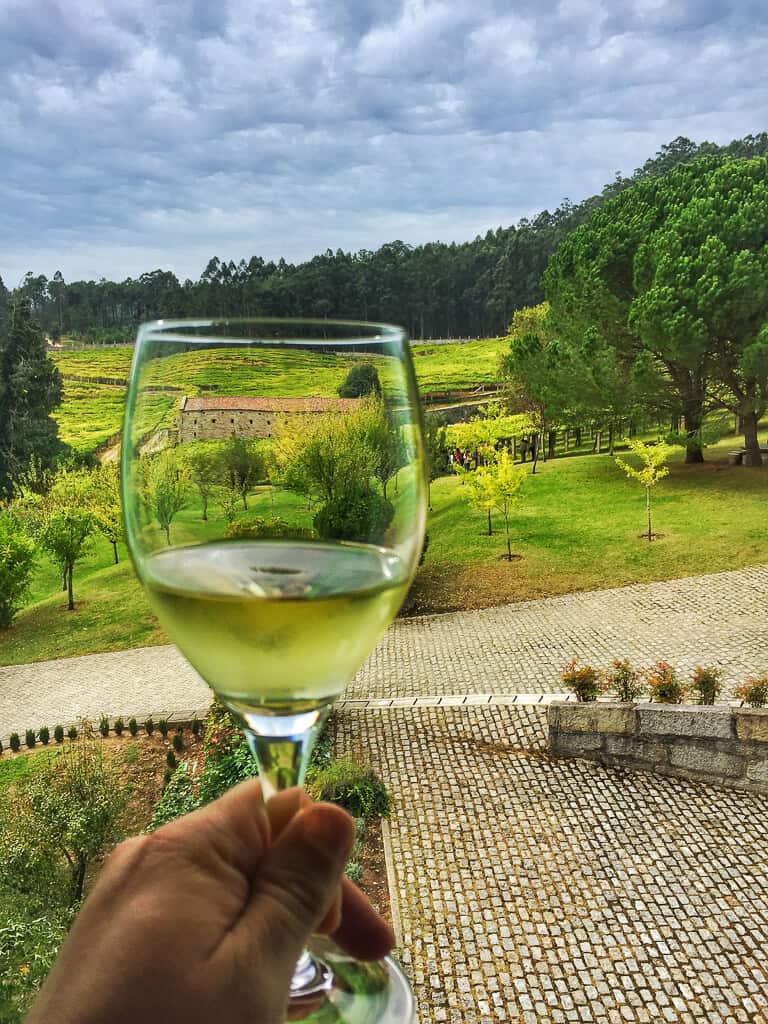 I can't believe I went 43 years of my life before tasting Albarino wine. What a waste! This white wine is ubiquitous in Galicia and righly so. It has a slight citrus flavour with floral notes. The home of Albarino is in Cambados, a pretty little town that is well worth a visit. There are vineyards all around Galicia where you can taste Albarino wine. We visited Pazo Baion which has fantastic Albarino wine.
Nordes Gin
Unlike most gins which are grain-based, this gin from Galicia is made with the Albarino grape giving it a bold floral flavour (a bit like Albarino wine). There are 12 botanicals in Nordes Gin including hibiscus, lemon peels, eucalyptus and liquorice.
Orujo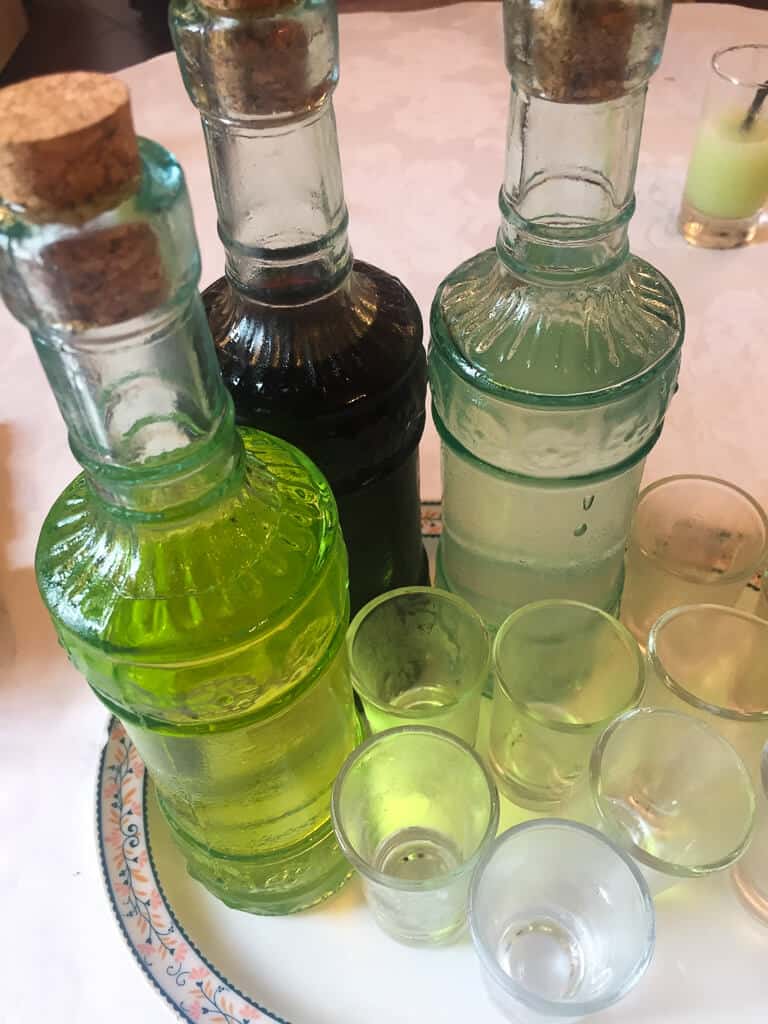 This brandy type drink is popular all over Galicia. This Pomace brandy is a liquor distilled from pomace that is left over from winemaking after the grapes are pressed. From orujo, Galicians traditionally make a drink called queimada, in which bits of lemon peel, sugar and ground coffee are put into a clay pot or a hollow pumpkin when available. Then the orujo is poured on top and the pot is lit on fire until the flame turns blue.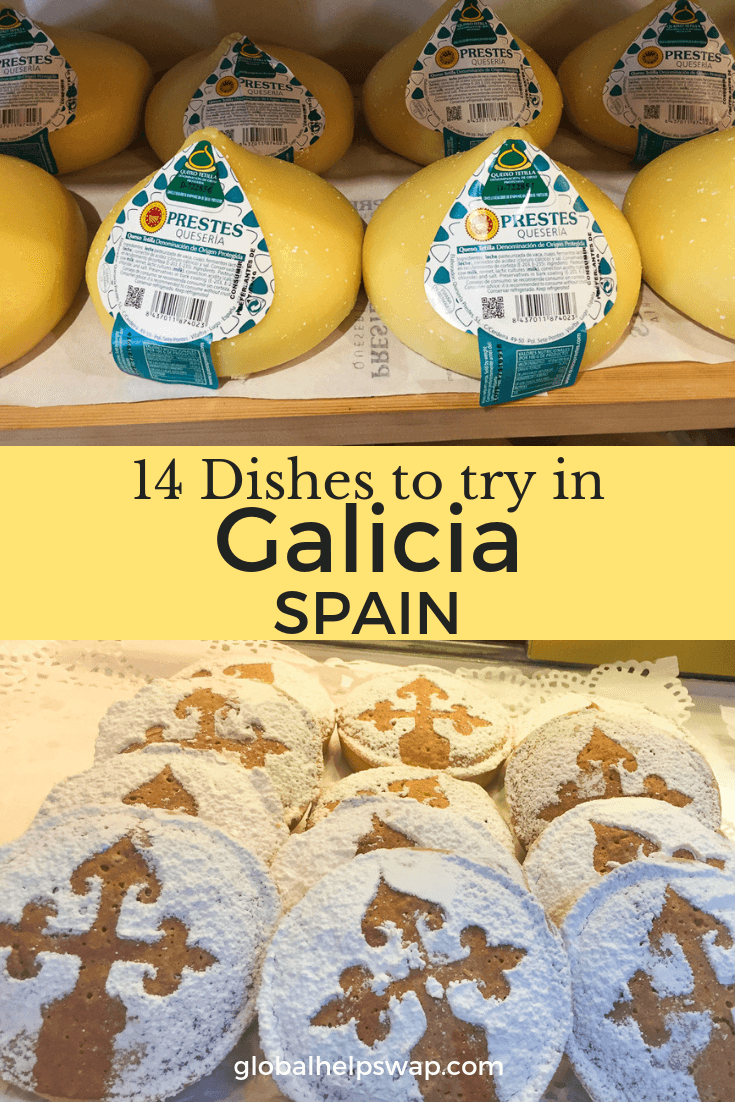 As you can see Galician cuisine is varied and unique. When you visit this wonderful region make sure you try some of these dishes and drinks and let us know what you think.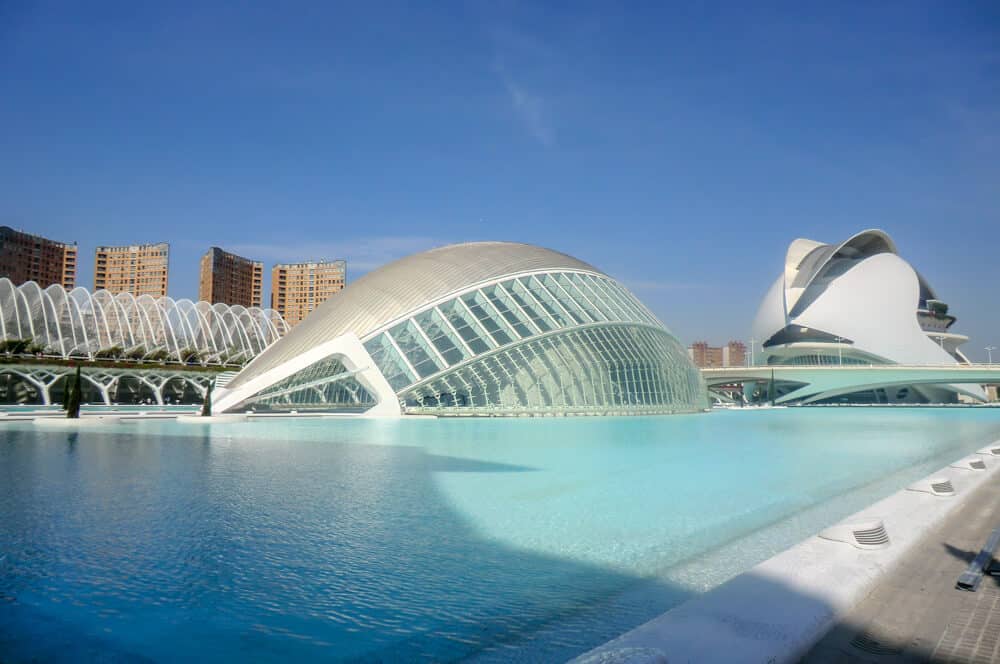 If you liked this post you might also like our other posts on Spain:
Top things to do in Galicia – If you are heading to Galicia read our post on the Top Things To Do In Galicia Spain. This 2 day guide covers food, culture, wine & much more.
Where to go in Spain – If you are thinking about visiting a different part of Spain then read our tips on The Best Places To Visit In Spain | Where To Go In Spain before you go.
Barcelona Sightseeing by Bicycle – Do you want to do some Barcelona Sightseeing but you are short of time? How about seeing this fantastic city by bicycle? Its quick, fun & healthy. A win win!
Unmissable things to do in Lleida, Spain – For an amazing trip to Lleida in the Pyrenees read our essential guide of things to do in Lleida. National Parks, Star Gazing and more. Buen viaje!
The Quiet Side of Ibiza – Are you heading to Ibiza and want to avoid the crowds? Then read this post to find out where the quiet side of Ibiza is. From empty beaches to shrines.
San Sebastian Pintxos Tour with Devour tours – If you are a foodie and are heading to San Sebastian then you have to go on a San Sebastian Pintxos Tour. Check out our post on which one to choose.
#LoveYourTravels
This post was brought to you as a result of the #inGreenSpain blog trip, created and managed by Traverse in partnership with Spain.Info. GlobalHelpSwap.com maintains full editorial control of the content published on this site and as always opinions are our own.