It stands majestically overlooking most of the island. In the past, it has helped shape the island and now it is the most popular place to visit in Tenerife. The aboriginals of The Canary Islands (The Guanches) used to worship it thinking it was the gate of hell and now scientists do their own kind of worship learning about Tenerife's violent past. I am talking about Teide Volcano and Teide National Park.


Why You Should Visit Teide National Park When You Visit Tenerife
Teide National Park was created in 1954 making it the 3rd oldest National Park in Spain. It was declared a UNESCO World Heritage site in 2007 and is the most visited National Park in Europe and eighth most visited in the world. No words can truly do it justice (I will give it a try!). The 3 that come to mind are otherworldly, spectacular and humbling.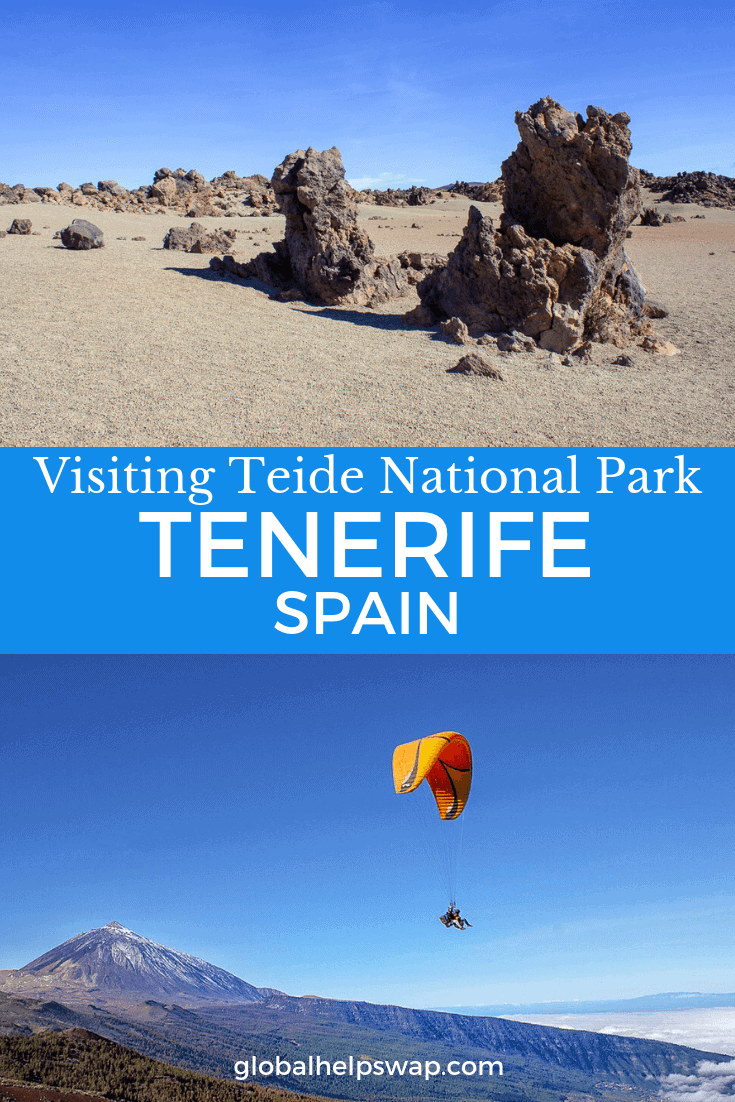 Even at it's most destructive, nature can create things of beauty. Teide National Park is a stunning site with all kinds of different environments all born from Volcanic eruptions. Teide National Park is huge (19,000 hectares), in fact, if you look at a map of Tenerife it covers most of the centre of the island.
While Tenerife is known for its sandy beaches, nightlife and warm climate there are a few good reasons why you should leave your sunlounger and visit Teide National Park.
What to see and do in Teide National Park:
Mount Teide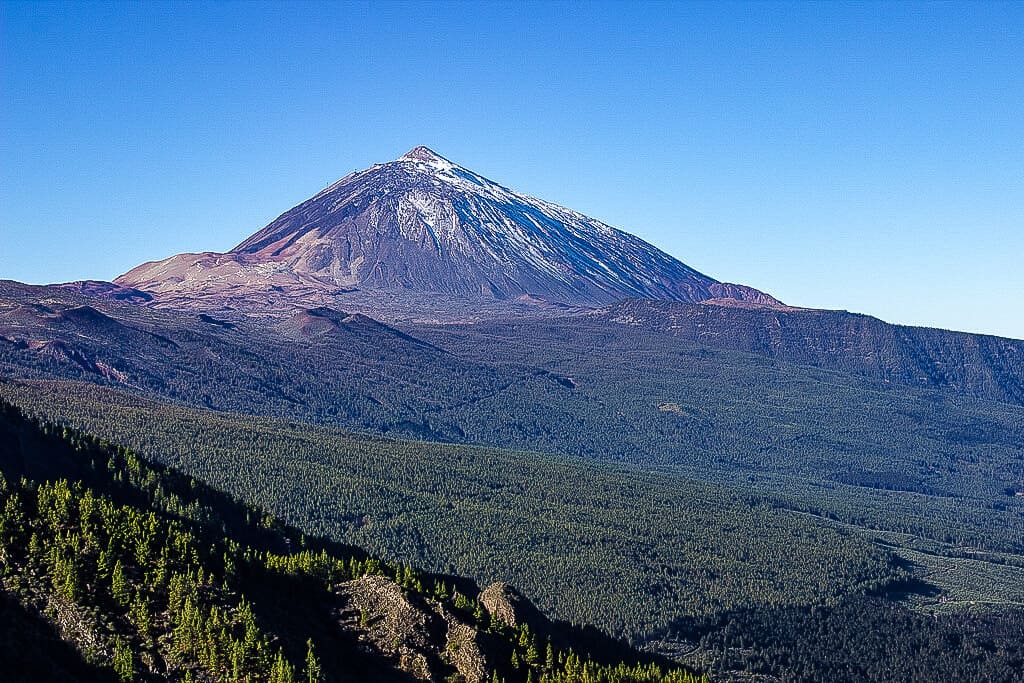 Standing at a height of 3,718 meters (12,198 feet), Mount Teide is Spain's highest mountain/volcano and the 3rd tallest volcano in the world.  When I visited the cable car that takes you to the summit was not working because of high winds but just being at the base of Mount Teide was impressive enough. I vowed I would return and get to the summit one day. I have to say that I was on Spain's highest peak!
Teide Cable Car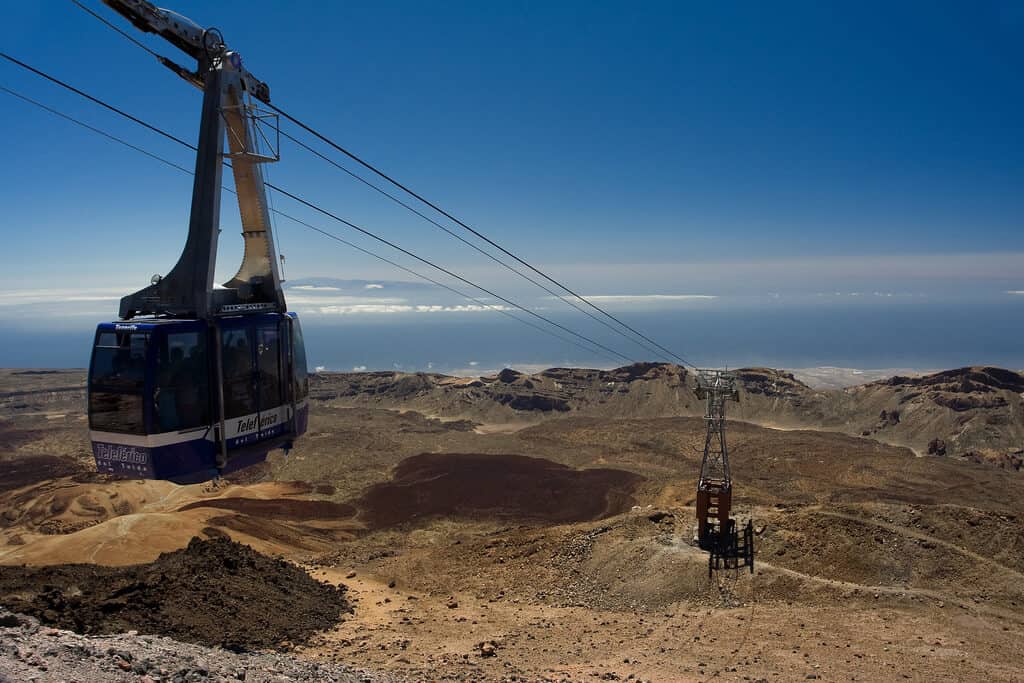 If you are lucky enough to visit Teide National Park and the cable car is running I highly recommend you go up it. The base station is at an altitude of 2,356 m (7,729 ft) and climbs up to 3,555 m (11,663). The journey time is around 8 minutes. Once you reach the top you will be rewarded with spectacular views from the lookout point. To avoid the queue you can book your ride on the cable car here: Tickets for Teide Cable Car 
Mount Teide Summit
However, if you have taken the cable car up you haven't quite made it to Spain's highest point. For the more adventurous out there you can walk up a trail that leads you up to the crater. It is a tough 40-minute climb but how many people can say they were at Spain's highest point? For the very lucky, if it is a clear day you can get to see 4 other Canary Islands from the summit: Gran Canaria, La Palma, La Gomera and El Hierro. To walk up the summit you need to request a permit via the park's website which you can do here: Teide Summit Permit
Mount Teide Hike
For all you trekkers out there. You can bypass Teide Cable Car entirely and hike up Mount Teide on your own two legs. Starting at Montana Blanca this very difficult hike takes around 6 hours starting at an altitude of 1,367 meters and ending at 3,718 meters. If you have a permit (book here) you can stay the night at the Altavista Refuge (you will need to book in advance) where you will be rewarded with amazing sunrises and stunning night skies, which leads me on to…
Stargazing in Teide National Park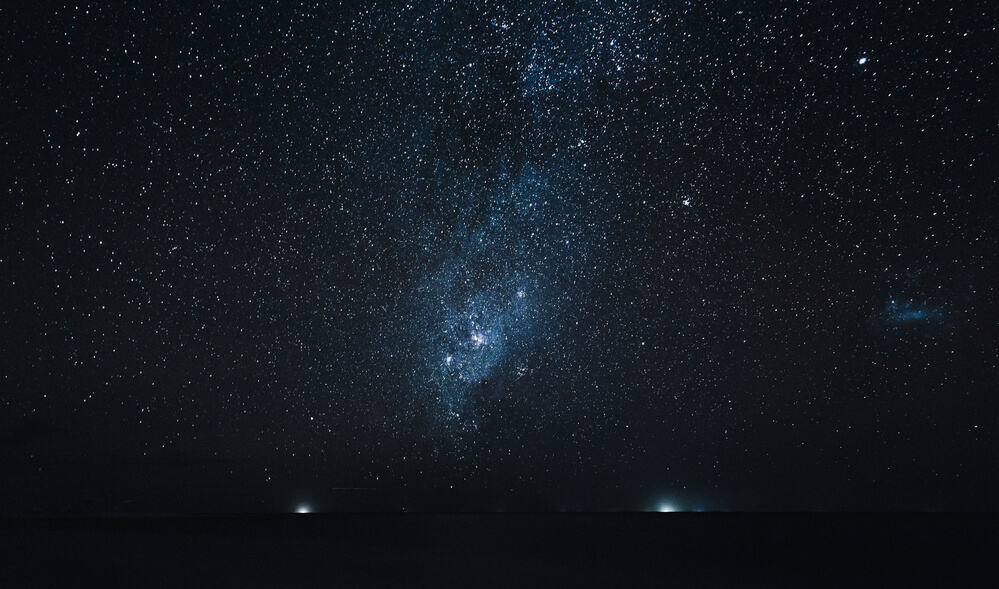 If you love the night sky and I am talking about the real night sky not what we get in our light polluted cities, then Teide National Park is a great place to look up at the heavens. It is rated as one of the best places in Europe to see stars, planets and galaxies. If you have never truly seen the white of the milky way then book yourself a stargazing trip with one of the many companies offering tours.
Another great place to look at the stars is the Tenerife Observatory which offers guided daytime visits where you can get to see the sun!
Teide National Park Walks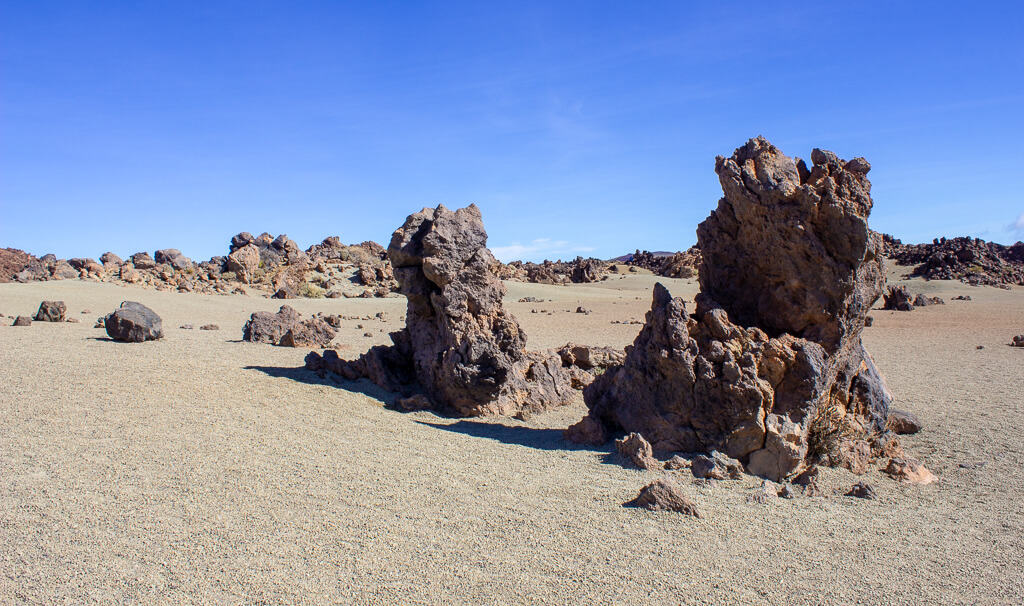 I was only in Teide National Park for half a day but even in that short time, I could tell that it would be a great place to spend the day hiking. The landscape changes dramatically, from alpine-like scenery at the lower elevations to more moon like arid scenes with interesting rock formations near the higher end. The lava flows have left their mark too, you can see where the lava has rushed down the volcano leaving a permanent scar on the landscape.
If you discount climbing Mount Teide and it's sister peak Montaña Guajara then most walks in Teide National Park are mostly flat. The walks vary in length and difficulty but because Teide National Park is so vast you should avoid the masses quite quickly as they don't venture too far from their coaches.
Teide National Park Walks Map:

There are 37 walking routes you can take in Teide National Park. The most popular trail is La Fortaleza (which is also the busiest) a 2hr hike over 5.3km long. Other routes are Arenas Negras, Roques de Garcia and El Filo. For more information on them check out this website: Walking Routes in Teide National Park.
If you prefer to go on a guided walk, Teide National Park offers them too. If you decide to go for a guided walk, you will need to book at the National Park office from Monday to Friday, from 9 am to 2 pm, or alternatively call (+34) 922 92 23 71, write an email to teide.maot@gobiernodecanarias.org or go to one of the National Park's Visitor Centres.
Paragliding in Teide National Park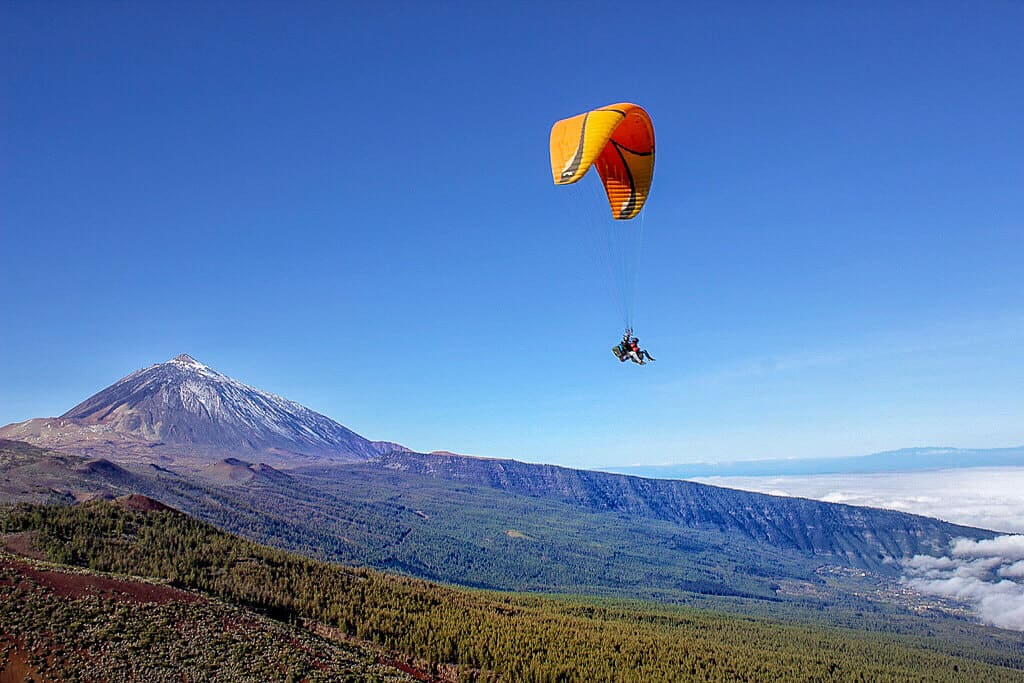 I admit I have never paraglided. It has been on my hit list for a while and I have been in places around the world that are considered some of the best places to paraglide, Tenerife included. We did get to see some Paragliders launch when we entered Teide National Park and a few days later we saw them land on the beach in Puerto de la Cruz (don't worry the flight is only 30 mins, it was a different bunch of Paragliders we saw land, well I hope it was!).
As you can see from the images, it must be an amazing thrill to glide down from such a height. With Mount Teide on one side, the national park on the other and the Atlantic Ocean crashing below. If Paragliding is on your hit list then why not try it in Teide National Park?
Flora and Fauna in Teide National Park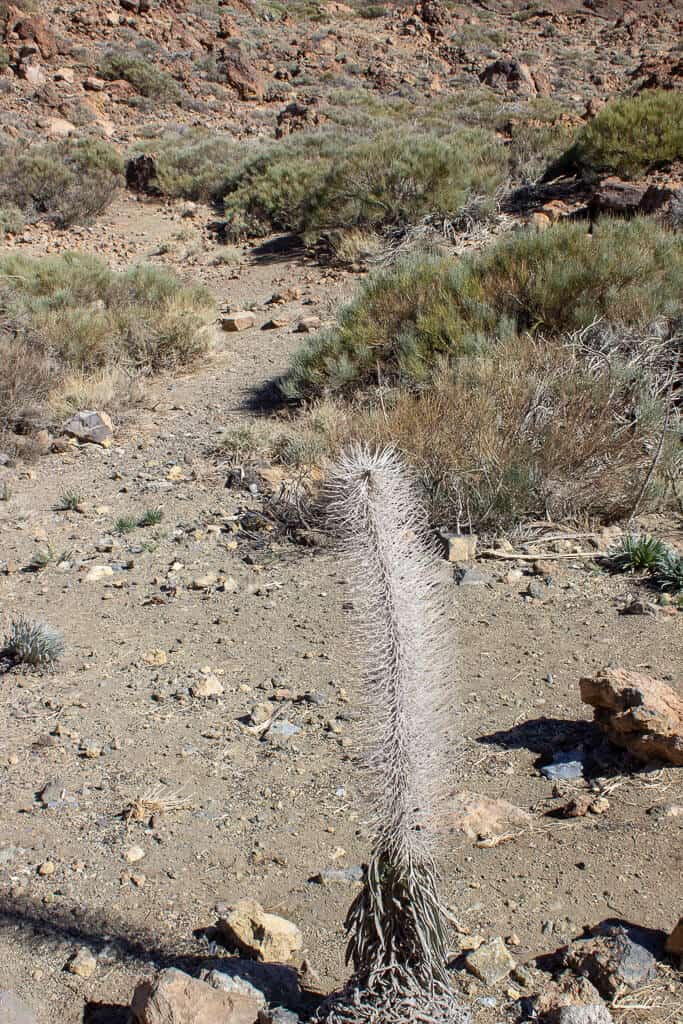 Even though the lava flows left a thin layer on the surrounding soil the earth was left with a soil rich in minerals that supports a diverse number of plant species, 33 of which are endemic to Tenerife. If you visit Teide National Park in spring you will spot the red bugloss, a unique plant that can grow up to 3 m (9.8 ft) tall and bursts into bloom with thousands of tiny bright red flowers.
There are plenty of lizards, insects and geckos too in the park but surprisingly there are only 10 bird species that make the park their home. Most common are the Kestrels, Blue Chaffinches and the Atlantic Canary.
The only mammals in the park are bats others like rabbits, mice and rats were introduced by man.
How to get to Teide National Park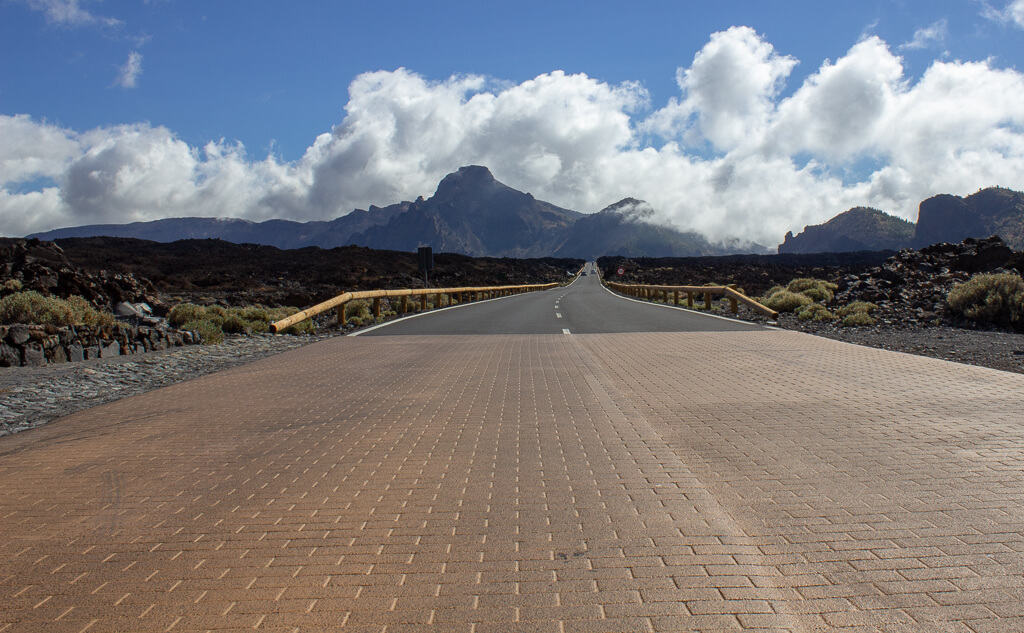 By guagua (bus):

From Puerto de la Cruz, line 348.
From Costa Adeje, line 342.

By car:

From the north along the TF-21 La Orotava-Granadilla road or along the TF-24 La Laguna-El Portillo road.
From the south, along the TF-21 road.
From the west, along the TF-38 Boca Tauce-Chío road.
Mount Teide National Park Weather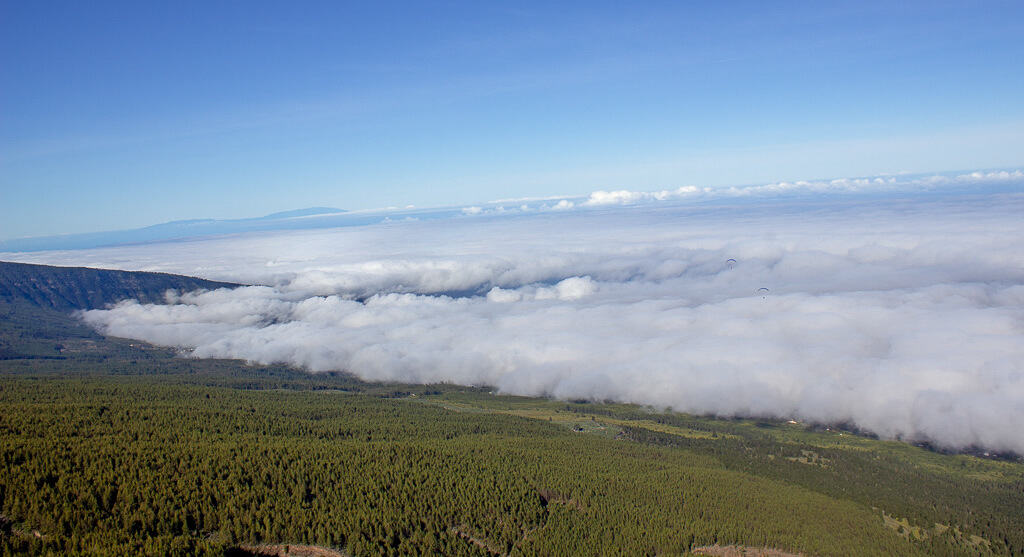 The weather in Tenerife is generally pleasant all year round. However, as Teide National Park and especially Mount Teide are at a higher altitude the weather can get a lot cooler. When I visited the weather was pleasantly warm so I just wore trekking trousers and a t-shirt. I did take layers with me though because the weather can change quickly. I would recommend the same and to check the weather reports before you go.
What to take to Mount Teide National Park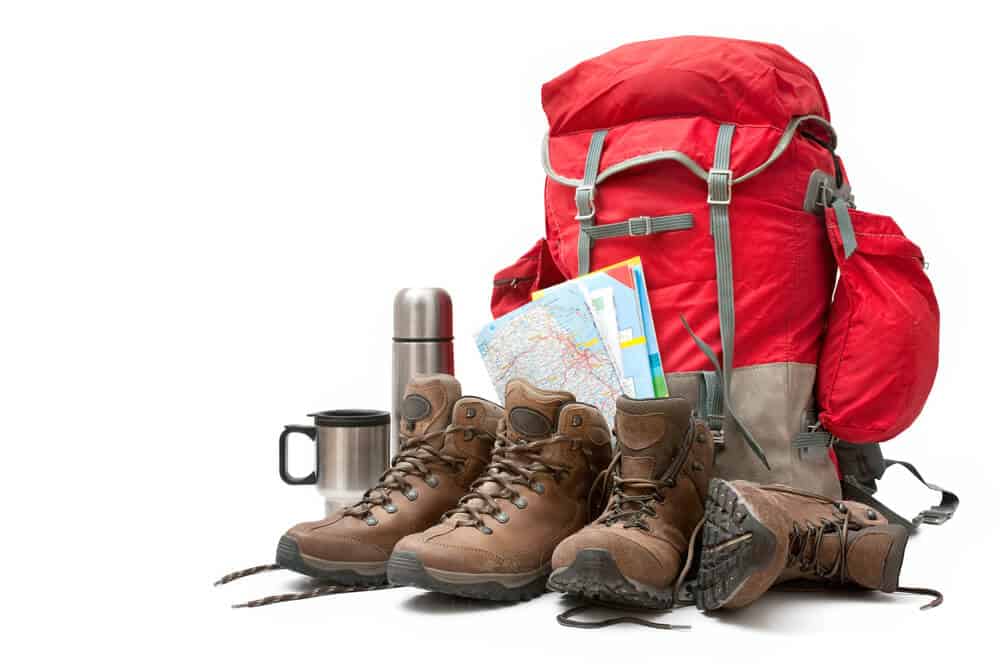 A day bag
Energy snacks
A hat, sunglasses and sunscreen
What not to take from Mount Teide National Park
Rocks or stones! Don't be tempted to take a few volcanic stones home as a souvenir, this is harmful to the environment and completely forbidden.
Mount Teide Hotels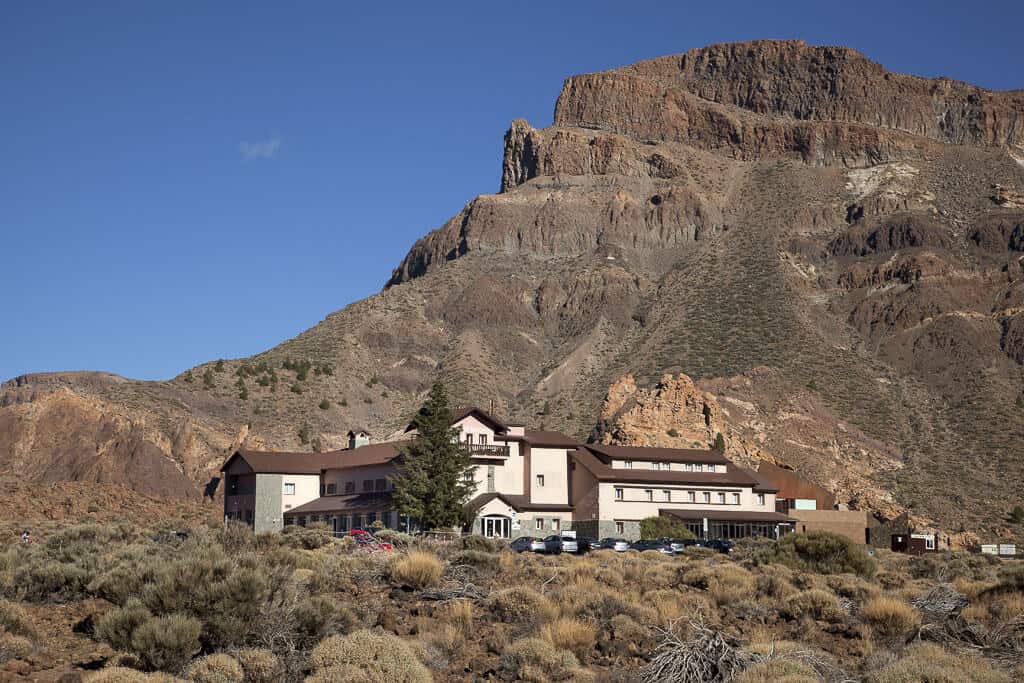 If you would like to stay right in the heart of Teide National Park then you can't beat Parador de Las Canadas del Teide for location! It is right next to the volcano! Cañadas del Teide is set 2,000 m above sea level, and from the hotel, you can enjoy fantastic views of the surrounding, lush, tropical green landscapes. This is the perfect base from which to explore the national park. Check here for the latest prices.
I hope this has convinced you to leave that sunlounger for a day and go and experience Teide National Park. If you do please let us know what you thought of it. Remember to have an empty memory card as I am sure you will be taking lots of photos!
Going to Tenerife? Check out these other posts on Tenerife first!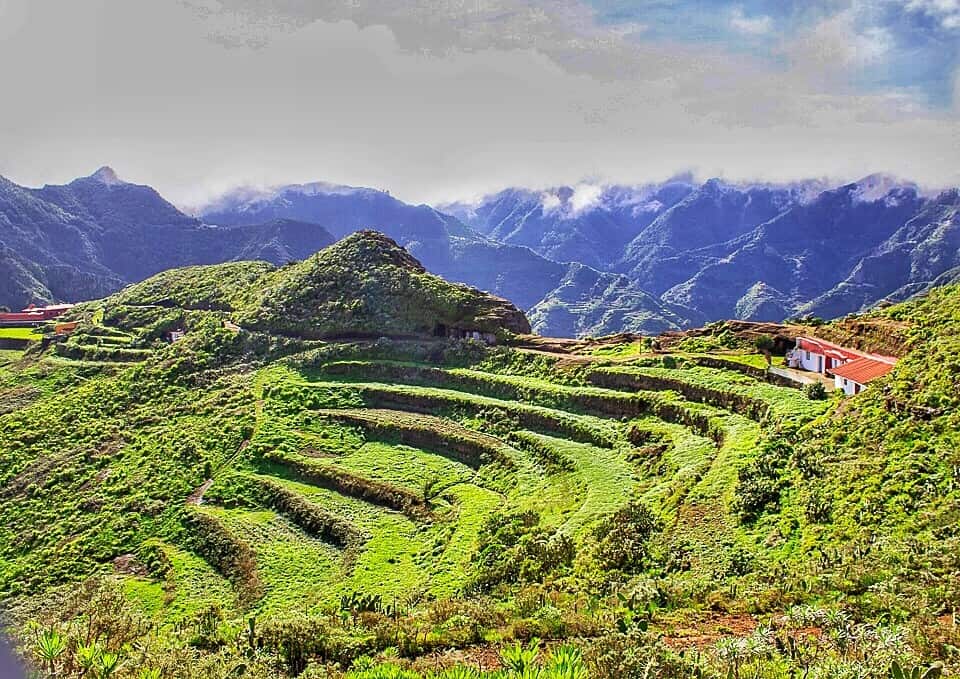 Love Spain? Check out our other articles on Spain!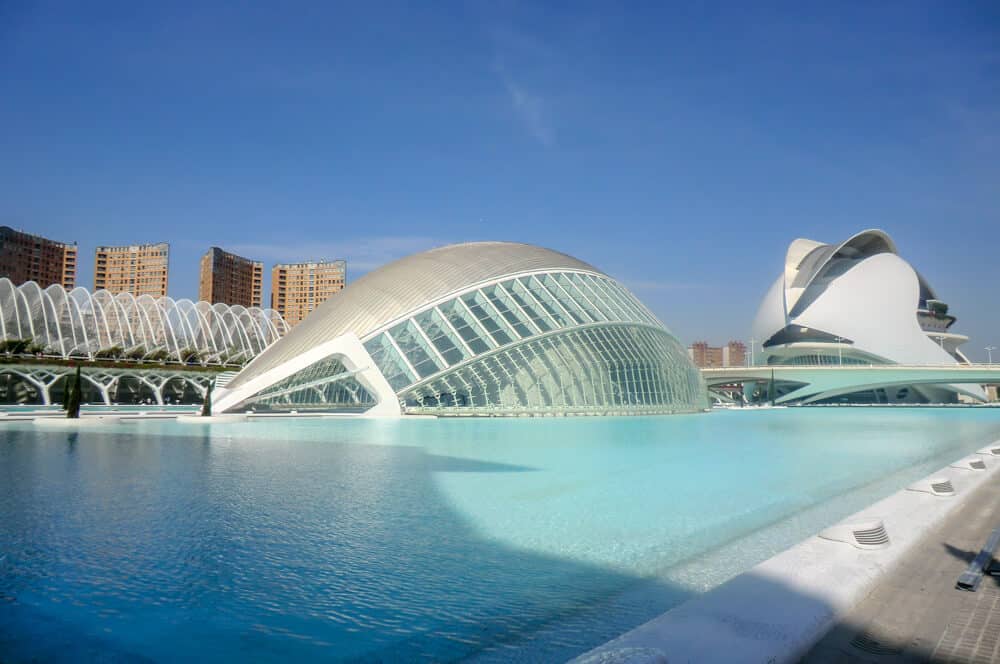 North Tenerife | Discovering the real Tenerife – North Tenerife Discovering The Real Tenerife. If you are thinking about visiting Tenerife then read our post on the north of the island before you go.
Tenerife Facts: 11 Compelling Reasons Why You Should Visit Tenerife – If you have never considered visiting Tenerife read these 11 compelling reasons on why we think you should. Trust us you won't be disappointed.
Top things to do in Galicia – If you are heading to Galicia read our post on the Top Things To Do In Galicia Spain. This 2 day guide covers food, culture, wine & much more.
Where to go in Spain – If you are thinking about visiting a different part of Spain then read our tips on The Best Places To Visit In Spain | Where To Go In Spain before you go.
Galician Food | Spanish Cusine At It's Best – If you travelling to Galicia then you have to try these 14 dishes to get a real taste of the place.
Barcelona Sightseeing by Bicycle – Do you want to do some Barcelona Sightseeing but you are short of time? How about seeing this fantastic city by bicycle? Its quick, fun & healthy. A win-win!
Unmissable things to do in Lleida, Spain – For an amazing trip to Lleida in the Pyrenees read our essential guide of things to do in Lleida. National Parks, Star Gazing and more. Buen viaje!
The Quiet Side of Ibiza – Are you heading to Ibiza and want to avoid the crowds? Then read this post to find out where the quiet side of Ibiza is. From empty beaches to shrines.
San Sebastian Pintxos Tour with Devour tours – If you are a foodie and are heading to San Sebastian then you have to go on a San Sebastian Pintxos Tour. Check out our post on which one to choose.
#LoveYourTravels
This post was brought to you as a result of the #RealTenerife blog trip, created and managed by Captivate Media in partnership with Spain.Info. GlobalHelpSwap.com maintains full editorial control of the content published on this site and as always opinions are our own.