Hands up if you have had a tough two years? We all have, haven't we? We have recently spent 4 days in Costa Adeje, Tenerife and the trip reminded me of the power of getting away. Here are the top things to do in Costa Adeje to get the most out of your trip.
However, if all you want to do is lie by the pool and drink cocktails, and enjoy the sunny weather, then go for it. You have earned it.
Kayaking with Dolphins and Turtles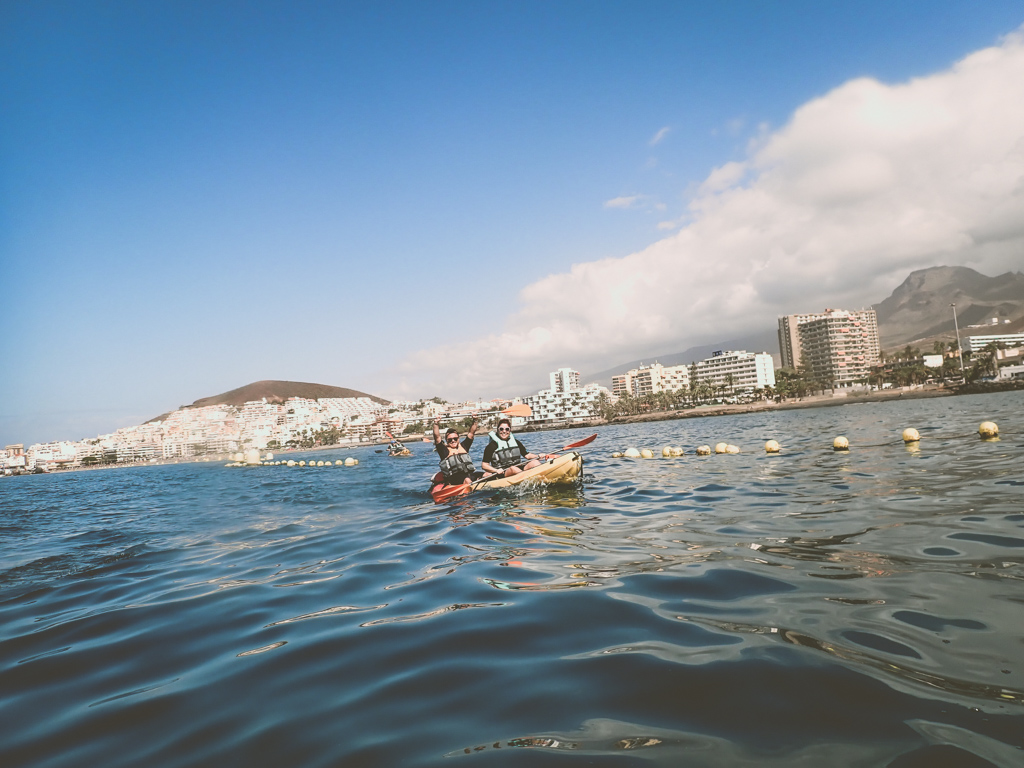 On our first day, we went Kayaking with Dolphins and Turtles in the Atlantic Ocean. It was a wonderful start to our trip in Costa Adeje (the tour was in nearby Los Cristianos). Just being out on the ocean in February was rewarding enough but when we first saw our first Dolphin breach all the troubles of the last 2 years evaporated.
The dolphins are attracted to the nearby fish farms and tend to visit daily so you will have a good chance of seeing them. Sitting still in a kayak as the dolphins came up right in front of us will live with me forever. Nature has an amazing capacity to heal and put you in the present moment.
Seeing dolphins in their natural habitat is the only way to see these animals. We were in a small group too which I think is important when observing animals in the wild. Sadly, the turtles were being shy so we didn't see them when we went snorkelling. The trip consists of 3 hours of kayaking with a small amount of snorkelling. We shared a kayak so it wasn't too strenuous. As the fish farms are quite close to land you don't go too far out in open water.
We booked our trip with a local firm called Xplore Tenerife which we highly recommend.
Have a Thai Massage at Aranya Bua Thai Massage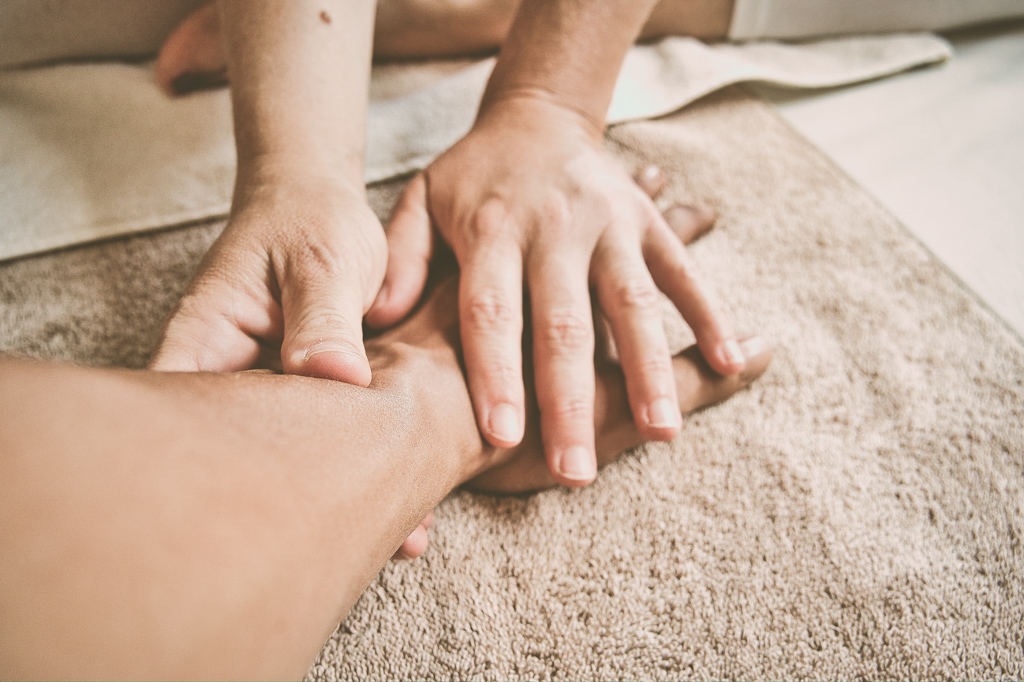 The next day after 3 hours of kayaking we were feeling a few aches and pains. Noticing that Costa Adeje has many massage places we decided to book one. We went to Aranya Bua Thai Massage and received the best Thai massage out of Thailand.
Having a massage in the middle of the day is the perfect holiday indulgence. Aranya Bua has many massage options. We opted for the Thai Oil massage which is a mix of traditional Thai and Swedish massages. Make sure you book because they get busy.
Eat at Toro Tapas & Grill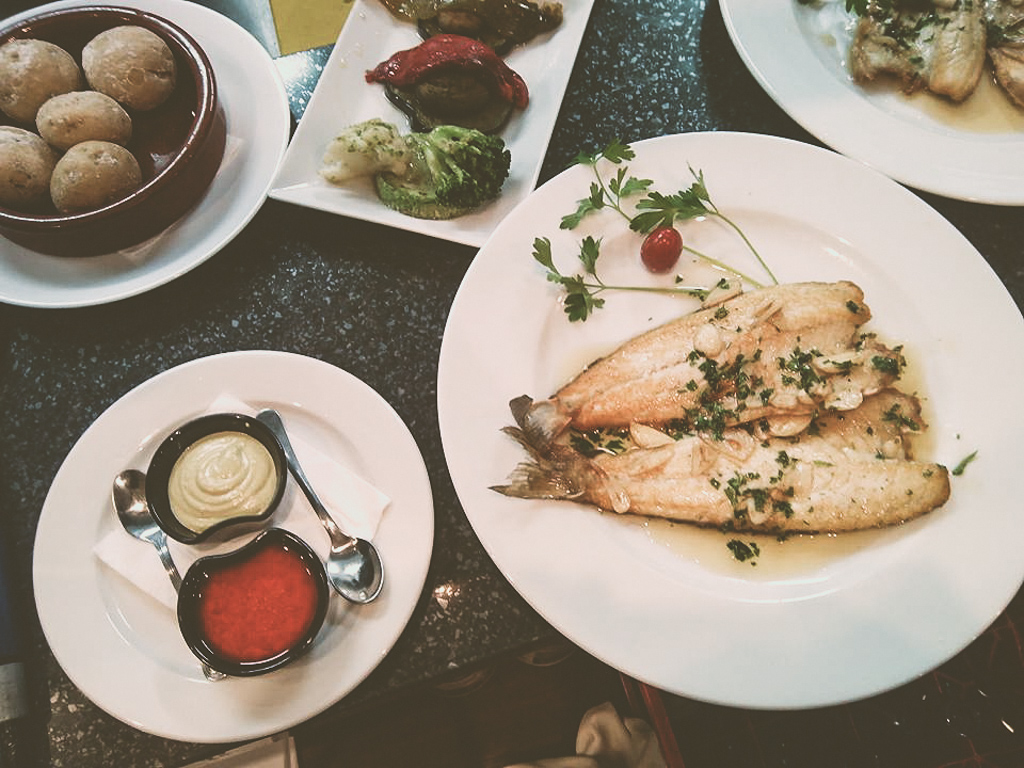 Just around the corner from Aranya Bua is Toro Tapas & Grill. After our massage, we headed here for delicious tapas and nice red wine. Sometimes it is the simple things in life that give us the most joy.
Toro Tapas & Grill overlooks the ocean. Sitting there eating and watching the waves crash in was all we needed. It turned out to be a long leisurely lunch. The kind that always seems to happen when you are on holiday. Time slows down. You have no rush to be anywhere. You order an extra bottle and a cheeky dessert. These are the moments that we have waited all year for, and Toro Tapas & Grill is the perfect place to do it.
Take a walk on the promenade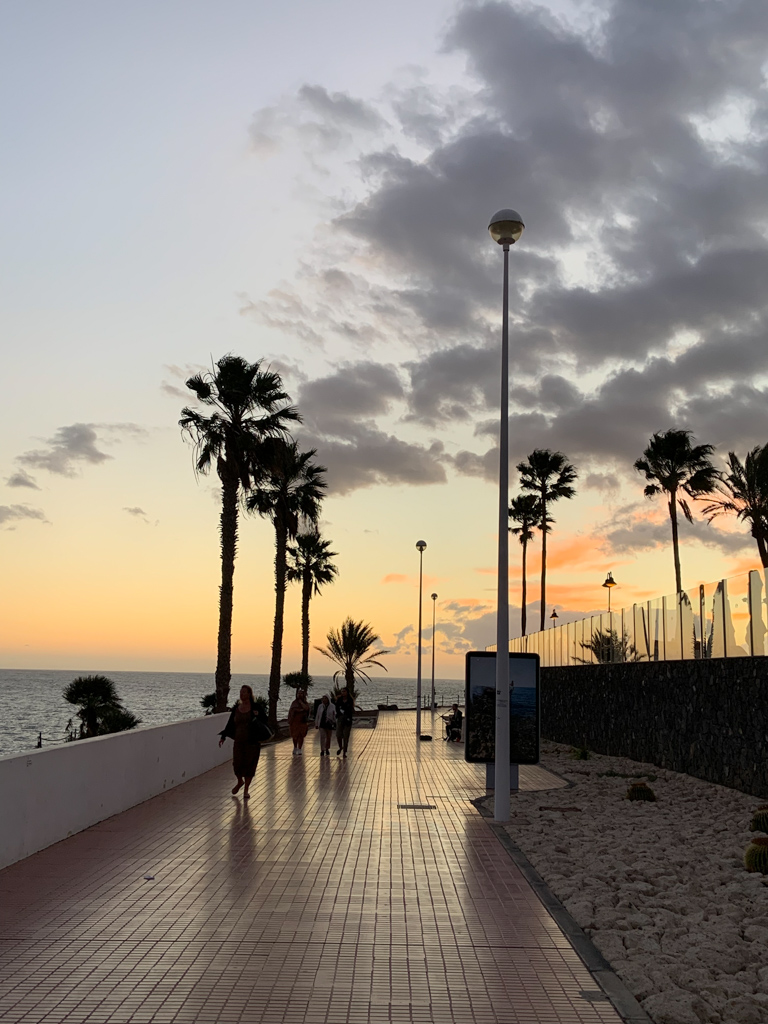 Every evening before dinner we would take a slow walk along the promenade. The Italians call this passeggiata. Costa Adeje has a fantastic walkway that hugs the beaches and coast. Some parts have bars, restaurants, etc and other parts are quieter.
We loved this part of the day. We would take a slow walk, passing locals and tourists doing the same. Every night we would choose a different bar to have a Vermouth and watch the sunset over the Atlantic.
The coast along Costa Adeje is home to many Whales and Dolphins which you can sometimes spot from the lookout points along the shore. We tried to see them but never did. Maybe you will be luckier.
Whale and Dolphin Watching in Costa Adeje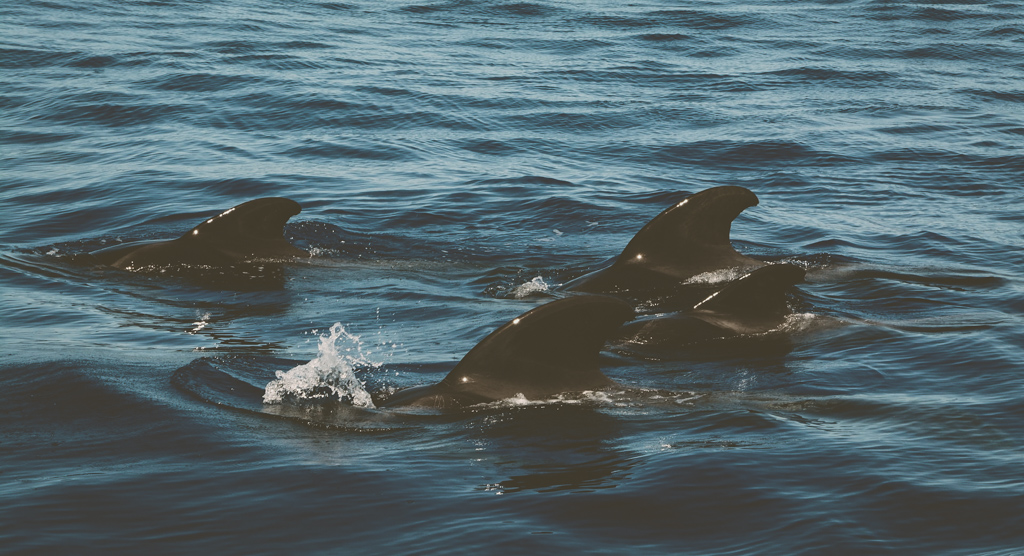 Talking of whales, Tenerife has resident Pilot Whales and Bottlenose Dolphins which you can see all year round. It is a great place to go whale watching in.
Other species of whales visit the island too, mainly during the months of May and June. Why not book a boat trip to go out and see them? This has to be one of the best things to do in Costa Adeje.
Most tours are 3 hours long with some longer. Sightings are not guaranteed but if you choose an experienced operator you will have a good chance of spotting these wonderful animals.
There are international laws and regulations that protect pilot whale and dolphin populations. Please make sure the tour follow these rules:
Do not get closer than 60 meters.
Maximum observation time: 30 minutes.
Navigate at reduced speed.
Avoid concentration of ships.
Leave the area if the animals are disturbed.
No Bathing with animals.
Don't Feed them.
Don't Touch them.
No Throwing waste into the water.
Don't Disturb them with noise.
Explore the beaches of Costa Adeje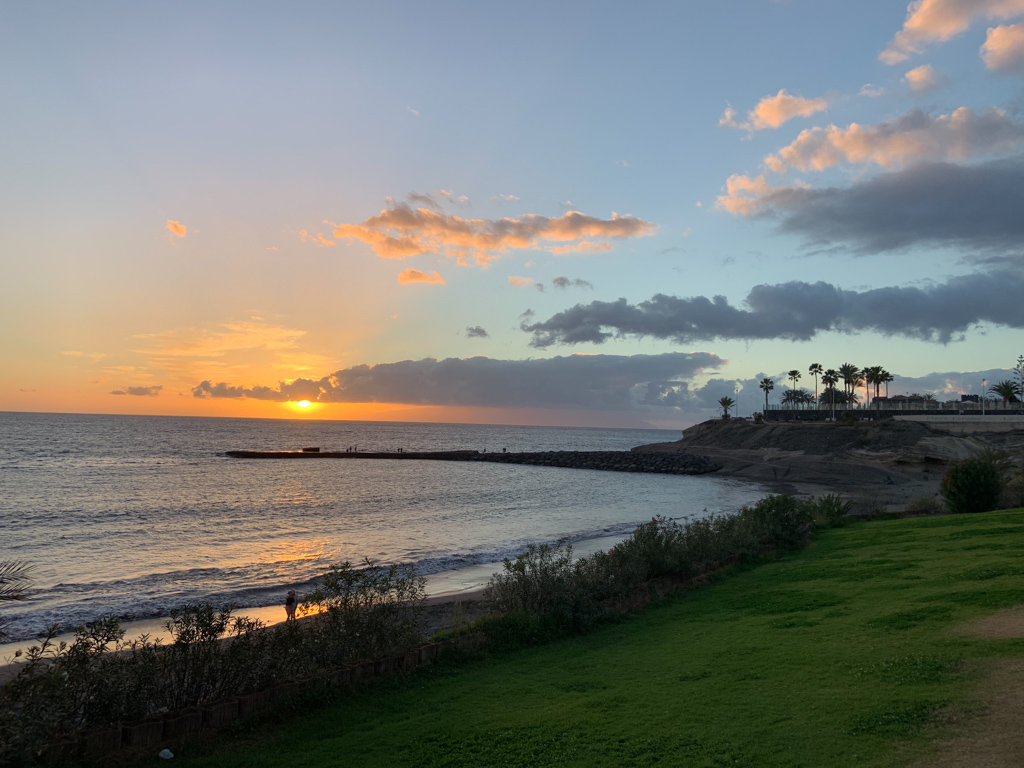 We can't talk about Tenerife without mentioning the beautiful beaches. After all, you have probably visited the island to find some winter sun.
Swimming in the ocean during our winter months is a bit more special compared to when we visit the beach in summer. This is why the Canary Islands are so unique.
There are quite a few beaches in and around Costa Adeje. Why not visit a few to find your favourite. Most of the beaches have calm waters because the nearby island of La Gomera shields this part of Tenerife.
Playa Fanabe – Playa Fanabe is the main beach with access to restaurants, shops and bars. It is one of the busiest and largest beaches in Tenerife. Even though this beach is busy, there is plenty of room for everyone.
Playa del Duque Beach – Playa del Duque is quieter than Playa Fanabe. It is located in an area of Costa Adeje where there are lots of luxury hotels. This beach caters for the clientele of those hotels with fine dining restaurants and the El Mirador shopping centre.
The sand here used to be the native black volcanic sand but they changed it to imported golden sand. Apparently, tourists are not keen on black sand beaches. I don't mind them personally. This beach is ideal for families because the ocean is calm as the beach is protected by large rock formations.
Torviscas Beach – Playa Torviscas is part of Playa Fanabe. It is only separated by the breakwater that keeps the ocean calm. To be honest I am not sure why some of these beaches have different names. When we walked along the promenade it was hard to tell where one beach starts and one beach ends. This is one of the smallest beaches in the area at 300 meters long. You will still find sun loungers, local restaurants and bars.
La Caleta Beach – This beach is about an hour's walk from Costa Adeje. It is located in a small fishing village called surprise, surprise, La Caleta.
The village is known for great seafood restaurants and the ocean here has crystal clear waters. Please note, that there are no sandy beaches here. There are only rocky beaches with stairs to give you easy access to the shore.
Playa Troya -Playa Troya is one of Tenerife's most popular beaches. If you want to party then this is the beach for you. Playa Troya is the party centre of Tenerife. During the day, the beach is great for chilling and recovering. In the evening it is a different beast entirely. The clubs pump out the music and the young crowds flock to this area. The beach is a blue flag beach with plenty of water sports to keep the restless in your crowd entertained.
Playa del Bobo – If you are looking for a more tranquil beach, then Playa del Bobo is a good option for you. Water Sports are not allowed here so you won't be hearing the sounds of people jet skiing as you read your holiday book. To make you even more tranquil you could choose one of the places offering massages on the beach. Listening to the waves crash on the shore as you receive a relaxing massage has to be one of life's nicest luxuries. And relax.
Playa La Pinta – This golden sand beach sits in between Playa del Bobo and Playa Torviscas. It has the usual amenities like sun loungers, umbrellas, lifeguards, showers and toilets. There are also shops, restaurants and bars along the promenade. The kids will love the floating bouncy course too.
Playa La Enramada – This beach used to be a pebble beach but they decided to make it a sandy beach by grinding down the pebbles into fine sand. The ocean is normally calm here but during some months body surfers come here to ride the waves. Look out for the towers of pebbles that people have built up over the years. The perfect sunset photo!
Playa de Los Morteros – This beach is for nature lovers out there. The rocky overhangs give the beach a secluded feel and some shelter. It is just up the coast from Playa La Caleta. The beach is a mix of greyish sand and pebbles. The water is clear and perfect for diving. There are no facilities here.
Visit Costa Adeje Market
Costa Adeje Market (also known as the Playa de Las Americas Market) is open on Thursdays and Saturdays. It starts around 09:00 and ends at 14:00. 11:00 is the busiest period.
The stalls sell everything from fake goods to local artisan gifts from local craftspeople. There are also clothes stalls and souvenirs. Local advice is to haggle when you want to buy something. Who doesn't love a good haggle?
Take a day trip to Mount Teide

I can't talk about Tenerife without mentioning Teide National Park and Mount Teide. The last time I visited the island I was blown away by how majestic the El Teide region is. If you have time I highly recommend you do a day trip to Mount Teide from Costa Adeje. It is such a wonderful place.
Mount Teide is the highest mountain in Spain. You can take a cable car up to the summit and within the park, there are many hiking trails. You can look at the natural beauty of the lava flows. It gives an ethereal feel to the place.
If you are into astronomy you can take a stargazing tour at night. It is one of the best places to see the stars as there is no light pollution. Teide is a UNESCO World Heritage site and rightly so. You can visit Teide by private tour or by public transport at the weekends.
Hiking in Costa Adeje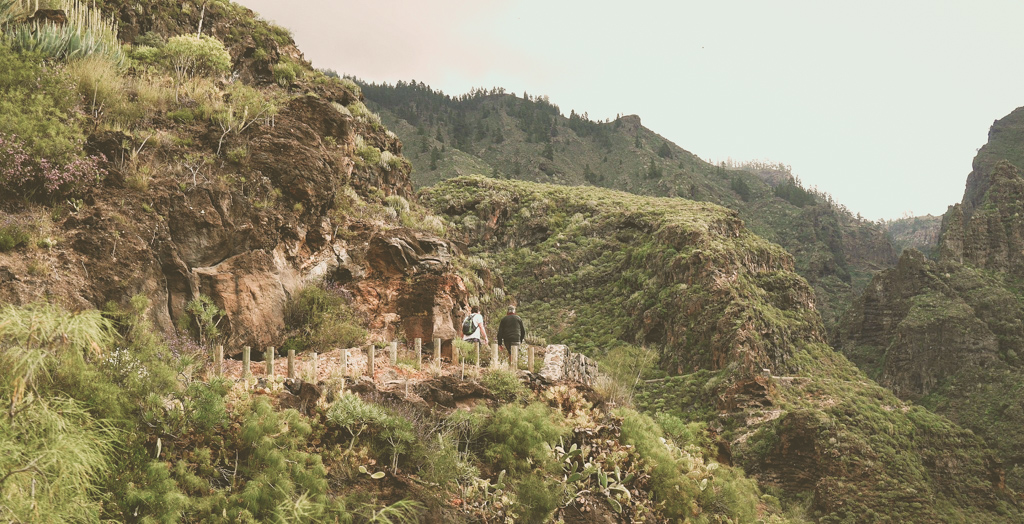 If you feel that you have had one too many cocktails and want to burn off some of those extra calories why not take a hike in Barranco del Infierno.
The road is well marked and it is a perfect antidote to the busy resorts. It is advised to come here in the morning because it gets very hot in the afternoon. After all, it is called hell's gorge! They limit the number of people who hike here which is 300 a day. Remember to bring water and wear comfortable shoes.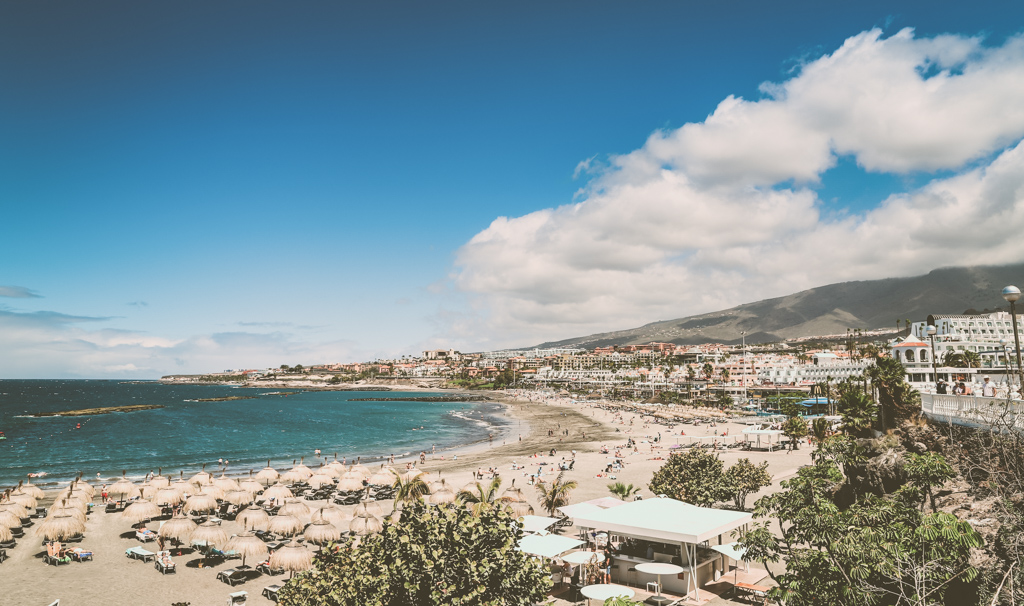 As you can see there are plenty of things to do in Costa Adeje. My advice is to mix it up a bit. Have a few days of activity and some days just for relaxing. You have earned it.
We enjoyed the flights to Tenerife with Jet2. The staff were great on the flight and not having to worry about paying for luggage is a real bonus. Jet2 flies from various airports in the UK. Our Jet2 flights were from London Stansted.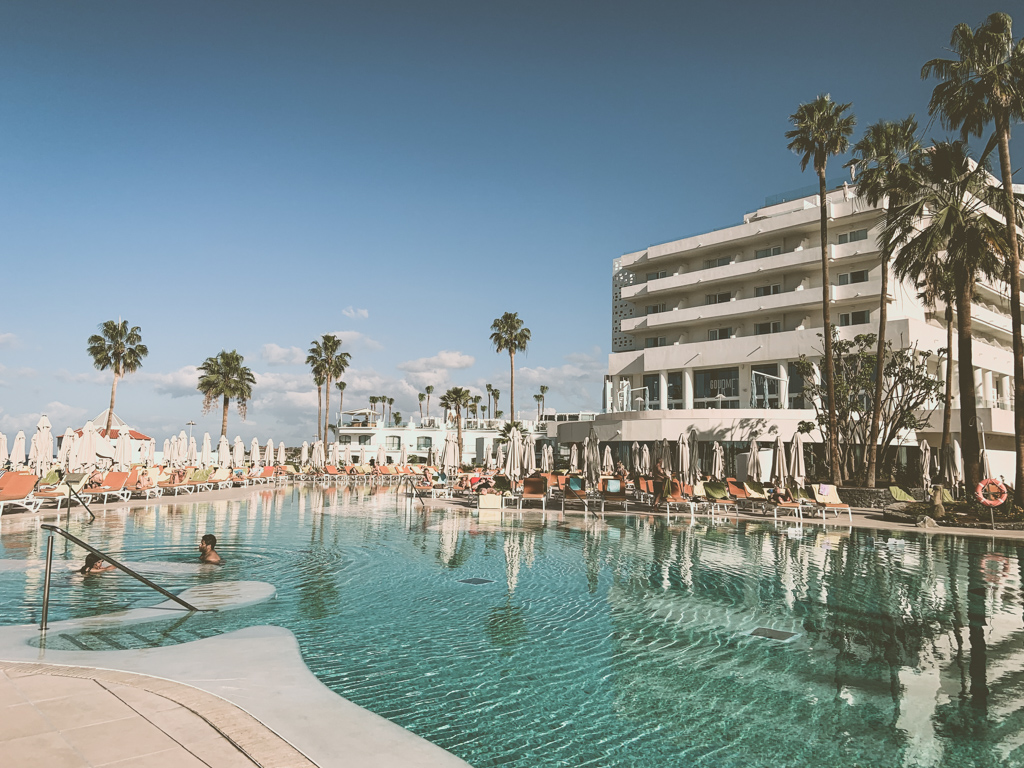 We stayed at the wonderful Jet2holidays Iberostar Selection Sabila. This hotel was perfect. We had a nice bright room and the location is close to everything you will need. The food is fantastic and I can't praise the staff enough. They went above and beyond to make us feel welcome. This was also arranged with Jet2holidays Tenerife.
If you are looking to escape the cold in Tenerife without any hassle then we highly recommend Jet2holidays for winter sun.
This post is part of a gifted campaign to promote Jet2Holidays WinterSun campaign. As with all our posts, all views are our own and we have not been instructed what to include.