Cooking in Oaxaca, Mexico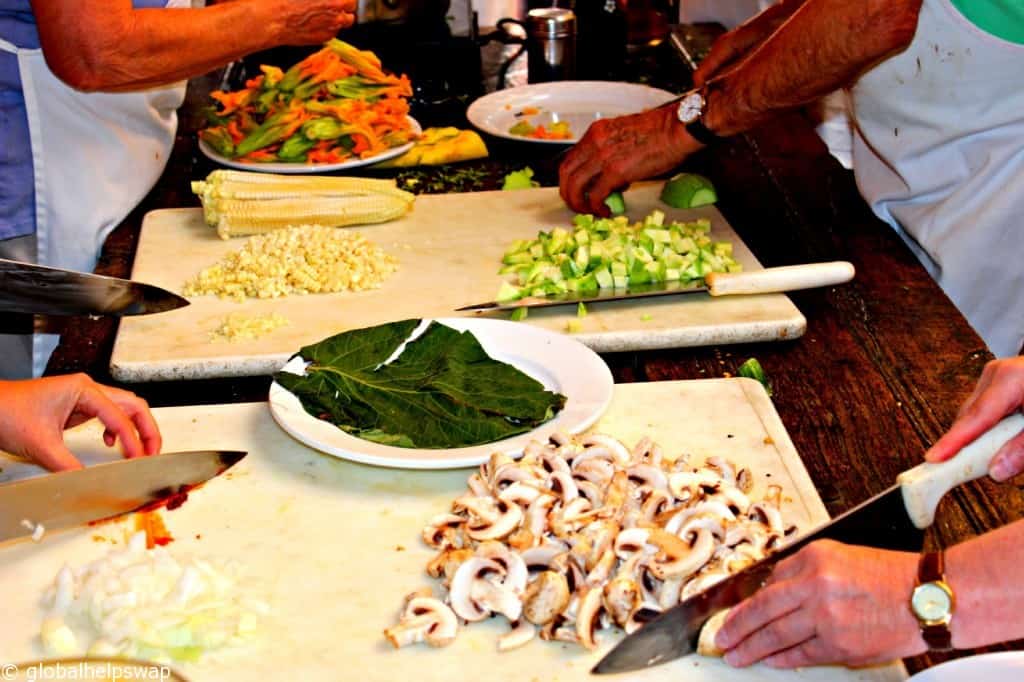 We're agreed. We'll be making quesadillas with saltamontes (that' grasshopper to you and me), black mole, avocado ice-cream…..
Oscar our instructor for the day rattled off a list of 9 dishes we would be learning to cook in a five-hour class I took on our last day in Oaxaca. 'But first stop, the market'.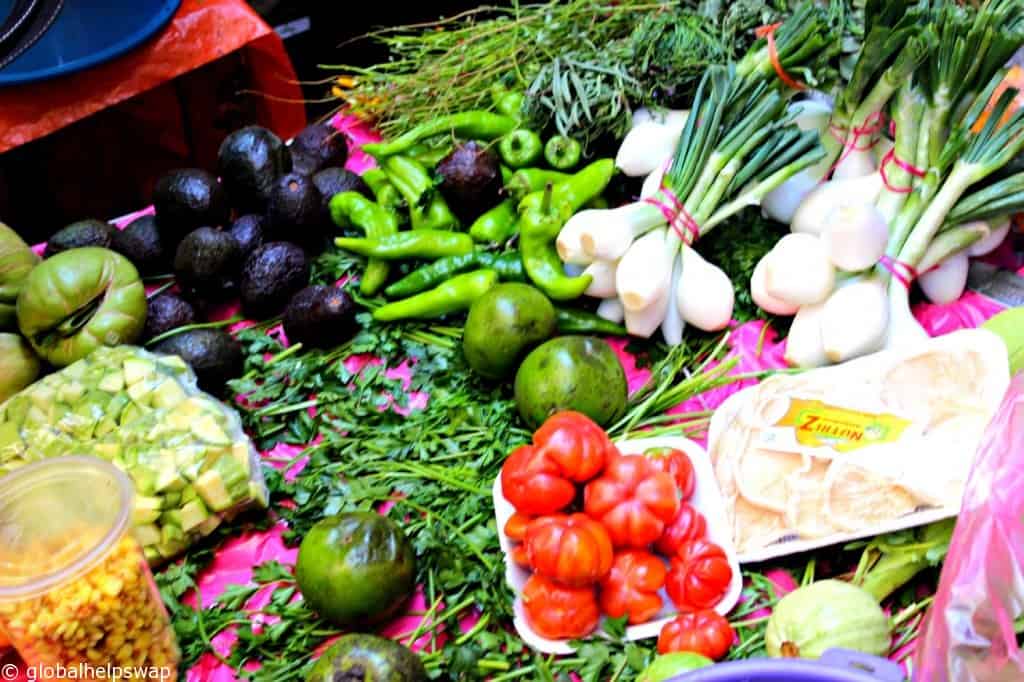 Eleven of us piled out, led by Oscar who for some strange reason had decided to bring along a tub of corn with him. On our way to the market we stopped to pick leaves off a few different trees. As we passed the leaves around and smelt them Oscar told us the different dishes that were flavoured by the different types of leaves. The market was in full swing at 11 o'clock and soon we had bags full of weird and wonderful fruit and vegetables we would be using to create our dishes.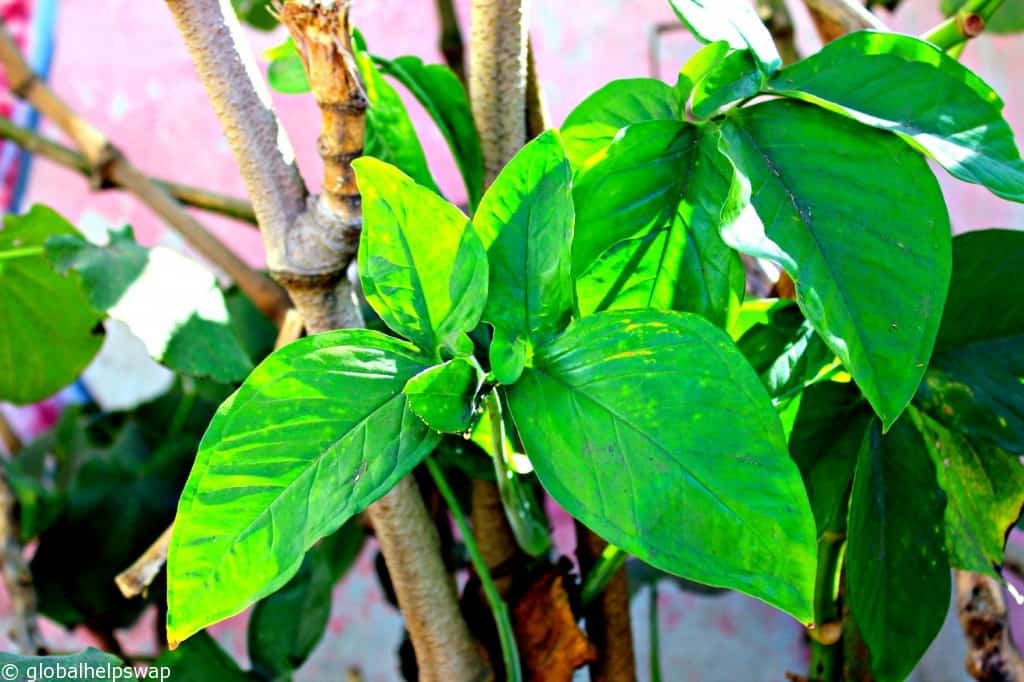 We spent quite some time at the chilli stall that had about 12 different types of dried chillies. We chose a large, smoky chilli that we would use to make our mole (pronounced moleh). Chances are if you haven't been to Mexico you haven't come across this rich sauce that is made with a long list of ingredients (the one we made had 17!) and is a real speciality here in Oaxaca. If you make it to this part of the world you can buy a small bag of mole that will keep for about 6 months unrefrigerated. This is by far the easiest way to enjoy mole back home.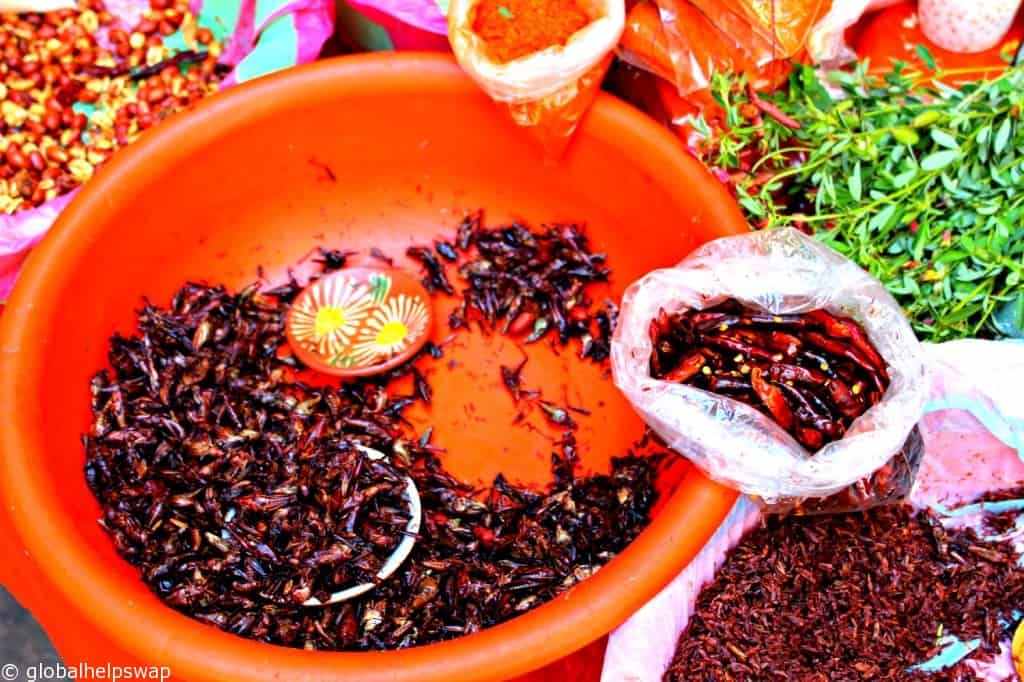 Before we left the market we said hello to the local medicine woman who had a stall full of different herb mixtures for all kinds of ailments, including special organic eggs that can be rubbed on one's belly to fight off bad energy.We noticed many stalls had bunches of basil in vases at the entrance. This is used by the stall owners as a form of protection from bad energy.
As we exited the market we entered a shop that had huge machines that were grinding all sorts of ingredients. A mouth-watering smell was coming from one that was grinding tomatoes, chillies and garlic –the key ingredients for salsa -together in a big bucket. I was very tempted to stick my finger in and have a cheeky taste, but I'm not sure that would have gone down too well. Suddenly Oscar's pot of corn made sense. We were here to grind the corn into a paste so as to make our own tortillas.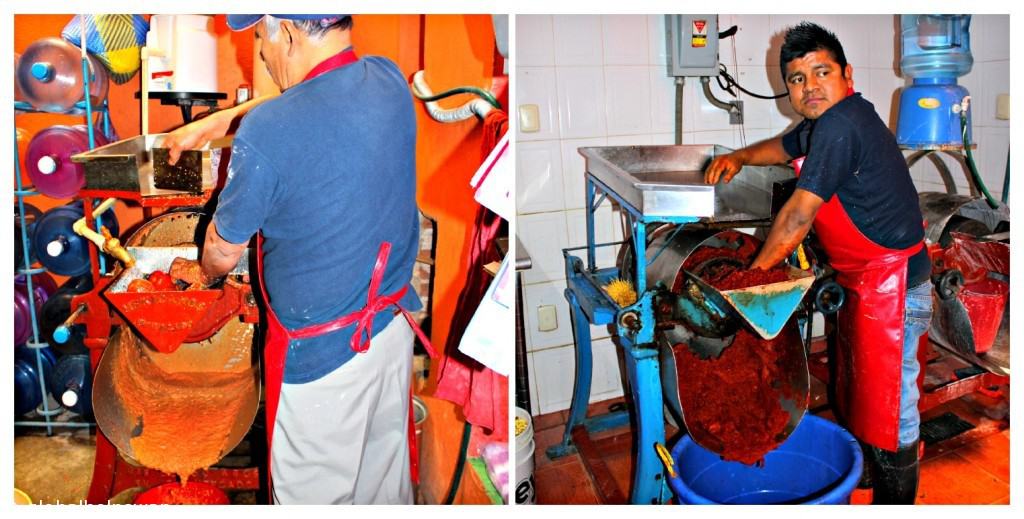 After our short trip we returned back to the kitchen where Oscar showed us how to prepare our long list of dishes. We chopped and fried and blended and within a couple of hours we had a gorgeous 5-course meal ready to enjoy.
I decided to be adventurous and made my quesadillas with grasshoppers. Once you get over the thought that you're eating an insect, they're actually quite good. They're crunchy with a taste of paprika and lime and go really well with the local stringy cheese toasted up in a quesadilla.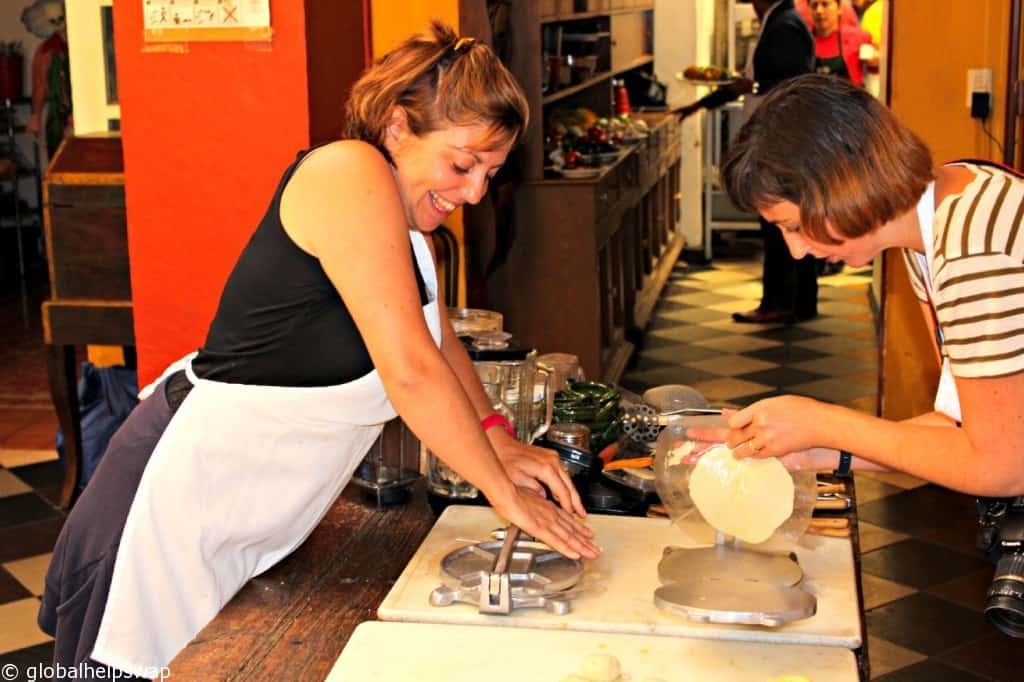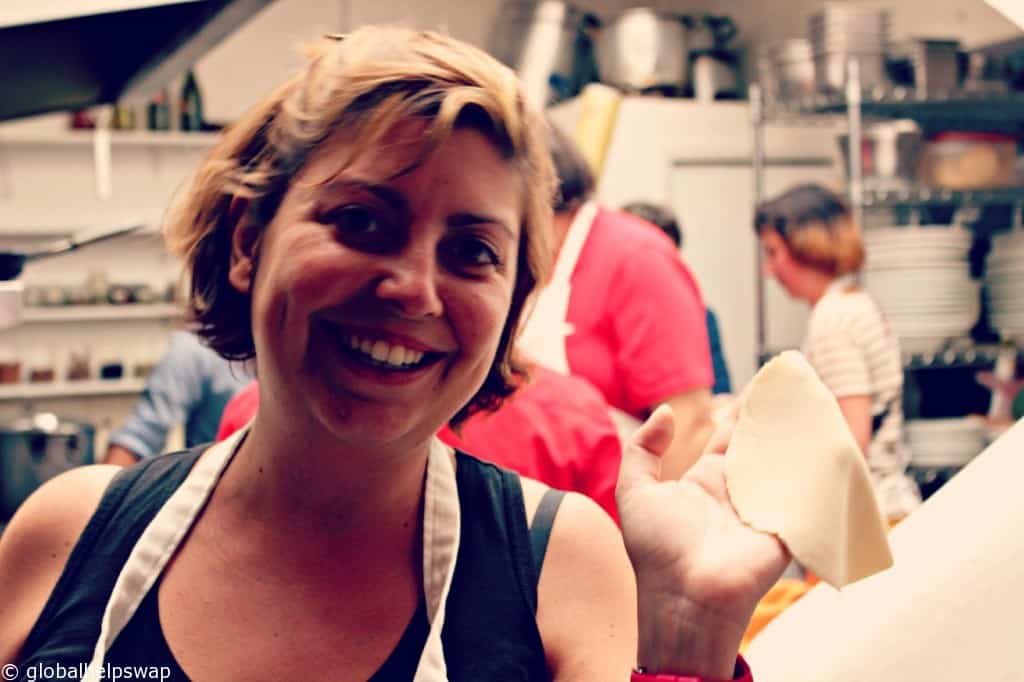 My insect eating didn't stop there however. After we made a basic salsa which always consists of four ingredients: roasted tomatoes and chillies, garlic and salt we learnt that we could flavour it with another ingredient of our choice. We flavoured one with cumin, another with toasted avocado leaves, and for my personal favourite we added some agave worms. Yum!
For starters we made stuffed chillies with a gorgeous sauce made with tomatoes, chicken, raisins and almonds. You can stuff the chillies with different mixtures, like this recipe for stuffed poblano chillies. We didn't fry ours in batter, which made our version much healthier.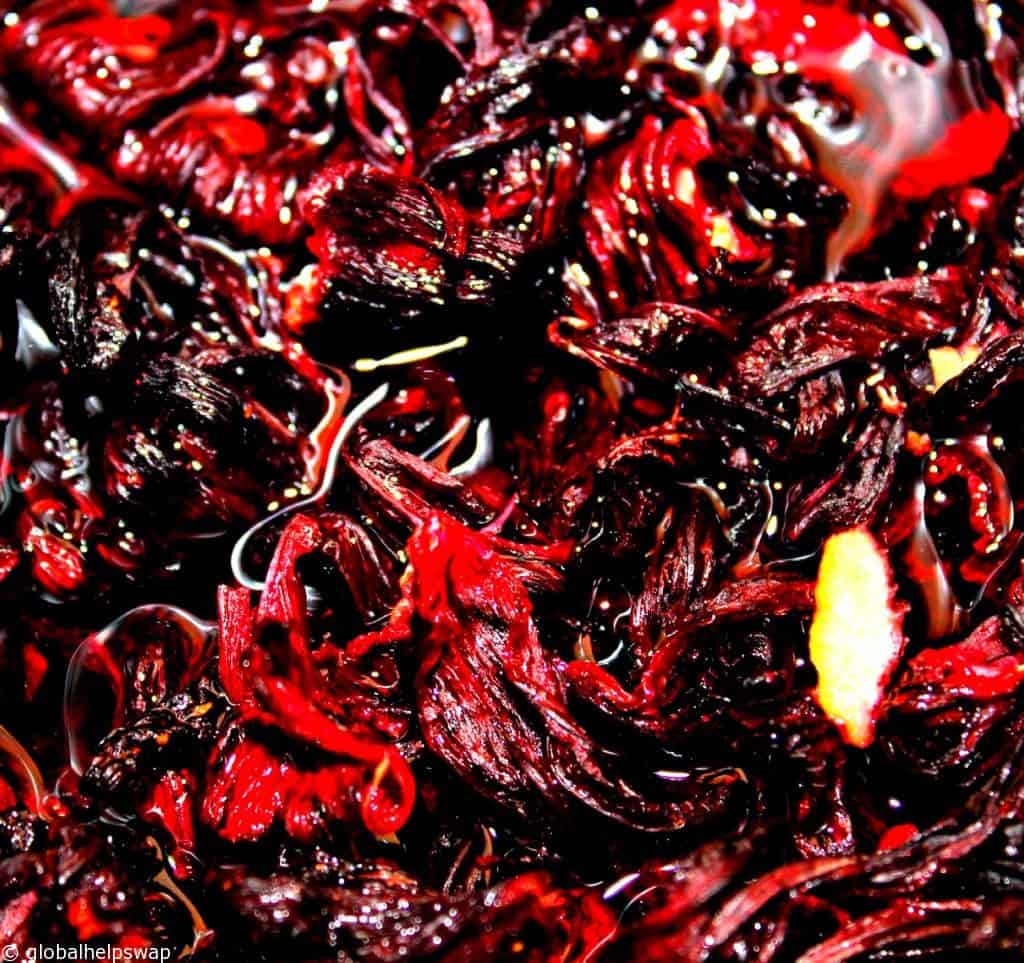 We used habanero chillies and took away their heat by boiling them in a cup of lime-juice, water and salt. It's a nice trick if you like the idea of stuffed chillies but don't like too much heat.
Our second starter was ceviche which is raw fish that's been 'cooked' by marinating it in lime juice. Mexican style ceviche comes mixed with all sorts of lovely ingredients like onions, capers and olives and is often served with a slice of avocado. It's a beautiful, light, waistline-friendly dish.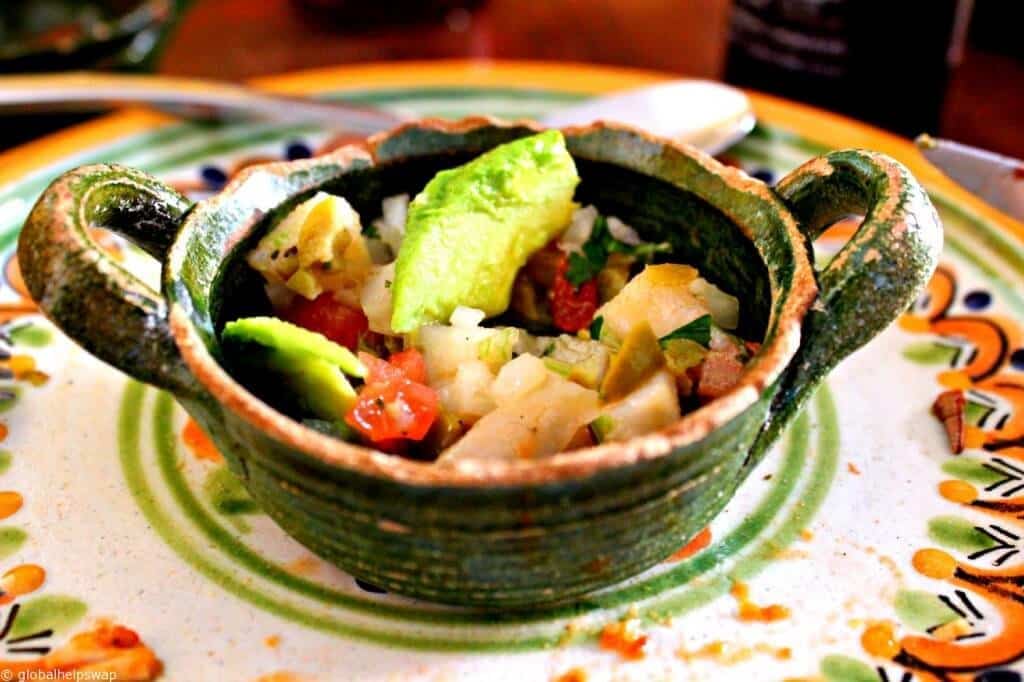 Making the black mole was great fun and not as hard as I thought. We basically fried the 17 ingredients one at a time, blended them together, mixed them with water and then cooked them slowly until the mixture turned into a luscious paste. The secret of making a good mole is to cook it slowly for as long as possible so that all the different ingredients merge together in one complex flavour.
The mole we made, black mole, is the most popular in Oaxaca and has dark chocolate as one of its main ingredients. This creates a delicious sweet richness to the sauce. If you're lucky enough to live somewhere that stocks all kinds of dried chillies, here's a mole recipe that was served at the state dinner in Mexico in 2010.
We had our mole with chicken thigh, which was a perfect combination. Unfortunately by this point I was so distracted by the eating that I forgot to take any pictures of it. Sorry. Mind you as mole is a dark brown sauce that's poured over everything – it's extremely hard to make it look good.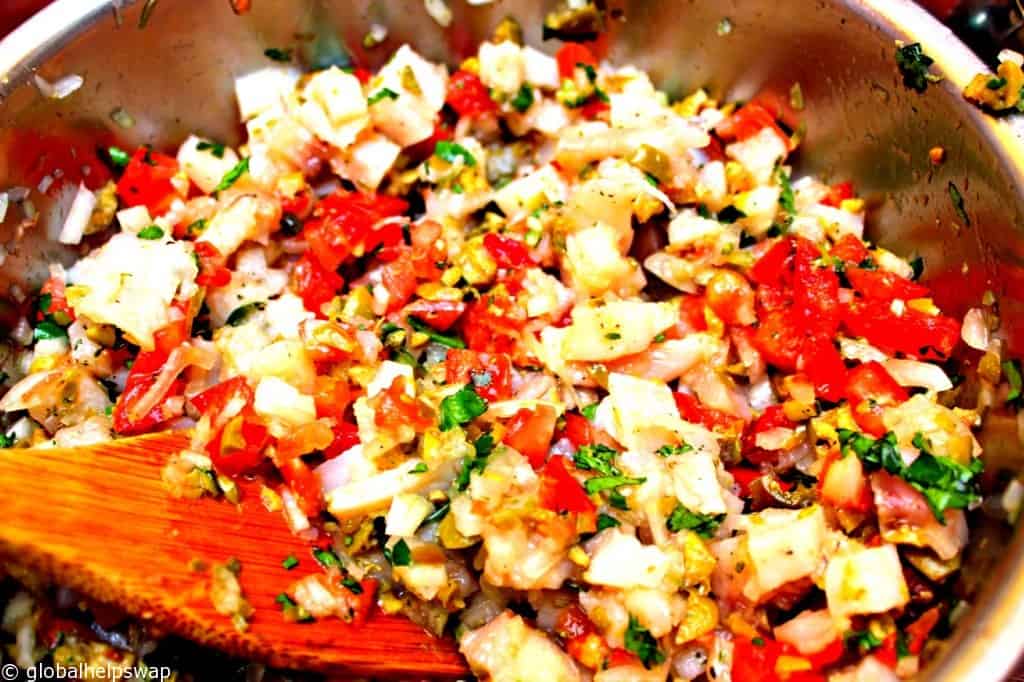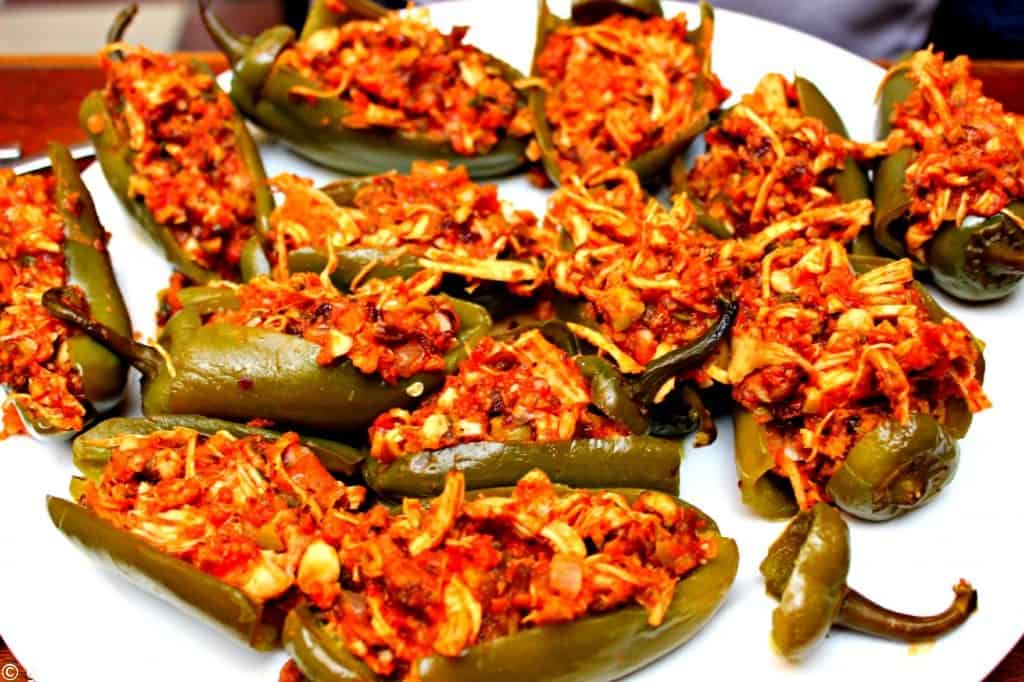 We finished off a sumptuous meal with what I thought was the star of the day. Avocado ice-cream. I've noticed avocado being used in sweet dishes in quite a few places around the world, like Indonesia and the Philippines but I had never gotten round to trying it. Well, all I can say is that this ice-cream we made was a true revelation. The creaminess and richness of an avocado goes perfectly well with cream and sugar. It's a combination that is as symbiotic as chocolate and nuts, chips and ketchup or cheddar and marmalade. (And if you've never tired the last one, go make some toast now, you can thank me later).
As I sit here writing this with a very happy belly and a contented smile on my face I hope this post does two things. Firstly, it encourages you to take a cooking class if you ever visit Oaxaca. Secondly I hope it inspires you to look up some real Mexican recipes and create a truly different and delicious dinner back home.
Tips when choosing a cooking class
1. Check if you will have your own work-station and stove (many classes are mostly demonstration so it might be a little disappointing if you don't get a chance to get involved).
2. Ask if recipies will be provided.
3. If the class is part of a restaurant consider eating there before to find out if you'd like to learn how to make the food.
4. Take a notebook and pen to make additional notes which ALWAYS come in handy when you're trying to recreate a dish.
5. If you are visiting a market take some extra cash to buy the dried ingredients that you will need to recreate the dishes at home.
The class I went to at Casa Crespo had good recipes but the owner / teacher was not very friendly or interested in making sure we had a good time. At one point he even got a little cross with another student who couldn't get the tortilla right, which is why I wouldn't recommend you go there.
globalhelpswap
tips for memorable and meaningful travel
#loveyourtravels
Voted as a top travel website by:
http://www.theguardian.com/travel/2013/sep/18/top-travel-websites-globalhelpswap
Karen is a trained psychologist and coach. But really she's an adventurer who believes travel can be one of life's best teachers. She writes to inspire you to take the leap and travel in a way that is memorable and meaningful.