Do you drink and eat chocolate every day I asked the village elder as we slowly stirred the large pot of 100% cocoa? He said of course with a twinkle in his eye. He said a few sentences in Spanish which I couldn't quite understand (my Spanish isn't great) but whatever he said, had the others around us laughing, apart from his wife who was telling him off but in a nice way. I heard my name in the sentence so I asked what he had said. He said tell Paul when you drink or eat chocolate every day it leads on to you having sex 7 times a day!
Meet the BriBri tribe of Costa Rica, a fun-loving bunch who are at the forefront of sustainable tourism in this green and pleasant land.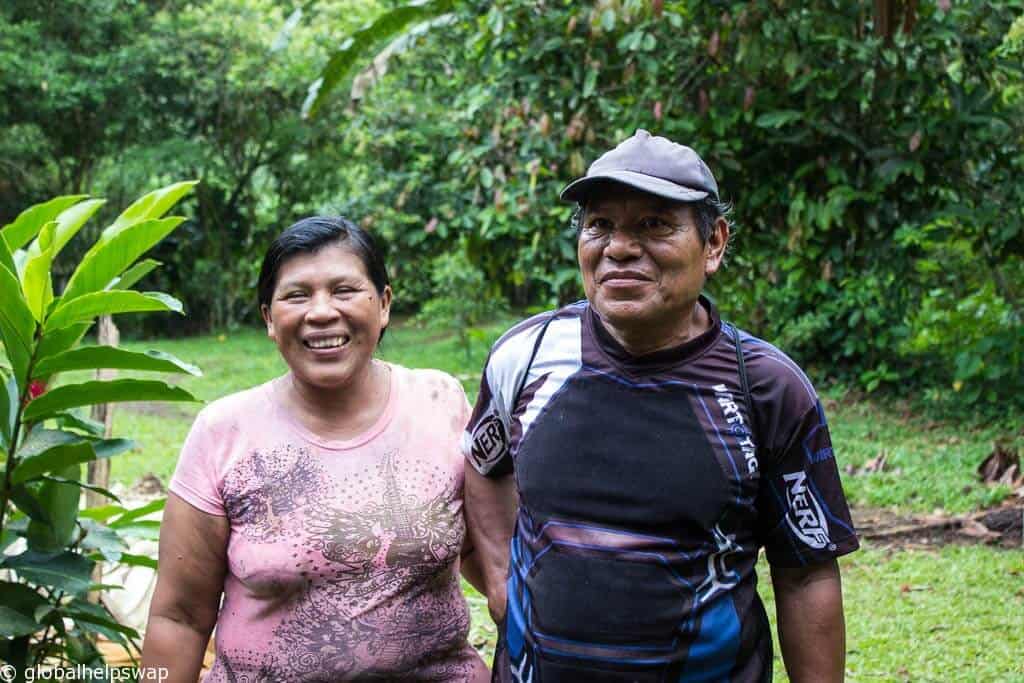 The Bribri tribe are an indigenous people of Costa Rica who mainly reside in the mountains along the Caribbean Coast in the Talamanca Area of Costa Rica. As their land is along the border of neighbouring Panama, some Bribri live there too. In fact the Bribri children on the Panama side go to school in Costa Rica because there is no school in their village. The border is open for the tribe and is unmanned.
The Bribri mainly live in small communities of single family houses scattered over farmland. They grow corn, beans, cocoa, plantain, bananas and yucca. They also hunt for their food by fishing on the river that took us to their village. The Bribri language belongs to the Chibchan family which originates on the pacific coast of present day Ecuador. Although many Bribri speak Spanish too.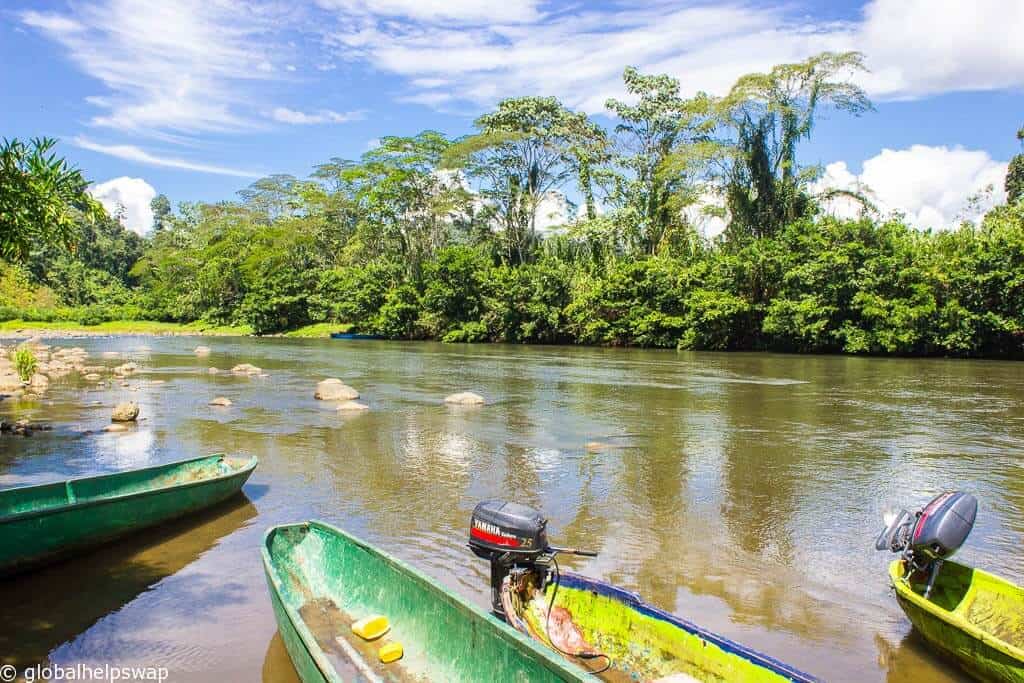 The day I spent with the Bribri was the highlight of my trip to Costa Rica. The tour guide picked us up from our hotel in Puerto Viejo and then took us along a bumpy road up into the mountains. As we ascended it got greener and greener and less populated. We then walked to the river where some Bribri boatmen were waiting for us. The boat journey felt like I was in Conrad's Heart of Darkness or Coppola's Apocalypse Now, even though I knew the closest town was just over an hour away.
Once we got to the village the first thing I noticed was how organised it all was. I was expecting a scattering of huts all along the river but what we found was a school (built from the proceeds of eco tourism), recycling bins everywhere and clear path ways. The Bribri really take pride in their environment, something us city folk could learn from.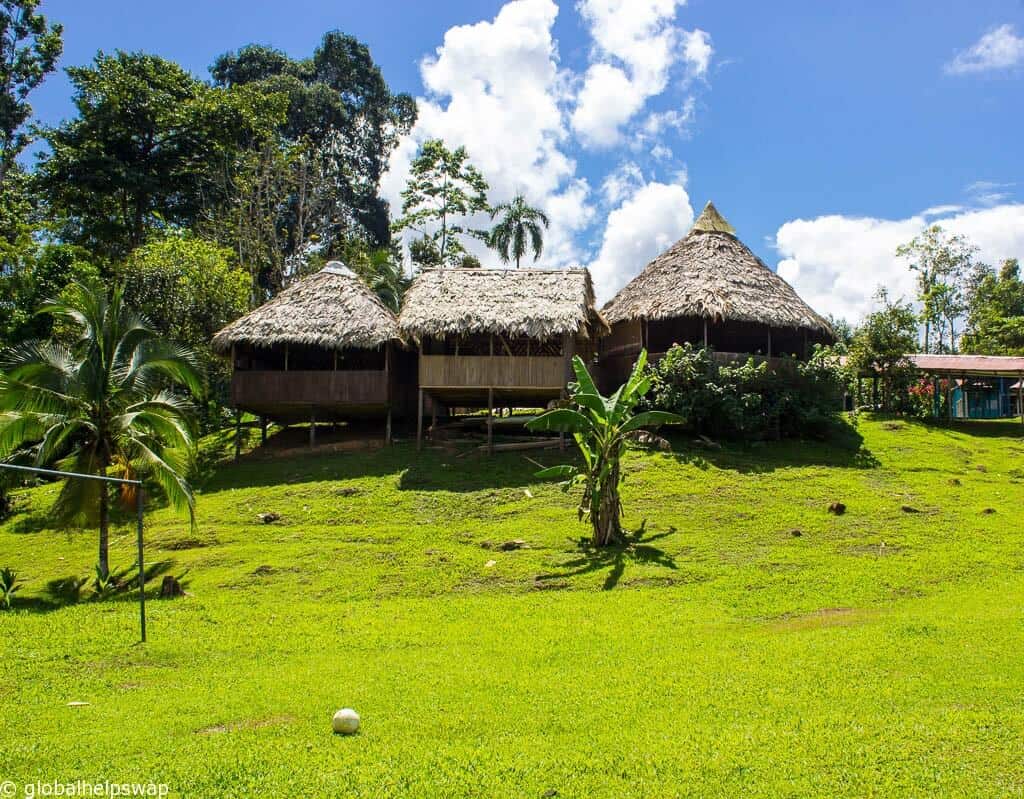 The first building we entered was a large circular wooden building with a thatched roof. It turned out to be the village meeting house. The craftsmanship in the construction was very impressive. Again you could see pride in the building.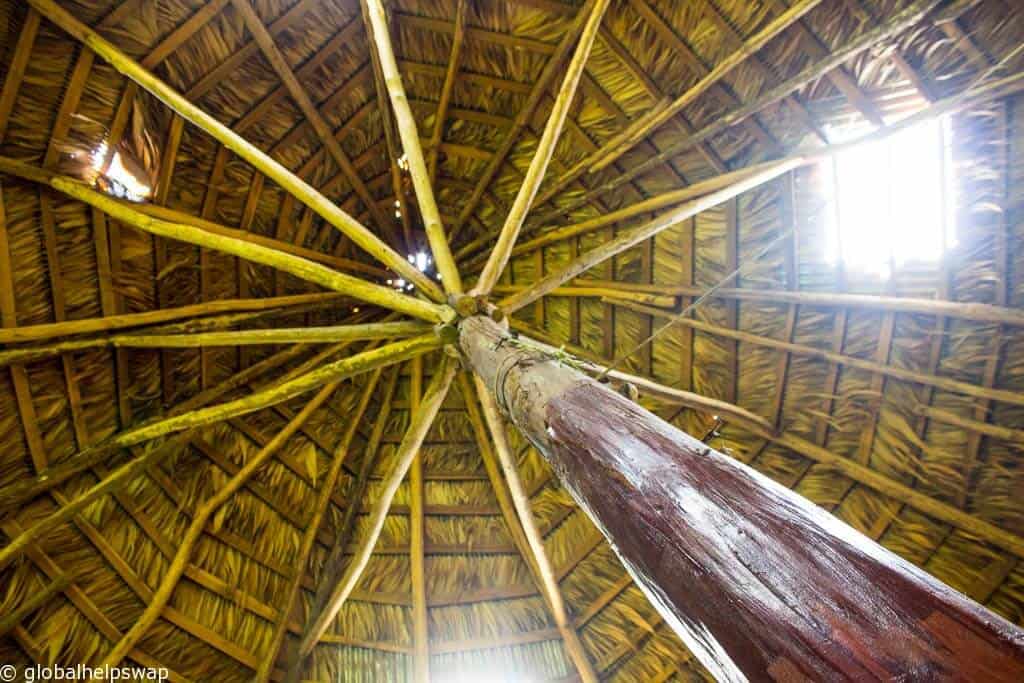 As we walked through the village we passed some of the villagers who shyly smiled as we said hello, you must remember that visiting these tribes is quite a new thing so seeing foreign people is still a novelty. It was so peaceful walking through the village. We came to a bridge that hung over the river, on the other side was Panama where the school kids cross every day on their way to school. As we chatted to our guides, some children came running down and jumped into the river to swim. We thought they did this every day but it turned out that they come down whenever tourists are there because they want to make sure the tourists only swim in the safe areas of the river. How amazing is that!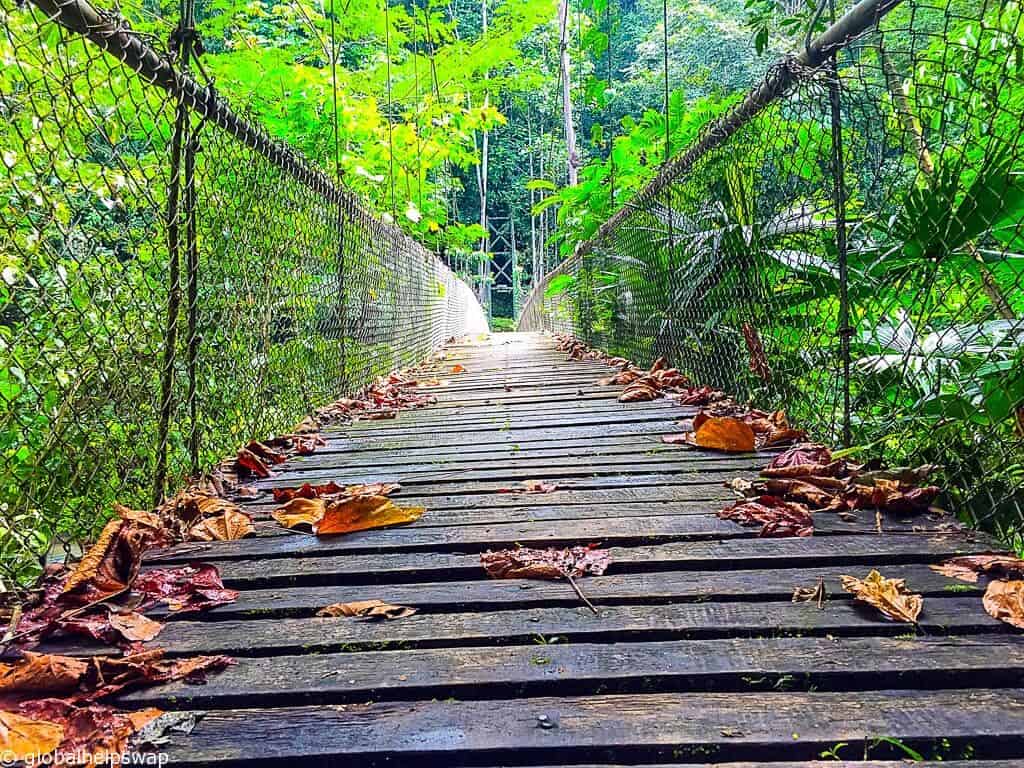 Before lunch we had one more thing to do: Archery. We all had 3 shots at trying to hit the fruit hanging from the tree in front of us. The main honcho took 3 shots but didn't really pierce the fruit. His wife came along and said let me have a go, in her first shot she split the fruit in two. The look on her husband's face said it all. It looks like the battle of the sexes even reaches remote jungle tribes. I was about 5th in line to have a go. I had never done archery but as I am from the land of Robin Hood I thought it would come naturally. I was so wrong! I was so crap at it, it was embarrassing. I'd better stick to the day job.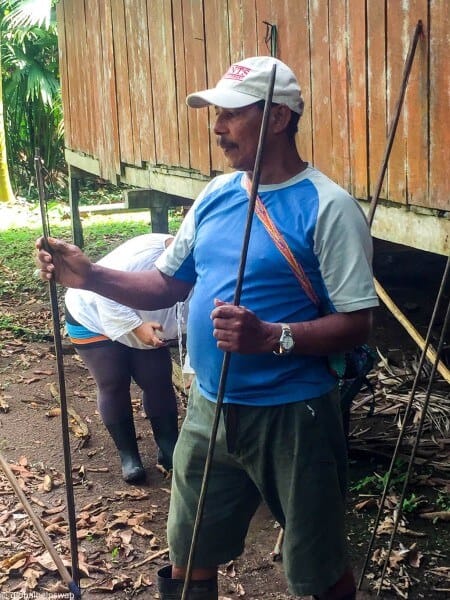 Lunch consisted of fish and local vegetables. It was cooked in the indigenous way over a roaring open fire. As you can imagine in was super fresh and delicious. As we ate, villagers would pop by and have a chat to our guides or the cooks. Everybody knew each other and there was a real warmth in their interactions. If only we could bring a little of that into our city lives. After lunch we helped prepare one of the most important ingredients in the Bribri larder: Chocolate.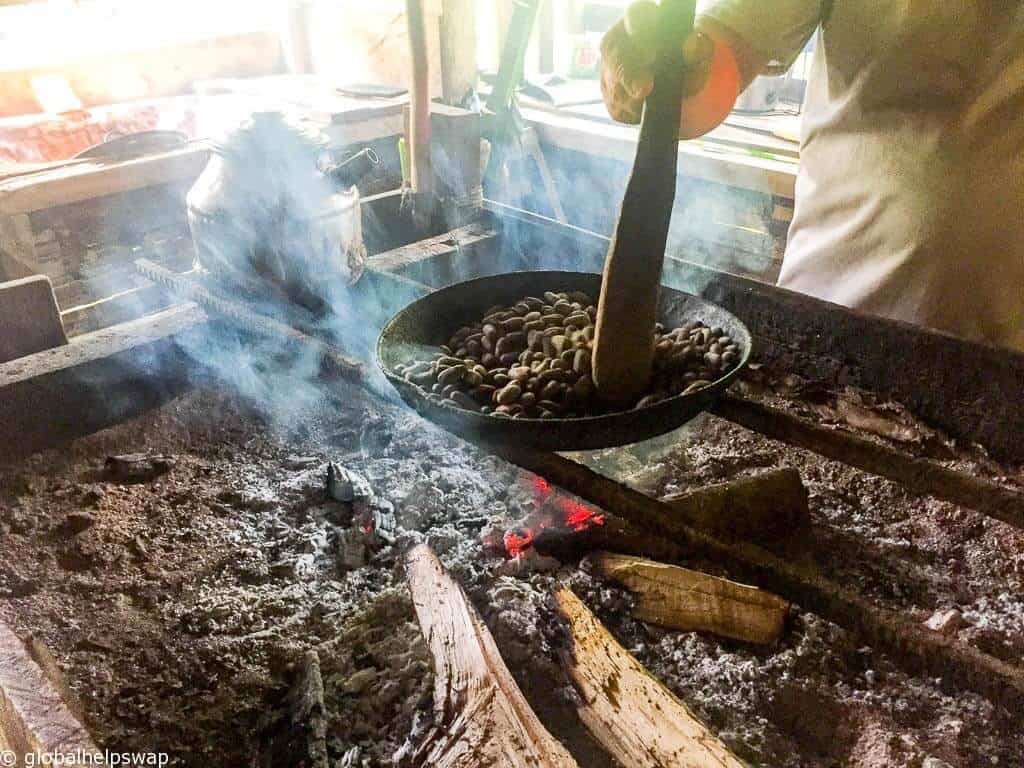 Chocolate plays an important part in Bribri culture. They believe it is a divine gift (don't we all?) in which they use it for natural medicine, purification ceremonies and of course as food and drink. We all took in turn to help stir the hot chocolate before trying it. First we tried it in its most natural state. The taste was so far from what we call chocolate you would have thought we were eating a completely different product. What we tried was earthy, rich and strong. It was almost like coffee more than chocolate and it gave us the same buzz. We then added some milk to the mix and that lightened the taste up considerably. As I am writing this I just remembered that I brought some 100% cocoa back from the Bribri tribe with me to London. You know what I am going to be drinking tonight and you know what happens after you have Bribri chocolate don't you? The village elder will be proud.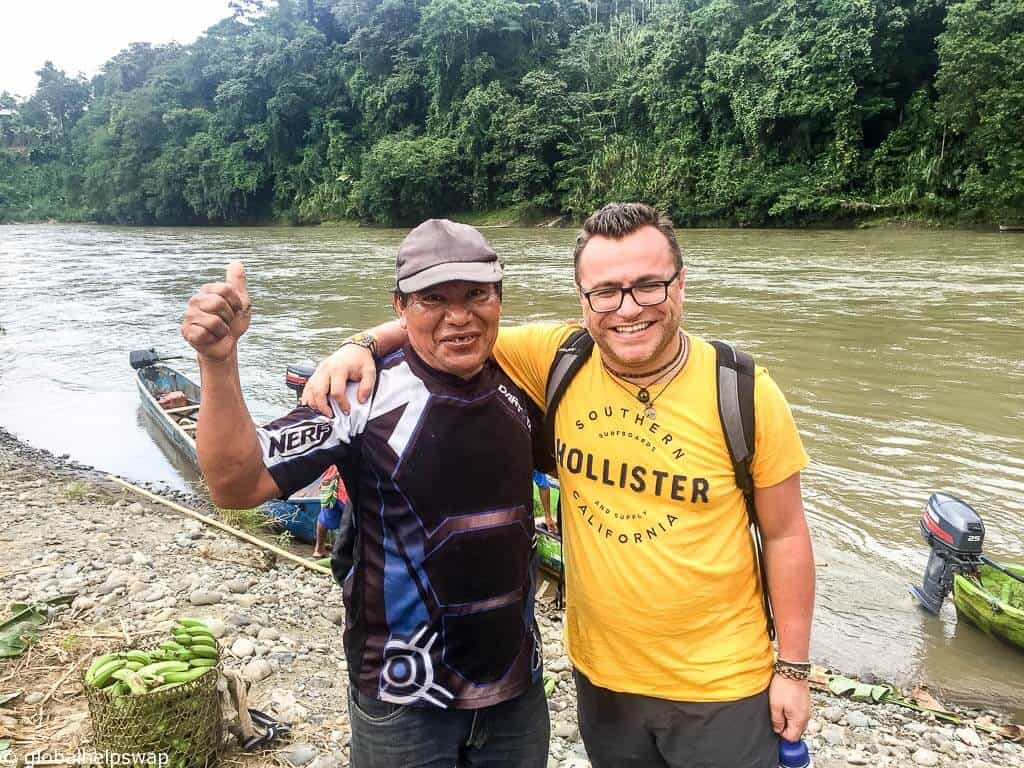 Sustainable Tourism and the Bribri Tribe: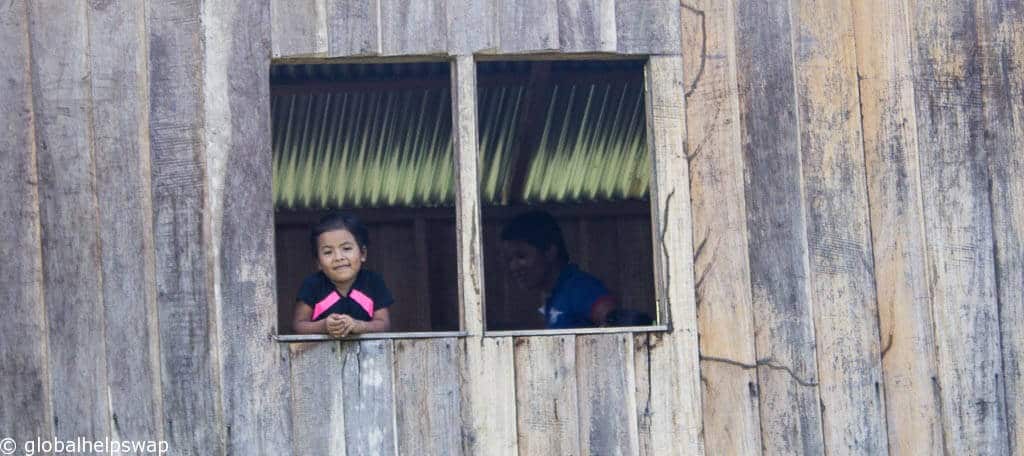 During the last 35 years the Bribri culture was slowly being eroded because of encroachment of modern-day ways of living and the Costa Rican culture. The Bribri language and traditional ways would have soon been lost if not for some very determined women.  They approached their elders and came up with a plan to reignite the Bribri way of life for future generations. The 3 areas they concentrated on was the rainforest, the culture and the economy.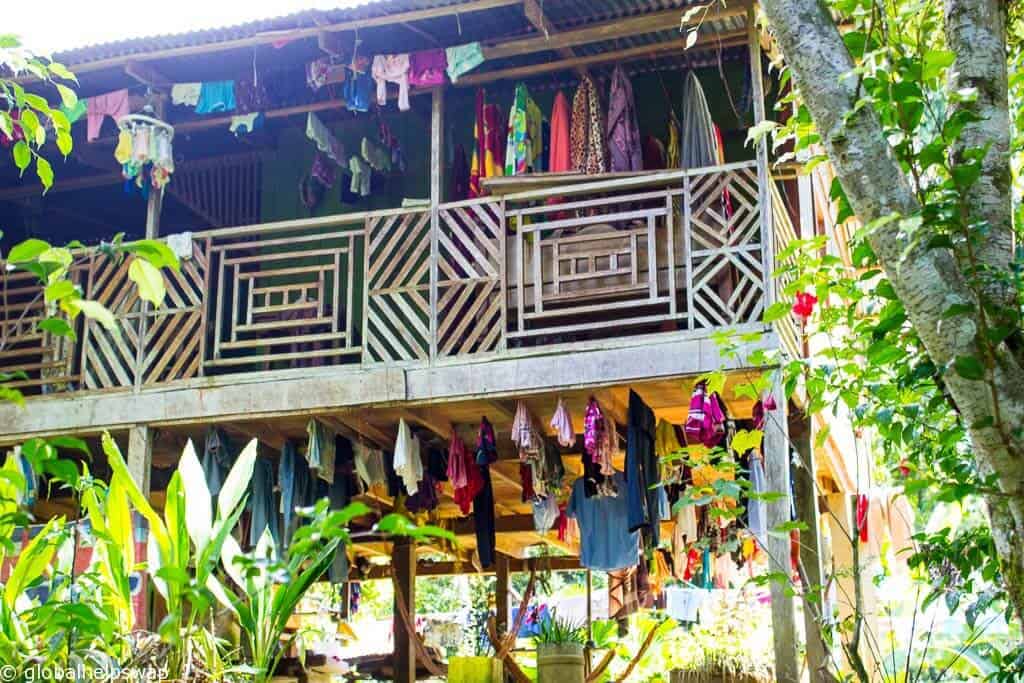 One of their ideas was to bring tourists visiting nearby Cahuita and Puerto Viejo to the village to experience traditional Bribri ways of life. At first the men were sceptical that this would be a success but as the tourist visits became a regular thing they soon started to realize the benefits of sustainable tourism. Since those early beginnings the tribe have been able to buy more land, build a school & a health clinic. The younger generation are staying in the village as they are seeing the economic benefits that tourism brings. Before most of the young men would leave to work on banana plantations. Their life expectancy was a lot lower because of the exposure to the chemicals used on the plantations. Now they are staying in the village and they are living longer.

Because of those pioneering women the Bribri language, culture and ways of life are coming back. People are reconnecting to their roots and history and they feel they have a part to play in modern-day Costa Rica but on their terms. Their future plans include building a university and accommodation for tourists to stay the night. After spending just one day with these people I would love to stay the night in the village to get to know them more.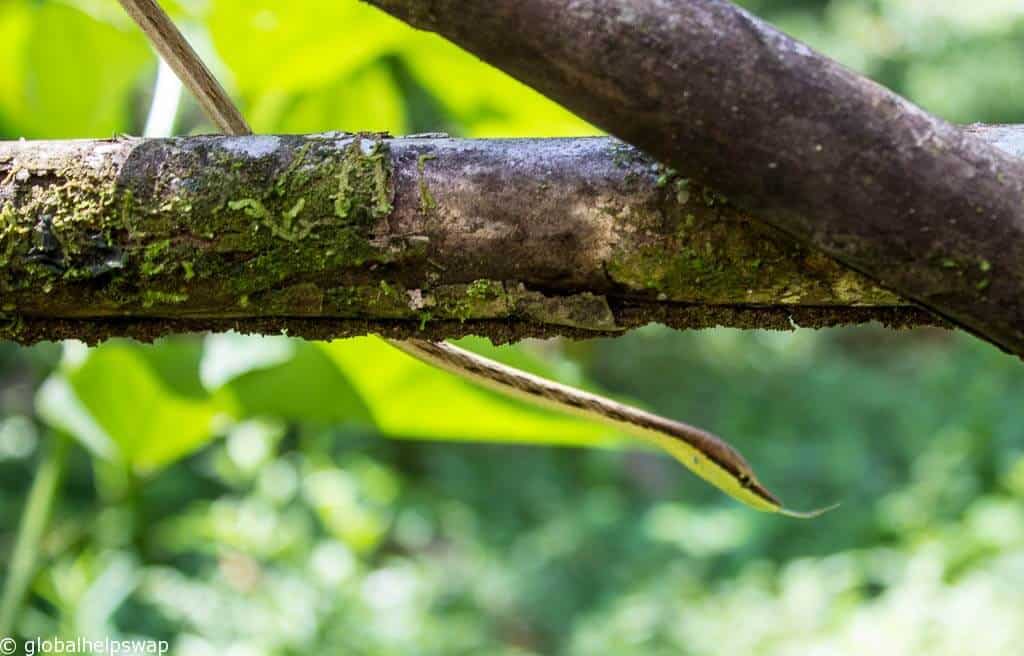 If you liked this post you might also like these:
The best beach to see turtles in Costa Rica: Tortuguero is ground zero for turtle conservation. See why we think it's the best place to see turtles.
Highlights of Arenal Volcano National Park: Arenal is one of our favourite areas of Costa Rica. There are volcanoes, hot springs, trekking and ziplining. Why not check it out for yourselves!
Are you staying in Costa Rica long? Why not volunteer!
Volunteering Opportunities in Costa Rica: Volunteer with turtles or in the rain forest and really get to know Costa Rica.
Heading to Costa Rica? Buy the guidebook before getting there: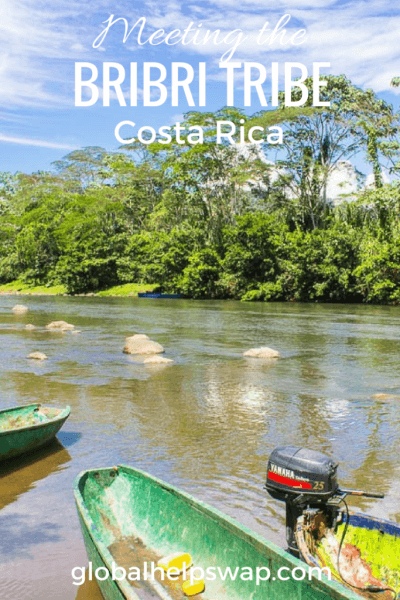 Who we flew with:
Earlier this year British Airways launched the first nonstop direct service between the UK (Gatwick) and Costa Rica's San José airport that operate three times a week ending the need for a changeover in Madrid. Prices start from £496 return in World Traveller, £868 in World Traveller Plus and £1,696 in Club World including all taxes and charges. To book, visit ba.com/costarica or call 0344 493 0787.
For more information on Costa Rica please click here: Visit Costa Rica
Pura Vida!
#LoveYourTravels