The beauty of having no plans when you travel is that on a whim you can decide to visit another town or in this case another country! We were happy travelling around Costa Rica when we noticed that Nicaragua was only a few hours away by bus from where we were. Not ones to miss an opportunity of discovering a new place we decided to head to Granada, Nicaragua for a few days. We are so glad we did as there are some amazing things to do in Granada, Nicaragua.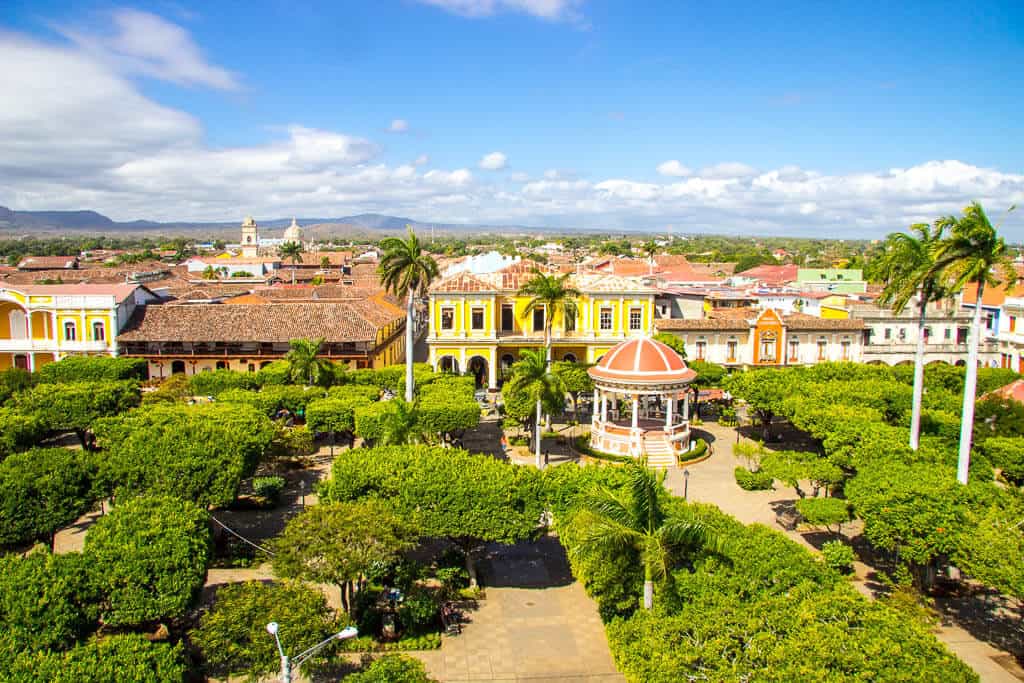 Granada is the 6th largest city in Nicaragua with a population of 130,000. The Spanish settled there around the 16th century and the architecture of the city reflects the influence they had on the place. It's a beautiful city with great cafes, bars and boutique hotels. As it is quite small it's a walking city giving you the chance to discover some hidden gems.
Things to do in Granada, Nicaragua
Hike up Volcan Mombacho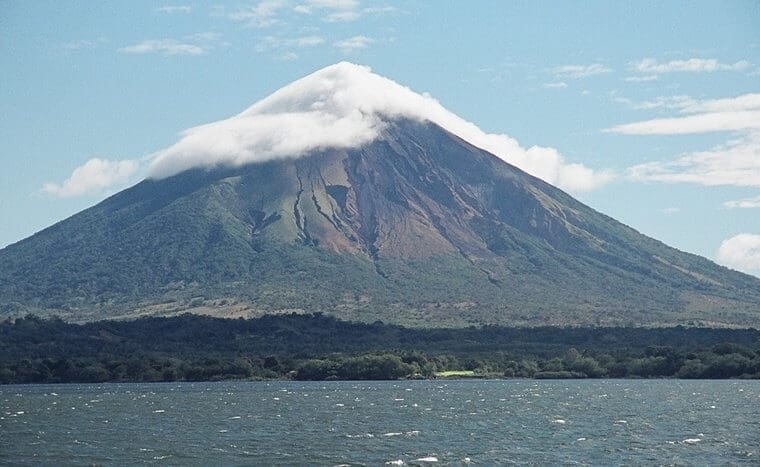 It seems strange that the first thing I recommend for you to do in Granada is to leave it to go hike up a volcano but this semi dormant volcano is one of the most popular day trips from Granada and is a great way of observing some of the local wildlife. At the summit you can see 3 types of monkey, 168 bird species and of 100 type of Orchid.
There are several walking trails to choose from, the most popular being Sendero La Puma, a 4km trek around the tip of the crater that gives you great views or the smaller (1.5km) trail called Sendero del Cráter.
Reserva Natural Volcán Mombacho is managed by the Fundación Cocibolca. They have been creating nature trails in the area since 1999. They also have eco jeeps that can seat up to 25 people to take you up the 40% gradient to 1100 m. If you would like a guide you will find them at the entrance, most speak English and at the time of writing they charged around $12.
Reserva Natural Volcán Mombacho Info: 
Opening Hours: 8am-5pm Fri-Sun, by reservation other days for groups of 10 or more.
Price: park entrance per car/pedestrian US$20/5, mariposario US$2.
Visit the Islets of Granada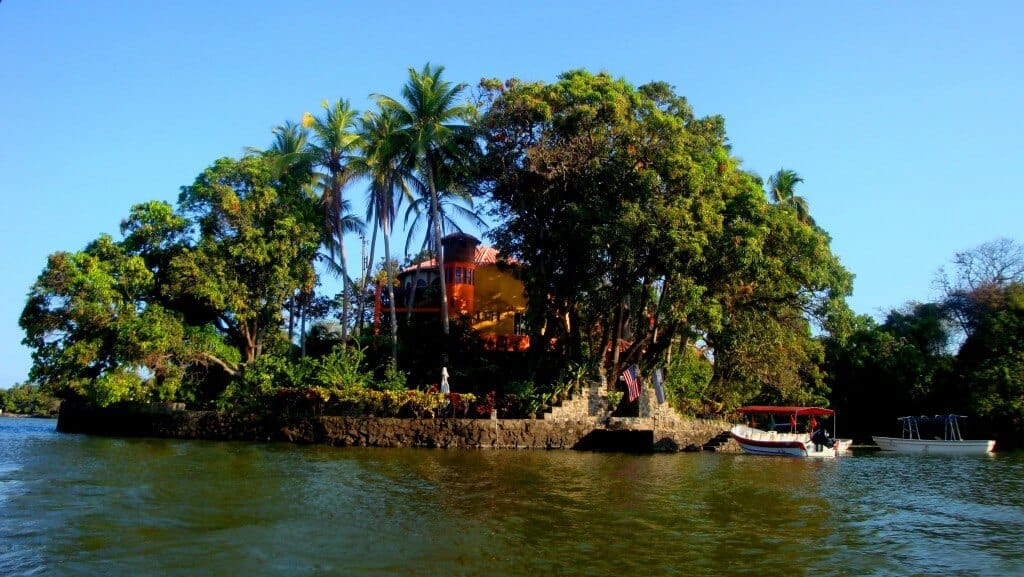 That's right, I am making you leave the city again! The Islets of Granada are located in Lake Nicaragua just south of the city. There are around 365 little islands, all are volcanic as they were formed from our old friend Volcan Mombacho thousands of years ago. Most of the islands are covered in vegetation which makes them an ideal home for birdlife. There are also islands with hotels, swanky houses and small settlements.
At the wharf of Granada there are many boatmen who offer boat ride to the islets. Expect to see a lot of birdlife with parrots, hawks, vultures, cormorants and herons the most common.
Islets of Granada Info:
Getting there: You can get to the islands from any of the docks of the Asese Port, situated in the end of the Tourist Center of Granada.
Price: Prices vary depending on what type of tour you take. They start at $5 for a one hour trip to $40 for a longer trip around the islands.
Convento y Museo San Francisco

Okay, you are allowed back in the city now. Convento y Museo San Francisco is one of the oldest churches in Central America and is a museum, old convent and an architectural gem all rolled into one. The museum is through the small door on the left, where local guides (some speak English) are available for tours. There is an eclectic feel to the collection but that matches the history of Granada.
Convento y Museo San Francisco info:
Opening Times: 8am-4pm Mon-Fri, 9am-4pm Sat & Sun
Price: US$2
Museo de Chocolate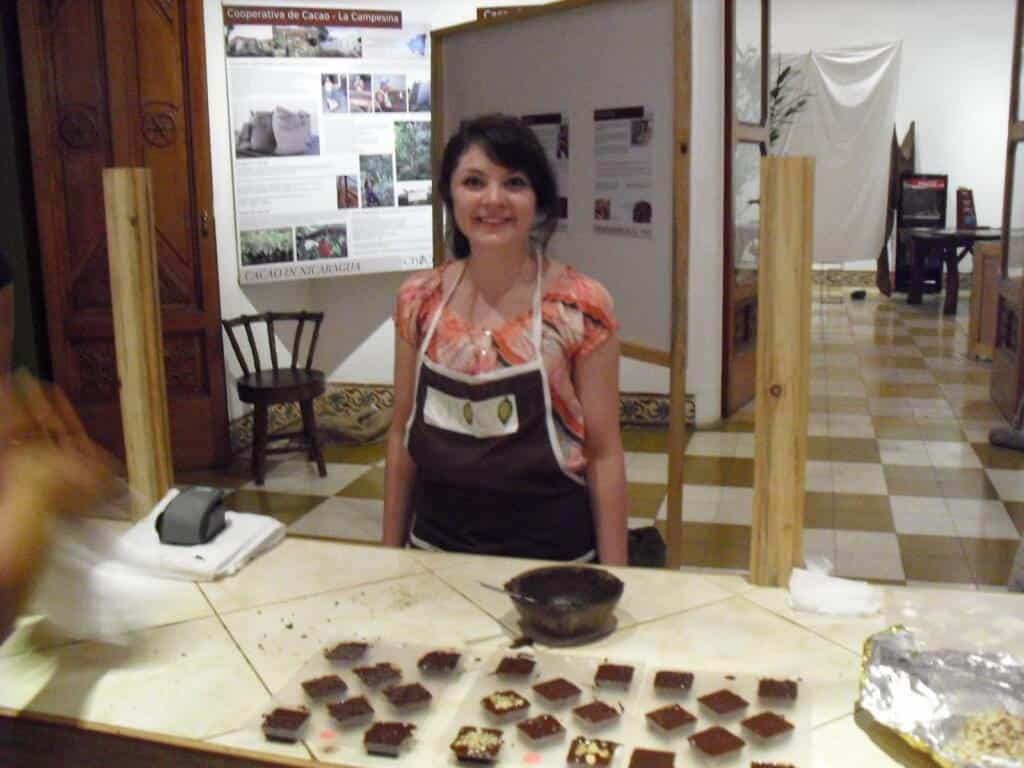 This is a great hands on place where you learn to roast and grind cocoa beans before molding your own chocolate bar. The workshop is called beans to bar and is a must if you are travelling with children. Frankly any museum that is dedicated to chocolate gets a thumbs up from us.
Museo de Chocolate info:
Opening Hours: 7am-6:30pm
Price: Chocolate workshop adult/child US$21/12
Iglesia La Merced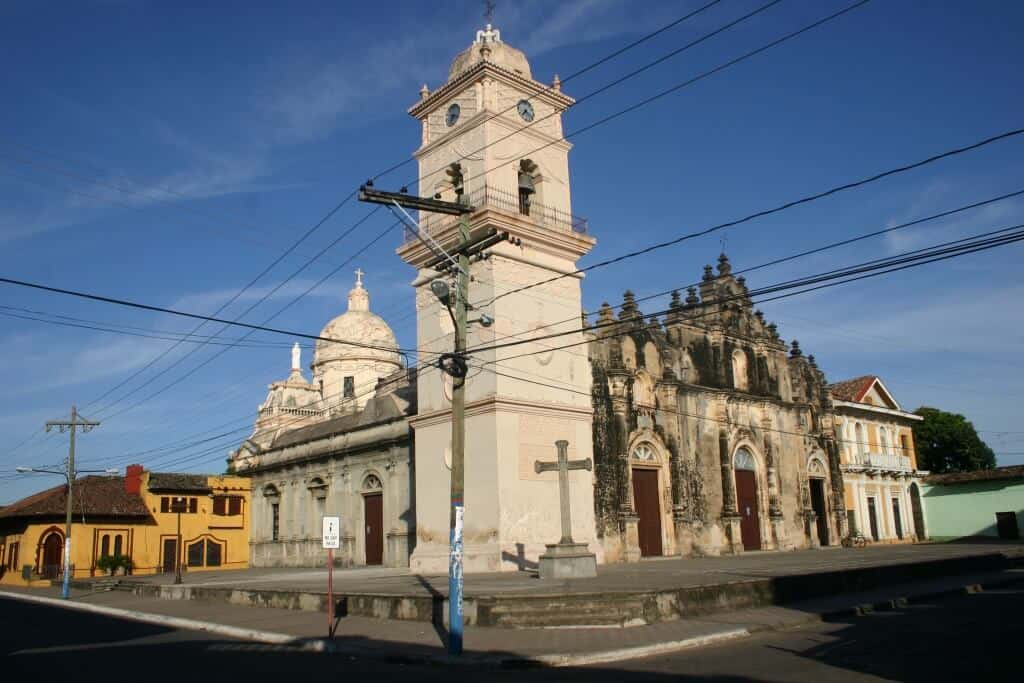 Iglesia La Merced is one of the most beautiful churches in Granada. The church is just down the road from the Piazza and was originally built in 1534 and completed around 1539. Like most churches in the area the original building was damaged over the years by pirates and other invaders. I loved the vibe it gave off. Designers would now call it shabby chic!
Centro Turístico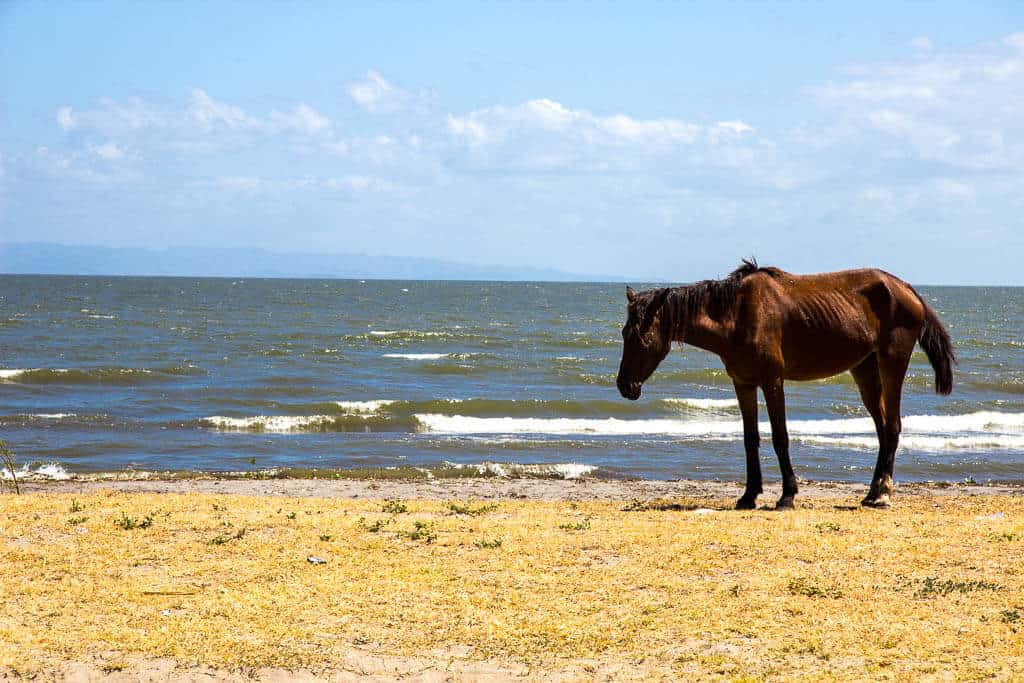 This man-made "tourist centre" sits right on the shore of Lake Nicaragua. It has a dilapidated feel to it with most places closed when we went down to it in the daytime. There was a slight "edge" to it too so in our opinion we would avoid this spot and stick to the authentic parts of the city.
Cementerio de Granada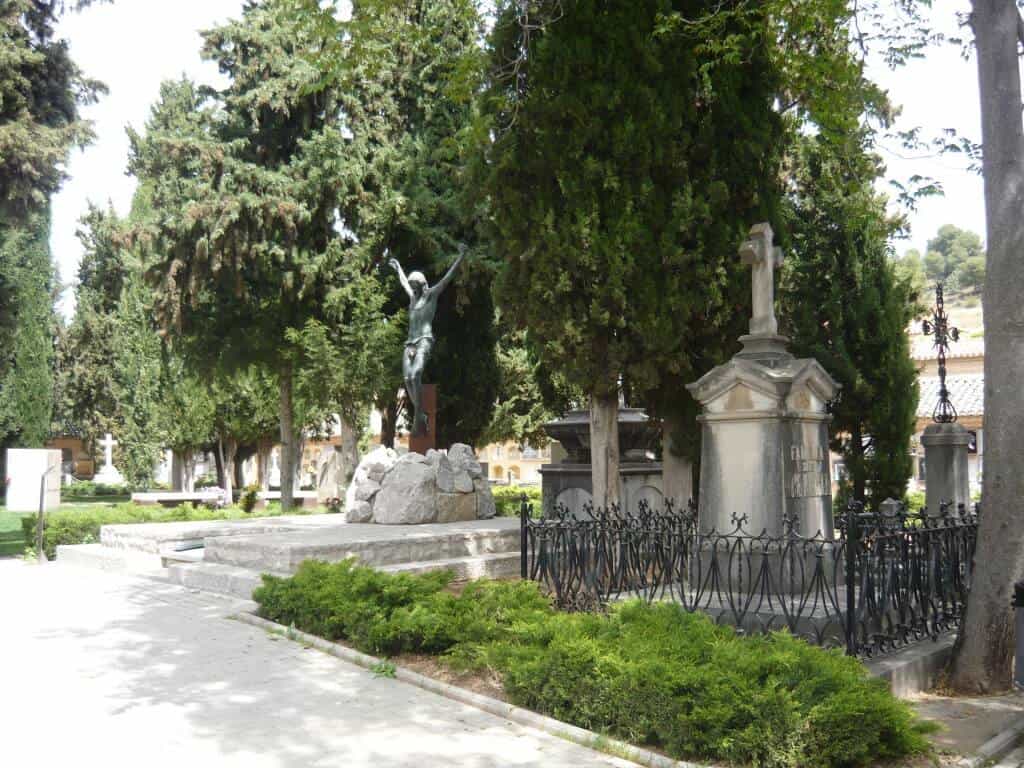 If you are looking for some peace and quiet why not pop to the Cementerio de Granada a beautiful cemetery used between 1876 and 1922. No fewer than 6 Nicaraguan Presidents are buried here but most people come to see the 1880 neoclassical stone Capilla de Animas (Chapel of Spirits), a scale model of the French chapel of the same name. Very close to it is another scale model of Notre Dame cathedral.
Casa de los Leones & Fundación Casa de los Tres Mundos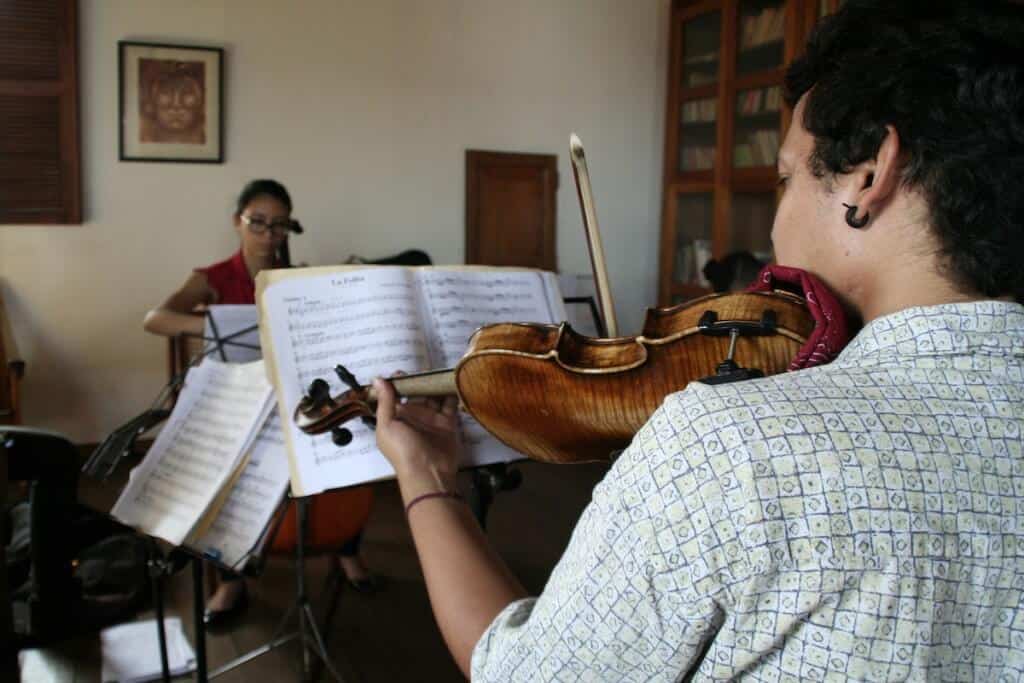 This is a great place to get your Granada culture fix. At the entrance look out for the notice board listing the special events. There could be anything from ballet, poetry readings, free movie nights and traditional folk dance.
Casa de los Leones & Fundación Casa de los Tres Mundos info:
Opening hours: 8am-7pm Mon-Fri, to 6pm Sat & Sun
Parque Central Granada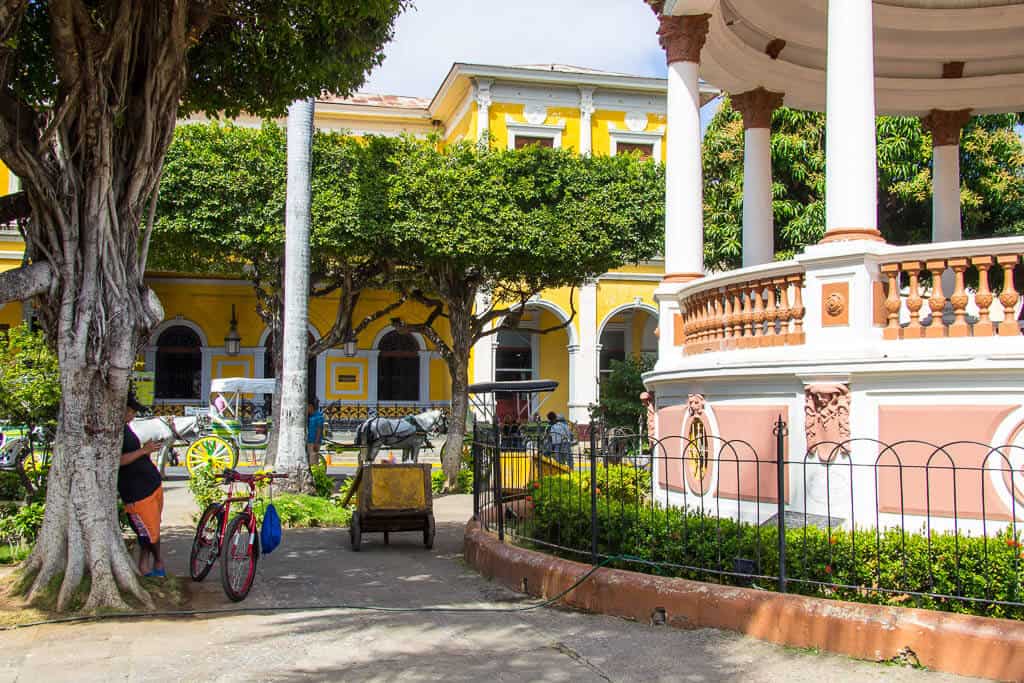 We loved this park (or piazza) right in the centre of the city. It felt like the whole community descended on it when we were there. There are little stall holders on one side of the square selling little gifts that would make nice gifts. On the Eastern side of the square there are restaurants and bars that lead all the way down the bustling pedestrian street Calle La Calzada.
Fortaleza La Polvora
Fortaleza La Polvora is a Spanish 18th century fort that is open to the public every day of the week. There are a few exhibits in the old colonial rooms but the big highlight is the views that the fort offers over the city and Lake Nicaragua.
Catedral de Granada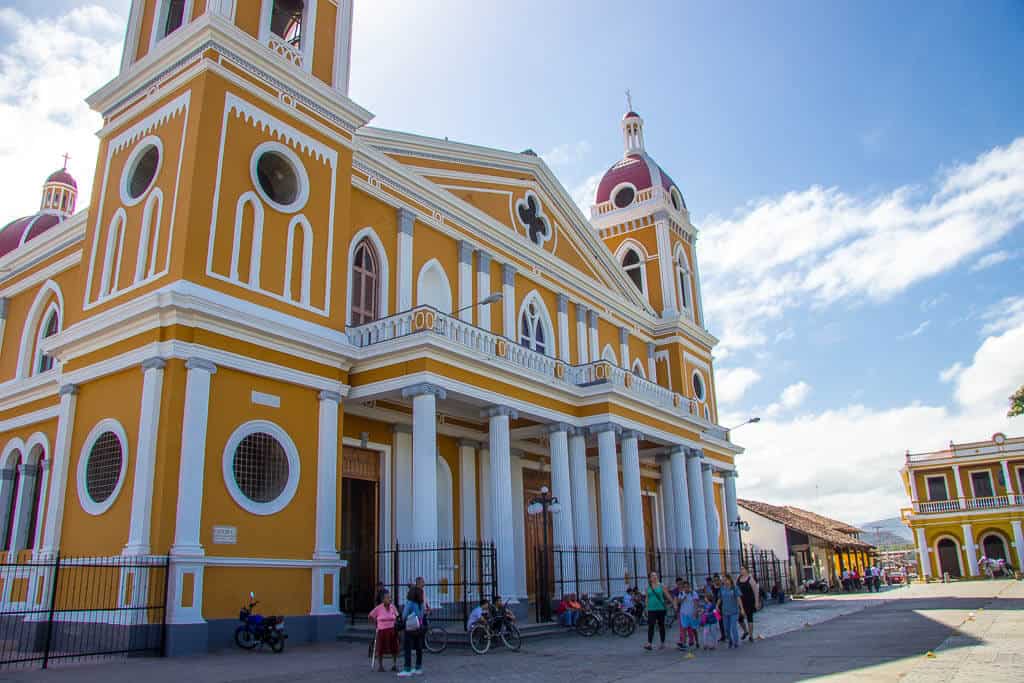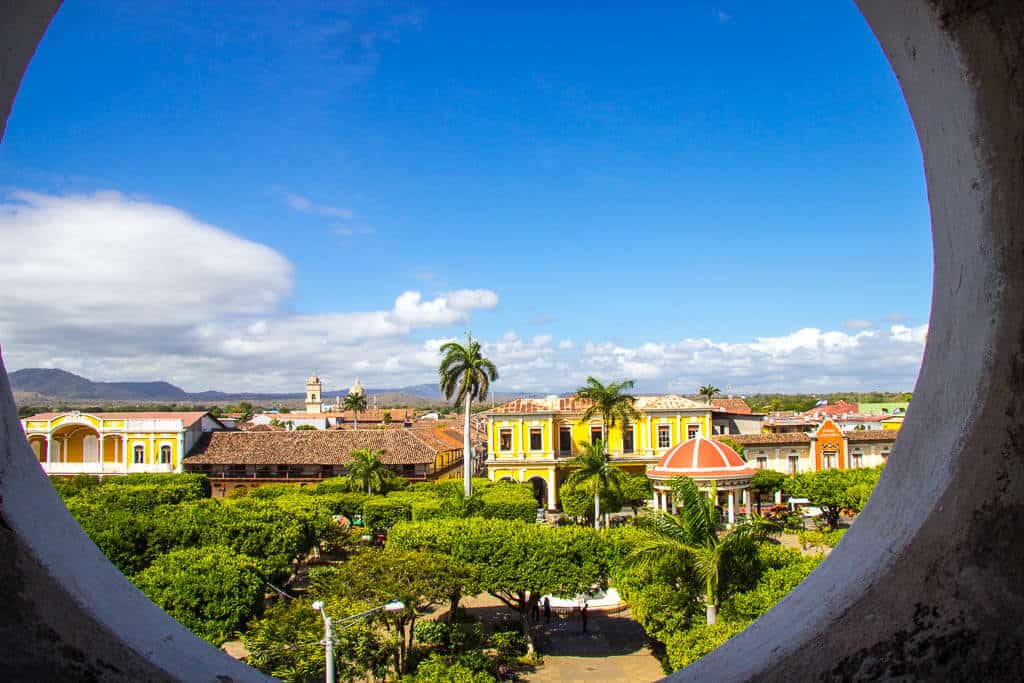 The Our Lady of the Assumption Cathedral also called Granada Cathedral is a neoclassical Catholic cathedral built originally around 1525. Like most old churches there have been a few different versions of the original on this site since then. The present church was completed in 1972.
Make sure you walk up the belltower for some great views of the city. When we did it there was nobody around giving us ample time to enjoy the scenery.
Catedral de Granada info:
Opening Hours: 11am-6pm
Price: To walk up the bell tower US$1
Mi Museo

Mi Museo displays a private collection of ancient ceramics dating from around 2000 BC. Mi Museo is well worth a stop to admire ancient craftmanship.
Mi Museo info:
Opening hours: 8am-5pm
Price: US$5
Casa El Recodo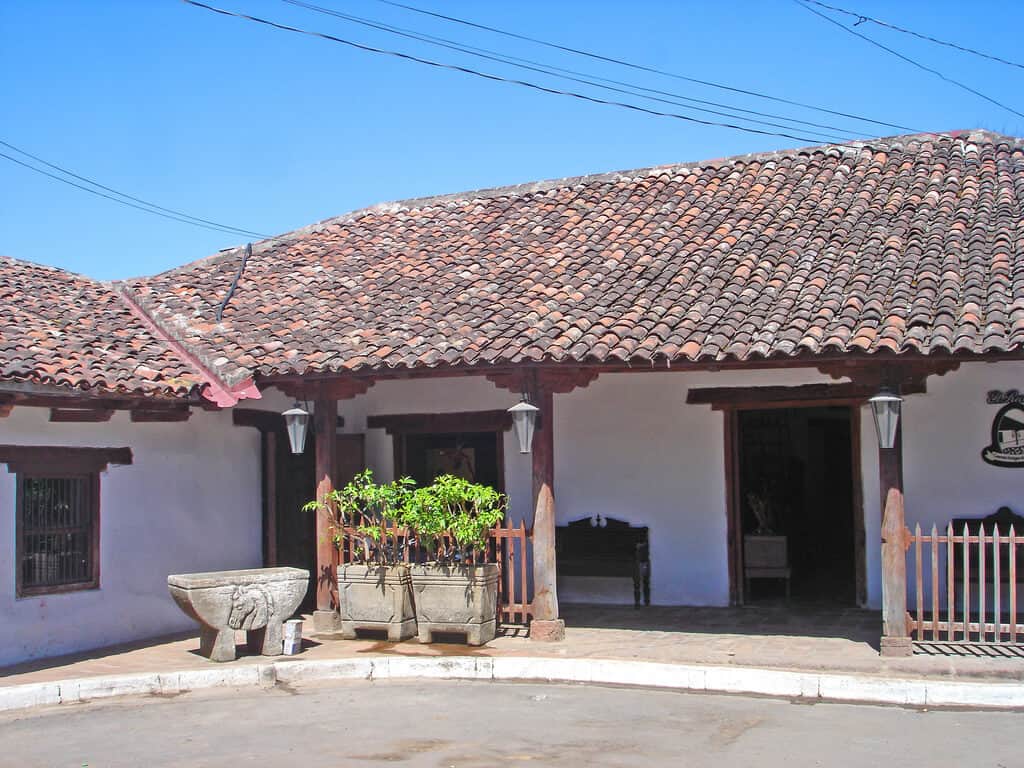 Casa El Recodo is the oldest house in Granada that is now converted into a high-end souvenir shop. Opening hours are from 10am-5:30pm Mon-Sat.
Mercado Municipal
We love markets. We hardly buy anything from them but we think they are a great way of observing local life and meeting people. Granada's mercado municipal is mainly a food produce market so you won't be buying souvenirs for folks back home from here but if you want to get to know the locals then head down here.
Street theatre
Try to find an outdoor table at any of the restaurants or bars that line Calle La Calzada and sit back to enjoy the evening street life. There are performers on most nights so enjoy some theatre with your meal or drinks. Remember to tip the performers.
Granada Walking Tour

There are various options to do a walking tour of Granada. You can pay for an official tour that can last up to 3 hours where you will have a well-informed guide that speaks good English. Alternatively, you can go on a Free tour, normally with students and give them a tip at the end. Finally, you can just wander the streets yourselves like we did and slowly tick off all the places you want to visit.
Day trips from Granada
Yep, I am sending you out again! There are various day trips you can do from Granada, Nicaragua. As Well as Volcan Mombacho and The Islets of Granada you can visit Masaya, a picturesque little town just 30 mins bus ride away from Granada. If you want to cool off from the city heat then head out to Laguna de Apoyo for a dip in a lake formed from a volcanic crater. The laguna's depths reach almost 700 feet, which makes it the lowest point in Central America. It takes around 20 mins by bus from Granada, tell them that you're going to the Laguna de Apoyo, and they'll let you off on the highway.
Where to stay in Granada
Below are our top 3 hotels in Granada, Nicaragua. They cover 3 prices ranges, budget, midrange and luxury. If possible we would recommend Granada hotels with a pool as it can get hot in the city. 
Best places to stay in Granada:
El Arca De Noe – BUDGET OPTION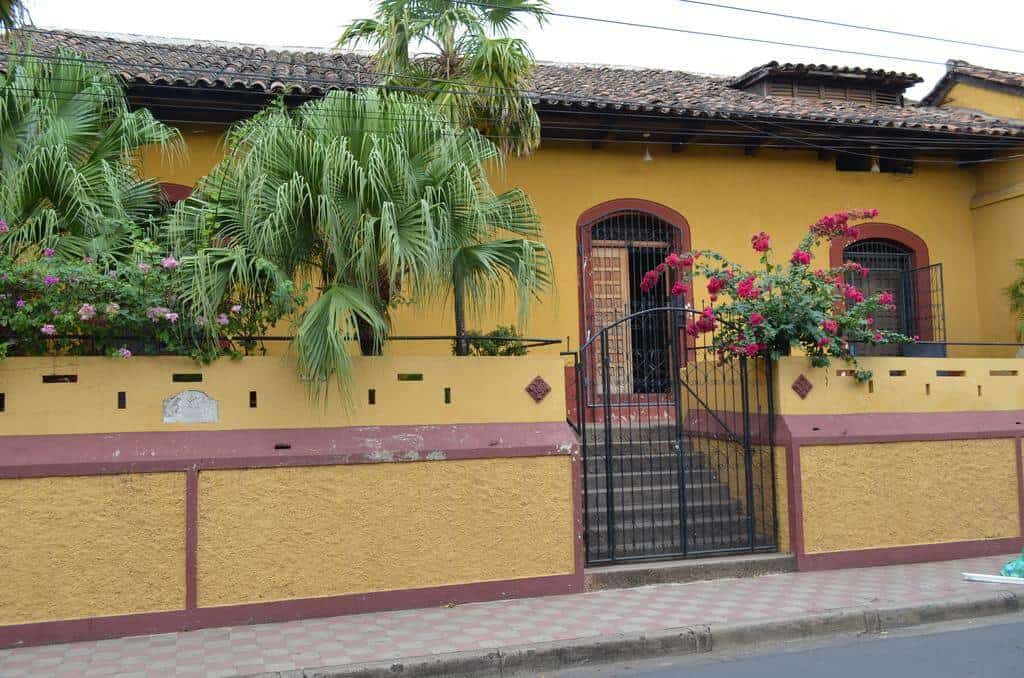 Featuring free WiFi and a terrace, El Arca de Noe B&B is located at the historic center of Granada, only two and a half blocks from the central park and the cathedral. Complimentary breakfast and city tour is included with your rate. Previous guests loved the big rooms and big kitchen. The very nice patio full with hammocks and chairs and the Beautiful art on the walls. Click here for the latest prices.
Hotel Jardin de Granada – MID-RANGE OPTION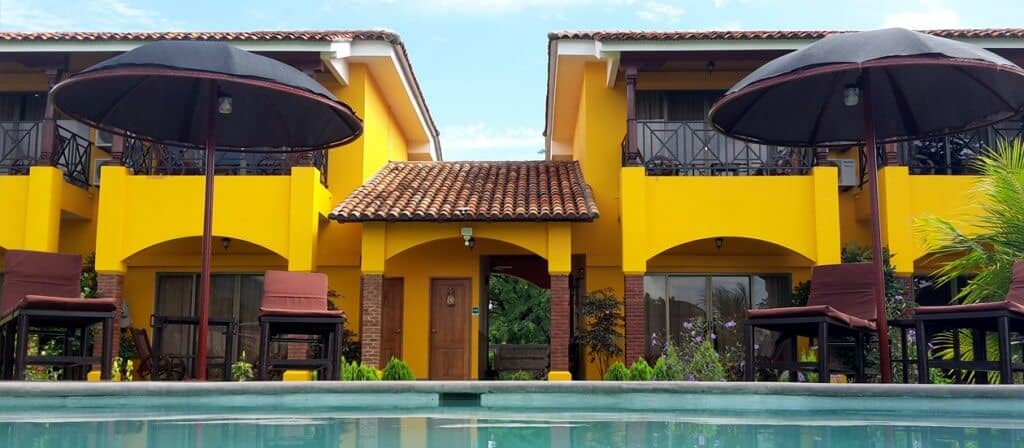 This is the hotel we stayed in and we loved it. The service is excellent, the location is in a proper local neighborhood just a short walk to all the attractions and the pool was a welcome relief after walking around the city all day. Guests can enjoy the on-site restaurant. There is Free WiFi available throughout the property and free private parking is available on site. All rooms have a flat-screen TV with cable channels. Enjoy a cup of coffee while looking out at the mountain or pool! Click here for the latest prices.
Hotel Real La Merced – LUXURY OPTION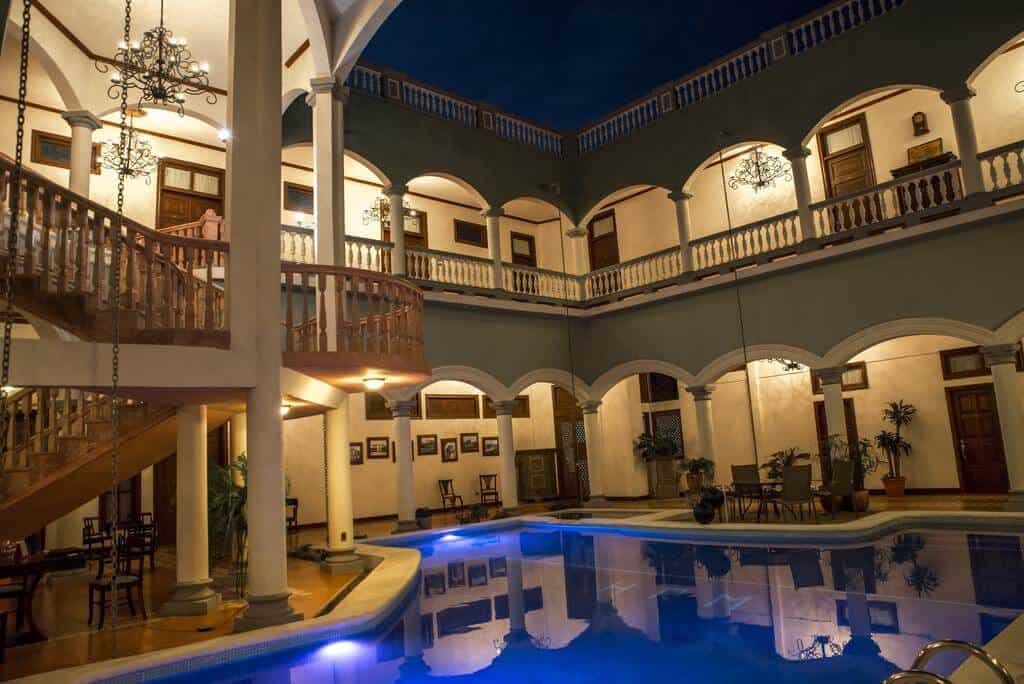 Offering an outdoor pool and an indoor pool, Hotel Real La Merced is located in the historic centre of Granada. Enjoy wonderful city views and year round warm weather by Lake Nicaragua. Free WiFi access is available. Each room here will provide you with air conditioning. There is also a coffee machine. Guests loved the views, the fact that it's an old colonial house and the helpful staff. Click here for the latest prices.
Granada Nicaragua Restaurants

We went to some great restaurants in Granada. For a small place it punches above its weight when it comes to cuisine. Here are our best restaurants in Granada Nicaragua. Buen provecho!
The Garden Cafe: A great cafe and shop set in beautiful surroundings. Pop in for breakfast or lunch and enjoy their lovely breakfast burrito.
El Zaguán: If you want the best steak in town then this is your place. Make sure you book in high-season as it gets busy.
Café de las Sonrisas: This non profit cafe is an amazing place serving up hearty Nicaraguan food served by staff who are hearing-impaired. It has a pictogram menu and sign charts helping you choose your meal. A proper social enterprise.
Taco Stop: This taquería (taco stall) was just near our hotel making it a favourite of ours on our way back home. It is set in the shell of a vintage movie theater serving up great tacos and burritos.
Bars in Granada

If you fancy a tipple or 3 during your stay in Granada here are our favourite bars in the city.
Imagine Bar: As a major Beatles fan I had to visit Imagine Bar for a drink. There is live music most nights and the bar serves food direct from local farmers.
Encuentros Bar: This lounge bar and restaurant is a throwback to the  bebop era with a great atmosphere, and waiters that wear fedoras. One word: Groovy.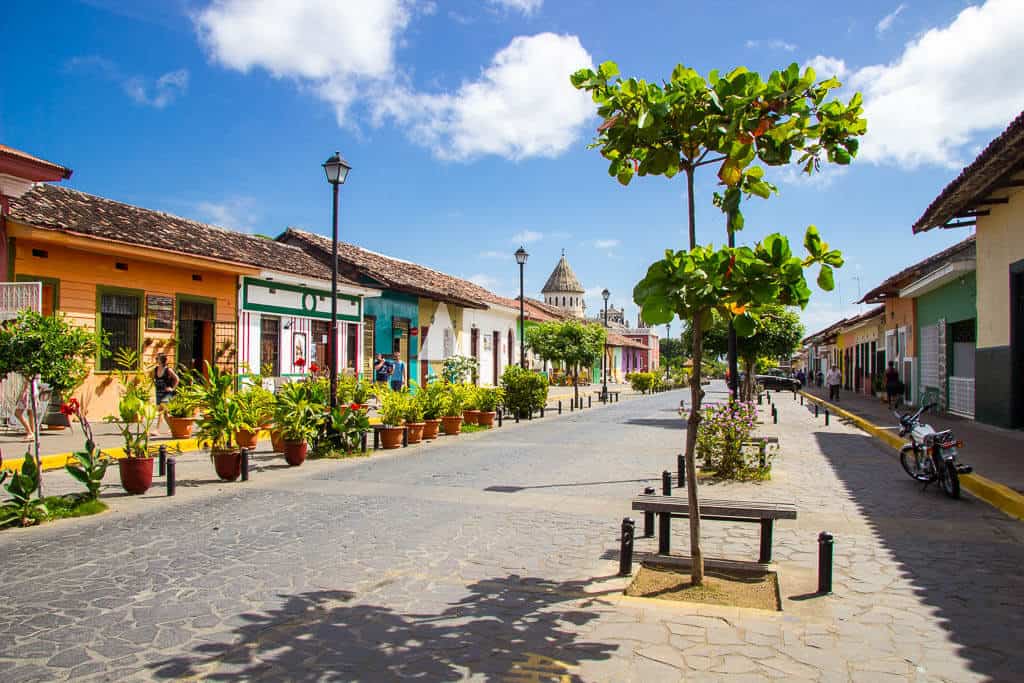 We hope we have give you a few ideas on what to do in Granada, Nicaragua. If we have missed something off the list, please let us know in the comments below.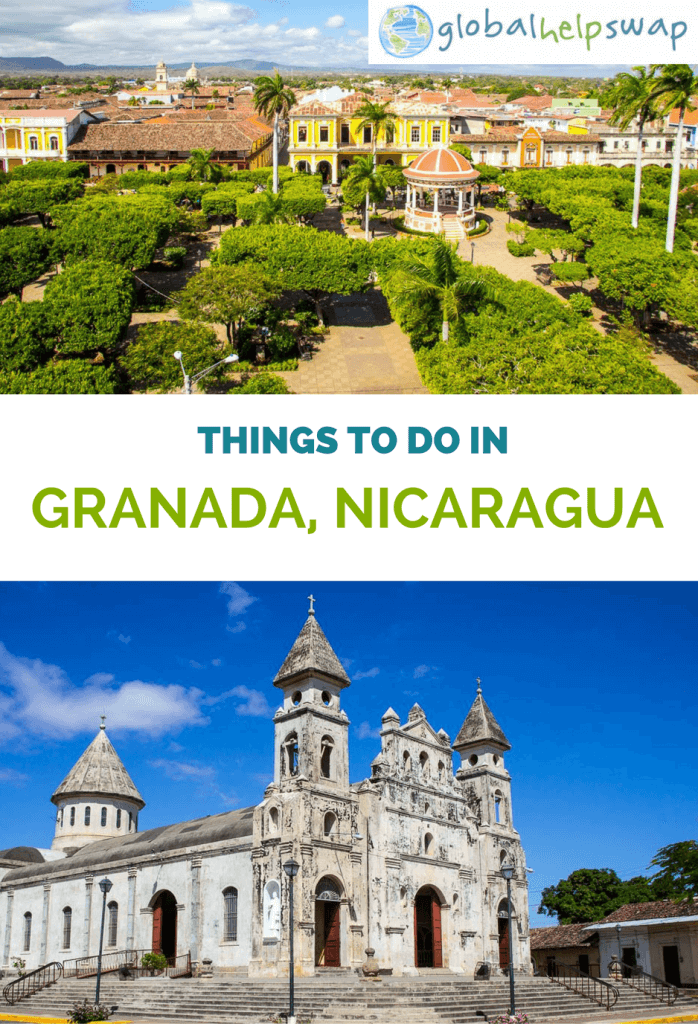 Heading to Nicaragua? Buy the guide book before you go:

Are you travelling around Nicaragua for a while? Why not volunteer while you are there:
Volunteering in Nicaragua – A list of free and low cost volunteering opportunities in Nicaragua.
#LoveYourTravels