She lay there exhausted from her exertion but her work was only just beginning. She slowly started to dig a pit that would accommodate her and her precious cargo. In the darkness a hush descended all around us as we knew that what we were about to witness would be magical. One by one they dropped into the hole she created. Eventually she would lay around 110 eggs. After finishing laying her eggs, she slowly covered them with sand using her flippers. She then started the slow and tiring crawl back to the ocean, never to see her babies hatch. Knowing that only 1 in 1,000 to 10,000 of baby turtles survive is humbling and sad, but that was why we were there, on Tortuguero beach.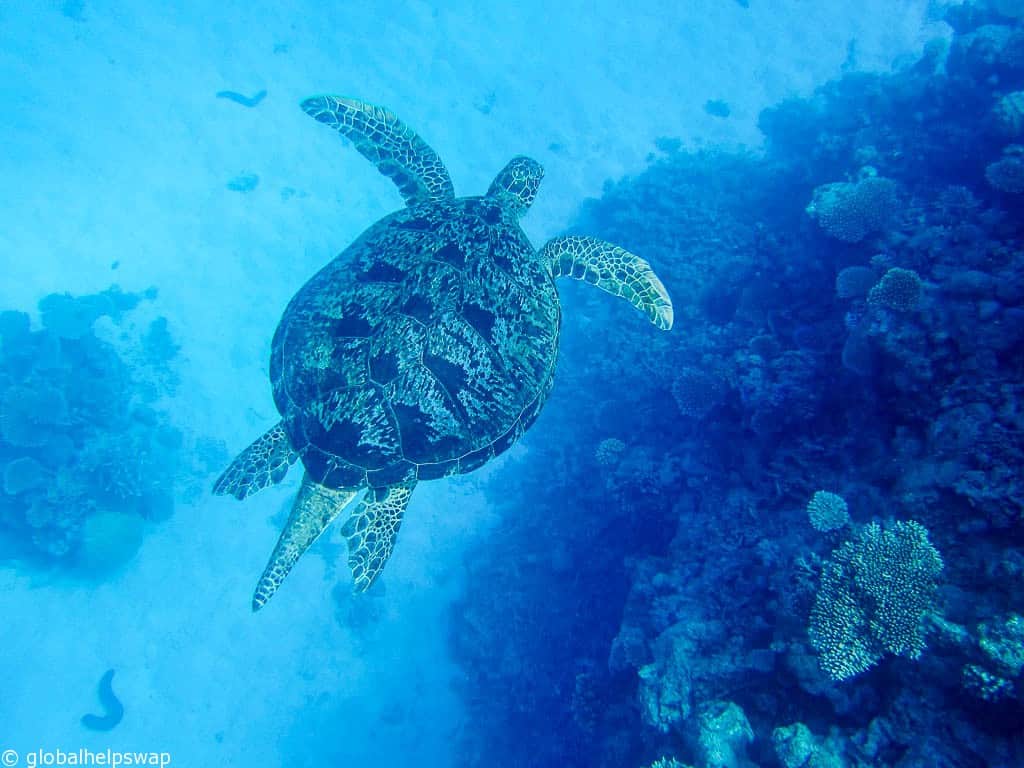 Note: This was taken whilst diving on the Great Barrier Reef. You cannot take photos when turtles are laying eggs so as not to disturb them.
Tortuguero is the best beach to see Turtles in Costa Rica, especially Green Turtles. In fact Tortuguero beach is the most important nesting site of the endangered green turtle in the Western Hemisphere. Tortuguero means "region of the turtles" in Spanish which gives you an indication of how many turtles come to Tortuguero beach to lay their eggs.
Why Tortuguero Beach?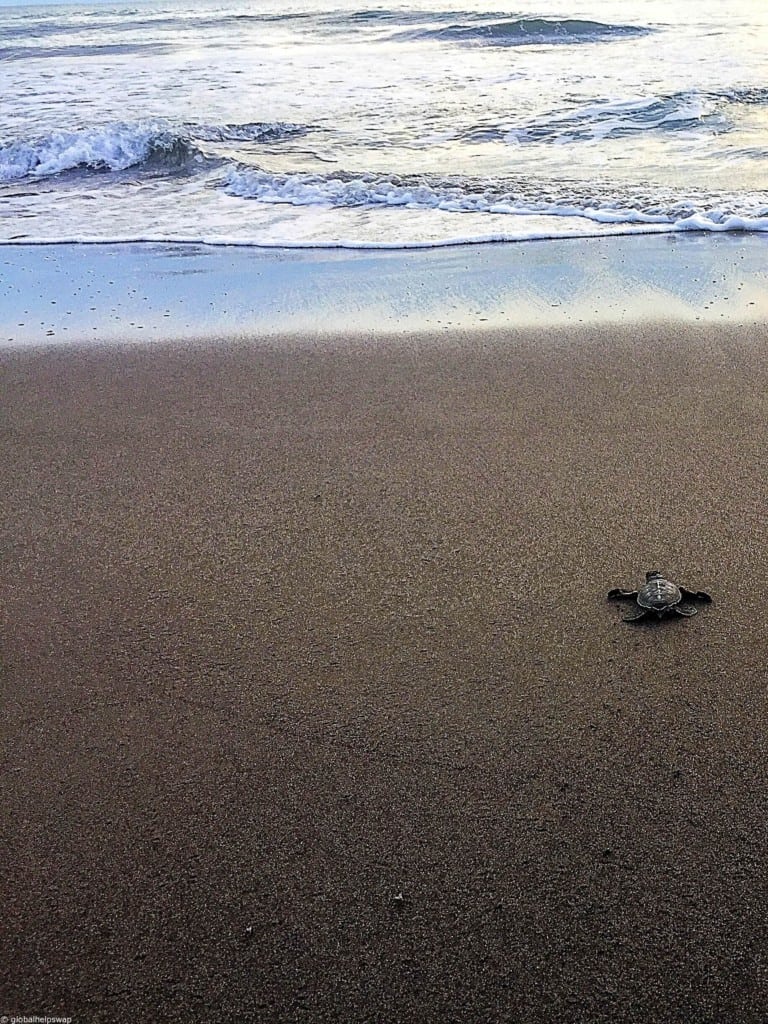 Small steps to a much bigger world
Conservationists are not entirely sure why Tortuguero beach is so popular with turtles. One of the reasons could be the volcanic sand. They think that the minerals in the sand could be some sort of magnet for the turtles. The fact that the sand is quite dark probably also encourages the turtles to nest there as it's not too bright.
Tortuguero has been a national park since 1975. Up until the 1960's the locals actually ate turtle meat and exported the rest. In fact by the mid 1960's the Green Turtle population came very close to extinction because every female that crawled up the beach was exported for turtle soup.
In 1959 the Sea Turtle Conservancy was established in Tortuguero on the back of ground-breaking research by ecologist Dr Archie Carr. As it takes a turtle 20 years to start reproducing, Dr Archie Carr realized that the turtle would be extinct if we didn't do something to protect it.
Mr. Joshua B. Powers founded the Sea Turtle Conservancy in 1959 making it the world's oldest Turtle conservation charity. He employed Dr Archie Carr as Scientific Director from 1959 until 1987. So Tortuguero is ground zero when it comes to turtle research. Many turtle charities around the world study the ground-breaking methods of the Sea Turtle Conservancy and implement them at their centres.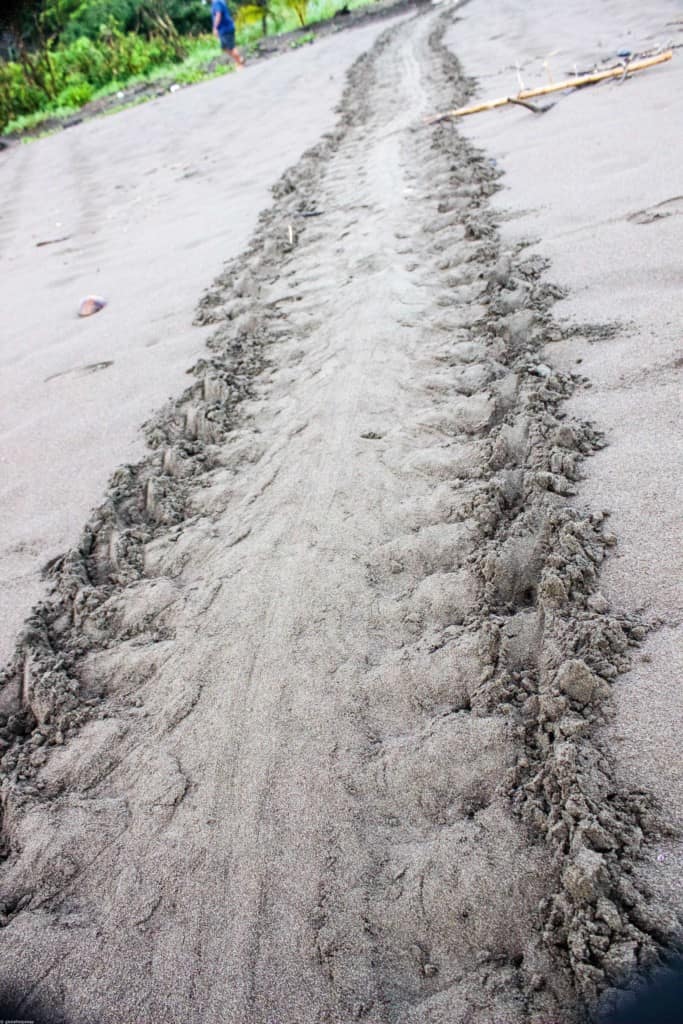 Turtle Tracks on Tortuguero Beach
Today Tortuguero completely relies on eco tourism for its income. Since the town has been protecting the turtle, the population has increased because of the economic benefit that eco tourism brings. When you stay in one of the nearby eco-hotels by law you have to visit the town. This is to encourage tourists to meet the locals, spend some money in the town and not to lock themselves in the resorts. The locals have even built a recycling centre to minimize the impact of the increasing tourist numbers coming to their town. The world can learn a lot from Tortuguero.
Thanks to the efforts of the Sea Turtle Conservancy and the people of Tortuguero, Tortuguero Beach is once again a safe haven for Turtles to lay their eggs.
When is nesting season at Tortuguero?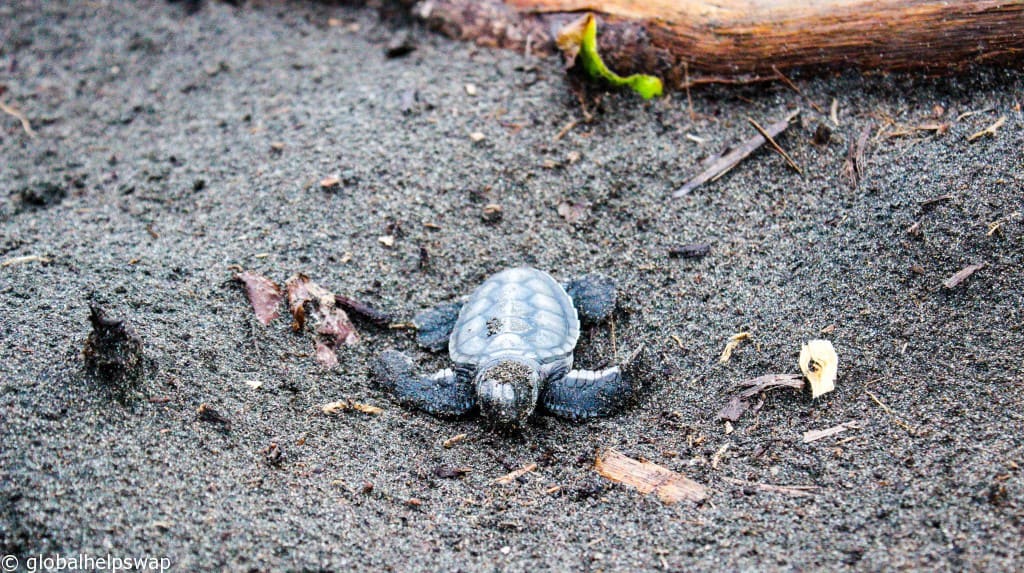 Leatherback Turtles – March – May
Green Turtles – July – October
Worldwide threats to Turtles: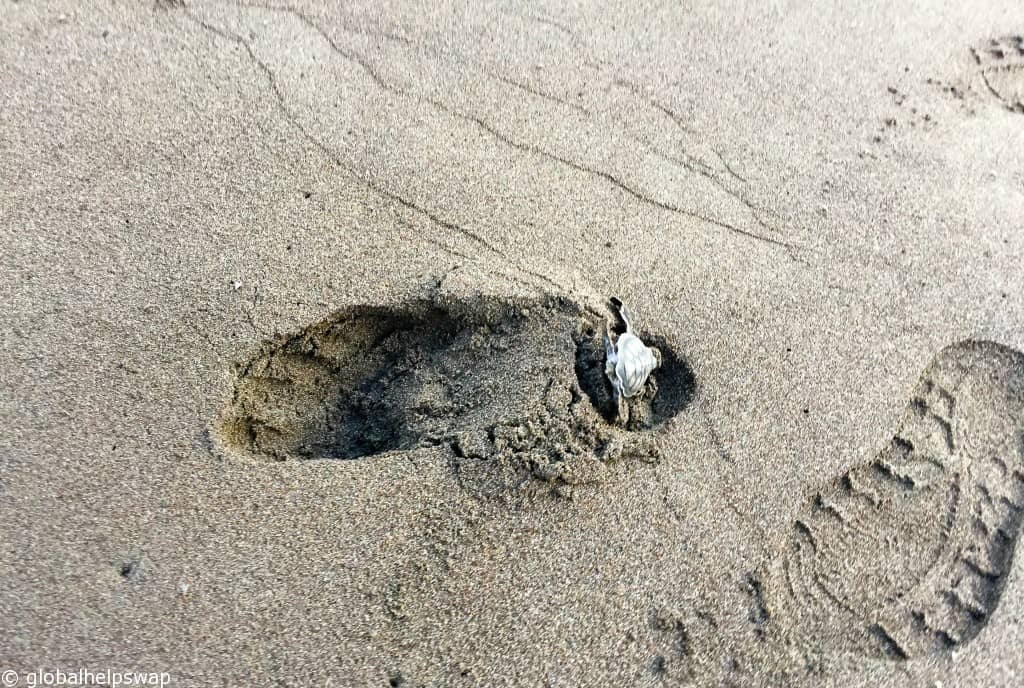 Even a footprint can hinder a turtle's progress to the ocean.
We need to do everything we can to help protect the turtle. Even though turtles face huge natural challenges like predators attacking them when they are giving birth or predators attacking the eggs or babies once they are born, it is human activity that has put almost every species of turtle on the endangered list.
Take a look at this list of human activity that is endangering the turtle:
Harvest for consumption (eating turtle meat)
Illegal Sea Turtle Shell Trade
Commercial Fishing with Long Line and Trawl Nets
Marine Debris (like plastic bags) that turtles swallow or get entangled in
Artificial Lighting on beaches
Man made walls on beaches
Beach Erosion
Human Beach Activities (Especially at night)
Invasive Species
Marine Pollution
Oil Spills
Climate Change
To read a more detailed article on human activity affecting turtles please click this link: Threats to turtles
It's depressing reading isn't it but there is hope.
How you can help the turtle

There are many turtle charities around the world seeking help from dedicated volunteers. Have a look around our volunteer pages to find a charity near you. If you would like to volunteer at the Sea Turtle Conservancy in Tortuguero please click below:
Volunteer with the Sea Turtle Conservancy
If you don't have the time to volunteer there are other ways you can help the turtle. Many charities offer you the chance to "adopt" a turtle. When you're tagged turtle comes back to the beach to lay eggs, the charity will let you know by e-mail that she is safe and well. You can also become a paid member of turtle charities and send them a monthly contribution to help them with their overheads.
In 1990 on the coast of Florida, USA, they recorded fewer than 50 Green turtles nesting. After 23 years of conservation efforts that same stretch of beach recorded 13,000 Green Turtle Nests. Never let anybody tell you that there is no hope. Thanks to the hard work by charities like the Sea Turtle Conservancy and dedicated volunteers we are starting to see real success stories for the turtle.
One more thing….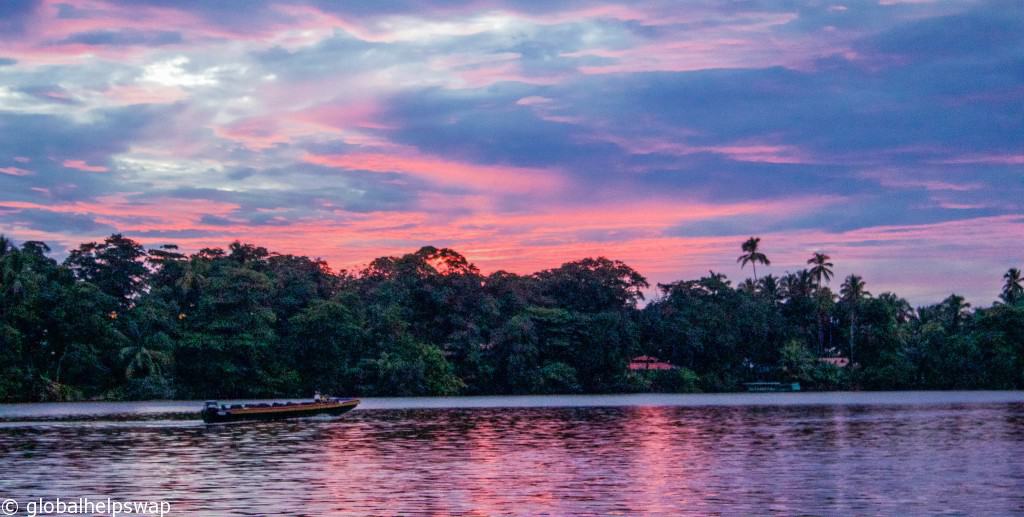 Some things are worth waking up early for!
The following morning we were on the beach at 05:00. There were Turtle tracks everywhere. The turtles are so big it looks like tractors have been driving on the beach. Our guide beckoned us over and right next to his feet was this guy.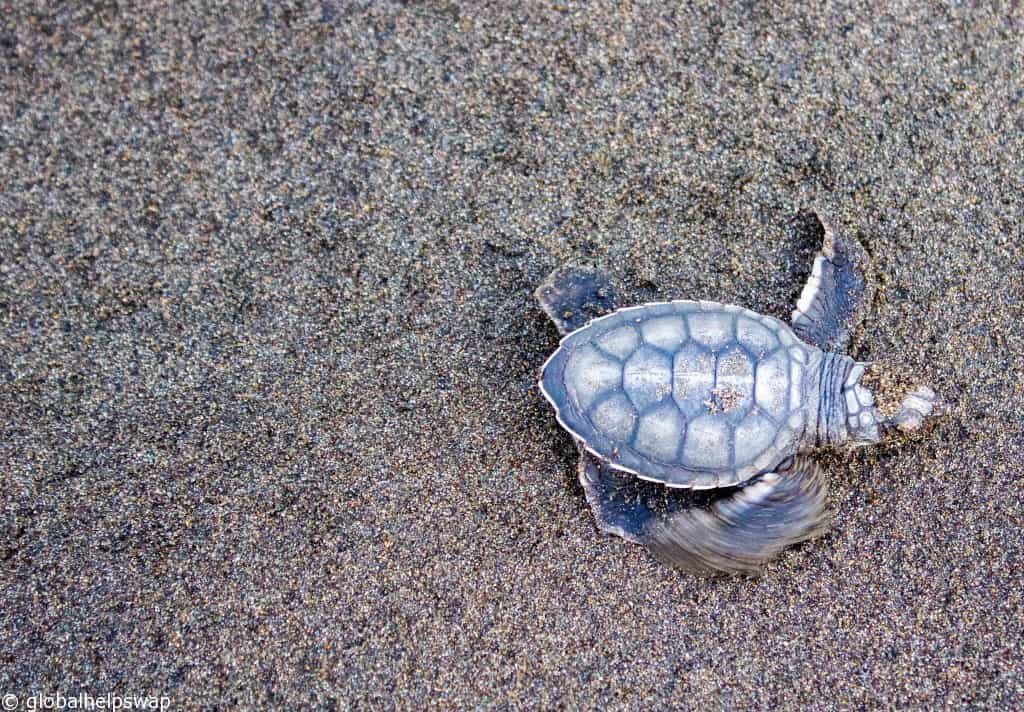 Meet Zeus, a newly born turtle that we had the emotional pleasure of watching all the way to the Caribbean Sea. We christened him Zeus because he is a fighter. All turtle eggs hatch together so we had no idea why he was alone when we came across him. He probably wanted a lie in, hence why we think it is a "he".
Nothing prepares you for watching such a fragile creature make it first steps in the world. It must have taken Zeus at least 30 mins to reach the sea after leaving the nest. You can't pick up turtles when they start their hard journey to the water because scientists believe these first steps are the most important in a turtles life. If the turtle is a female these steps will be like a road map for her when she comes back in 20 years to lay her first eggs. (Turtles lay their eggs on the same beach they were born.)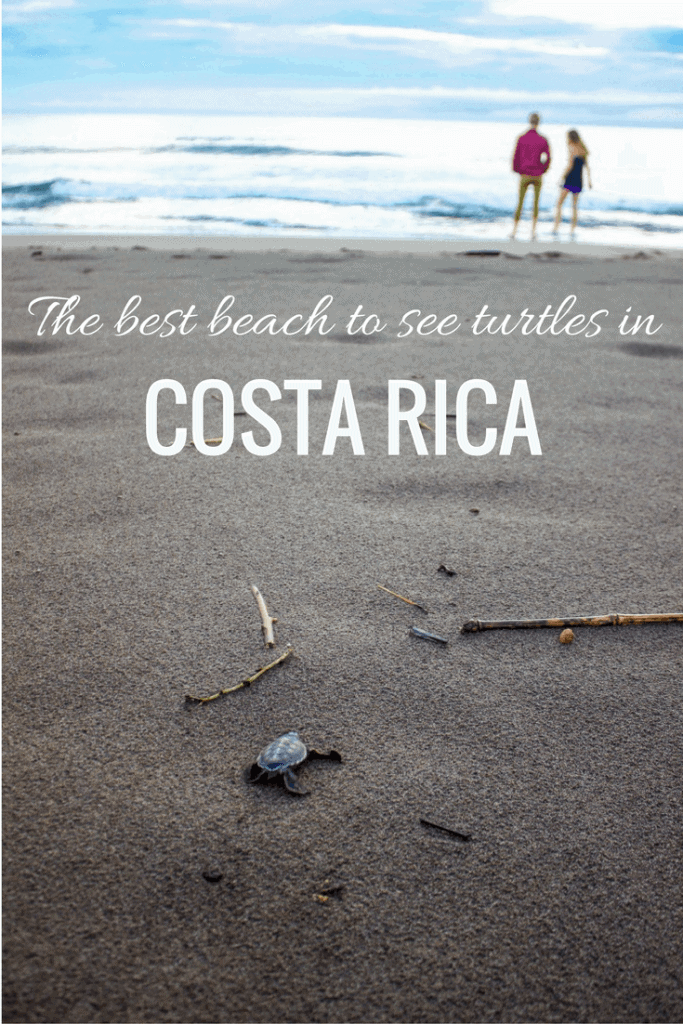 As we watched Zeus's progress I couldn't help think of those 1 in 1,000 statistics. This little guy has so much to fight against. Then the mighty Caribbean engulfed him and took him away to his underwater world and I thought he will be alright, he is a fighter. After all, there is always hope.
Who we flew with:
Earlier this year British Airways launched the first nonstop direct service between the UK (Gatwick) and Costa Rica's San José airport that operate three times a week ending the need for a changeover in Madrid. Prices start from £496 return in World Traveller, £868 in World Traveller Plus and £1,696 in Club World including all taxes and charges. To book, visit ba.com/costarica or call 0344 493 0787.
Where we stayed:
We stayed in the locally run Pachira Lodge who also organised all the tours we did including the turtle watching.
For more information on Costa Rica please click here: Visit Costa Rica
Pura Vida!
#LoveYourTravels