Out of all the amazing destinations in Costa Rica, Monteverde Cloud Forest was the place that had me most excited. Just the term Cloud Forest evokes images of something otherworldly. I imagined Monteverde looking like the floating mountains in Avatar. Now it wasn't that spectacular but it was damn close. We were visiting Monteverde to walk on some of the famous Monteverde Hiking Trails which are known for their abundant wildlife and spectacular views.
Monteverde Hiking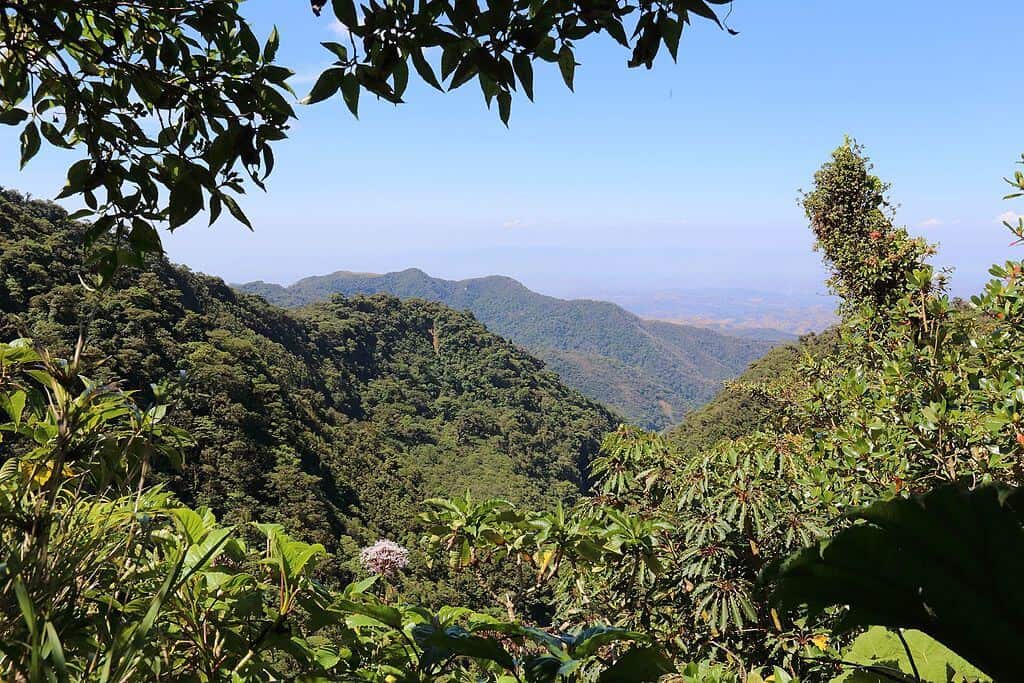 The Monteverde Cloud Forest Reserve was founded in 1972 and is named after the nearby town of Monteverde. The Reserve covers roughly 26,000 acres (10,500 hectares) of protected cloud forest and is visited by around 70,000 people a year. There are 6 ecological zones, 90% of which is virgin rainforest. The biodiversity of the area is staggering, there are over 2,500 plant species, 100 species of mammal, 400 bird species and 120 reptilians. This much diversity brings the world's leading scientists to Monteverde Cloud Forest every year. In fact, as we were leaving the main reserve I chatted to a group of scientists who were trekking into the heart of the reserve to do some field work. They were carrying huge backpacks as they were going to be in the reserve for a week and needed to take in all their provisions. Most of the Reserve is off limits to tourists to keep it protected, a great idea in our opinion.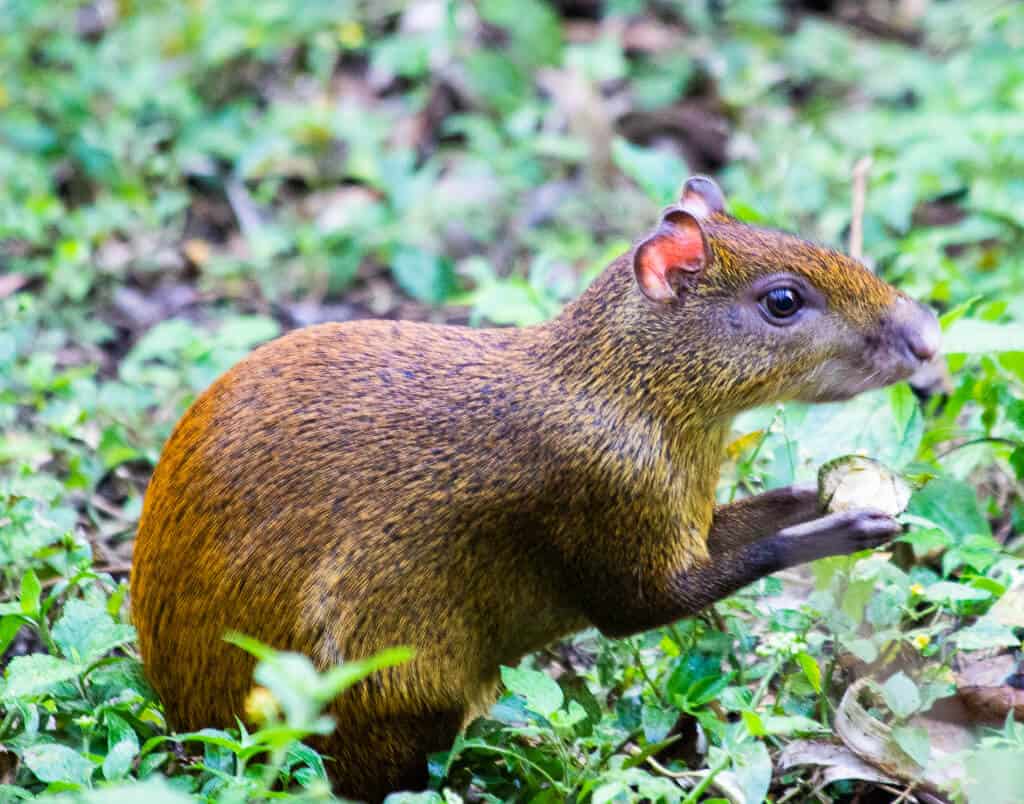 Monteverde began in the 1950s when 11 Quaker Families from Alabama in the USA purchased land in Costa Rica to live as farmers. They moved to Costa Rica to avoid the Korean War draft. Quakers are pacifists so being forced to fight in a war contradicted what they believed in. They chose Costa Rica because 3 years earlier (1948) Costa Rica got rid of it's military (Costa Rica still doesn't have a military). It was the Quakers who named the place Monteverde (Green Mountain) for the year-round green plants.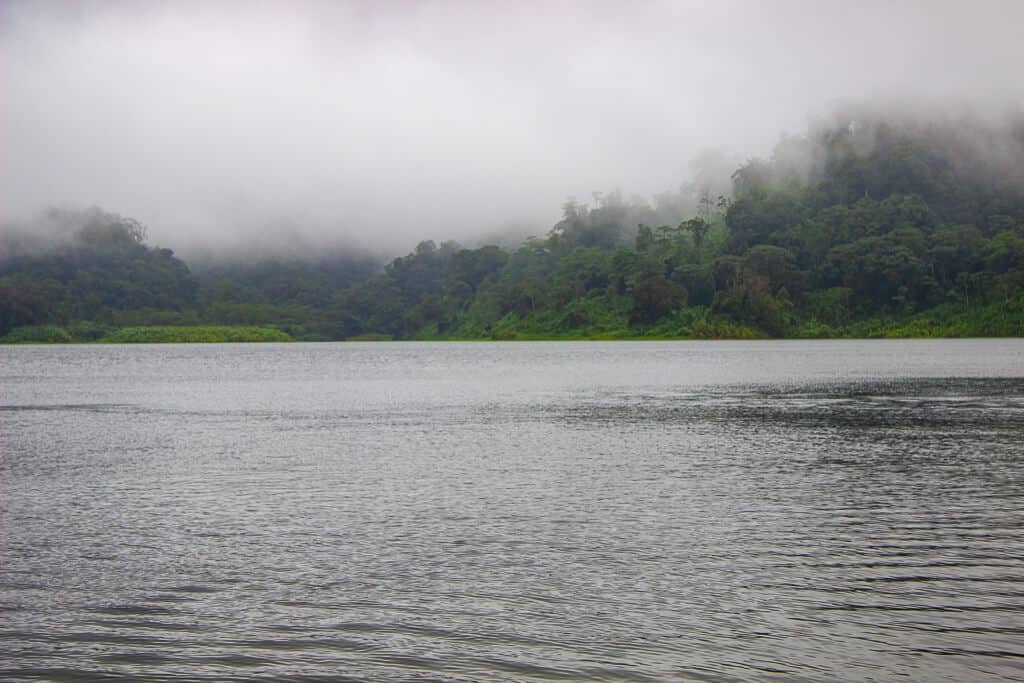 The journey to Monteverde from Arenal National Park was spectacular. We first crossed a huge lake or dam covered in mist and then we slowly ascended up into the mountains. The landscape changed the higher we got. We passed small villages with houses right on the edge of the cliffs and small kids running around playing, oblivious to the huge drops. The temperature went from hot to cold the higher we got. About halfway up you could actually see the clouds and slowly but surely our bus went above them. It was like we were on an aeroplane albeit, a very slow one.  
Our main aim for visiting Monteverde was to hike Monteverde's hiking trails for a few days and observe the spectacular wildlife. After checking in to our lodge we discovered that our lodge had its own hiking trail so we dumped our backpacks in our huge room and hit the trail. Within minutes we spotted wildlife. We were walking happily minding our own business when a Deer came out of the bushes and scared the living daylights out of us! You can take the people out of the city but you can't take the city out of the people it seems. That night we made some friends who were also staying in our lodge and we made a plan to hike some of Monteverde's hiking trails the next day. 
Monteverde Hiking Trails
Reserva Biologica Bosque Nuboso Monteverde (Monteverde Cloud Forest Biological Reserve)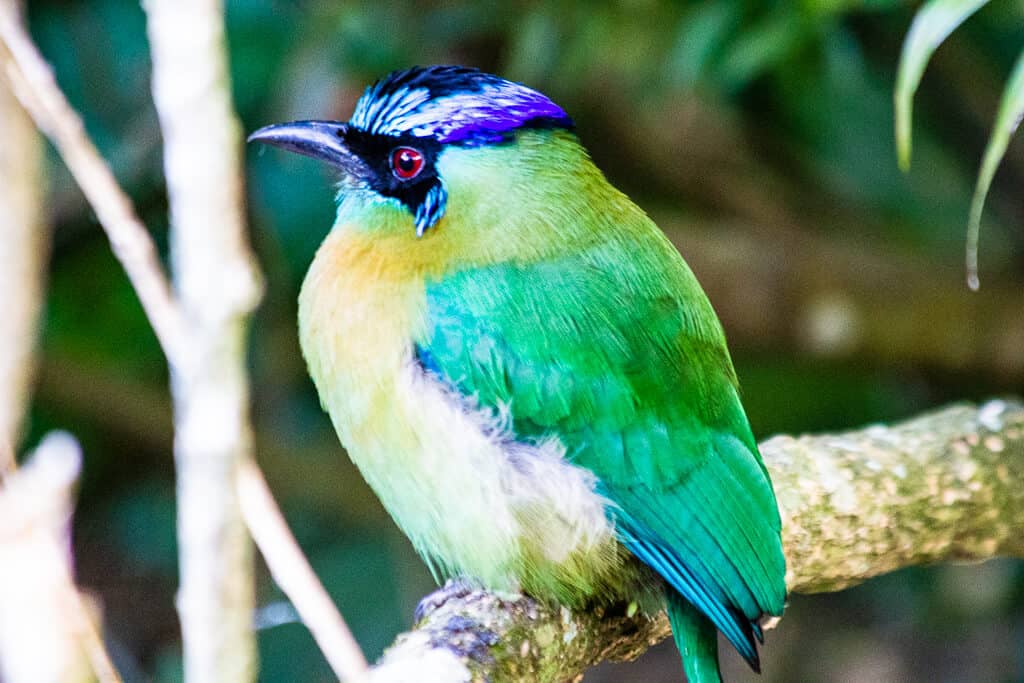 The history of the Monteverde Cloud Forest Reserve is a perfect example of how humans and nature can coexist together for the benefit for all. This virginal forest impressed the first Quaker settlers so much they decided to preserve about a 3rd of their property when they first arrived. By 1972, however, encroaching squatters threatened its sustainability. The community joined forces with environmental organisations to purchase 328 hectares of forest adjacent to the already preserved area. This became known as the Reserva Biologica Bosque Nuboso Monteverde (Monteverde Cloud Forest Biological Reserve). 
In 1986 the Monteverde Conservation League was formed to buy land to expand the reserve. Two years later it launched the International Children's Rainforest project which encouraged children and schools from all over the world to raise money to help buy and save the rainforest. The project was a resounding success and today the reserve totals 105 sq km! So this is why we chose to start our first hike at the Monteverde Cloud Forest Reserve. 
Monteverde Cloud Forest Biological Reserve Hiking Trails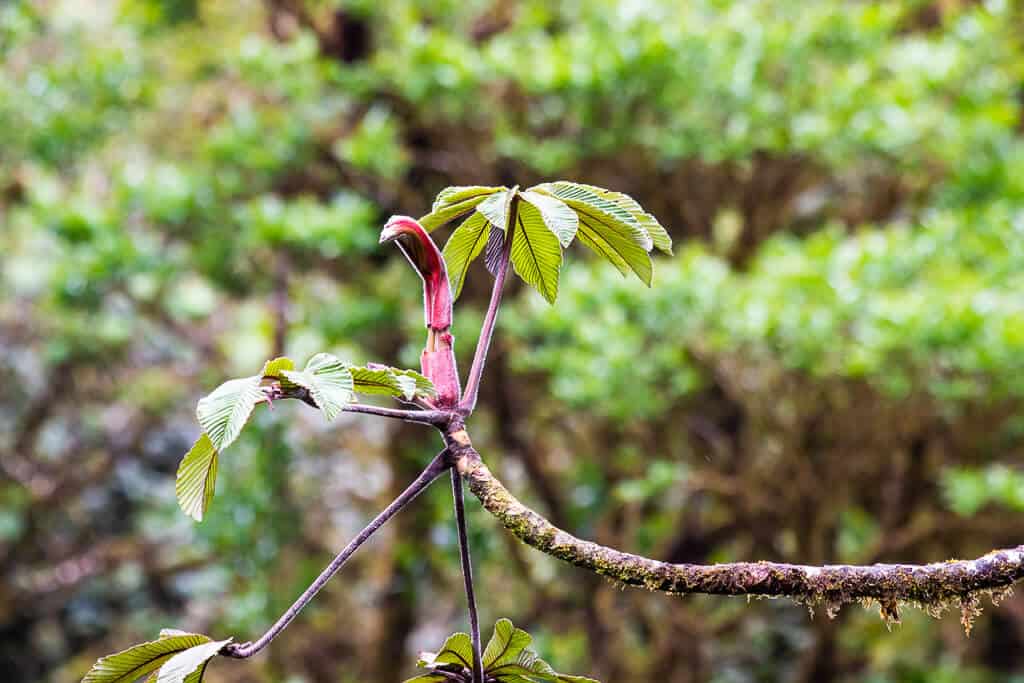 There are various hiking in trails in the reserve some of which I will list below. Even though most of the trails are well maintained we advise wearing hiking boots as sometimes they can get muddy. The most popular of the nine trails make a rough triangle (El Triangulo) to the east of the reserve entrance. 
If you are interested in guided tours of the Monteverde Reserve (we did a self-guided walk) you normally can find a guide at the park entrance. They are available in both English and Spanish and last around 2.5 hours. There are also early morning bird watching tours if twitching is your thing. 
Long Trails In Monteverde: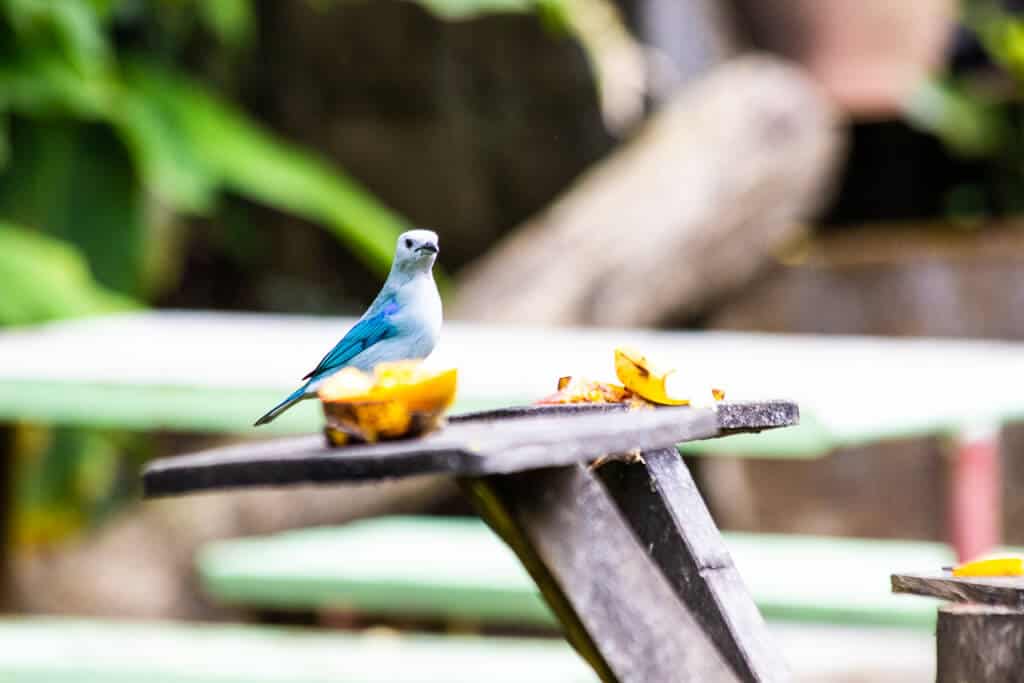 If time is not an issue then we highly recommend walking on some of the longer trails in Monteverde Cloud Forest Reserve. By doing this you will have a much better chance of spotting wildlife and you will have many moments to yourself away from the crowds. 
Sendero Bosque Nuboso (Cloud Forest Trail): This is the trail we did (although we did add some more). It is 1.2 miles (1.9 KM) long with an elevation gain of 213 feet (65 m), this trail generally takes around 1.5 hours to complete. A self-guided tour booklet of the trail — available in both English and Spanish — can be purchased at the entrance of the reserve. This is one of the most popular trails but as the reserve is so large you will soon find yourselves alone. 
Sendero Chomogo: We did a part of this trail as we wanted to reach the highest point to take some photos. It is a gorgeous trail so don't miss it. It is 1.1 miles (1.8 km) long with an elevation gain of 492 feet (150 m), this trail generally takes about 1.25 hours to complete. Oak, bamboo, and heliconia are common in the higher areas, and 'hot lip' plants abound throughout most of the walk.
Sendero Pantanoso (Swamp Trail): The Sendero Pantanoso forms the far side of El Triangulo, traversing swamps, pine forests and the continental divide. It is roughly 1 mile (1.6 km) long with an elevation gain of 131 feet (40 m), this trail takes around 1.25 hours to complete. 
El Camino (The Road): This trail is a firm favourite with bird watchers. It is 1.2 miles (2 km) long with an elevation gain of 131 feet (40 m), this trail generally takes around 1.25 hours to complete. It is wider and more open than other trails, allowing for more sunlight and thus more butterflies. 
Sendero El Rio (River Trail): On the way back to the entrance you can walk along the Sendero El Rio. It is 1.2 miles (1.9 km) long with an elevation gain of 213 feet (65 m), this trail takes around 1.5 hours to complete. This trail leads along the Quebrada Cuecha and has a short side trail to a few photogenic waterfalls.
Shorter Trails In Monteverde: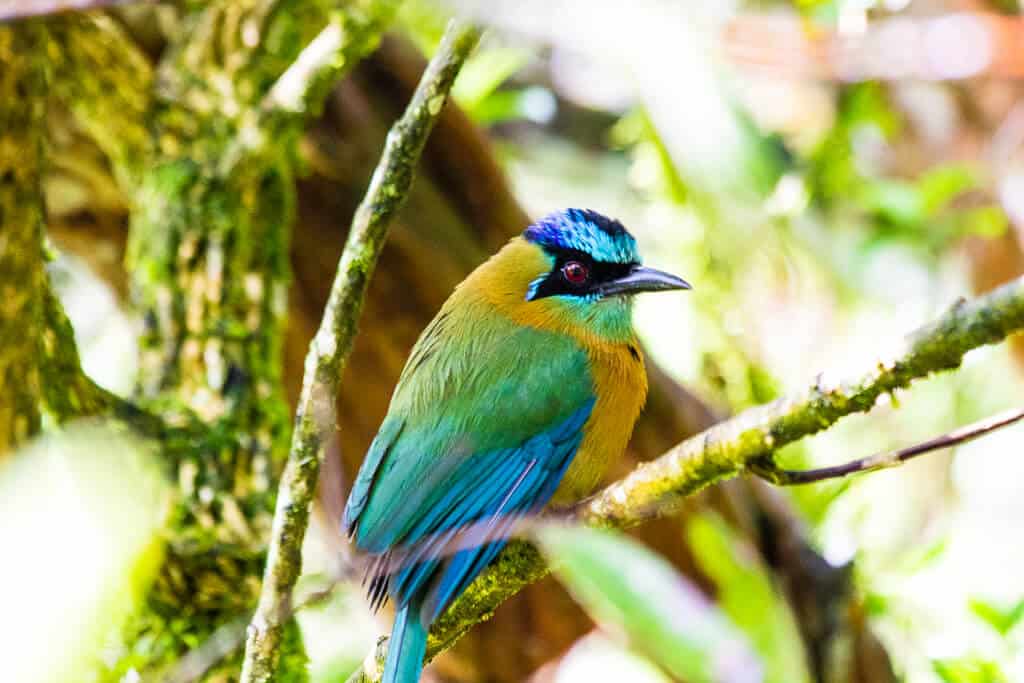 If you are short on time and would just like a glimpse of some of the flora and fauna then a shorter trail would be your best bet. However, these shorter walks are some of the busiest in Costa Rica so we would advise to start them as early as possible. 
Sendero Brillante (Shining Trail): Don't worry it is not called THE Shining trail so there won't be a mad Jack Nicholson jumping out of the bushes shouting out "here's Johnny"! This trail is 0.2 miles (0.3 km) long with an elevation gain of 49 feet (16 m) and takes about 10 minutes to walk. You are led along the Continental Divide to La Ventana (The Window) where you will see a miniature forest below you. 
Sendero George Powell (George Powell Trail): Named after one of the founders of the reserve this trail is 0.1 mile (0.2 km) long with an elevation gain of 66 ft (20 m) and takes about 10 minutes to complete. The trail is mainly set in a secondary growth forest. 
Sendero Roble (Oak Trail): Set in a beautiful grove of heliconia trees this trail is 0.4 miles (0.6 km) long and takes around 15 mins to walk. 
Suspension Bridges: We loved walking across the suspension bridges or skywalks. They give you great views of the forest canopy below and make you feel like Indiana Jones. 
Monteverde Cloud Forest Biological Reserve Information:
Opening Times: 07:00 – 16:00
Entrance Fee – $18. Children under 6 go free. 
Gift shop and restrooms: Yes.
Other places to hike in Monteverde and Santa Elena:
Curi Cancha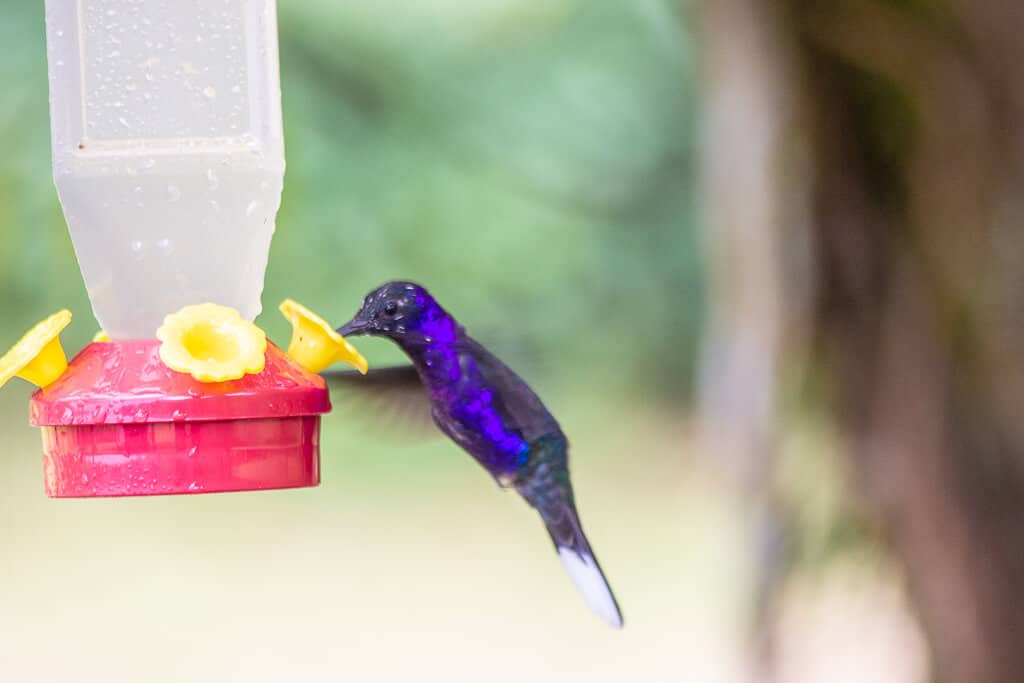 Visiting Curi Cancha was one of our highlights in Monteverde. Within minutes of entering the reserve, we spotted a Quetzal. Well, when I say we, some expert bird spotters spotted it but they called us along! There are over 200 species of bird at Curi Cancha as well as armadillo, coati, agouti, kinkajou, ocelot, two-toed sloth, and three species of monkey: mantled howler, white-faced capuchin, and spider monkey. Make sure you visit the hummingbird garden where you will be wowed by the various hummingbirds zooming around you. 
Curi Cancha Information:
Opening Times: 07:00 – 15:00. Guided tours from 07:30 or 13:30.
Entrance Fee: $15
Santuario Ecologico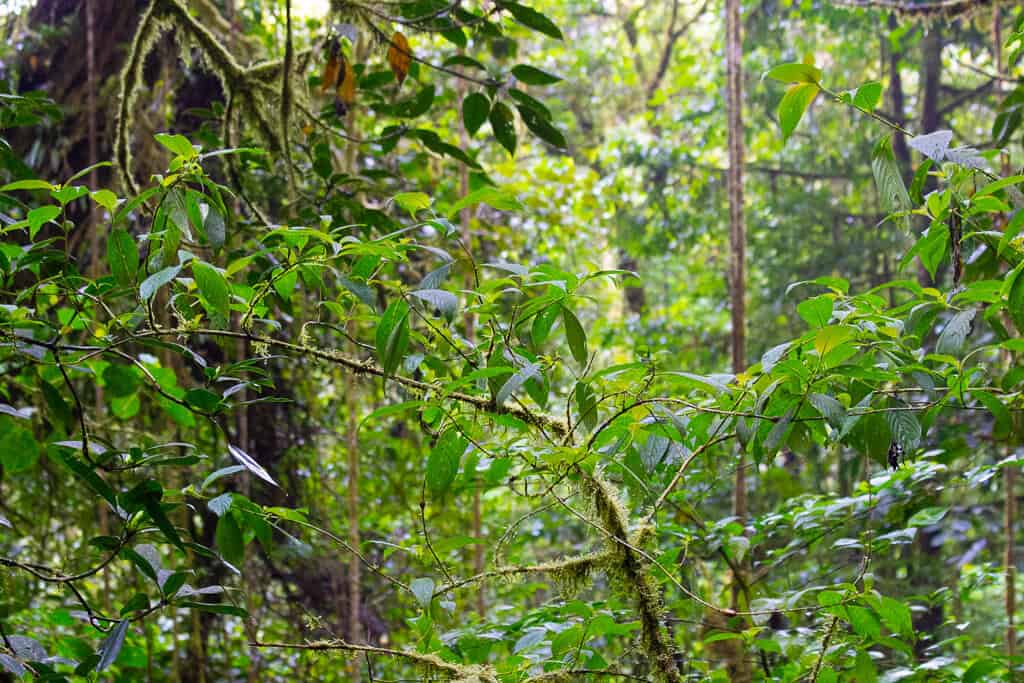 This smallish sanctuary is set on private property comprising below mountain forest and secondary forest. The longest trail takes around 2.hrs. You will walk through coffee and banana plantations and you can also walk down to a 30-meter waterfall to cool off. This is not a popular sanctuary so you have a good chance of spotting wildlife like Sloths, Coatis and monkeys. You can also book a guided night tour here. 
Santuario Ecologico Information:
Opening Times: 07:00 – 17:30
Entrance Fee: Adult $10, Child $6
Bosque Eterno de Los Ninos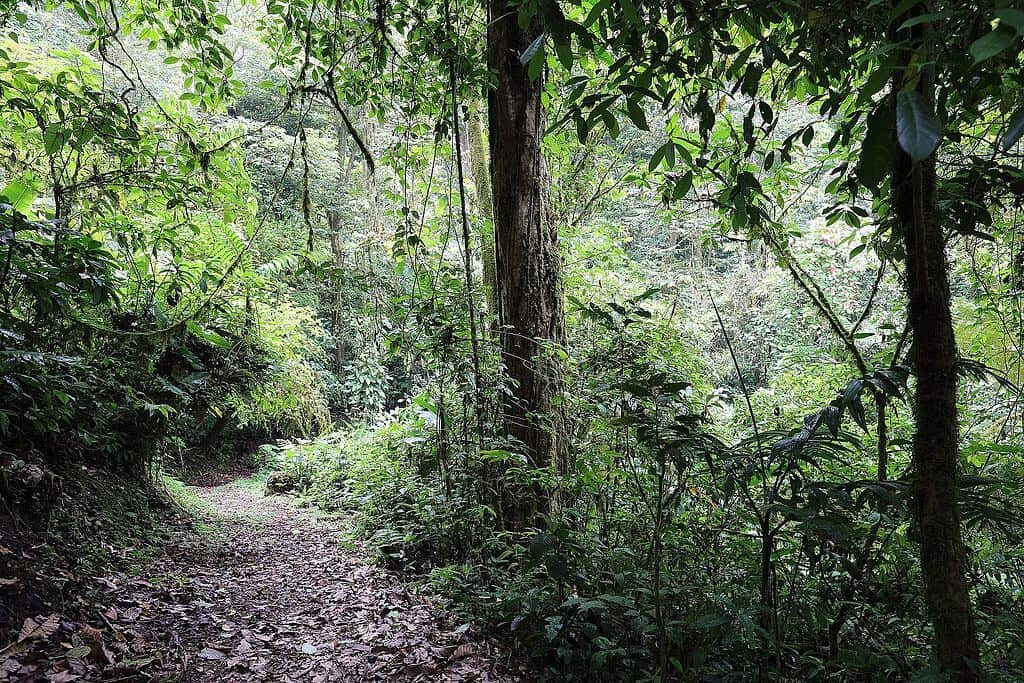 The 1980's school children who raised awareness about the plight of the rainforest truly did leave a lasting legacy. With all the money they raised they saved a huge area of rainforest. This 22o sq km reserve is the largest in Costa Rica but only a small part is accessible for the public. The main trail is called the Sendero Bajo del Tigre (Jaguar Canyon Trail) and it offers more open vistas than those in the cloud forest, so spotting wildlife tends to be easier. There are also guided night hikes which people loved. They last 2 hours and need to be booked in advance. At the entrance of Bosque Eterno de Los Ninos, there is an education centre for children. 
Bosque Eterno de Los Ninos Information:
Opening Times: 07:30 – 17:30
Entrance Fee: Adult $13, Child $8

This 200-acre private reserve is located between the Monteverde Cloud Forest Biological Reserve and the Guacimal River. The hiking trails here are narrow to allow for minimal environmental impact, and group size is capped at 6 people which we think is a great idea. We have been on many hikes where tourists have been happily chatting away scaring off the wildlife that we all came to see in the first place! 
Reserva Sendero Tranquilo Information:
Opening Times: Tours at 07:30 and 13:00
Entrance Fee: $20 with a guide. 
Sendero Valle Escondido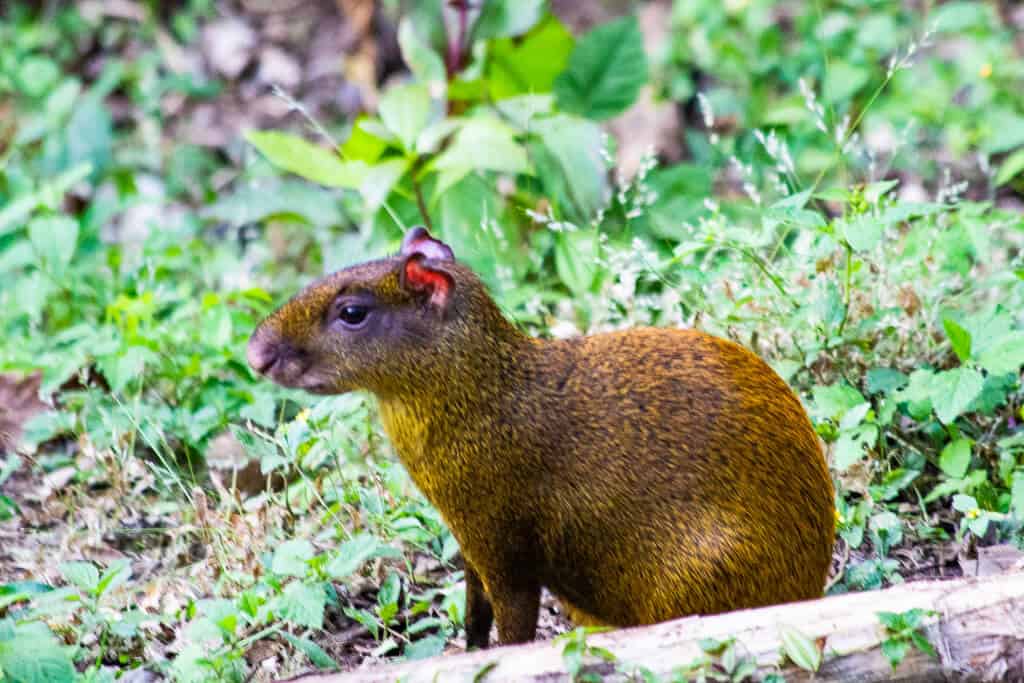 Remember earlier when I mentioned that our eco hotel had its own reserve? Well, this is it. The Sendero Valle Escondido is located behind the Pension Monteverde Inn and slowly winds through a deep canyon. The 2-hour guided nighttime tour is very popular and rightly so, so we recommend booking that in advance. In the daytime, the reserve is very quiet so you will have a good chance of walking on the trails alone and spotting wildlife more easily. 
Sendero Valle Escondido Information:
Opening Times: 07:00 – 16:00
Entrance Fee: Day Use $5. Night Tour: $20 Adult, $10 Child. 
Cerro Amigos
This hiking trail leads you up to the highest peak in the area at 1842 meters. On a clear day, you can see the surrounding rainforest and even Volcan Arenal 20 km away. Walk behind Hotel Belmar in Cerro Plano, take the dirt road going downhill, then the next left. The trail ascends roughly 300m in 3km. You will need to double back on yourself as the trail doesn't connect to anywhere.  
Cerro Amigos Information: 
Opening Times: There are no official times but we would say walk it in daylight hours.
Entrance Fee: Free.
Catarata San Luis
The San Luis waterfall is located within a section of the rainforest surrounding Santa Elena. This is a popular but strenuous hike that offers you beautiful scenery. It gets very slippy and muddy so a good pair of walking boots is a must. Even though it is only a few kilometres from the parking area the trail will take around 3 hours as it goes steeply graded downhill. Your reward will be to sit and swim (apparently it is cold) at a beautiful waterfall surrounded by stunning rainforest. 
Catarata San Luis Information:
Opening Times: All day
Entrance Fee: $10 Adults, $8 children. 
Hanging Bridges, Skywalk Monteverde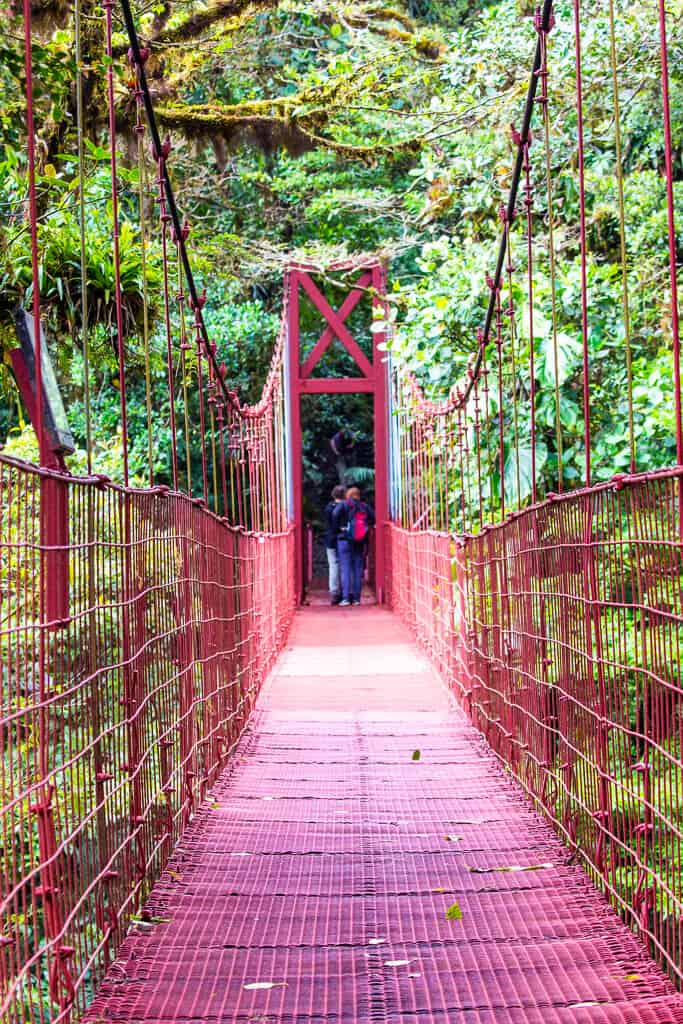 There are a few companies scattered around Monteverde that can satisfy your Indiana Jones fantasies where you walk over swaying bridges with the forest canopy below you. There are differences in all of them, from fat, saggy or bouncy but all are fun and the views are spectacular. Aventura, Skywalk and Selvatura all offer adventures in the clouds. 
Monteverde Weather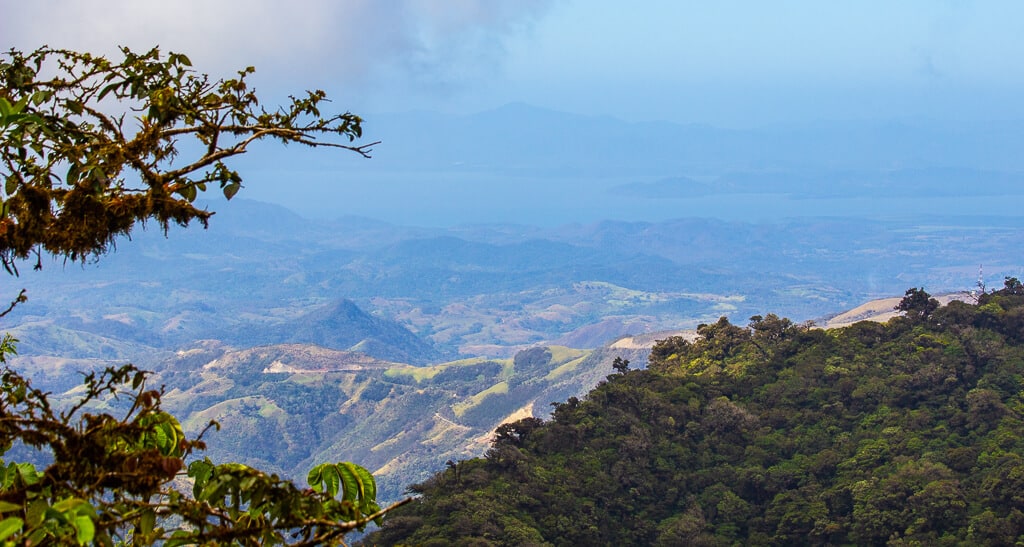 As it is a cloud and rain forest the weather in Monteverde is normally cool and damp so expect some rain during your stay. We visited in February and had some warm sunny days but the weather can change quickly so pack for all types of weather. It gets a lot cooler at night. 
Monteverde Hotels
Stay tuned for an upcoming in-depth guide to our reader's favourite hotels in Monteverde, Costa Rica. In the meantime here are 3 hotels in Monteverde that we recommend: 
Monteverde Inn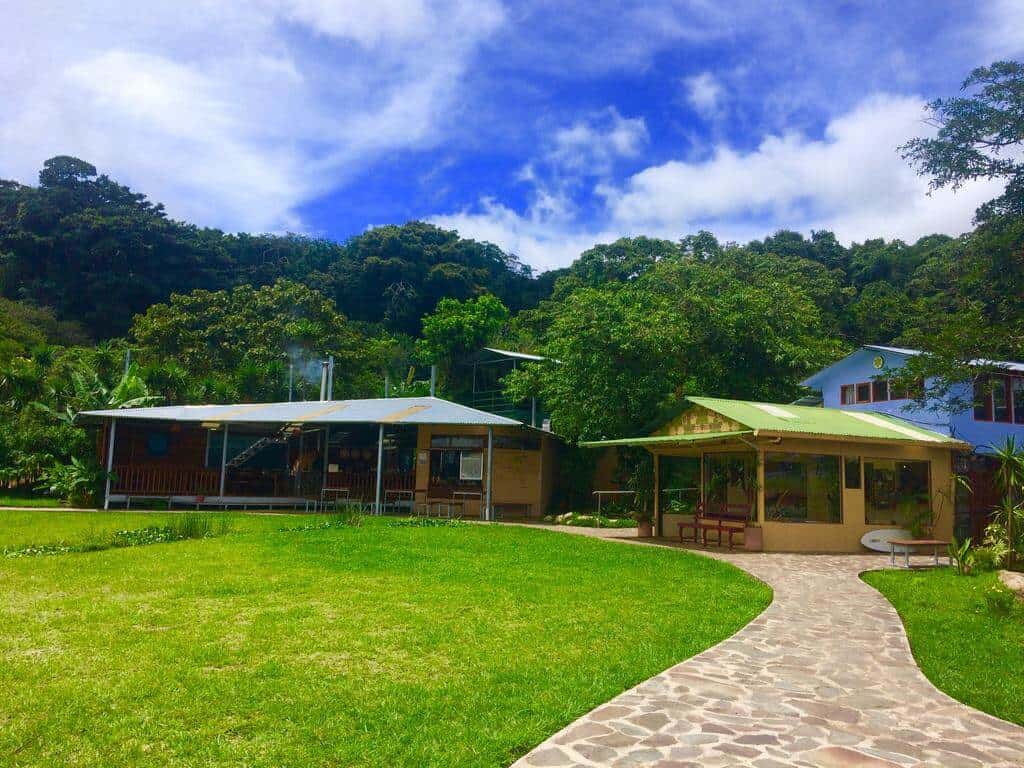 This is the eco-hotel that we stayed in. Apart from the fact that it has, it's own reserve we loved the location of this hotel as it was in the middle of everywhere we wanted to visit. The rooms are clean, the staff are super helpful and the hotel restaurant was very good. 
Check here for the latest prices.
Hotel Belmar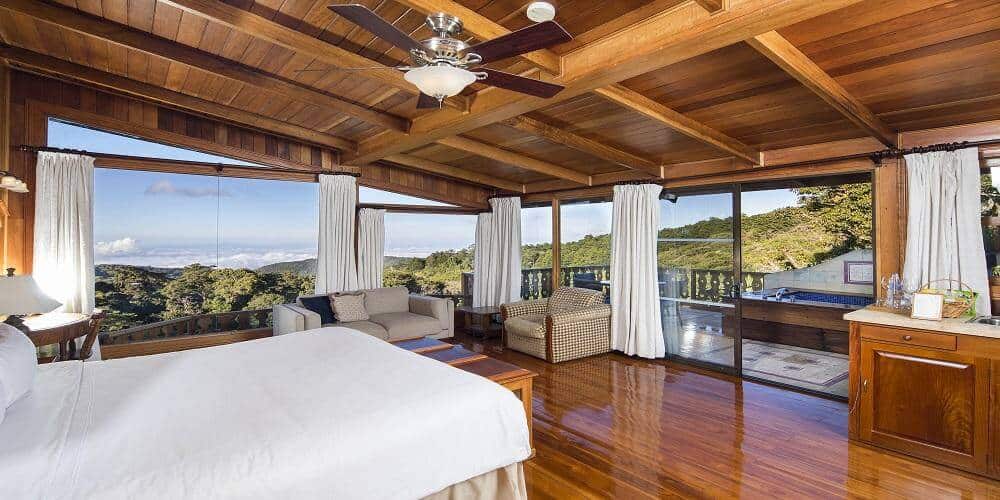 Hotel Belmar constantly comes up in peoples favourites and it is not hard to see why. The hotel features a unique restaurant with an on-site brewery and a juice bar; also it has an organic garden and certification on sustainability. It features free WiFi in all areas.
Each room here has beautiful wooden decoration, a minibar and a seating area. Featuring a bath or shower, private bathroom also comes with a hairdryer and free toiletries. Extras include an outdoor seating area, a safety deposit box and bed linen.
At Hotel Belmar you will find a hot tub, a garden and a terrace. There is also a wellness centre with a yoga studio and spa services. Other facilities offered at the property include a ticket service, a tour desk and luggage storage. Guest love the location, food and comfy beds. 
Check here for the latest prices.
Hotel Aguti Lodge & Reserve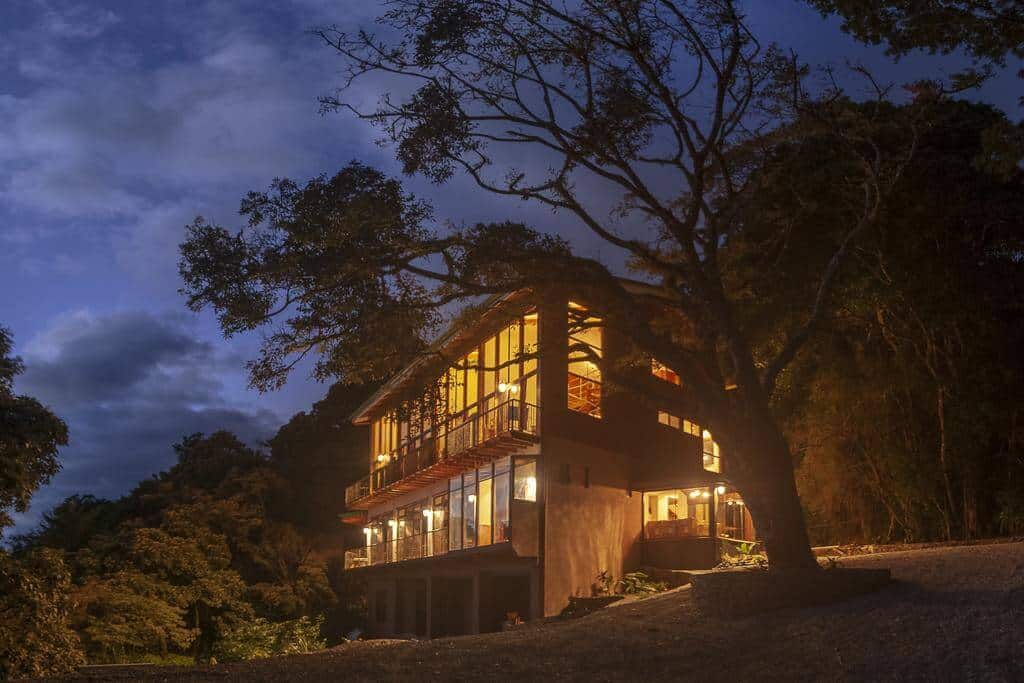 Hotel Aguti Lodge & Reserve is one of the highest rated properties in the area. People loved the food, raving about how good the chef is. Other highlights were the onsite reserve, the location, the staff and the guides. The hotel has a garden and terrace, as well as a restaurant, Hotel Aguti Lodge & Reserve is set in Monteverde Costa Rica. This 4-star hotel offers a bar. The accommodation offers free WiFi. All units in the hotel are fitted with a coffee machine. Every room is fitted with a private bathroom with a shower. The rooms feature a desk.
Check here for the latest prices.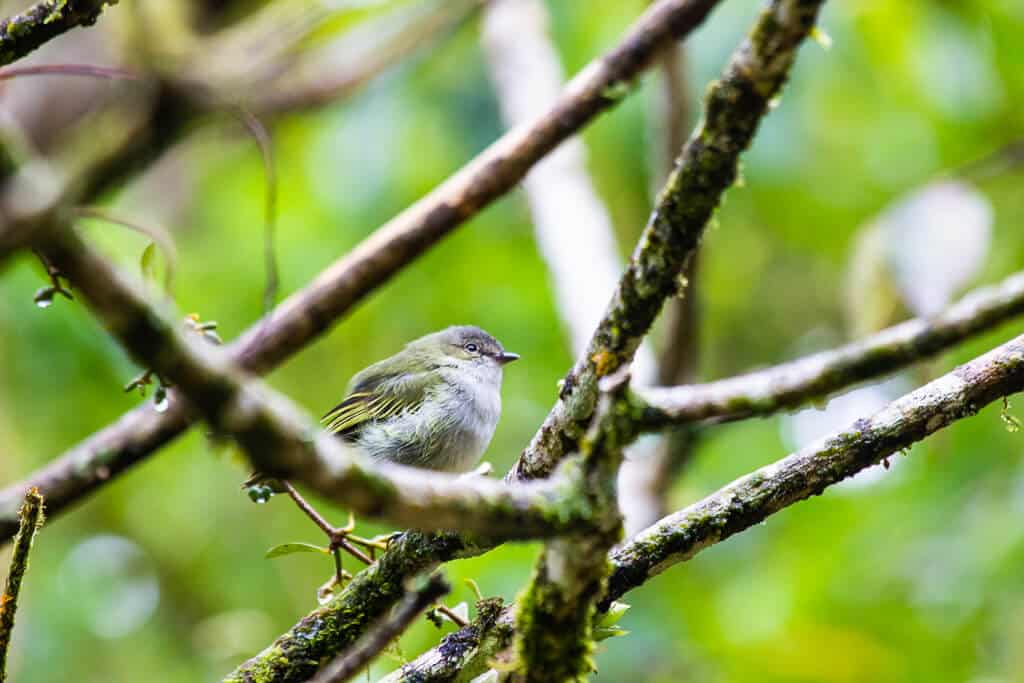 Hiking in Monteverde was one of the highlights of our trip around Costa Rica. Seeing the wildlife and environment managed by the people in such a responsible way was truly inspiring and just proves that if you do things the right way people and animals can live in harmony. 
Heading to Costa Rica? Check out our other Costa Rica posts before you go!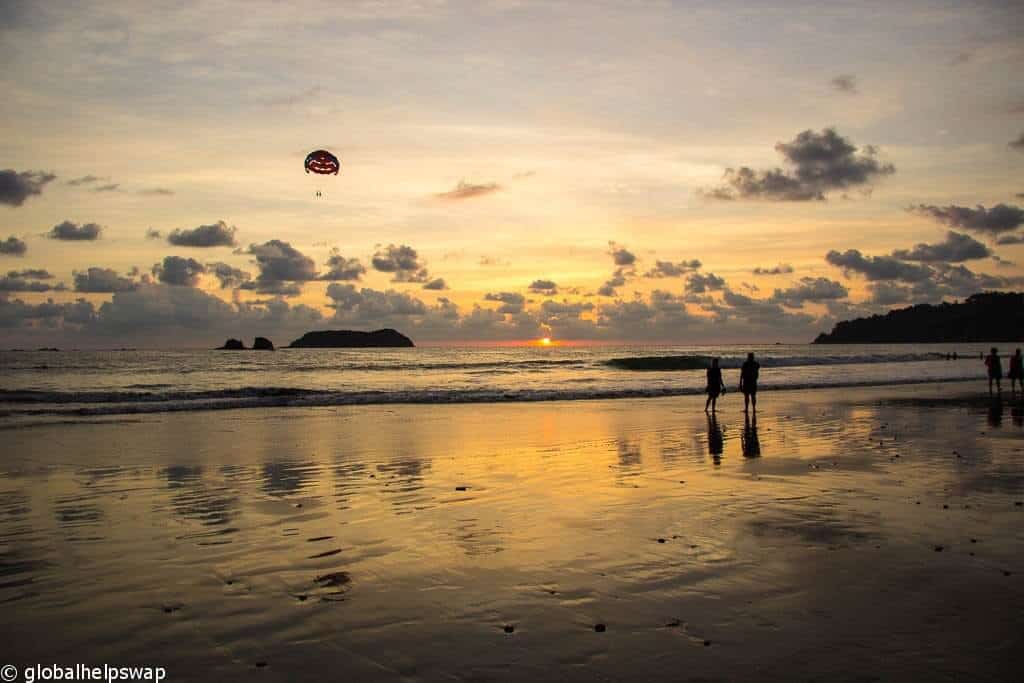 The Best Beach To See Turtles In Costa Rica – If you want to see turtles in a responsible way then read this post to find out how.
Highlights Of Arenal Volcano National Park – If you are heading to Costa Rica, then we highly recommend a visit to Arenal Volcano National Park. Read about our highlights and see why you should go too.
BriBri Costa Rica: Meeting A Tribe In The Costa Rican Jungle – Bribri Costa Rica: Meeting a tribe in the Costa Rican jungle. Are you heading to Costa Rica? Why not go on a chocolate tour with an indigenous tribe!
Manuel Antonio: An incredible National Park Full Of Wildlife – Manuel Antonio Costa Rica – An incredible National Park full of wildlife – Read why this compact National Park blew us away with its wonderful wildlife.
Spectacular Costa Rican Beaches You Must Visit – Are you visiting Costa Rica? Then check out these Spectacular Costa Rica Beaches You Must Visit when you go. From wildlife to surf these beaches are a must!
#LoveYourTravels