Are you travelling from Colombo to Galle and want to know the best way to do it? Then read on as we have the done the journey a few times. In this post, we share with you essential tips to help you travel from Colombo to Galle cheaply and comfortably. You might be questioning if you should take the Colombo to Galle train or if a taxi from Negombo airport to Galle might be easier. Read on to find out about our favourite and recommended option.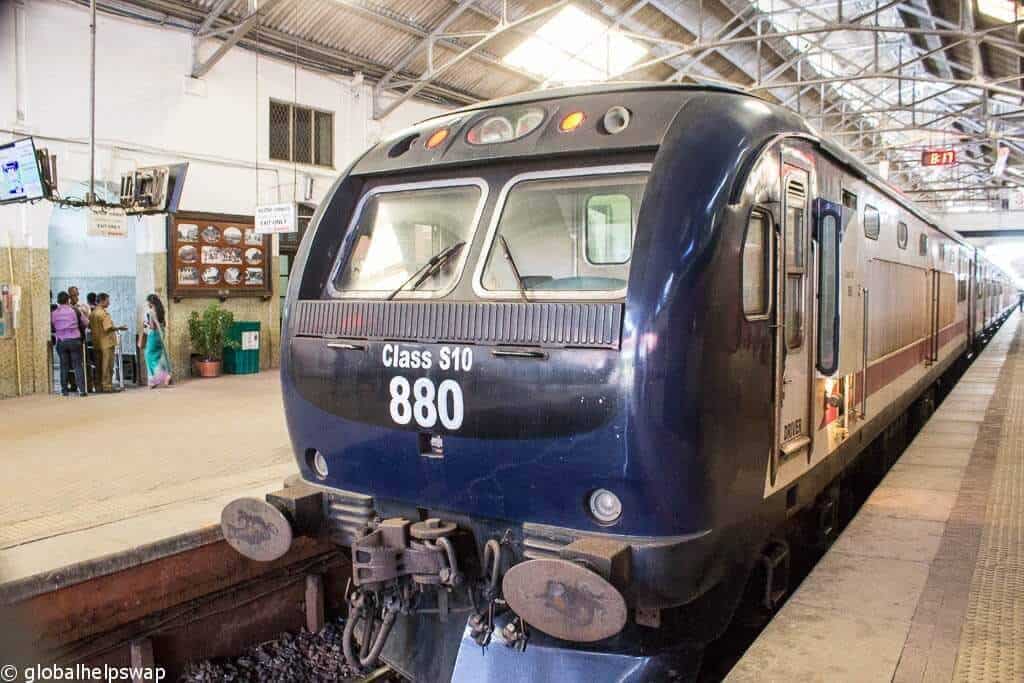 We had 3 options to travel from Colombo to Galle  – taxi, bus or train – and after some research here's what we discovered.
Colombo To Galle
Option 1: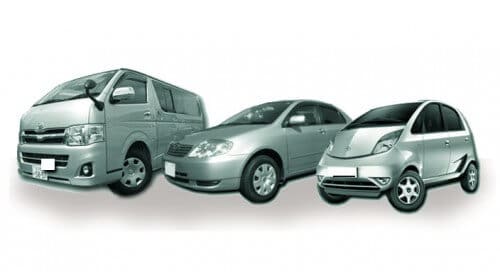 Travel from Colombo to Galle by Taxi
Verdict: Comfortable but not cheap
You can get a taxi to take you to Galle from most hotels and even directly from the airport. If you're going from the airport you can go directly to the taxi desk before you exit the airport and arrange the transfer quite easily. Make sure you ask to go via the Expressway. At the time of writing, it cost between $75 and $100 to get the Galle.
Pros:
– You get to travel in an air-conditioned car
– You are guaranteed a seat.
Cons:
– It's the least green way of getting from Colombo to Galle
– It costs nearly a HUNDRED times more to travel this way.
– You miss out on the adventure of getting there by public transport
– You miss out on one of the most scenic train journeys in Sri Lanka
– It can still take up to 3 hours to do this journey if you get stuck in traffic.
Overall:
Not our recommended way of getting there.
Option 2: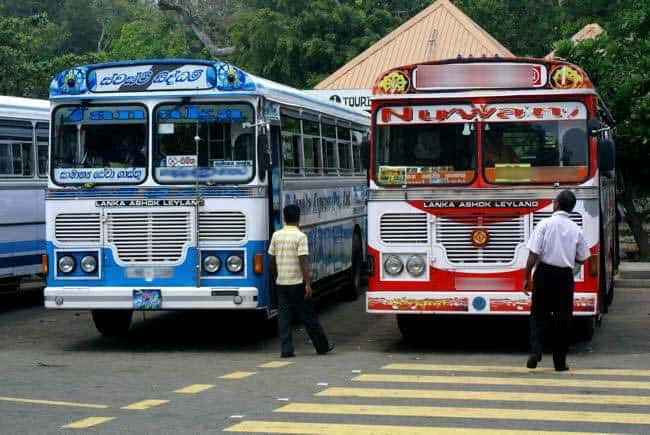 Travel from Colombo to Galle by Bus 
Verdict: Not that cheap or comfortable
You can catch a high-speed bus from Maharagama Bus Station to Galle. Maharagama bus station is to the South East of Colombo City Centre.
You can either take a taxi which costs around Rs 3600 / $27  from the airport, and Rs 1400 / $10 from Colombo Fort or you can take the 112 and the 138 bus to get there from the centre of town. The bus to Maharagama station (where you get a second bus to Galle) takes around 75 minutes and can be quite uncomfortable. Plus the drivers aren't too happy with big luggage being taken on the bus.
Southern Express Buses leaving Maharagama to Galle run from 5 am every 20 minutes daily with the last bus leaving Maharagama at 16.45pm. A ticket costs Rs375 / $2.8. They take around 90 minutes to reach Galle, taking the total trip to at least 3 hours.
Pros:
– Guaranteed seat
– Air-conditioned
Cons:
– Journey to the bus station is either expensive or uncomfortable
Overall:
The cost or discomfort of actually getting to the station takes away the appeal of this option.
Option 3: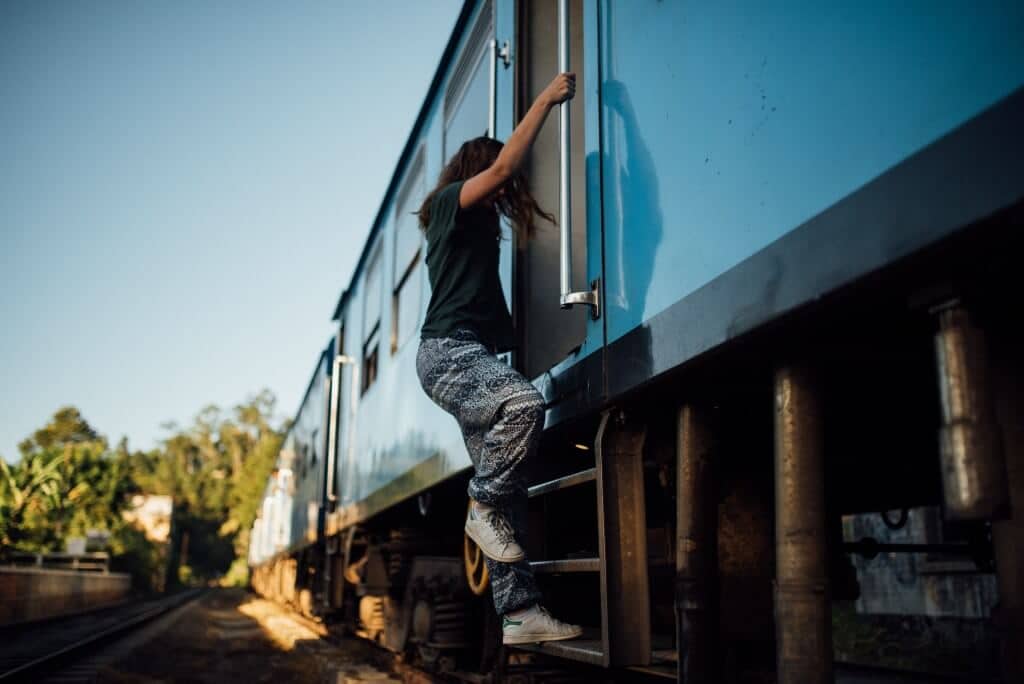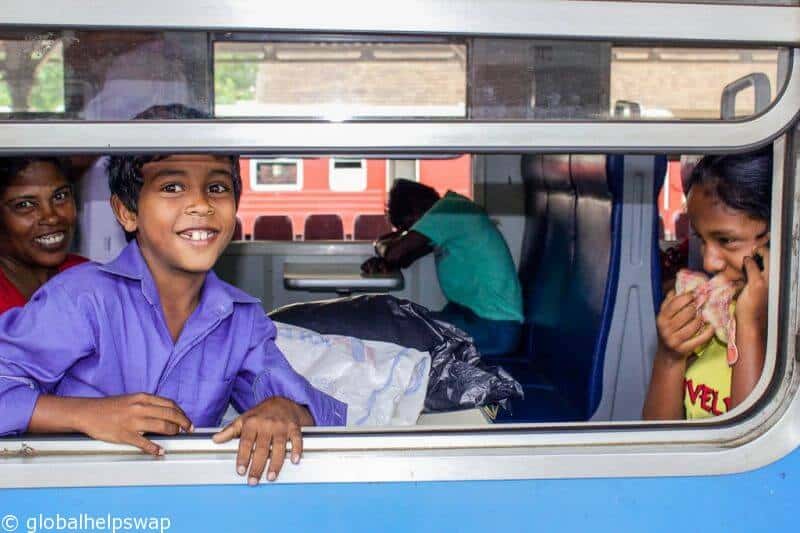 Train from Colombo to Galle
Verdict: Cheap, comfortable AND full of adventure
I guess the title gives away that this is our favourite way to get to Galle… with one caveat!
You are likely to be closest to Colombo Fort station and will be tempted to get the train from there. Don't. The Colombo to Galle train will already be full and you will have a very uncomfortable 3-hour journey standing on a packed train. You cannot buy tickets in advance with Sri Lankan Railways and unfortunately, you cannot book a seat (unless you opt for Option 2 below).
To have a better chance of travelling in comfort you have two options:
Option 1: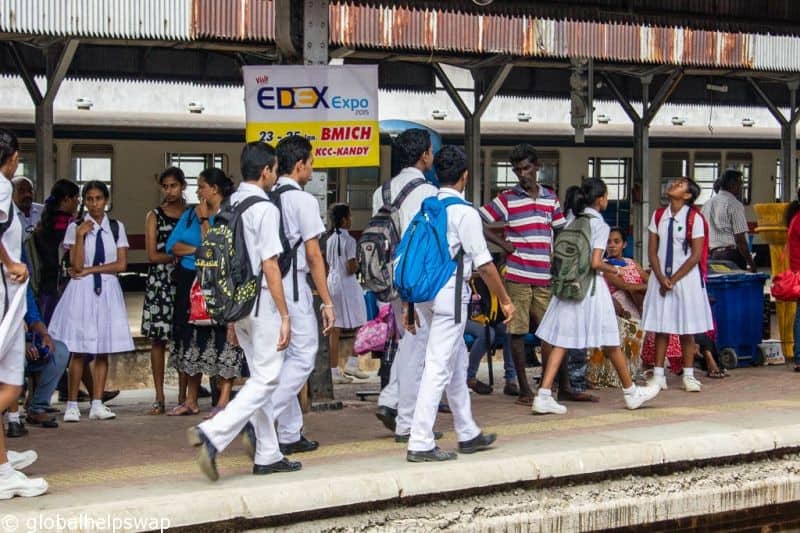 Start your journey from Maradana Station. A tuk-tuk here from the centre costs Rs200 / $1.50. It's a couple of kilometres further than Colombo Fort station but it's where the train from Colombo to Galle starts. You are much more likely to get a seat from here (although it's still not guaranteed).
When we got to the station a well dressed Sri Lankan guy approached us and offered to help us buy our tickets. As we didn't know what to expect at the station we followed him. He bought us the tickets and used our money to buy himself one as well. We didn't want to argue with him over a dollar but thought we'd caution you over it.
A second class train ticket from Maradana to Galle costs Rs180 / $1.36 (no that's not a misprint!) There's no first class – except for one train, see Option 2. There's no AC on the train but the fans on the ceiling worked and the open windows let a nice breeze in which made the temperature comfortable.
We do have to warn you when it comes to boarding the train the normally polite, well mannered, gentle Sri Lankans turn highly competitive. Everyone tries to get on the train first to nab a seat. It becomes a bit of a battle. We got the 2.30pm train and despite the battle, which took us by surprise, we managed to get two seats. Hoorah! We also got the seats right at the back of the carriage which meant that we could stash our backpacks in the space behind us.
The journey itself is one of the most scenic train journeys we've been on. And given that we've been on a lot of trains, that's saying something. The journey is mostly along the coast, with open sea views for the majority of the way. There were a few sellers selling water, fruit and delicious snacks on the way which made the journey even more interesting.
Option 2: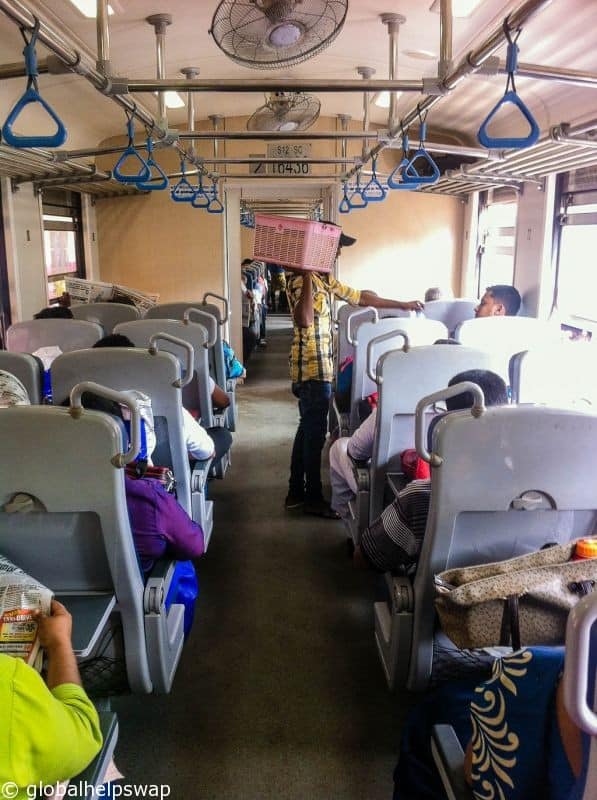 If unlike us, you don't mind waking up a little early you also have the possibility of travelling in a first-class carriage AND pre-booking your seat. 
Rajadhani Express attach an air-conditioned carriage on the 6.30am train to Matara, which starts at Colombo Fort and stops in Galle. You can book your ticket through their site here. There is one train every day of the week, except for Thursdays. Tickets cost a very reasonable Rs1100 / $8.3. Try to book a couple of days in advance as there are only 48 seats available. (Please note as of September 2017 Rajadhani is temporarily closed to refurbish their trains).
Pros:
– The greenest way to travel from Colombo to Galle
– Beautiful scenic journey
– An interesting journey travelling like a local
– A very cheap way to get from Colombo to Galle
– Easy and comfortable
Cons:
– No guarantee of a seat, unless you take the first-class train at 6.30am.
Overall
Our preferred way to get from Colombo to Galle. We really enjoyed this train journey and we hope you get to do it one day.
Colombo to Galle Video
Here are a few highlights of our trip.

Going to Sri Lanka? Check out our other Sri Lankan posts first!
The best places to visit in Sri Lanka – Discover the best places to visit in Sri Lanka. Read our blog to make your trip to Sri Lanka a memorable one. From Galle to Jaffna we cover all the major tourist spots in Sri Lanka, plus we head out to the little-visited east coast for a more authentic experience.
Is Sri Lanka Safe? – Is Sri Lanka Safe To Visit? | Why You Should Visit Sri Lanka Now. Read why we think Sri Lanka is still safe and why you should visit Sri Lanka now.
Where to stay in Negombo – Where To Stay In Negombo Sri Lanka | The 10 Best Hotels In Negombo Sri Lanka. Check out our favourite hotels in Negombo before booking your stay.
How To Get From Negombo to Colombo By Train, Bus Or Taxi – How To Get From Negombo to Colombo By Train, Bus Or Taxi. If you are heading to Sri Lanka and was wondering how to get from Negombo or the airport to Colombo please read our post for all the travel information you need.
How to travel from Colombo to Kandy – Read about all the options to travel from Colombo to Kandy. Should you take a taxi, a bus or a train. Click here for the pros and cons of each option.
The Best Honeymoon Hotels in Sri Lanka – Have you just got married and are looking for a honeymoon hotel? Check out The Best Honeymoon Hotels In Sri Lanka before you book. These 9 hotels are perfect for honeymooning couples.
The Best Of Sri Lanka's East Coast – Are you heading to East Coast Sri Lanka? Then read our post first. You will find empty beaches, friendly locals, good surf and stunning wildlife.
When is the best time to visit Sri Lanka? – Sri Lanka weather varies in different parts of the island. Read this breakdown to help you find the best time to visit Sri Lanka by month and activity.
Places to visit in Anuradhapura – Are you heading to Anuradhapura? Then read our Best Places To Visit In Anuradhapura post before you go to find out what sites to visit.
The Kandy to Galle Train – If you're thinking of taking the Kandy to Galle train read our post for some top tips on how to make the most of this journey. Click to find out more.
Why Ella is our favourite place in Sri Lanka – Are you heading to Ella Sri Lanka? Read about our top 8 things to do in Ella Sri Lanka before you go and find out why it's our favourite place in Sri Lanka.
The 10 best Mirissa Hotels – Are you heading to Mirissa Beach? Then find out what we think are the 10 best Mirissa Hotels before you book your accommodation in Mirissa, Sri Lanka.
If you are staying in Sri Lanka for a while, why not volunteer there? Check out our Volunteering in Sri Lanka Page
ACCOMMODATION in Galle
BUDGET: Green Wood Garden This homestay has an excellent reputation for service and cleanliness. The place has free wifi, bikes and a garden.
MID-RANGE: Pedlar 62 Guest House If you want to be in the heart of the action, then this guesthouse is for you. The food and hospitality are second to none. There is free wifi and a/c in every room.
LUXURY: Jetwing Lighthouse We have stayed in Jetwing properties in the past and loved them. They truly are eco-luxury hotels with everything you would expect from a top hotel with the added benefit that by staying here you are also helping the planet and the community. Highly Recommended.
#LoveYourTravels
Karen is a trained psychologist and coach. But really she's an adventurer who believes travel can be one of life's best teachers. She writes to inspire you to take the leap and travel in a way that is memorable and meaningful.