Are you looking for places to visit in Anuradhapura? Then read on. We spent an amazing few days in Anuradhapura and visited most of the temples of the area.
For such a small Island Sri Lanka has a huge range of diversity. You can go from beaches to highlands and wildlife spotting to ancient temples all in a matter of hours. Before visiting Sri Lanka we had heard of Galle, Colombo and Ella but admittedly we had never heard of Anuradhapura. We soon discovered that this world heritage site is an ancient capital of Sri Lanka and a dream destination for culture junkies.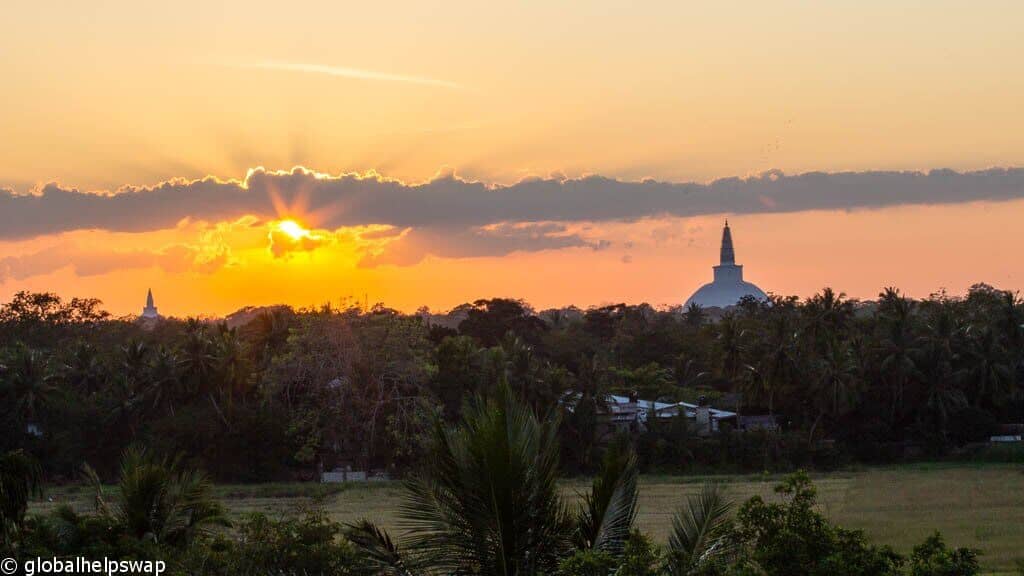 It is believed that from the fourth century BC until the beginning of the 11th century AD it was the capital of the Sinhalese. The city itself is one of the oldest continuously inhabited cities in the world and was centre of Theravada Buddhism for many centuries. We had a jam-packed few days in Anuradhapura as there is so much to see. We are glad we made this ancient city a stop on our Sri Lanka itinerary and I am sure you will too.
Places to visit in Anuradhapura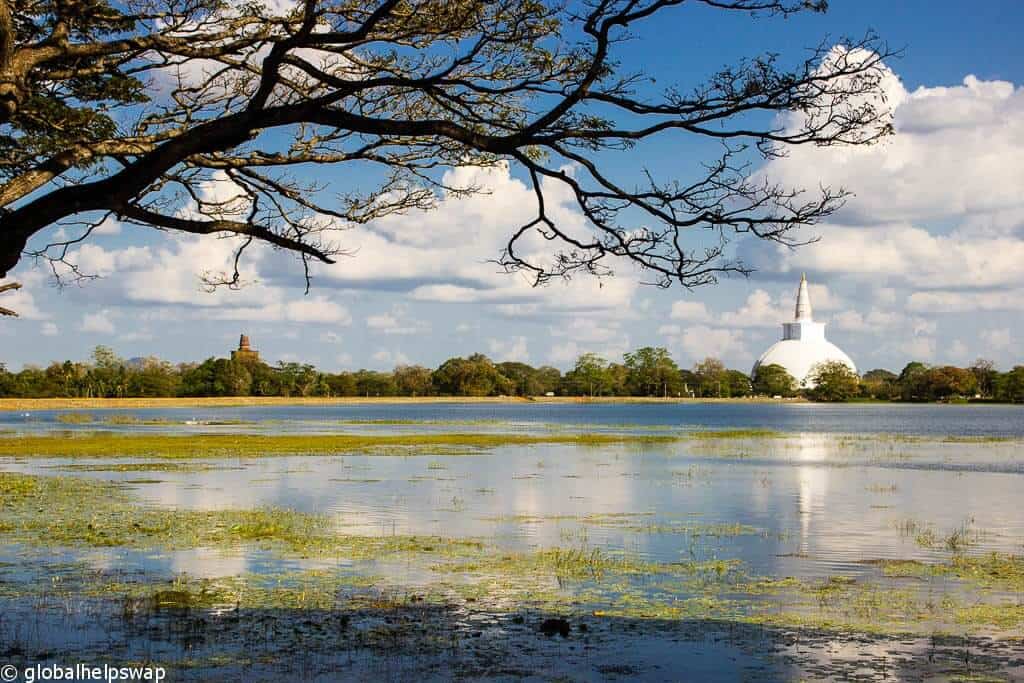 Abhayagiri Dagoba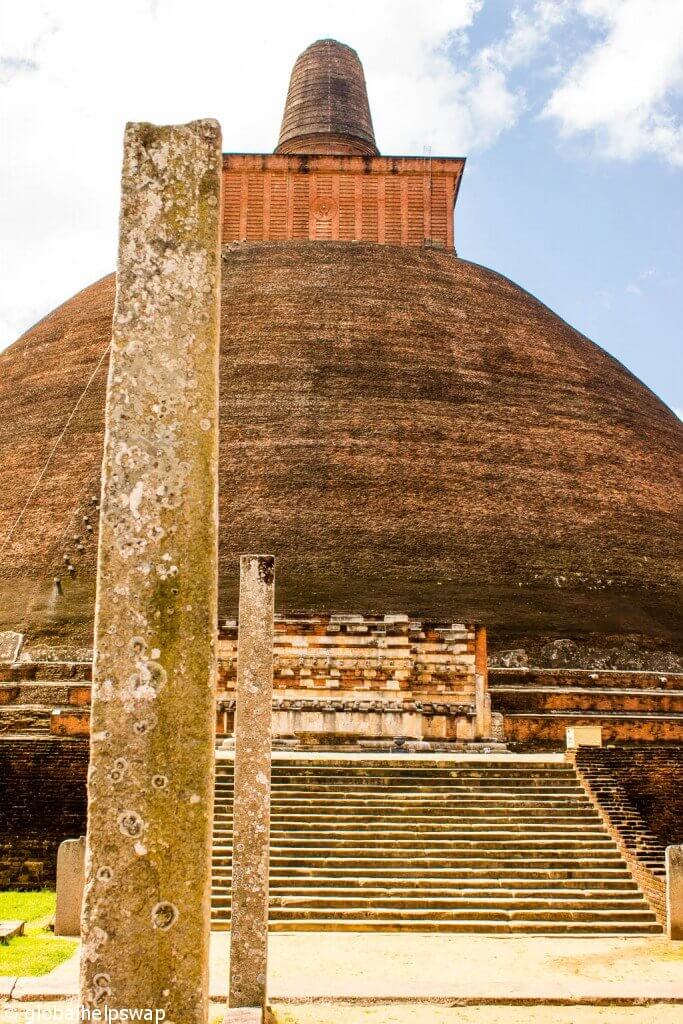 This was the first place we visited in Anuradhapura and what a way to start. Abhayagiri Dagoba dates back to the 1st century BC and was part of a 5,000 strong monastery. Originally it was over 100m high making it one of the highest structures of the ancient world. Only the Pyramids of Giza in Egypt were higher. The name Abhayagiri means 'Hill of Protection' or 'Fearless Hill'.
Anuradhapura World Heritage Site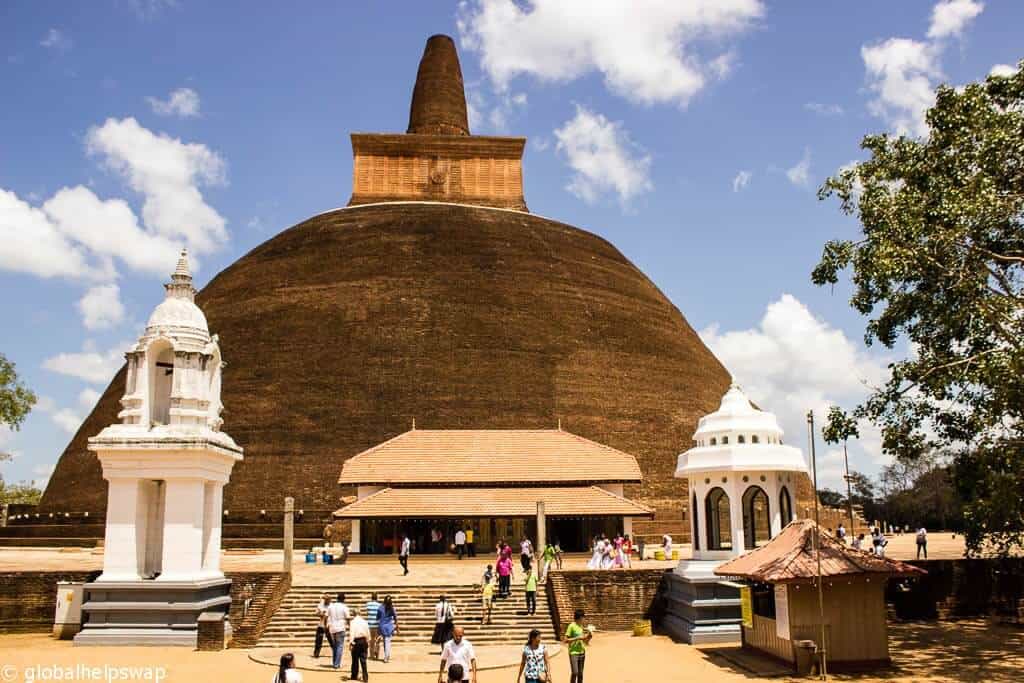 The ruins of this ancient site is one of the most impressive in all South Asia. This sacred city was established around a cutting from the 'tree of enlightenment', the Buddha's fig tree, brought there in the 3rd century B.C. by Sanghamitta, the founder of an order of Buddhist nuns.
Sri Maha Bodhi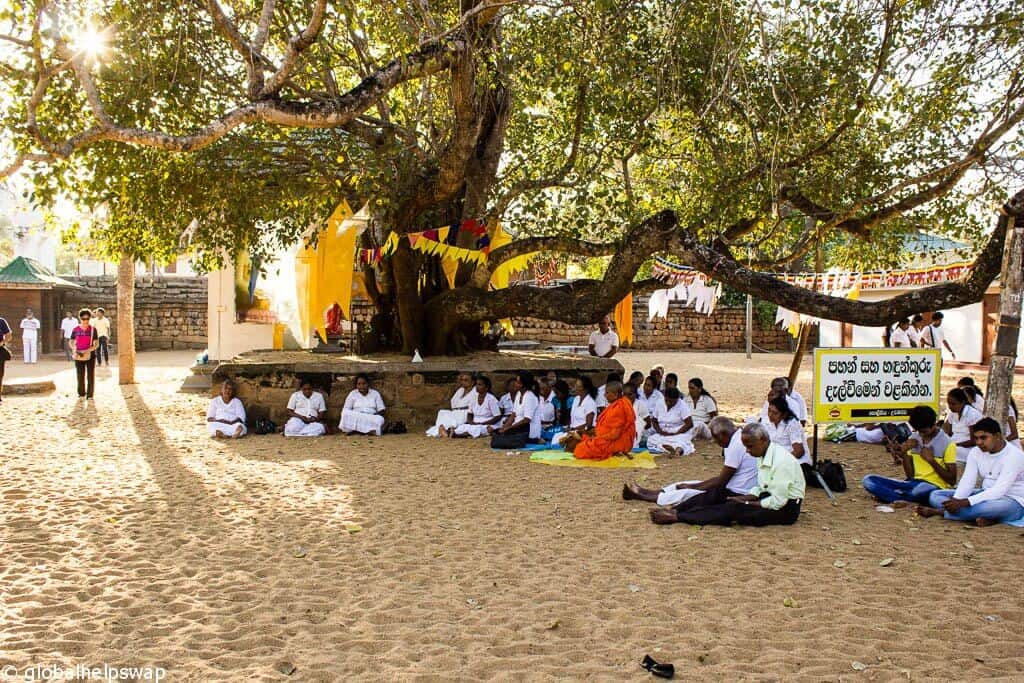 We love the history of this site. This sacred bodhi tree is a sacred site in Anuradhapura. It was grown from a cutting brought over from Bodhgaya in India and is said to be the oldest historically authenticated tree in the world. On full moon days, people come to lay offerings making the site even more magical.
Ruvanvelisaya Dagoba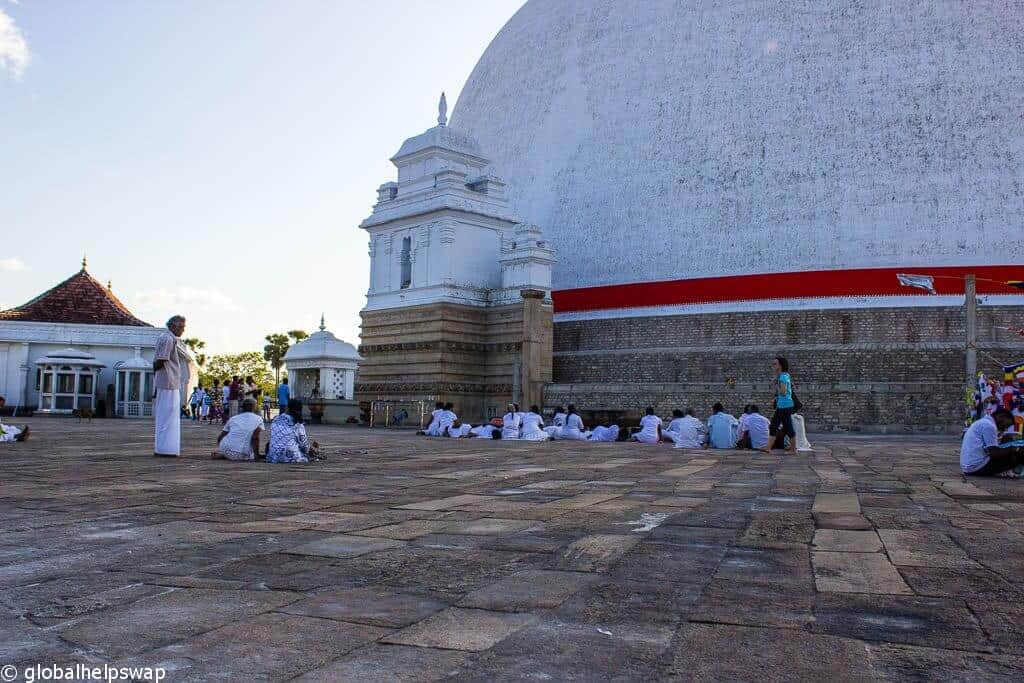 This is one impressive building. As we clambered out of our rickshaw we both made whoa sounds when we caught our first glimpse of Ruvanvelisaya Dagoba. There has been a building on this site since 140 BC. Most of the original structure has long gone but what has been built since is still very impressive. During the dagoba's consecration, a portion of Buddha's ashes were allegedly enshrined here, in a grand ceremony attended by monks from Rajagriha, Vaishali, Patna, Kashmir and Afghanistan.
Archaeological Museum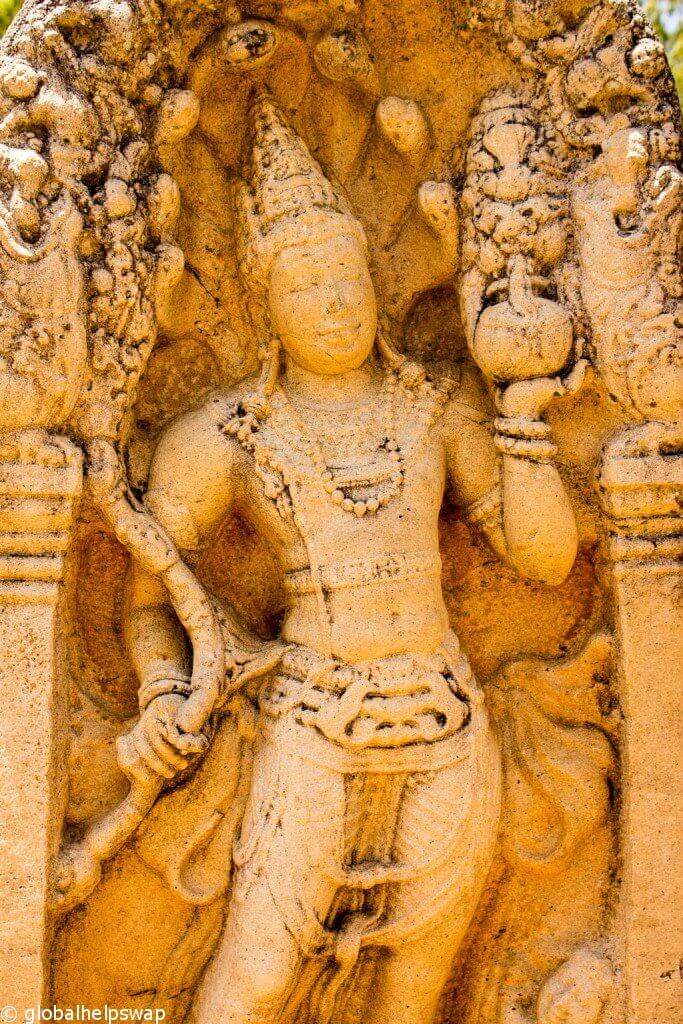 This small museum is housed in an old British Colonial building that has recently been renovated to house some of the find's around Anuradhapura. It is perfect for a quick respite from the hot sun.
Jetavanarama Dagoba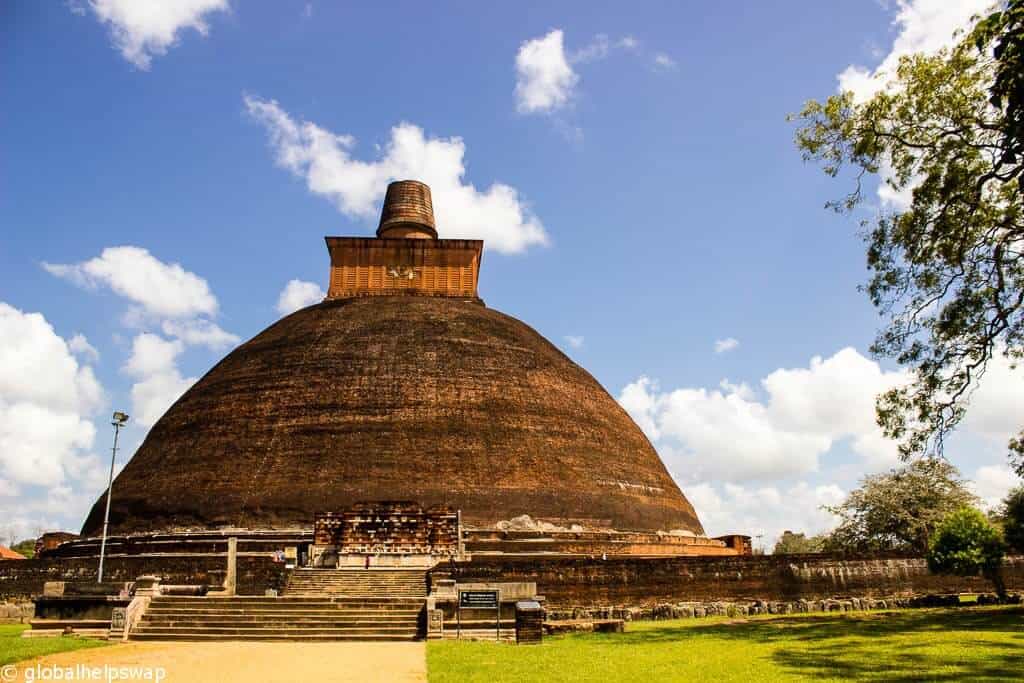 Yet another impressive Dagoba in Anuradhapura. Jetavanarama Dagoba was built around the 3rd century BC and was probably the 3rd tallest building in the world after the two great pyramids of Giza, Egypt. The huge dome is unplastered and is said to consist of over 90 million bricks!
Isurumuniya Vihara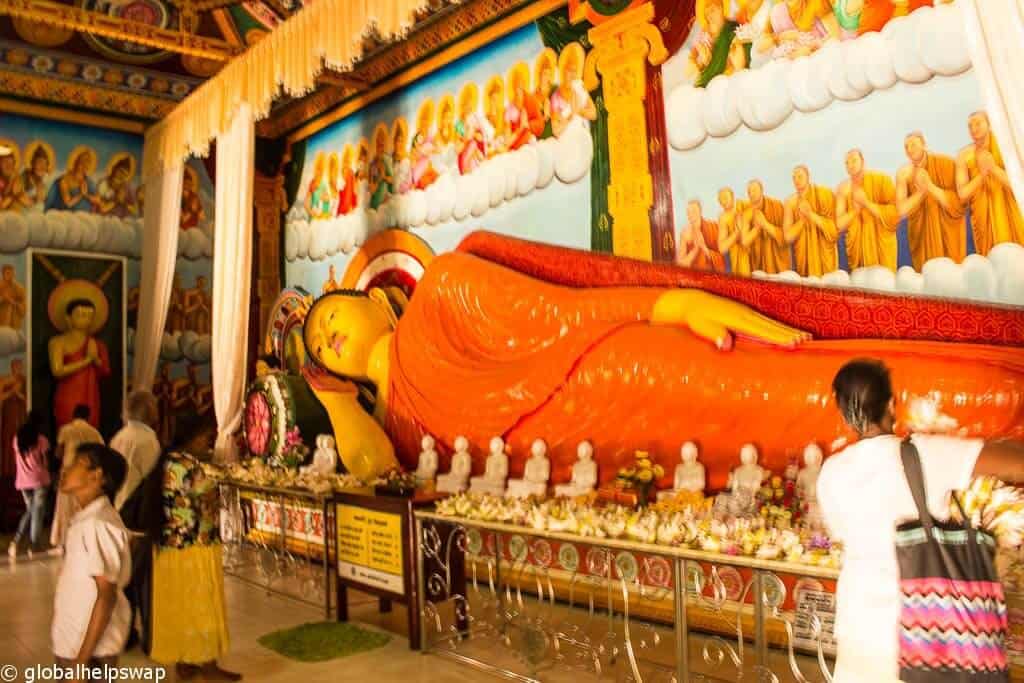 Just the words "Rock Temple" conjure up images of Ancient Lands and secret societies. Isurumuniya Vihara dates from around 300 BC and is set around a beautiful lotus pond. In the central temple check out the lovely murals and then go around the back to see the bell-shaped stupa and a pair of Buddha footprints etched into the rock.
Ratnaprasada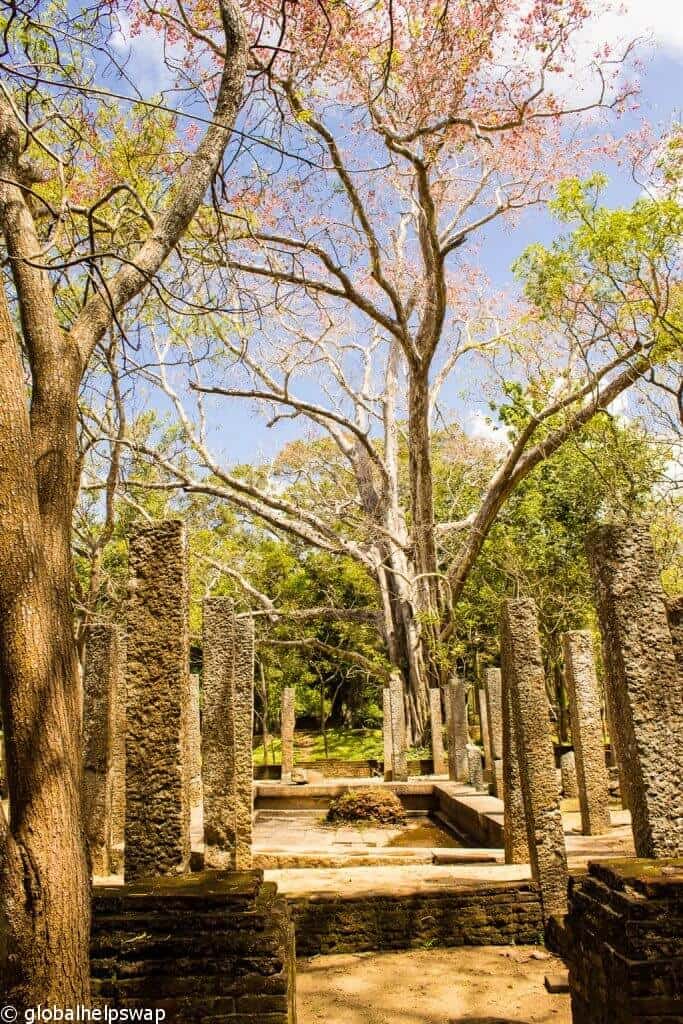 Most of this 8th century Palace is now in ruins but it is still an impressive place to stop off to enjoy what's left of it. The place has a rich and bloody history. The monks of Ratnaprasada monastery often gave sanctuary to people in trouble with the authorities making them a target of the King. He sent a mob to attack the monks and destroy the monastery which then angered the general populace. They then attacked the King's mob which eventually made the King back down and restore peace.
Sandahiru Seya
The first of the great dagoba's was built around 2,000 years ago and Sandahiru Seya will be the newest addition. Commissioned by President Rajapaksa in 2010 this huge building will consist of over 30 million bricks and reach a height of 85 meters which will be just below the ancient dagoba's height. The pace of construction has slowed so who knows when the structure will be finished.
Royal Pleasure Gardens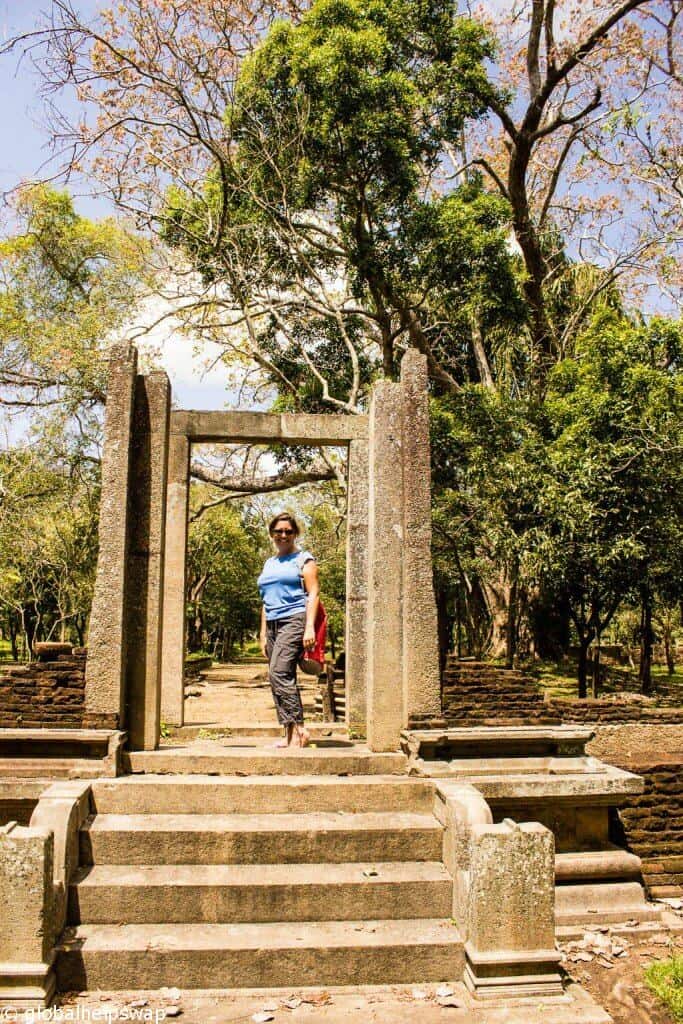 It is amazing to think that these gardens are over 2,000 years old. Known as the park of the goldfish these pleasure gardens cover 14 hectares. They contain two ponds (hence the goldfish moniker) built around two huge boulders.
Thuparama Dagoba

Welcome to the oldest Dagoba in Sri Lanka if not the world! Thuparama Dagoba was constructed by King Devanampiya Tissa in the 3rd century BC and is said to enshrine the right collarbone of the Buddha. As you walk around this Dagoba imagine what Sri Lanka would have been like 300 years BC. The craftsmanship of the work is astounding.
Kuttam Pokuna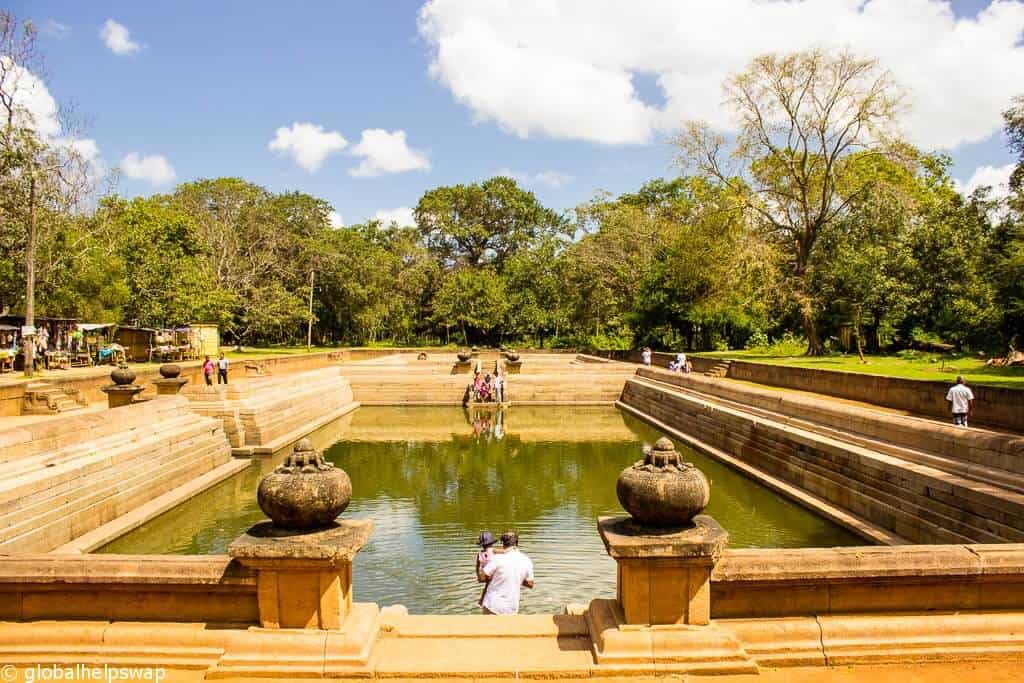 These ponds or bathing pools are some of the best preserved in all of Sri Lanka. They are considered one of the most significant achievements in the field of hydrological engineering and outstanding architectural and artistic creations of the ancient Sinhalese. On a hot day in Anuradhapura you will be tempted to jump in to cool off too.
Jetavanarama Museum
This museum is also located in an old British Colonial Building. It displays a variety of finds from fine Ivory finials to black and white photos of the ancient Dagoba covered in dense jungle when they were first re-discovered.
Moonstone

Sometimes when you visit a site as big as Anuradhapura the smaller things can get lost, but this ancient Moonstone made one of the biggest impressions on me. Sitting just outside a 9th century monastery this elaborately carved moonstone is workmanship at its best. Try to see how many animals there are in the stone. I lost count!
Mirisavatiya Dagoba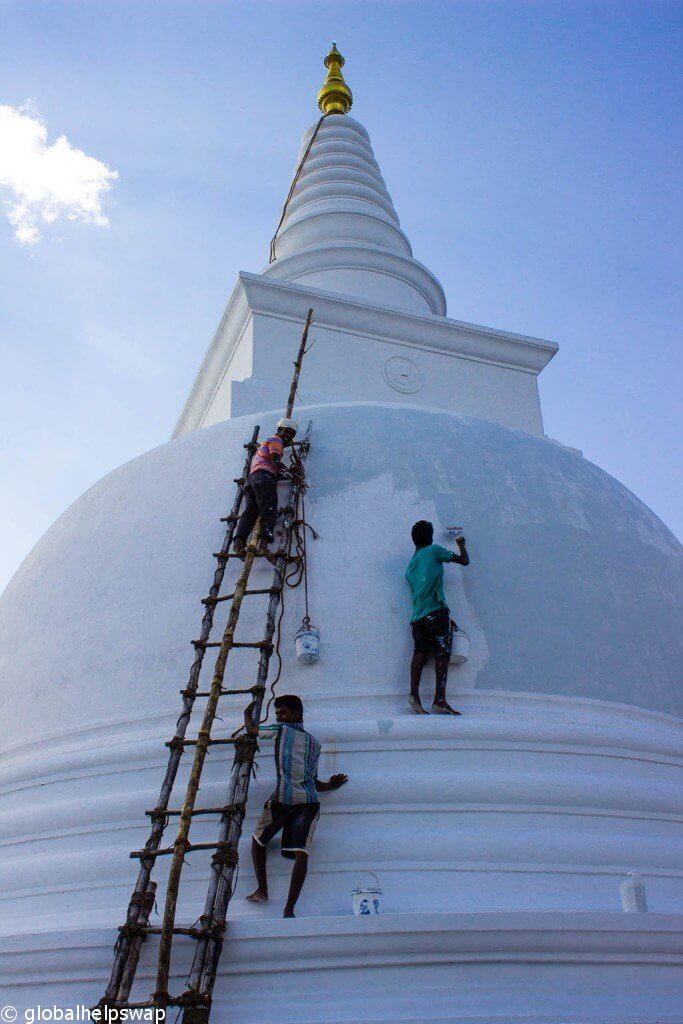 This ancient Dagoba is said to have a relic of Buddha inside. It was built around the 2nd century BC by King Dutugemunu. Mirisavatiya Dagoba is one of three sites (along with the Isurumuniya Vihara and Royal Pleasure Gardens) that can be visited in a stroll or bike ride along the banks of the Tissa Wewa.
Abhayagiri Museum
This is probably the best museum in Anuradhapura. The Chinese government-funded the museum to commemorate the 5th-century visit of Chinese Buddhist monk Fa Xian to Anuradhapura. The museum has a fine collection of plates, pottery, sculptures and jewellery.
Samadhi Buddha Statue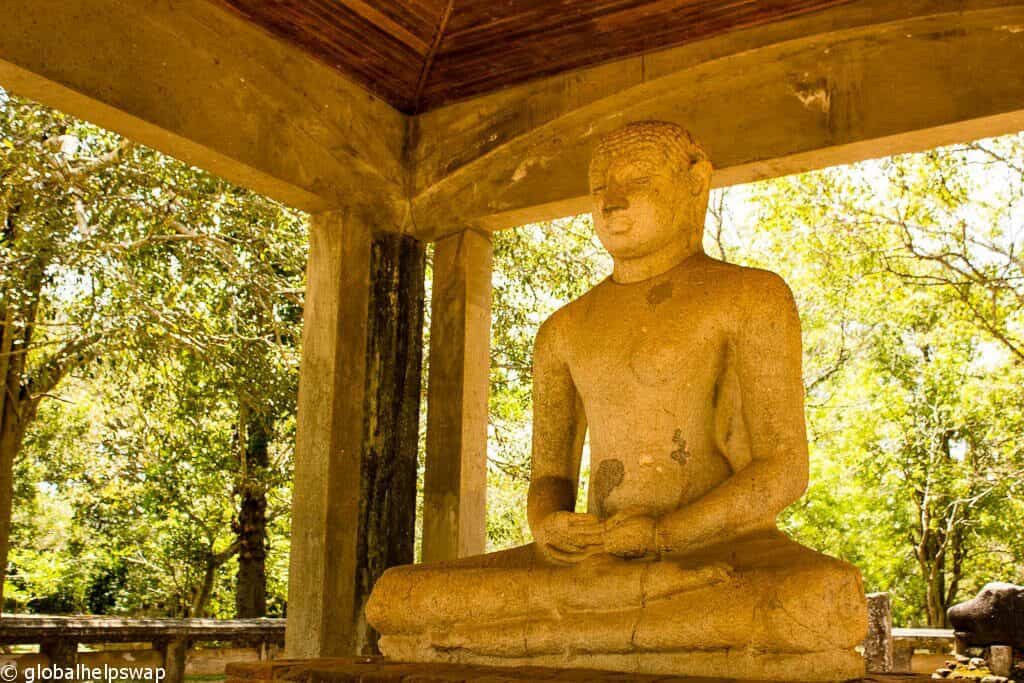 The Samadhi Statue is a statue situated at Mahamevnāwa Park in Anuradhapura, Sri Lanka.The statue is sitting in the meditation pose and is considered as one of the finest Buddha statues in Sri Lanka. When constructed, it was likely one of four statues placed at the cardinal directions.
Eth Pokuna (Elephant Pond)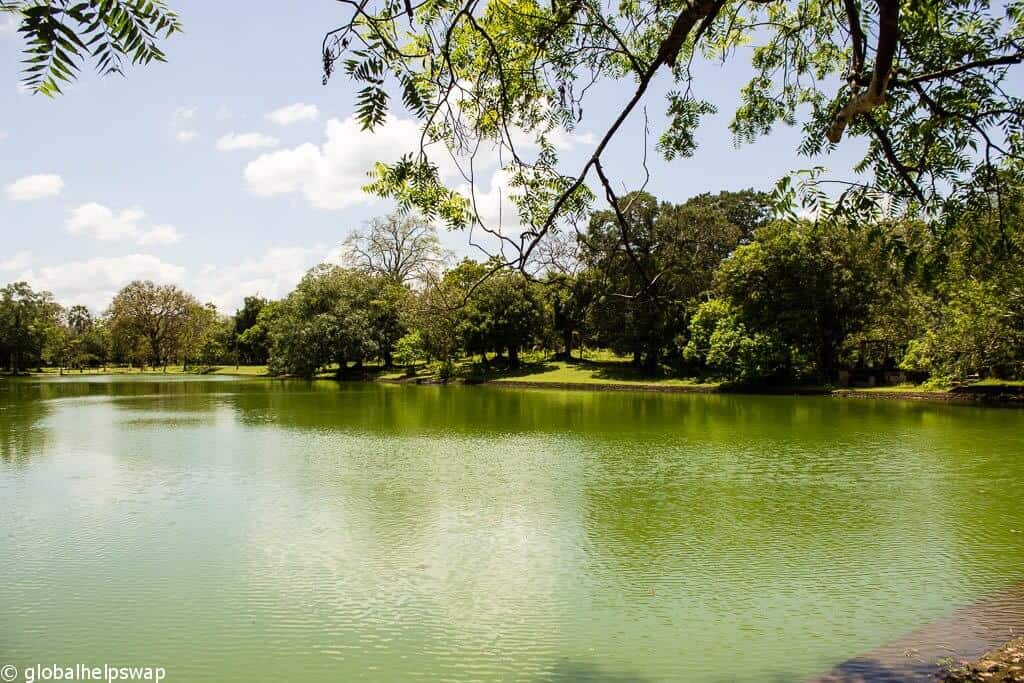 This huge pond is thought to have been an ancient storage tank. It is so big you could fit over 6 Olympic size swimming pools in it. To this day the underground channels still keep the pond topped up. Those ancient builders knew a thing or two about engineering.
Alms Hall

Not far from Abhayagiri Dagoba is this small site that has a 19m-long stone rice canoe. This canoe would have been filled daily to feed thousands of monks from Abhayagiri Dagoba. That is a lot of rice cooking!
Kaparamula
This site still has archeologists digging it and they are discovering things all the time. It is thought that this building was a college housing the foreign monks that came to visit Anuradhapura. It is more than likely that the Chinese pilgrim Fa Xian stayed here to study Sanskrit.
Padhanagara
On the western fringes of Anuradhapura are little visited ruins including this former meditation centre. If you want photos without the crowds in them, then this is your area.
Nuwara Wewa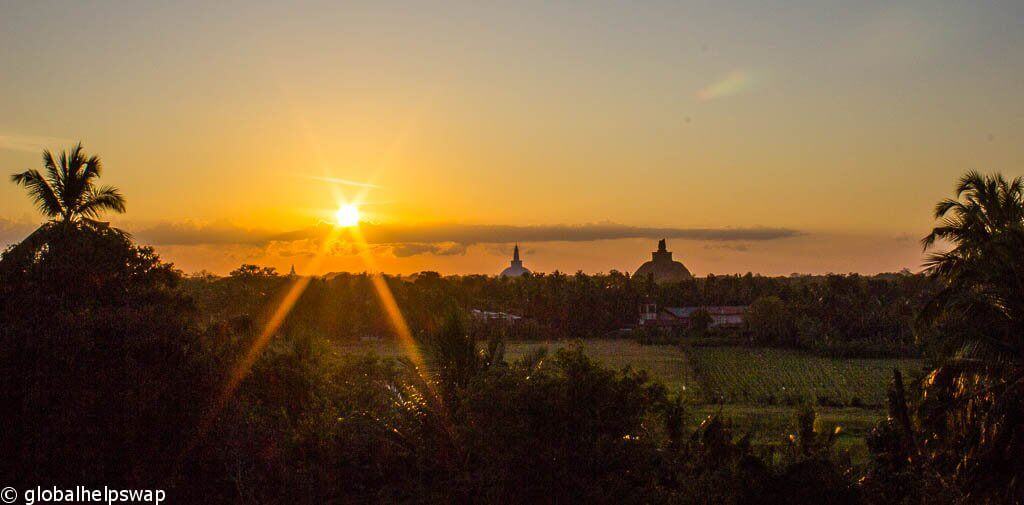 This man-made lake gives you spectacular views of the old city especially around sunset. It was built around 20 BC and it covers around 12 sq km.
Lankarama Dagoba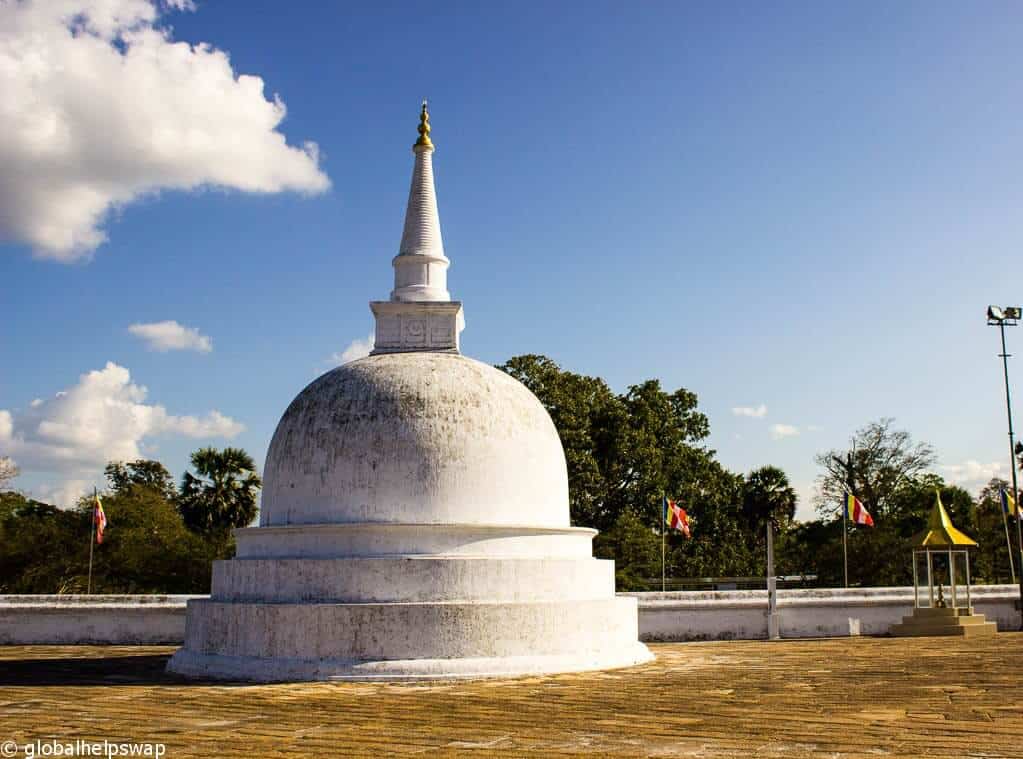 Very little is known about this white washed ancient stupa. The ruins show that there are rows of stone pillars and it is no doubt that there has been a house built encircling the stupa to cover it.
Vessagiriya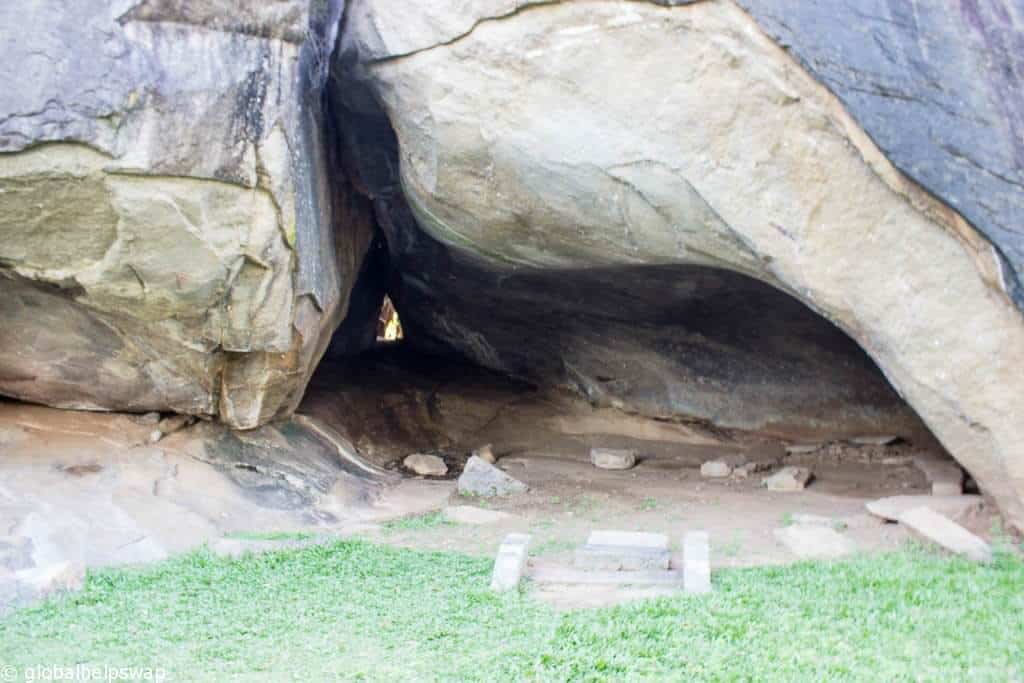 Vessagiriya is a former cave monastery just south of the Isurumuniya Vihara. There are few remains here but it is not hard to imagine the monks living here in ancient times.
Lowamahapaya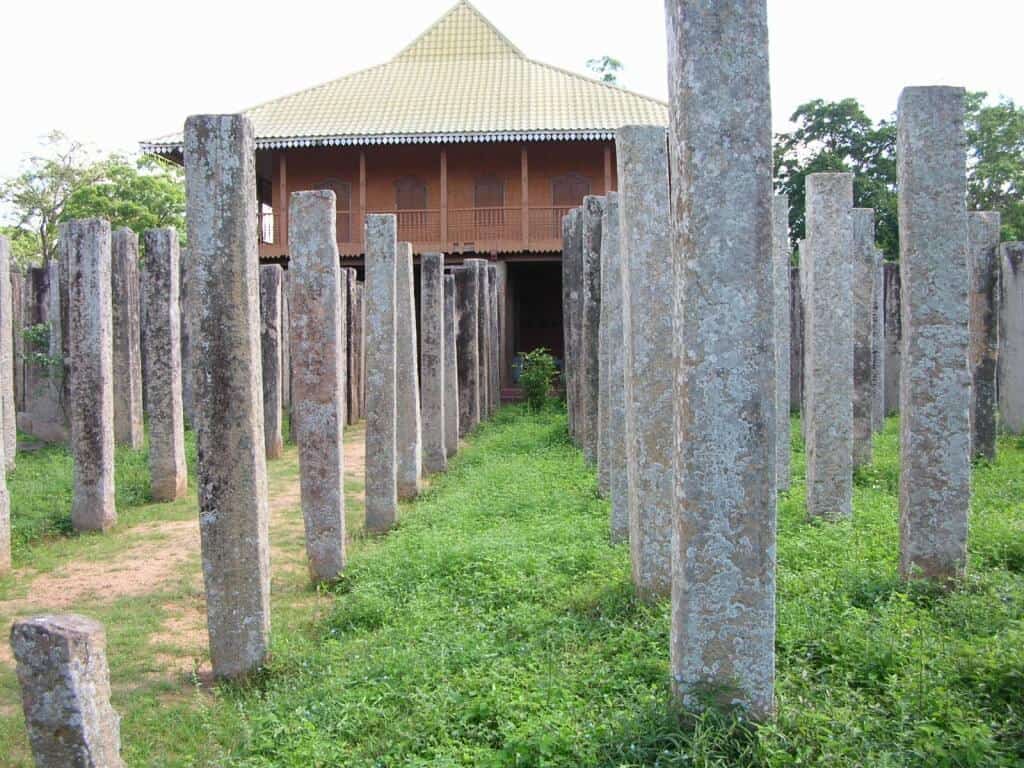 There are so many ancient buildings and ruins in Anuradhapura that many get overlooked. If some of them were in less significant places they probably would be the star attraction. Lowamahapaya or The Great Copper Roofed Mansion 260 BC. According to Mahavamsa, the great chronicle of the Sinhalese, Lovamahapaya was a massive nine storied building with a height of 150 ft (47 meters) and each side with a 150 feet (46 meters) length.
The Royal Palace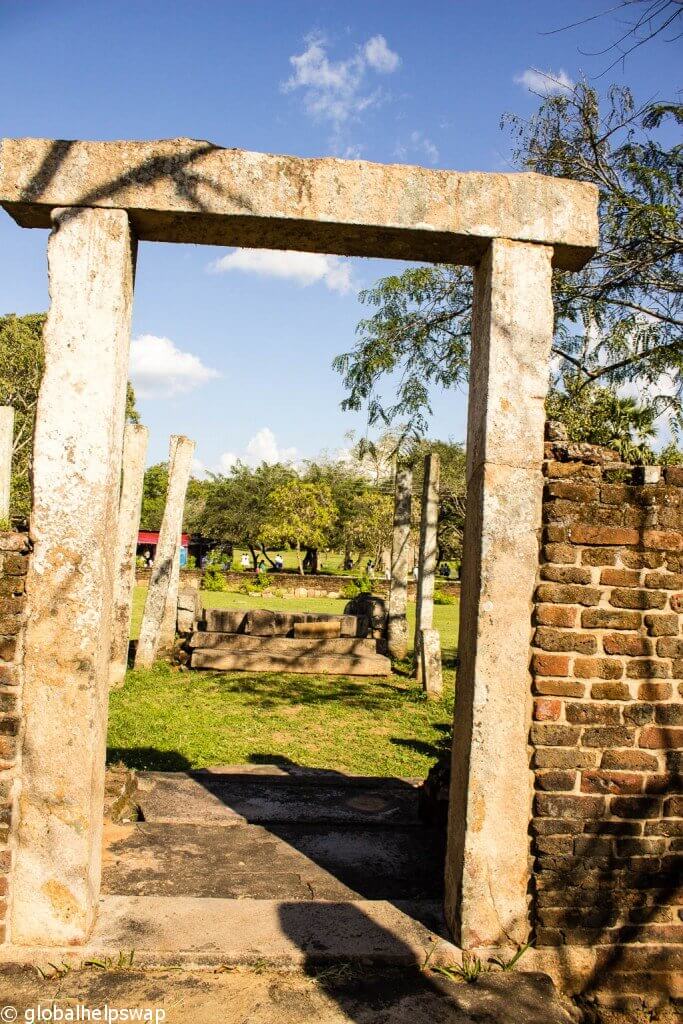 This royal palace was built around 1070 almost a thousand years after the heyday of Anuradhapura on the orders of King Vijayabahu I. He was trying to connect his reign to the glories of the past. (How many modern leaders have done that!) Little remains on the site today except for two fine guardstones.
Dakkhina Stupa


This 2,000 year old stupa supposedly has the remains of King Dutugemunu (r 161–137 BC). Not many tourists visit the site, preferring to see the better preserved stupas but if you are nearby and want to see the remains of a 2,000 yr building, it is worth a stop.
Tissa Wewa
Tissa Wewa an artificial reservoir, was built by Devanampiya Tissa (3rd century BC) in order to increase the water supply to his capital city of Anuradhapura. The foresight and engineering from this era is pretty astounding.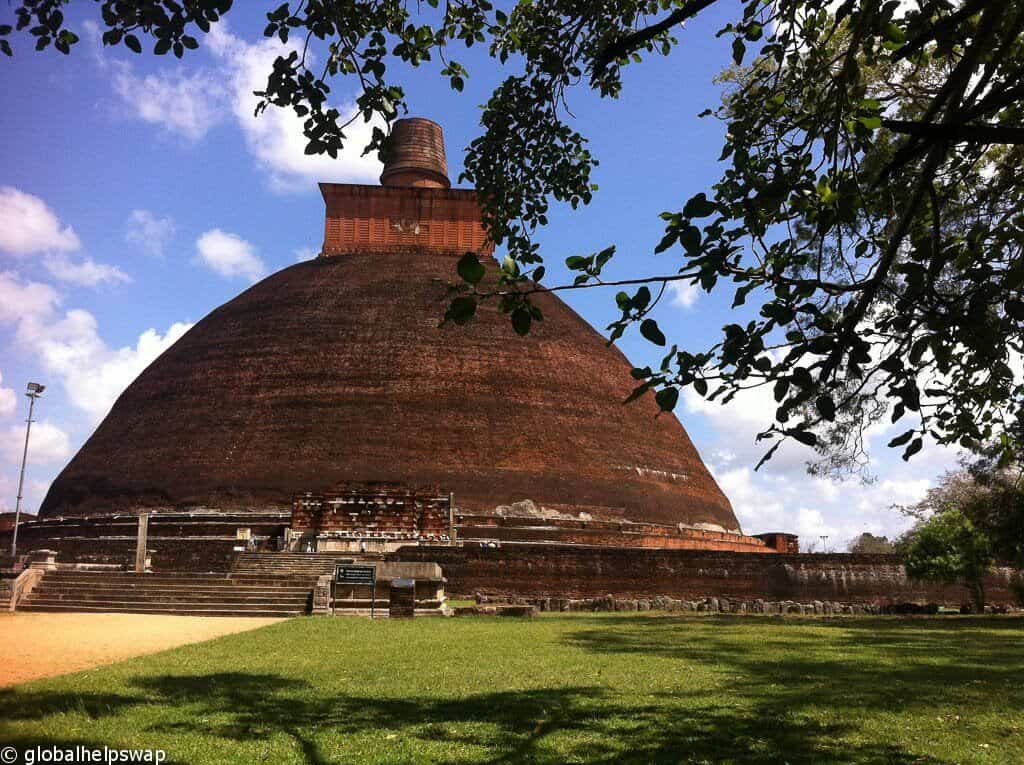 We spent 3 days in Anuradhapura and loved learning about the history of Sri Lanka. We hired a rickshaw driver for the 3 days which we highly recommend as the weather in Anuradhapura can be hot and muggy.
Anuradhapura Hotels
Below are 3 highly recommended hotels in Anuradhapura:
Hotel White House Anuradhapura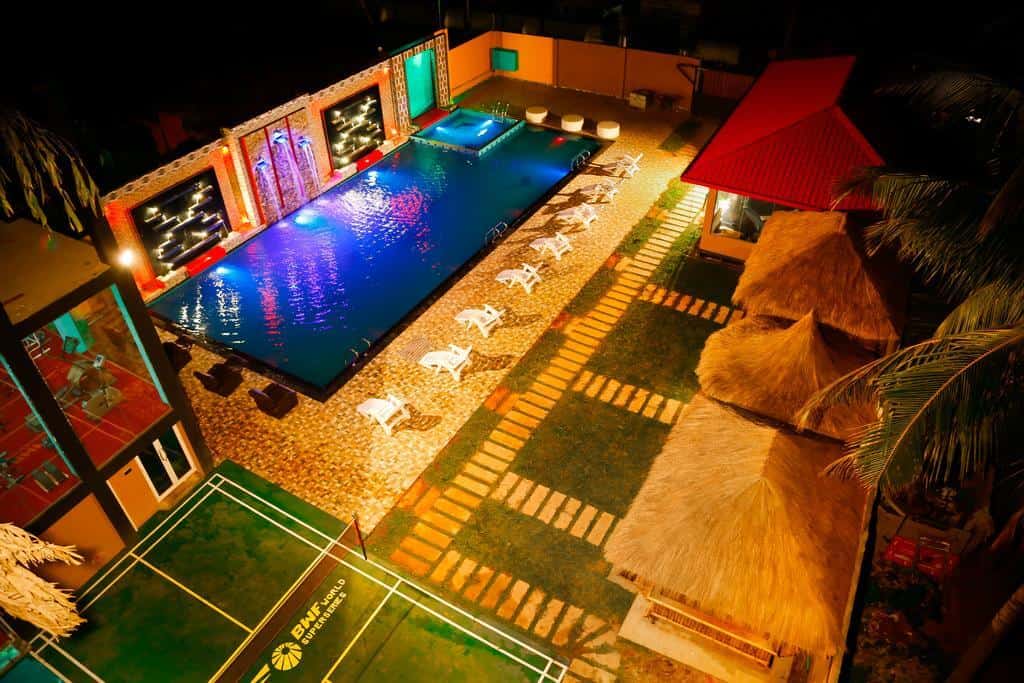 Previous guests have raved about the facilities at Hotel White House, stating that they are the best in the area. Staff are super helpful and the location is perfect for exploring the nearby sites. It is placed in the heart of Mount Pleasant, White House Hotel features peaceful views of tropical greenery. Modern rooms are tastefully furnished with a flat-screen cable TV and free Wi-Fi access.
Rajarata Hotel Anuradhapura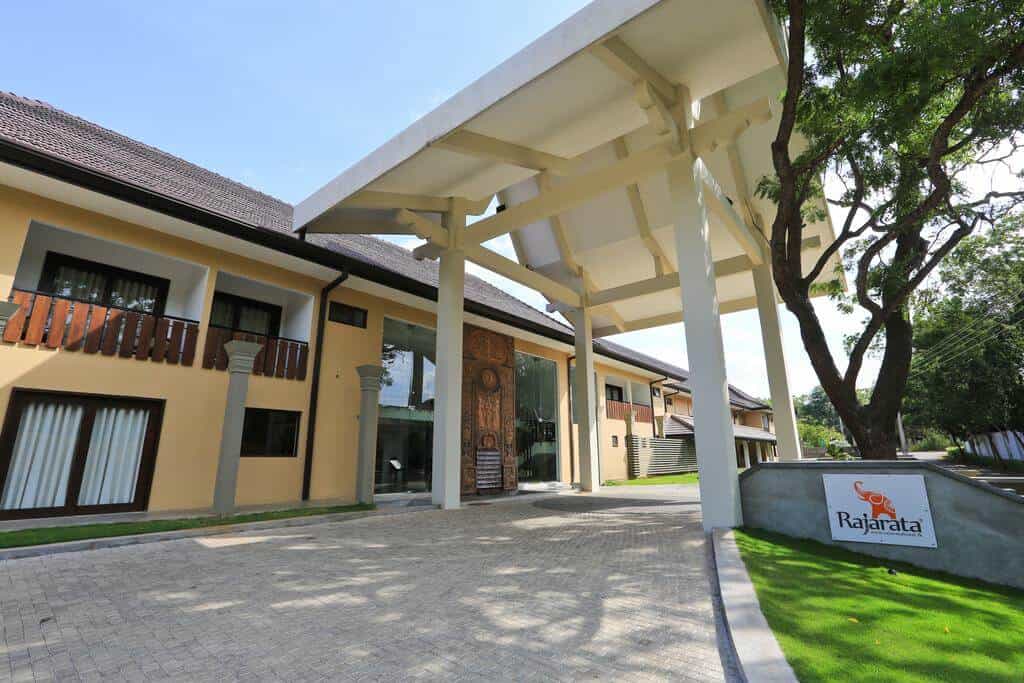 Rajarata Hotel welcomes guests with an outdoor swimming pool, barbecue facilities and an in-house restaurant. This modern accommodation is placed 1.2 miles from Anuradhapura Railway Station and features stylish guest rooms.
Rooms will provide guests with a flat-screen cable TV and a private balcony with pool views. Cooled with air conditioning, rooms also come with attached bathrooms including free toiletries. Guests love how close the hotels is to the main temples and the quality of the food.
Eco Hotel Black & White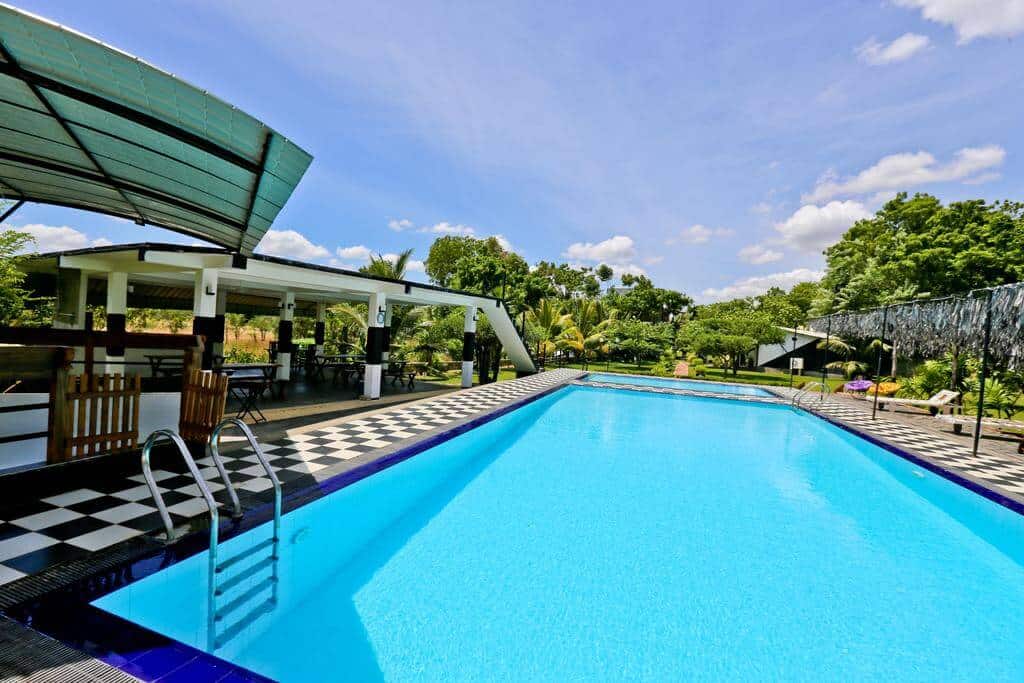 Boasting an outdoor swimming pool and a garden, Eco Hotel Black & White – Anuradhapura is located in Mihintale. The 4-star hotel has air-conditioned rooms with a private bathroom and free WiFi. Guests can enjoy pool views.
The rooms in the hotel are fitted with a kettle. Eco Hotel Black & White offers some rooms with river views, and the rooms have a terrace. Guest rooms include a seating area.
An Asian breakfast is served daily at the property. Guests can grab a bite to eat in the on-site restaurant, which specialises in Austrian cuisine and also offers Vegan options.
The accommodation offers a children's playground. Guests at Eco Hotel Black & White – Anuradhapura will be able to enjoy activities in and around Mihintale, like cycling.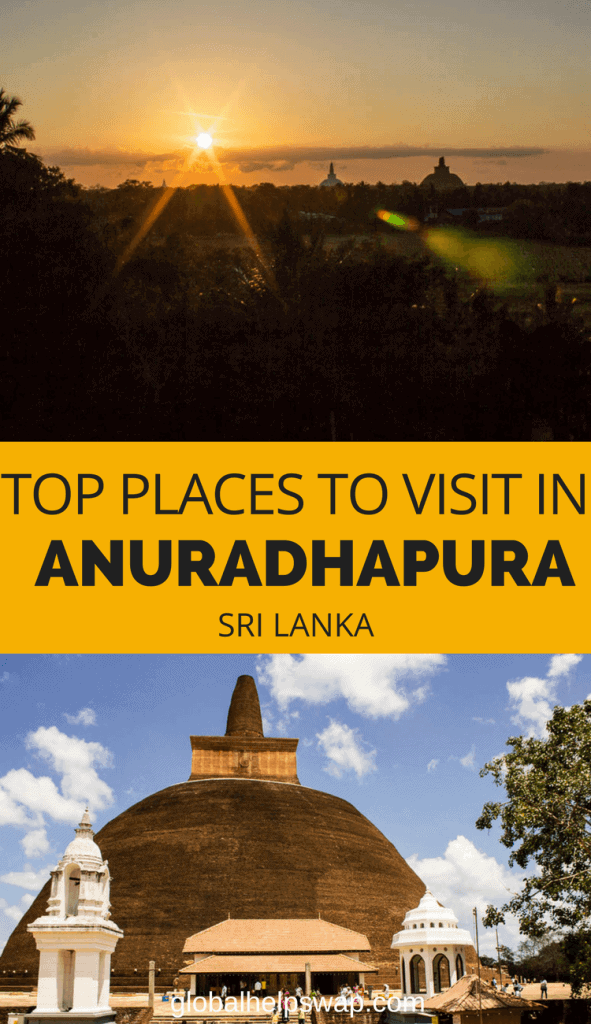 Are you heading to other parts of Sri Lanka? You might also like these posts:
Best places to visit in Sri Lanka – Check out our favourite spots on this magical island.
The Best Eco Hotels in Sri Lanka – Stay in beautiful hotels that are helping protect the planet and communities.
Is Sri Lanka Safe? – Is Sri Lanka Safe To Visit? | Why You Should Visit Sri Lanka Now. Read why we think Sri Lanka is still safe and why you should visit Sri Lanka now.
Where to stay in Negombo – Where To Stay In Negombo Sri Lanka | The 10 Best Hotels In Negombo Sri Lanka. Check out our favourite hotels in Negombo before booking your stay.
How To Get From Negombo to Colombo By Train, Bus Or Taxi – How To Get From Negombo to Colombo By Train, Bus Or Taxi. If you are heading to Sri Lanka and was wondering how to get from Negombo or the airport to Colombo please read our post for all the travel information you need.
How to travel from Colombo to Kandy – Read about all the options to travel from Colombo to Kandy. Should you take a taxi, a bus or a train. Click here for the pros and cons of each option.
The Best Honeymoon Hotels in Sri Lanka – Have you just got married and are looking for a honeymoon hotel? Check out The Best Honeymoon Hotels In Sri Lanka before you book. These 9 hotels are perfect for honeymooning couples.
The Best Of Sri Lanka's East Coast – Are you heading to East Coast Sri Lanka? Then read our post first. You will find empty beaches, friendly locals, good surf and stunning wildlife.
When is the best time to visit Sri Lanka? – Sri Lanka weather varies in different parts of the island. Read this breakdown to help you find the best time to visit Sri Lanka by month and activity.
The Kandy to Galle Train – If you're thinking of taking the Kandy to Galle train read our post for some top tips on how to make the most of this journey. Click to find out more.
Why Ella is our favourite place in Sri Lanka – Are you heading to Ella Sri Lanka? Read about our top 8 things to do in Ella Sri Lanka before you go and find out why it's our favourite place in Sri Lanka.
The 10 best Mirissa Hotels – Are you heading to Mirissa Beach? Then find out what we think are the 10 best Mirissa Hotels before you book your accommodation in Mirissa, Sri Lanka.
If you are staying in Sri Lanka for a while, why not volunteer whilst you are there? Check out our volunteering page for more info.
#LoveYourTravels