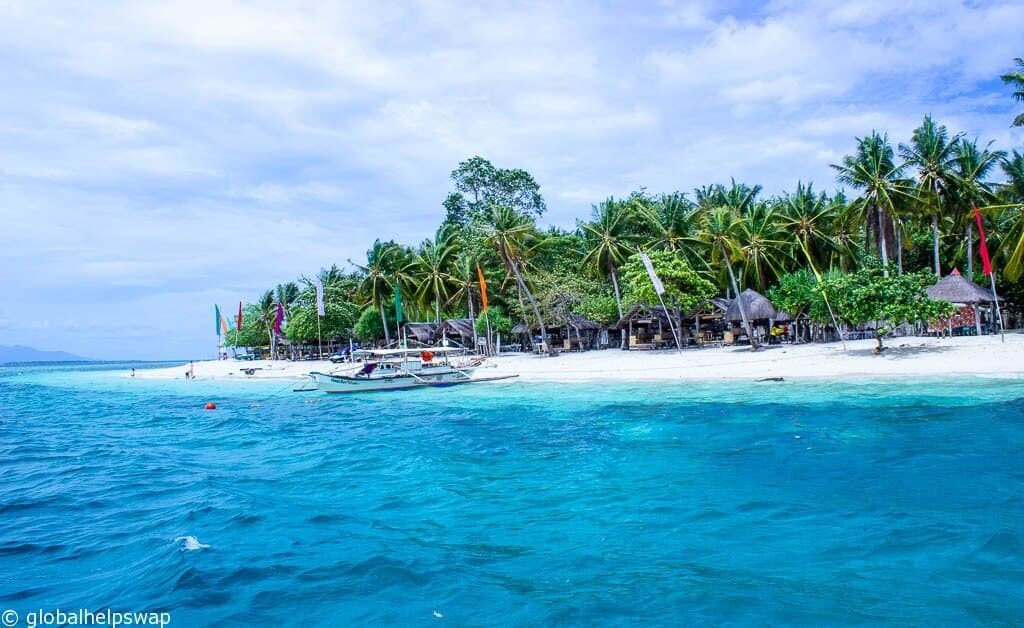 Earlier in the year I wrote a post sharing 11 reasons to visit the Philippines . I recently returned to this wonderful country for a week of island hopping. In that week, I fell back in love with the country and it's people and I want to show why the Philippines is a fantastic destination to visit.

Before I begin with the islands, I must quickly mention the people. Lets be honest. A country could have outstanding natural beauty, hip cities and wonderful cuisine but if you don't click with the locals, then that's all you will think about. Granted, it has never happened to us but it does happen. The Filipinos are some of the warmest, fun and most helpful people we have met on our travels. They instantly make you feel at ease and you end up making friends all over the place. My facebook feed is full of activity from my Filipino buddies, buddies I made during my travels around the country.
The Two Islands:
With over 7,000 islands to choose from, finding your own little slice of paradise couldn't be easier. During my recent trip, we visited the islands of Palawan and Bohol. Both are stunning destinations for different reasons. Palawan is famous for its crystal clear waters, subterranean river and its outlying islands. Bohol is known for its wildlife, rivers and scenery. For a full breakdown on what to do in Palawan check out this great Palawan Itinerary.
Part One:
Palawan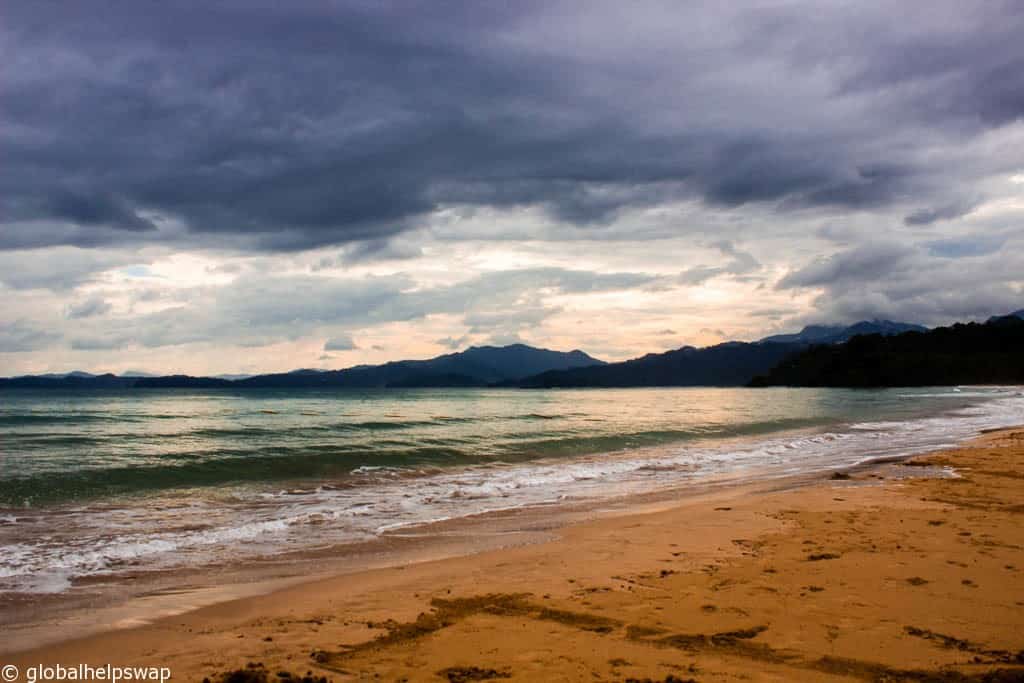 This was my second visit to Palawan. The more I visit this island the more I want to stay longer. Palawan was recently voted as one of the best islands in the world and it's not hard to see why it won such an accolade. With miles and miles of empty white sandy beaches and tons of offshore islands to explore, Palawan is a sea lover's paradise.
One of the most magical experiences I have experienced travelling happened to me in Palawan. We were with a group of friends on a beach just north of El Nido. We spent all day there swimming, eating and drinking. As the sun set we went for one last swim. What happened next will live with me forever. We all ran into the water and the ocean lit up! We were surrounded by phytoplankton that lit up from our electrical signals. It was like we were in a world of make-believe. It happens in oceans all around the world. You just have to be in the right place at the right time. Later on that night we got a boat back to El Nido and the ocean lit up like a runway for us all the way back. It was truly magical.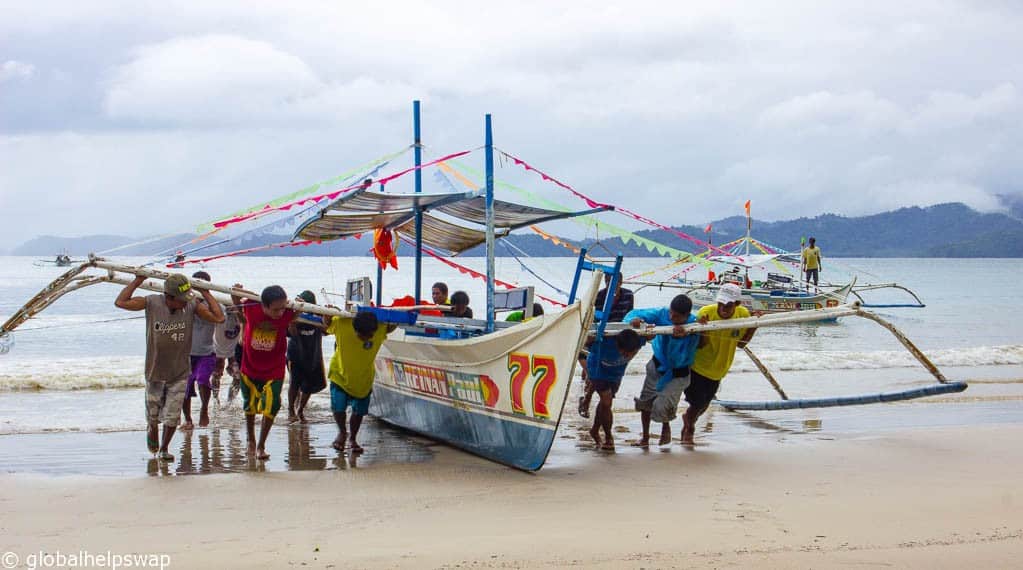 If you visit Palawan, Island Hopping should be high on your to do list. On my most recent visit we visited 3 islands off Honda Bay.
Starfish Island: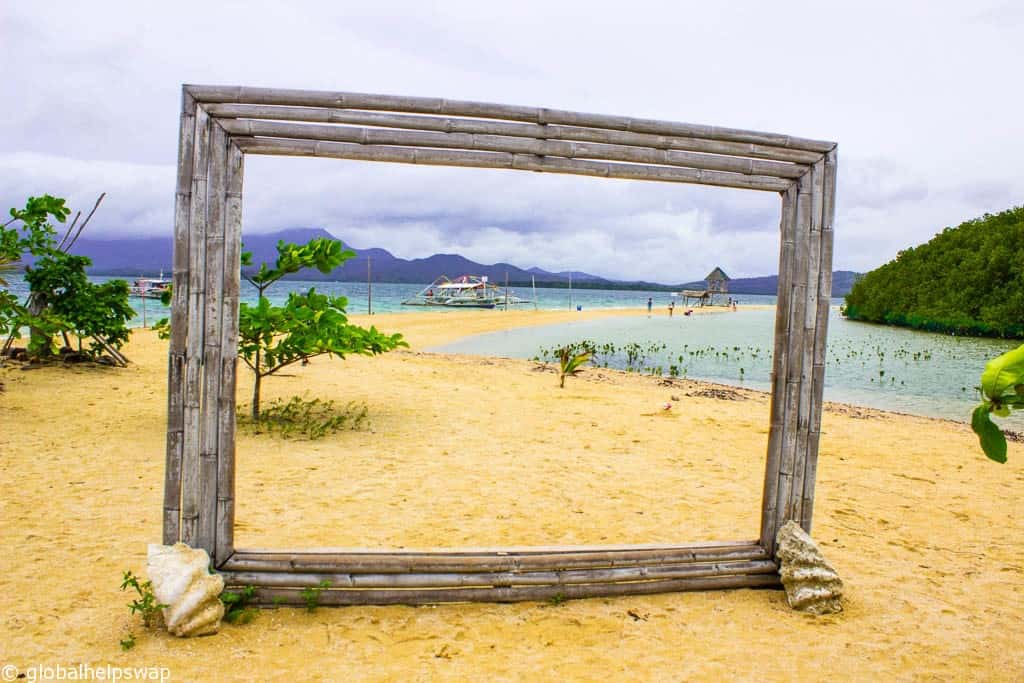 This island has the perfect name. All around the shore you can find, ahem, starfish! It took around 45 mins from the mainland to get here. It was pretty surreal for me being on a tropical island in the middle of the Pacific Ocean 2 days after being in a field in Somerset, England. As a responsible tourism blogger I should be anti flying but I still appreciate that I can be on the other side of the world in less than a day.
Starfish Island is a great spot to have lunch(which we did) as there are wooden tables at one end of the beach.
Pandan Island: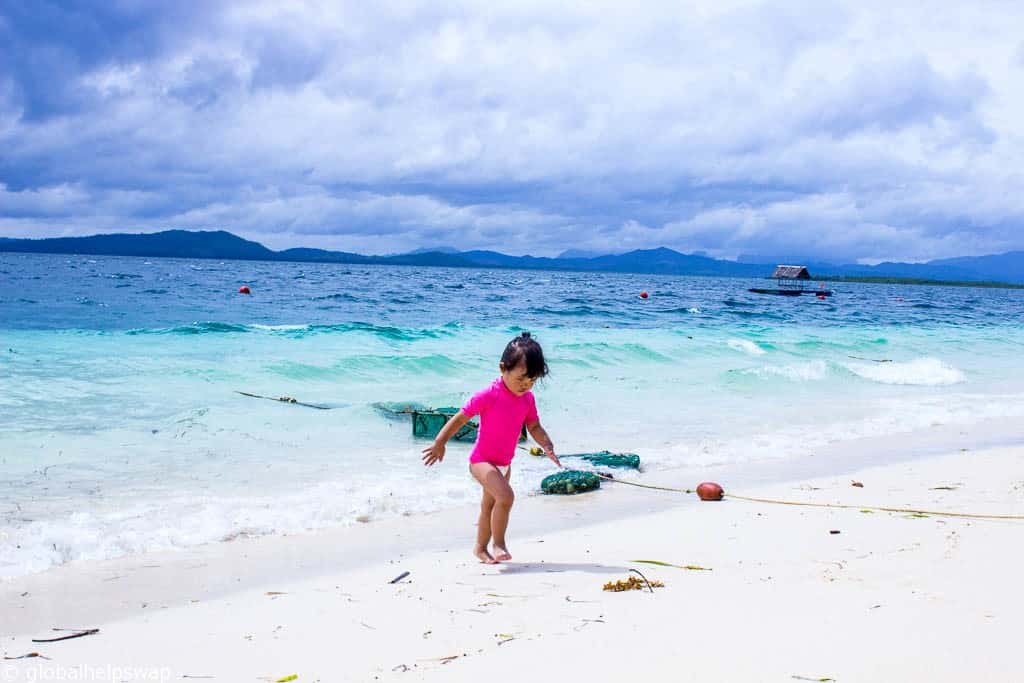 We did some fun off shore snorkelling on Pandan Island. As a keen scuba diver, it was great to see some familiar faces like Angel Fish, Clownfish, and Surgeonfish. Some of my companions had never been to Asia before so hearing their delight at all the wonderful colourful fish species made me realize how I took these smaller fish for granted.
Cowrie Island: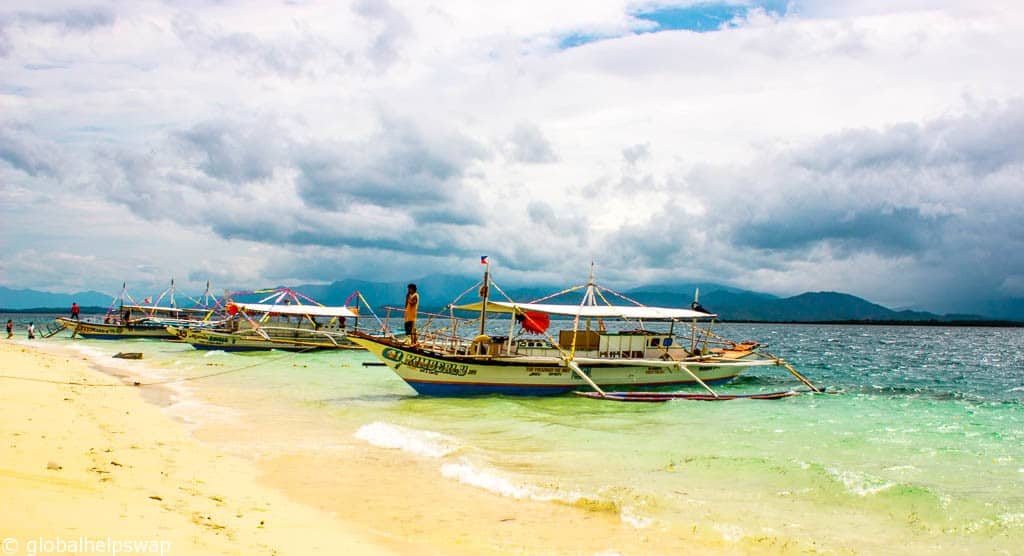 We only had a quick stop off at this private island. It was for something very important though…..Cocktails! You have to have at least one cocktail on a tropical island. It felt so decadent to be sitting there, sipping our strawberry daiquiris on a Wednesday afternoon.
Palawan is probably most famous for its Subterranean River. It is situated in the Puerto Princesa National Park 50 miles north of the main city of Puerto Princesa. Most of the park is made up of limestone karst mountains which helped create the river as Limestone erodes over time.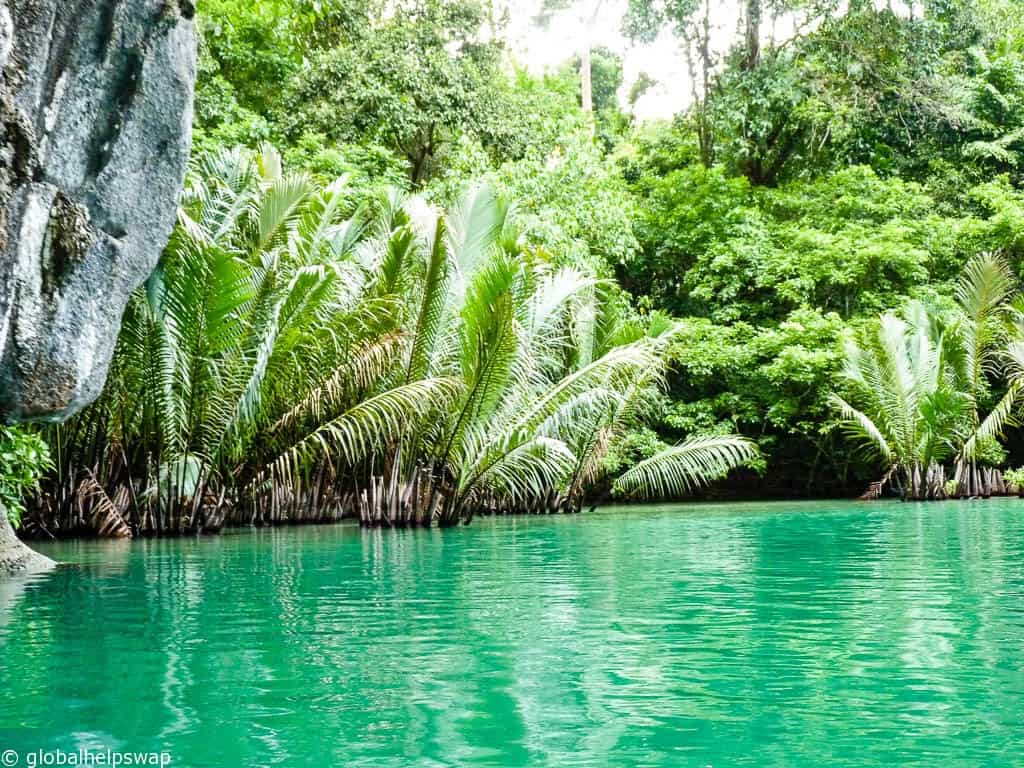 In 2012 the Subterranean River was awarded the accolade of being on the New7Wonders of Nature list. This is on top of being a UNESCO World Heritage site. So some very important people think it's a special place. And it is.
As your paddle boat slowly enters the mouth of the river / cave, the darkness hits you. Your guide's light starts to illuminate the strange rock formations all around you and then you notice the birds flying in and out of the cave. Other boats pass you by on their way out of the cave, the occupants with a look of wonder on their faces. The bats above seem oblivious to your presence, happy in their slumber, probably dreaming of midnight feasts.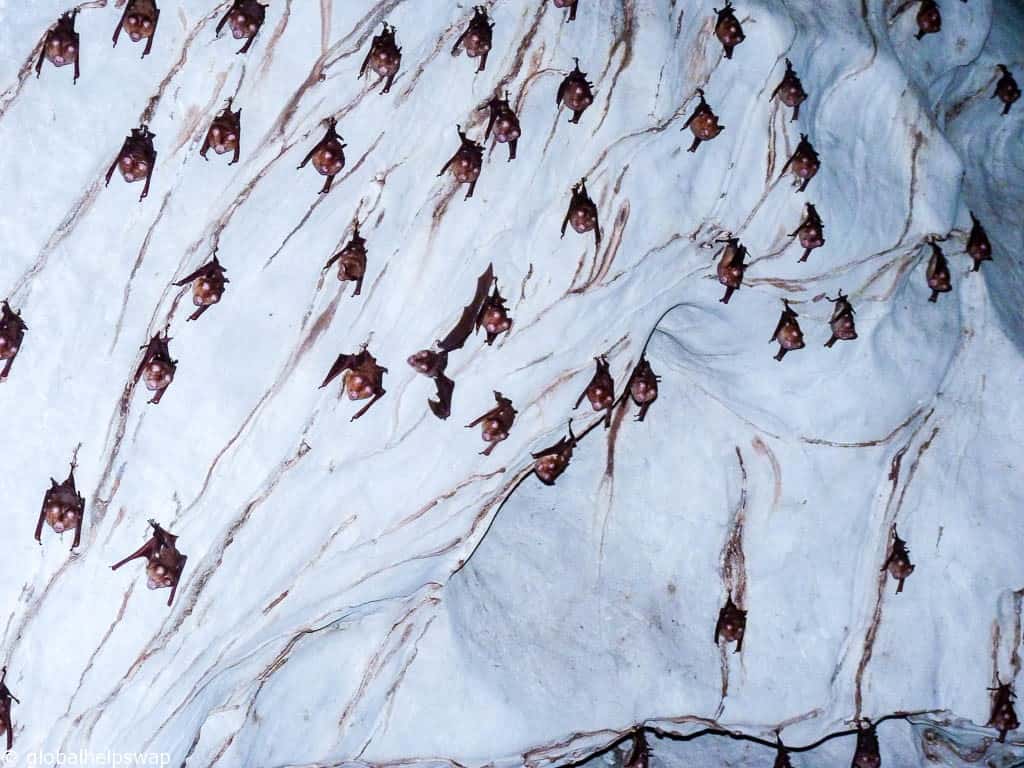 The deeper you go the higher the ceiling gets until you enter the "cathedral". The stalactites and stalagmites here are at their grandest and it does seem like you are in an underground church. This is where you turn around, even though the river goes on for another 13 miles (it has been deemed unsafe to travel any further). As you slowly head towards the open ocean, the light from the outside conjures up ethereal images on the water and walls and you feel that you have visited a part of the earth that few people ever see: It's interior.
From the natural wonders of planet Earth to man-made exhilaration. After my recent zip lining experience in the Pyrenees, I was looking forward to see what the Filipinos had to offer. Boy, they did not disappoint! To see what I mean, check out the video below:

I told you! It was such a buzz zip lining over the ocean. I wanted to be able to release myself and fall into the deep blue sea but I have a feeling that the health and safety brigade would frown upon things like that.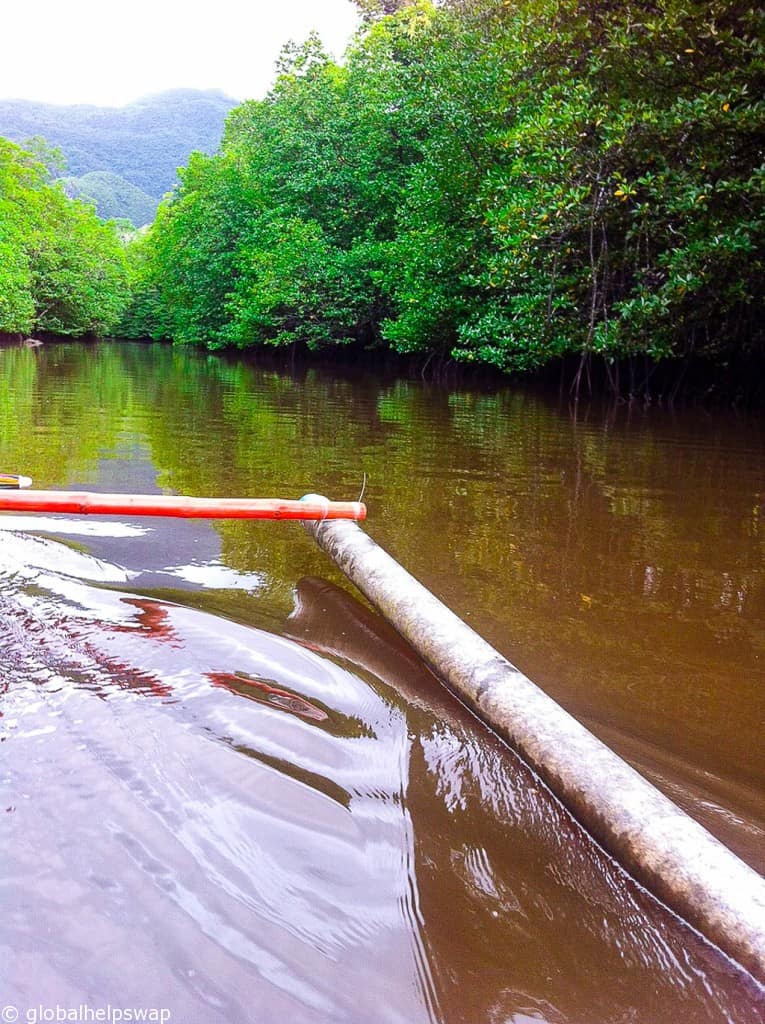 After the high jinks of the zip lining, we were back to more sedate activities. We ended our day on a boat exploring the mangroves. Mangroves are vitally important to people living along the shorelines as their roots help stop coastal erosion from waves and storms. On our first visit to the Philippines we got invited to a boy's 2nd birthday. (You see what I mean about the friendliness of the people). One of his presents was an area of new Mangrove. Early in the morning, all the guests of the party went and planted shoots of mangrove in the ocean. As the father told us later, it was a present to hopefully guarantee his son's future. What a lovely sentiment and idea.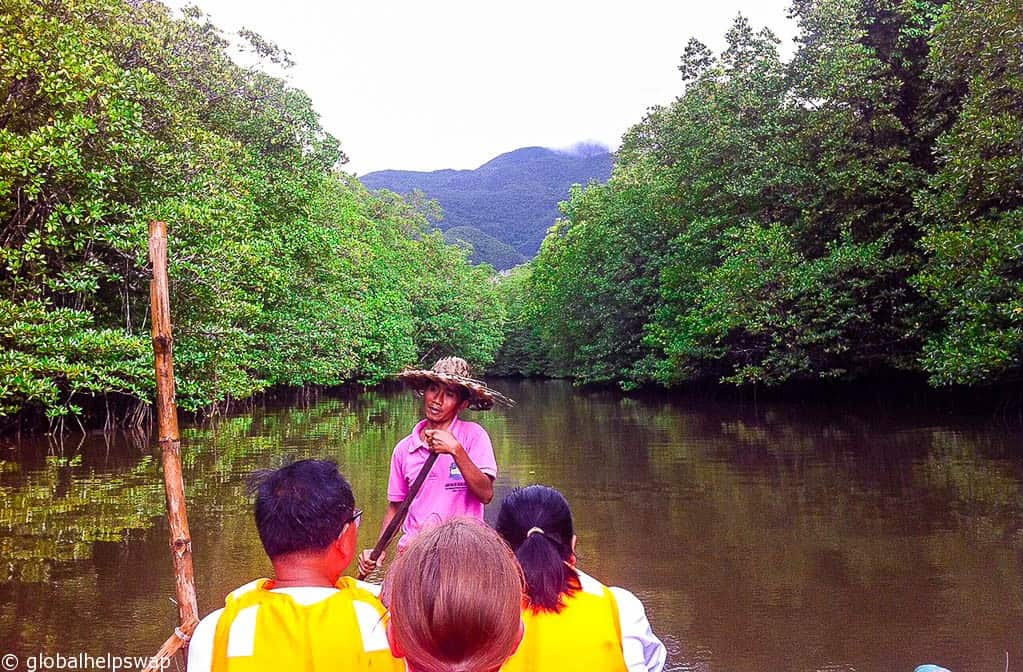 The mangroves are also a sanctuary for many animal species like fish, crabs, birds and to the dismay of some of my fellow travel bloggers, snakes! The snakes were literally hanging off the branches which I found cool but some of the others didn't share my enthusiasm.
Where we stayed: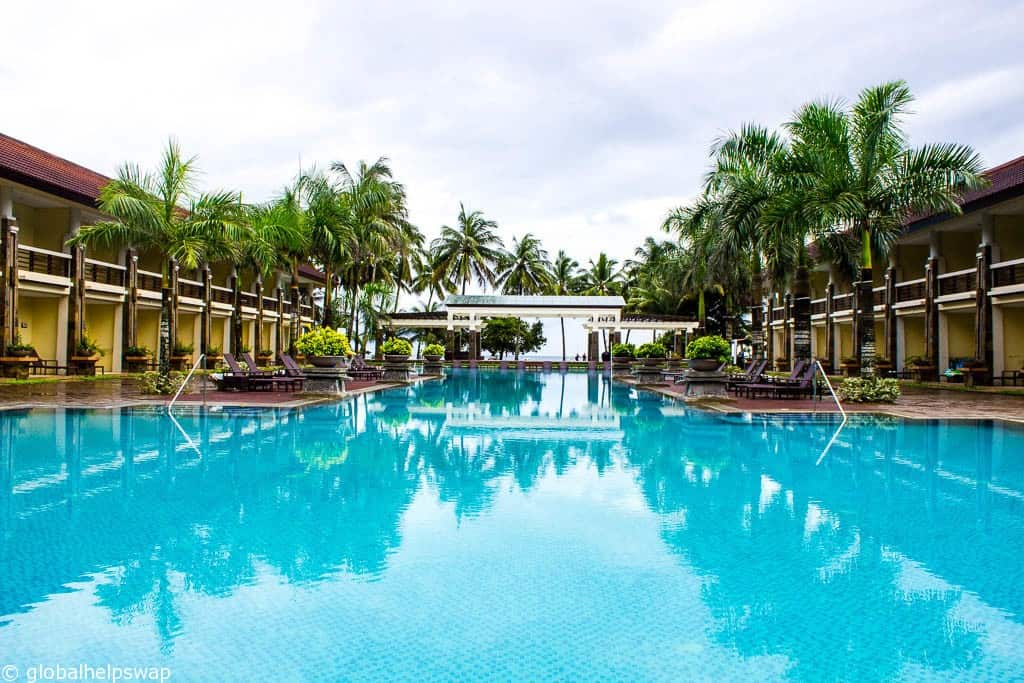 Our accommodation was the lovely Sheridan Hotel which sits right between mountains on one side and Sabang beach on the other. The 340ft pool has views of both and is very hard to leave with a bar on one end of the pool and sun loungers in the water on the other end!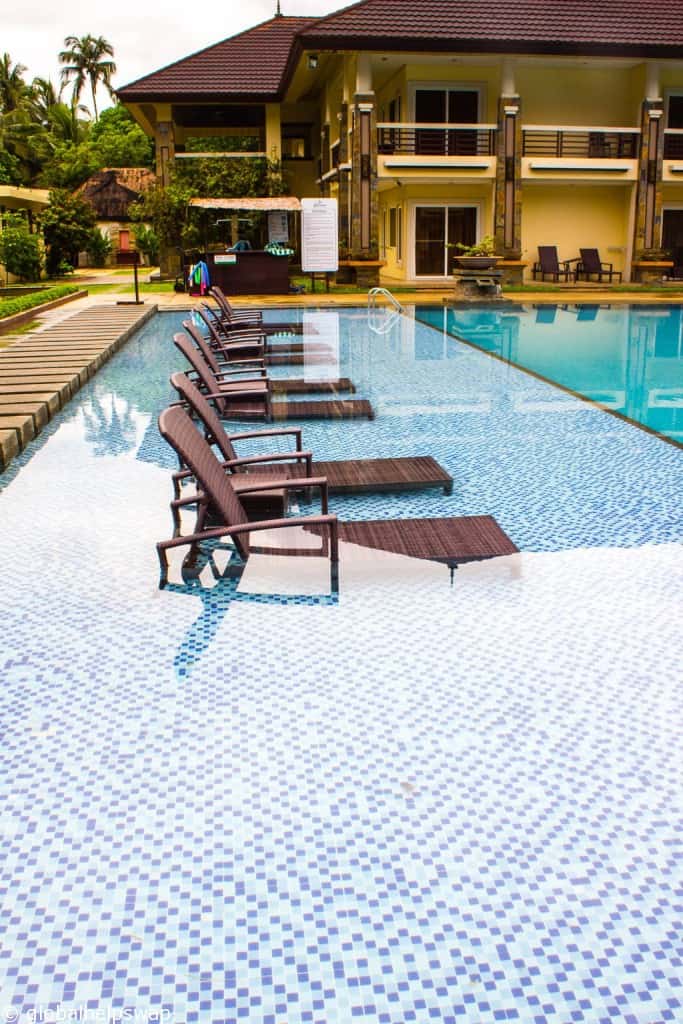 The highlight of our stay was a visit to the hotel's organic farm where we had a traditional Filipino lunch. It was a feast of black rice, salads, beans and tropical fruit. I loved the fact that we ate with our hands, a custom that we also practised in Sri Lanka.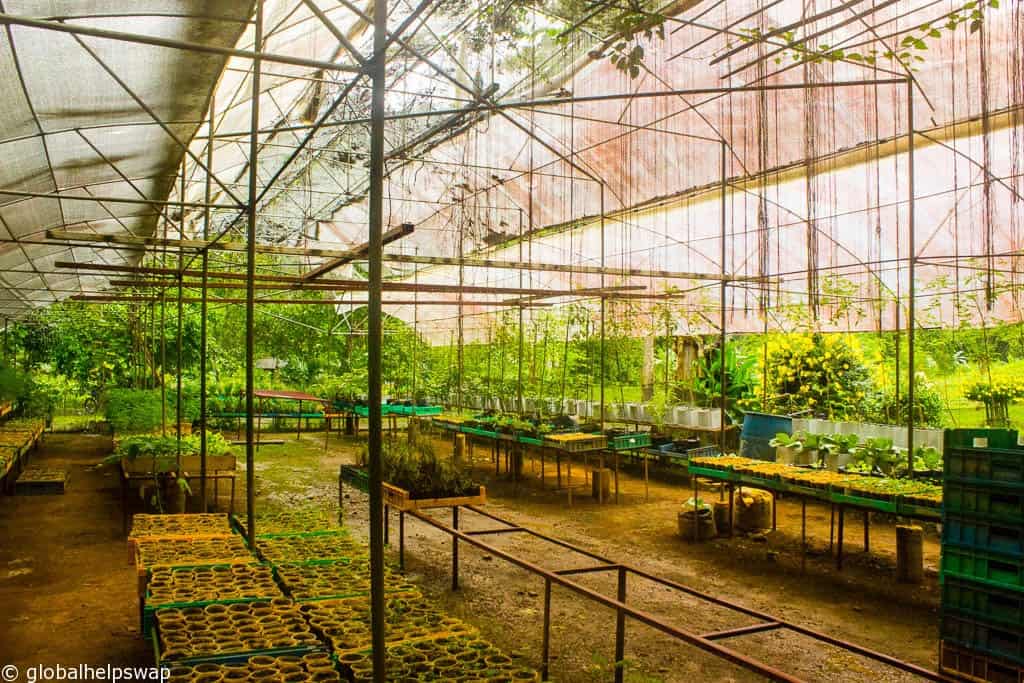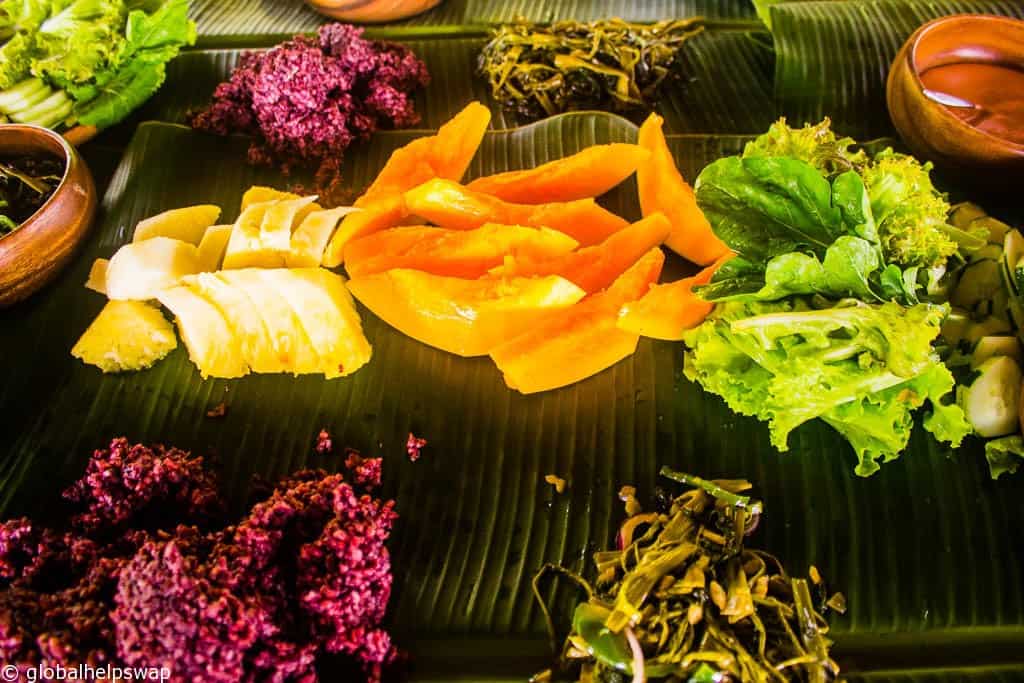 Thus concludes part one of why you should visit The Philippines. If you still need convincing, stay tuned for part two and the beautiful island of Bohol.
To be continued….
The trip was kindly provided by the Philippine Department of Tourism through the Tourism Promotions Board, and flights were provided by Philippine Airlines. As always, opinions are my own and with scenery like this, it's hard not to!