After leaving Palawan (reluctantly I might add!), we headed to the second of our paradise islands: Bohol Island. It was my second visit to this lush island and I was happy to be back. I was last here in 2011 and it was only a fleeting visit so I was eager to explore parts of the island I had not visited.
Bohol is famous for its landscape, wildlife and diving. The main island is the 10th largest island in the Philippines and has a coastline of 261 kilometers. There are another 75 minor islands off the main island, I guess that is how the Philippines has over 7,000 islands!
Part 2 of Two Paradise Islands to entice you to visit the Philippines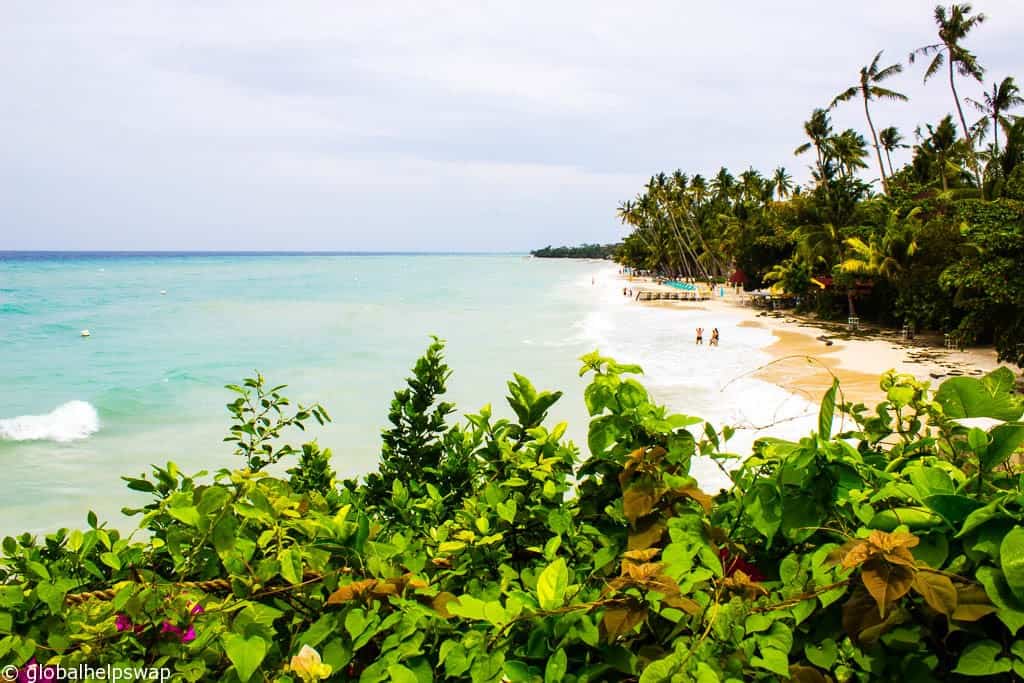 In 2013 Bohol was hit by a massive 7.2 magnitude earthquake devastating a lot of the infrastructure and destroying many historic churches. The earthquake claimed over 200 lives and injured over 1,000 people. Most of the tourist infrastructure is intact so this will not impact your trip. On the contrary, if you are visiting the Philippines, I urge you to visit the island. The more tourists that visit the island the more the locals can prosper.

After checking in to our amazing hotel (more on that later) we quickly headed out again to go on a tour with a difference. We went firefly spotting along the Loay River. I had never heard of a firefly tour before but after seeing many of them in Sri Lanka I was excited to see these little glowing beetles again. Unfortunately, the weather turned cooler and wetter on our way to the river so the firefly's decided to shelter instead of putting on a show for us. There were a few about though and I am sure in the right weather it would be an amazing sight. Just check the weather forecast before booking.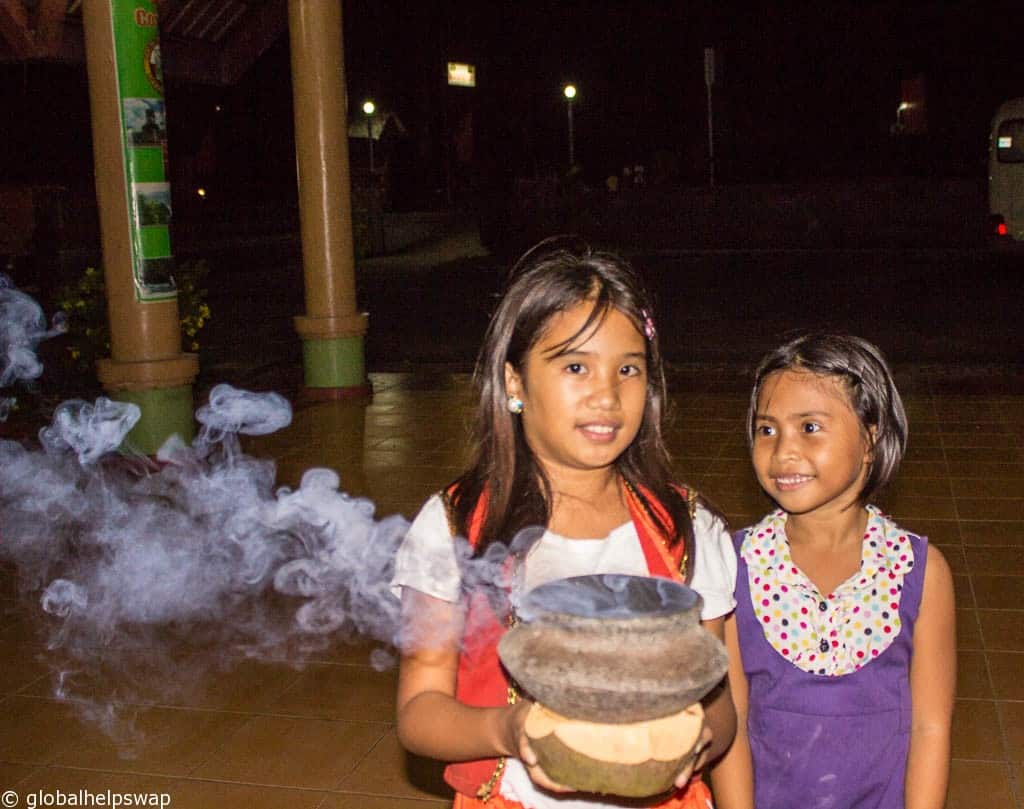 I love water sports, especially diving and kayaking. However, there was one water sport that I was not too keen on and that was Paddle Boarding. It always looked so tiring and pointless. That was until I tried it in Bohol. We went paddle boarding on the same river as the firefly tour, the Loay River. You know what? I loved every minute of it. It just goes to show you that until you try something you can't really have an opinion on it. I found the exercise so relaxing. We gently went down the river with lush vegetation all around us, the only sounds were of the paddle hitting the water or the local children playing in the river. Travel opens you up to things that you would not normally try. Now I know that I like paddle boarding. Thank you Bohol!

Photo by: Keri Allan from Ladieswhat
By far the highlight of my trip to the Philippines was the lunch we took on a river cruise. (There are lots of river activities in Bohol.) We were all expecting a nice traditional Filipino lunch as we slowly went down stream. Well we did have a delicious lunch and we did go down stream but we also had a band on the boat belting out hit after hit. After our magnificent feast we were all up dancing to Western hits and a few Filipino hits too. When I say all up dancing, I mean all. The chefs, the waiters, our guides, everyone was dancing like nobody was watching. My favourite part was when we learnt the moves to a local dance and all mimicked each other. For me this lunch is a perfect example of what the Filipino people are like; warm, hospitable and fun. It is no coincidence that the Tourism Boards slogan is: It's more fun in the Philippines. It really is.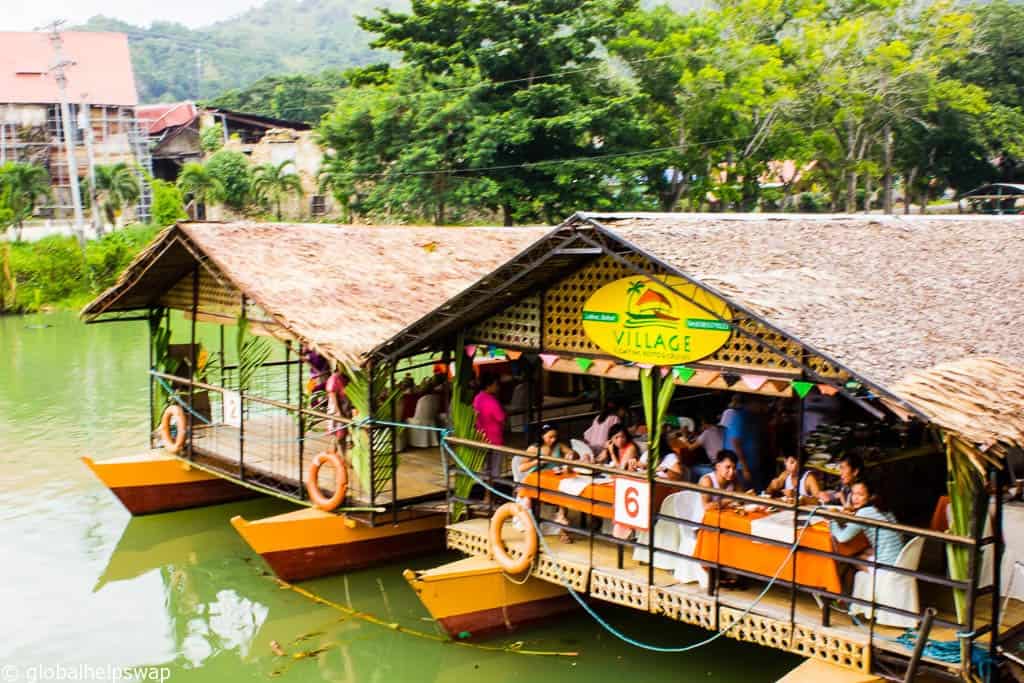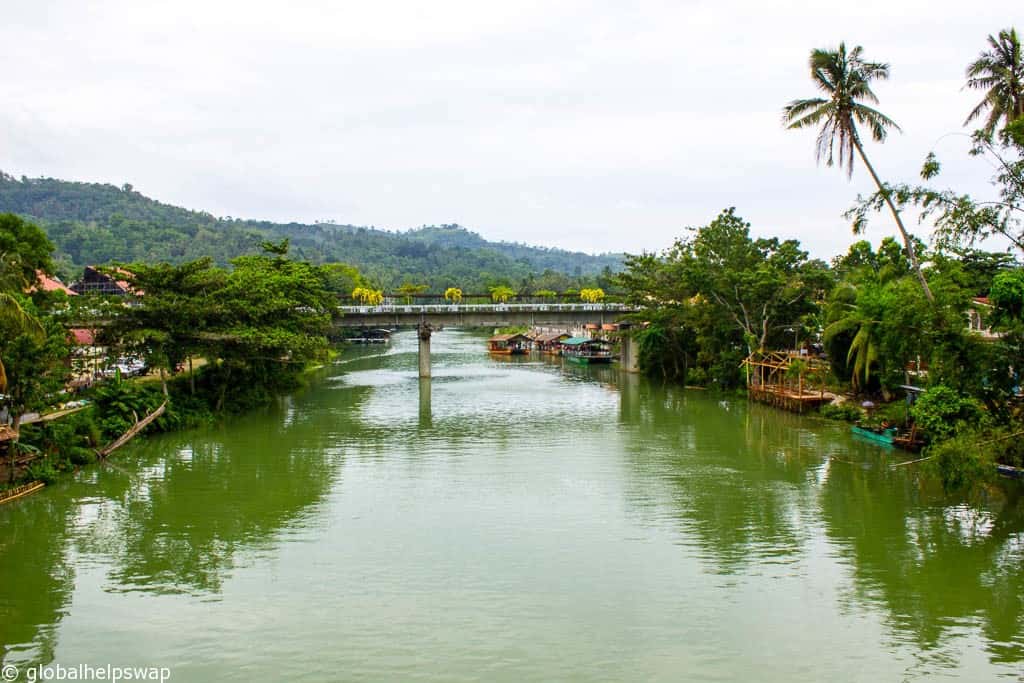 Half way through our lunch we came up to a small jetty on the river. At first I thought it was like a boat stop for people to go to the nearby villages. As we got closer I noticed quite a few people waiting. Again, I thought they were waiting for a boat to take them somewhere. Only when we got really close did I notice the instruments. It turned out that they were a village band/choir. At weekends when the children are off school they perform to raise funds for the village which was hit by the earthquake. The ages of the band started at around 3 and went up to around 90. It was truly a cross-section of the whole village.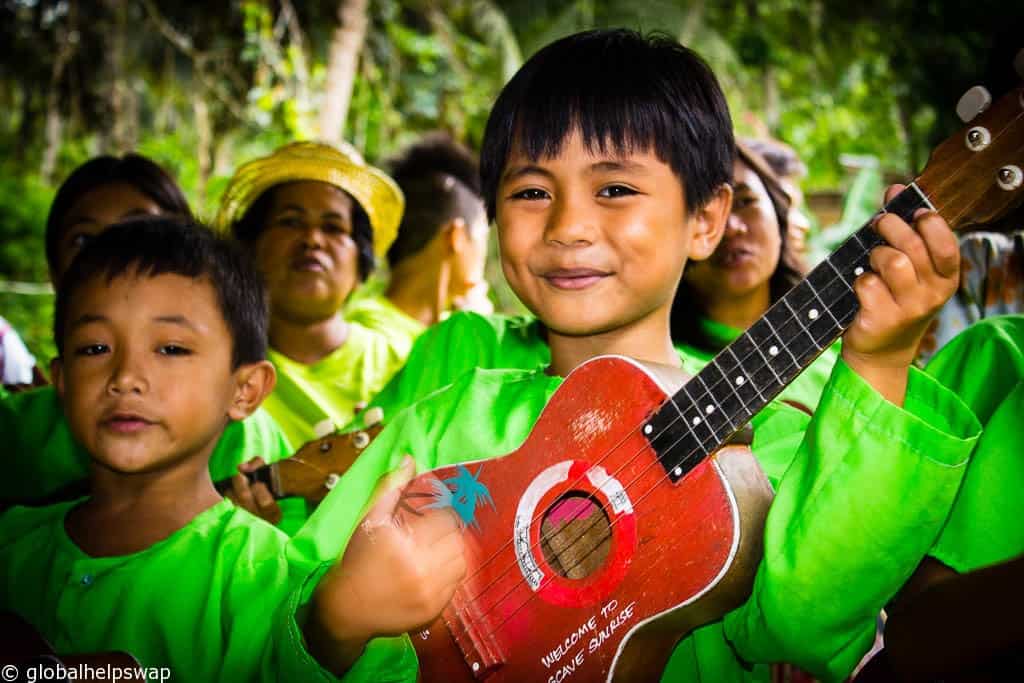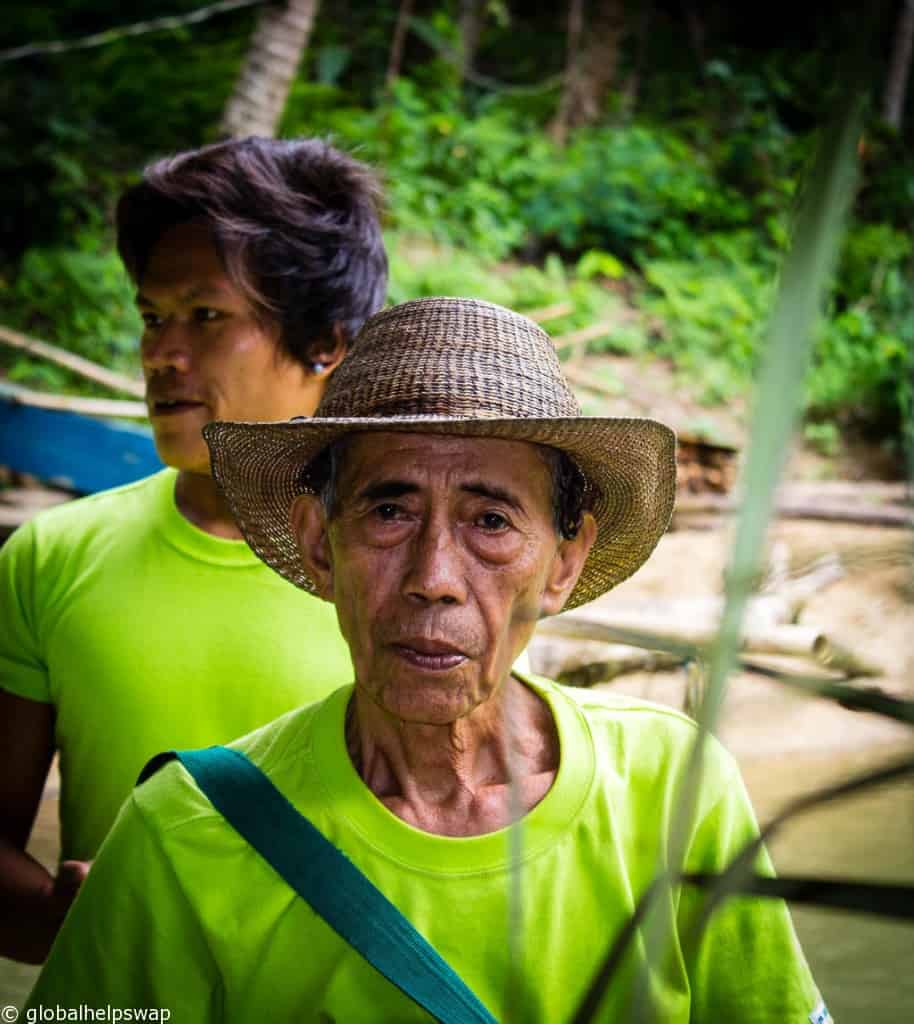 It was such a magical experience. The smaller children were all singing and playing the ukulele, the older children were doing amazing dance moves between two bamboo sticks and the adults were singing and clapping. Of course we had to get involved. We all tried to dance between the sticks to the amusement of the village. The teenagers made it look so easy but it was anything but. There are times when you travel when you know that you are in a moment that will stay with you forever. This was one of those moments. I could have stayed with the villagers for hours, chatting, eating and drinking.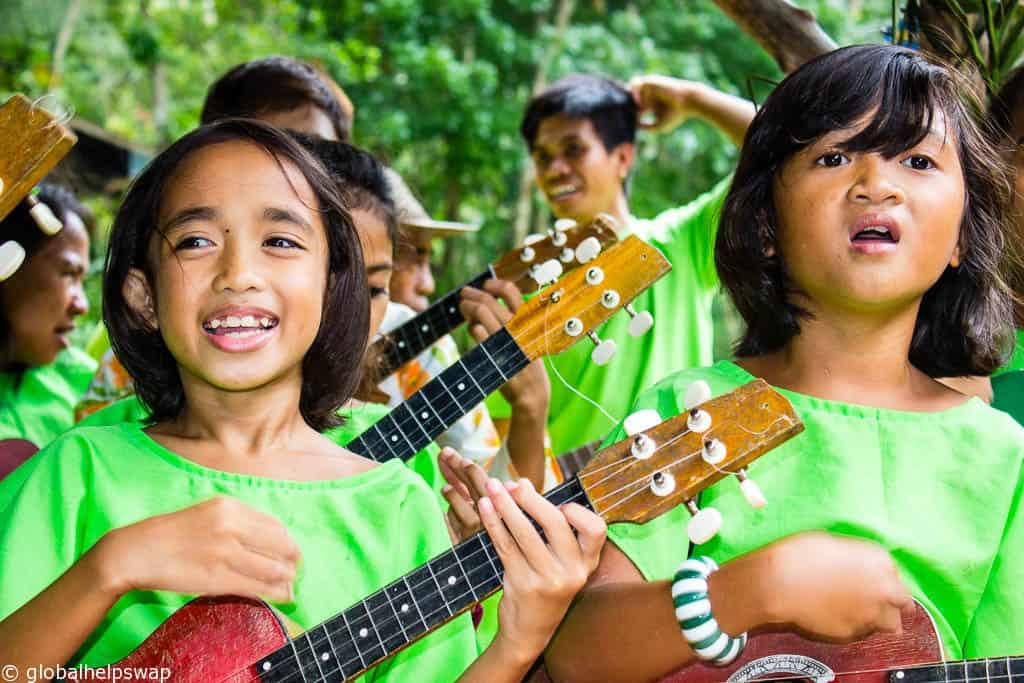 Bohol's most famous destination is The Chocolate Hills. For some strange reason when Karen I last visited Bohol we never visited them? So I was very eager this time not to miss them. The hills are formed from Limestone and cover an area of more than 50 square kilometers. There are as many as 1,776 hills in the area all green with vegetation except in the dry season when the hills turn brown, hence the name "Chocolate Hills".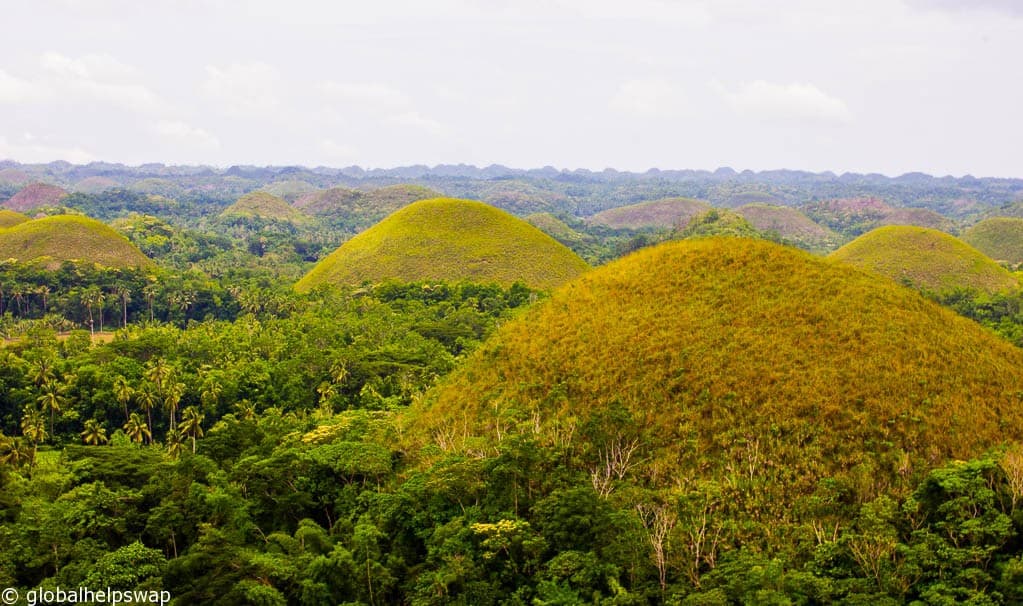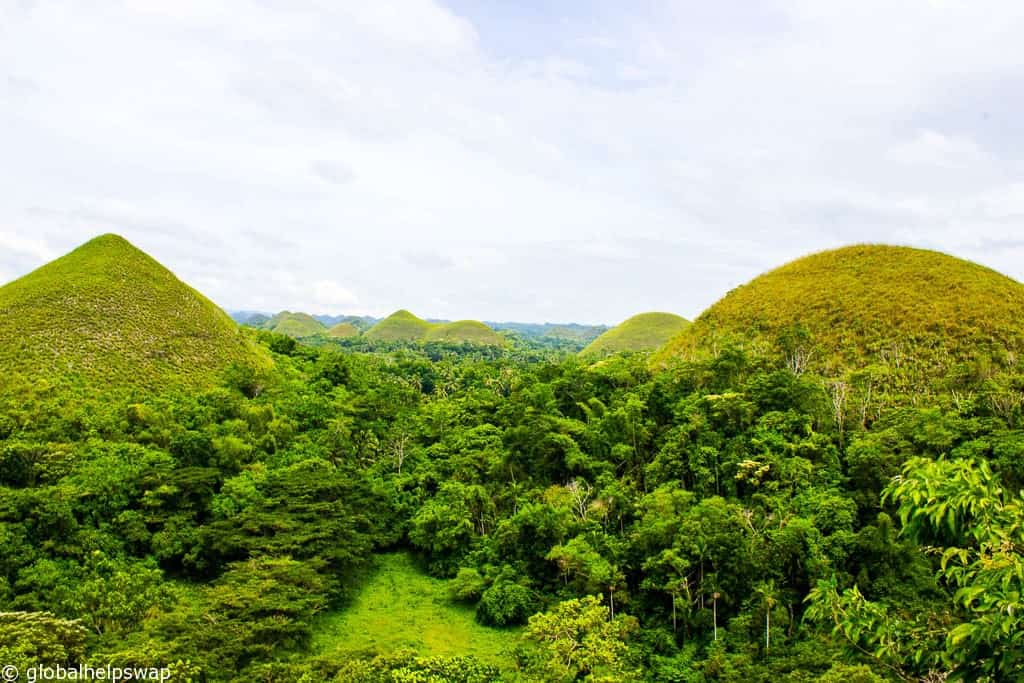 Some of the legends on how the hills were formed are:
Two giants fighting each other and hurling huge rocks at one another until they were exhausted. They became friends and left their mess behind. Messy giants!
The other legend is of another giant who fell in love with a simple mortal. When she died, his grief was so profound that he cried and cried. His tears eventually formed the hills. Aaahh.
Which one is your favourite?
When we last visited Bohol there was one place we did not want to miss. In fact it was the main reason why we visited the island. I was very happy to see that it was on our itinerary as you can never get bored at this place. Where am I talking about?
The Tarsier Sanctuary.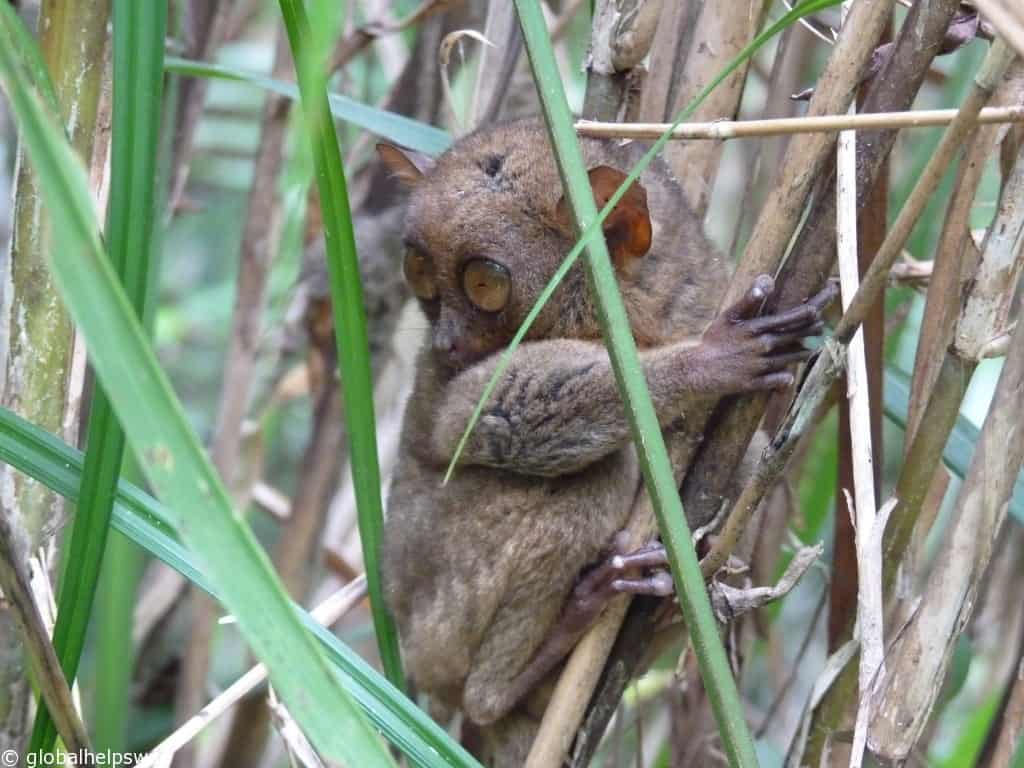 Tarsiers are very small primates that are now only found on islands in Southeast Asia. The sanctuary in Bohol is a non-profit organisation that protects and conserves the Philippine Tarsier and is conducting research on the behaviour of these elusive animals. The main field supervisor Carlito Pizarras is known as "The Tarsier Man" because of his knowledge of the animal.
Carlito's story is remarkable. From the age of 12 he used to hunt and kill Tarsiers for his Dad who was a taxidermist. As he got older he carried on killing or capturing live Tarsiers for tourists and collectors. He became so good at hunting tarsiers that he could tell where they are by their scent. The price that these beautiful creatures went for? The princely sum of $5.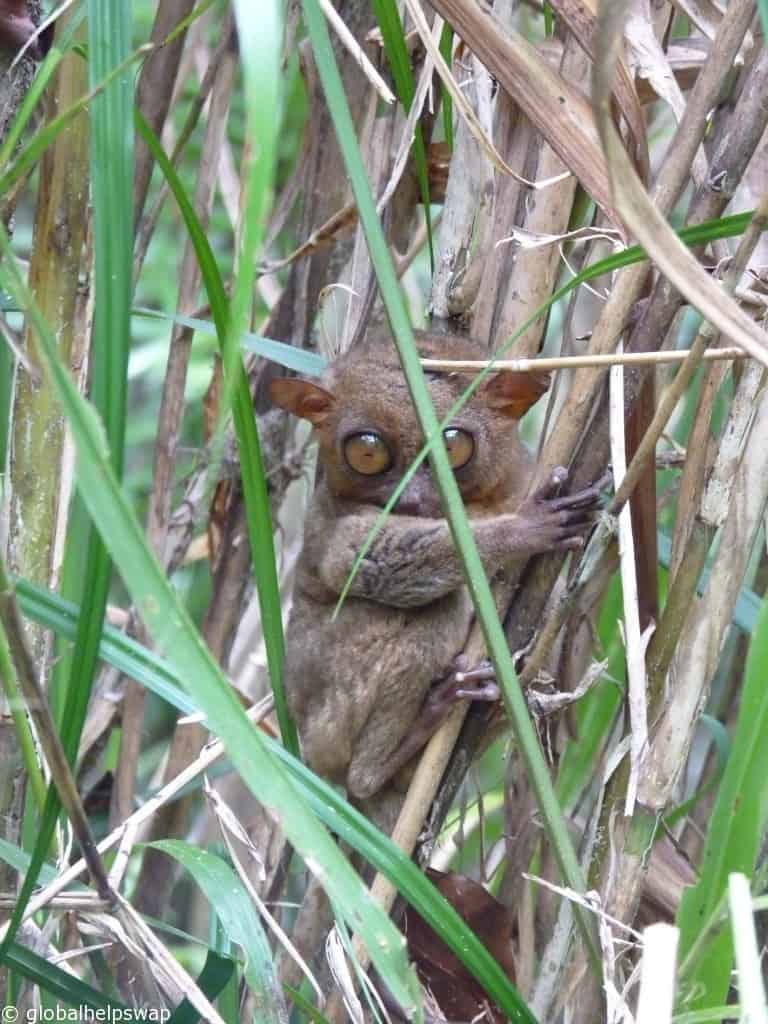 Carlito began to notice that he would have to go deeper and deeper into the forest to find the Tarsiers. In the 1960's he could just shake them off the tree by the side of the road. He began successfully breeding them at home, again to kill and stuff. (Breeding them himself was no easy feat as Tarsiers literally commit suicide by banging their heads against their cages when held in captivity.)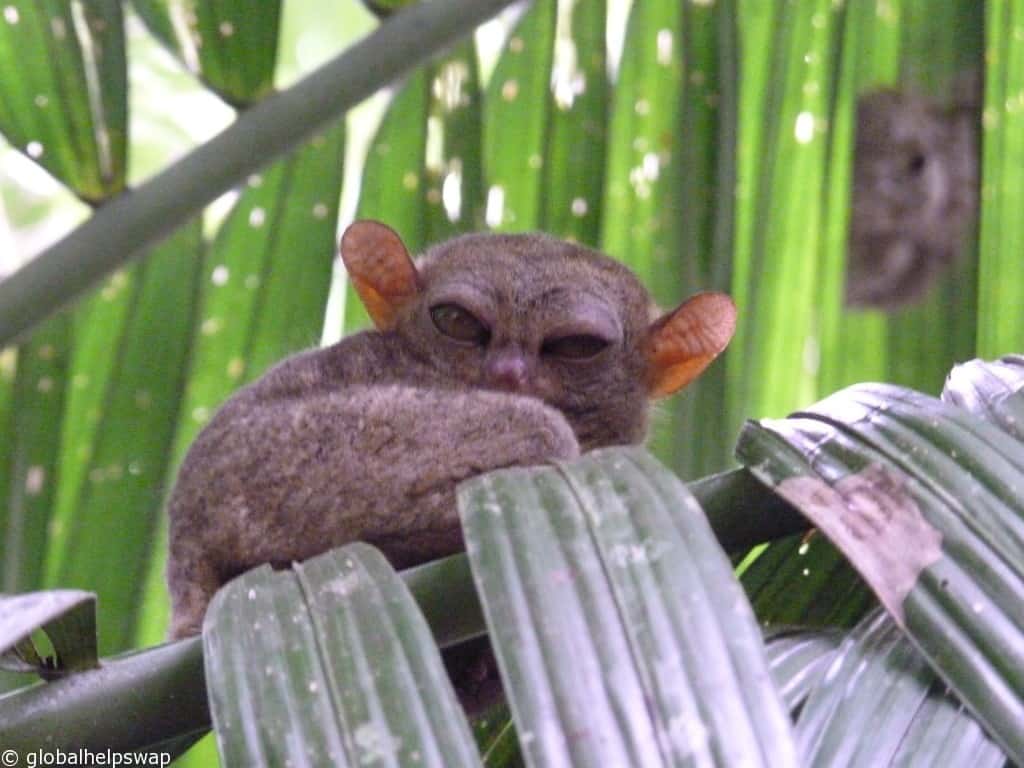 In the 1970's it suddenly struck Carlito that with deforestation and hunters like himself, the Tarsier would soon be gone. So he hung up his rifle and vowed to protect the Tarsier for the remainder of his life. This is what he has done. Even though Carlito is not a biologist and only has basic high school education his knowledge of the Tarsier is world-class. He has been featured in the National Geographic and the BBC and he still can be found at the Sanctuary guiding tourists around.
Visiting the Tarsier Sanctuary was the perfect end to our stay in Bohol, an island with stunning scenery, unique wildlife and welcoming locals. I can't wait to return.
Where we stayed:
Accommodation was provided by the Amorita Resort & Momo Beach House both on Panglao island.
Amorita is a super stylish boutique resort with amazing rooms and suites. It has two pools and a fantastic restaurant. My suite was bigger than our flat back home! It was very hard to leave it.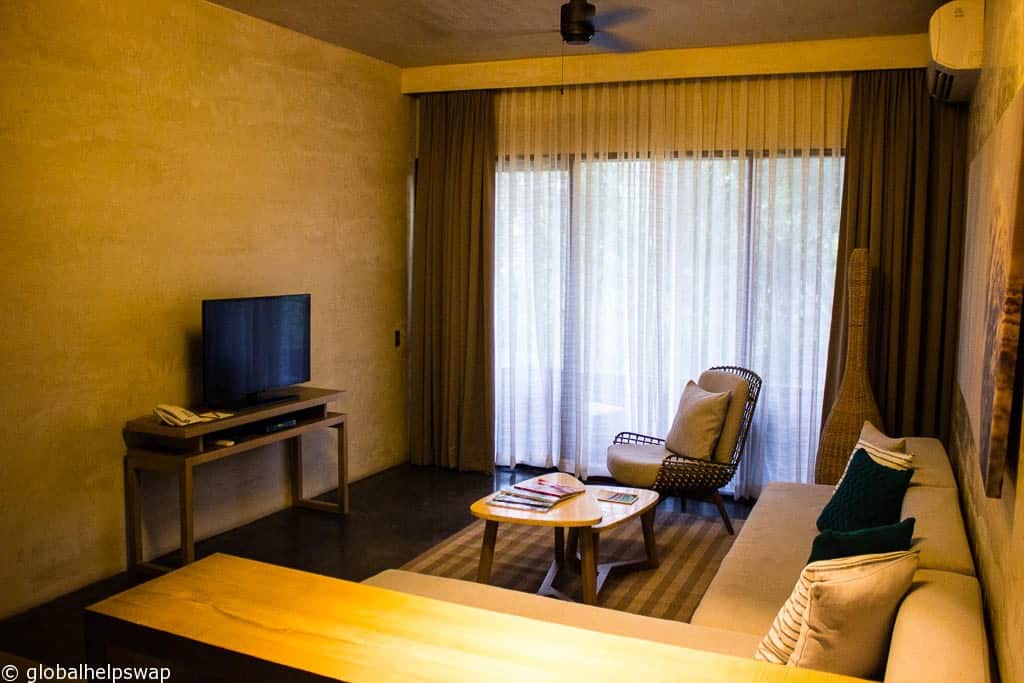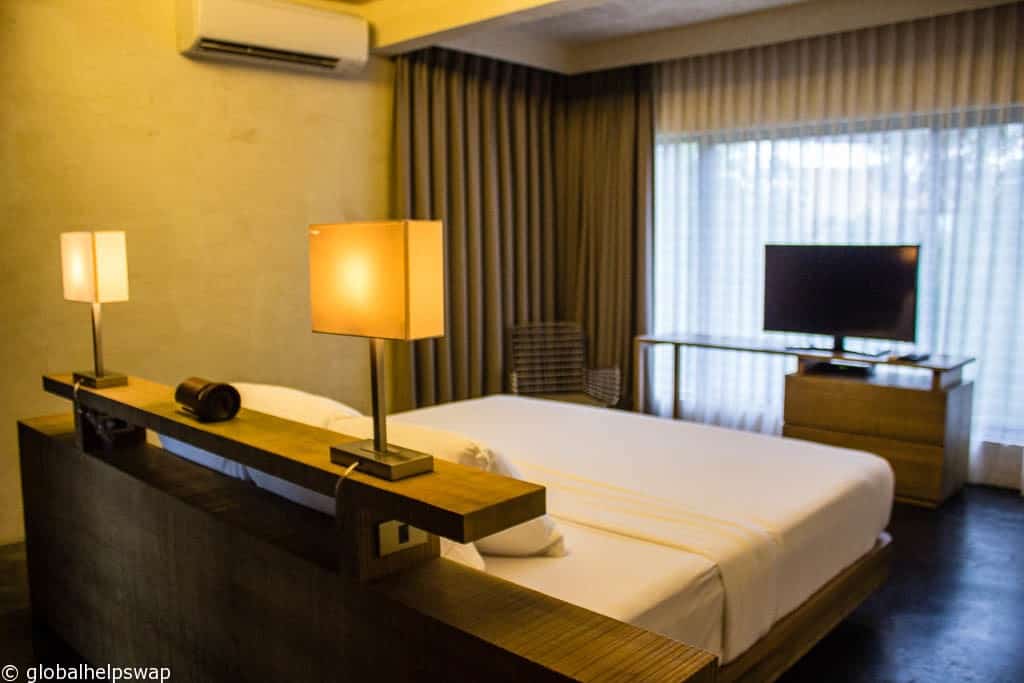 Amorita Resort
Momo Beach House sits right on the beach and has a wonderful surfer vibe / shabby chic feel to it. It's the type of place where you will keep on extending your stay because you are so relaxed.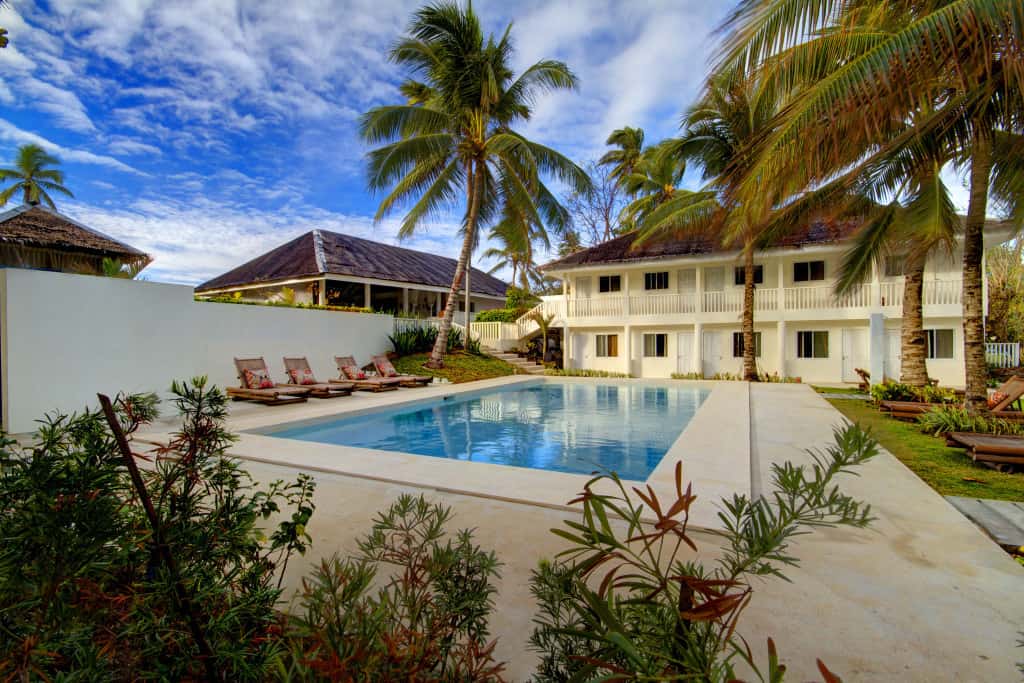 Momo Beach House
Have you been to Bohol? What did you think of it?
#LoveYourTravels
The trip was kindly provided by the Philippine Department of Tourism through the Tourism Promotions Board, and flights were provided by Philippine Airlines. As always, opinions are my own.