When we were heading to the Philippines I couldn't wait to hit the beaches and rice terraces. I had read about them for so long it was hard to believe I was going to finally see them. One thing I really didn't know about was Filipino Cuisine. Like most people I had eaten Thai and Vietnamese food but never Filipino.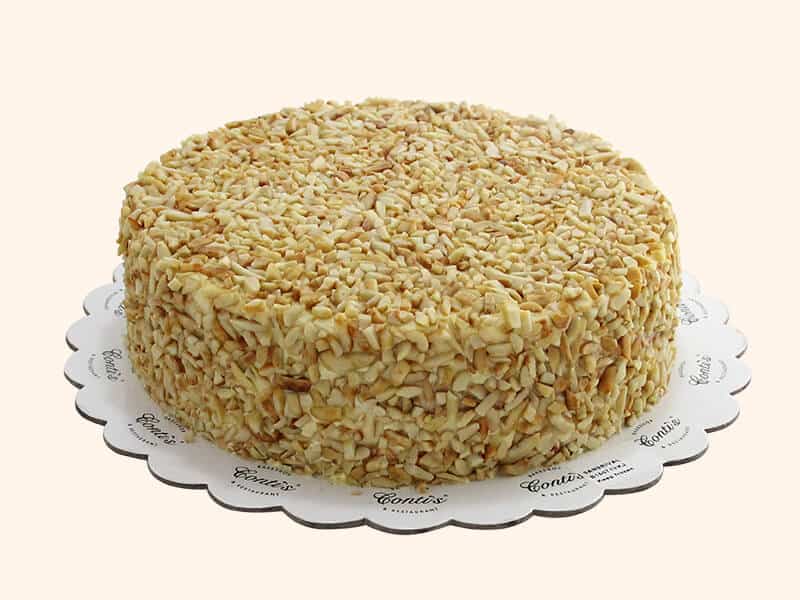 I will be honest, in the 3 months we spent in the Philippines the cuisine didn't blow me away like it did in Thailand. However, that's not to say I didn't like any dishes. The stuffed squid of Palawan and the ubiquitous Chicken Adobo were delicious. But, the dish that gave us a sweet kick was San Rival, a Filipino Cashew Meringue Layer Cake.
The history of San Rival (which means "without rival" in French, a pretty cool name for a cake wouldn't you say!) seems to start in France (no surprises there). It was brought over by Filipinos who studied in France during the 1920's and 1930's. During the times studying these Filipinos learned many French cooking techniques which they brought home, one of the techniques was making Dacquoise. Sans Rival originated from Dacquoise in fact it shares a lot of similarities but due to availability of some ingredients local produce was used like cashews.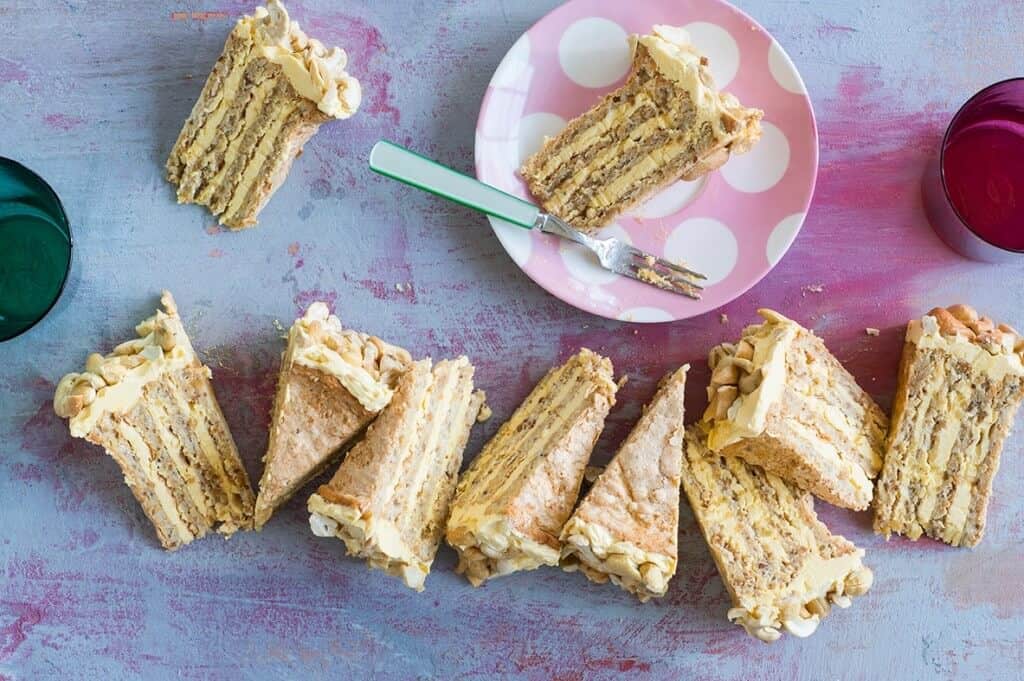 Below is the San Rival Recipe for you to make at home. We hope you enjoy it as much as we did in the Philippines.
San Rival Recipe: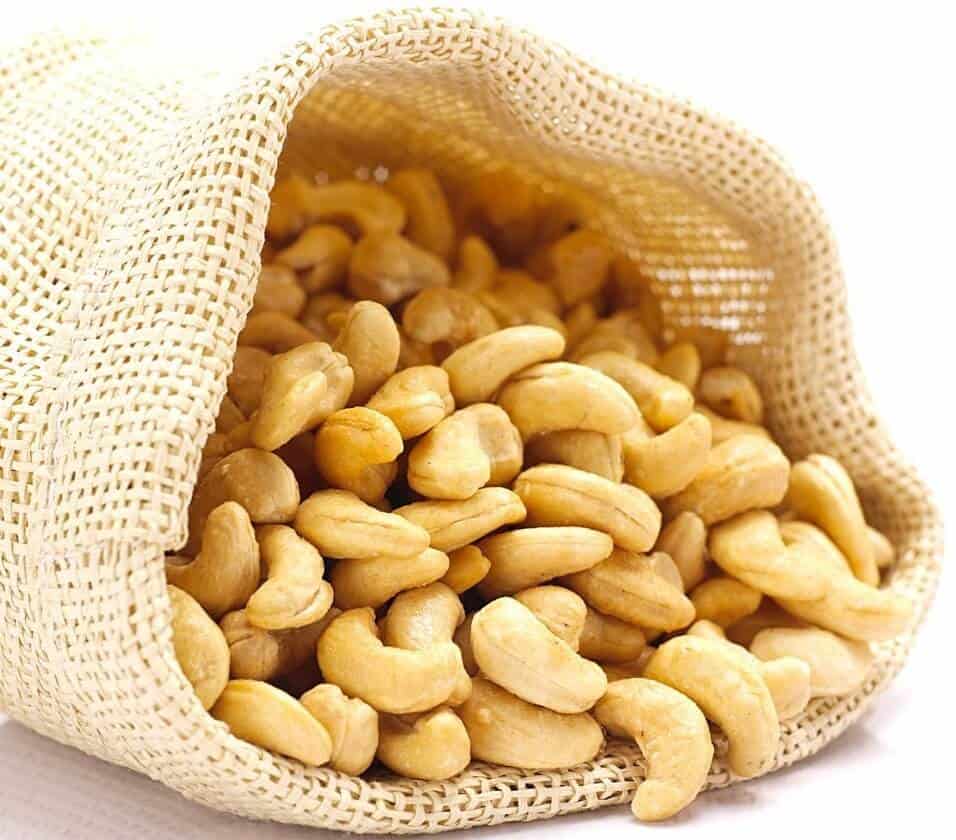 Ingredients:
For the Meringue: 
6 

egg whites

3⁄4 

cup granulated sugar

1 1⁄2  

cups ground cashew nuts

1 

teaspoon vanilla extract
For the Frosting:
1 

cup confectioners' sugar

1⁄3 

cup water

6 

egg yolks

1⁄2

lb butter

2 

tablespoons rum
Directions:
Preheat oven to 325°F. Invert 4 (8-inch) or 3 (9-inch) round baking pans. Grease and heavily flour the round surfaces.
Make the wafer sheets: In the bowl of an electric mixer fitted with the whisk attachment, beat egg whites until soft peaks form. Gradually add sugar, beating well after each addition. Continue beating until stiff peaks form. Fold in cashew nuts and vanilla. Using a spatula, spread mixture thinly on prepared inverted pans. Bake for about 20 minutes or until golden brown. Using a spatula, carefully remove wafers from pans while hot. Transfer to a wire rack to cool.
Make the filling: Boil sugar and 3 tablespoons water until it spins a thread or until temperature registers 230 to 235°F on a candy thermometer. Meanwhile, in the bowl of an electric mixer fitted with the paddle attachment, beat egg yolks until thick. Pour sugar syrup into egg yolks in a thin stream, beating continuously. Whip eggs until cool then turn speed to low. Add softened butter by the tablespoon. Increase speed to medium and whip until butter and egg mixture are well combined. Mix in rum.
Place one wafer sheet on a cake board or cake plate. Spread filling on top. Top with cashew nuts. Continue layering with the rest of the wafer sheets. Cover the tops and sides of the wafer sheets with filling. Top with cashew nuts.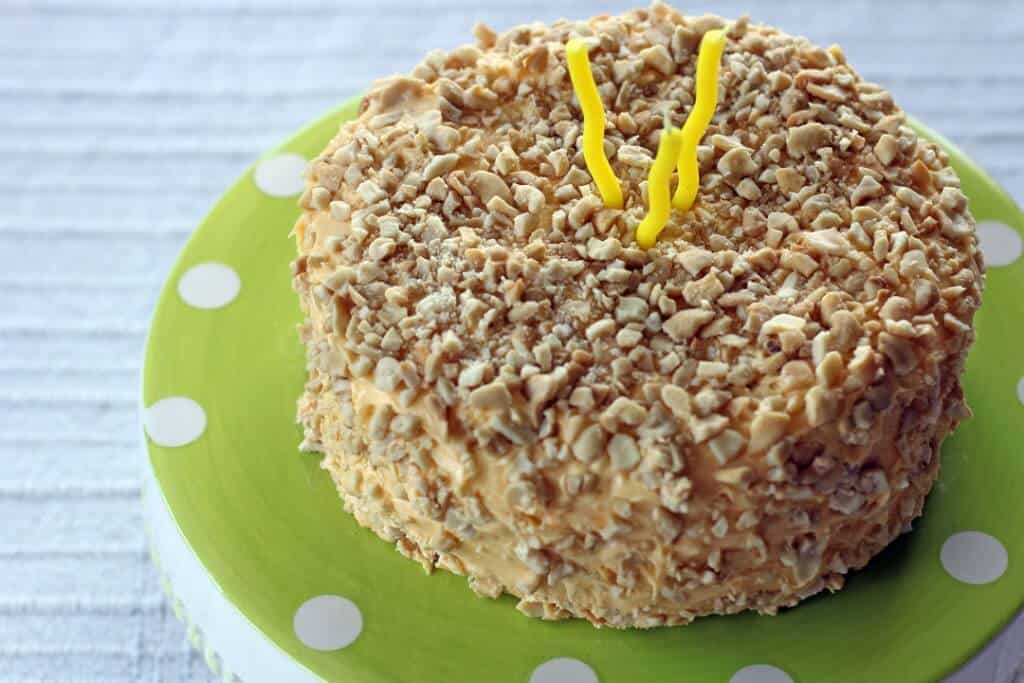 Please let us know if you enjoyed this dish by leaving a comment below and feel free to send us some of your recipes that you have discovered on your travels. Happy eating!
#LoveYourTravels