global recipe swap
Welcome to our new series! One of the biggest joys we get from travel is discovering new foods. Some would say (Karen) it's THE BIGGEST joy we get. I have lost count of the number of times we have walked across a city to find the hidden gem some local has told us about.
And yet, we have hardly talked about our food experiences on this site. Well, that is about to change. The idea behind global recipe swap is simple. We will write about all the amazing food we have come across on our travels and you will send us recipes from your area, which we will then cook. We have a diverse readership so we should have some pretty amazing food experiences. You can try to cook what we publish too. Does that sound like fun?
Right, let's dig in!
Khao Soi Recipe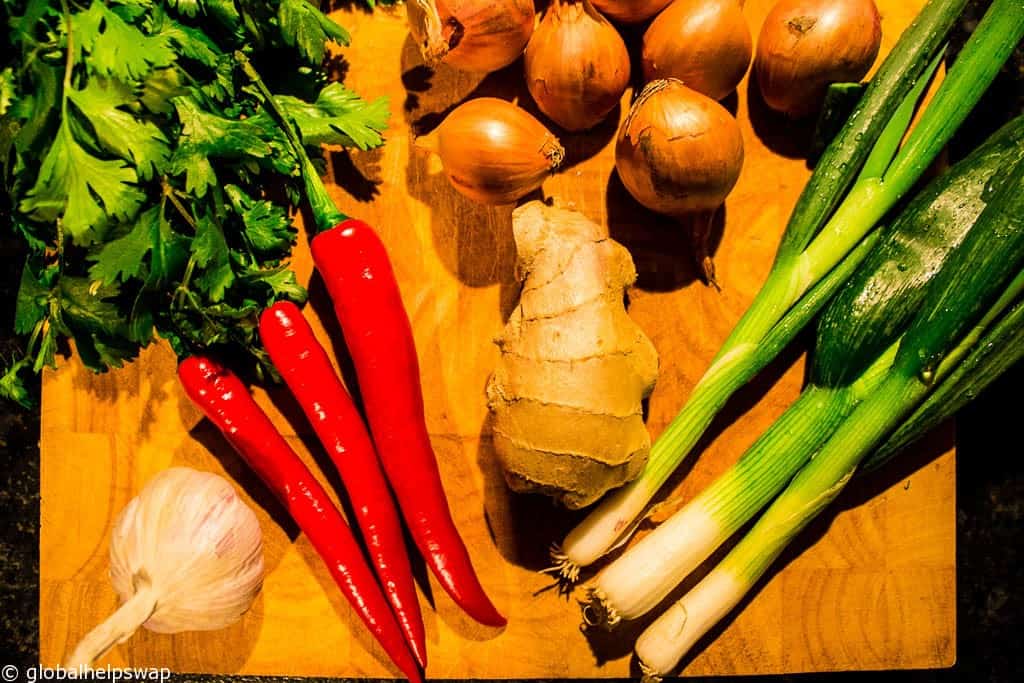 You know when someone asks you what's your favourite album/place/food. Don't you find that it's almost an impossible question to answer? There is too much great music/places/food to choose just one. So I create a top 10 in my head. The choices change all the time but it has to be pretty special to enter the top 10.
Khao Soi is one of those special entries. I still remember the first time I had it in Pai, Northern Thailand. It was in a cheap roadside cafe on the corner of a junction. It was a great place for people-watching. I think the dish cost me around $3. When the old lady brought it to me, I knew I was in for a treat before even eating it. The aromas wafting up shouted South East Asia. I think I must have eaten it every 2 days.
The recipe below is from the renowned chef David Thompson who has one of the most respected restaurants in Thailand.

Ingredients: (serves 2)
For the paste:
3 dried long red chillies, deseeded, soaked and drained
4 red shallots, unpeeled
3 garlic cloves, unpeeled
1 tablespoon fresh turmeric, peeled and chopped
2 tablespoons fresh ginger, peeled and chopped
2 sprigs of fresh coriander, roots scraped and chopped
1 teaspoon coriander seed, roasted and ground
1 pinch salt
For the soup:
4 tablespoons coconut cream
1 chicken leg, quartered (100 grams or 3 ounces)
1 tablespoon palm sugar
2 tablespoons light soy sauce
1 teaspoon dark soy sauce
2 cups stock (or water)
75g fresh egg noodles (recipe says 1 handful)
To garnish:
1 tablespoon green onion, chopped
1 tablespoon fresh coriander leaves, chopped

Directions:
Pre-heat oven to 200°C.
To make the paste.
Roast the chillies, shallots, garlic, turmeric and ginger until softened. Remove from oven. When cool enough to handle, peel the shallots and garlic. Then pound the roasted ingredients together (using a mortar and pestle) until smooth.
To make the soup.
Simmer the coconut cream until it is thick and beginning to separate. Then add the paste and fry until fragrant, about 5 minutes.
Add the chicken, reduce the heat and simmer for several minutes.
Add the palm sugar, the two soy sauces and finally the stock. Stir well and then keep simmering until the chicken is cooked about 20 minutes.
While the soup is simmering, fry one-quarter of the egg noodles in hot oil, and drain.
Check the seasoning: the soup should taste salty and slightly sweet from the coconut cream.
Blanch three-quarters of the egg noodles in boiling water, and drain.
Put blanched noodles in a bowl, pour over the soup and add garnishes.
Can also serve with sliced red shallots. wedges of lime, pickled mustard greens.

If you would like to take part in global recipe swap, please send us a special dish from your area and we will try to cook it at home. You can send the recipe to paul@globalhelpswap.com. Feel free to cook today's recipe and let us know what you think in the comments below.
#LoveYourTravels