Chiang Mai Zipline, three words I hadn't expected to use together when we made our way to Northern Thailand. Well, when Flight of the Gibbon, the leading experts in Chiang Mai Zipline tours invited us along, we did some research on the company and immediately fell in love with the organisation and the amazing work they do (more on this later). How could we refuse?
This unexpected adventure turned out to be one of the best experiences I've had in the whole of Thailand, never mind Chiang Mai. I can't believe it's taken me 5 trips to Thailand to do this. I genuinely hope my experience inspires you to go ziplining next time you're in Chiang Mai because believe me, it's one of those things that you will remember for years to come.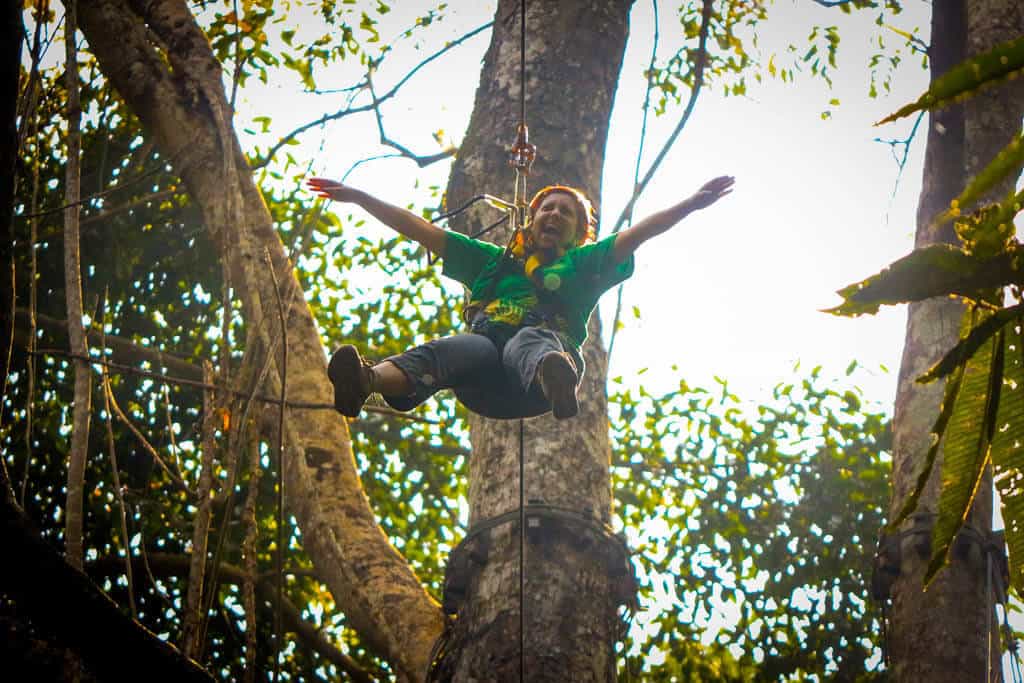 Now let's get one thing straight. You know those people who laugh in the face of fear and nothing seems to faze them? Yes? Well that's not me. Take that cool calm person and think of their exact opposite. Now you're closer!
Look at that expression above. Luckily for you, you can't hear the blood-curdling scream. (If you would like to hear it, sign up to our youtube channel for a full video of our experience coming soon.) Although I promise you I genuinely was having the time of my life.
The reason I say this is that if zip-lining seems too scary or not something you see yourself doing I hope to convince you to give it a shot. It definitely gets your adrenalin going, but when done with a reputable company like Flight of the Gibbon it's perfectly safe.

What is ziplining?
So if you're new to ziplining the basic concept is that you climb up to a really high place, in our case the top of a very large tree. Up there you'll find a wire that connects one tree to another. You get strapped to a harness that is attached to said wire and on the word go you zip along this wire high up above the forest canopy. At Flight of the Gibbon there's 7km's worth of these lines. Meaning you're zipping from one tree to another for at least two hours.
My experience
Our adventure started at 6.30 am (ouch) when the Flight of the Gibbon van picked us up from our guesthouse.  We drove for about 90 minutes, a lot of which was up winding mountains. Luckily we got to the main office just as I was starting to feel queasy.
We were quickly kitted up by our sky ranger who went through a thorough safety briefing with us and soon we were ready for our zipline adventure.
I decided to go second and get my first attempt out of the way, that way I wouldn't let the anxiety build up while I waited for the other 7 people in our group have their turn.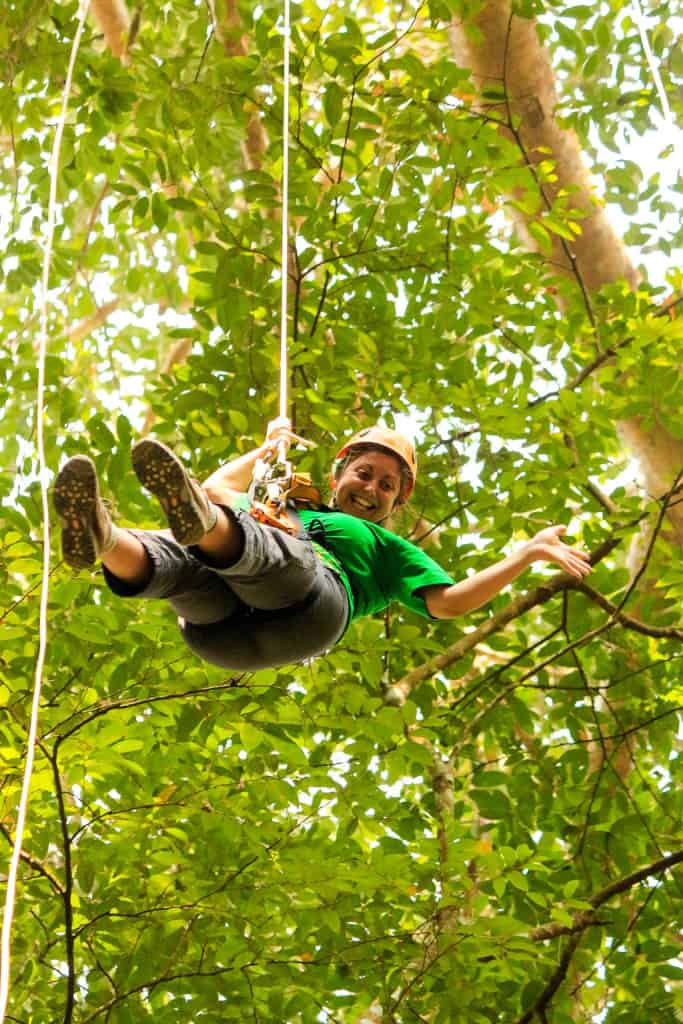 So while I silently repeated my mantra "It's perfectly safe" over and over in my head, I half listened to our ranger as he instructed me to 'sit' in my harness, grab the rope above me and go.
I sat in my harness and triple checked that I was holding the right rope – not that it mattered since the rope is part of the harness and doesn't need holding. But boy did I grab that rope! I held on to it like my life depended on it, gave myself a little push forward and suddenly I was flying above the forest.
Whoa! I made it to the next platform with eyes wide, heart thumping and a feeling of exhilaration. This was FUN!
I have to admit that I made the mistake of looking down to the ground below as I stood on the platform and that gave me an overwhelming urge to hug the gigantic tree that was holding the platform up.
We zipped down a few more lines and soon the fun I was having completely overtook my fear. I felt like a child again. I think the whole group did as we laughed and giggled and joked while we made our way through the forest canopy.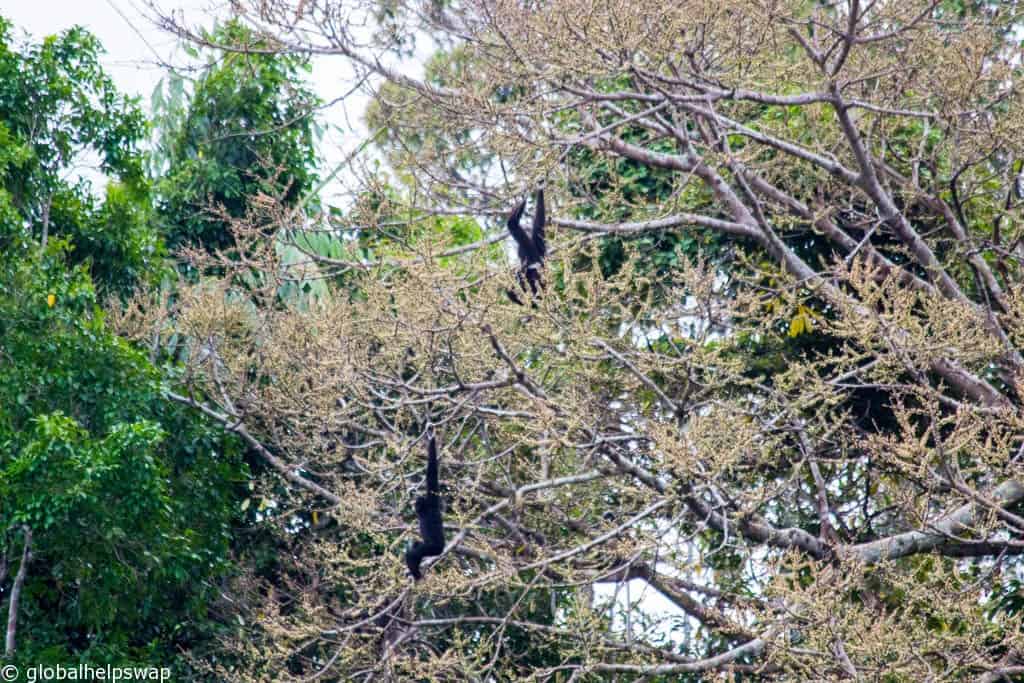 At one spot along the route our sky ranger showed us a couple of gibbons hanging out in a tree. As we watched them in silence they called out in their high-pitched voices, "ooooooeeeeeeee, ooooooooooooooeeeee". Soon enough we heard the distant replies coming back. The air became full of cries and calls. It was pretty magical to watch.
The spectacle lasted long enough for my heart rate to return to normal. Little did I know that it would soon shoot back up again as we went on the fastest, longest line of all. An 800 metre line that is the longest zipline in all of Asia. Gulp. I screamed my scream of terror from beginning to end, but as I got onto the platform at the other end I had the biggest smile on my face and I just couldn't stop laughing. Adrenalin has a very strange effect on me.
The 7 km zipline course is pretty great. Besides the traditional ziplines you also get to cross wobbly bridges, 70 metres above ground and if that isn't enough you also get to abseil down a couple of trees. And then there's the Superman line.
Whilst all the previous lines had us sitting in our harness, holding on to a rope above our heads, with the superman line the rope was behind us. This left our hands free and took away the comfort of holding onto something as we stepped onto thin air. This took the challenge to a whole new level.
This time I let a few more people go before me. I wanted to make doubly sure that this thing was safe.
Soon enough, it was my turn. I really didn't want to do this one, but I knew I couldn't turn back. I looked down below and with my heart in my mouth I put all my trust in the rope holding me up and let myself fall off the platform.
And just like that, I became superwoman, flying across the forest for the 10 long seconds it took me to reach the next platform.
That feeling of smashing through the fear I felt will always make me smile.

Why choose Flight of the Gibbon?
There are quite a few zipline tour operators in Chiang Mai, but we wholeheartedly recommend Flight of the Gibbon, for many reasons.
1.       Many of the sky rangers are employed from the nearby village providing a good source of income for them and their families.
2.       Flight of the Gibbon employ a biologist as their Director of Conservation who helps to ensure that their conservation efforts, like tree planting are effective. This continues to show that they take their efforts seriously.
3.       The organisation donates 10% of all its profits to conservation projects in Asia. Besides planting over 30,000 trees since they started they've also reintroduced gibbons and hornbills in northern Thailand.
4.       This really goes without saying but Flight of the Gibbon take safety very seriously. In fact every group has not one but two sky rangers with them and they make sure you are completely safe throughout the tour.
To book a tour with Flight of the Gibbon just click this link: Flight of The Gibbon, Chiang Mai
Stay tuned for a video of our day with Flight of the Gibbon on our Youtube Channel.
If you are staying in Thailand for a while why not volunteer with one of our partners? Check out the opportunities here: Volunteering in Thailand
Thank you Flight of The Gibbon for inviting us on your wonderful tour. It was one of our highlights of our trip to Thailand. Keep up the great work.
Karen is a trained psychologist and coach. But really she's an adventurer who believes travel can be one of life's best teachers. She writes to inspire you to take the leap and travel in a way that is memorable and meaningful.