I must admit, before landing in Finland I had never heard of the Åland Islands. That is the wonderful thing about travel, no matter how much you do it, there is always a destination you have never heard of. When I found out that we had to take an overnight ferry from Helsinki to reach the Aland Islands that intrigued me even more. Then I found out that most of the inhabitants speak Swedish and the islands are a demilitarised autonomous region and my interest in them soared.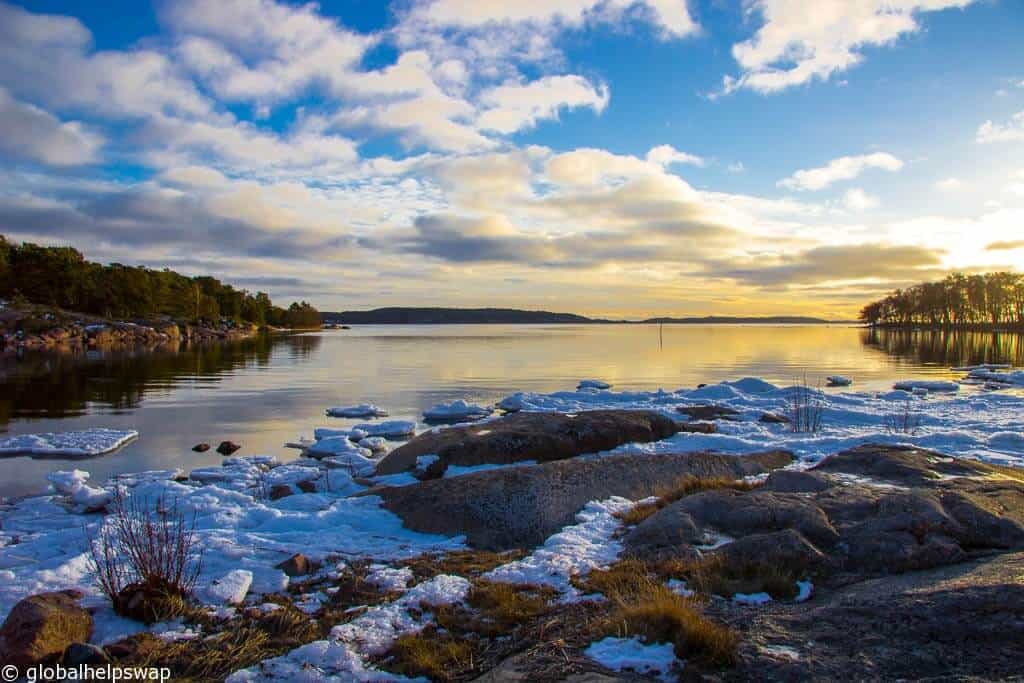 The Åland Archipelago consists of nearly three hundred habitable islands, with 80 of them inhabited. That is a lot of empty islands to go and explore. Even the inhabited islands seem quite empty as the population of the entire region is around 29,000. That number explodes in summer when a lot of Finnish tourists descend to the islands to enjoy the outdoors. We visited in the heart of winter and still spent most of our time outdoors. Here is why we think you should visit Aland too:
Things to do in the Åland Islands: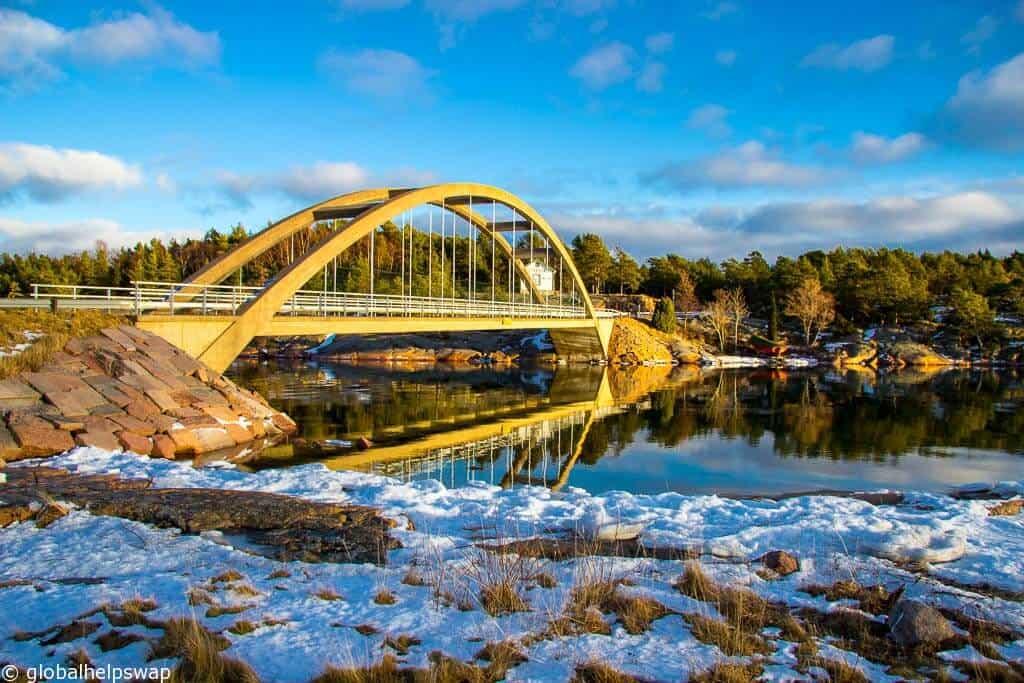 How to get to the Aland Islands Finland
You can get to the Aland Islands by ferry or air.
Ferries to the Aland Islands
We took the overnight ferry from Helsinki and you can also take a ferry from Stockholm, Sweden.
There are various ferry companies doing the route. Click the links below to get up to date info:
Eckerö Linjen
Grisslehamn, Sweden – Eckerö Berghamn, Åland Finland
Finnlines
Kapellskär – Långnäs – Naantali
Tallink Silja
Stockholm – Mariehamn/Långnäs – Turku
Stockholm – Mariehamn – Helsinki
Stockholm – Mariehamn – Tallinn
Viking Line
Stockholm – Mariehamn/Långnäs – Turku
Stockholm – Mariehamn – Helsinki
Ålandstrafiken
Korppoo/Galtby – Åland Island (to the main island or to some of the islands)
Kustavi/Gustavs – Åland Island (to the main island or to some of the islands)
Flights to the Åland Islands
Finnair
Helsinki – Mariehamn
NextJet
Stockholm – Mariehamn
Turku – Mariehamn
Nordic Skiing in the Aland Islands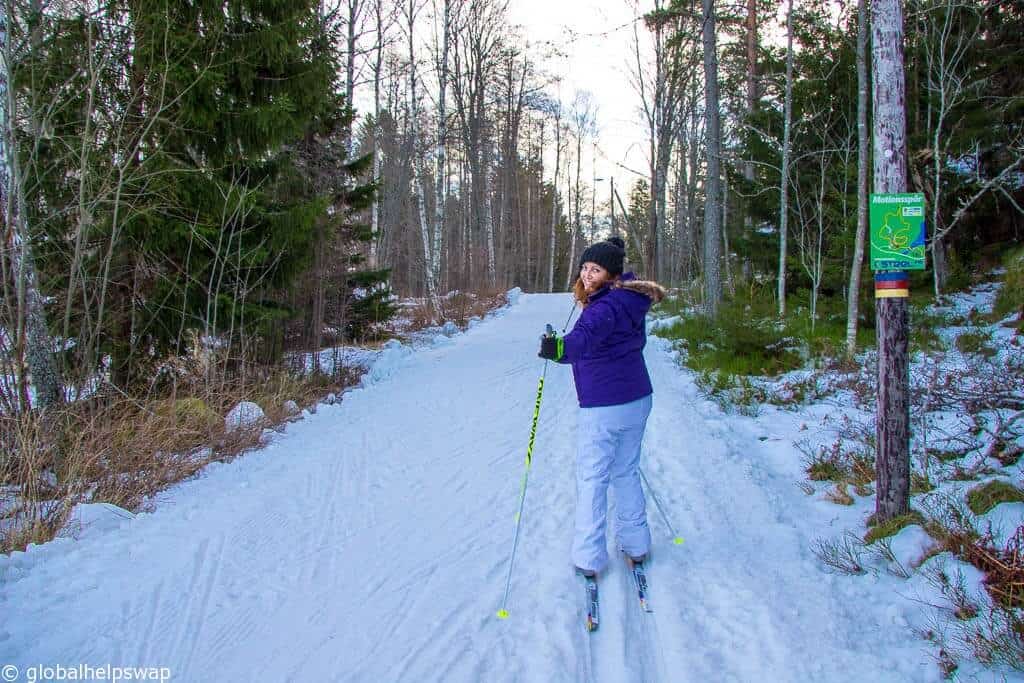 We got to the Åland Island a week after skiing in France, so when we saw Nordic Skiing on our itinerary we nonchalantly presumed we knew how to do it. Skiing is skiing right? Wrong! They couldn't be more different. Even the skis are different. Just putting them on made us realize that we were novices when it comes to Nordic Skiing. Lucky enough we were not the only ones.
The area where we skied had a course laid out for us which made the skiing slightly easier. I still felt very unsteady for the first 30 mins but I slowly got the hang of it. The locals were whizzing by on the open piste. Even though it was -15 degrees the piste was busy. I realized that Nordic Skiing is more of a social sport than downhill skiing as people stopped and talked a lot more than they do on the mountains. The scenery was stunning. Apart from going to the sauna (which we will come to later) cross-country skiing is THE activity that will make you feel like a local. Just be warned, you won't ski as well as them that's for sure.
Camping Aland Finland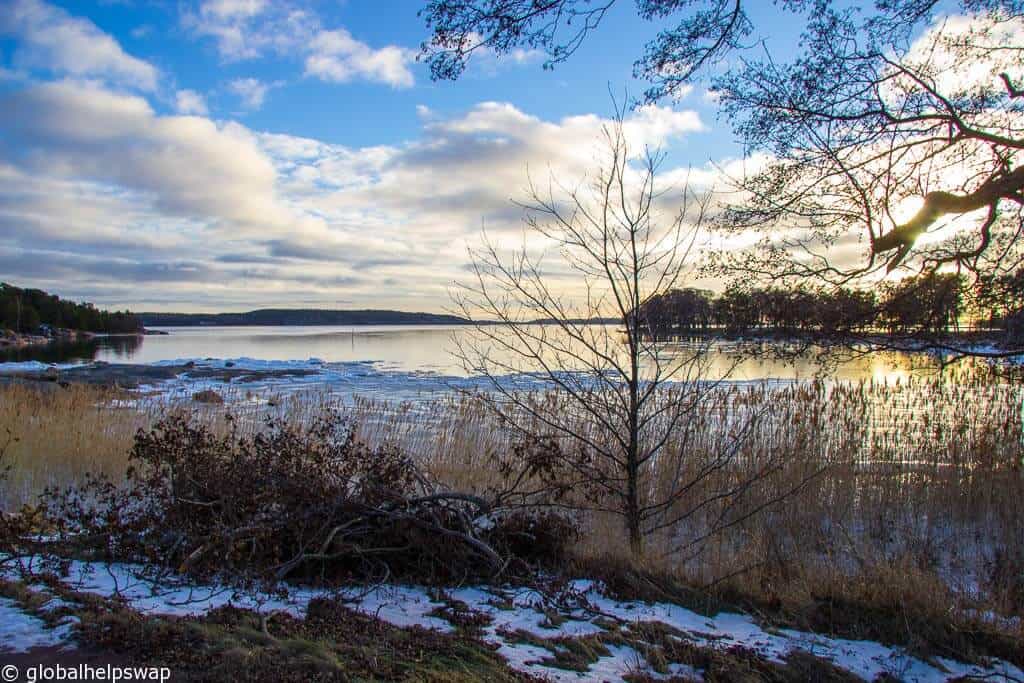 In spring, summer and autumn holiday makers dust of their tents and pitch up all over the Åland Islands. I couldn't think of a better place to camp as you will be surrounded by nature no matter what island you decide to camp on. It was a tad too cold when we were there so you will have to let us know what it's like.
Visit Åland Maritime Museum in Mariehamn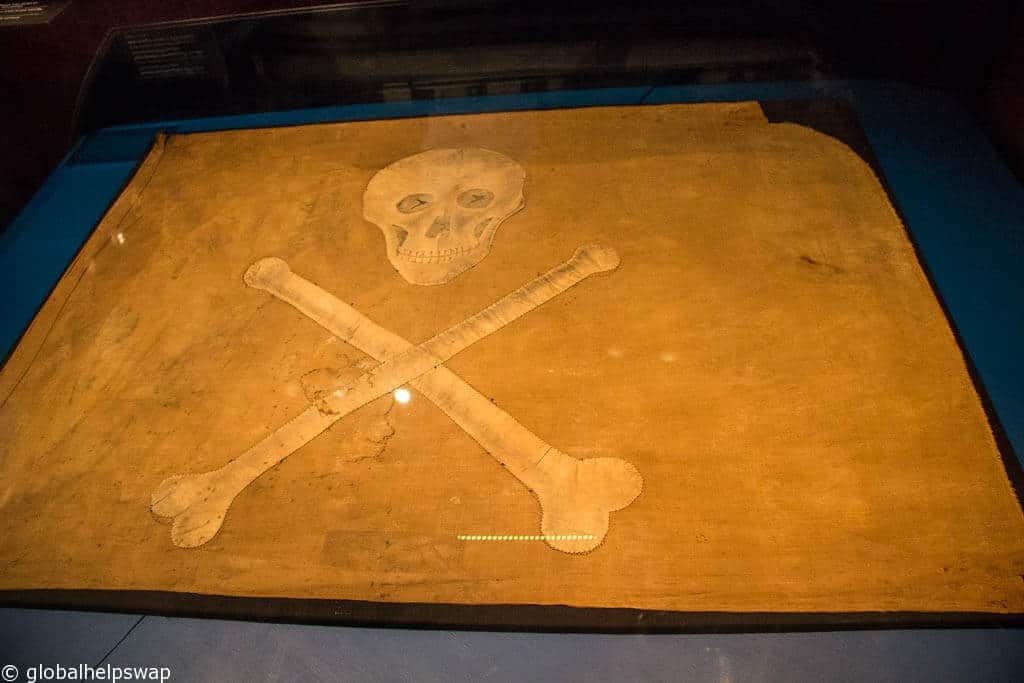 Prior to visiting Åland I had never really considered visiting a maritime museum. I have no idea why as I love the ocean and I'm fascinated by old pirate tales and epic sea voyages. I chose a good place to visit my first maritime museum. Åland's maritime museum got voted the best museum in all of Finland in 2016 and it's not hard to see why. The museum is informative, fun and interactive. Plus, they have one of only two genuine pirate flags in the world. How cool is that? We loved the authentic cabins they installed from old famous ships. The weird and wonderful souvenirs room has us all giggling too. The museum's curators have given a lot of thought to making it interesting for children and we were touched by all the thoughtful interactive elements scattered throughout. There were puzzles to complete, little mice figures to find and even a mast to climb! The whole experience turned us into little kids ourselves. If you are visiting the Åland Islands then the maritime museum is a must see.
Åland Maritime Museum Information:
Opening times:
Sept – May – 11:00 – 16:00
June – August – 10:00 – 17:00
Prices:
Adult – € 10
Child (7 – 17) – € 6
Have Coffee & Cake at Uffe på Berget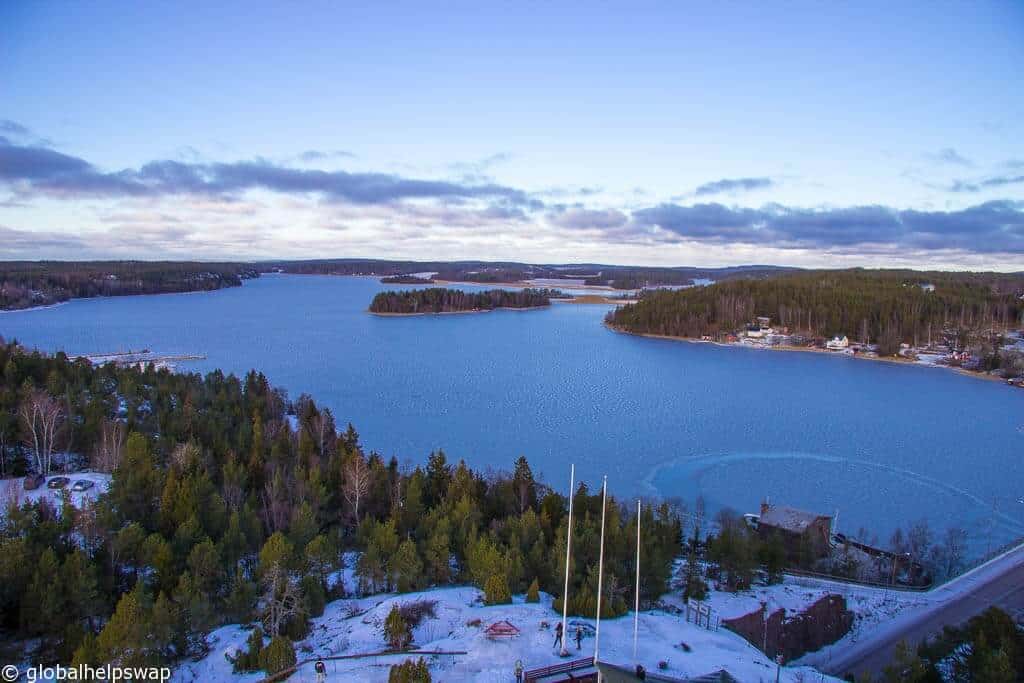 After Nordic Skiing we needed to wind down a bit and have a reward. What better way to do this than have coffee (the Finns are the biggest coffee drinkers in the world) and cake with a view. Uffe på Berget is a cafe overlooking a lake. The views in the cafe are stunning but better still, you can take your coffee and cake and climb the viewing platform right next to the cafe and have an even more spectacular view of the surrounding countryside. It's a lot of steps, but definitely worth it.
Visit Bomarsund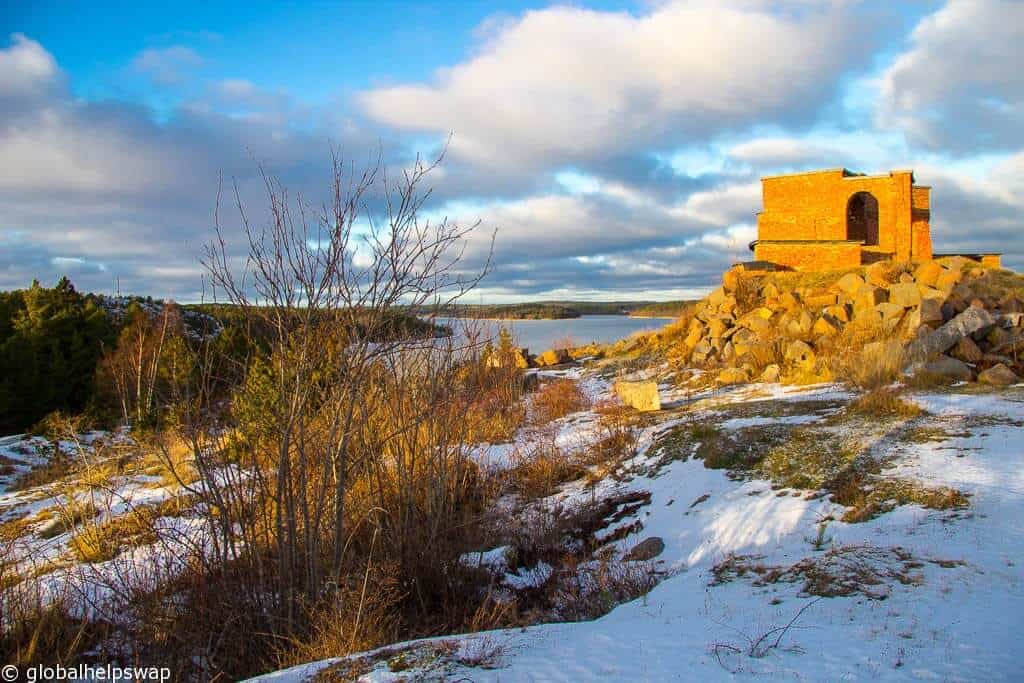 The ruins of Bomarsund Fortress is one of Åland's most historical sites. Built between 1832-1854 by around 5,000 men (which was huge for Åland), Bomarsund played a big part in the Åland Islands becoming demilitarised because the fortress was home to the Russian army (Åland was part of Russia at the time) during the Crimean War. A combination of British and French soldiers attacked and defeated the Russians paving the way for the islands to get rid of their military.  The fortress is situated in a beautiful area right above a huge lake. Take a wander around after visiting the ruins to see what I mean.
Go Hiking around Åland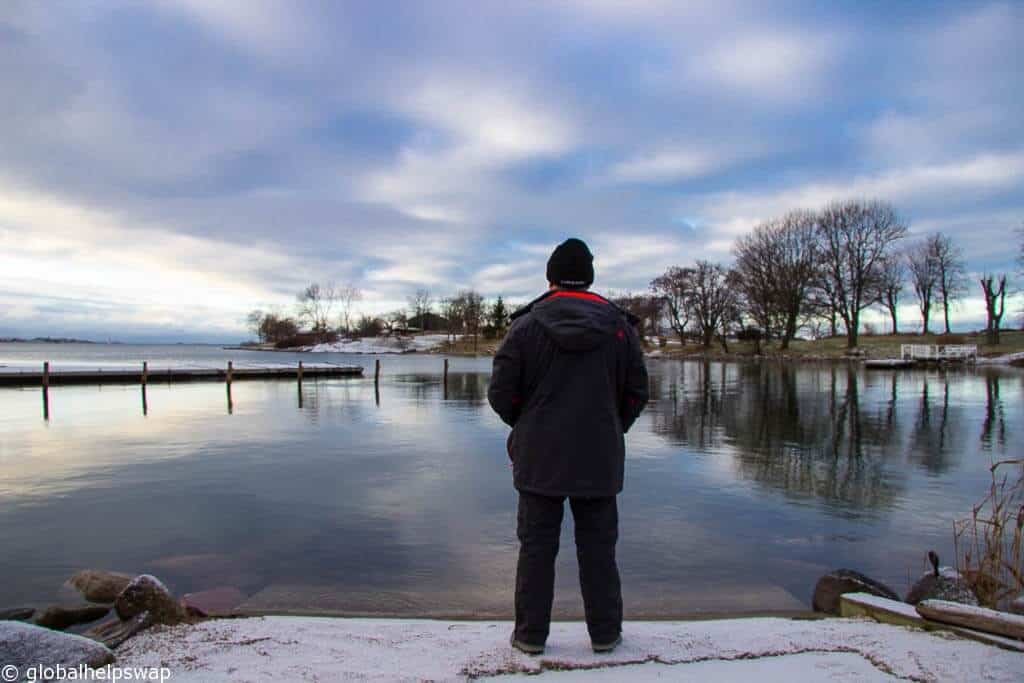 With such stunning scenery the first thing you will want to do once you get to Åland is get on your walking boots and go hiking. Make sure you take an extra memory card as you will soon fill up your camera with stunning landscape shots. The great things about hiking here is that the landscape changes rapidly. One minute you could be in an uninhabited forest, the next you could be walking along the coast. Visit the tourist information centre when you arrive to get some maps of the hiking trails and ask about guides.
Cycling in the Aland islands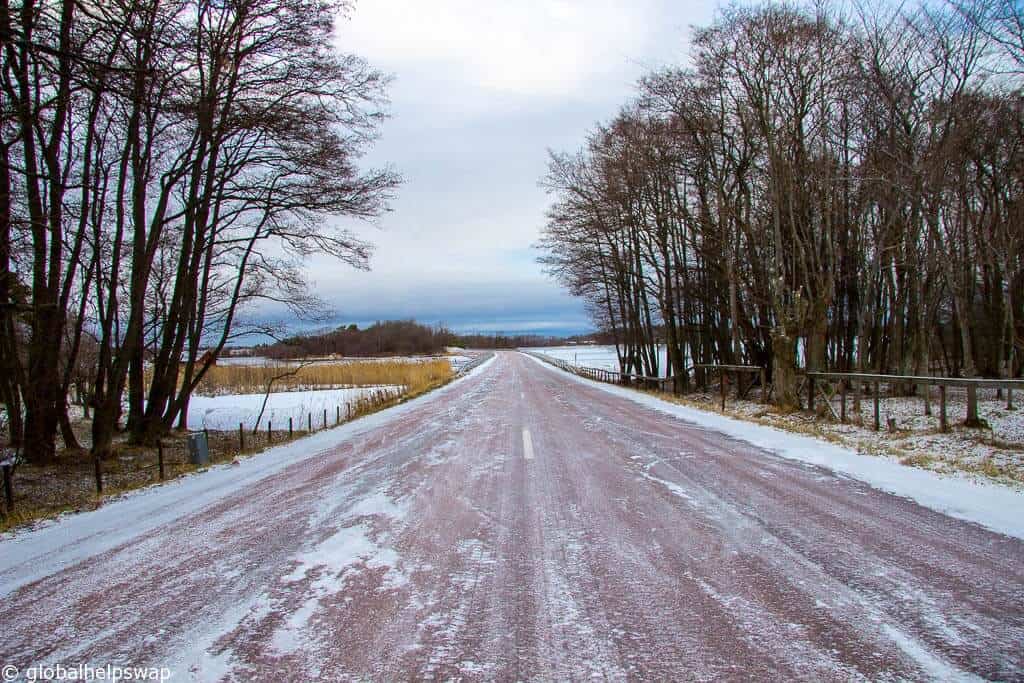 I think the Åland Islands are one of the world's great places to cycle. The roads are flat, there is hardly any traffic and there are bridges and ferries connecting you from one island to the next. Make sure you take food and drink with you as shops are few and far between. For most of the cycling all you will have is nature for company. As I write this, I am thinking we will have to return to do this because we couldn't in January.
Visit Mariehamn
Mariehamn is a great little town and port that caters for every traveller's need. This is where you will find good restaurants, cafes, bars and shops. It's a small town so you can get around on foot and all the locals are super friendly so if you do get lost they are sure to help you.
Rent your own island in Åland
How idyllic does that sound? Well renting your own island in Åland is a reality for a lot of Finns in the summer. As I mentioned there are over 200 empty islands for you to enjoy. We like the idea so much we are considering renting an island ourselves to have our wedding on it! It's not as expensive as you would imagine either. You can get an island from $160 a night for up to four people, which is great value.
Visit the local brewery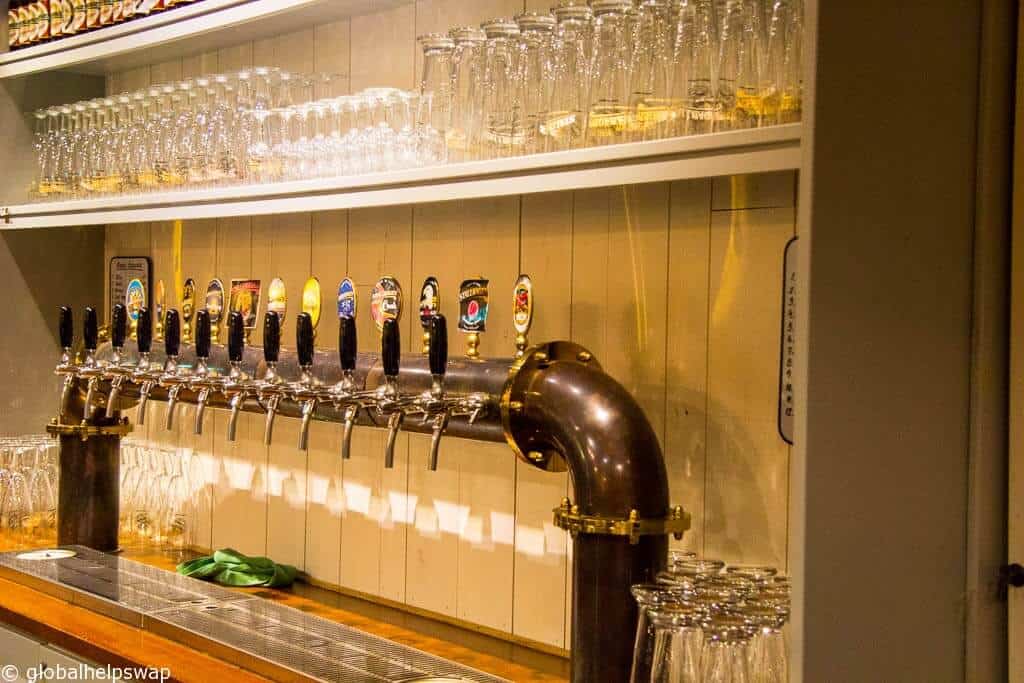 The craft beer explosion has reached these small islands in the middle of the Baltic Sea and after tasting the locals beers we are so happy it has. Stallhagen was established in 2004 by local beer enthusiasts. They produce a wide range of fantastic beers. Try the raspberry porter, it was my favourite. You can eat in the pub at the brewery and try a replica of one of the world's oldest beers. One of the founders of Stallhagen was diving (see below) off the coast of Åland when they discovered a shipwreck that had a cargo off champagne and beer, 5 bottles of beer to be precise. The local authority that owns the wreck gave Stallhagen permission to recreate the beer which you can try at the brewery.
Stallhagen Info:
STALLHAGEN AB
Address: Getavägen 196
22410 Godby
Phone: +358 1848500
Website: Stallhagen
Go diving in Åland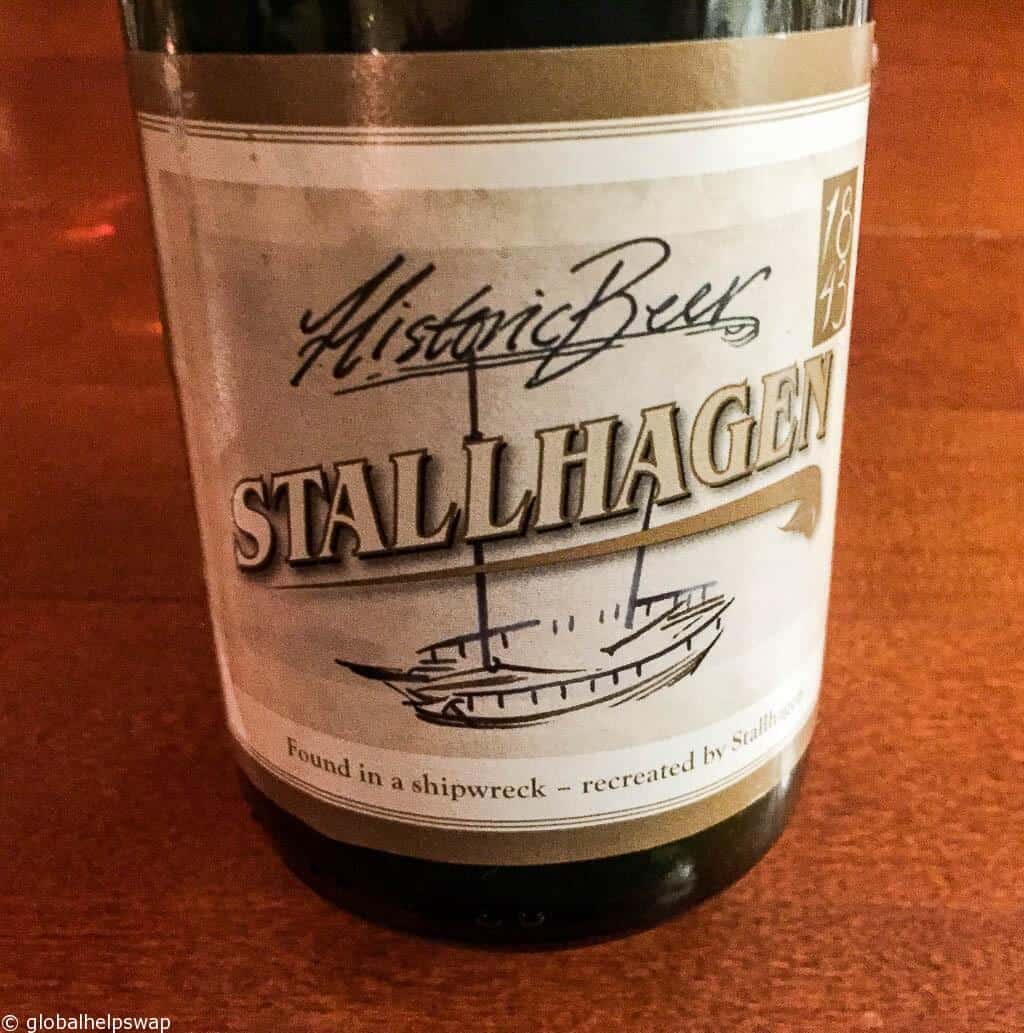 Now we are fair weather divers, you won't get us putting on drysuits and going into cold dark waters. Well, unless there is a chance to find the world's oldest champagne. Then we might just consider it. In 2010 divers discovered a shipwreck with 5 bottles of beer and 145 bottles of champagne. Because the temperature in the sea was a constant four – six degrees, the dark surroundings and the pressure both inside the bottles and at the bottom of the sea,  the champagne was in a remarkable condition. Each bottle was uncorked and tasted by a world-renowned wine expert (lucky, lucky man!) The oldest bottle was from 1826 and one of the bottles was sold at auction for a world record € 30,000. That's right 30,000 euros!
I am not saying you are guaranteed to find a wreck like this on your dive, you might just have to be happy with the 15 other wrecks on the sea bed. If you do find some champagne, let us try some before you drink it all.
Sauna at Marienbad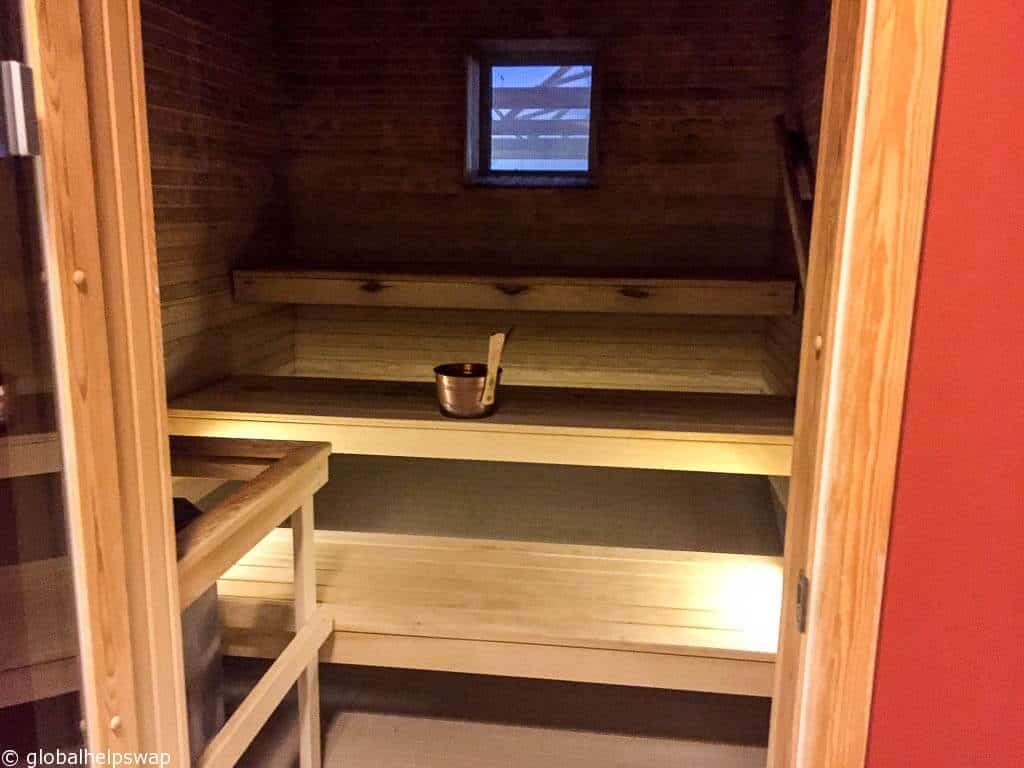 Come on, as if I was not going to mention taking a sauna. This is Finland after all. Marienbad has a choice of five different styles of sauna as well as jacuzzis, steam rooms, massage and swimming pools. I would recommend visiting here after a good hike or Nordic Skiing. God knows I needed it after the skiing. How I ached!
Where to eat in Åland
This is my 2nd visit to Finland and the biggest surprise for me every time I visit is the cuisine. I have never had a bad meal in Finland. I love the fact that they eat a lot more fish than meat and everything is super fresh. The restaurants in Åland are fantastic, here are our favourites:
60 North Bar & Cafe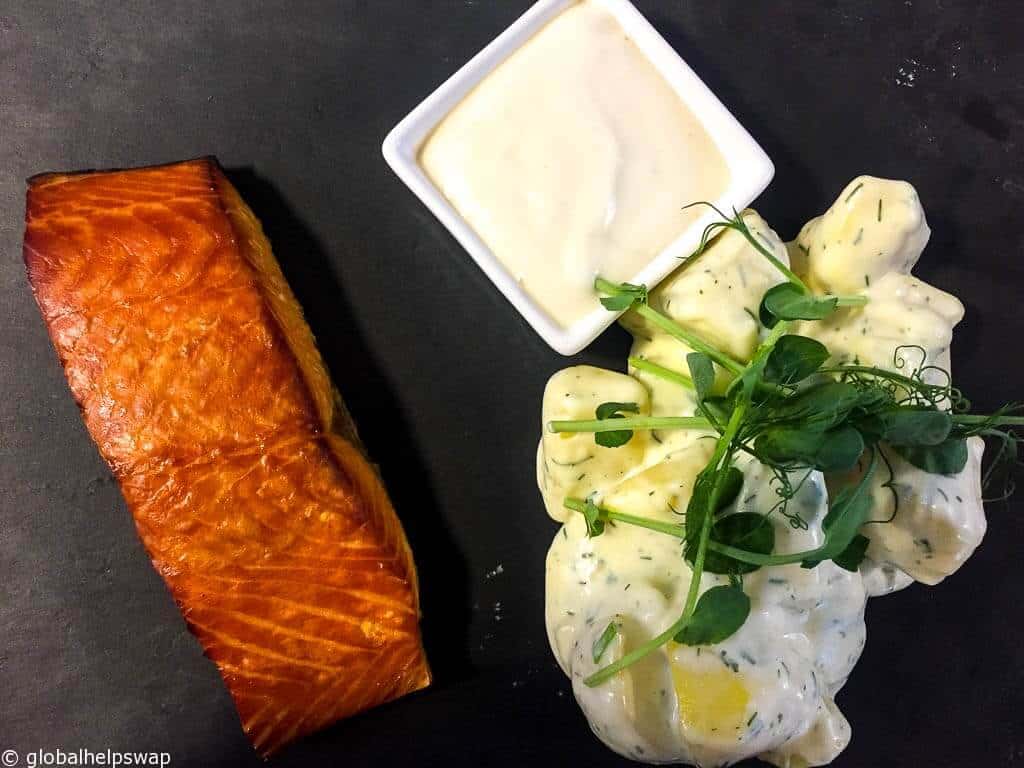 Address: Mariehamn Airport
Flygfältsvägen 67
AX-22120 Jomala
When we turned up at the small airport we thought we were picking up someone but it turned out that there is a really good cafe there. I had the salmon which was delicious.
Bagarstugan cafe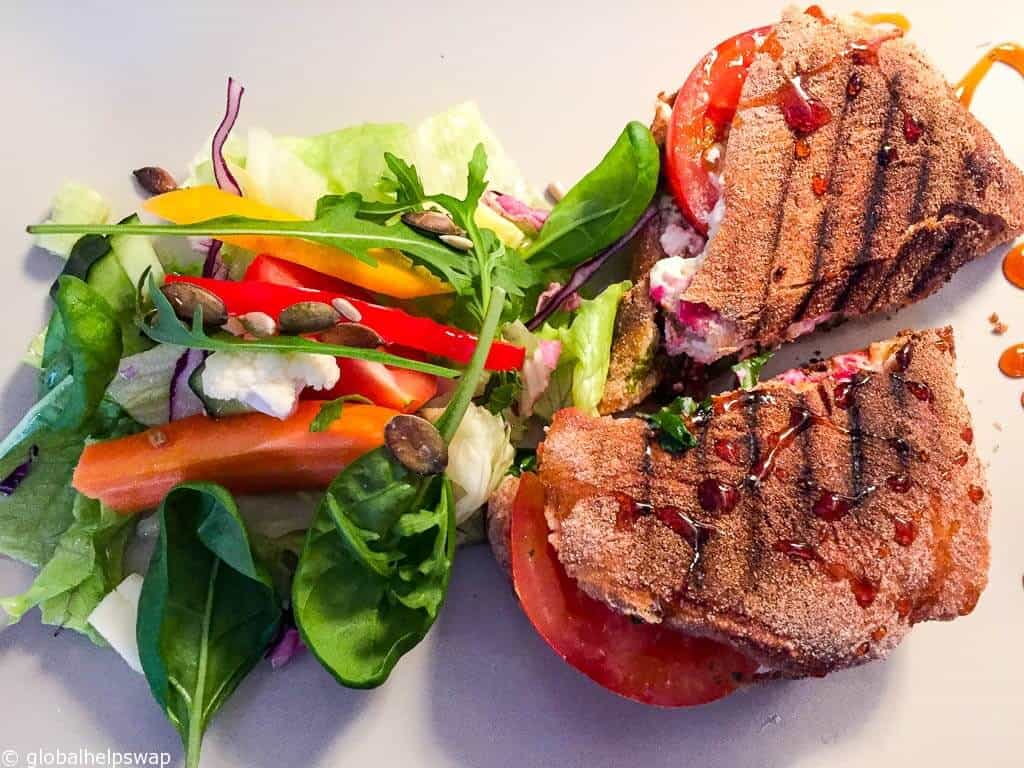 Address: Åland, 2 Ekonomiegatan, Mariehamn, Åland Islands
This has to be the one of the cutest cafe's we have ever been in. It is like something out of Beatrix Potter. The sandwiches were to die for and they had so much cake you will have to come back again, again and again.
Dinos Bar & Grill
Address: Stadsdel: Mariehamn
Strandgatan 12
221 00 Åland
Telefon: 3581813939
Great burgers, a good choice of beers and wine and lots of live music. What's not to love?
Stallhagen Pub
Address: Stallhagen AB | Geta road 196 | 22410 Godby | Aland | +358 18 48500
Apart from the aforementioned beers the Stallhagen Brewery and Pub has a daily changing menu depending what they brought from the market. The day we were there we had delicious fresh fish.
Åland Accommodation
Like all over Finland the quality of the accommodation in Åland is very high. Here are our 3 favourites:
Hotel Arkipelag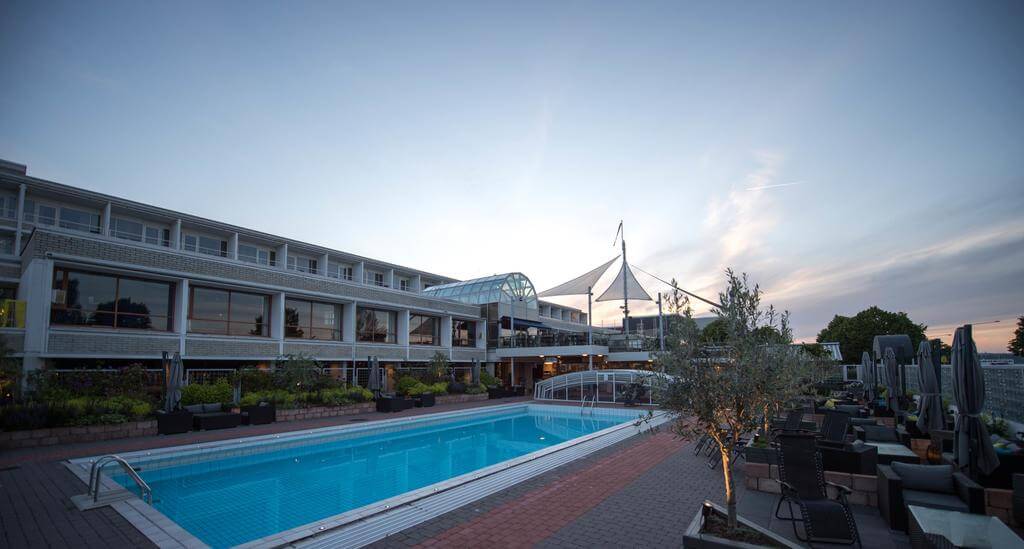 This is the hotel where we stayed for two nights. Hotel Arkipelag has lovely big rooms with comfortable beds and a great buffet breakfast. It's in the heart of Mariehamn and has beautiful views of the ocean right in front of the hotel. Click here for the latest prices.
Finnõ Stugby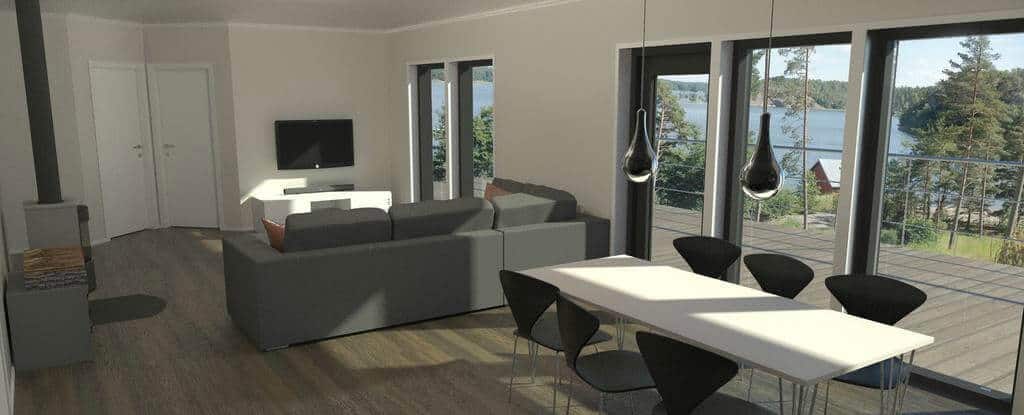 Offering a barbecue and a private beach area, Finnö Stugby is located in Geta in the Åland Islands Region, 19.3 miles from Mariehamn. Previous guests loved the fact that you are located in a quiet forest with lake views but yet have modern facilities like flat screen tv's, wifi and of course a sauna. Click here for the latest prices.
Kvarnbo Gästhem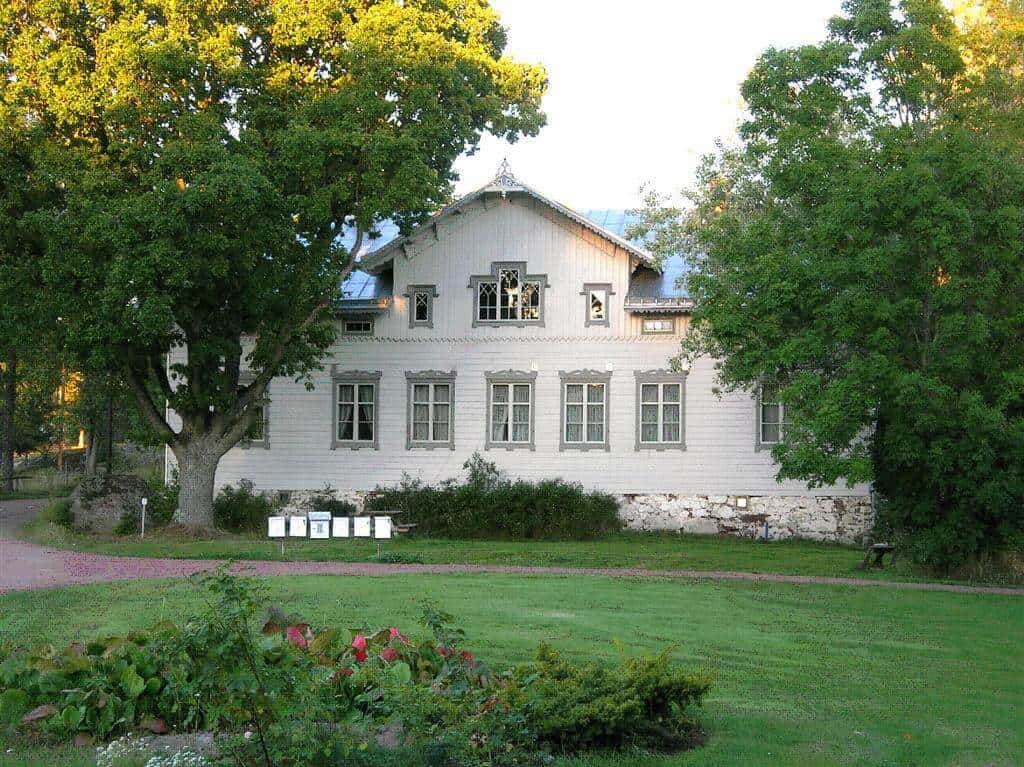 Housed in a fully restored period building from the 1880s, this beautiful privately owned guest house is located in the middle of Saltvik village, right opposite the village church. The sandy Kvarnboviken Beach is 450 yards away. Past guests loved the breakfasts, the vintage feel to the hotel, the staff and the location. Most people didn't want to leave! Click here for the latest prices.
Aland Weather
We visited Åland in January and the weather was beautiful. Blue skies, snow-covered vistas and very little wind. Yes, it was around -10 but we were prepared for that and dressed well so didn't feel cold at all. June, July and August are the warmest months.
Aland Flag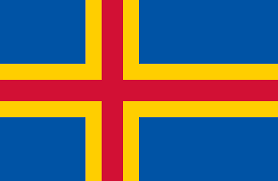 The flag consists of the Swedish Flag and the Finnish Flag with the red cross. Nowadays blue and white are considered the Finnish colours but in the past Red and Yellow were on the Finnish coat of arms.
Final thoughts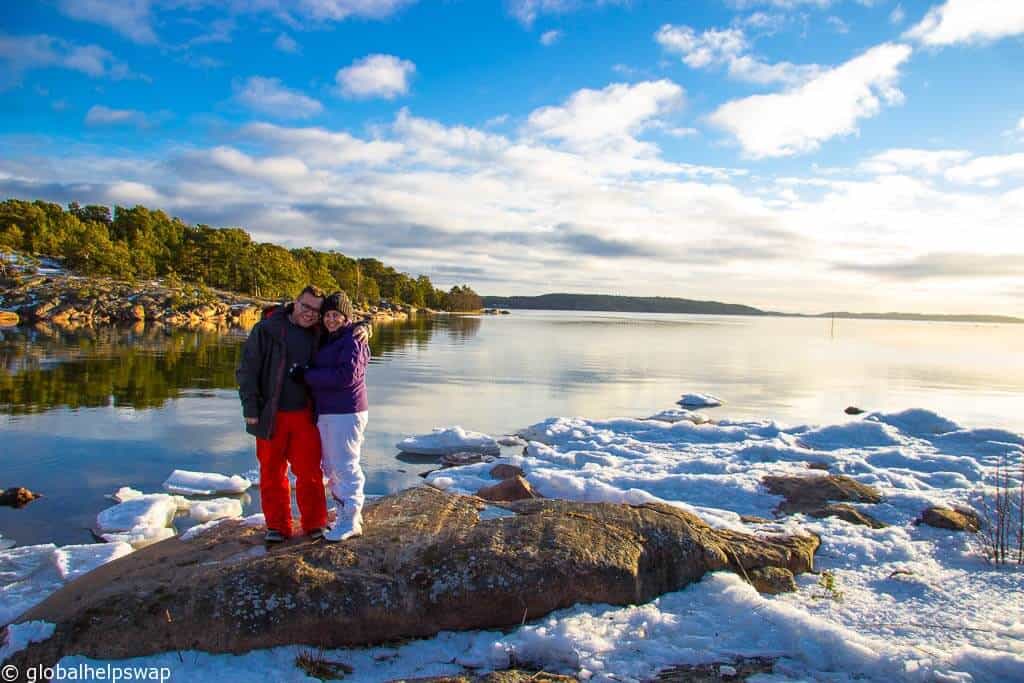 We fell in love with the Åland Islands, they are Finland's fairytale islands. We would have loved to have had a week to explore more of the other islands. The people are friendly, the food and drink are top class and there are loads of activities to do but the main reason to visit these islands is to reconnect with nature. These islands are beautiful, no matter where you are, your vistas will be like a postcard. In a word: GO!
Heading to Finland? Then maybe you will like these posts too:
Things to do in Ruka Kuusamo, Finnish Lapland – A.K.A Winter Wonderland – We have always wanted to go to Lapland and after reading Tara's blog we want to go even more!
Löyly: The best public sauna in Finland – Read about the best public sauna in Finland and why you should go there too.
Discovering Lake Saimaa – Finland is full of lakes, read why Lake Saimaa is one of the most popular.
Buy the guidebook: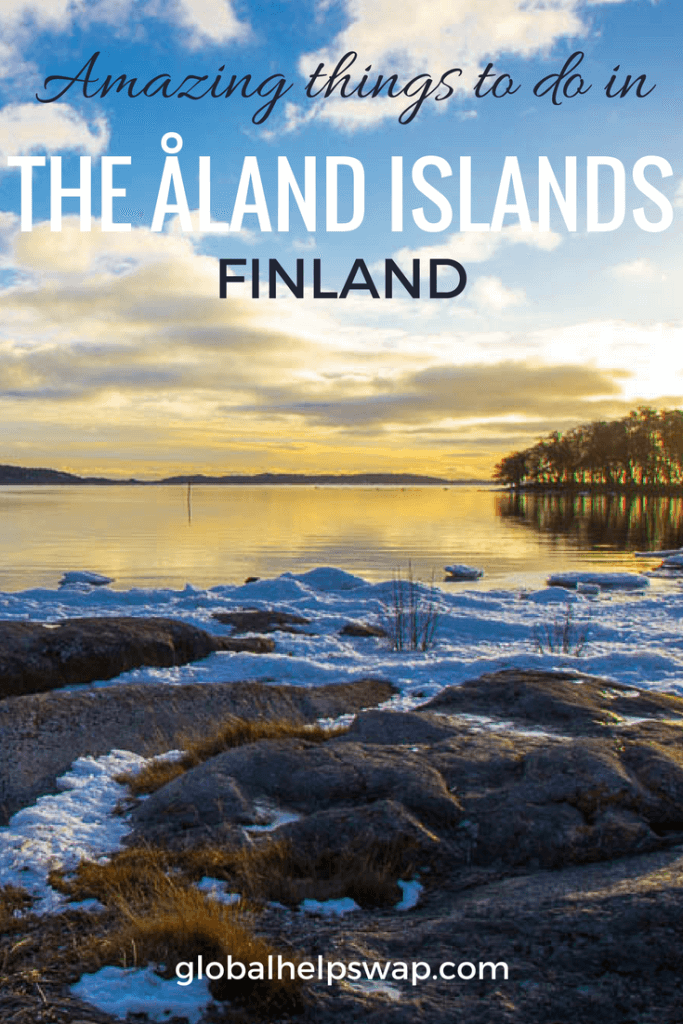 We were invited to the Åland Islands by Visit Åland as part of NBE Finland. As always, opinions are our own.