The Baltic Sea in January. Normally in Helsinki it is frozen over but tonight I am "lucky" as it is not quite so cold. As I gingerly walk towards the steps leading down to the inky blackness, steam is coming off me. Dave my companion in this mad adventure is already in the sea and seems fine but looks are deceptive. He has lived in Finland for years and has grown a thick skin. I get to the edge of the steps feeling like a little kid on the highest diving board. The twinkling lights of the boats in the distance are creating a light show on the water. Will this be my last scene I wonder? I step down one step at a time.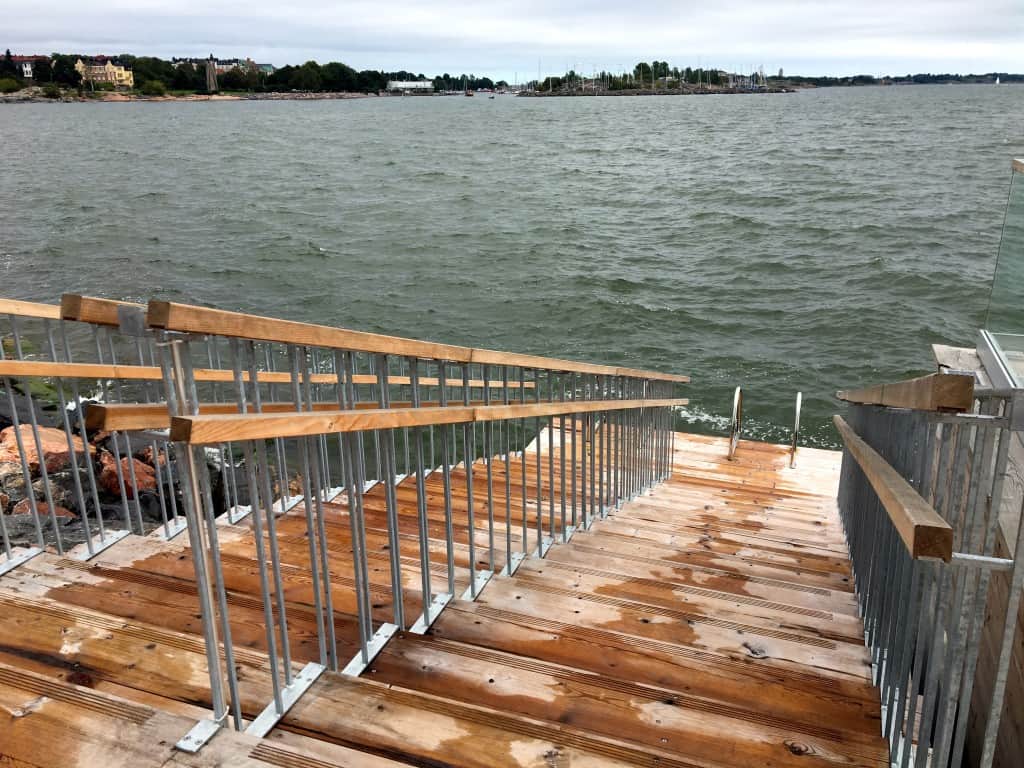 No words can convey the feeling of the ice-cold water when it hits my body. Yes, it did take my breath away and yes it was bloody freezing. I lasted all of 10 seconds in the water before hurling myself out to run towards the sauna. My body was tingling all over and I got an adrenaline rush. Oh, this is why they do it, I thought. The Finns do this all the time, from sauna to ice-cold water for hours. I suppose it's healthier than drugs and a lot cheaper.
The best sauna in Helsinki, Finland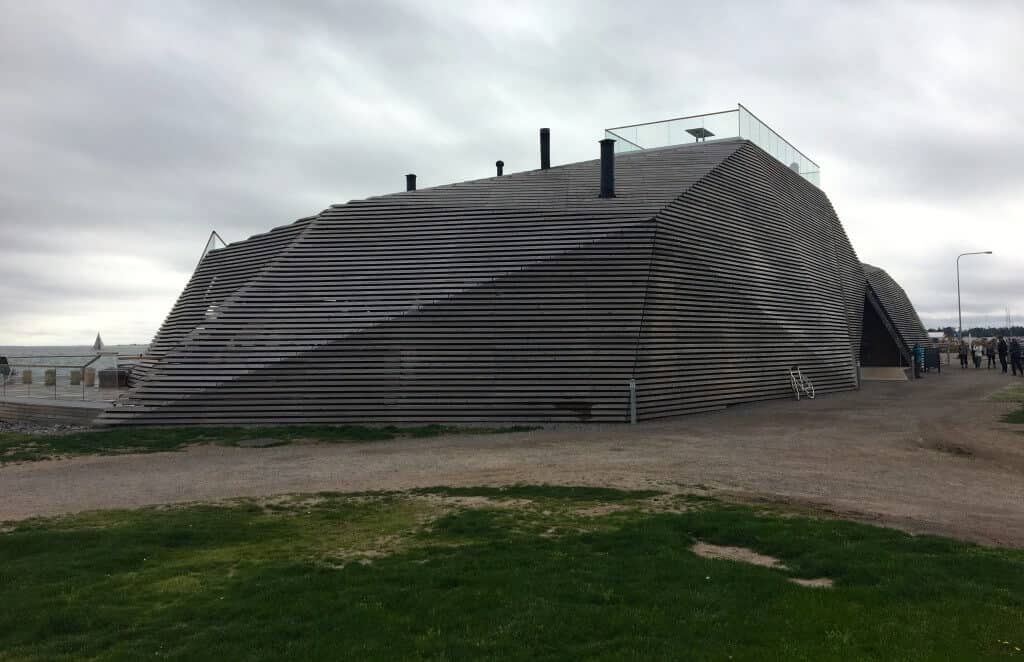 Sauna in Finland is the countries unofficial religion. Almost every Finn owns at least two saunas, one in the city and one in their summer cottage. We were at the newest and in our opinion best sauna in Helsinki. Löyly (meaning the steam that comes when you throw water on hot stones) sits right on the Baltic and has a choice of two types of sauna; smoke and wood burning. Public saunas used to be common in larger cities but because almost everyone has access to a sauna most public saunas closed, which is a shame as we loved the communal aspect 0f Löyly. Sitting in a sauna with strangers is a great way of breaking down barriers. As there are no distractions like mobile phones or wifi, you are forced to do that ancient pastime of talking to people. Check out this post on Finnish Sauna Etiquette before you head to your first sauna.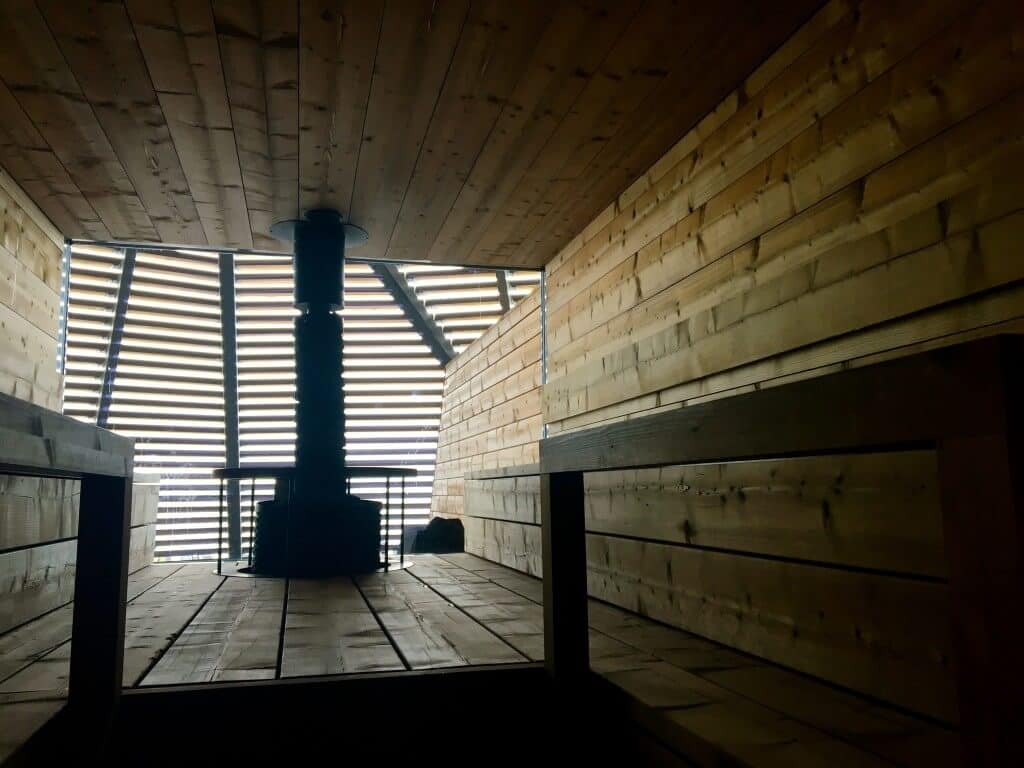 Apart from the saunas, Löyly also has a restaurant, bar, coffee shop, and areas that you can hire. There is also a lovely chill out area in between the saunas that has an open fire (maybe it should be called a warm up area?). The building itself is a striking design created by award-winning architects. It was the first Finnish building to be awarded the FSC certificate by the Forest Stewardship Council and only the second in all of Scandinavia. So you can sit back and relax on that hot wood knowing it was sustainably sourced.
The best thing to do in Helsinki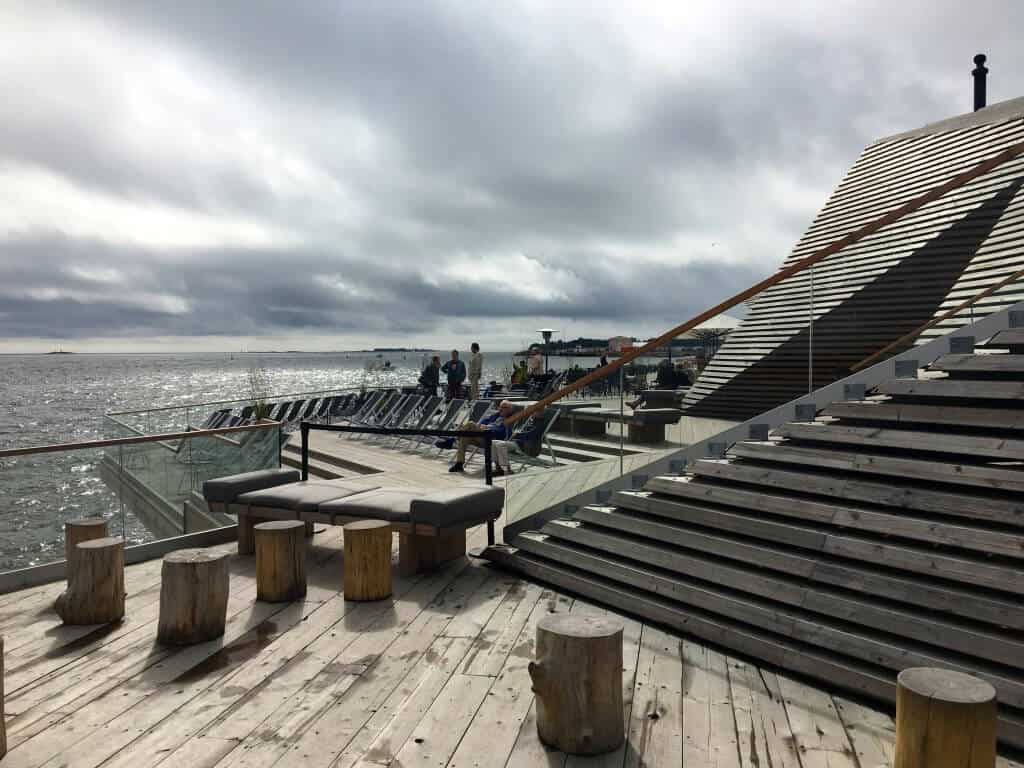 We love discovering a country through locals' eyes. Sitting in a sauna in Finland can't get any more local. By the way, Sauna is a Finnish word and the only one in the English dictionary, so remember that for your next pub quiz. A Finnish friend was telling us how in the past people used to have babies in the sauna, especially in winter as the sauna was warm and clean. That's how important sauna culture is to the Finns. Do Finns go naked in saunas? Yes they do but don't worry, at Löyly everyone has a bathing suit on in the mixed public saunas.
As I entered the sauna, the heat hit me like a warm comforting blanket. I noticed that only half the people had entered the ice-cold sea, did they know something I didn't? I soon relaxed and let my mind wander. I could get used to this I thought, no wonder the Finns do it every week. I was pulled out of my daydream by Dave asking me if I wanted to go back into the sea. What do you think I answered?
If you really want to know Finland and its people, head down to Löyly, sit in the sauna for a while and then jump into the ice-cold Baltic sea. Trust me, you will thank me for it. Well, maybe you will.
Löyly Information:
Address: Hernesaarenranta 4, 00150 Helsinki
Tel: +358 9 6128 6550
Sauna Opening Hours: Mon – Wed 16:00 – 22:00, Thu – Sat 13:00 – 22:00, Sun 13:00 – 21:00
Admission: A two-hour booking for the sauna costs 19 euros and includes a towel, seat cover as well as soap and shampoo.
#LoveYourTravels
All photos by TravelDave
We were kindly invited to Löyly by NBE Finland. All opinions are our own, especially about the sea temperature!