Our short trip to Unawatuna turned into a two-week stay when we hit the accommodation jackpot. This gave us ample time to sample many of the Unawatuna restaurants on the beach as well as some restaurants around Unawatuna. Here's a list of what we think are the best restaurants in Unawatuna and around.
Unawatuna Beach Restaurants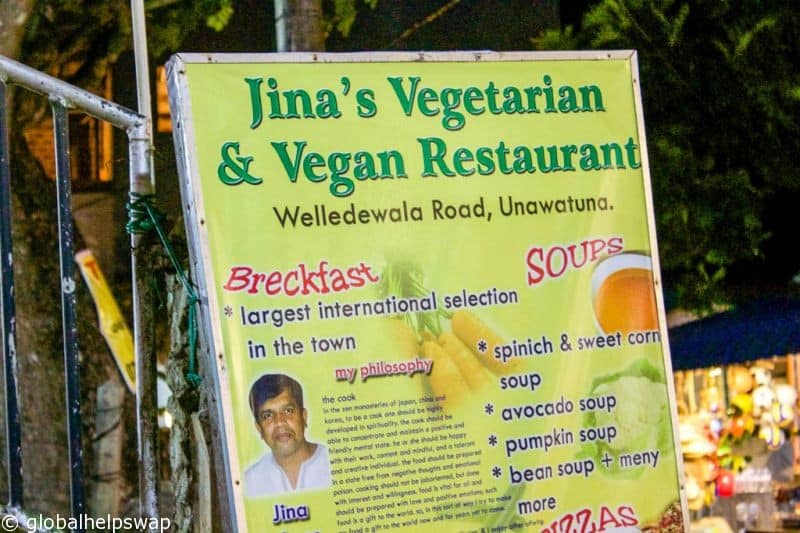 1. Jina's Vegetarian and Vegan Restaurant, Wella Devale Road (Next to Zimmer Rest).
While I'm not vegetarian, the tastiness of the curries we ate here convinced me that I could eat less meat and still enjoy delicious, and deeply satisfying meals. Both Paul and I went for the Indian Thali meal here which consists of 3 mouth-watering curries, a range of warm flatbreads and poppadoms, a small bowl of addictive pineapple pickle and another small bowl of garlicky yoghurt with chopped tomatoes.
The aubergine (brinjal) curry was so good that even though I'm mildly allergic to aubergine I couldn't help but wolf down this mouth-watering dish. To hell with the consequences. If you're planning on eating here I would really recommend you pop in at the start of your stay and ask Jina when he plans to cook this curry. It's THAT good.
We also tried the avocado, coconut and banana lassi which was divine and very filling.
One word of warning, in most Unawatuna Restaurants the food takes quite a while to arrive, Jina's takes the lead in waiting time. On our first visit here Jina rang a little bell to get all the diners' attention and charmingly warned us that the kitchen was running a little behind. There's a library of books to help you while away the time.
So when you go here, don't wait until you're starving. The earlier you go, the more likely you are to find a table. We got there at around 7pm and the restaurant was already packed.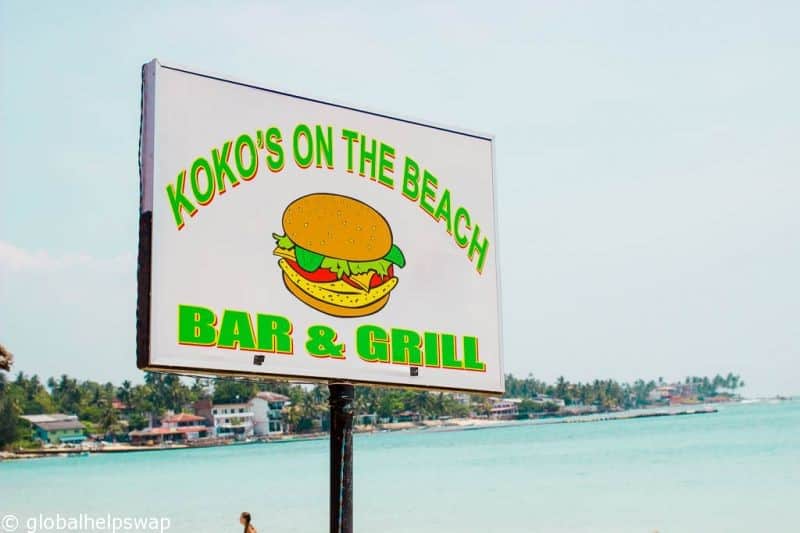 2. Koko's on the beach, Yadehimulla Road Unawatuna
When you're a little curried out and need a break from Sri Lankan food, this is the place to head to. Their menu includes grilled seafood, burgers and even the ubiquitous British dish – fish and chips. Even though I spend most of my time in the UK I never eat fish and chips as the oiliness doesn't appeal to me. Well, that all changed when I went to Koko's.
I was about to order their grilled prawns when the waiter walked past me with a plate of fish and chips that looked and smelled so divine that when I opened my mouth to order, the words 'fish and chips' tumbled out.
The uber fresh, thick chunk of fish, wrapped in light crunchy batter was to die for. While the hand cut, proper chips had me swooning. Gorgeous, fresh, well cooked food and all served in a gorgeous setting right on the beach. Perfect!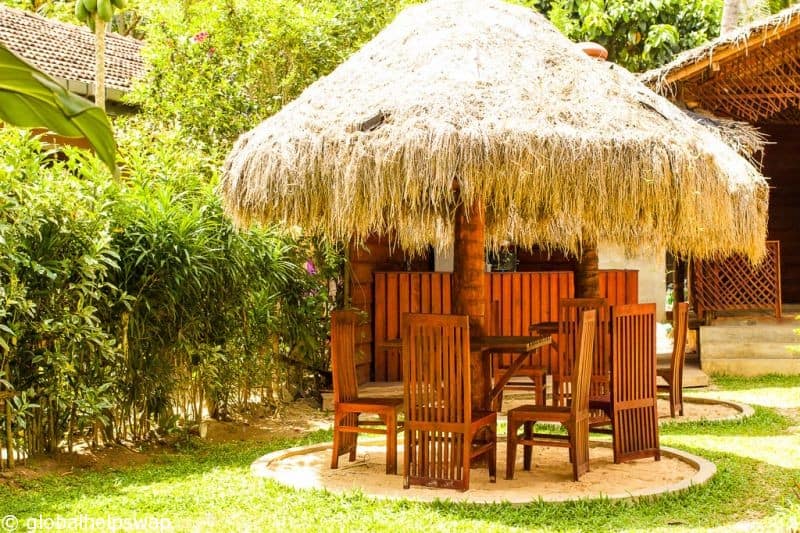 3. Blue Crab, 
44, 

Palakatiya Watta, Yaddehimulla Road, Unawatuna

We were attracted to this place by the tropical looking tables with thatched roof umbrellas on top. The place is nicely done up and the tables are a little further in from the busy main road.

The service here was a little disastrous, starting with the waiter dropping a lit candle on me, continuing to more than an hour's wait for our food, followed by it being sent to the wrong table. Ha! It helps to have a sense of humour in these situations. We found out at the end of the night that they had just changed all their staff and were short of staff on that night, so hopefully by the time you visit the service will be better.

So you might be thinking if the service was so bad why are you recommending this restaurant?! Well because when the food eventually made it to our table it was heavenly. The grilled prawns with lime and garlic were fresh and very well cooked. The sauce was so delicious that it had me licking all my fingers twice. If we weren't in a public place I would probably have licked the plate too! (yes class IS my middle name).

Paul had grilled tuna which was also great but completely overshadowed by my delicious prawns.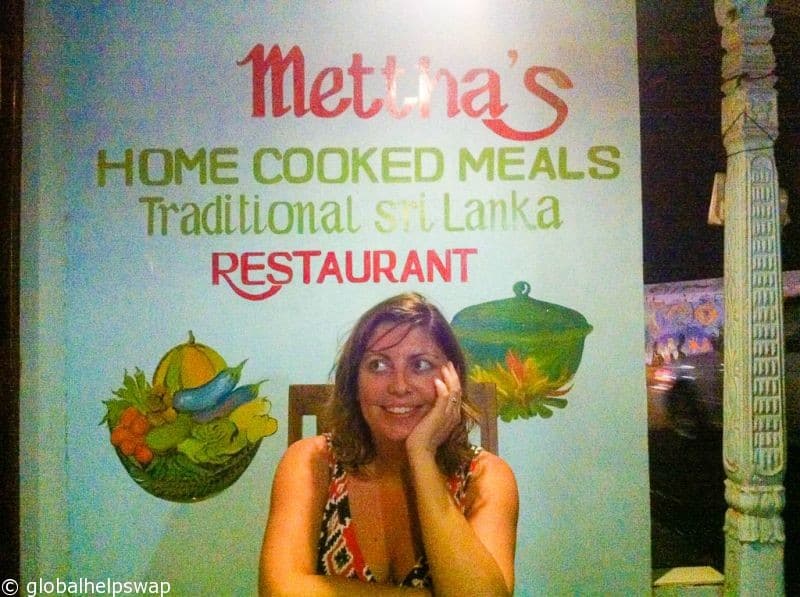 4. Mettha's Home Cooked Meals, Yadehimulla Road Unawatuna
Mettha's looks more like a shop than a restaurant, but don't let this put you off. Mettha cooks some of the best curries in town and serves them quickly and cheaply. There's no menu here. Generally three different curries are cooked and served and these vary each day. It's usually a mixture of vegetarian and meat curries. The dhal we ate here is the best dhal I have ever tasted in my life. Thick and perfectly seasoned. I still dream about the first gorgeous mouthful that made my tastebuds zing.
Now I love food too much to be swayed into loving a place just because there's a nice owner. But when the owner is also smily and chatty and just oh so lovely it does add to the experience, and Mettha certainly delivered on this front. She is exceptionally warm and chatty. We felt so welcome in this place, just like we had visited our favourite aunt for dinner.
This restaurant only has 5 tables available and it's hugely popular, so if you want to eat here come early.
Around Unawatuna
5. Sun N Sea, 324 Matara Road Unawatuna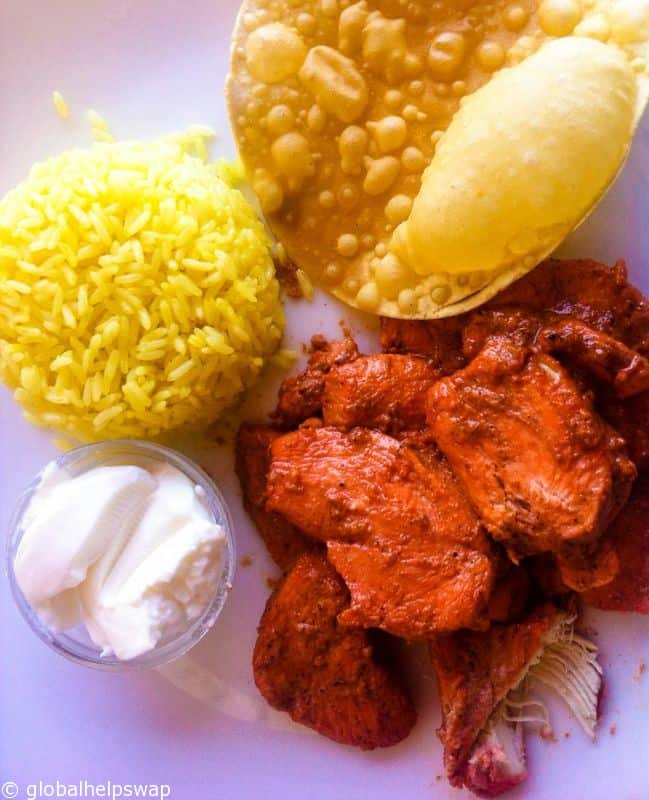 This restaurant is a Rs200 ride from Unawatuna Beach. It has a small pretty beach right next to it and all its tables have open sea views.
I tried the devilled fish dish over here which was very tasty. A devilled dish is originally a Chinese dish but it's very popular in Sri Lanka. It comes with loads of chopped up fresh tomatoes, onions, large chillies and spring onions and in my case tuna, all slathered in a slightly spicy, sweet sauce. It reminded me of a good sweet and sour sauce but it's less sweet and more spicy.
If you fancy a little snooze after your meal Sun n Sea also have very comfortable sun beds overlooking the sea that you can use for free. When we asked how much it would cost to rent the sun beds the manager laughed at the idea. It was almost like we had asked how much it would cost to rent the table and chairs we sat on. It's really nice to see that as a tourist you are not being squeezed for every penny you have, and is one of the many examples of the wonderful Sri Lankan hospitality.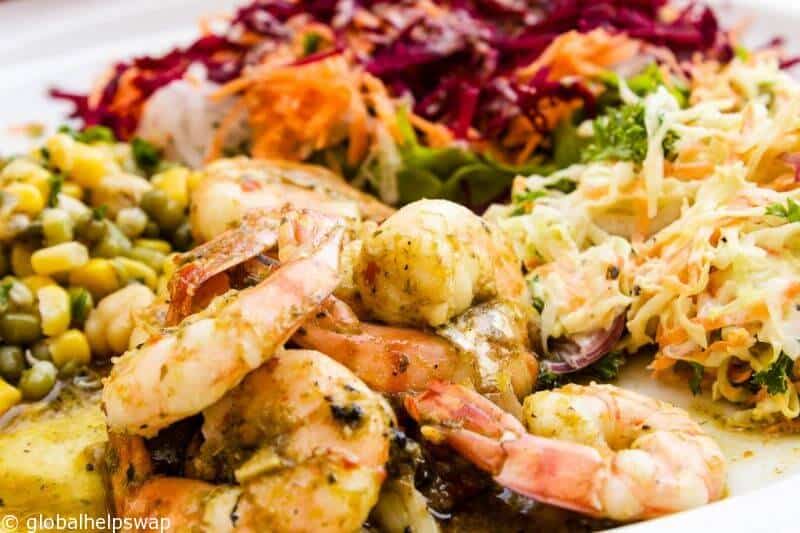 6. Wijaya Beach Restaurant, Dalewalla, Tel: 0777903431
Paul and I have a tradition that started when we were in San Pancho, Mexico. Friday night is pizza night, wherever we are in the world. We weren't sure if we could keep up the tradition and still eat good pizza in Sri Lanka, that is, until we discovered Wijaya.
Their super thin crust pizzas and good quality ingredients all cooked in a wood fire oven make their pizzas legendary. They are by far the best pizza you can eat in Unawatuna.
I had the 'make your own pizza' and combined anchovy, capers, onions and tuna on mine, because I'm greedy like that. While Paul stuck to the original anchovy caper pizza. Don't even think of sharing a pizza here, you will regret it the minute this flat round disc of delight lands on your table.
They also do other great dishes, like the delicious prawns I had one lunch time.
You may have noticed a lack of dessert reviews on this post. It's an unfortunate result of our ever-expanding waistline since we started travelling.The huge portions they serve in Sri Lanka also mean we're too full to even think of dessert by the end of our meal. But on this occasion the passion coconut cheesecake caught our hungry eye. How can you see the words 'coconut' and 'cheesecake' on a dessert description and decide to pass? No will can be that strong surely?
So on our 'Friday night is Pizza night', we also got to mutually melt in ecstasy as we tasted this delightful dessert. I don't know whether it was the lack of sugar in our diet or what, but this cheese cake had us scraping the plate with our spoons long after it was finished. Why oh why did we just share one?!
The restaurant is a Rs300 ride from Unawatuna Beach, and at Rs4000 rupees for 2 pizzas, 2 beers and 1 dessert is was more expensive that the other restaurants we tried, but well worth it.
7. Little shops / food stalls along Matara Road
If you've blown the budget at Wijaya and need to have a cheaper meal to balance it out, try out some of the small stalls along Matara Road. There's one that's close to Milton House that sells a nice portion of rice, that's big enough for two for Rs200. He also sells these lovely roti parcels stuffed with a spicy potato mixture but they sell out quite quickly so get there early if you want some.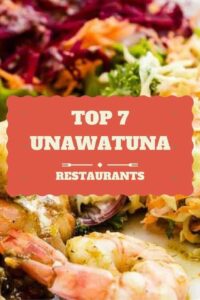 If you are heading to Sri Lanka then check out our Best Places To Visit In Sri Lanka post to get some ideas on where to go.
P.S. Most responsible travellers who read our blog sign up for regular updates. You can join them by filling in the orange box below.
#LoveYourTravels
Karen is a trained psychologist and coach. But really she's an adventurer who believes travel can be one of life's best teachers. She writes to inspire you to take the leap and travel in a way that is memorable and meaningful.