Responsible Travel
Green Sri Lanka – Accommodation
On our recent trip to Sri Lanka we were lucky enough to stay in some wonderful hotels and guesthouses. These places went out of their way to make us feel welcome, all served wonderful food and more importantly they all practised responsible tourism.
Welcome to our new mini series: Green Sri Lanka. We will be highlighting all the companies that we came across that practice in responsible tourism. From über luxury hotels, to good restaurants all of these places are doing something magical.
Our first hotel is a perfect case in point. The Cinnamon Lodge, Habarana is a 5* star hotel that not only does things to the highest standard but also goes above and beyond to make sure the environment, the wildlife and the people who work there are all looked after.
Sleeping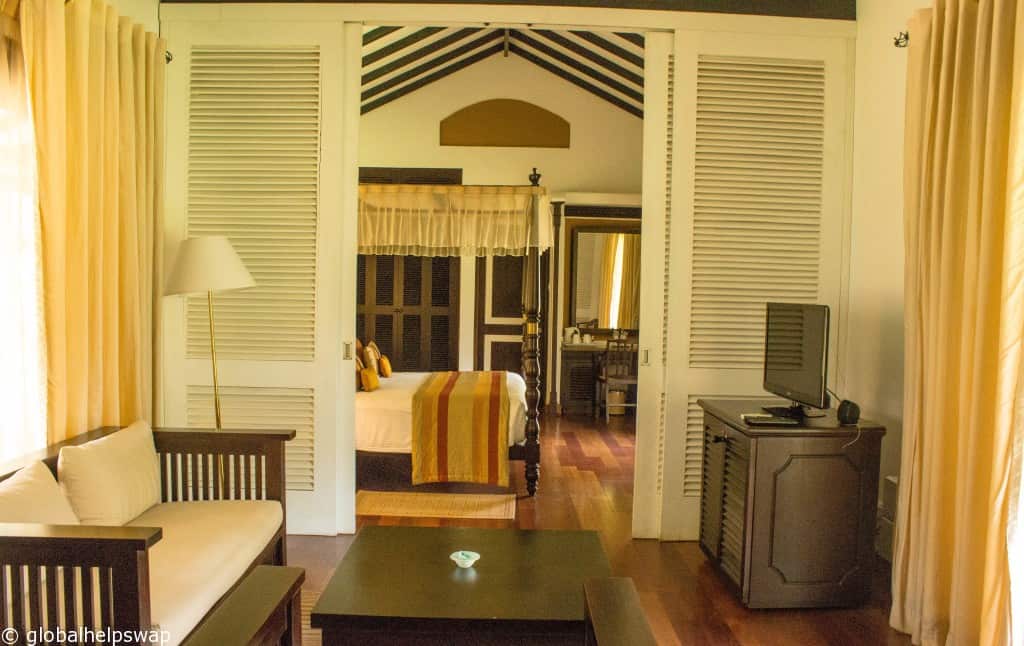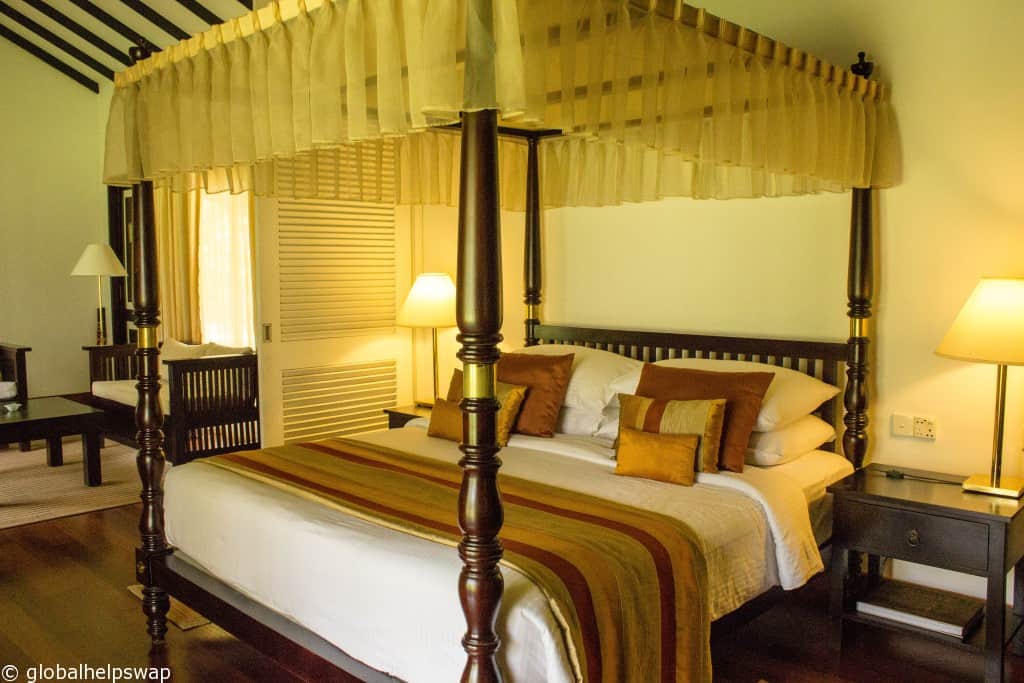 Our suite was probably larger than our apartment back home in London! With stunning views over the garden and watering hole (perfect for monkey watching over a gin and tonic) and all the comforts of home in the room it was hard to actually leave our suite to see the rest of the hotel.
Food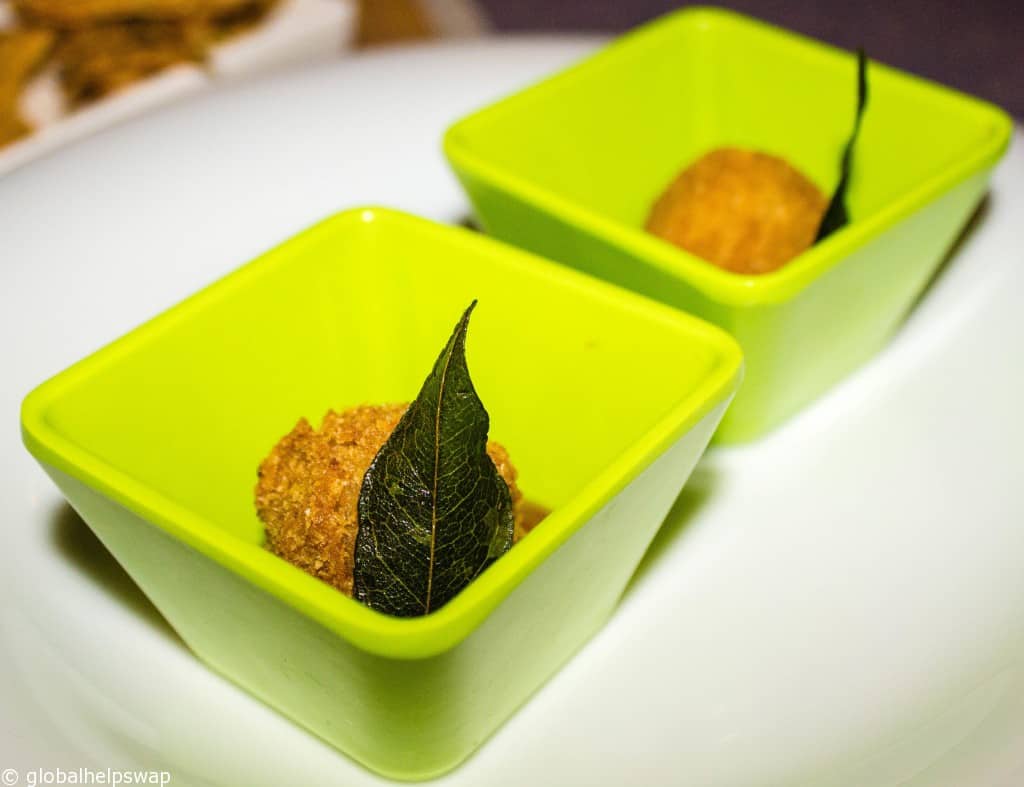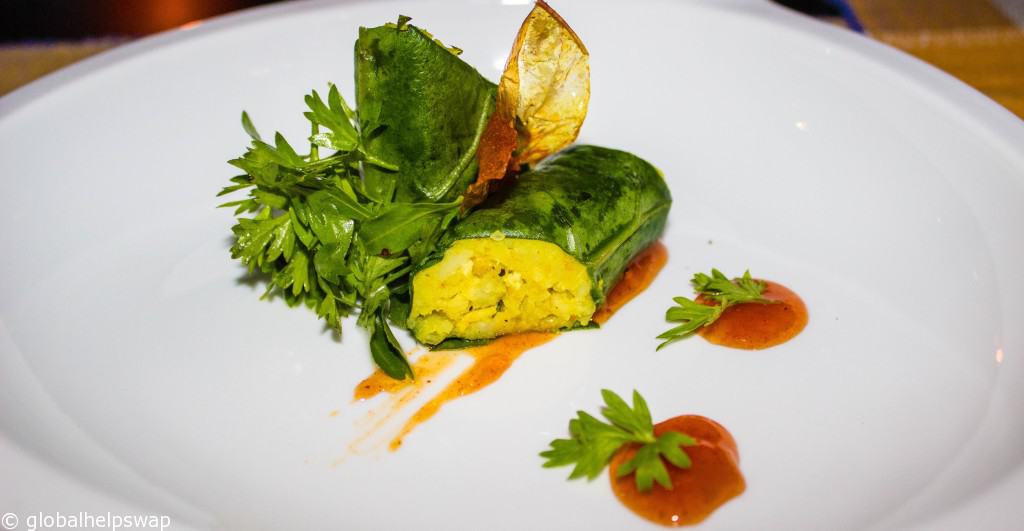 Sri Lanka is well-known for its delicious food. I am still craving the wonderful curries we had. Our favourite meal in all of Sri Lanka was at the Cinnamon Lodge. We were served a gourmet feast of Sri Lankan food with a fusion twist. The Lotus restaurant (where we had the meal) serves only organic food that comes direct from the hotel's very own farm (more on that later.) Each dish we had been expertly cooked. Sri Lankan spices are known all over the world and their flavour really shone through in each dish we had.
Facilities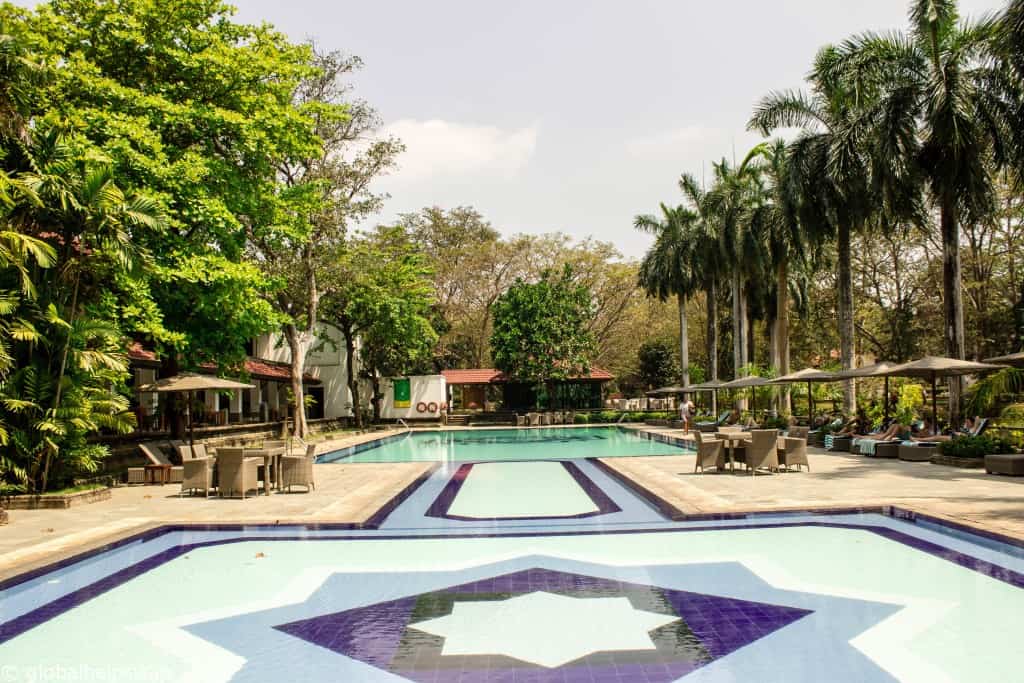 If you have the energy or inclination to leave the pool above there are plenty of options for you build up a sweat. From tennis and badminton courts to jogging around the grounds, the Cinnamon Lodge can cater for your sporting needs.
However, if you are like us and would prefer a more tranquil pastime, you could head to the spa for a relaxing massage.
Environmental and Social Policies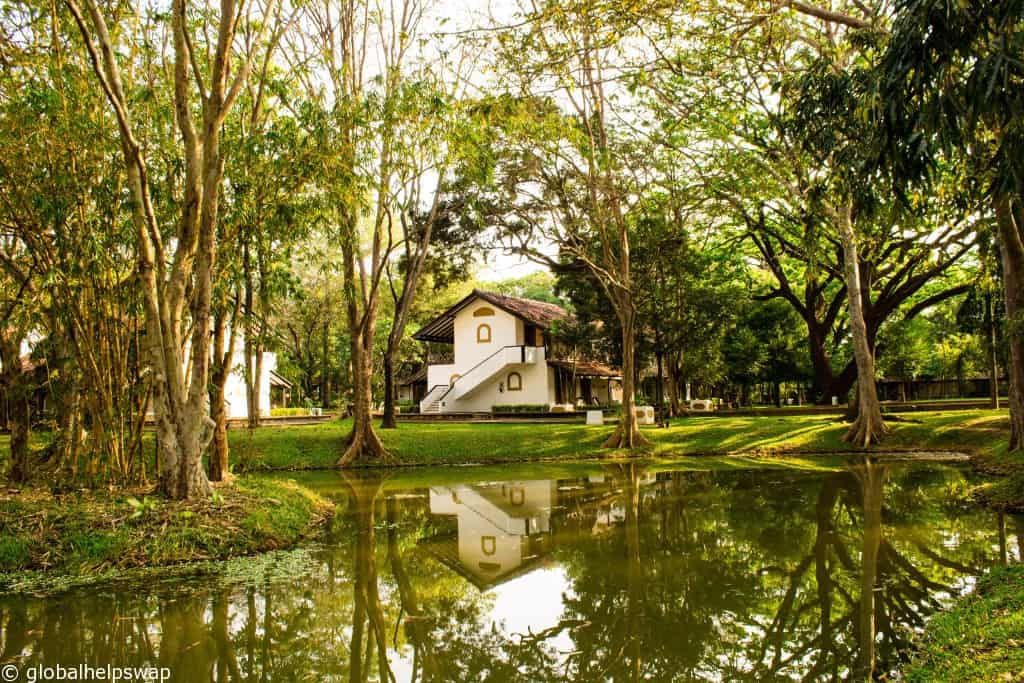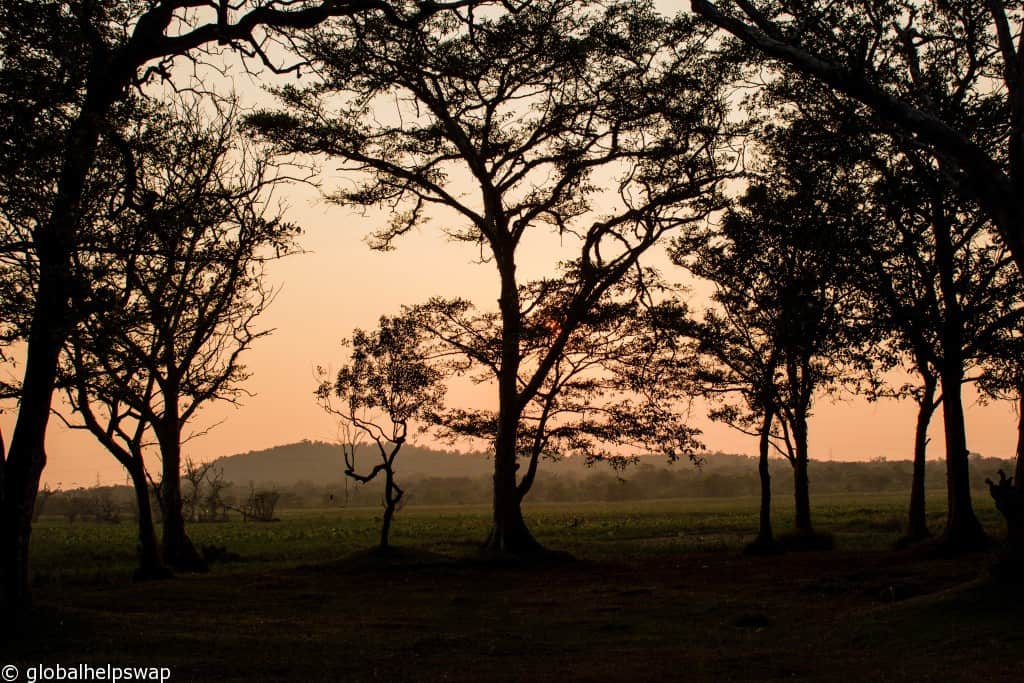 Where do we start with Cinnamon Lodge's environmental practices? They do so much!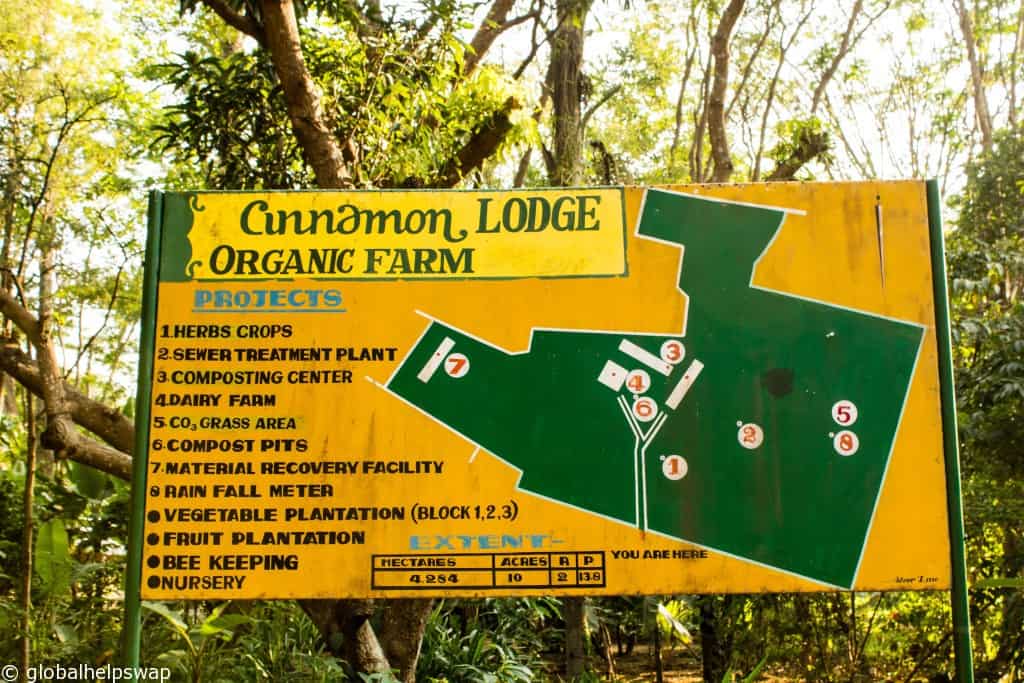 Look at the list on the sign above. This is not your average hotel asking you to reuse your towels (aka "greenwashing"). This is a hotel that clearly cares about what it is doing. Here is a list of some of the practices the hotel is doing:
Energy Management
Water Management
Waste Management
Biodiversity Conservation
Air Emission
Organic Farming
To see the full breakdown of the hotel's environmental policy please click here: Cinnamon Lodge Eco Policy
We were so impressed with the dedication, passion and knowledge of the staff at the hotel. They clearly cared about what they were doing for the environment and fellow-man. This went right up to the manager who took us on a butterfly walk on our last morning!
Did you know you could make paper from Elephant dung? Neither did we until we visited the hotel. It's yet another amazing enterprise that the hotel is doing in conjunction with a local NGO. We we delighted to buy some unusual gifts for friends and family back home knowing that they literally came out of an Elephant's bottom!
When you stay in a luxury hotel you expect top class service and facilities but normally those facilities come at a price that goes way deeper than your wallet. At the Cinnamon Lodge you get those facilities but done in the responsible way. So sit back and relax, you have chosen a hotel that is not only good for your body, it's good for your soul too.
To book a room at the Cinnamon Lodge, please click the link: Book me now
If you are heading to Sri Lanka then check out our Best Places To Visit In Sri Lanka post to get some ideas on where to go.
Are you heading to Sri Lanka? Get the guidebook now! (By clicking the image below)



We were kindly invited to the Cinnamon Lodge by the Cinnamon Hotel group. As always, opinions are our own, especially about the wonderful eco practices the hotel is involved in.
#LoveYourTravels
P.S. Most responsible travellers who read our blog sign up for regular updates. You can join them by filling in the orange box below.