Sri Lanka is not short of stunning beaches. With a coastline that is over 1,585 km long, it is not hard to find your own spot of tropical paradise. We visited quite a few beaches during our stay and decided that Mirissa Beach Sri Lanka was our favourite. With beautiful clear waters and a laid back vibe, it is quite easy to end up staying longer here so be careful! Read on to find out what our favourite things to do in Mirissa Beach are.
Things to do in Mirissa Beach, Sri Lanka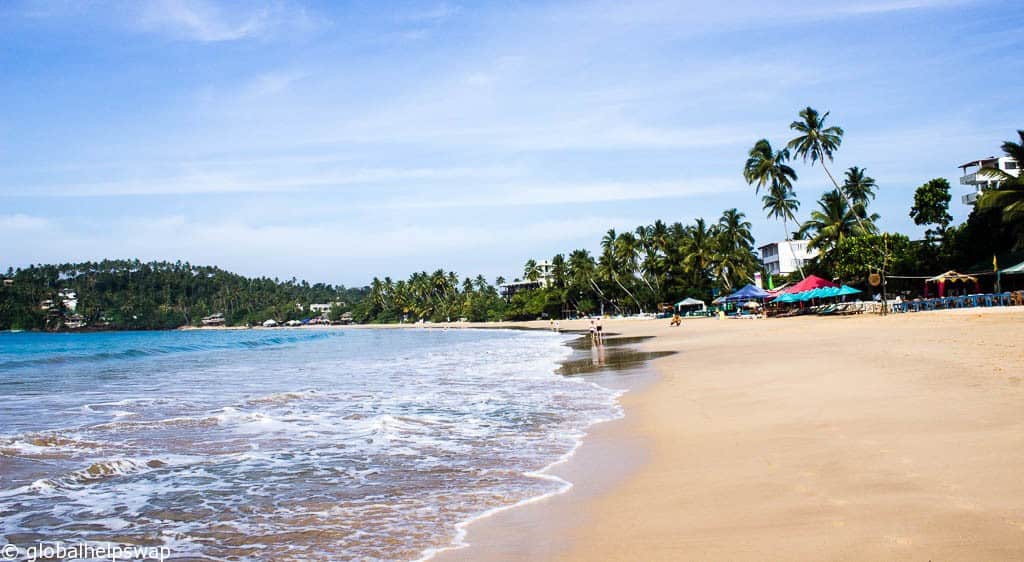 Mirissa Whale Watching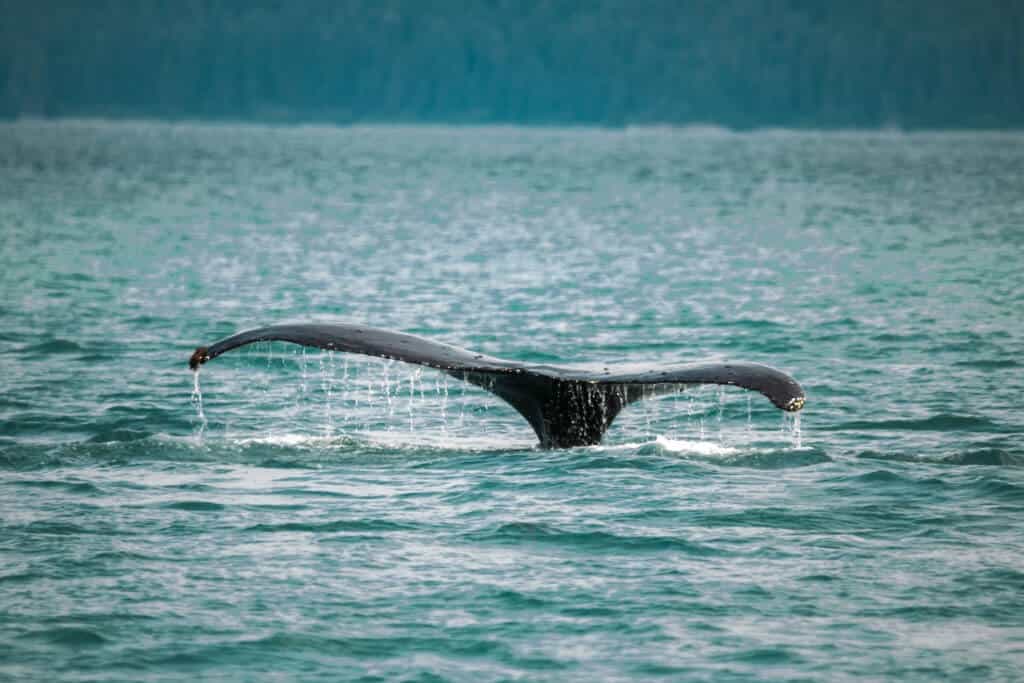 Mirissa Beach is a great place to go whale watching. There are many tour companies that offer whale and dolphin watching tours and if you are lucky you can get to see many different types. Blue whales, Bryde's whales, Sperm whales, Fin whales and Orca have all been spotted off Mirissa.
Other sightings are of Common dolphins, Bottlenose dolphins, Spinner dolphins, Risso's dolphins and Striped dolphins. Sometimes you can see turtles and various fish species, for example, Bluefin tuna and flying fish. So you will be unlucky if you don't see anything!
The peak season for seeing whales in Mirissa and the south of Sri Lanka is between December and March.
To book a whale watching trip in Mirissa, please click here: Whale watching tour in Mirissa
Watch Sunsets from the rock overlooking Mirissa Beach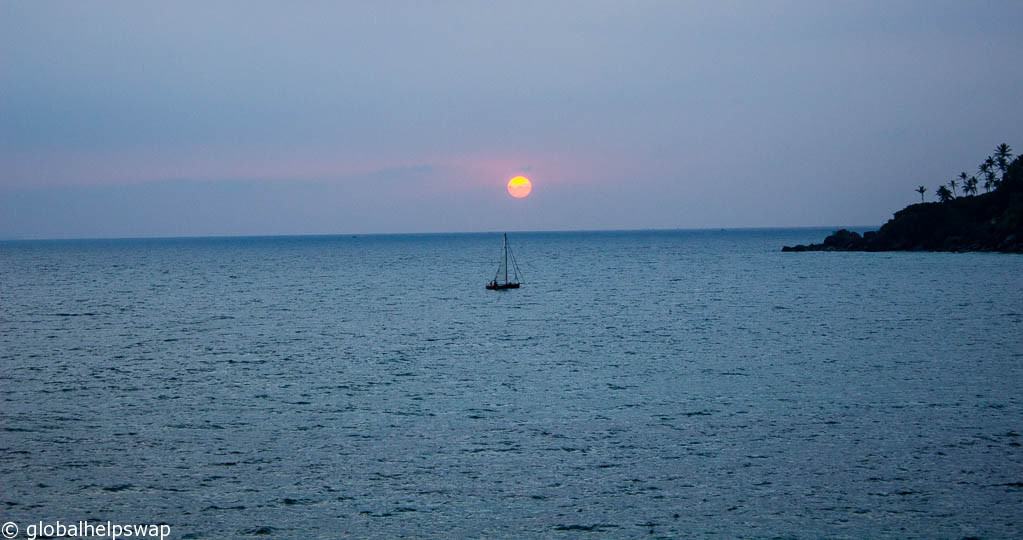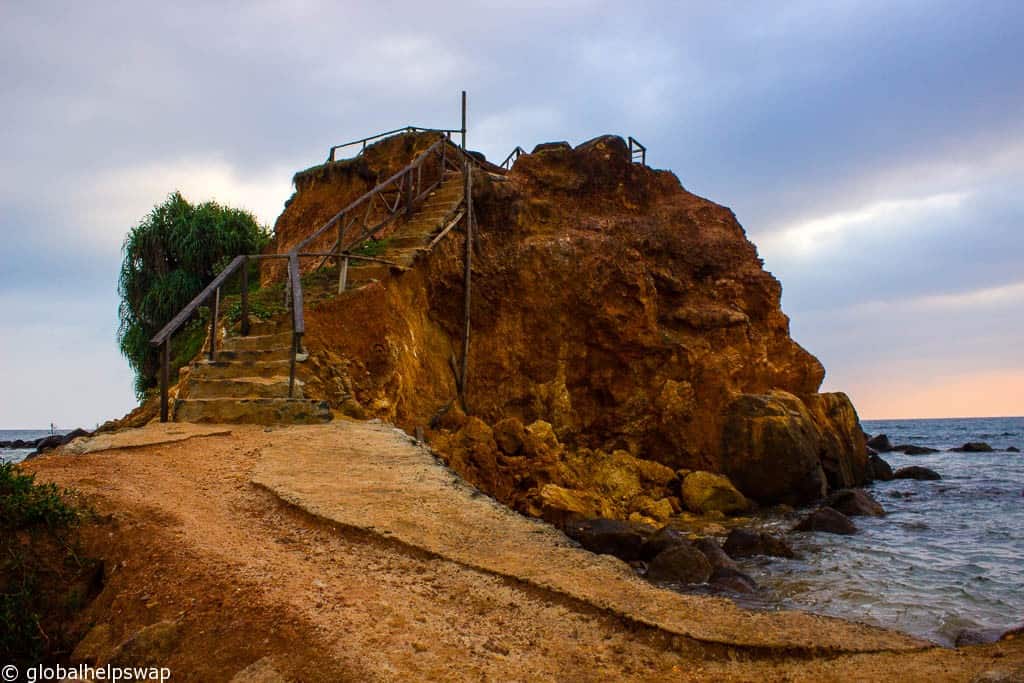 Even though it took us 5 days to get up to the rock to watch the sunset (we were ultra chilled out!) once we did we were smitten. As I write this I am instantly transported back to that moment and I can hear the waves crashing on the rocks below me and feel the sun on my face. Don't wait as long as us to do it!
Mirissa Surf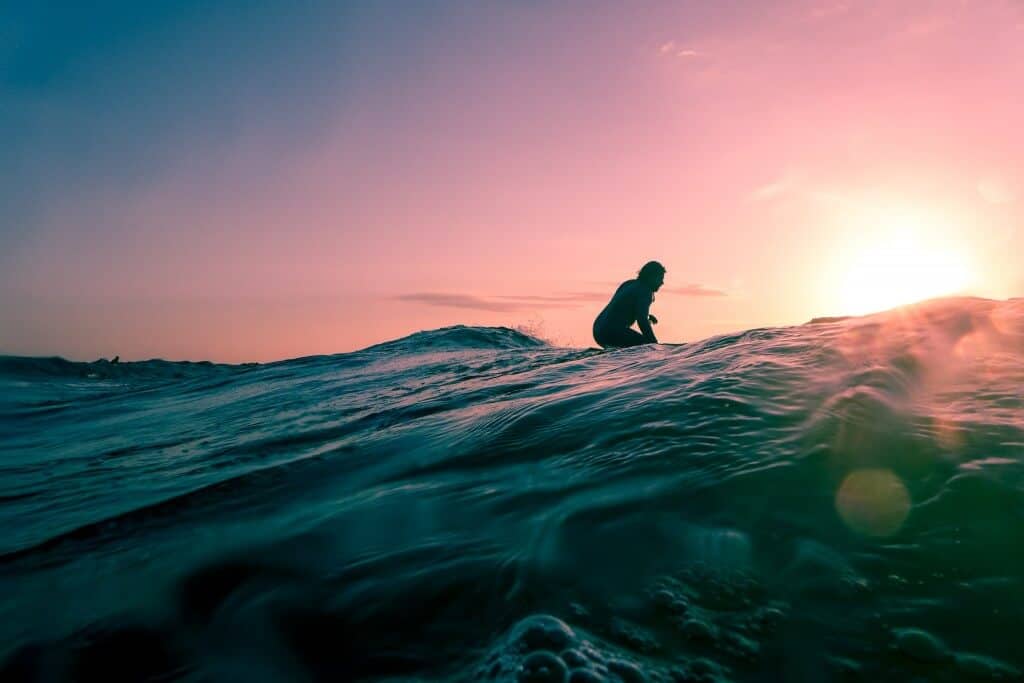 Unfortunately, we don't surf but there were plenty of people who were surfing off Mirissa Beach. People have told us that the mornings are best to surf in Mirissa and the waves offer nice turns. It is meant to be a good location for beginner surfers too. So why not give it a try?
Enjoying Mirissa Beach Itself
The Calm Waters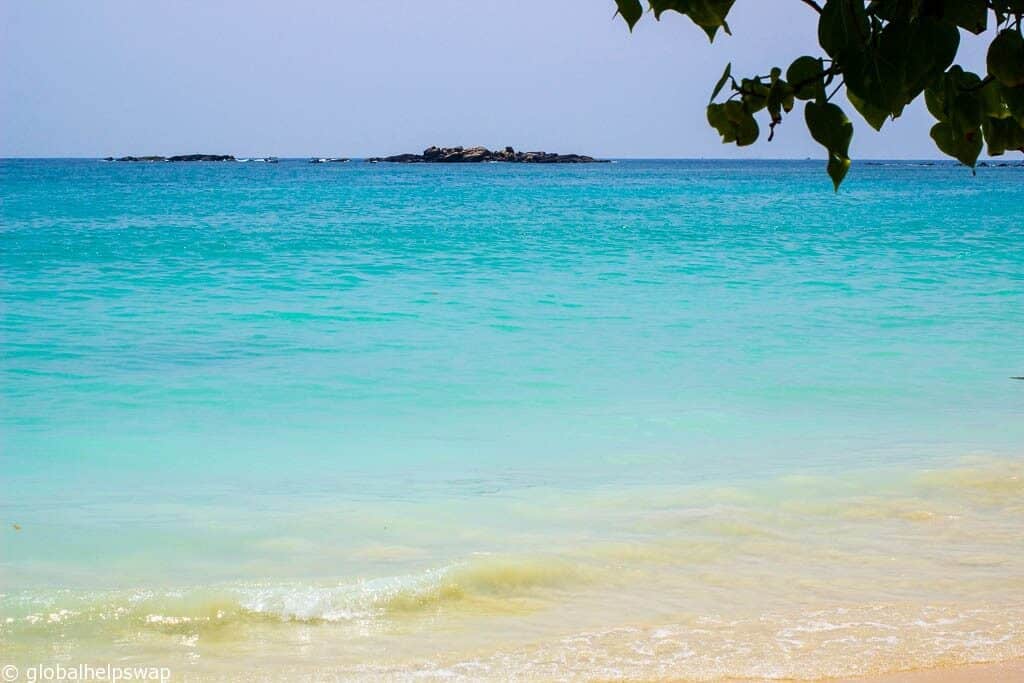 The main reason why you visit Mirissa Beach is the erm, enjoy the beach right? We visited Mirissa in February and the ocean was calm for the 7 days that we stayed. We loved the fact that the sunbeds are free. Okay, even if we had to pay for them we would have still loved Mirissa but the money you save from the sunbeds can be spent on more Lion beer! Which leads me to….
Cheap Drinks
We would spend all day down at the beach. After the sun dipped below the ocean we would head to one of the many beach bars offering cheap drinks for a few hours. We never bothered to head back to our guesthouse to get changed and neither did anyone else by the looks of it. After having a few beers or cocktails we would then end the day by having a delicious feast. The nightlife in Mirissa is a pretty mellow affair just the way we like it.
Mirissa Restaurants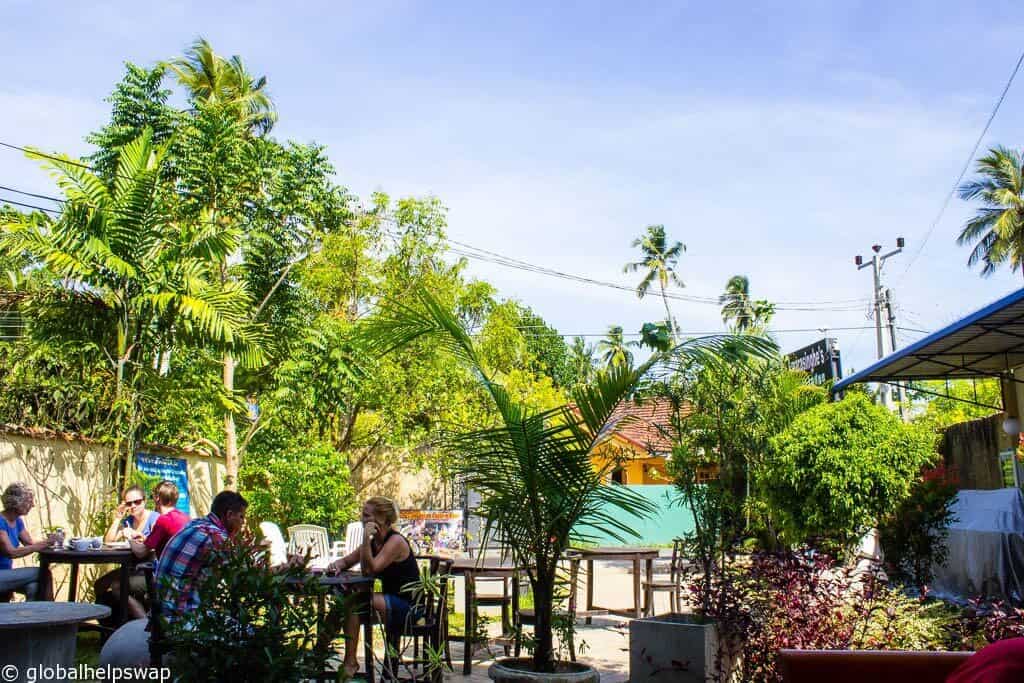 Like everywhere in Sri Lanka the food in Mirissa was excellent. It's hard to say what are the best restaurants in Mirissa as many of them (especially on the beach) do similar things. We would recommend that you rock up to them each night and find the one with the freshest fish and seafood.
Lunch:
Our favourite place to have lunch was The Dewmini Roti Shop. Like the guesthouses, it is just off from the main road in one of the side streets. They make the most delicious savoury and sweet roti's at dirt cheap prices. One day we even had their daughter play the violin for us as we ate! She recognized us from our guesthouse as she was friends with the owner's daughter so she decided to put on a show for us. It was so sweet.
Dinner:
Fresh fish and seafood right on Mirissa beach
Most of the Mirissa Restaurants are right on the beach. This would be our nightly ritual and was the highlight of our day. Almost all the restaurants on the beach would set up stands with the day's catch. We would walk along checking out who had the freshest fish (check the eyes and gills) and then sit down and wash it all down with an ice cold bottle of white wine.
The Secret Beach Mirissa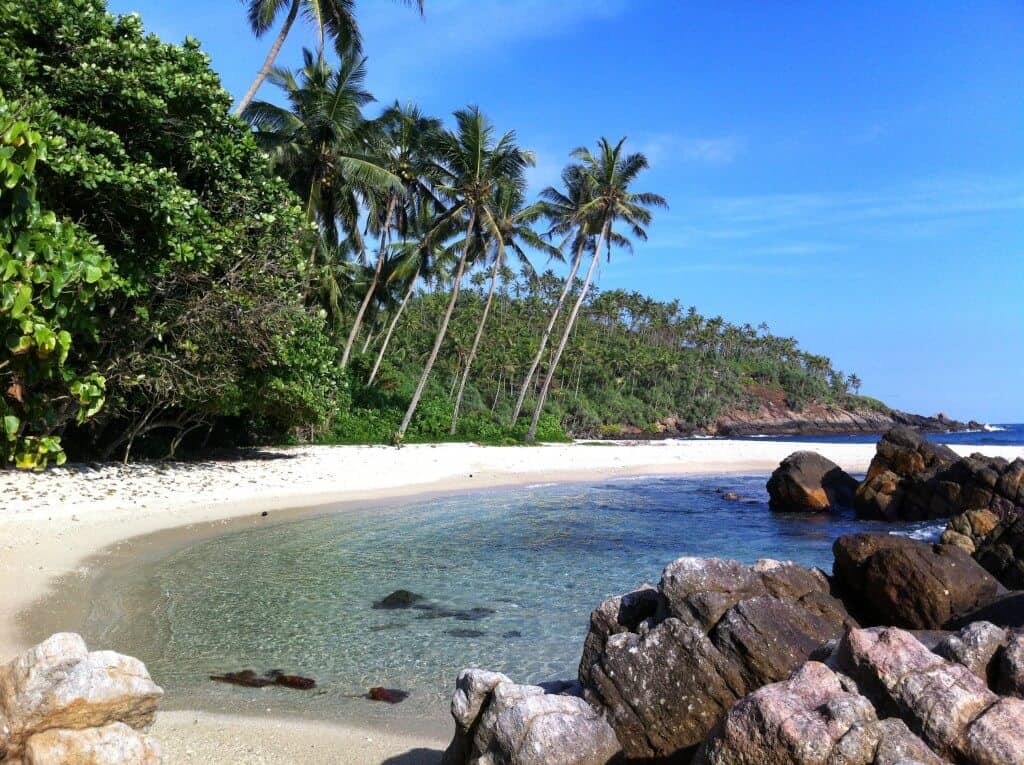 Sadly we never made it to Mirissa's secret beach, we were having too much fun on the main beach. The secret beach is lying next to the main beach. You can either walk there or take a motorbike. There is a restaurant and bar near the secret beach but no accommodation.
Mirissa Weather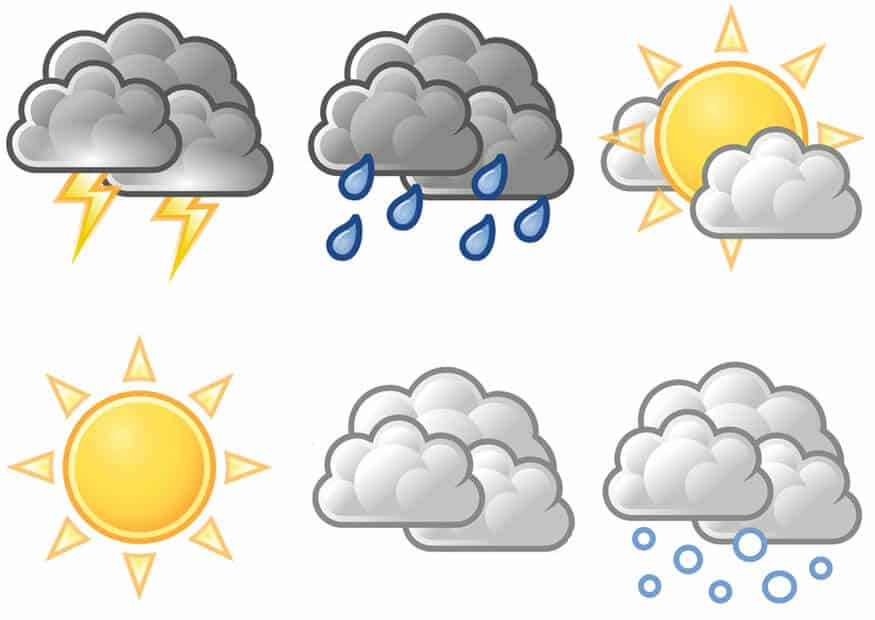 The weather in Sri Lanka is dictated by two monsoon seasons which bring rain to the west and south-west coasts from May to September; and the east coast and northern region between October and February. The rest of the year is sunny and dry. Temperatures are fairly constant year round, with coastal regions enjoying average temperatures of 25-30°C and the highlands 15-18°C on average.
Mirissa Beach Video:
Check out our Mirissa Beach Video to get a taste of the place yourself:
Mirissa Hotels
The great thing about staying in Mirissa beach is that almost all the Mirissa accommodation is made up of guesthouses run by local families. Most of them are located on the streets just off from the beach and most offer a free breakfast. We would advise you to skip the free breakfasts and head to one of the many cafes scattered around the town. Here are some of our favourite hotels in Mirissa:
Paradise Beach Club Mirissa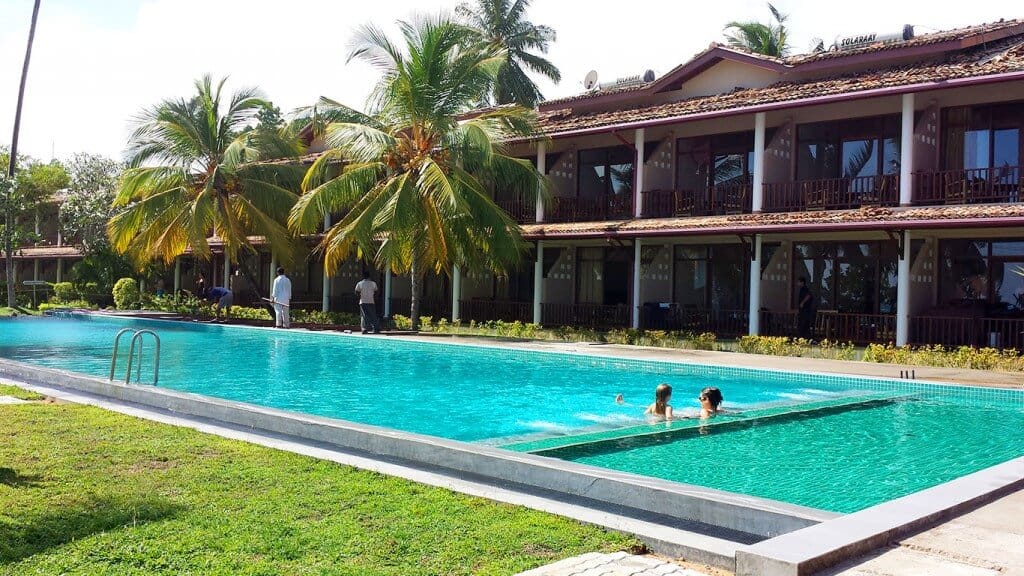 This property is a 1-minute walk from the beach. Paradise Beach Club features a beach facing outdoor pool with spa. The pool is surrounded by palm trees and sun loungers. Offering rooms with free WiFi in Mirissa South, the hotel also has a spa and restaurant. Previous guests loved the ocean facing rooms, location, and the friendly and attentive staff. Click here for the latest prices.
Hotel Caminra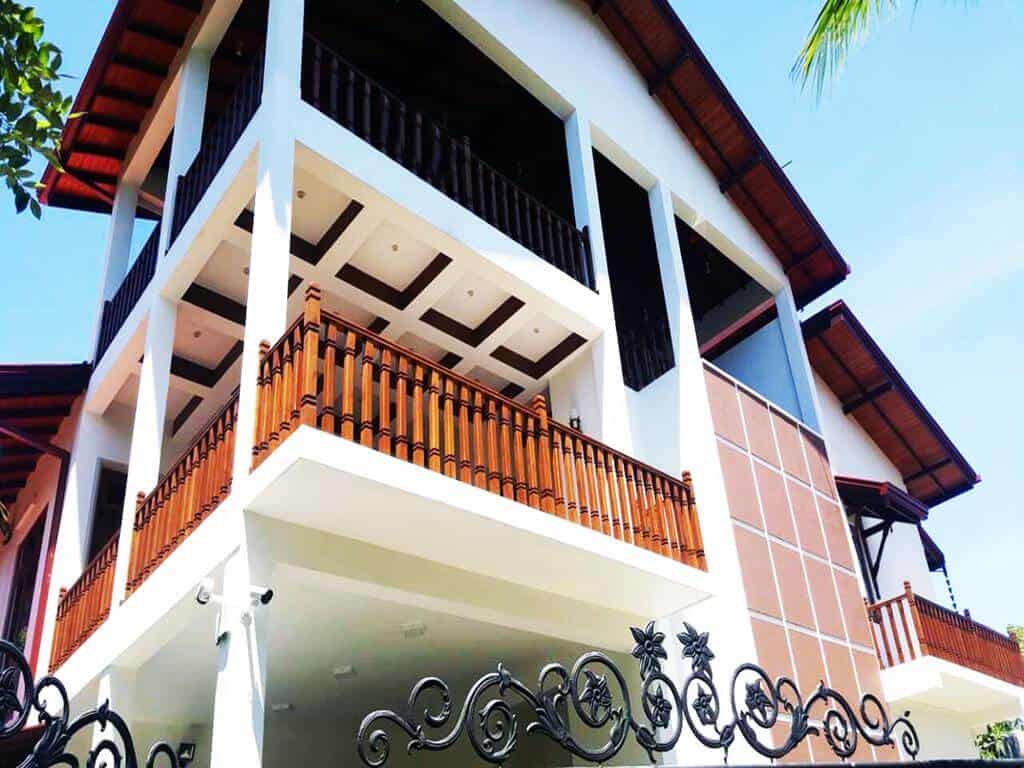 Hotel Caminra is walking distance from Mirissa Beach. Guests rave about the breakfasts and the terrace to chill out on. The rooms are large and clean and the family that runs the place will help you out with nearby trips and attractions of Mirissa. Click here to see the latest prices.
Oasis Hotel Mirissa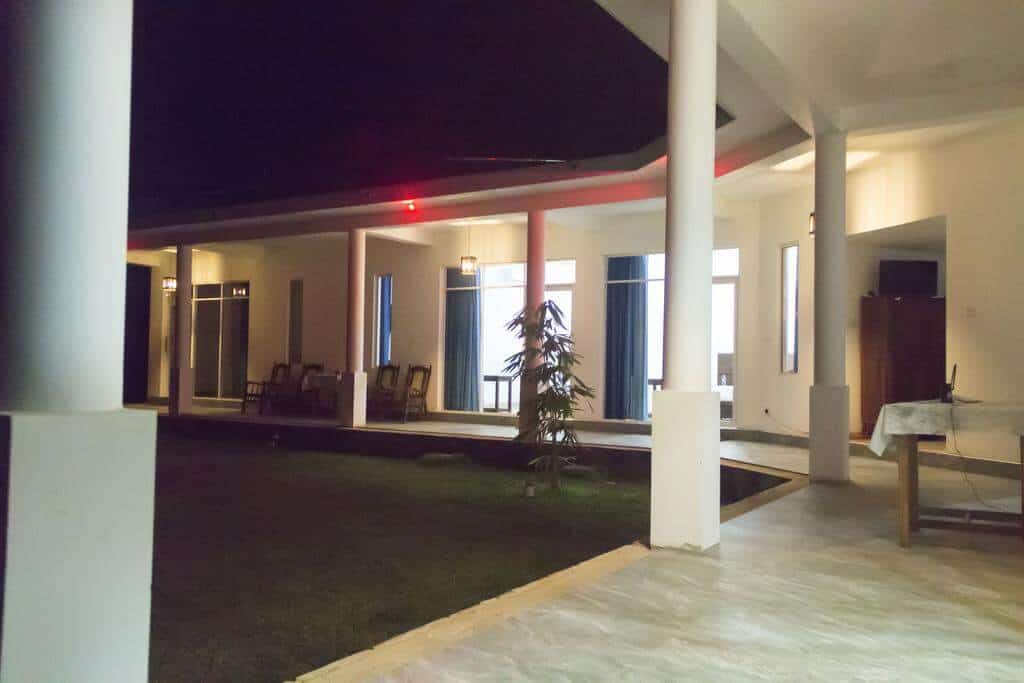 Oasis Hotel Mirissa is a family run gem right in the heart of Mirissa. It is one of the best value hotels in the area with friendly staff, clean rooms, a/c, and hot water. What more do you want? Click here for the latest prices.
Hotel Casa Colombo Collection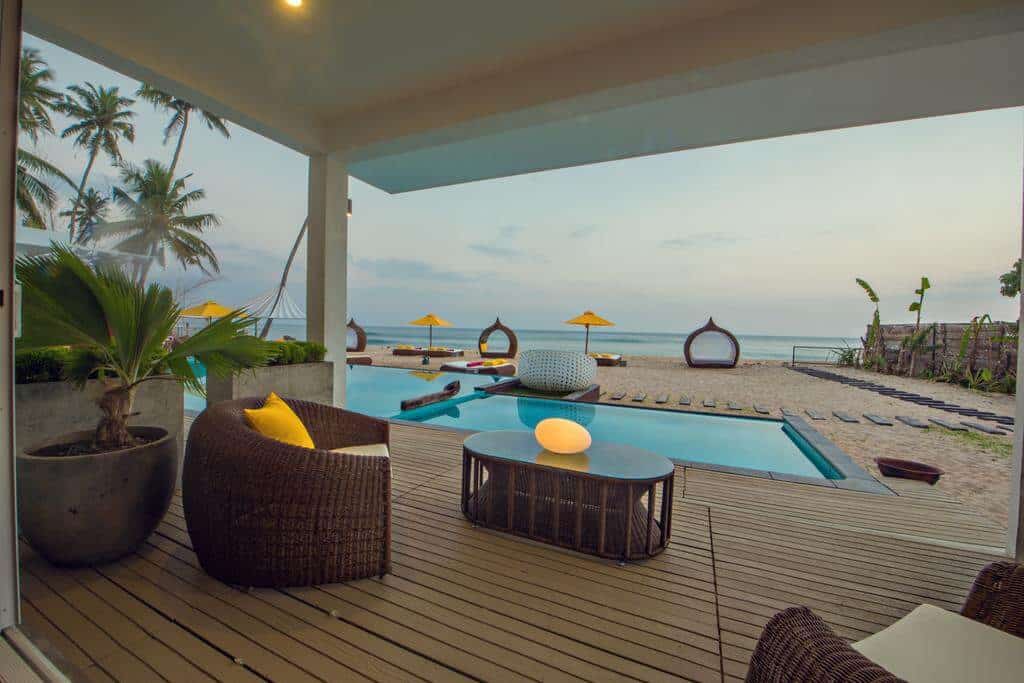 Hotel Casa Colombo is located just 2 miles from Mirissa Beach. As you can see it sits right on the beach with a spectacular view. Most rooms have sea views and come with a/c and a tv. Breakfasts are a real highlight and the staff and owner are always on hand to help. Click here to see the latest prices.
Click here for more Mirissa Hotels
That is why Mirissa beach was our favourite beach in Sri Lanka. It had the perfect mix of chilled out vibes with a hint of a party. I am talking more reggae style party than drum and bass though.
Have you been to Sri Lanka? Where was your favourite beach?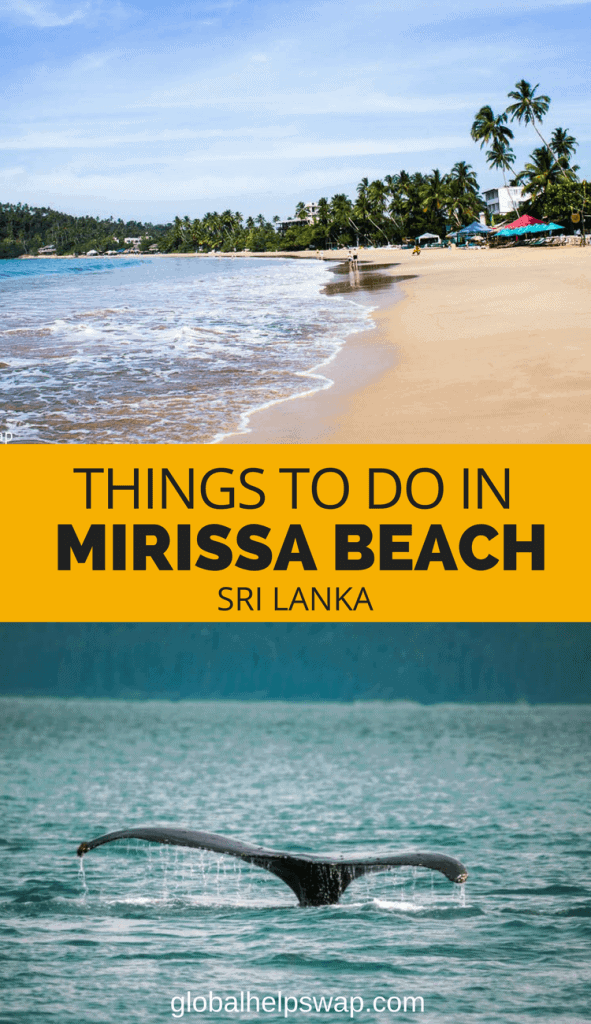 Please Pin Me
If you liked this post you might also like:
If you are heading to Sri Lanka then check out our Best Places To Visit In Sri Lanka post to get some ideas on where to go.
Jungle Beach, Unawatuna – Read how we discovered a secret beach near busy Unawatuna
Our top 7 Unawatuna Restaurants – Heading to Unawatuna? Find out which restaurants made our top 7 before you go.
#LoveYourTravels