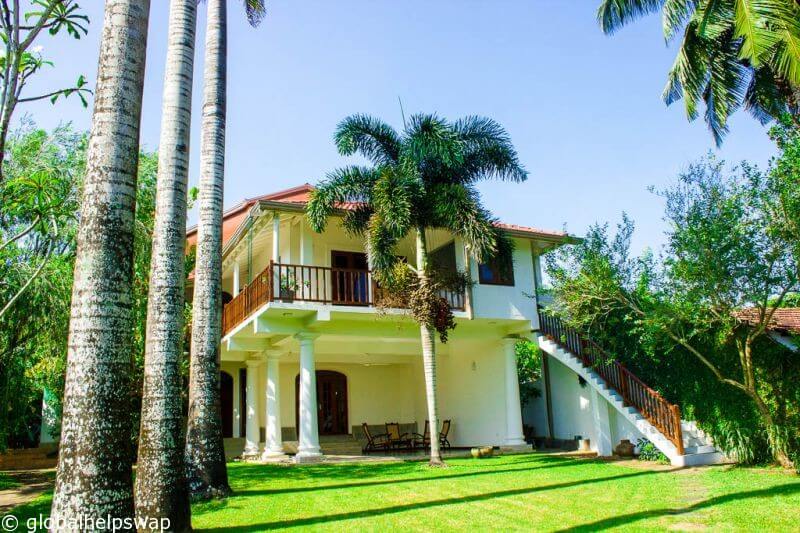 Our plan for Unawatuna was to spend time living like locals while working on our blog. We wanted to find accommodation that was locally owned and set in less touristy surroundings than the main Unawatuna beach road. As we would be spending most of our day there we also wanted to make sure it was very comfortable, and inspiring to work in.
Our search started on flipkey, and within a few minutes we found what looked like great accommodation in Unawatuna. A studio apartment called Whitemanor, set in a beautiful garden and with all the mod cons.
On our day of arrival, our expectations were high. If the beautiful photos were anything to go by we knew we were in for a treat.
The minute Diksan, the property caretaker, warmly welcomed us into our new home after our journey from Colombo we knew we had struck gold. Not only was the garden lush with beautiful plants and the straightest palm trees we had ever seen, it was also alive with all kinds of birds tweeting and chirping as they flew from one tree to another.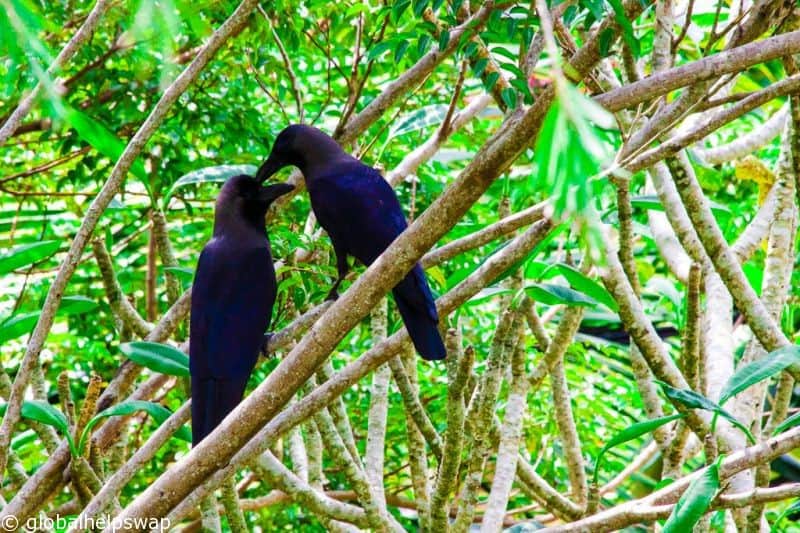 Our huge room, with its high ceilings, tasteful décor and THIS bed: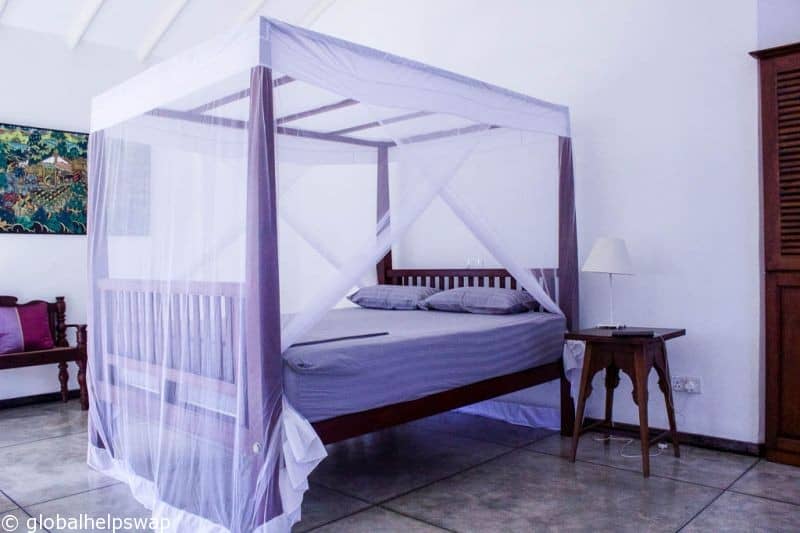 It was just magical. We probably spent a lot more time in that bed than we should.
Our favourite part was the terrace. We had two reclining chairs overlooking the enchanting garden, perfect for sipping our rum and cokes in the evenings and a small table to work on, with THIS view.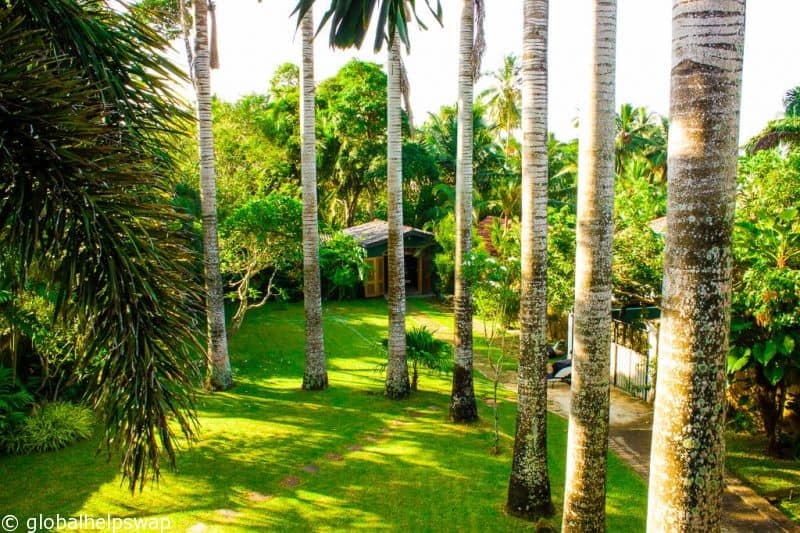 The surprises kept getting better as we discovered monkeys living opposite us, and a great wi-fi connection. I don't know which of the two got us more excited.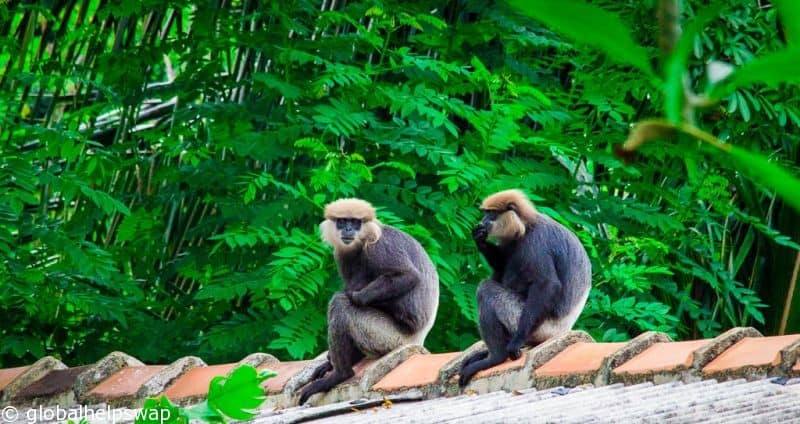 When Diksan, the property caretaker found out that we loved to try out new food he alternated our western breakfast of eggs and fruit with delicious Sri Lankan curries that his wife had cooked. We were so thrilled to get the opportunity to taste authentic local food. Diksan would laugh heartily as I took a million photos of the food before we sat down to eat it.
In the evening we'd call the tuk-tuk driver that Diksan had told us about and a Rs200 ride got us to the main stretch of Unawatuna, with its huge choice of restaurants. We tried may of the restaurants and compiled a list of what we think are the best restaurants in Unawatuna.  While we had an equipped kitchen to cook in I have to admit that we never used it. The great food options surrounding us were just too tempting.
Diksan proved to be great company. We'd often sit and chat over breakfast, learning about his family, interesting places to visit, and general culture in Sri Lanka. We discovered why the bus drivers drive like crazy here. A result of a flawed system that provides them with more money the more people they take on, meaning they often race each other to get to the bus stop first! Eek.
White Manor is in the perfect spot. Close enough to all the amenities and yet set in an area that is much quieter and much more authentic. Every afternoon as I went to buy our daily Sri Lankan snacks from the shop down the road I encountered local Sri Lankans in their beautiful colourful saris who smiled warmly and said hello. Even the local calf came up to greet me one day!
It's been a couple of days since we left and I'm already hankering to go back. If you're ever in this part of the world and you're looking for great accommodation in Unawatuna, stay at Whitemanor, a little slice of heaven.
If you are heading to Sri Lanka then check out our Best Places To Visit In Sri Lanka post to get some ideas on where to go.
Disclaimer: Flipkey kindly provided accommodation for us at White Manor. As always opinions are our own.
Karen is a trained psychologist and coach. But really she's an adventurer who believes travel can be one of life's best teachers. She writes to inspire you to take the leap and travel in a way that is memorable and meaningful.