Things to do in Beijing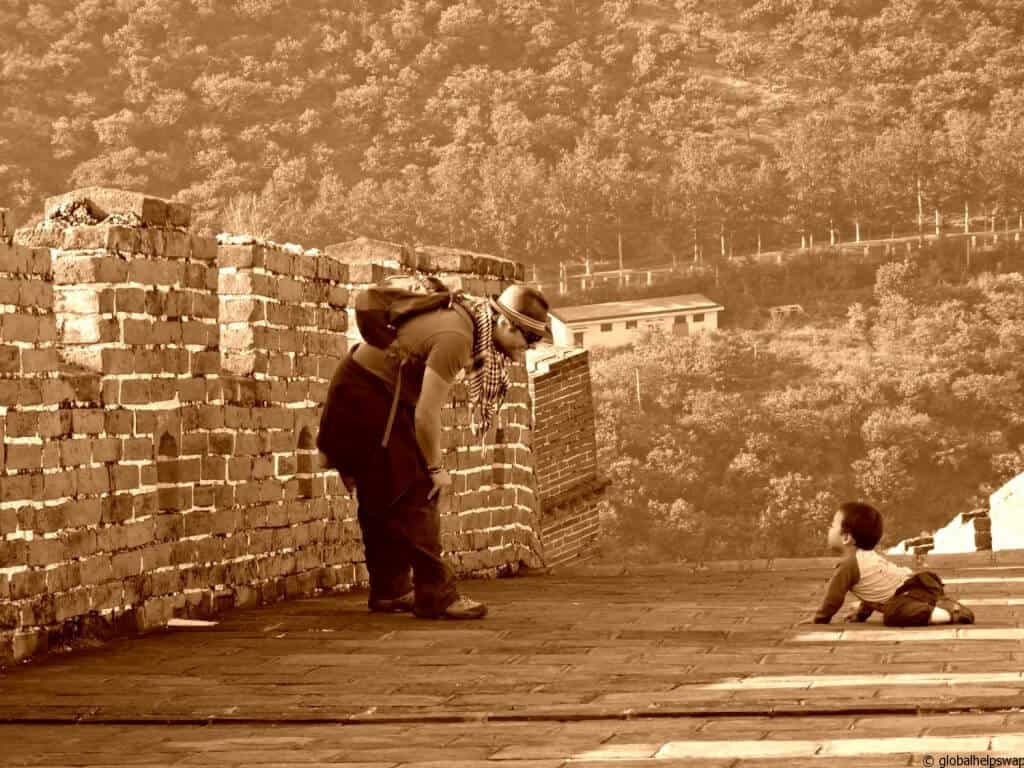 Our entry to Beijing could not have been more different from our entry to Mongolia. Goodbye to the empty plains and scattering of nomadic families and hello to a built up city and mass movement of people.
It did not help that we arrived on Oct 1st which is the start of a national holiday. This meant that lots of people (250 million to be precise) were moving around the country. It felt like most of the 250 million people had descended on Beijing train station as we fought our way out.
However being in Beijing with loads of local holiday makers was a fantastic experience. They created a buzz about the city that was infectious. Here is what we loved and our top tips on things to do in Beijing.
Stay in the Hutongs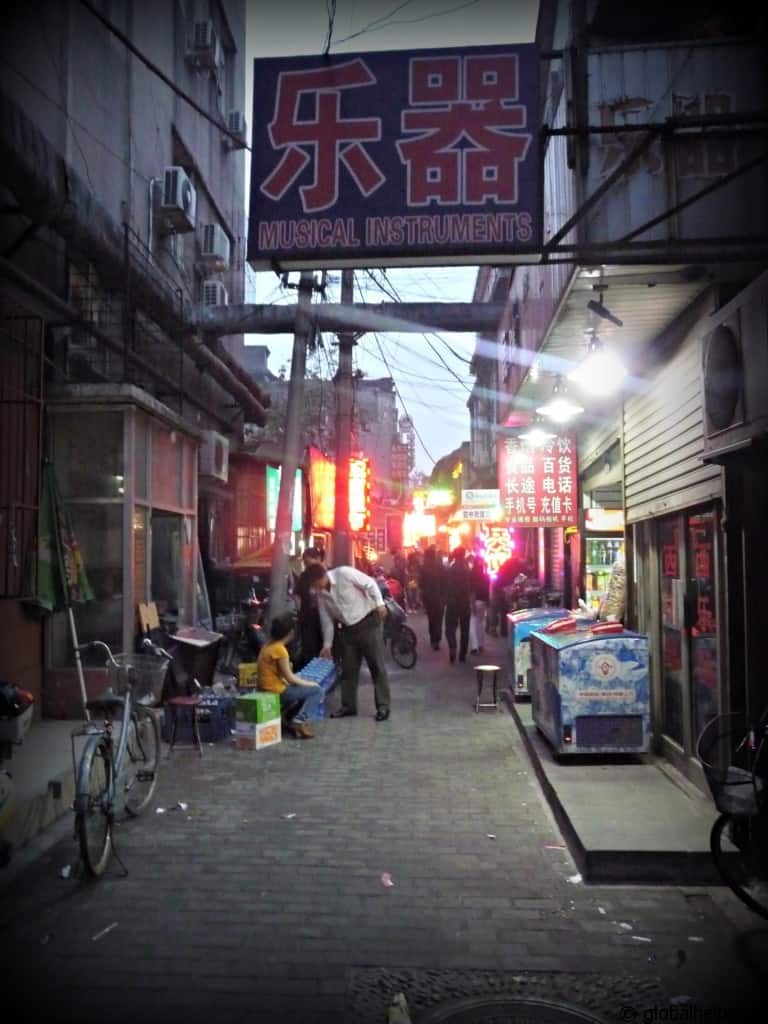 Hutongs are narrow alleys that used to dominate Beijing and other northern Chinese cities. Sadly with China's march to modernity most of them have been demolished to create wider roads and high rises. We loved our stay in the hutong area. You get to witness local life in action, from the countless street food sellers to the "secret" betting rings.
Eat at Da Dong restaurant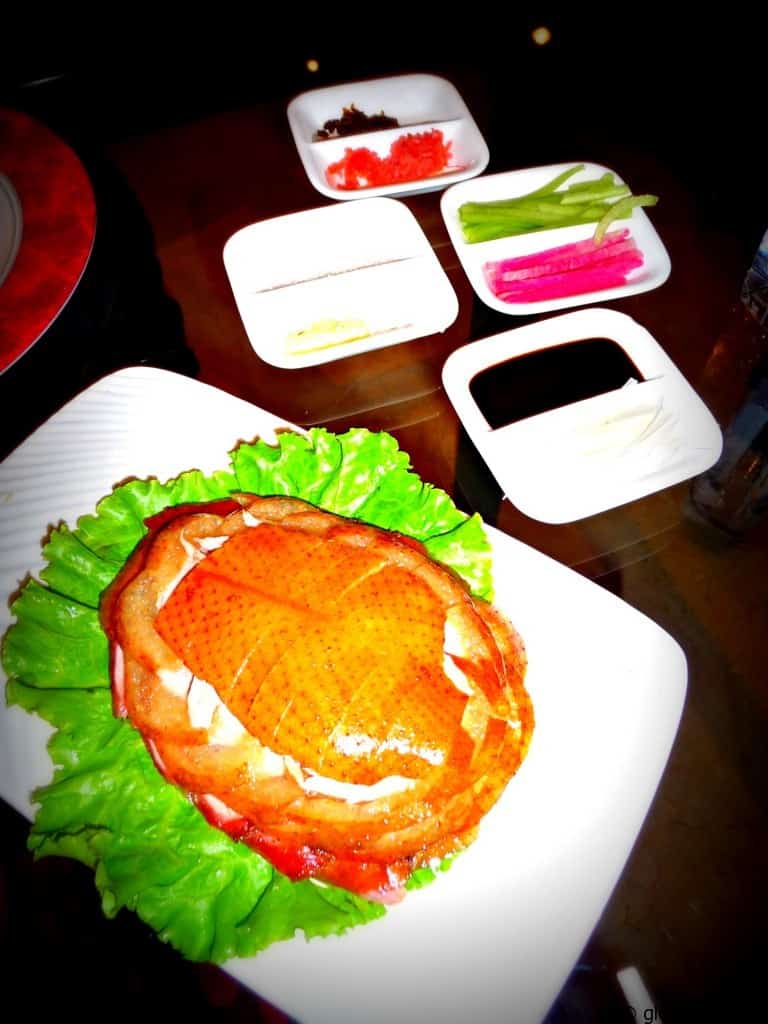 After the hardships of the food situation in Mongolia, Beijing's food scene was a revelation. The first place you have to go to is the Da Dong Roast Duck Restaurant which is in (southwest of Dongsi Shitiao Bridge) at Nanxincang. This is the BEST place in the world for roast duck. Not only do you get the tastiest duck ever, the duck itself is leaner than other birds so it's kind to your belly too! Throw in free wine (yes really) while you wait and complimentary desserts and this award-winning restaurant becomes a must visit.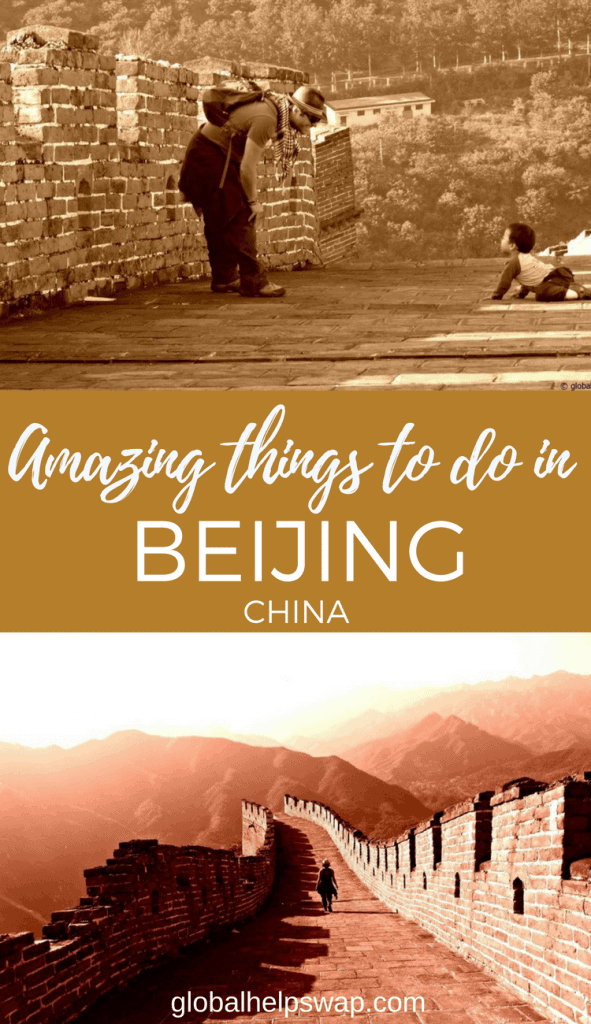 Visit the "other" Great Wall of China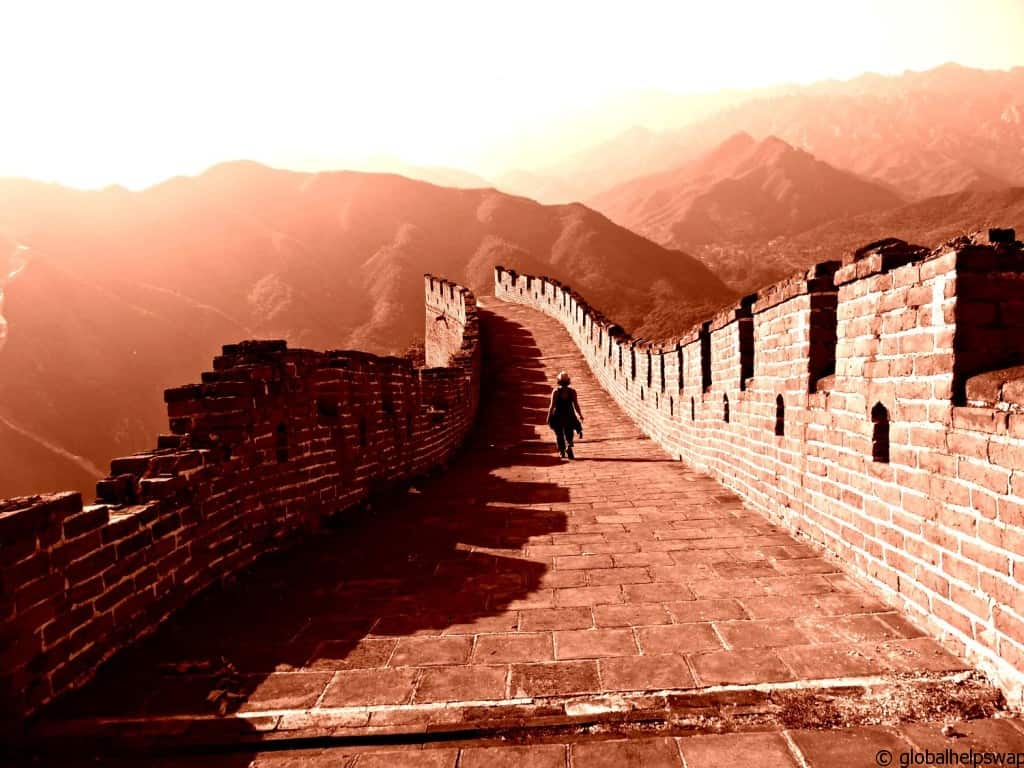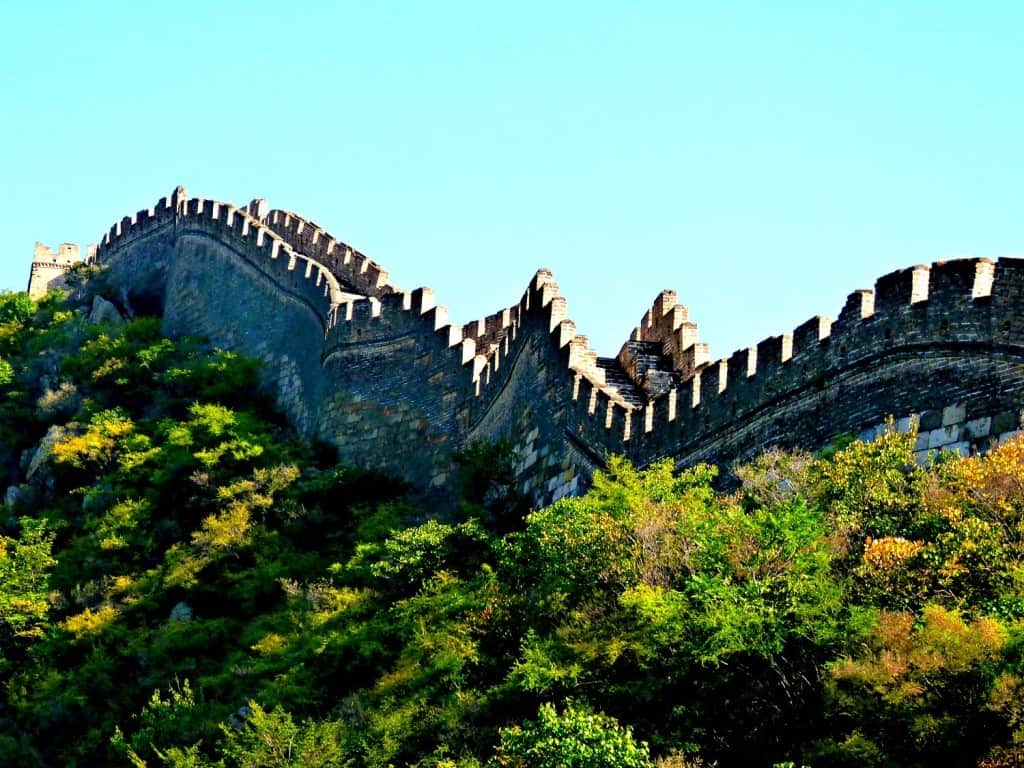 Check out the images above. That really is us on the Great Wall of China alone during national holiday week. How did we achieve this amazing feat? We just avoided where most people visit which is Badaling and headed to Dalian instead. Unfortunately, our bus did not go straight there. We had to get off and find a mini bus. As soon as we got off the regular bus we were pounced on by tour operators who were determined to take us to a different place.
We managed to fight them off and eventually found a driver to take us there. He immediately went in the wrong direction and tried to pick up two more tourists who he'd obviously accosted earlier. The fact that they started shouting 'No, we don't want to come with you' wasn't a particularly good omen.
Karen was convinced he was going to take us to a closer busier part of the wall and in her sternest voice warned him to take us to the right place. It worked as 30 minutes later we saw a sign welcoming us to Dalian.
Things go a bit confusing when next to the welcome sign we saw another big sign saying that the section of the wall was closed and couldn't be climbed! We think it was referring to a different part of the wall as when we asked the locals they pointed us towards an entrance guarding by old man standing guard who charged us a 20 pence entrance fee.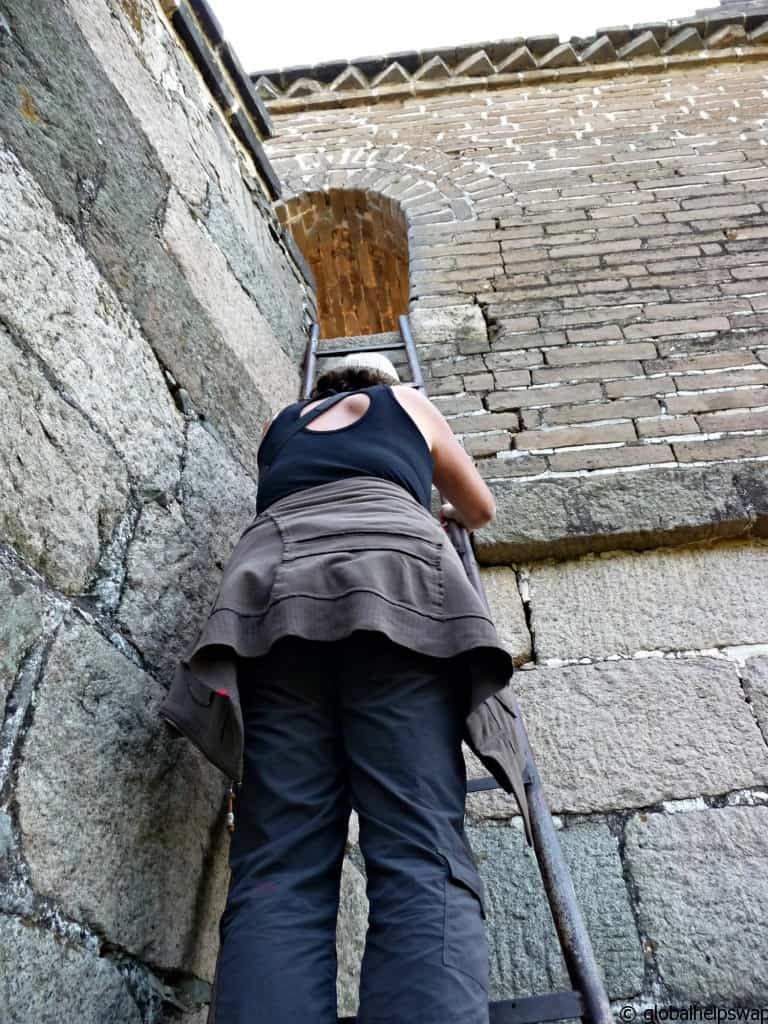 The entrance was slightly unorthodox in that it could only be reached via a rusty ladder propped up against a tiny window and balanced on a big stone! We called it the tradesmen's entrance.
While getting to see the wall at Dalian required a tiny bit more effort the rewards we reaped were immense. Spending a day walking along the wall with very few other visitors was magical.
Cycling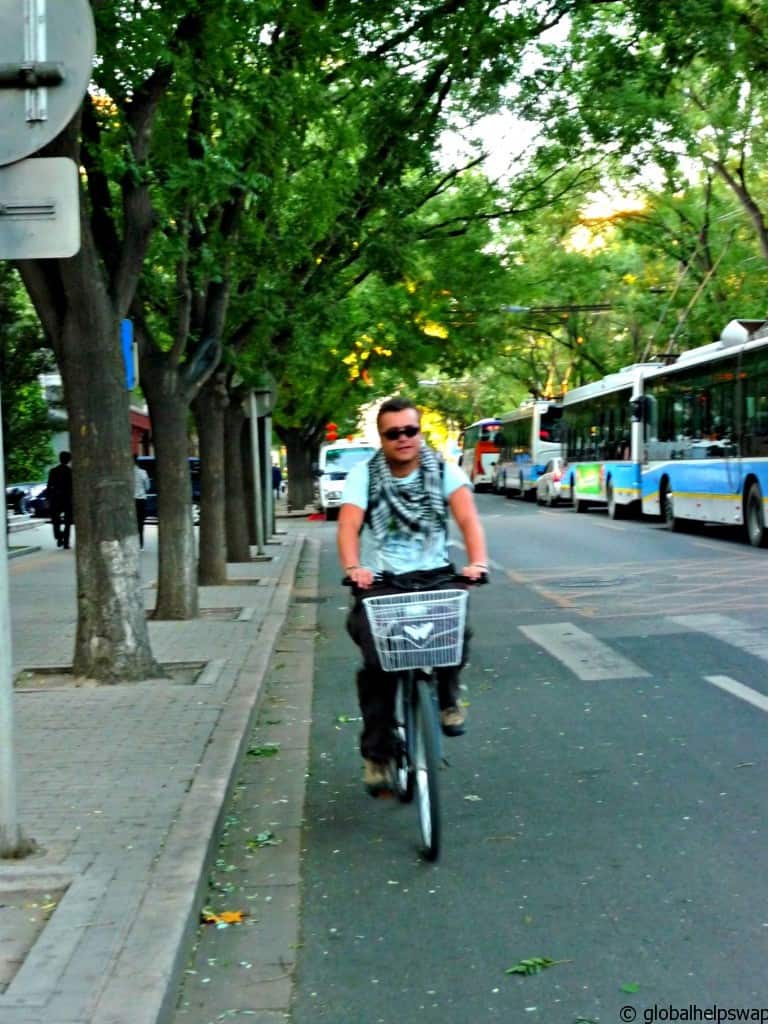 There are 5 million bicycles in Beijing and for a few days we had two of them.
It's a lot easier cycling in Beijing than in London. Roads all accommodate bikes – or maybe one should say they accommodate cars in addition to the bikes as the cycle lanes are huge. Many Chinese still cycle as they cannot afford cars. It's a great way to "be a local" for a little while as you get a real snapshot of local life by just cycling behind people.
People cycle a lot more leisurely than in London and you will often find two bikes side by side with the occupants chatting away.
Visit Tiananmen Square & The Forbidden City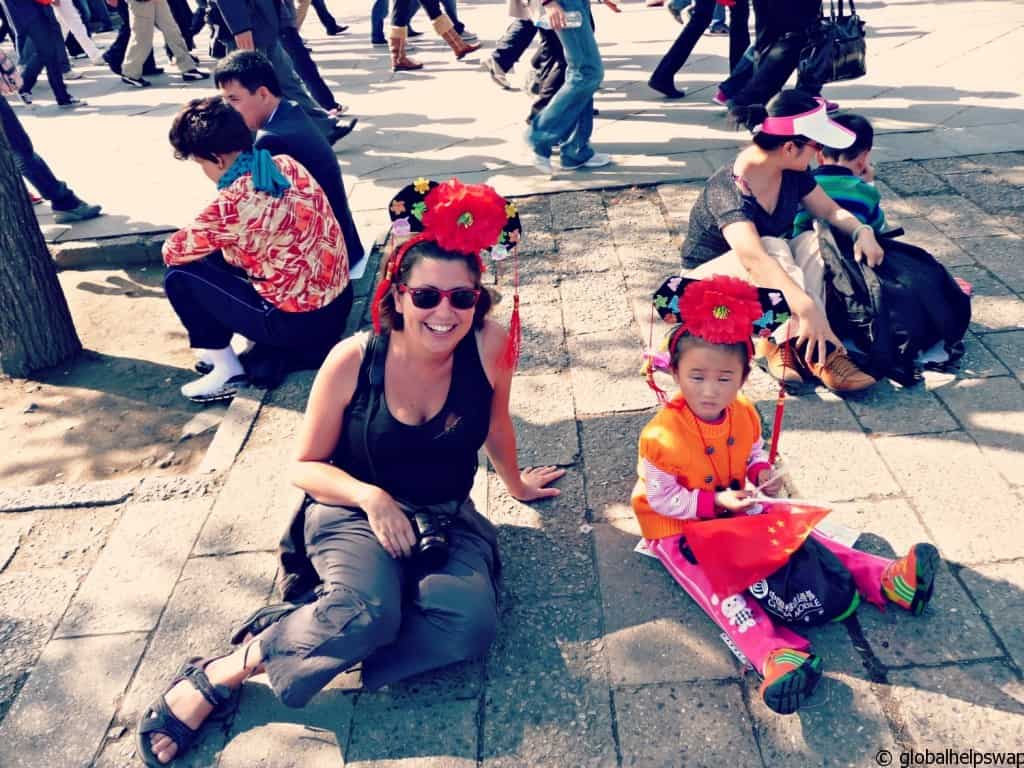 No visit to Beijing can be complete without visiting its two most important sites: Tiananmen Square & The Forbidden City. Yes, each site is busy but what major tourist site isn't these days? Tiananmen square is the 3rd largest square in the world and it's named after the Tiananmen Gate (Gate of Heavenly Peace) located to its North, separating it from the Forbidden City.
The Forbidden City was the Chinese imperial palace from the Ming Dynasty to the end of the Qing Dynasty. Our biggest enjoyment at both sites was the reaction of local tourists to Karen wearing a traditional headpiece as we walked about. We must have stopped to pose for photos at least 20 times!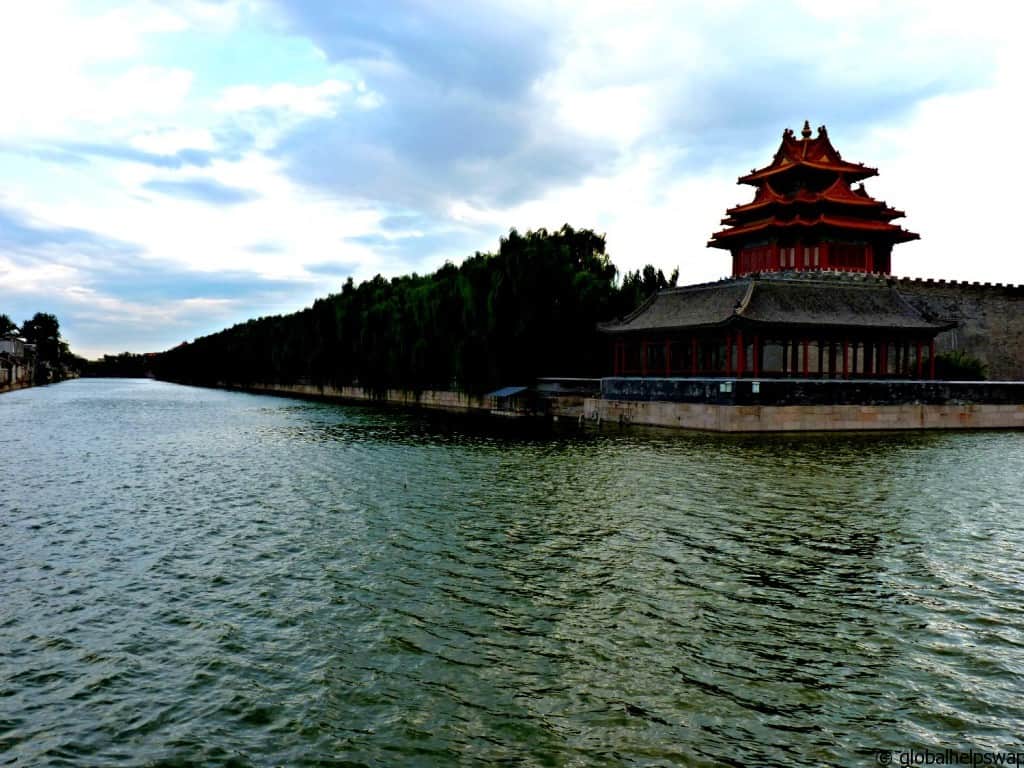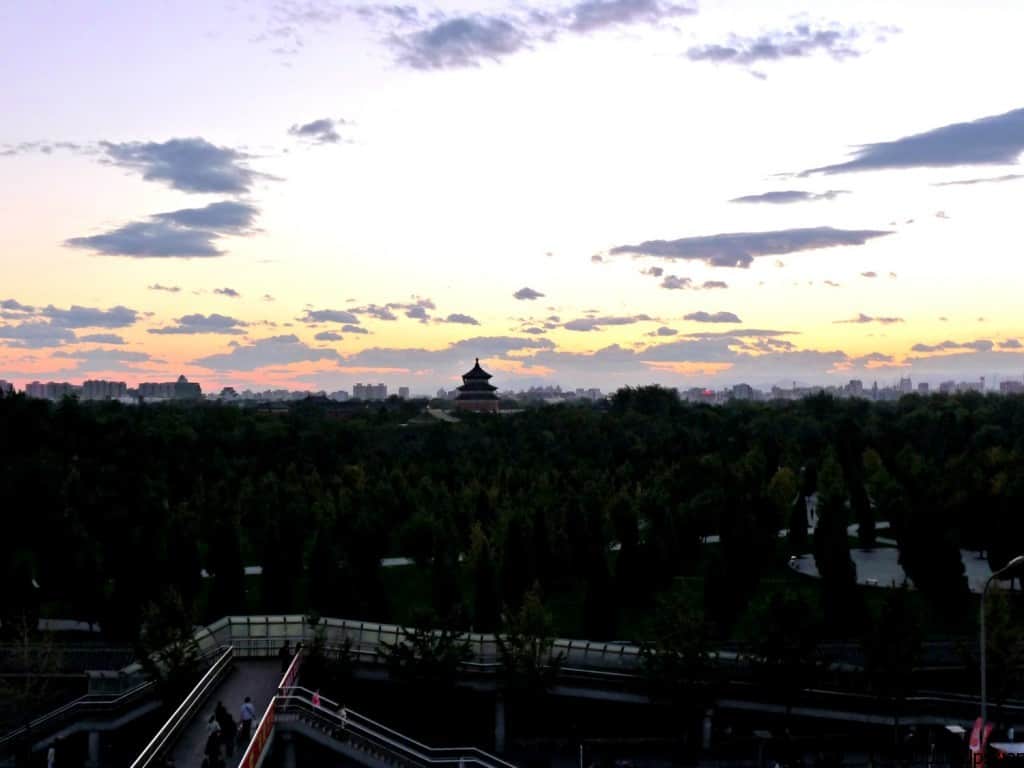 Trip Tips
1) Even though most signs are in English & Mandarin it's best to carry around a phrasebook that has Chinese characters in it as our poor attempts at pronunciation were met with blank looks! Once we showed a helpful chinese person the words written in Chinese we'd invariable get the 'aaaaaah" sound which announced "now I know what you're talking about".
2) DO NOT fall for the Tea House Scam!! Unfortunately, we did even though we read about it in Lonely Planet. After being sweet talked into sharing some tea with locals we met on the road we ended up paying for the "hire" of the room. It's a well-known scam. If you google it there are loads of articles about it including you tube clips!
3) Book train trips well in advance. If you are planning on getting around the country by train and would like a 4 berth room, it's best to book your tickets asap as they sell out fast. Most train stations have a tourist booth to book your tickets. Take your phrasebook for backup!
Have you been to Beijing? Please leave us tips and comments below.
Peace & Love,
Paul
globalhelpswap
tips for memorable and meaningful travel
Voted as a top travel website by:
http://www.theguardian.com/travel/2013/sep/18/top-travel-websites-globalhelpswap