Places to visit in Switzerland by Train
When we think about responsible tourism we tend to initially think about animals and the environment. However, responsible tourism covers more that those two areas. People and transport also play a part in being a responsible traveller.
Regular readers to this blog will know how much we love train travel. Travelling by rail is one of the least polluting ways you can travel. For example if you take the Eurostar from London to Paris you create 91% fewer emissions than if you took the plane.  You also get to see more on trains and it's the most social of transports. Just watch the movie Before Sunrise and you will see what I mean.
In September I visited Switzerland for the first time. I travelled on the golden pass ticket, which is an all-in-one ticket that is not only super convenient, but lets you travel on all types of transport (apart from airplanes). I used it for boats, buses and of course trains.  The route takes you from German-speaking Central Switzerland to the French Flair of Lake Geneva. The ticket also gives you access on public transportation in more than 75 Swiss cities, a 50% price reduction on most mountain railways that take you to the top of Europe as well as free admission to more than 470 museums.
Here are some of the places you can visit in Switzerland by train.
Lucerne

Lucerne is a cosmopolitan city with a beautiful old quarter. Sitting right on lake Lucerne this city has a real Mediterranean vibe to it with its many outdoor cafes, bars and boat tours.
Lucerne is the largest city in central Switzerland with a population of around 80,000. You will love wandering around the old quarter discovering the hidden alleyways, town squares and eccentric water fountains. One of the city's most famous landmarks is the Chapel Bridge, a wooden bridge first erected in the 14th century.
For lunch I would recommend going to 1871, a fabulous restaurant in a great location. Ask for the Hot Meatloaf with fried egg, spinach and potatoes. It's a Swiss classic and delicious. Lucerne has been a destination for tourists for a long time as it's right next to the Swiss Alps. Which brings me to my next stop.
Mount Pilatus

With an elevation of 2,128 meters, Mount Pilatus is a mountain consisting of several summits on the borders of Obwalden, Nidwalden, and Lucerne. We took the world's steepest cog-wheel railway to reach the top which was thrilling and beautiful. The railway runs from May to November depending on snow conditions. (There are also gondolas that take you up all year round.)

Once we reached the summit it was amazing how quick the weather changed. One minute I was taking photos of the surrounding mountains, the next I was surrounded by mist and clouds and could hardly see in front of me.
We spent the night up at 7,000 feet at the historic Hotel Pilatus-Kulm. The hotel opened in 1890 with Queen Victoria being one of its first guests. The hotel sits right near the edge of the mountain giving you stunning views of the surrounding snow-capped peaks. If you visit Lucerne a visit to Mount Pilatus is a must.
Montreux

Our trip from Lucerne to Montreux has to be one of the most spectacular rail journeys I have ever taken. Our train had huge panoramic windows giving the passenger a sense of connection to the passing countryside. If you are a keen photographer make sure you have plenty of space on your card because believe me you will be taking many photos.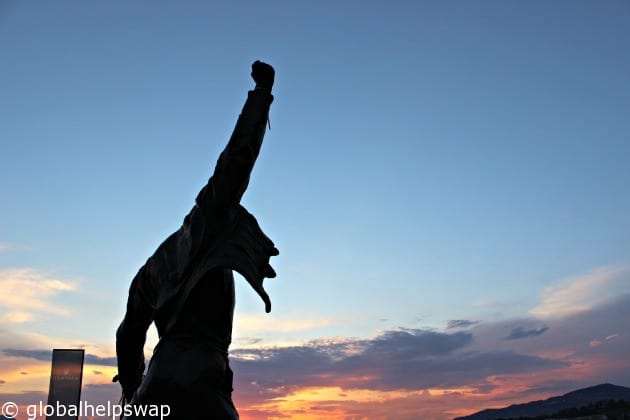 Montreux sits on stunning Lake Geneva and has a population of around 26,000. Most famous for its annual Jazz Festival  the town has been attracting the rich and famous for decades. Previous residents include: Noel Coward, Pyotr Iliych Tchaikovsky, and Freddie Mercury (The town holds an annual memorial day in his honor.) Sitting right on the lake is Chateau de Chillon a place immortalised by Byron in his poem The Prisoner of Chillon.
Deep Purple's Smoke on the Water is also about Montreux. They were in the town to record their album Machine Head at the Montreux Casino. Frank Zappa was playing a gig at the casino before Deep Purple were due to record and unfortunately, an overzealous fan with a flare gun set the place on fire! Deep Purple could see the casino on fire from their hotel across the water, hence, Smoke on the Water!

Montreux has a real pleasant climate even though it sits at the foot of the alps. The climate is so mild in the surrounding hills and villages there are many independent vineyards producing excellent Swiss wines. We visited a family run vineyard in Lavaux that has been producing wine for the past 100 years. We sat on the verandah overlooking Lake Geneva with the Grandson of the first owner as his children played in the nearby street. He explained to me that it was more important for him to have a good life than to expand his business to bigger levels. With a glass of his excellent wine in my hand, the sun beating down on my face and the sound of his children laughing nearby, it was hard to disagree with him.

Lausanne

Lausanne is the 4th largest city in Switzerland with a population of over 135,000. It also sits on Lake Geneva and is home to the International Olympic Committee (IOC). It also has a 28 station metro system making it the smallest city in the world to have a metro.
As the home of the modern Olympics it would have been a crime not to visit Lausanne and not visit the nearby Olympic Museum. Lausanne has many things to offer but as a major sports fan this was my highlight. As soon as you walk in front of the building you know you are in the mecca of sports museums. From sporting sculptures to the Olympic flame burning brightly, the outside of the museum is just as interesting as the inside. With memorabilia covering every summer and winter Olympic games, the museum is the sporting equivalent of the Louvre. Get there after you have eaten and take your time soaking it all in.

The Golden Pass ticket took me from snow-capped mountains to cities on Lake Geneva all in a few days. Train travel in Switzerland is spectacular and the best way to see this beautiful country in a short amount of time. So what are you waiting for? All aboard.
#LoveYourTravels
For more fun things to do do in Switzerland check out this post – 50 unique things to do in Switzerland.
If you liked this post you will love our top 5 tips for riding the trans-siberian railway blog!
Disclaimer: I was kindly invited on this trip by Thomson Lakes and Mountains and Swiss Tourism. As always all opinions are my own.
Thomson Lakes (www.thomsonlakes.co.uk; 020 8939 0738) offers a week's half board at the Hotel de la Paix in Lucerne from £875 per person with flights from either Heathrow or Gatwick to Zurich and transfers. For a week's stay at Montreux, prices are from £929 per person.
Thomson also offers the Golden Pass Tour, a ten or eleven nights independent train tour taking in three of Switzerland's lakes: Lake Lucerne, Lake Brienz and Thun and Lake Geneva. After a few days in historic Lucerne, the train journey begins with the panoramic train across the Brünig Pass to Interlaken and perhaps a visit up the Jungfraujoch mountain railway before the spectacular train journey on to Montreux. Between Montreux and Zweisimmen the highlight is the 'Golden Pass Classic' train with carriages in the style of the Orient Express. Prices are from £1299 per person including flights, all rail transfers, half board.
http://www.thomsonlakes.co.uk/holidays/switzerland/golden-pass-tour/
For more information on Switzerland, please visit www.MySwitzerland.com – official website of Switzerland Tourism with thousands of ideas what to do in Switzerland